Do you love pink and white manicure? In that case you need to check these pretty ideas for pink and white marble nails!
Our team put together a curated selection of the prettiest nail styles for this trending look, covering different nail shapes and sizes, to ensure you have plenty to choose from!
Why are we so crazy about pink and white marble nails? The look you create by mixing these two colors is one of the hottest trends of the summer, and with the subtle marble effect it instantly transforms your nails and makes them look elegant and effortless.
Marble nails come in all sorts of designs and styles, so you have plenty of options to experiment with and find the right fit for your nails. If you have very short and natural nails, you can check the ideas with hot pink and white marble which will surely stand out from the crowd.
On the other hand, if you have coffin nails or naturally long nails, you have lots more options to play with and can try the look of French tips with marble design, or mismatched look which combines more than one statement nail design.
Whichever look you choose, you can't go wrong with this mix of colors, especially if you're after a cute manicure for the summer months ahead.
Check our selection below and choose from elegant designs for coffin nails, short nails, few ideas with French tips and even featuring the hot pink nail polish that's so popular in the summer.
At the end of the article, you will find some bonus tips for making your manicure last longer. Enjoy!
17+ Pretty Ideas for Pink and White Marble Nails
Below are our top picks from Instagram for some of the prettiest nail designs, collected from nail artists from around the world. If you would like to see more of their work, we have linked their social profile under each image.
If you want even more inspiration for pink and white marble nails, we have saved dozens more in our dedicated board on Pinterest – go check it out!
1. Pink Marble Nails with White Base
2. Mismatched Pink and White Marble Nails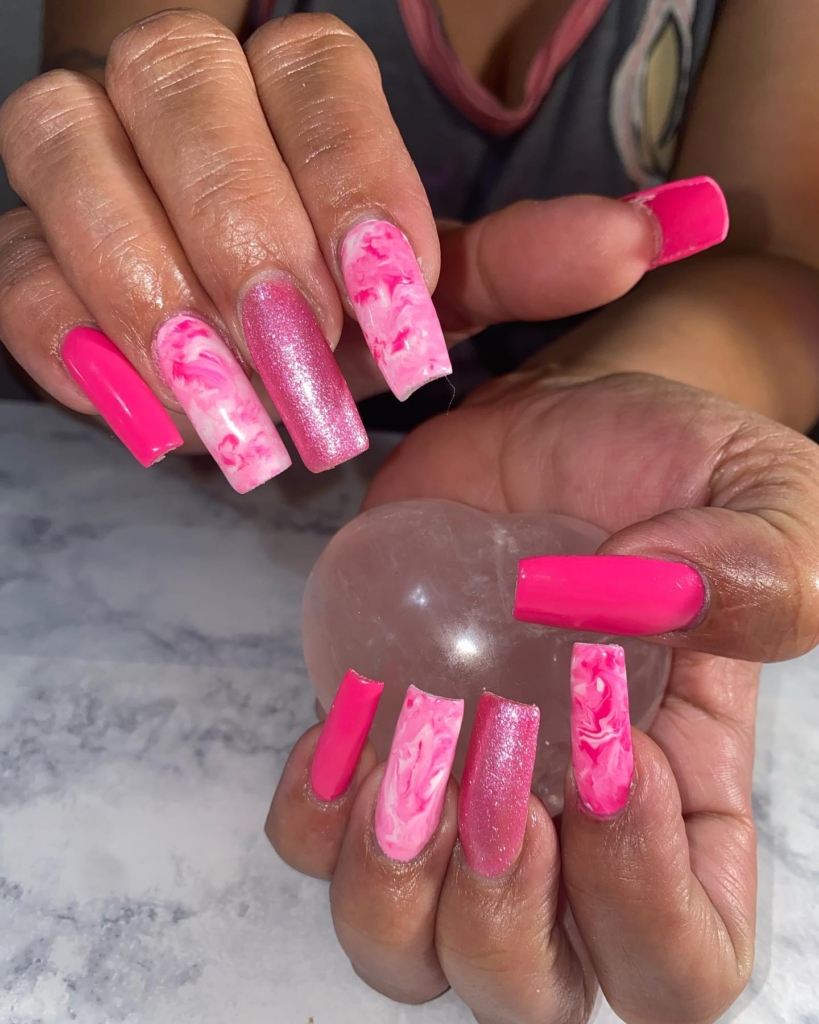 3. Pink and White Marble French Tips
4. Coffin Pink and White Marble Nails
5. Baby Pink Marble Tips with Pink and White
6. Melted Marble Nail Tips
7. Baby Pink and White Long Marble Nails
8. Pink Coffin Nails with White Marble
9. Rose Pink with White Marble Nails
10. Marble Nails with Gold Outline
12. Modern White, Pink and Gold Marble Nails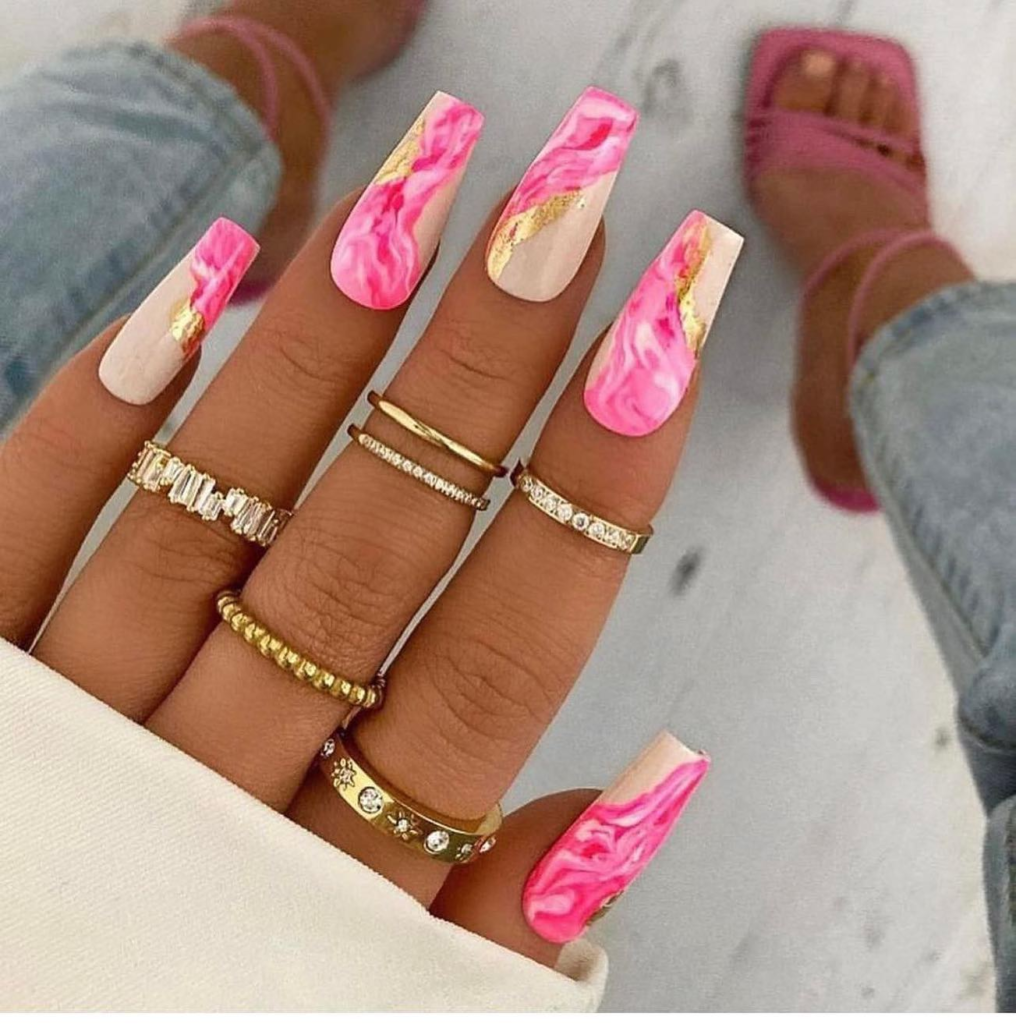 13. Mix and Match Marble Nails
14. Pretty in Pink Nails
15. French Tips with Pink and White
16. Side Design French Tip Nails
17. Gradient Pink and White French Tip Nails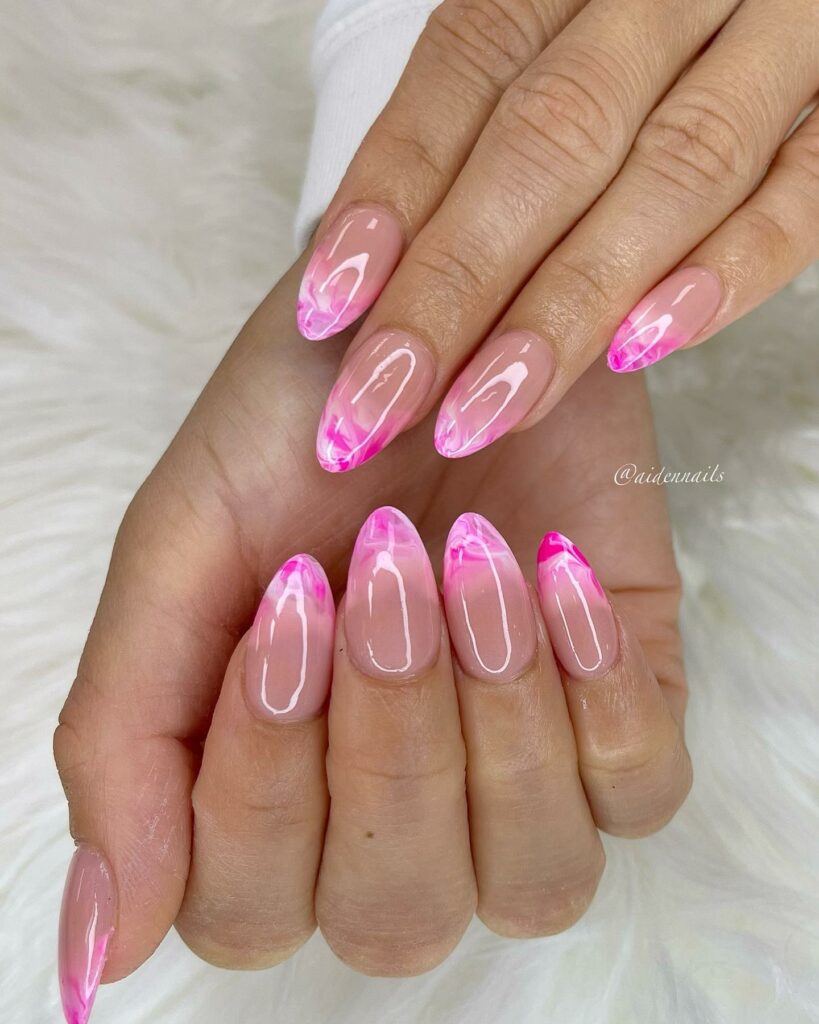 18. White Outline on Pink French Tip Nails
19. Mixed Hot Pink and White Marble Nails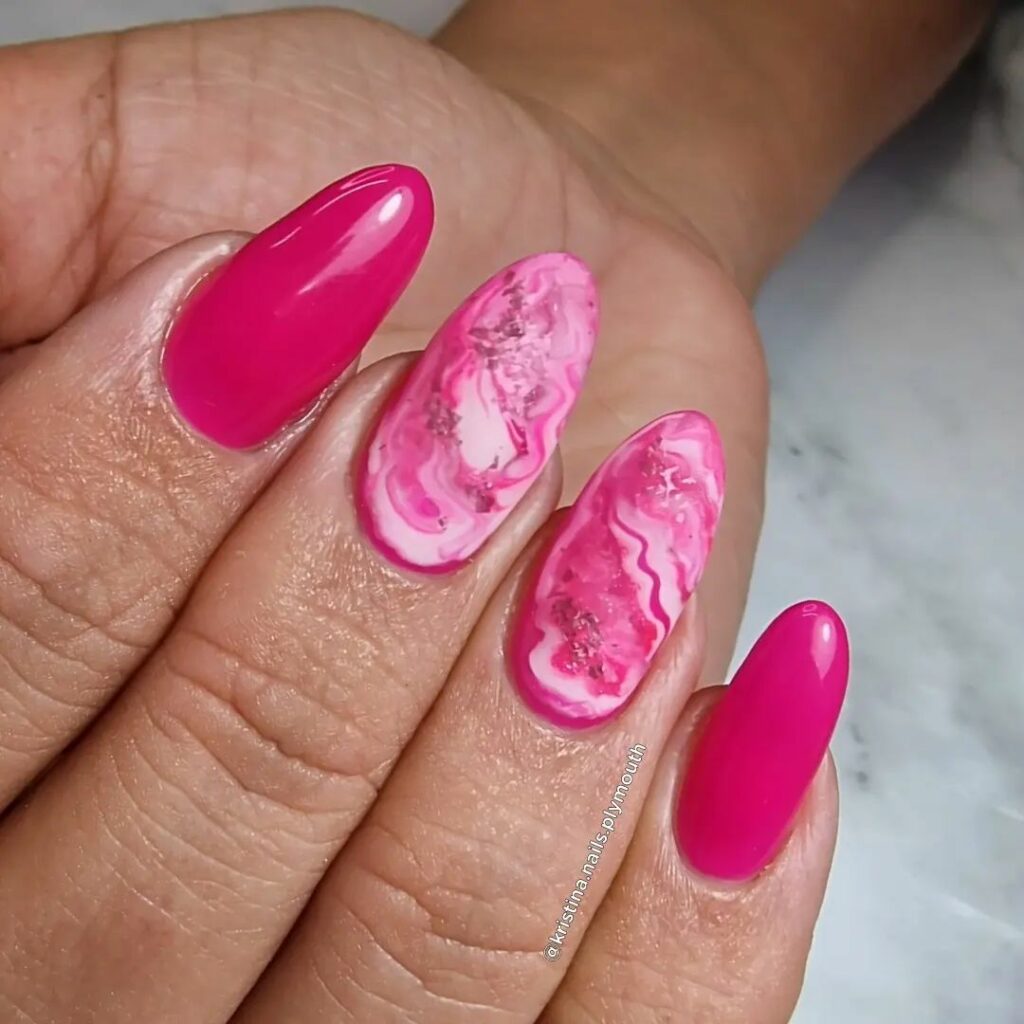 How to Make Your Manicure Last Longer
The secret to a longer-lasting manicure is proper prep work while you're at the nail salon. Perfectly cleaned and prepped nails will ensure that your manicure will hold perfectly
If you want your nail polish to last, you can add a layer of topcoat every couple of days to seal and protect it
A properly done manicure will last between week or two, and with the proper care you can extend it even further (talking days though, not weeks)
Got some stains on your manicure? You can fix most stains like those from nicotine with teeth-whitening toothpaste. Just gently rub it into the stain and wash it off.