Time to update your manicure? If you're looking for some pretty hot pink marble nails, you came to the right place!
Our team of nail artists and nail experts put together this curated selection, where you will find the hottest look for the season 2023.
Whether you have short nails, coffin nails or almond nails, you will find lots of beautiful hot pink manicure options that you can take with you to your next nail salon appointment.
Why hot pink?
Hot pink is one of the most popular colors for the summer months and it's no surprise. The color contrasts beautifully with tanned hands, or naturally dark hands, making the color really pop and stand out from the crowd.
It's a color that speaks volumes, without the need to add any complicated nail art or nail design. If you love to do your own manicure at home, hot pink nails are one of the easiest looks you can accomplish without professional help.
Without further delay, let's look at some of the hottest hot pink marble nails for this season!
17+ Best Hot Pink Marble Nails Ideas
Browse your heart out and choose your favorites from our selection below. If you need even more ideas for this look, you can find them on our dedicated Pinterest board.
1. Short Hot Pink Marble Nails
If you've got short nails, it's best to stick to a simple manicure. Opt for the marble look for one or two nails, and paint the rest of them in statement neon hot pink shades.
2. Coffin Hot Pink Marble Nails
This sophisticated look for coffin nails combines a beautiful shiny white base nail polish with a marble effect that spreads in different locations around the nails. It creates a more artistic feel to the design and makes it look less predictable.
3. Coffin Mixed Design Hot Pink Marble Nails
Can't decide what you love the most? Choose them all! Mix marble nails with statement neon nail polish and even glitter nails for maximum impact.
4. Almond Shape Hot Pink Marble Nails
Almond shape nails make the marble effect really come to life – if you want to add more contrast, mix two distinct shades of hot pink to create a visually more striking experience.
5. Hot Pink Marble Nails With Gold Glitter
Need a bit of bling? All you need is to add some glitter nail polish with gold or simple gold flakes. Don't overdo it as it can look quite overwhelming.
6. Hot Pink and Light Pink Marble Nails
Mix and match dark hot pink marble effect with simple baby pink nails to create a bit more contrast and variety in your nail design.
7. Hot Pink Marble Nails with Gold Flakes
A beautifully cherry-like shade of hot pink beautifully combined with gold flakes. Nails that take you from the party to the office without having to update your manicure.
8. Almond Gold and Hot Pink Marble Nails
A beautiful blend of two colors achieves a simple marble effect, which is elevated by the addition of gold flakes that make the nails look like precious gems.
9. Hot Pink Marble French Tip Nails
Not keen on full coverage? You can skip the look and only use the marble effect on your French tips. Works especially well on coffin nails where you have more room to play with.
10. Hot Pink Ombre Marble Nails
Another option if you don't like French tips is to centre the marble effect at the top part of the nail, creating a beautiful natural transition to the pink base color.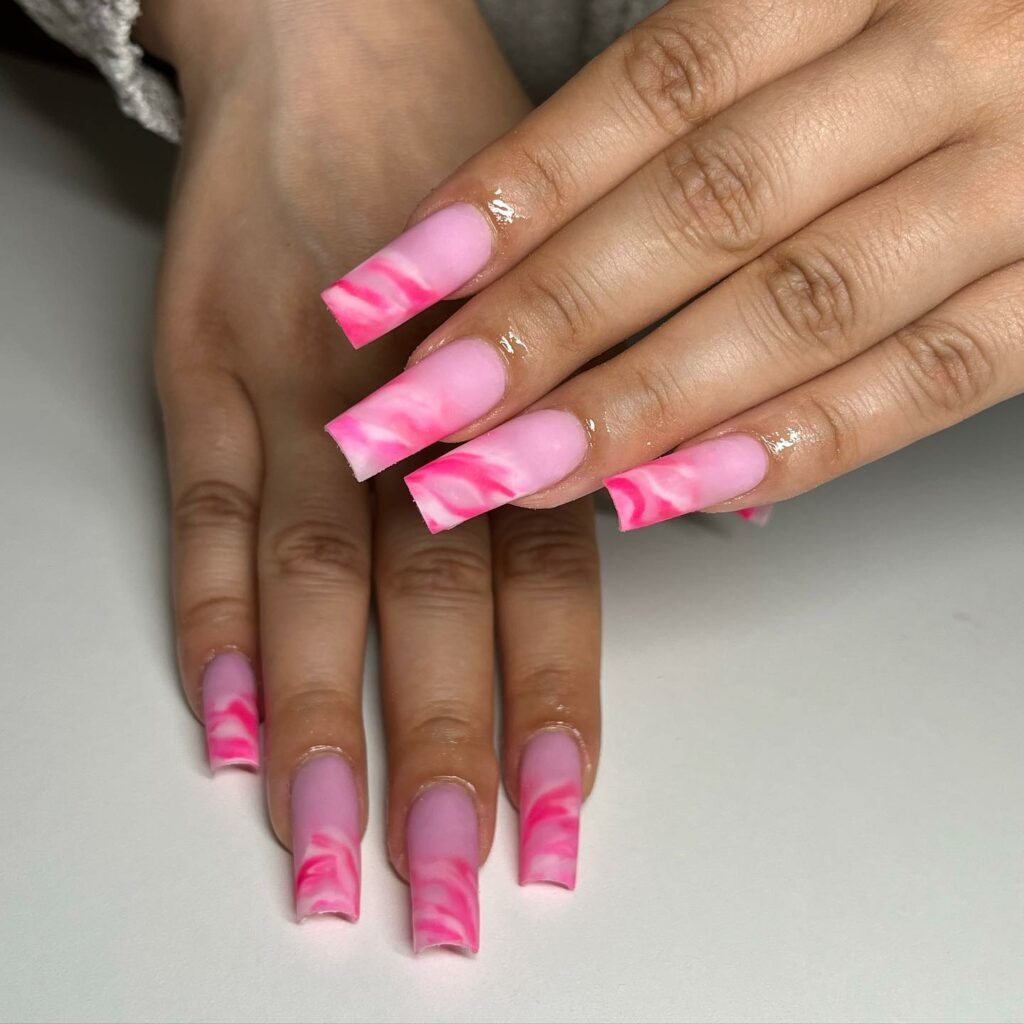 11. Hot Pink Swirl Nails
Mix and match these two designs to create a playful manicure that will last all summer long. Simple swirls which have a marble effect to them, combined with a couple of pretty hot pink marble nails which have white nail polish mixed in.
12. Hot Pink and Black Marble Nails
Need to make a statement? Mix in a bit of black nail polish to your marble nails and accessories with small rhinestones at the base of the nail.
13. Galaxy Inspired Marble Nails
Transform your nails to the night sky – this manicure looks like a work of art!
14. Bright Hot Pink Gradient Marble Nails
These nails scream summer fun! Beautiful vibrant colours on long almond nails elevate the marble effect by adding a gradient shade of hot pink nail polish.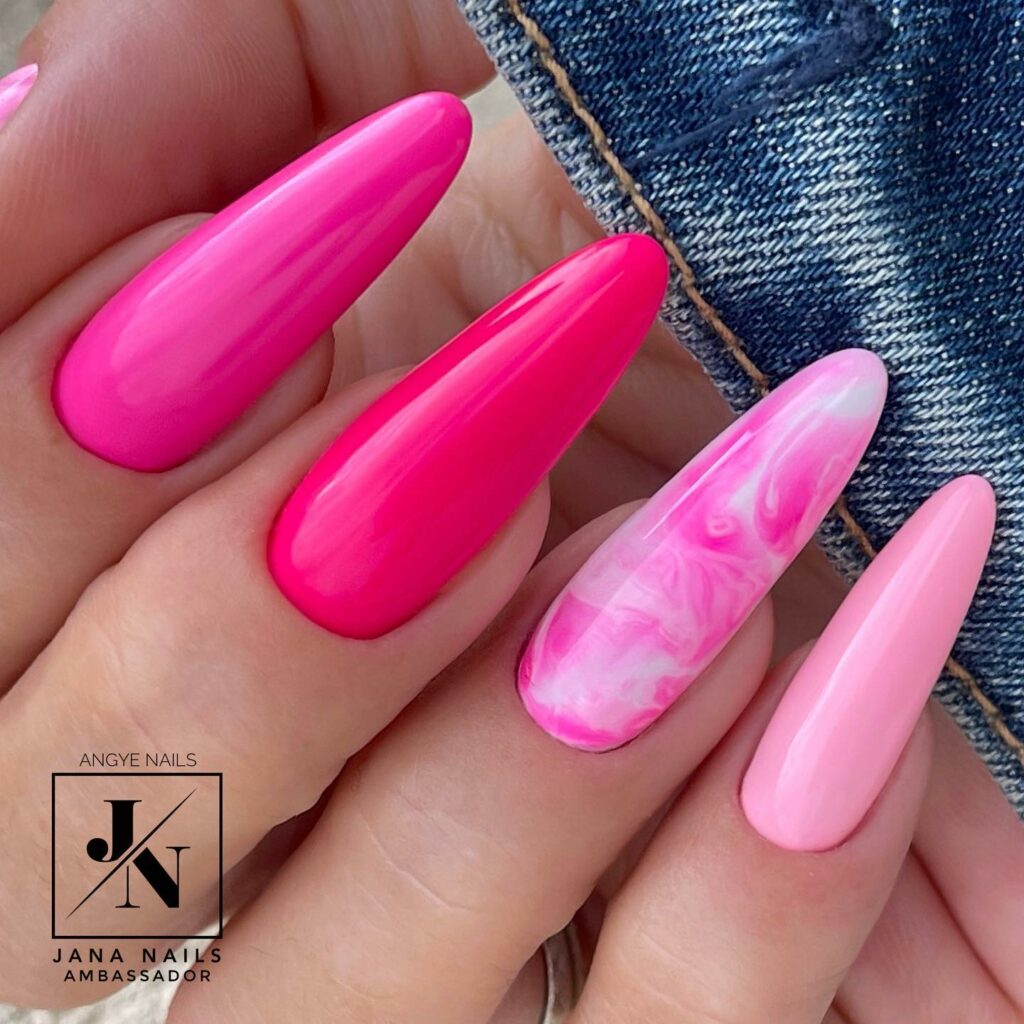 15. Mixed Hot Pink Marble Nails
Frame your marble nails by adding two featured nails in a single tone of hot pink nail polish.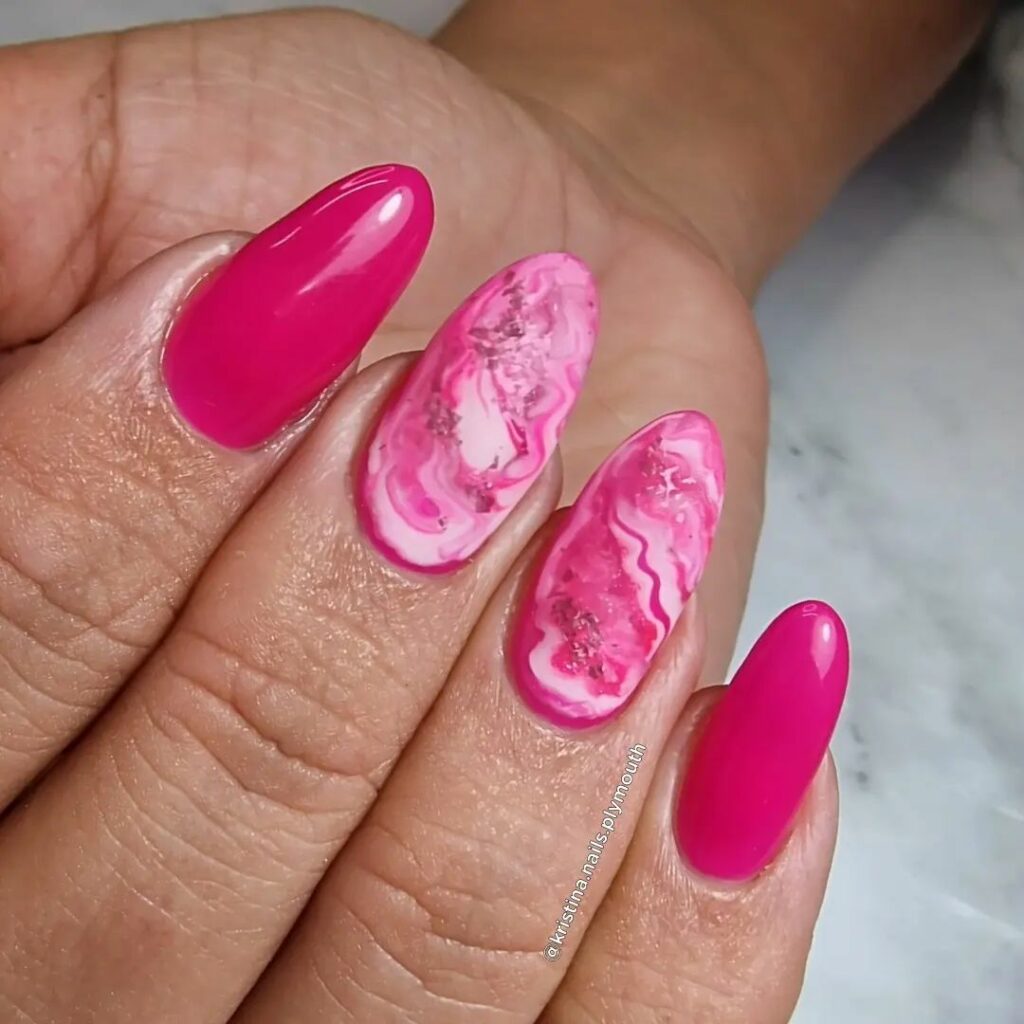 16. Super Long Coffin Nails with Hot Pink Tips
Mix your French tips with a variety of designs, just as in this example – French tips with single-layer nail polish mixed with marble French tips, and pretty gemstones to elevate the manicure even further.
17. Crown Jewels with Hot Pink Ombre
Party coming up? Take your nails to the next level by piling on some precious stones!
18. Hot Pink Marble Tips on Coffin Nails
Another take on the marble effect for French tips, this time elevated even further by adding simple small rhinestones. How pretty is this look?
19. Mixed Design Hot Pink Marble Coffin Nails
A blend of various styles that are tied together nicely thanks to the consistent usage of color.