If you're planning to update your manicure for the upcoming season, pink marble nails are a safe bet that's here to stay!
If you're deciding between French tips, coffin nail design or looking for pretty marble effect you can use on your short nails, our team has prepared a curated collection of the best designs that cover all bases.
Why pink marble nails?
The marble nail design looks super elegant on almost any nail length and nail shape, and unlike other intricate nail art options, it's pretty easy to replicate at home. With a bit of practice, you can also attempt this manicure at home and make it look like you just walked out from a nail salon appointment.
Pink is one of the most popular colors to use for marble nails as it gives you just enough contrast to make it look interesting, but not too much that it would look like randomly blended colors. The marble effect can also be achieved using other color like rose gold, grey and even gold, but pretty pink shades are the perfect choice for your summer manicure.
Without further delay, scroll down below to see our selection, divided by a few categories, and don't forget to also check our top tips at the end of the article for how to make your manicure last longer. Enjoy!
Video Tutorial: Pink Marble Design on Coffin Nails
This video tutorial shows you how you can achieve this look on the French tips of your coffin nails, with a vibrant shade of pink. Prepared by Infinity Nails via youtube.
For more inspiration on other designs for pink marble nails, head over to our dedicated board on Pinterest where we have saved dozens more ideas in this nail design technique.
Pink Marble Nail Designs for Coffin Nails
Coffin nails are one of the easiest nail sizes to work with as they give you so much space for decorating and adding pretty nail art.
If you're using the marble nail design technique, be careful so you don't cover each nail completely with the same design, as it may turned out a little boring.
With marble nails, you can also choose more striking base color like white, which will help your marble effect to stand out. Below are some of the best examples for using the pink marble technique on long coffin nails.
1. Pink Marble Nails with White Base
2. Pink Marble Nails with Gold Flakes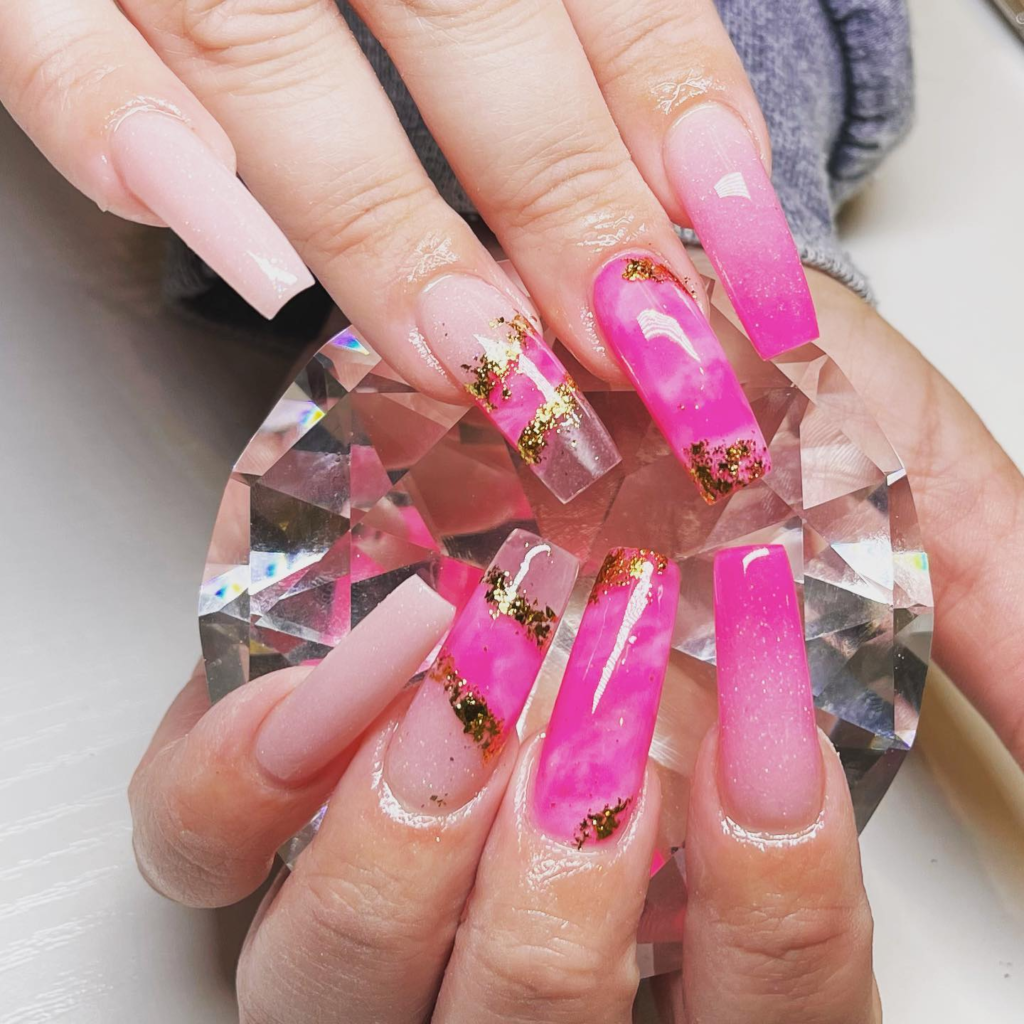 3. Mismatched Pink Marble Nails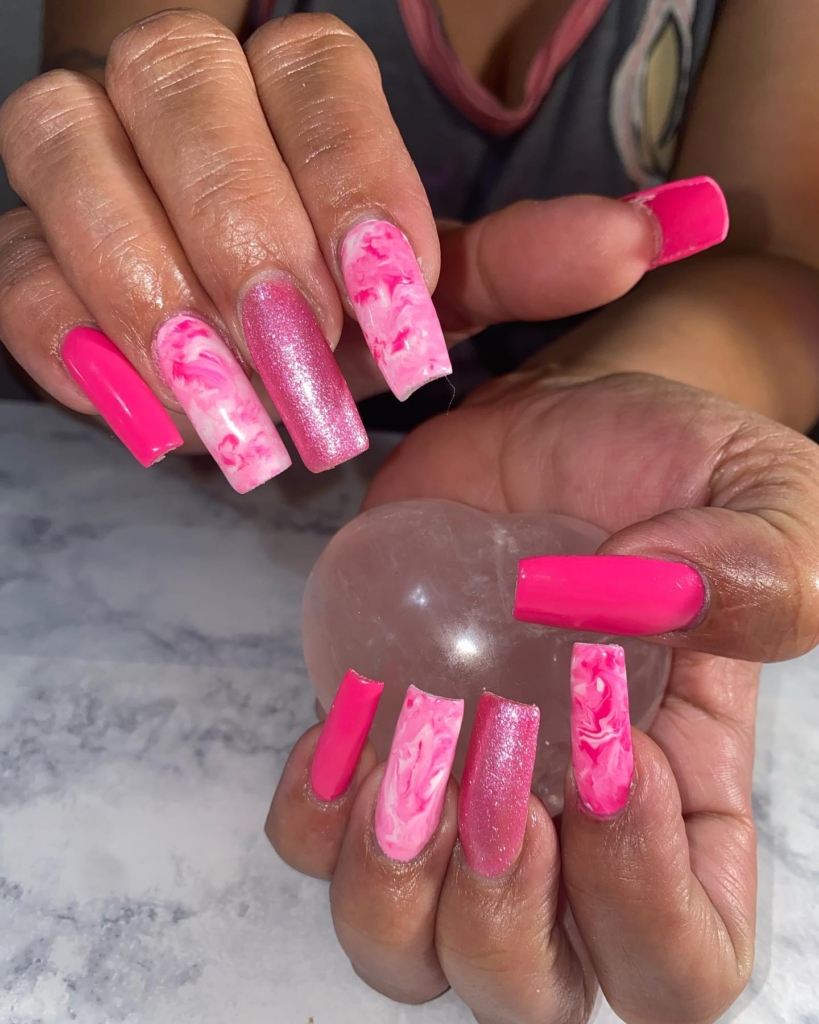 4. Pink Marble French Tip Nails
5. Pink Marble French Tips
6. Silver Outline Pink Marble Nails
7. Mismatched Pink Marble Nails
8. Hot Pink Pink Marble Nails
9. Bright Pink Marble Tips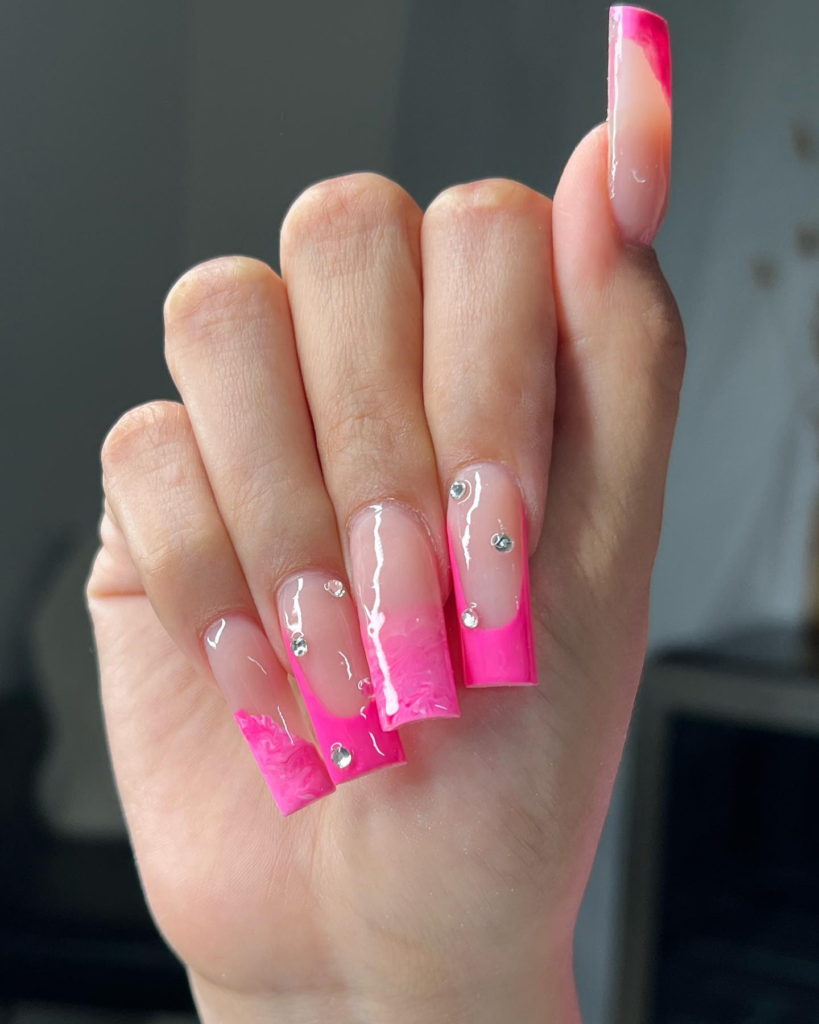 10. Pink Marble Tips with Gemstones
11. Baby Pink Marble Tips
12. Melted Marble Nail Tips
13. Long Nails with Alternating Pink Design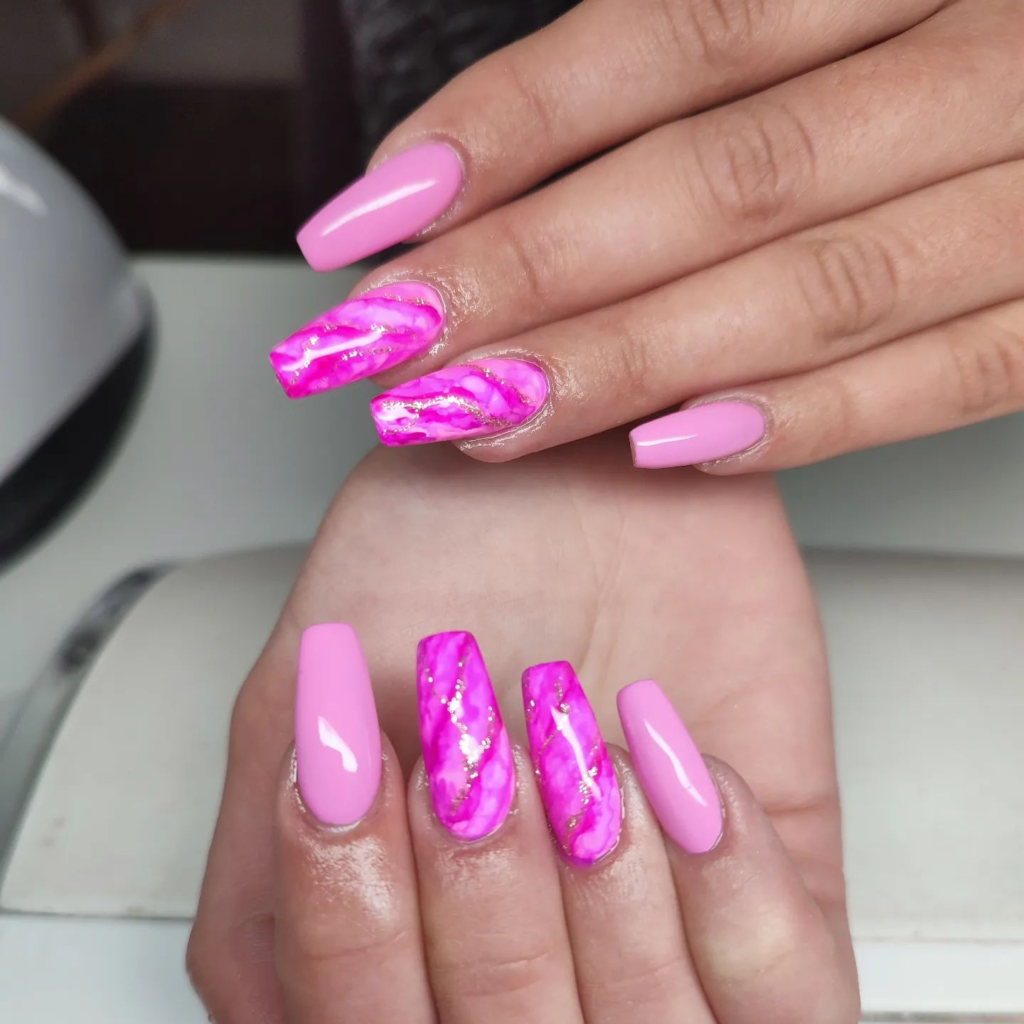 14. Hot Pink and Gold Long Marble Nails
15. Baby Pink Long Marble Nails
16. Super Long Pink Marble Nails
17. Long Pink and Gold Marble Nails
18. Rusty Gold and Pink Marble Nails
19. Silver Outline Pink Marble Nails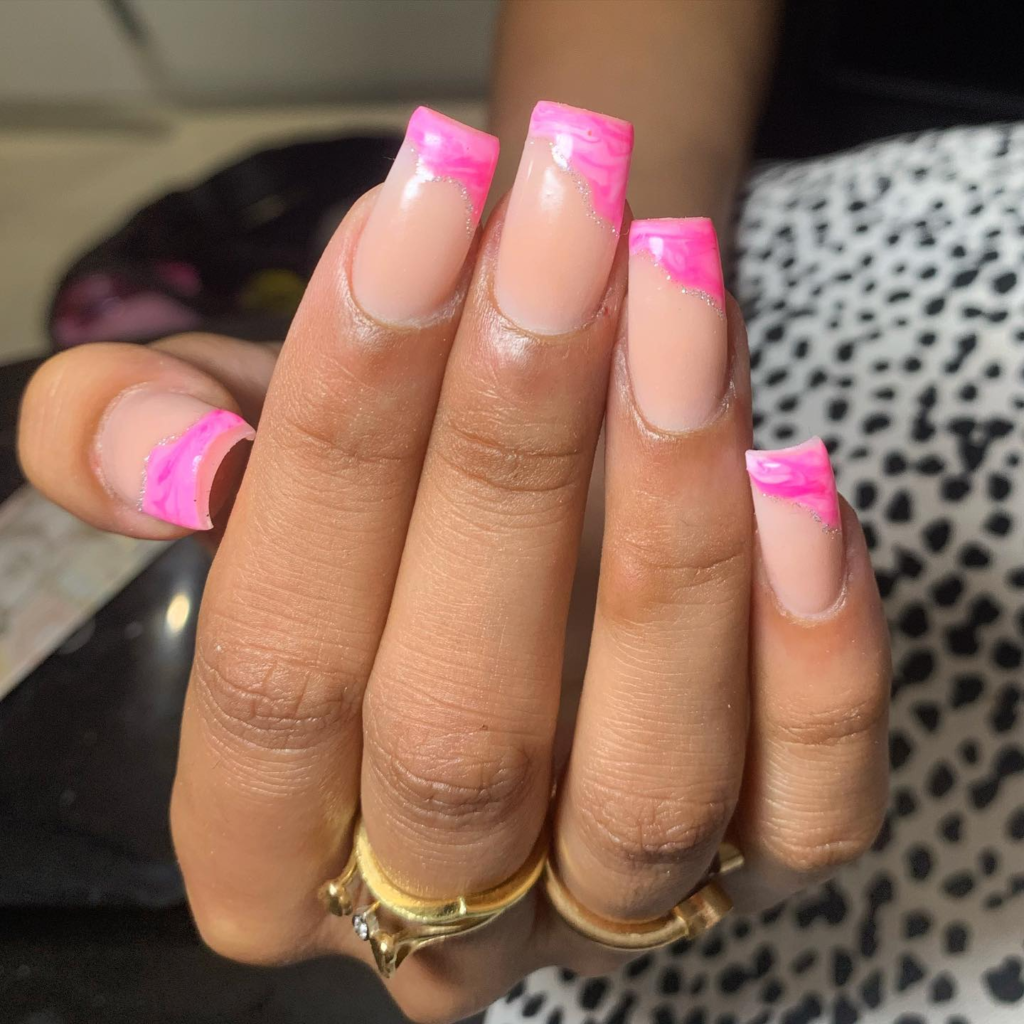 20. Rose Pink Marble Nails
21. Nails with Butterflies and Gemstones
22. Statement Bright Mixed Nails
23. Marble Effect Nails
24. Marble and Gold Elegant Nails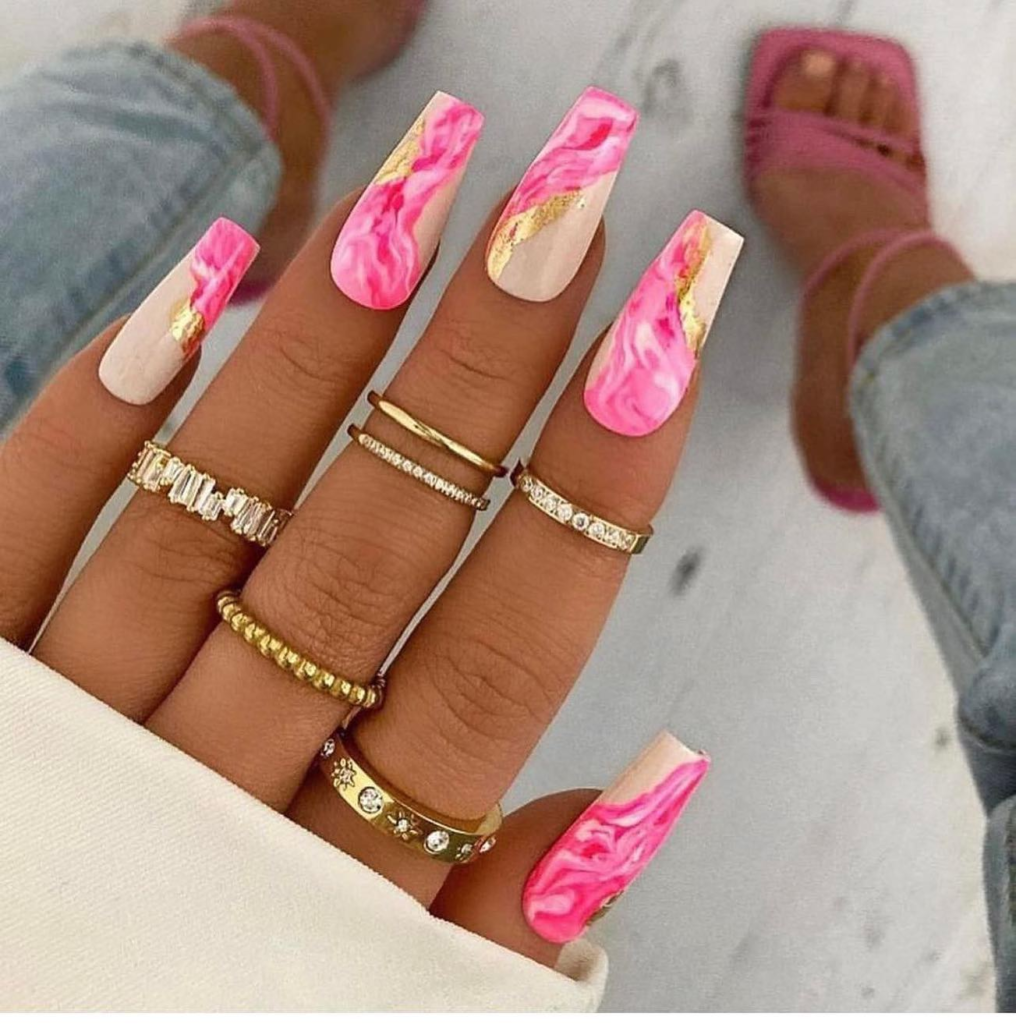 25. Crown Jewel Nails
26. Mix and Match Marble Nails
27. Gemstones and Glitter Nails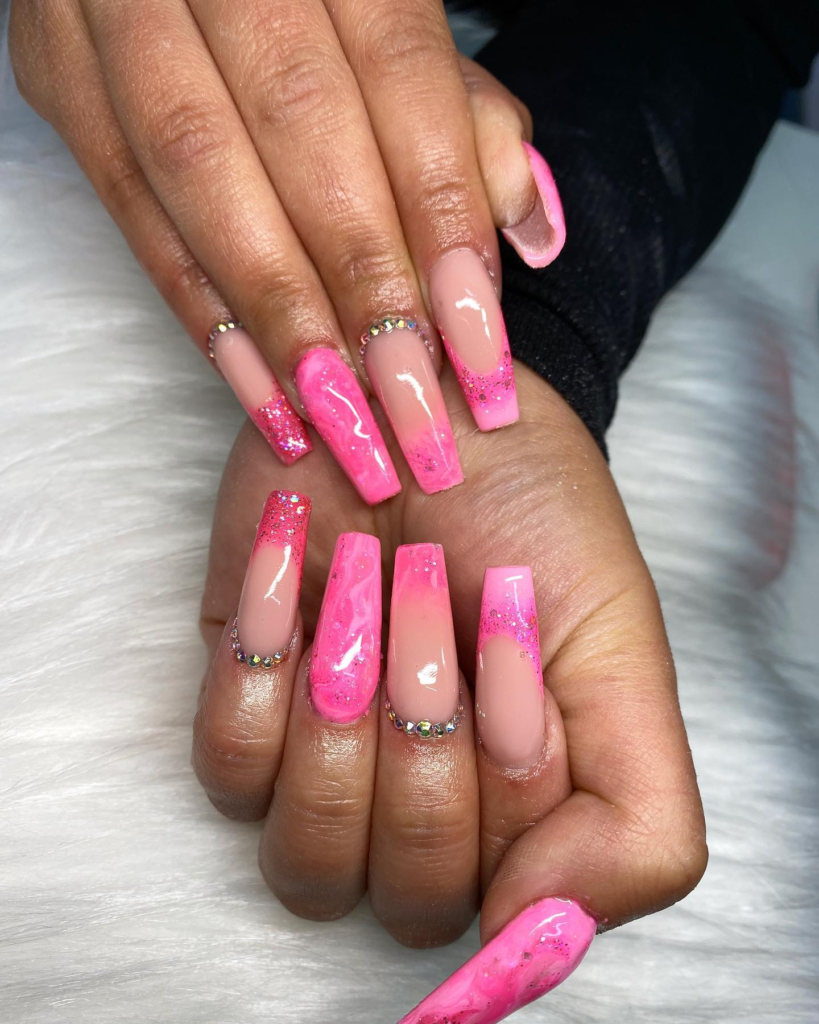 28. Pretty in Pink Nails
Pink Marble French Tip Nails
If you don't want to cover your whole nail, a simple update featuring the classic French tips is a great alternative. French tip nails always look super elegant and timeless, and with the added touch of pink they look like the perfect manicure for the summer months.
With pink marble nails for French tips, you will need enough space and the right shape of the nails to really make them stand out. Ideally, you would do them on almond nails where the shape really highlights the rounded inner edge. Alternatively, you can also use coffin nails and make them slightly bigger.
With French tips, you can go as thick or as thin as you want when it comes to the design coverage. As you're working with quite a limited space, this look is best suited to do at nail salon, instead of attempting to do it at home.
29. French Tips on Almond Nails
30. Side Design French Tip Nails
31. Silver Outline
32. Short Nails with Glittery French Tips
33. Gradient French Tip Nails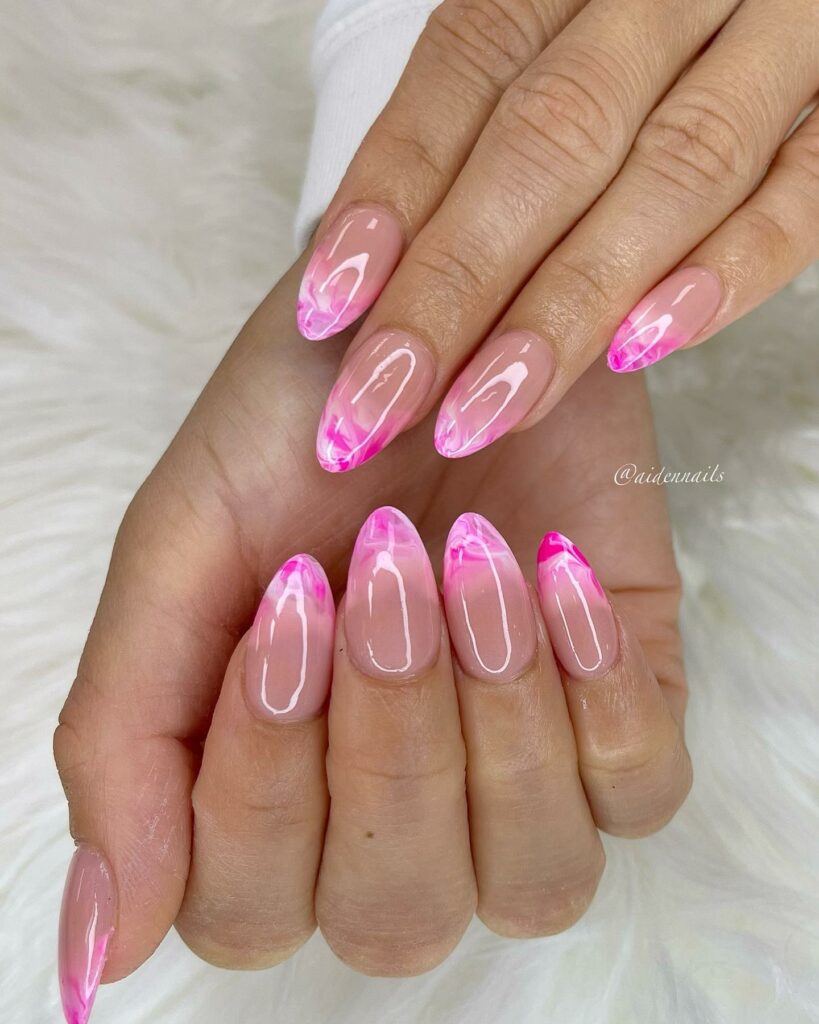 33. White Outline on Almond Nails
Hot Pink Marble Nails Ideas
Finally, if you love a look that really stands out from the crowd, reach for the pink shade in bright neon or hot pink color. This color choice will bring the marble design to life.
Alternatively, you can use this vibrant color as a supplementing choice for your other nails, which will add a lot of contrast to your manicure. With bright colors like these, you can go big and bold even with the shortest nails and make them look the part.
Below are some of our favorite looks from Instagram.
35. Short Pink Marble Nails
36. Almond Shape Marble Nails
37. Almond Gold and Pink Marble Nails
38. Pink Swirl and Marble Nails
39. Galaxy Inspired Marble Nails
40. Bright Pink Gradient Nails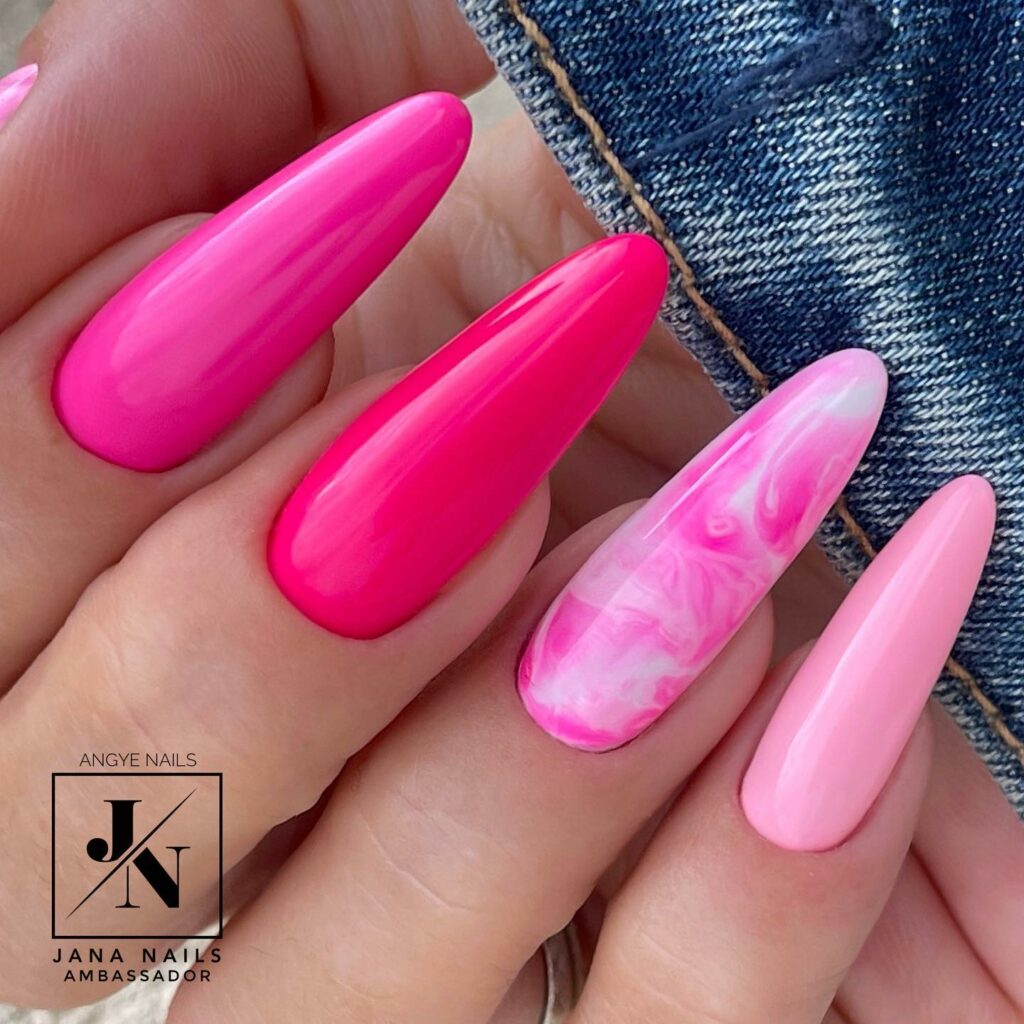 41. Mixed Pink Marble Nails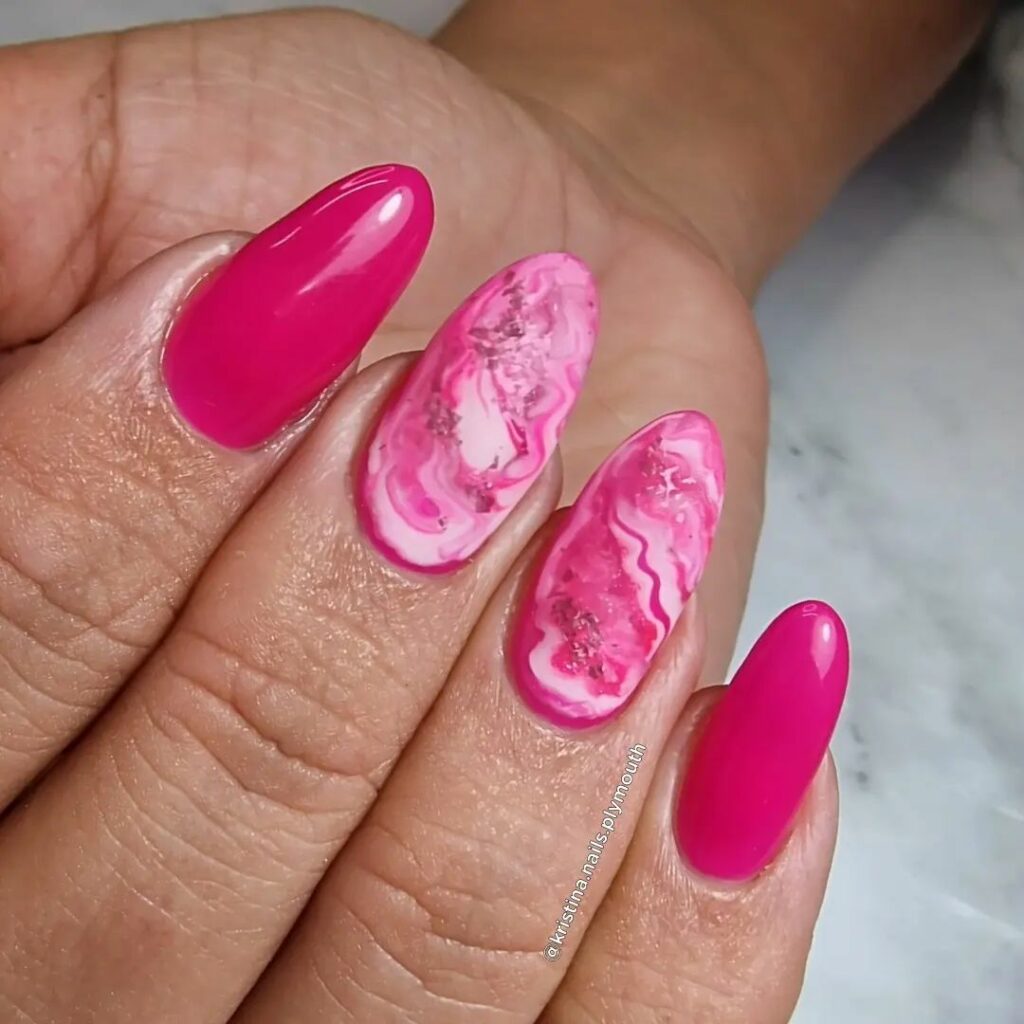 So, which ones are your favorites?
We hope you found plenty of inspiration of your next manicure project. Before we finish off, here are just a few tips on how to make your manicure last longer.
How to Make Your Manicure Last Longer
The secret to a longer-lasting manicure is proper prep work while you're at the nail salon. Perfectly cleaned and prepped nails will ensure that your manicure will hold perfectly
If you want your nail polish to last, you can add a layer of topcoat every couple of days to seal and protect it
A properly done manicure will last between week or two, and with the proper care you can extend it even further (talking days though, not weeks)
Got some stains on your manicure? You can fix most stains like those from nicotine with teeth-whitening toothpaste. Just gently rub it into the stain and wash it off.
Thanks for reading and check out the other articles below for even more inspiration!