Christmas is not just about red, white and green. Other alternative colors like pink are gaining popularity as they give you a chance to break the mould and do something a little different.
Pink might be the last color you think of when you say holiday season, but these pretty manicure ideas for Christmas will convince you otherwise.
We have selected over twenty of the prettiest pink and red Christmas nails to give you plenty of ideas on how to stand out of the crowd this holiday season.
Red makes the perfect pairing with pink as it makes your nails look instantly festive, without the need to go crazy with either of the two colors.
If you want nails that capture the essence of the season, while looking unique and elegant, pink and red Christmas nails is exactly what you need.
25+ Prettiest Pink and Red Christmas Nails
Here is our collection of over 30 of the prettiest pink Christmas nail ideas! If you need even more inspiration, you can check our Pinterest board where we saved up dozens more ideas for this festive look – go check them out.
Don't forget to follow us on Pinterest to get updates on the latest nail design trends and the latest styles.
1. Snowflakes & French Tips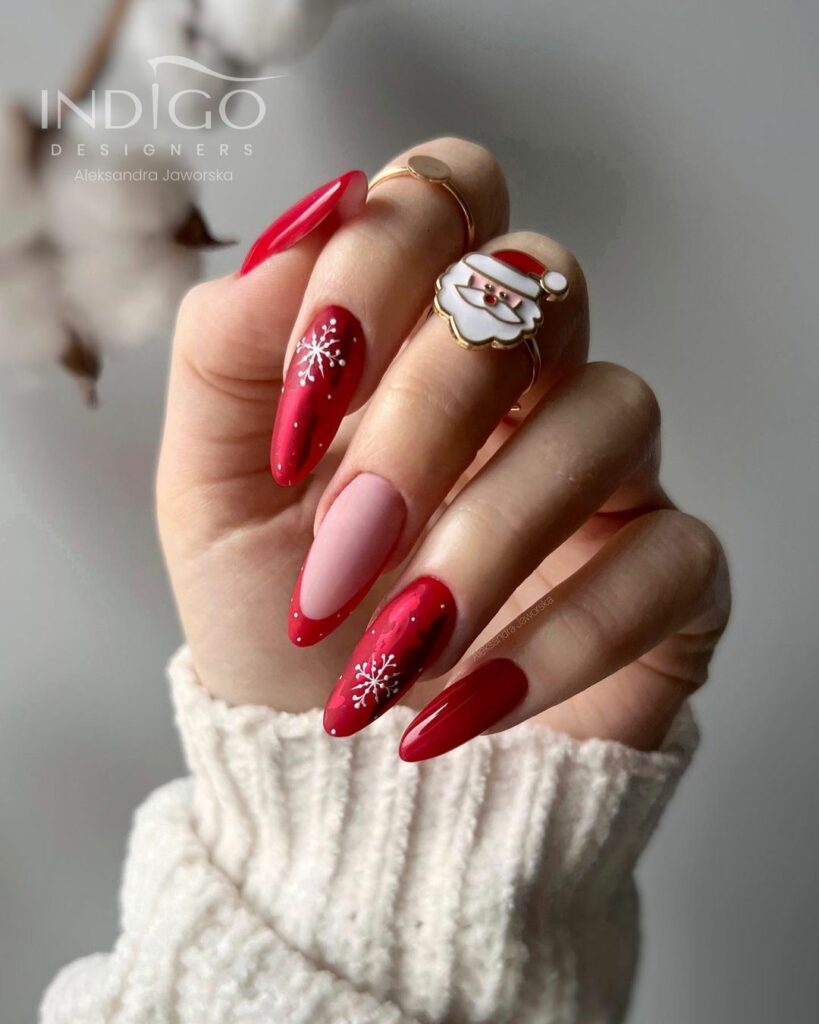 This pretty pink and red Christmas manicure on longer nails looks super elegant thanks to the choice of vibrant red color, expertly paired with the softest shade of pink.
2. Christmas Pudding Nails
Opt for something a little unusual – featuring Christmas pudding! These can be done as custom nail art, or you can look around to buy some nail stickers.
3. Peppermint Candy
No festive season is complete without some sweets – in this case they also made it to the manicure!
4. Peppermint Hearts
Replace your classic French tips with something season-appropriate. The cutest and sweetest peppermint-shaped hearts are at the edge of the fingernails.
5. Pink and Red Christmas Nails with Snowflakes & Swirls
The classic symbols of the season like snowflakes pair perfectly with simple swirls, which emulate the look of peppermint candy. Beautiful and simple manicure you can try creating at home without the assistance of a nail artist.
6. Christmas French Tips & Stars
If you love your French tips too much to give them up for the holiday season, simple give them a little makeover with glitter deep red nail polish and embellish the nails with some shiny gold stars.
7. Single Pink Nail
If you don't want to go crazy with colors, a simple color scheme with red and white can be elevated by just using one fingernail for your pink color tone.
8. Pink and Red Christmas Coffin Nails
Red glitter nail polish looks its absolute best when paired with this shade of baby pink and white snowflakes.
9. Sparkly Red Christmas French Tips
Make your French tips holiday ready with the most gorgeous shade of glitter red nail polish.
10. Pink, White and Red Stripes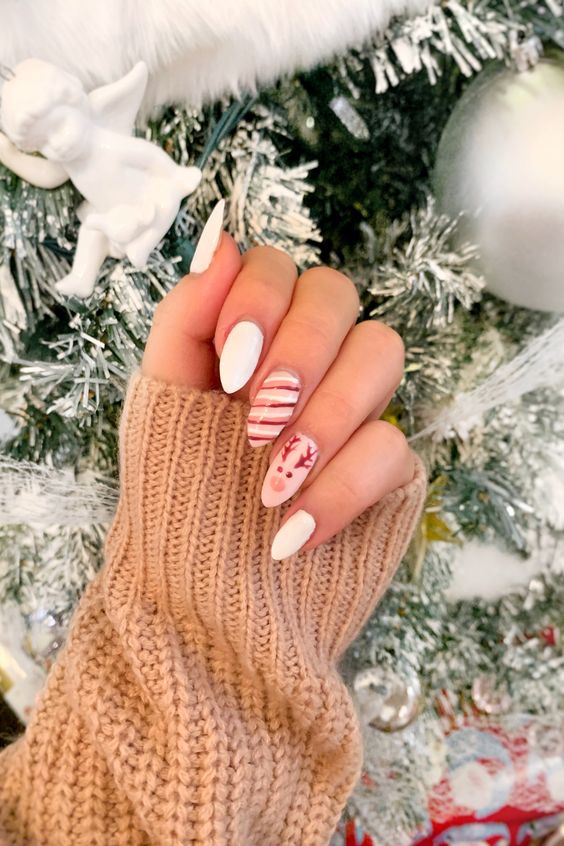 A very simple Christmas manicure, and even a reindeer makes an appearance!
11. Gingerbread Love
Declare your love to the gingerbread man!
12. Christmas Tree Nails
Santa, snowflakes and even Christmas tree – these nails certainly tick all the boxes.
22. Green and Pink Glitter
Want to add an extra color? Green pairs perfectly with pink and red!
23. Mistletoe on a Pink Base
The timeless symbols of Christmas are perfectly captured in this manicure.
24. Nude Pink Gingerbread
Cute gingerbread man nail art was brought to life with pink and red nails.
25. Christmas Flower Nails
Let your nails bloom this Christmas!
26. Pink Santa
A piece of art on nails! How gorgeous is their intricate festive manicure?