Be it fall or winter, everyone loves the look of rose gold burgundy nails!
These two colors are a match made in nail design heaven, and we thought we should show you some of the prettiest nails in these trending colors. Whether you love the look of ombre nails, alternating nail colors or some rhinestone decor, we have included an option for each in this collection.
Burgundy is one of the most popular colors for the fall season, and even for winter months. The moody shade combined with the dark richness of red is the perfect color choice if you're looking for color that's elegant and sophisticated, without being too bright or too dark.
Burgundy is also a color of choice for color pairings with gold or rose gold, especially for Christmas nail designs. No matter what occasion you want to wear this manicure, the most important thing is to use a good quality nail polish, have healthy and well maintained nails, and find a nail artist that can recreate the style you love the most – or recommend you something that will look fabulous.
Below are the 13 prettiest styles for rose gold burgundy nails we found on Instagram – go and check them out!
Prettiest Rose Gold Burgundy Nails
Below are the 13 prettiest rose gold burgundy nails we found online. If you would like to see more nail design ideas from the same nail artist, simply click on their Instagram bio under the image.
For more inspiration for this nail design style, check our dedicated board on Pinterest and follow our account to stay up to date with the latest nail design trends.
1. Rose Gold Burgundy Nails with Glitter & Rhinestones
One of the timeless looks with simple nail polish in two tones, complemented by a statement nail with a small rhinestone. Perfect for that special occasion or just an everyday manicure.
2. Rose Gold Burgundy Coffin Nails
Coffin nails look especially beautiful in this color combination – add some interest and contrast to the nails by creating sections on two of the nails separated by some golden flakes.
3. Rose Gold Burgundy and Beige Nails
If you would like a softer color palette, burgundy works really well with neutral beige to strike the perfect balance.
4. Rose Gold Burgundy Nails with Gold Gemstones
This manicure has a nice transition from festive to simple, with a statement finger in the middle.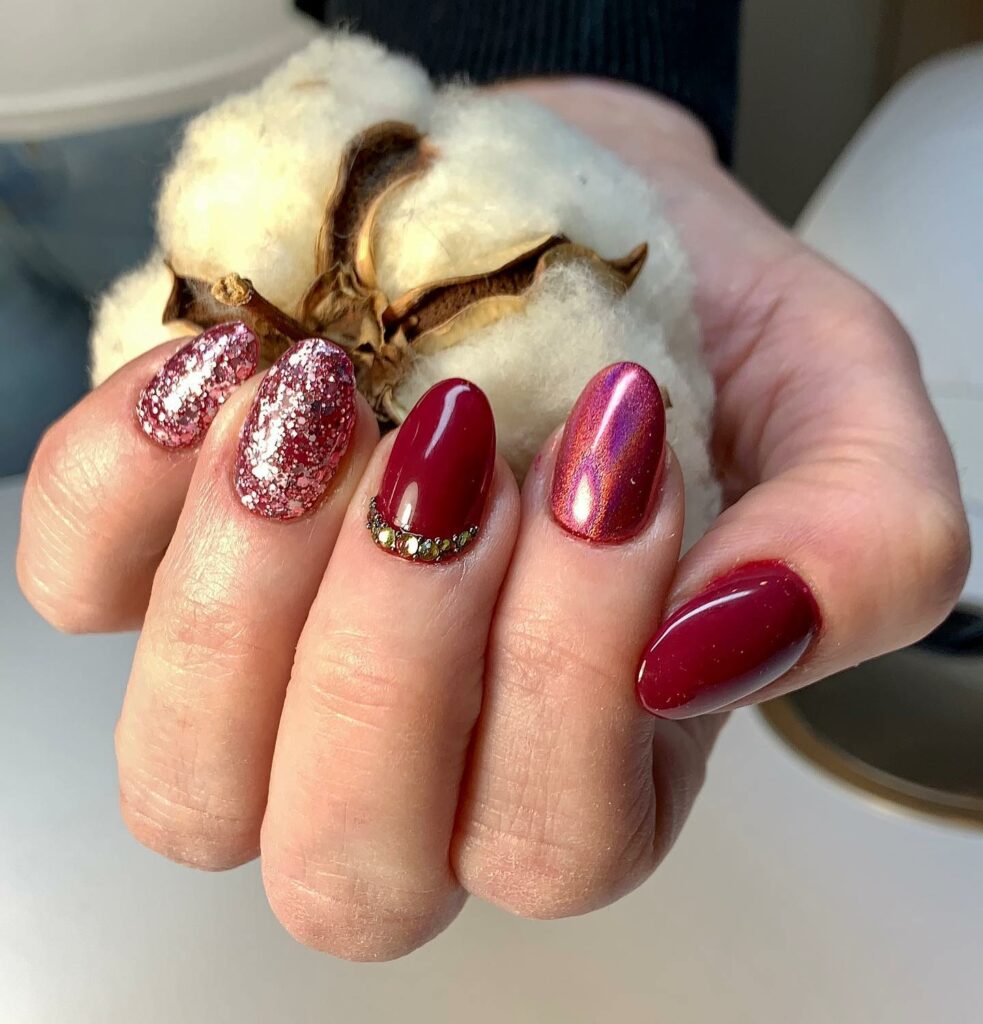 5. Rose Gold Burgundy Split Pink Nails
Half-and-half painted nails beautifully separated with a touch of gold.
6. Rose Gold Burgundy Floral Nails
Add a bit more interest to the manicure by using some floral motives in nude or beige nail polish.
7. Rose Gold Burgundy Nails with Gold Flakes
Another variation of a manicure with a split nail design, this time beautifully executed using some golden flakes.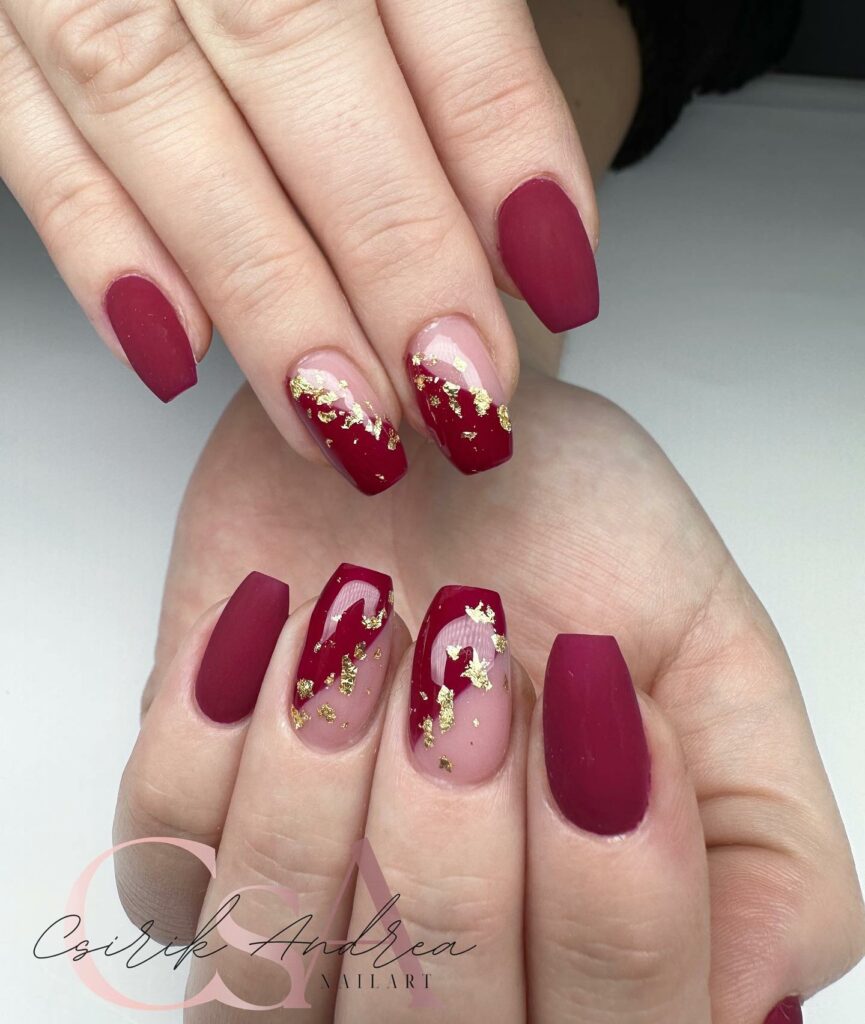 8. Nude Rose Gold Burgundy Nails
Keeping it classy and simple on coffin nails with a nude manicure decorated with burgundy and rose gold details.
9. Mountain Peak Rose Gold Burgundy Nails
A new take on a traditional manicure – how do you like this one?
10. Short Rose Gold Burgundy Nails
Simple and stylish – always work. This is the type of manicure anyone can do at home, and as you can see it looks fabulous even on shortest nails.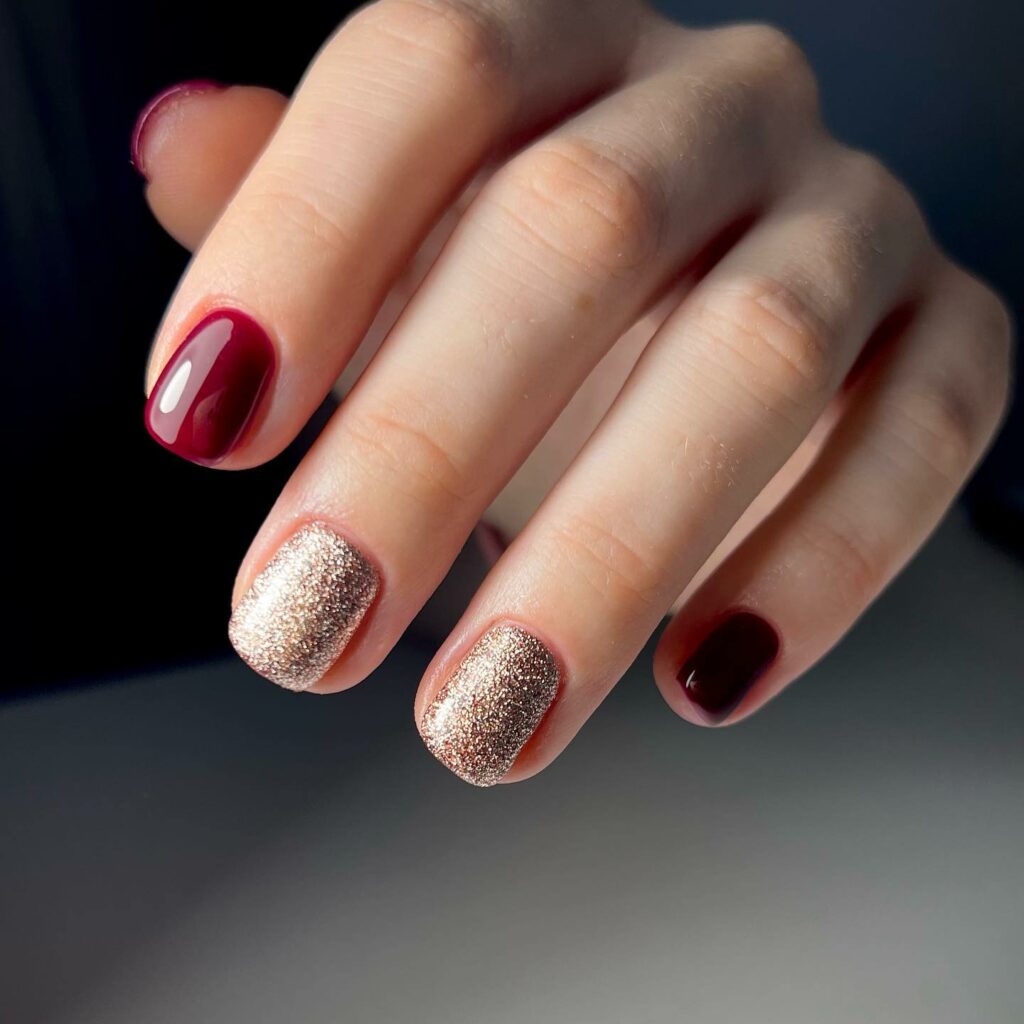 11. Mismatched Rose Gold Burgundy Nails
A beautiful blend of so many colors but they all work together seamlessly! Pretty pink background nail polish elevated by the use of rose gold, burgundy and white for the details.
12. Half Ombre Rose Gold Burgundy Nails
Instead of a traditional fully painted nail, do a fake ombre effect by painting only the top part of the nail with rose gold glitter nail polish. No expert skills are required.
13. Pink & Glitter Rose Gold Burgundy Nails
A beautiful simple manicure elevated by the use of a statement nail with pink nail polish and rhinestones.