Looking for nails that stand out from the crowd? In that case you need to check these wow-worthy unicorn nail designs!
If you hear unicorn nails, you might picture baby unicorn characters on pretty pink nails – but that's far from what this manicure trend is all about!
There are two ways you can go about unicorn nail designs – you opt for unicorn inspired colors and style, or choose unicorn nail art which is exactly what we mentioned earlier. In this article, we have created a curated collection that captures the essence of this beautiful manicure and offers you plenty of options for inspiration.
Whether you're planning to do unicorn nail designs at home, or need some pictures to take to your next nail appointment, you will find lots of pretty options in our roundup below!
Unicorn Nail Designs: Color Inspiration
Unicorn nail designs come with some of the most spectacular colors on the rainbow. Think neon pinks, baby blue, metallic tones of silver or gold, all blended beautifully in a rainbow of colors that's bound to send compliments your way.
A skilled nail artist will be able to help you the right selection of nail polish colors to nail this look and make it look cohesive. The good news is – there's no right or wrong way to do unicorn nail design.
As soon as you stick to bright vibrant colors, a pretty nail shape and healthy well-maintined nails, that's all you need for a beautiful manicure that will turn heads.
Below are some of the prettiest options for unicorn nail designs collected from Instagram. If you would like to see more work from the same nail artist, simply click on the Instagram bio link under the image. For more inspiration on this pretty nail trend, visit our dedicated Pinterest board here, and follow our Pinterest profile to stay up to date with all nail design trends.
1. Metalic Unicorn Nail Design
Beautiful shiny metallic nail polish in the colors of the rainbow.
2. Crazy Glitter Unicorn Nail Design
Mountain peak nails in stunning vibrant colors with a mix of different nail design elements – glitter, rhinestones, neon colors and all. Just a stunner!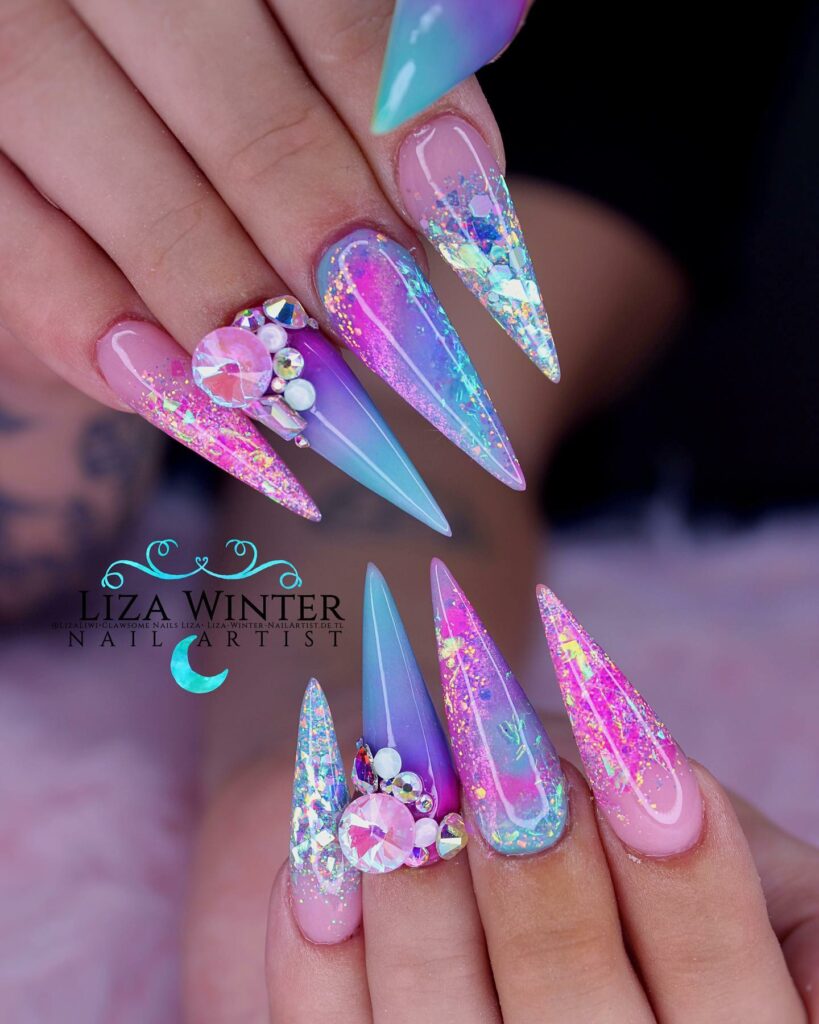 3. Pastel Gold Flake Unicorn Nail Design
Coffin nails in pretty pastel colors elevated by the use of gold flakes and marble effect.
4. Mixed Neon Unicorn Nails
Go all in with a range of colors in neon – how pretty is this manicure! Even shorter nails can show a lot of personality just like in this case.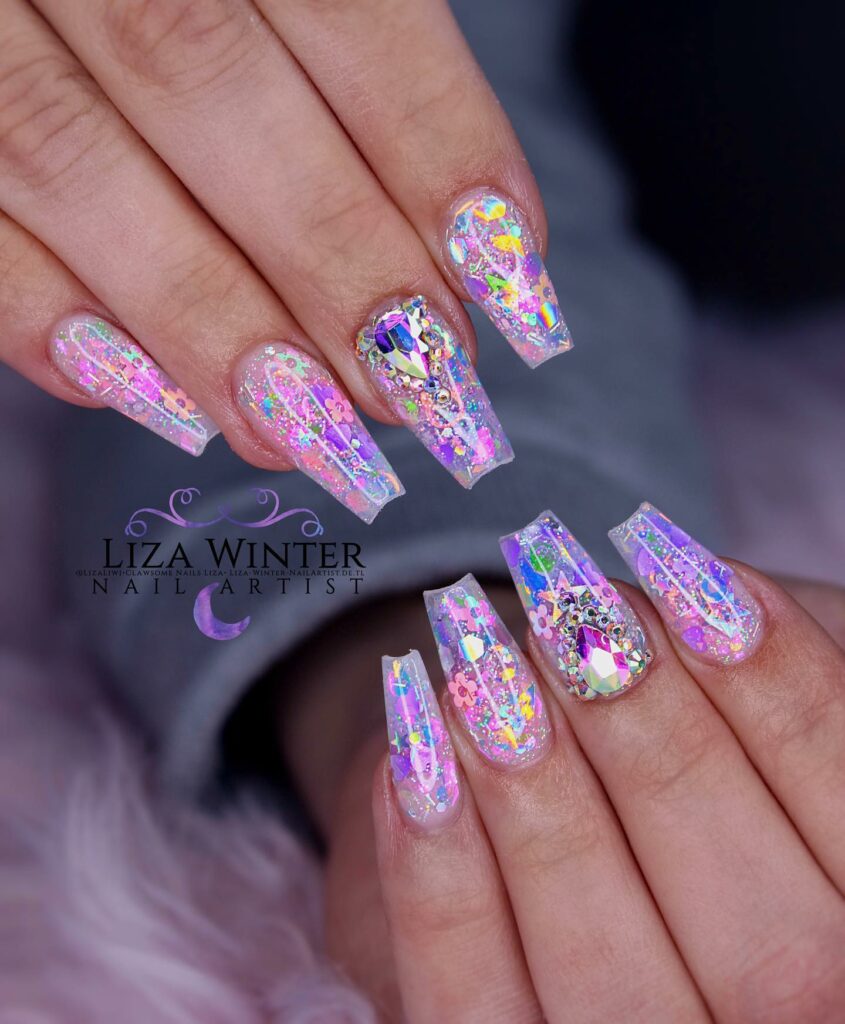 5. Mountain Peak Shape Unicorn Nail Design
These super long mountainpeak nails look stunning with pretty color palette of purple, pink and mint green nail polish.
6. Coffin Nails with Unicorn Nail Design
Go big and bold not just with colors, but also the choice of rhinestones!
7. Neon Purple Unicorn Nails
If you want to use only a smaller range of colors, this manicure shows you how it could be done! You need one statement neon shade of purple and complimenting nail polish in shades of purple and pink. Add the unicorn touch by including some glitter and rhintestones.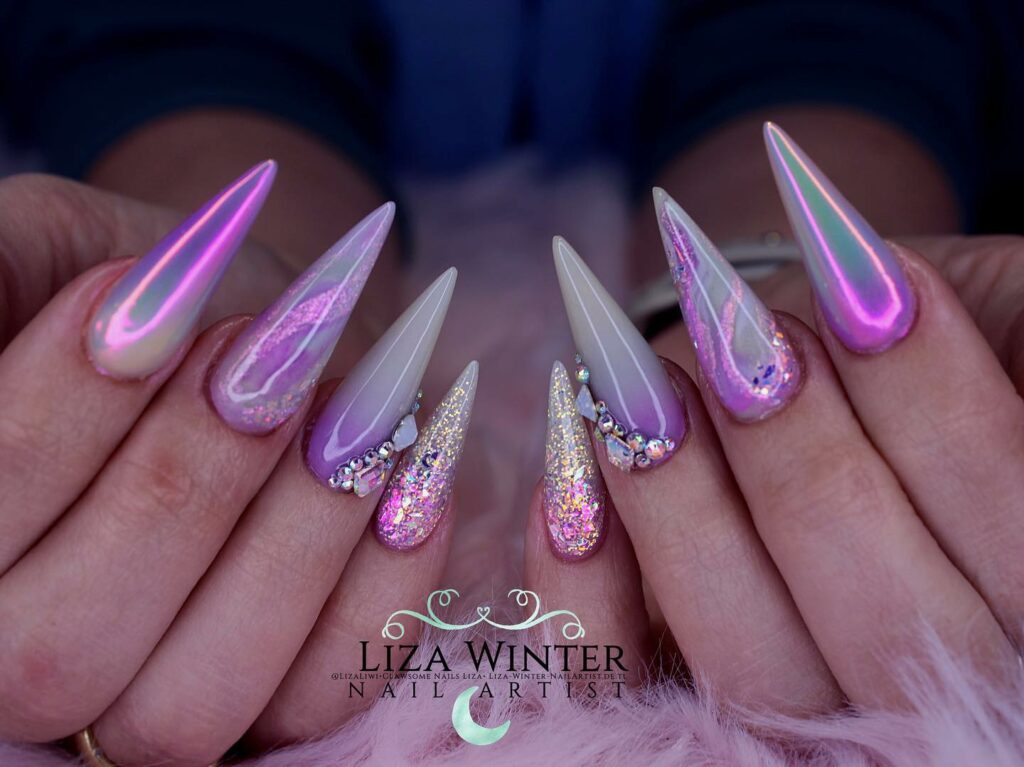 8. Glitter Overload Unicorn Nails
The perfect party nails in unicorn colors.
9. Mermaid Scales Nails
Mermaid inspired nails blended beautifully with neutral manicure for those who don't like the overdone look.
10. Neon Fiesta Unicorn Nails
Summer unicorn nails with butterfly nail art and a range of nail design techniques used.
11. Dark Side Unicorn Nails
Unicorn nails are normally bright and vibrant, but you can also go dark and moody as in this example.
12. Neon Pastels Unicorn Nails
Ombre unicorn nail design with pretty rhinestones and glitter.
13. Unicorn Nail Design with Mismatched Nails
Do you love the look of mismatched nail shapes? They look spectacular especially with unicorn colors.
14. Unicorn Nail Design with Gemstones
A work of art on your nails!
15. Unicorn Nail Design with Pink and Blue
Pretty unicorn nails that would be perfect for a baby shower event, with shades of pink and blue and ombre with glitter.
16. Unicorn Nail Design with Rhinestones
Nude unicorn nails with a statement gemstone.
17. Unicorn Nail Design with Green & Silver
There's definitely plenty of sparkle in this gorgeous teal manicure with silver foil nail polish, statement gemstones and solid teal color.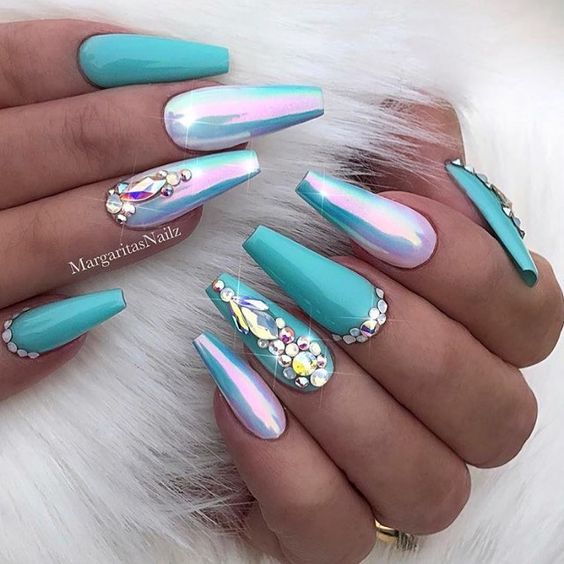 18. Galaxy Blue Unicorn Nail Design
Unicorn nails inspired by the colors of the galaxy.
19. Pink Euphoria Unicorn Nail Design
For those with short nails, all you need to add plenty of personality is just a lot of glitter and gemstones.
Unicorn Nail Designs: Nail Art Inspiration
If you would like to explore unicorn nail art, this technique requires a talented nail artist who will be able to recreate this on your nails.
There are many different designs styles you can choose, some more feminine than others. Below are some of the best ones we found on Pinterest.
20. Purple Unicorn Nail Art
Unicorn nail art on a single nail, complimented by pretty lavender nail polish.
21. Rainbow Unicorn Nail Art
One that combines both styles – unicorn color inspired nail polish selection with a pretty custom nail art included.
22. Black and Rainbow Unicorn Nail Art
Nail design with comics style with pastel rainbow colors.
23. Individual Unicorn Nail Art
Pretty in pink, with a custom nail art design for each nail.
24. Neon Mismatched Unicorn Nail Art
Why choose one when you can have them all? This manicure features custom pretty uniconr nail art, neon nail polish and even comics nails.
25. Neon Mismatched Unicorn Nail Art
Pretty feminine unicorn nails on coffin nail shape with rainbow swirls – how pretty is this?