Dreaming of purple ombre nails? In that case, you're at the right place!
We have scouted the internet to prepare this curated collection of over 20 pretties purple ombre nails ideas. Whether you're looking for inspiration for your next nail salon visit, or a little DIY you can do at home, this article has plenty of nail design ideas for both options.
Ombre nails are super popular in 2023, and the color purple is one of the most striking options to use in this nail trend. Purple colour symbolized royalty, nobility and luxury, and is often chosen for special events like parties, anniversaries and other high-profile occasions.
If you're planning to choose purple ombre nails for your manicure, you're right on the trend.
Ombre nails come in a range of different execution options, but all of them work for any nail type and size, whether you have short nails, coffin nails, mountain peak or almond nails. Yes, you can easily do them even on short nails, which will help to elongate them visually.
But let's get down to the main thing – the nail design ideas!
Below is a super simple video tutorial in case you would like to try to do ombre nails at home, followed by the collection of the prettiest purple ombre nails we found online. Save your favorites in your Pinterest account!
Purple Ombre Nails Video Tutorial
Make purple ombre nails at home! Here is an easy video tutorial prepared by the Purple Nails youtube channel.
20+ Gorgeous Ideas for Purple Ombre Nails
Here are some of the most beautiful looks we found on Instagram – if you would like to see more nail design ideas from the same nail artist, you can click on their Instagram bio link under each image.
For more options when it comes to purple ombre nails, we have a collection of nearly 100 designs in our dedicated Pinterest board. Don't forget to follow us on Pinterest to stay on top of all nail design trends!
1. Diamond Purple Ombre Nails
Elevate simple purple ombre nails for a special occasion with the use of pretty shiny rhinestones.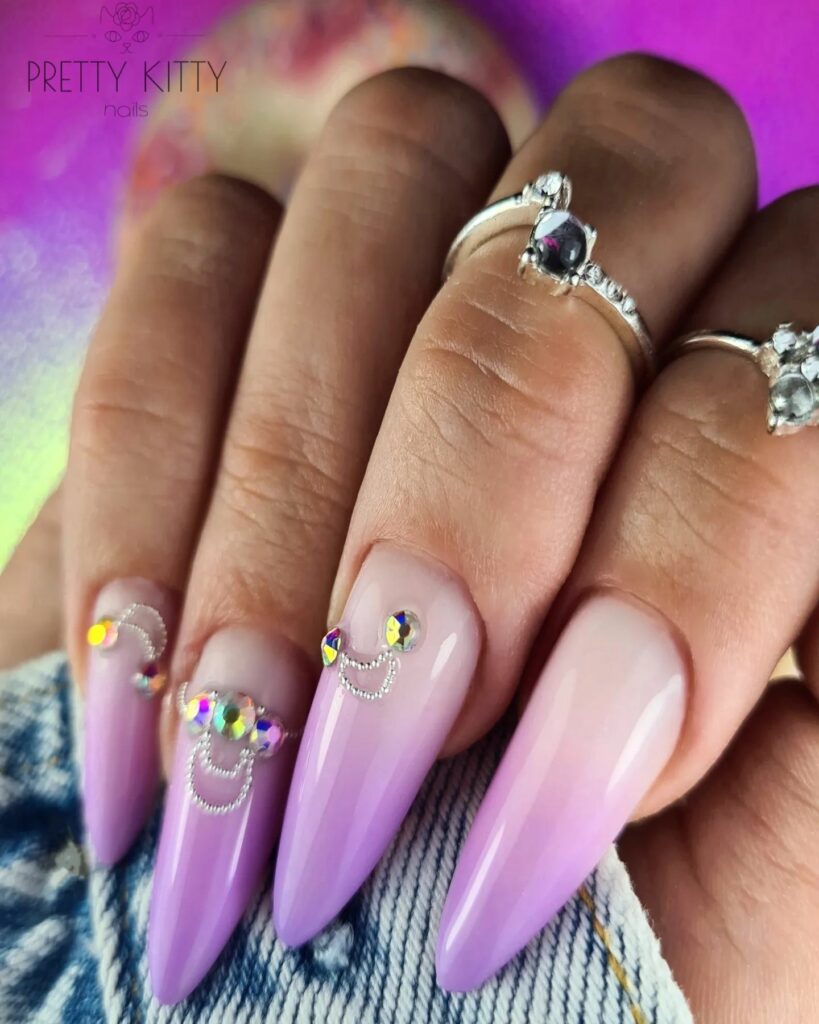 2. Zodiac Purple Ombre Nails
Into star signs? Get yours on your nails too!
3. Angel Wings Purple Ombre Nails
Decorate your nails with a bit of angel dust – these pretty angel wings in gold are just what you need to make your ombre manicure super cute.
4. Purple Ombre French Tips
Don't want to do full color? Opt for an ombre effect on French tips.
5. Purple Ombre Alternating Nails
Another way to use the ombre nail design is by using individual nails in different shades of purple. Same effect, but this manicure is something anyone can do at home with the correct color palette.
6. Purple Ombre Nails with Animal Print
Show them your wild side with ombre purple nails decorated with black animal print nail art.
7. Nude to Purple Ombre Nails
Pretty short ombre nails with added interest of stripes on one nail.
8. Almond Shaped Summer Purple Ombre Nails
The perfect summer manicure with beige to purple ombre nails and pretty summer flowers.
9. Coffin Purple Ombre Nails with Rhinestones
Reverse purple to pink manicure made for special occasion with rhinestones at the base of the nails.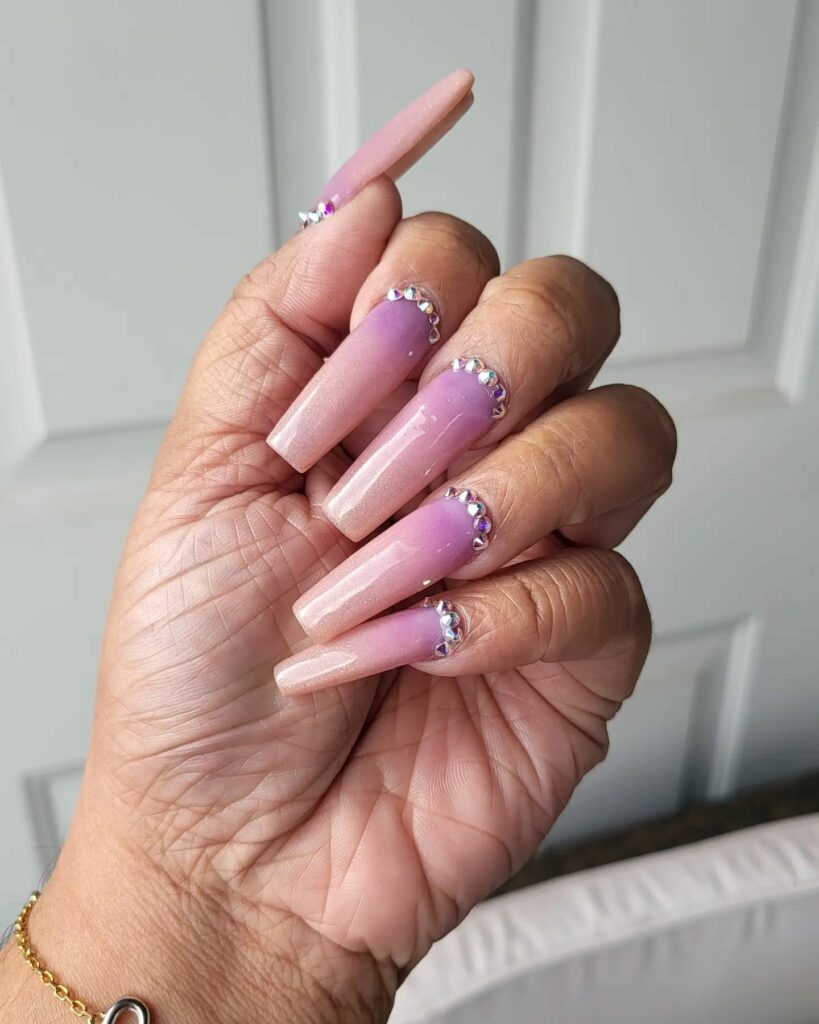 10. All Glitter Purple Ombre Nails
Glitter all around, and yes – not just for a party or special occasion.
11. Silver Glitter Purple Ombre Nails
12. Night Sky Purple Ombre Nails
13. Light Omber with Silver Statement Nail
14. Light Purple and White Ombre Nails
15. Purple Gradient Nails
16. Purple Ombre Nails with Clouds
17. Dark Purple Ombre Nails
18. Pink and Purple Ombre Nails
19. Purple Ombre Nails with Gems
20. White and Purple Ombre Nails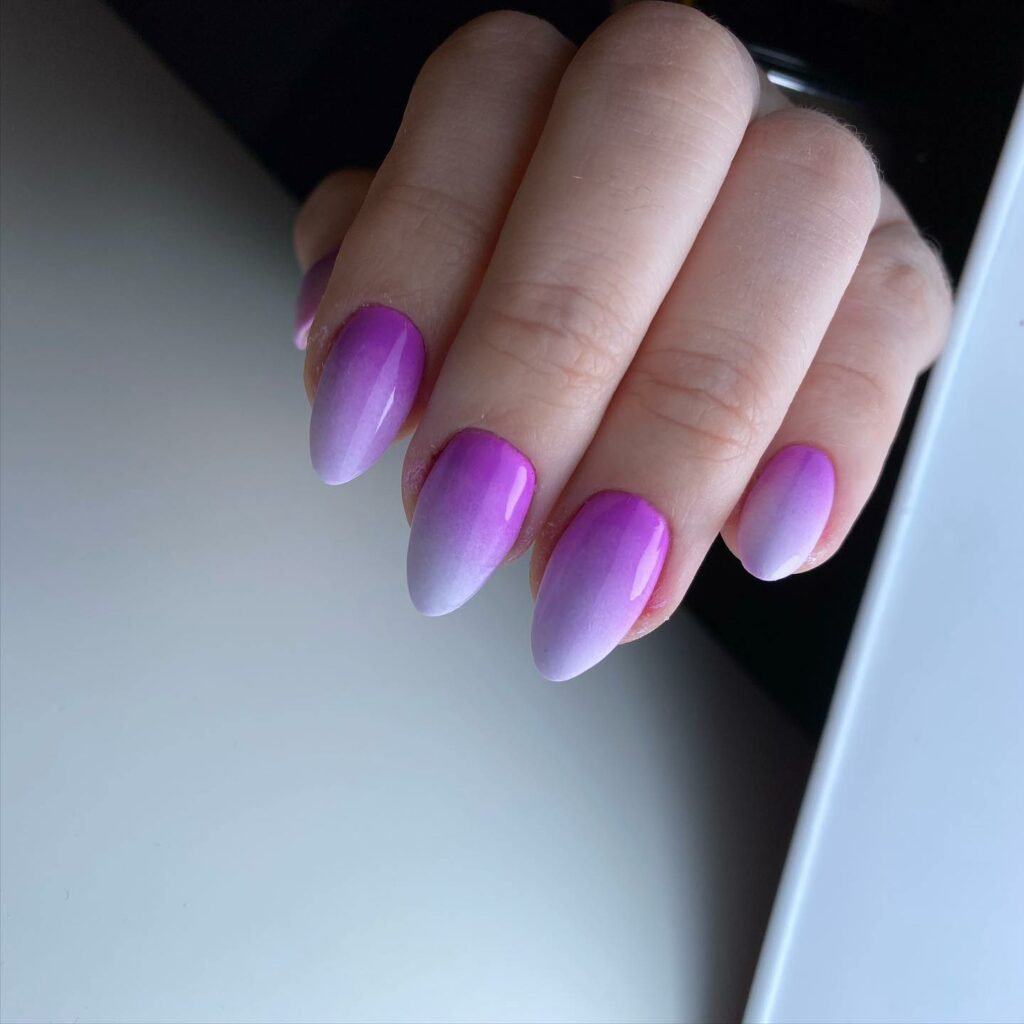 21. Coffin Purple Ombre Nails
22. Almond Purple Ombre Nails with Silver Detail
23. Short Pink and Purple Ombre Nails