Rose gold glitter nails, the ultimate combo of sophistication and sass.
They're the Beyoncé of nails—versatile, stunning, and never a dull moment. Whether you're heading to a casual brunch or you're the star of a glitzy event, rose gold glitter nails have your back.
Let's dish on why this trend is a must-try and how to get those digits looking absolutely dazzling.
Why Rose Gold Glitter Nails?
So why are rose gold glitter nails such a showstopper?
Well, rose gold is like the cool, laid-back cousin in the gold family. It's got that luxurious vibe, but it's also warm and accessible. It's the kind of shade that flatters pretty much every skin tone. Now, add glitter to the mix, and boom!
You've got a look that's chic, fun, and fabulous all rolled into one.
Different Strokes for Different Folks
You might be thinking, "Glitter nails? Isn't that a bit too much?" Nope, not with rose gold! The beauty of this trend is that you can dial the sparkle up or down depending on your mood or the occasion.
Subtle Shimmer: Go for a soft base coat of rose gold and sprinkle just a touch of glitter on the tips. You'll get a look that's understated yet impactful, perfect for daytime events.
Full-On Glam: When you're ready to unleash your inner diva, coat your nails in a rich layer of rose gold glitter. Trust me; it's like having a disco ball at your fingertips.
Accent Nails: Not ready to go all out? No worries. Opt for a single rose gold glitter accent nail on each hand. It adds a fun twist without overwhelming your look.
DIY or Salon?
If you're the crafty type, a DIY rose gold glitter mani is totally doable. You'll need a base coat, a rose gold nail polish, rose gold glitter (finer particles work best), and a good top coat. Apply the base coat, followed by a layer of rose gold polish.
While the polish is still wet, gently sprinkle the glitter over your nails. Finish off with a clear top coat to seal the deal. Voilà, you're ready to shine!
On the other hand (pun intended!), if you're looking for a flawless, long-lasting finish, a salon visit might be more up your alley. Professional nail techs can offer techniques like ombre glitter, encapsulated glitter, and even rose gold chrome finishes for that ultra-luxe look.
Care & Maintenance
Rose gold glitter nails do require a bit of TLC.
The texture of glitter polish can make it a little tricky to remove. When it's time to say goodbye to your sparkly friends, soak your nails in acetone-based remover to help break down the glitter. Also, using a nourishing base coat can protect your natural nails from potential staining or damage.
Make It Your Own
The best part about rose gold glitter nails is that you can easily make the trend your own. You can combine it with other shades, play with nail shapes, or even add gemstones for that extra oomph. Your imagination's the limit!
The Final Sparkle
So there you have it, the lowdown on rose gold glitter nails. Whether you're into subtle glimmers or full-on sparkle fests, this trend is as versatile as it is eye-catching. So why wait? Give your nails the royal treatment they deserve and get ready to turn heads wherever you go. 💅✨ Keep shining, you beautiful thing!
30+ Designs for Rose Gold Glitter Nails
1. Simple Rose Gold Almond Nails with Nude
2. All Rose Gold Long Nails
3. Rose Pink, Marble and Rose Gold Glitter Nails
4. Rose Gold Winter Nails Design With Glitter and Snowflakes
5. Rose Gold Glitter Ombre and White Marble Nails
6. Cute Rose Gold Glitter French Tip Short Nails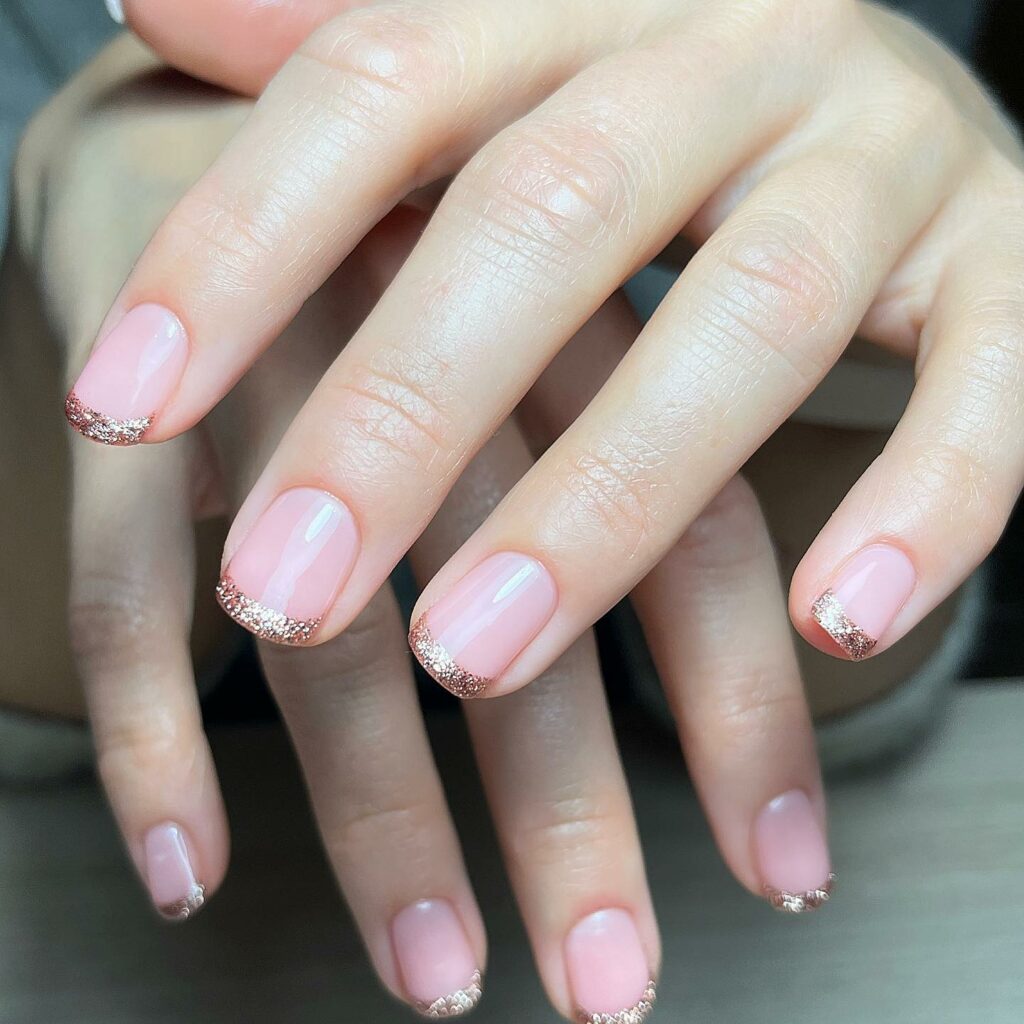 7. Rose Gold Glitter Ombre and Side Tipped Nails with Nude Base
8. Classic Rose Gold Glitter Almond Nails
9. Glossy, Matte and Glitter Rose Gold Nails
10. Glittery Rose Gold Vertical Ombre with Nude
11. Nude, Rose Gold Glitter and White Patterned Nails
12. Black and Rose Gold Glitter Nails
13. Pink and Rose Gold Glitter Almond Nails
14. White and Rose Gold Glitter Swirl Nails
15. Nude and Rose Gold Glitter Nail Design
16. Pink and Rose Gold Glitter Nails with White and Glitter Swirls
17. Simple Rose Gold Glitter Ombre Nails
18. Stiletto Rose Gold Glitter Nails
19. French and Ombre Rose Gold Glitter Nails
20. Winter Rose Gold Glitter Nails with Pink
21. Snowflake Winter Nails with Reverse French in Rose Gold Glitter
22. Chrome and Rose Gold Glitter Nails
23. Reverse Ombre Nails in Rose Gold Glitter
24. Short Abstract Nails with rose Gold Glitter and Black Details
25. Simple Rose Gold Glitter French Tipped Almond Nails
26. Burgundy and Rose Gold Glitter Nails
27. Rose Gold Glitter Tips
28. Christmas Present Nails in Rose Gold Glitter
29. Diamond and Rose Gold Glitter on Nude Nails
30. Short Rose Gold Glitter Nails with Swirls and Tips
31. Pink, Beige and Rose Gold Glitter Nails
32. Rose Gold Chrome and Glitter Nails with Rhinestones
33. Simple Rose Gold glitter Swirls on Almond Nails
34. Cute Rose Gold Glitter Nails with Ombre and Swirls
More Pink Nail Design Ideas