Oh, we love almond nails!! Especially the neutral natural-looking ones! If you're with us, we have a treat for you – a collection of some of the most beautiful beige almond nails from the most talented nail artists from around the world.
Almond nails are one of our most loved nail shapes – they look super elegant and sophisticated no matter what manicure your choose. Unlike coffin nails, they are still super practical for everyday life, but look much more elevated compared to natural short nails. They also come in a variety of lengths, so you can get the size that fits your lifestyle perfectly.
Beige-colored nails are the perfect choice for those who don't have time to update the manicure very frequently. If you want a trending, yet elegant look for your nails, beige nail polish is one of the best options to choose. But don't worry – they will look anything but boring!
Beige nails can be done in a variety of ways, incorporating the latest nail design techniques and trends, so you will still be on-trend while having nails that will stand the test of time. Are you ready to choose your favourites?
Below is our selection of the prettiest beige nail designs – if you need even more inspiration, check our dedicated Pinterest board.
30+ Beige Almond Nails Ideas
Here they are, our top picks for beige almond nails. If you want even more inspiration on different nail designs, don't forget to also check our related articles at the end of the post.
1. Beige Almond Nails with White Nail Art
White nail polish is the perfect choice if you want to add a bit more interest to your almond-shaped nails. The lighter the beige base color is, the more you can add with your nail art.
2. Beige Almond Nails with Gold Foil
If you want to transform the everyday look to party ready, simply add some golf foil nail polish to a few of your nails. Don't overdo it, in case of gold foil less is more.
3. Black and Gold Nail Art
Beige and black nail polish is a great option for adding more contrast to your nails, and all you need is some simple stripes.
4. Beige Almond Nails with Glitter
A very pretty look for natural-looking almond nails, with glitter effect French tips.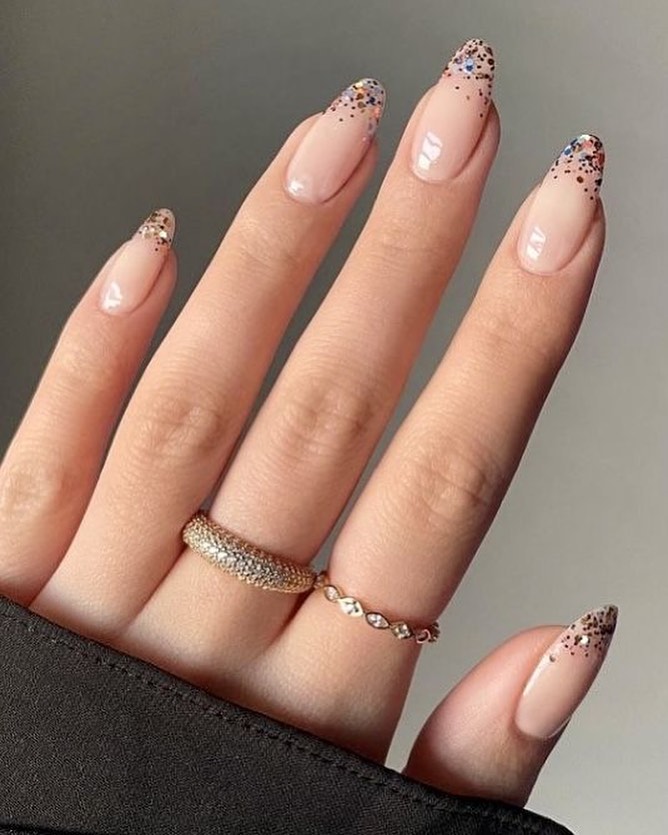 5. Short Beige Almond Nails
Even short nails can look super glam with a bit of gold foil on a glossy beige background.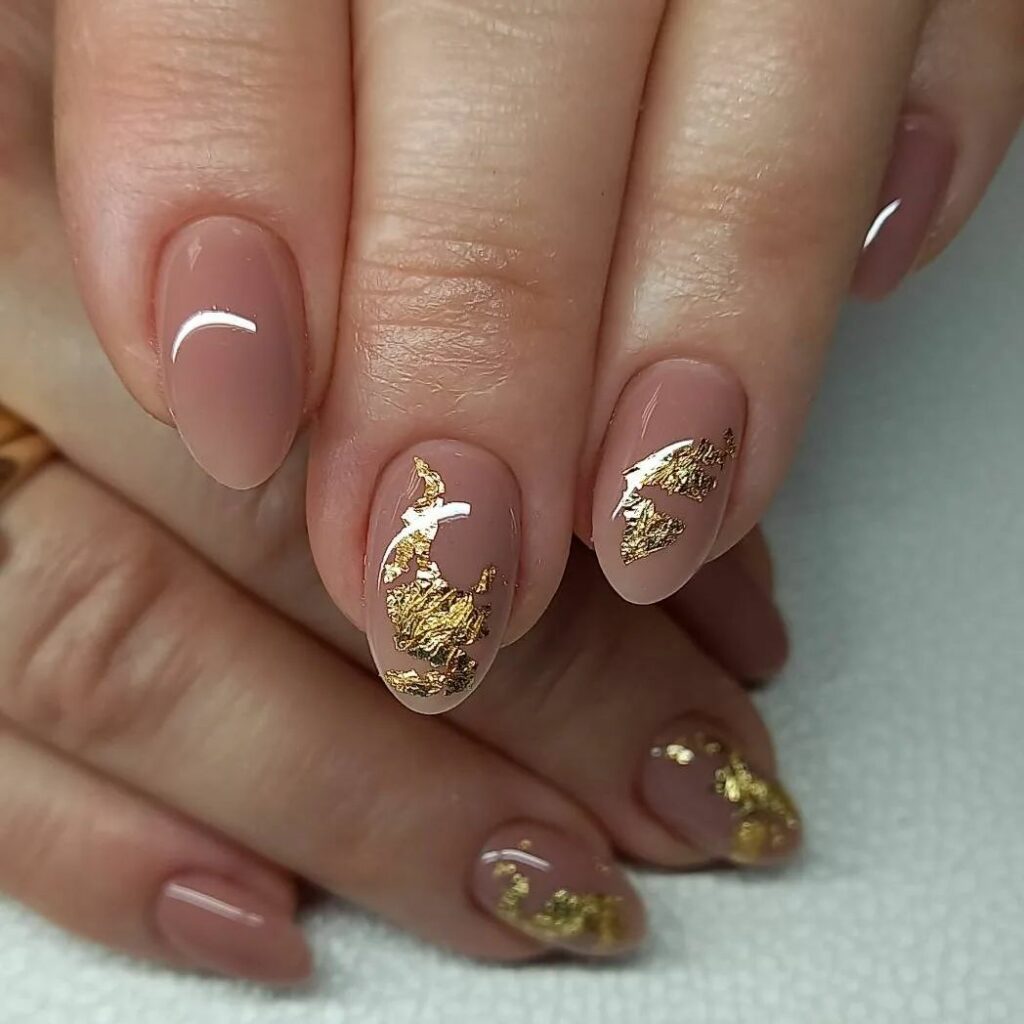 6. Almond Nails with Gold Stars
If you want something unique, this pretty manicure looks like cut out from fairy tale books!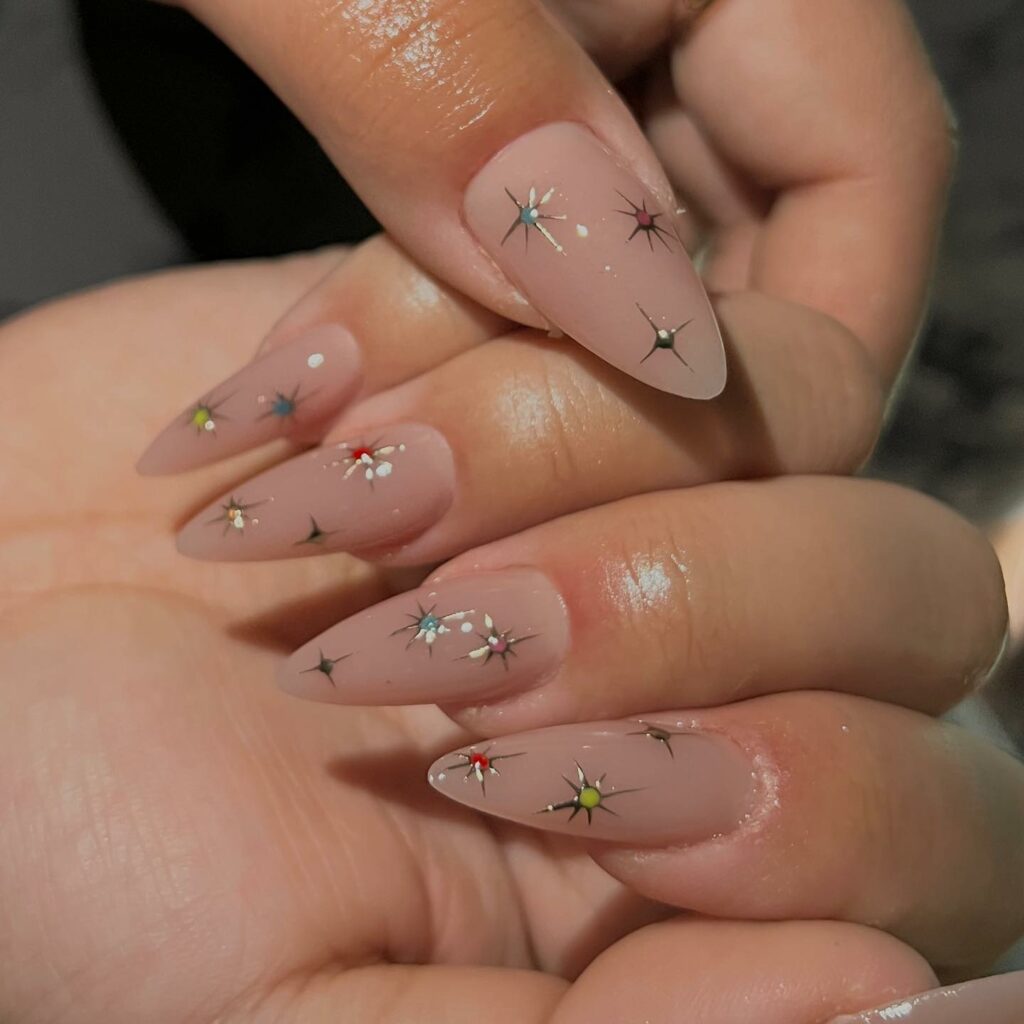 7. Gemstones with Almond Beige Nails
If you're using gemstones, they don't have to take the center stage.
8. Sweater Almond Beige Nails
Sweater nails are super popular for winter months and Christmas, and they look really pretty in this coffee beige color.
9. French Tips on Almond Beige Nails
A slight modification of a classic French tips manicure with a beige color scheme, elevated with a bit of rusty gold color.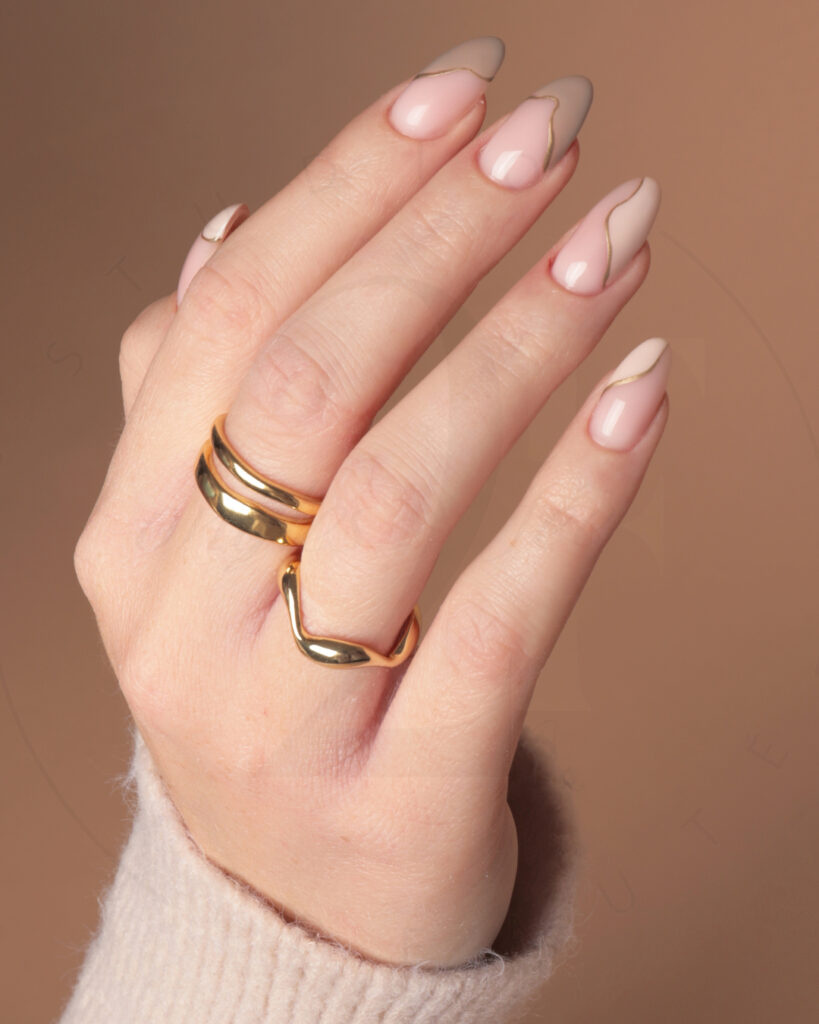 10. Snowfall Nails
If you're looking for a pretty winter beige manicure, why not capture the essence of the falling snow on your nails?
11. Rusty Gold Almond Beige Nails
Add a simple 3D look to your nails by incorporating a darker beige nail polish and a few rose gold flakes.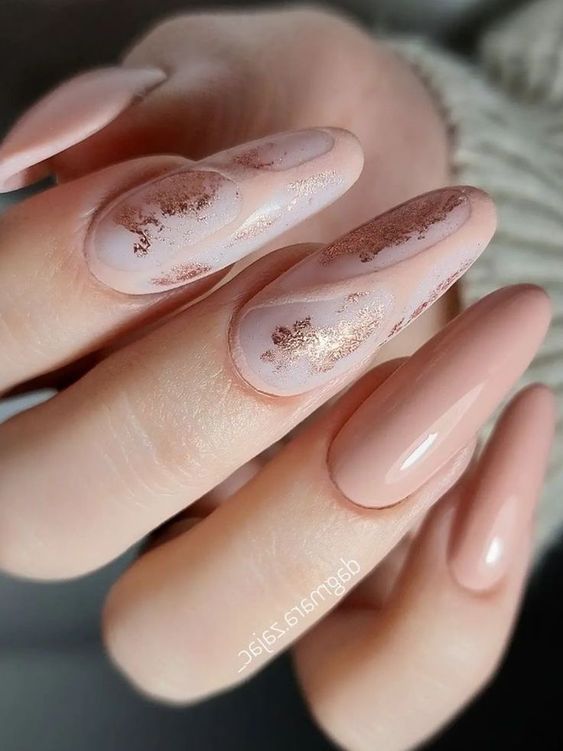 12. French Tip Outlines
These alternating French tips with white and black nail polish create a simple contrast and transition between the two shades of beige. A beautiful and simple look that works for any nail length.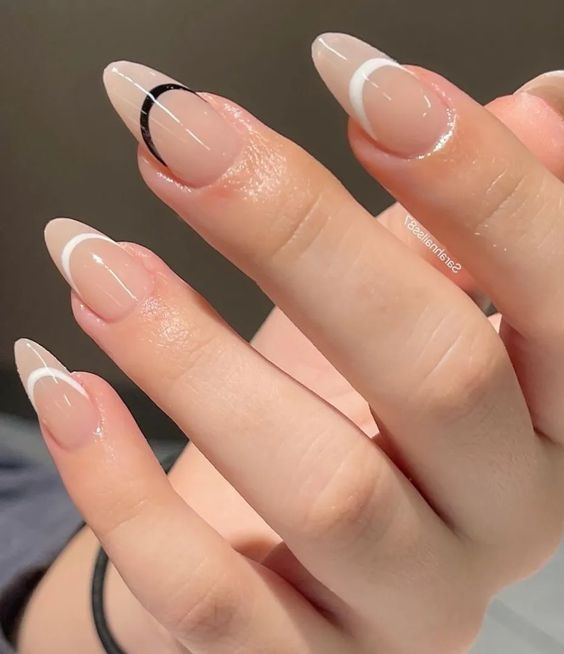 13. Beige & Gold Almond Nails
Instead of gold flakes, you can experiment with gold foil which makes your nail shine like you're wearing diamonds.
14. White Lace Nails
This intricate lace nail design is truly a work of art!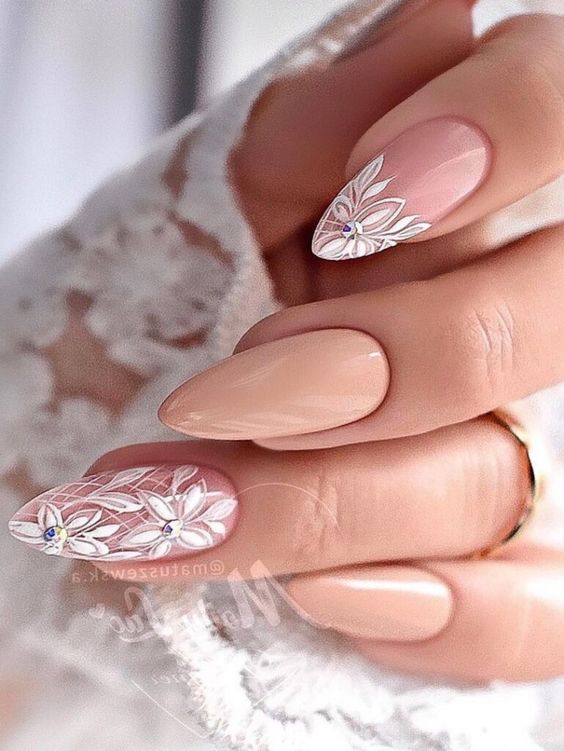 15. Bridal-Inspired Almond Nails
Beautiful almond shape nails in the most angelic bridal manicure.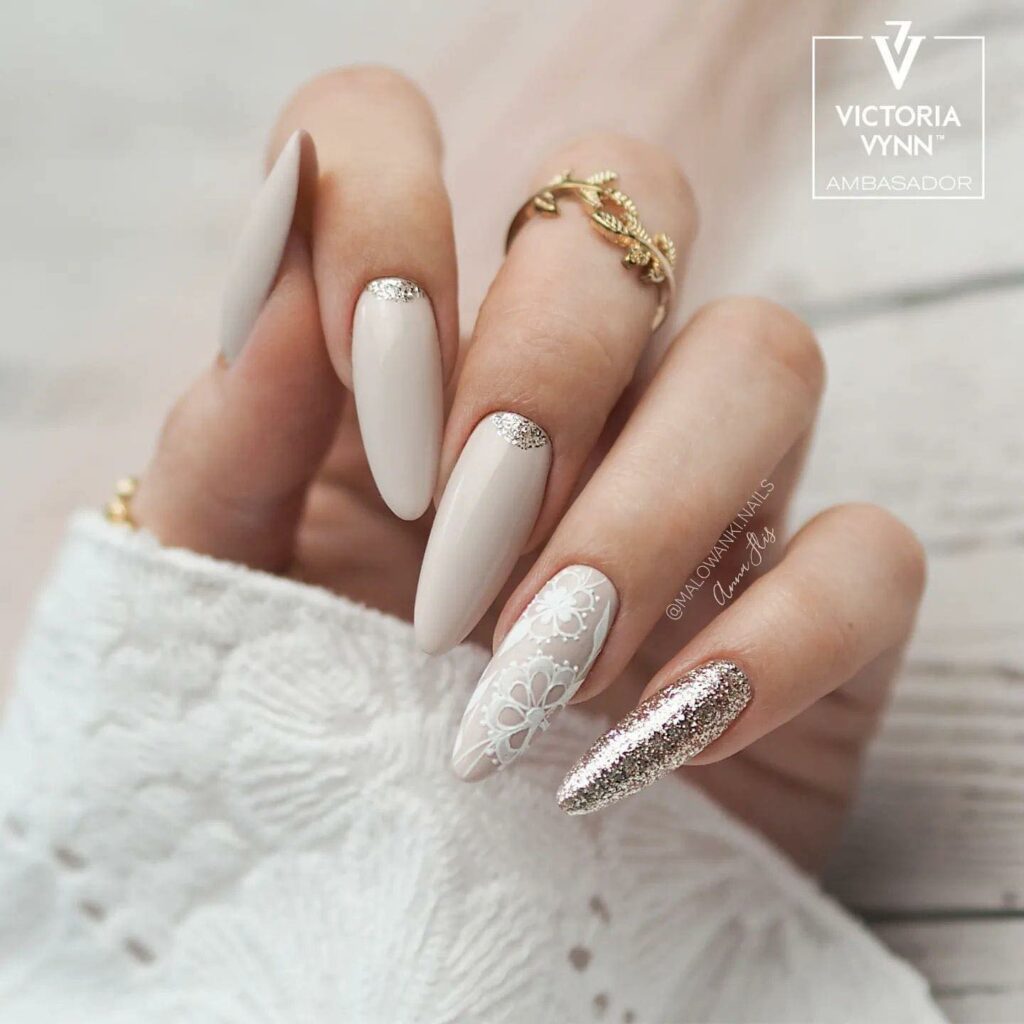 16. Minimalist Almond Beige Nails
Transform your simple nails into something more intricate just by adding some simple minimalist shapes. An easy manicure project you can easily do at home.
17. Floral Almond Beige Nails
This beautiful floral nail art is combined with a simple gradient ombre look.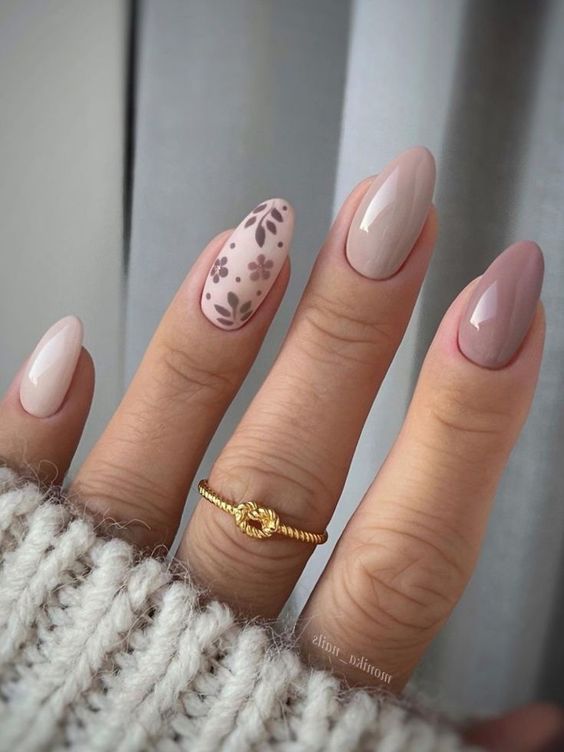 18. Rusty Gold with Beige
Dark beige contrasts beautifully with the added special touch of gold nail polish.
19. Summer Almond Beige Nails
Get your beige manicure summer ready by adding some pretty flowers.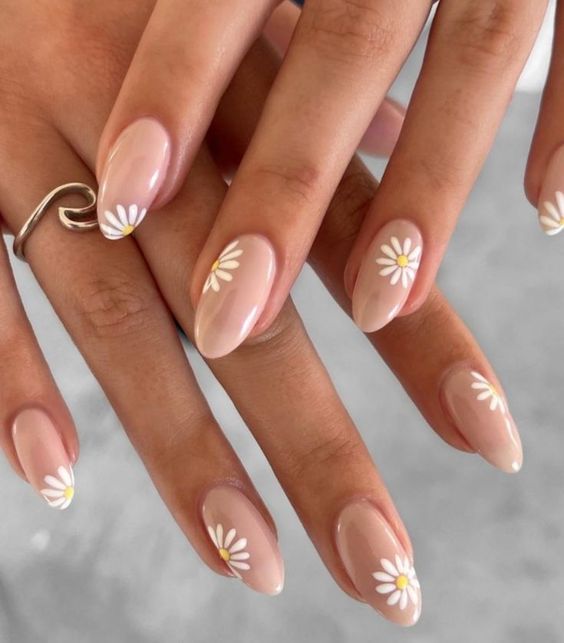 20. White Swirl Almond Nails
Emulate the motion of the ocean waves with white nail polish on light beige base – an effortless look that always scores top points.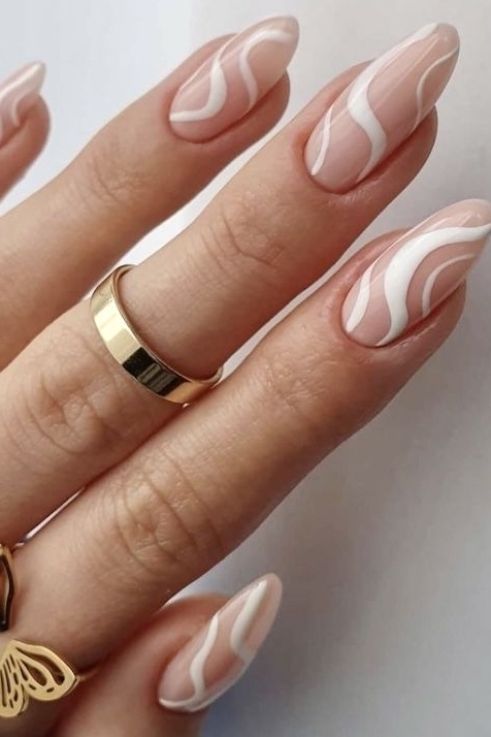 21. Gold Stripe Almond Beige Nails
If you love the look of simple stripes you can achieve the same without hand-painting them. Simply add some foil stripe stickers and create an interesting design that's truly one of a kind.
22. Neutral Beige Nail French Tips
This is one of the prettiest beige French tip nails examples we've seen online – a gorgeous thin white outline on the perfect shade of neutral beige nail polish.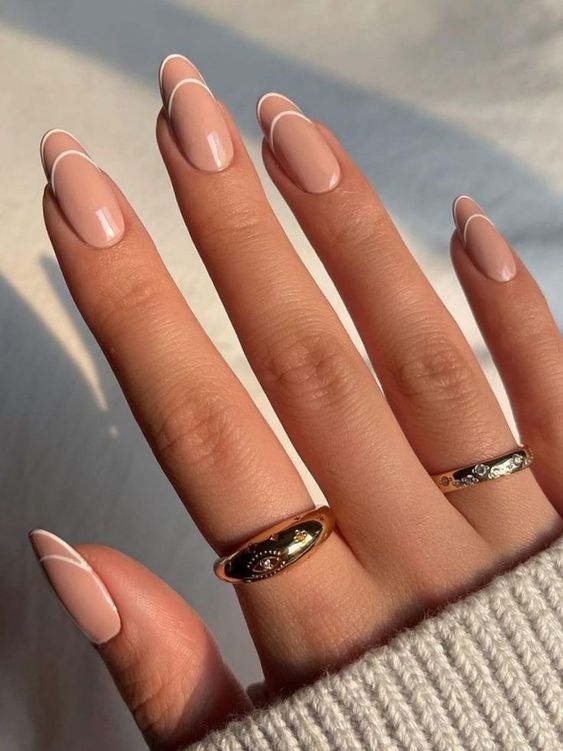 23. Simple Almond Gemstone Nails
Add the smallest gemstones to your beige nails to transform them into a party look.
See More on Pinterest