If you love the look of classic French tips, then you know adding a few gems is the extra sparkle you need for a night out or a special occasion. If you're looking for some inspiration on how to pull off this look, our team has collected over 20 pretty ideas for French tip nails with gems, to give you lots of ideas on your next manicure project.
Classic French tip nails have been around for ages, but recently they are having a bit of a moment, with modern takes on this classic with colors like red, black, green, hot pink and all colors of the rainbow.
They can be easily transformed from a classic everyday look to a party-ready manicure by making small tweaks in the design, like adding a glitter nail polish outline or using gemstones. When using gemstones with this type of nail design, you have to remember that less is more – smaller pearl size gemstones are preferable to anything that would be too big and make your manicure look too busy and messy.
In terms of the color of gemstones, clear gems are the most popular type to use, followed by pastel shades used in moderation. You can always try to match the color of the gemstones to your nail tip colors, but using clear gems will always work with any other nail polish color.
You also want to keep practicality in mind, adding too big gems to your nail might end up getting them caught in your clothing or create extra hassle in your work.
Last but not least, even if you have shorter nails, they can look great with French tips if you use darker nail polish shades to make them stand out.
20+ Ideas for French Tip Nails with Gems
Are you ready to pick your favorites? This curated selection has ideas for longer and shorter nails, with different color combinations but featuring heavily the classic white nail design.
If you need even more ideas, check out our Pinterest account where we have collected hundreds of trending nail design ideas, and more are added daily.
1. Classic White French Tips with Gems
2. Black French Tip Nails with Gems
3. French Tip Nails with 3D Gemstones
4. White Nail Art with Gems
5. Ruby Red Gems with French Tips
6. Valentine's Day French Tips with Gems
7. Reversed French Tips with Gems
8. Pink Long French Tips with Gems
9. Blinged Out French Tips
10. Red French Tips with Small Gems
11. Coffin White French Tips with Gems
12. French Tips with Gems and Flowers
13. Red Almond French Tips with Pearls
14. Baby Pink French Tips with Gems
15. Classic French Tips with Multi Color Gems
16. Almond French Tips with Gems
16. Coffin French Tips with Pearl Gems
17. Baby Blue French Tips with Gems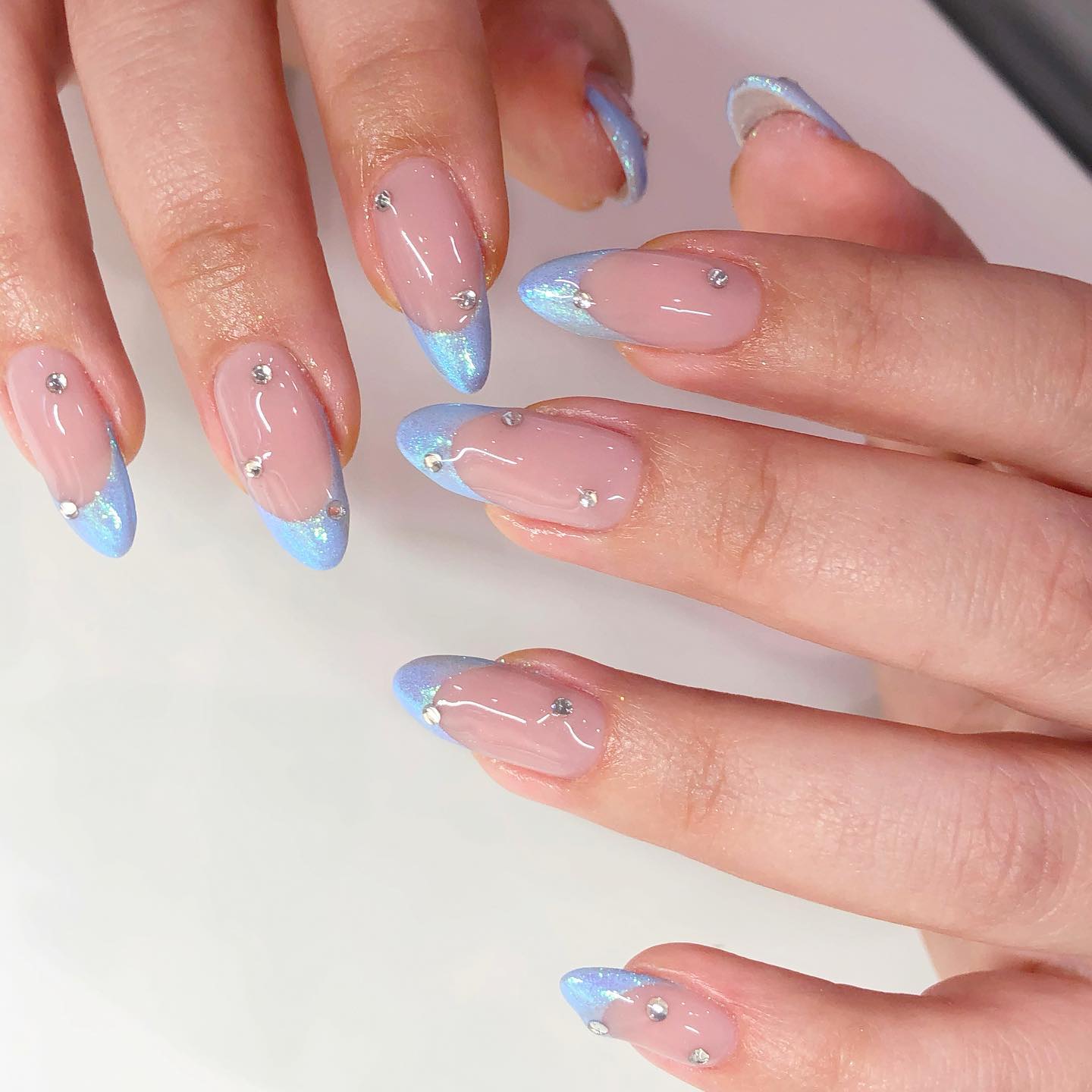 18. White Flame French Tips with Gems
19. Black French Tips with Black Gems
20. French Tips with a Single Gem
21. Mixed Color French Tips with Gems
22. Gold Glitter French Tips with Gems
23. Holiday French Tips with Gems