If you love the look of classic French tips manicures, we've got a little update for you that we're sure you'll fall in love with it.
Dark red French tip nails have been making rounds on Instagram and we have selected the best designs to give you lots of inspiration for your next manicure project. This new and modern take on the classic French manicure will allow you to experiment with deeper shades of red, which is the perfect manicure variation for Valentine's Day, or just to create a new look for the office.
Dark red french tips can be done in a number of ways, some of the most popular designs we found online include:
Minimalist red French tip nails, on very short nails that just feature a very thin outline on all nails
Mismatched red French tip nails, with a variety of different designs on each nail which make the whole manicure look more interesting and on-trend
Coffin dark French tips, with different levels of coverage for the tip of the nails, and including some new takes on the classic stripes, like creating an arrow shape outline or other more creative designs that will make your nails stand out
Bold red French tips, with a thicker than usual red design that's covering a longer part of the nail, not just the tips
Glitter red French tip nails, suitable especially for the festive season or for a special event
There are so many different styles to choose from that you're really spoiled for choice!
Below we have included a simple step-by-step tutorial on how to create this manicure at home, followed by a roundup of the best styles! Enjoy!
How to Do Dark Red French Tip Nails
To transform your nails with this manicure you need a few simple steps to follow.
You need to start with freshly cleaned up and tidy nails, without any dust residue. Brush them off properly to make sure you have a clean and smooth surface to work with.
Select your base color – to achieve the classic look, natural beige color tones work the best, but you can experiment also with milky white nail polish or natural shades of light pink.
Once you're done with your base color and let it dry properly, it's time to create the design.
To create the French tips, you would normally use stickers that would outline the area you need to cover in red. You need to be careful to place those on roughly the same spot on each nail, so the size of your red tips is the same on all your nails.
Once you've got that measured up and the nail stickers in place, you can grab your red nail polish and get creating. The longer the nails are, the longer you can usually go with the French tips too.
35 Dark Red French Tip Nails Ideas
Here is our selection of the best nail designs from Instagram. If you get inspired by the work of the nail artist featured, you can check out more of their creations by clicking their Instagram bio on the image.
Finally, if you need even more inspiration, we have hundreds of different nail design ideas saved up in our Pinterest account – follow us here.
1. Dark Red French Tip Nails with Hearts
2. Hearts All Around
3. Girl with the Red Dragon
4. Dark Red French Tips Stilleto Nails
5. Dark Red Glitter Red French Tips
6. Winter Nails with Red French Tips
7. Matte and Glossy Red French Tips
8. Almond Shaped Red French Tips
9. Super Short Nails with Dark Red Tips
10. Festive Inspired Red Manicure
11. Elegant Classic Dark Red French Tips
12. Dark Red Glitter French Tips on Acrylic Nails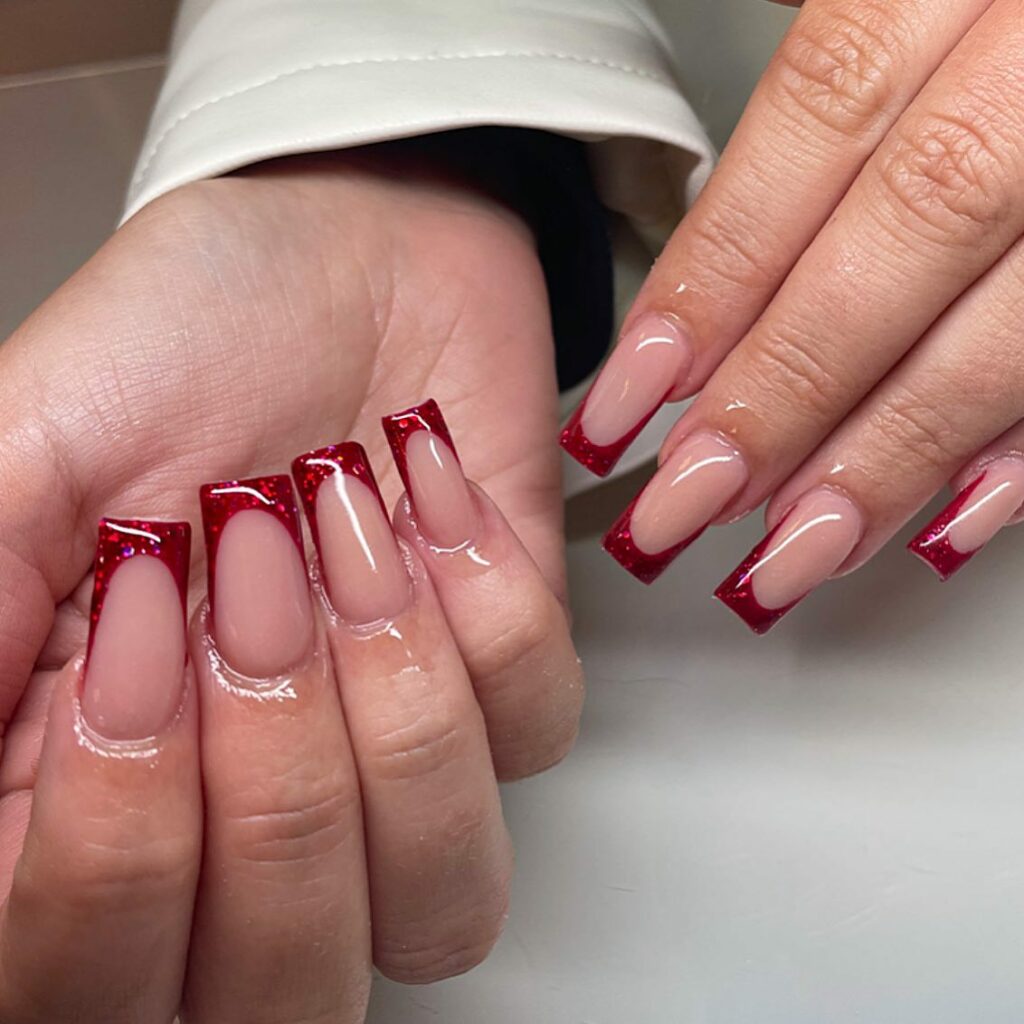 13. Mismatched Dark Red French Tips
14. Red Parrot Nail Art
15. Super Short Dark Red French Tips
16. With Silver Star
17. With a Heart Detail
18. Elegant Long Acrylic Nails with Dark Red Tips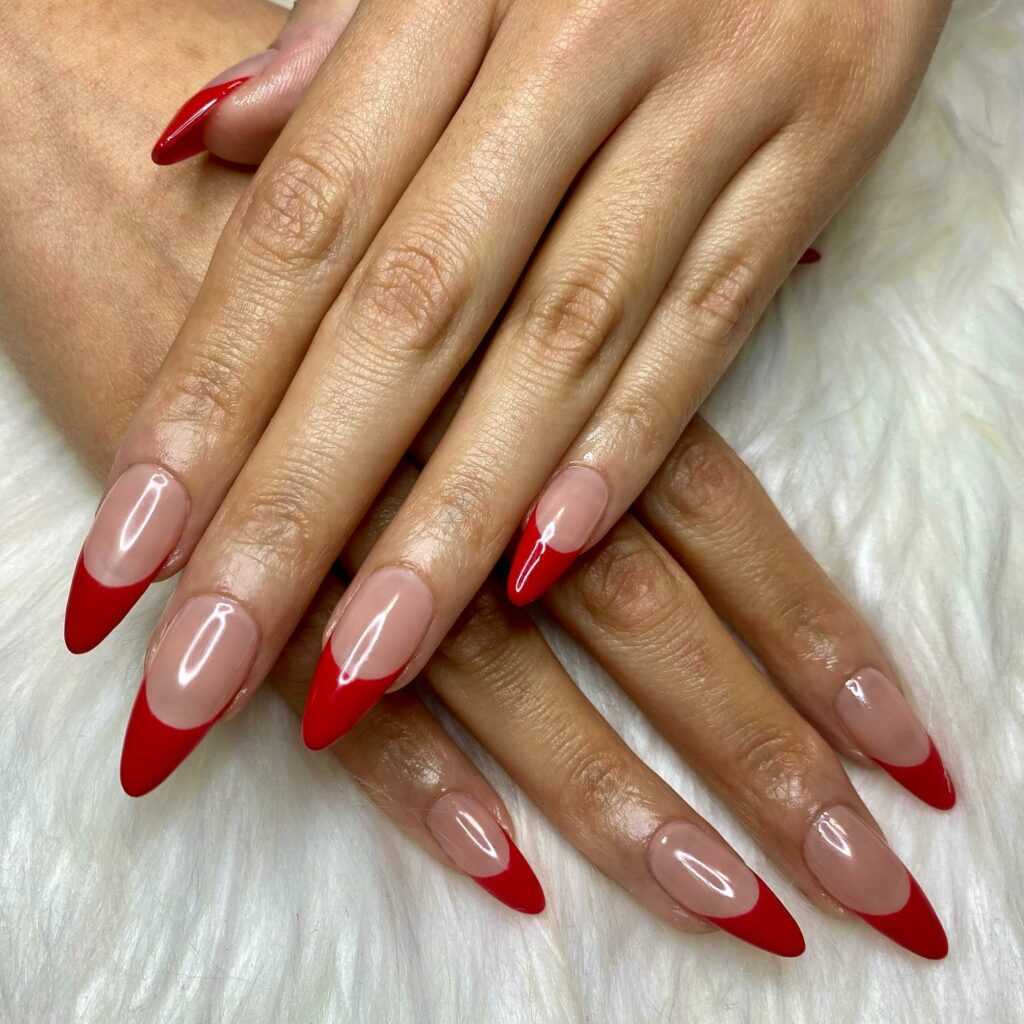 19. Red Tips on Mismatched Nail Shapes
20. Bold Coffin Dark Red French Tips
21. 3D Nail Art Decor on Red French Tips
22. Round French Tips with Gemstones
23. Statement Tattoo Inspired Nail Art
24. Arrow Shape French Tips
25. Classic Long Coffin Red Tips
26. Acrylic Dark Red French Tips
27. Festive Red French Tips
28. Glitter Red Coffin Nails
29. Side Tips with Gemstone Nail
30. Long Dark Red Metalic French Tips
31. Fall Inspired French Tips
32. Spider Web Dark Red French Tips
33. Red French Tips with Pink Base Color
34. Full Coverage Dark Red French Tips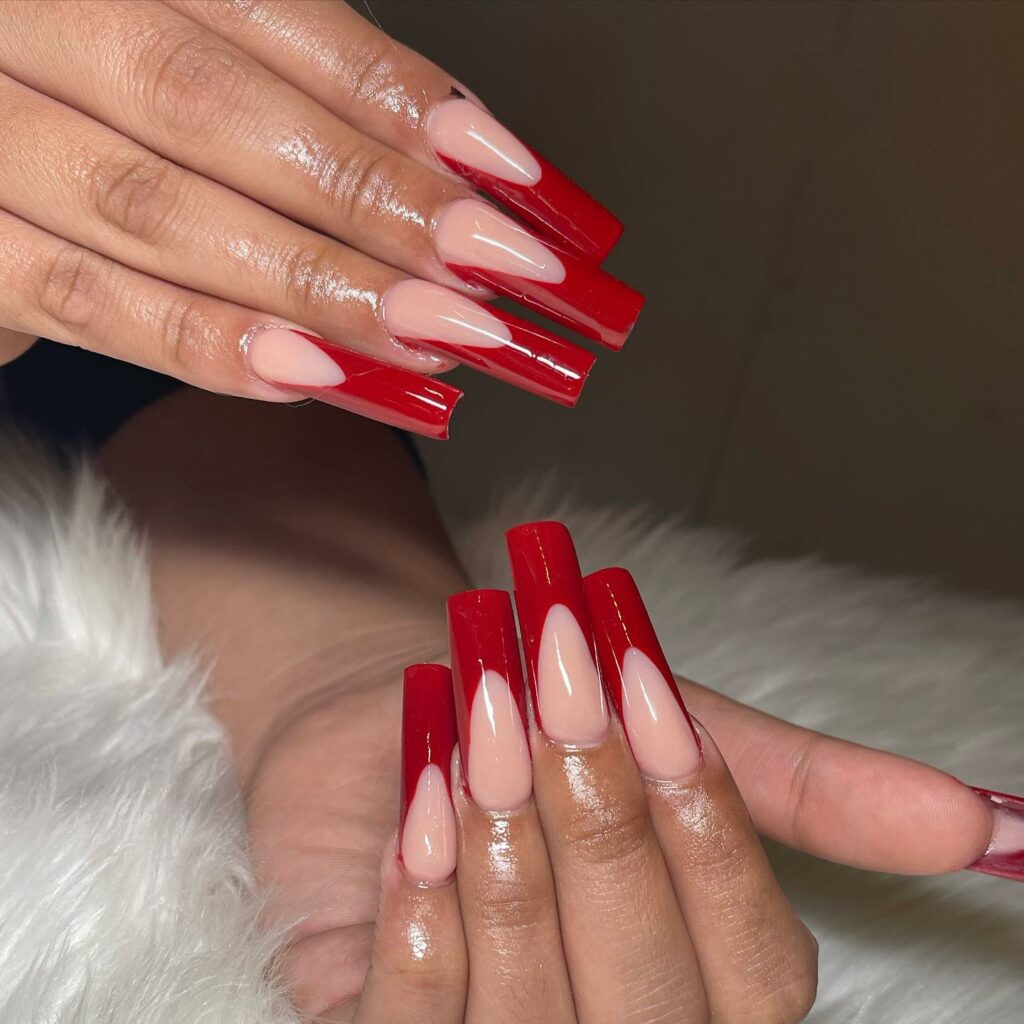 35. Mini Dark Red French Tips