French tip nails are one of the most classic looks for an elegant manicure that never goes out of style. If you're looking for ways to make them a little more interesting, emerald green French tip nails might be just what you need!
In this article, we have compiled a curated selection of over 13 best examples of emerald green French tips nails to show you all the variations on this pretty and timeless nail design style.
This style of manicure will work great on any nail shape, whether you have almond shape nails, mountain peak nails, coffin nails or even short nails. It can be easily adapted to your nail length and nail shape to ensure it looks it's absolute best.
The classic French tips look is suited best for almond-shaped nails, and other more natural shape nails. If you have coffin nails or mountain peak nails, you can still rock this style with a few modifications, as shown below.
Check our selection below and save your favorite styles for your next appointment at your nail salon.
13+ Prettiest Emerald Green French Tip Nails for Inspiration
Here is a small selection of the best styles we found online. In the case of Instagram as a source of the image, we have included a link to the nail artist's profile so you can browse more styles and explore further.
For more inspiration on this pretty manicure style, you can check our dedicated Pinterest board and follow our Pinterest profile here.
1. French Tips with Stripe & White
A pretty emerald green style that works well for everyday wear but also for the holidays. The simple style of the French tips is elevated by the use of extra color and geometric outlines to make them more interesting.
2. Double Layer Emerald French Tip Nails
Add some interest to simple single color French tips by adding an extra outline on the outside.
3. Simple Almond Nails Emerald French Tip Nails
Simple and beautiful – this pretty thin French tip style looks great even on the shortest nails.
4. Glitter Emerald French Tips
Adding some glitter for a special occasion is always a good idea. This interesting modern take on the classic French tips adds an extra outline at the base of the nails.
5. Emerald Green & Gold French Tips
If you want to add a bit of contrast to the manicure, adding one feature nail with a statement nail polish will work wonders, especially if you're using gold color nail polish.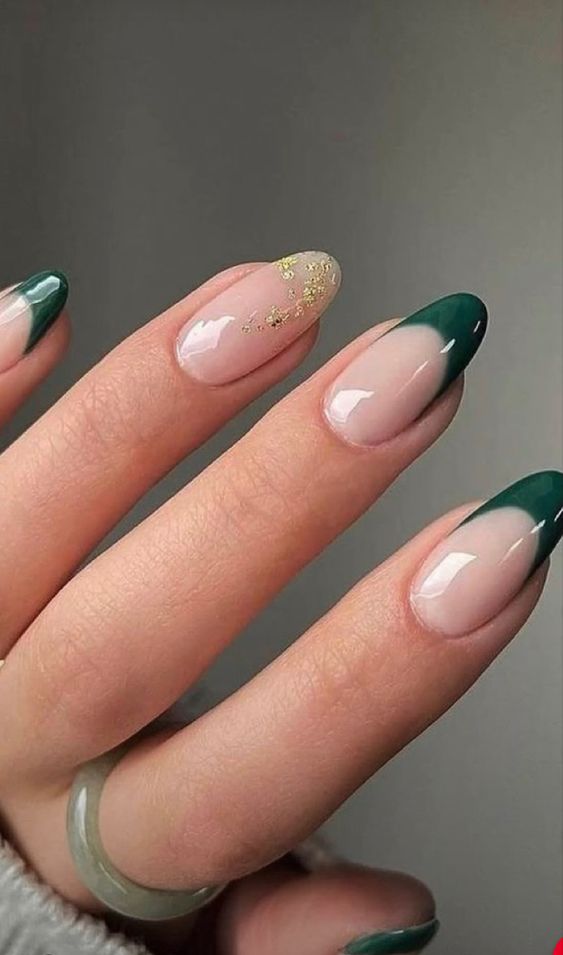 6. Gold Outline Emerald French Tips
Another variation on the outline for French tips this time with pretty glittery gold nail polish.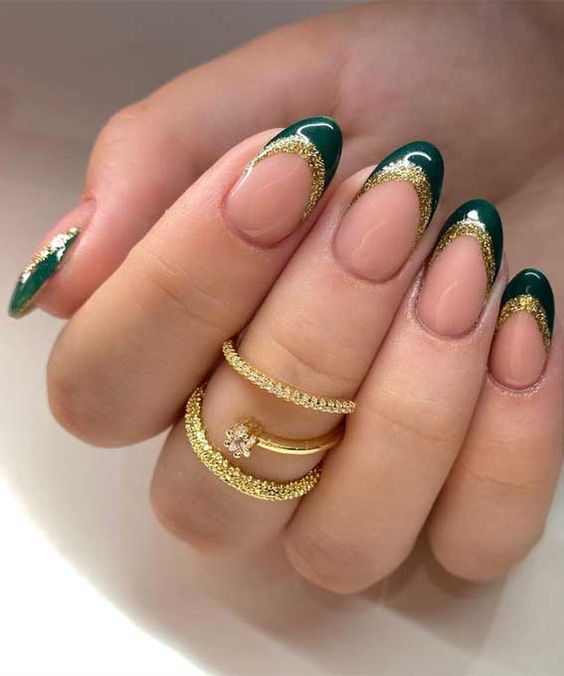 7. Gold Heart Emerald French Tips
It's the little details that make your nails go a step further. In this case, the tiny hearts and single line outlines transform simple French nail tips into work of art.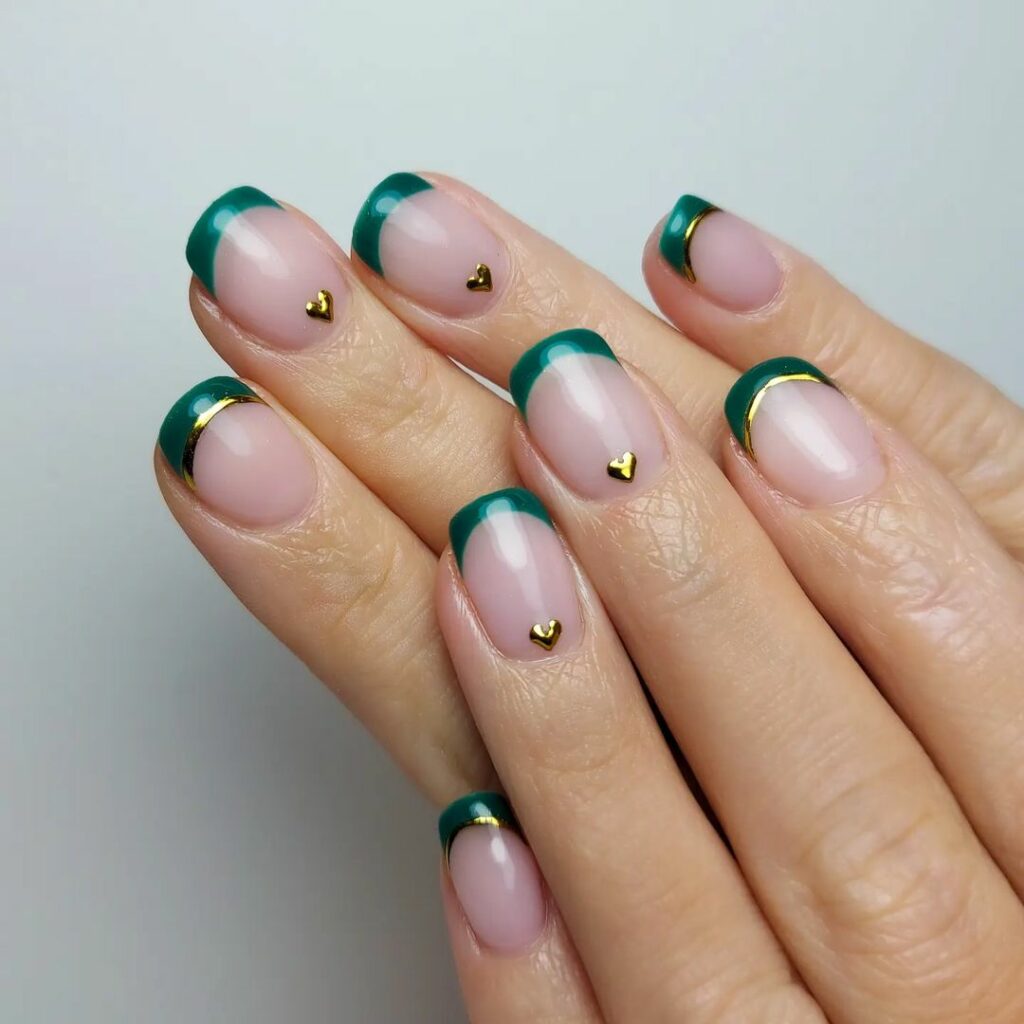 8. Mixed Color Emerald French Tips
Mix and match your colors and make the most out of the color palette.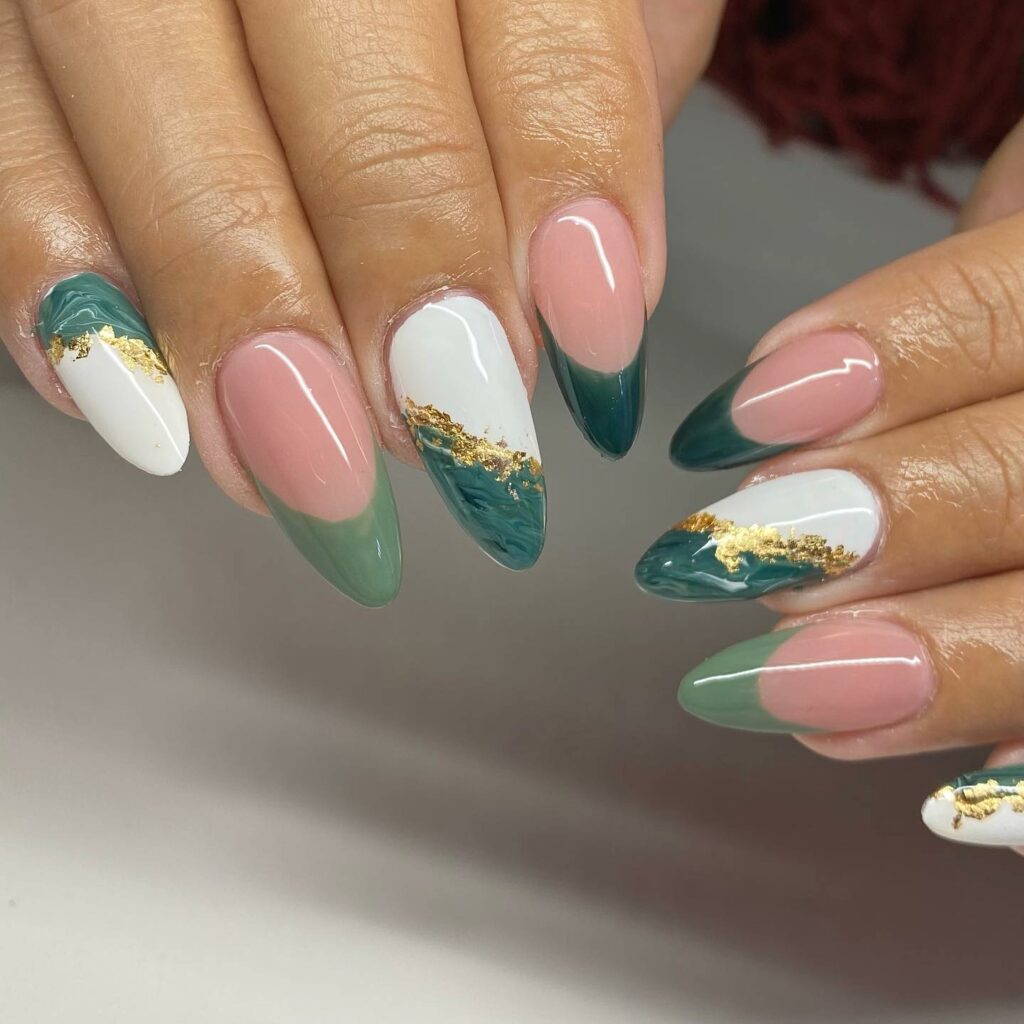 9. Marble Emerald French Tips
Elevate the look of the simple color by using the marble nail design.
10. Mountain Shape Emerald French Tips
Sharper nails are a bit more tricky for the French tips, but you can extend them to the side and make them optically longer.
11. Gold Line Emerald French Tips
The outline nail design can be also used in the middle of the color, not just outside.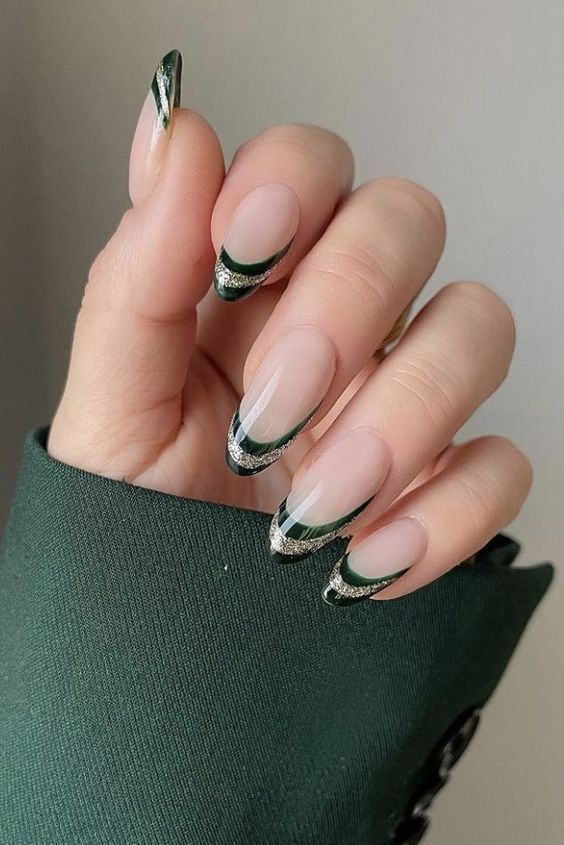 12. Emerald French Tips on Short Nails
Short nails with French tips and pretty golden outlines, matching your jewelry.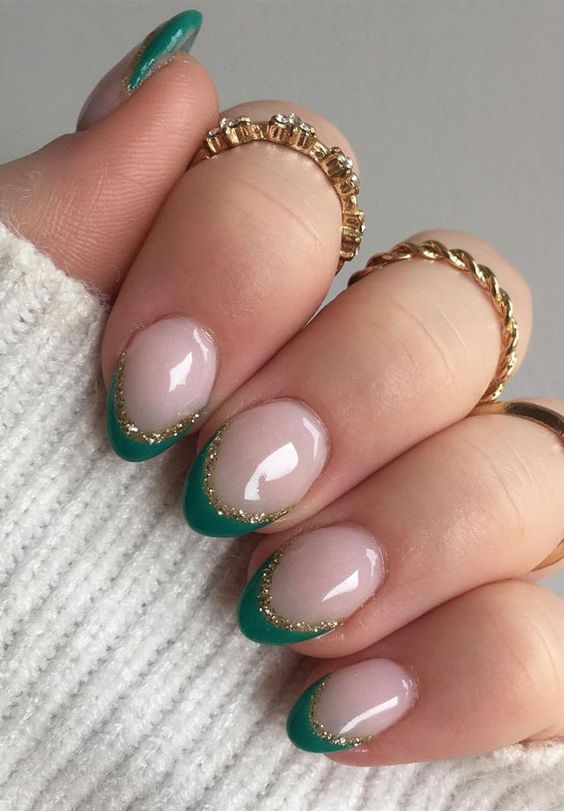 13. Minimalist Emerald French Tips
Elegant almond shaped nails are elevated by the use of pink base nail polish with contrasts beautifully with the skin color.
14. Emerald French Tips with Outlines
Peak-cut French tip nails with a simple outline. A beautiful way to add some variety to your manicure.