Fresh, aesthetic, and noble, these emerald green nail designs will become your next favorite manicure!
This season's green color palette is on the spot and you can notice it in all fashion trends. From home decor, clothing, and accessories to nail designs. Emerald green nail designs have many shades, which allows you to experiment with contrasts, combine several tones in one design, as well as combine green nail design with another palette.
Without any doubt, emerald green nail designs will complete your personal style and are easy to be matched with everyday outfits, but also with extravagant and official looks.
Emerald green nail designs look great not only on short nails but also on medium and long nails. Nail shape doesn't matter if you choose this rich color. A beautiful emerald green manicure will look stylish on oval, square, squoval, almond-shaped nails and, of course, pointed and stiletto nails.
When you want to impress with exquisite emerald green nail designs, it is important to emphasize that this color is successfully combined with black, white, burgundy, yellow, gray, and last but not least, gold and silver.
Trending Emerald Green Nail Designs
Emerald green color brings a noble and luxurious shade that is unique in itself and even without additional decoration, it looks attractive.
Emerald Green French Tips – not keen on the full nail polish look? Opt to update your French tips instead, that hint of color really makes a difference
Dark Green Emerald Nails- a new classic nail design that can replace the elegant black nails
Marble Emerald Green Nails – a natural-looking color that goes well with almost any outfit, and the popular nail design style that adds some contrast to your manicure and makes it look super stylish
Emerald Gold Nails– adding a bit of contrast to emerald green nails is easy with gold flakes or glitter nail polish
Emerald and Black – The Modern Gothic Nails- both colors can be used in the design of French manicure, ombre, and geometric patterns
Matte Emerald Green Nails- when you are looking for velvet and impressive nails for a special occasion
40 Stylish Emerald Green Nail Designs
For even more inspiration on this pretty green trend, check our dedicated Pinterest board here and follow us on Pinterest so you don't miss anything nails related.
1. Emerald & Pearls
Make a statement with the prettiest pearl nail art.
2. Chrome Green Nails
If you like a simple look, this chrome effect with emerald green color will certainly tick all your boxes.
3. White Flowers & Emerald Green French Tips
Let your coffin nails bloom with this pretty white and emerald green manicure.
4. Emerald Green Tips & Gold Stars
This night sky inspired manicure has plenty of personality with a splash of color.
5. Mixed French Tips
Delicate and elegant manicure for almond shaped nails.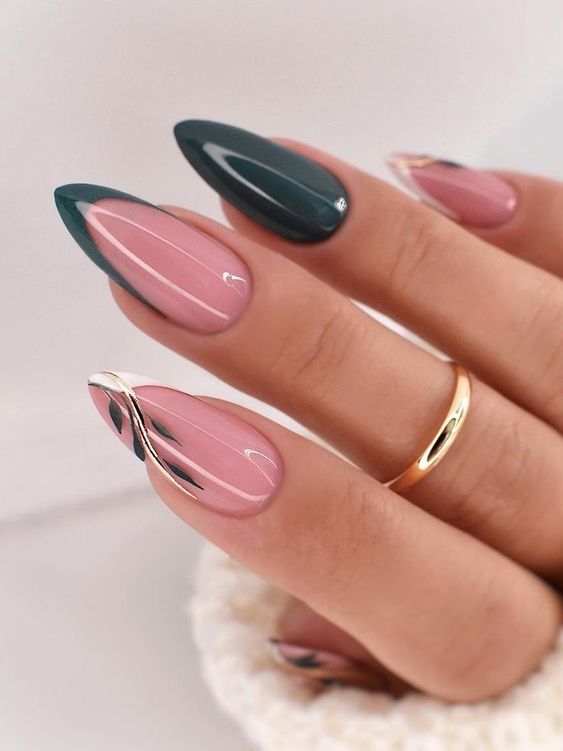 6. Emerald Green Gemstones
Gold and emerald green gemstones on classic neutral coffin nails do make a grand statement.
7. Emerald Green & Forest Green
Mix some light shades of green and marble nail art with emerald green nails to add a bit of contrast to your manicure.
8. Christmas Sparkle
A simple update of your nails for the holiday season.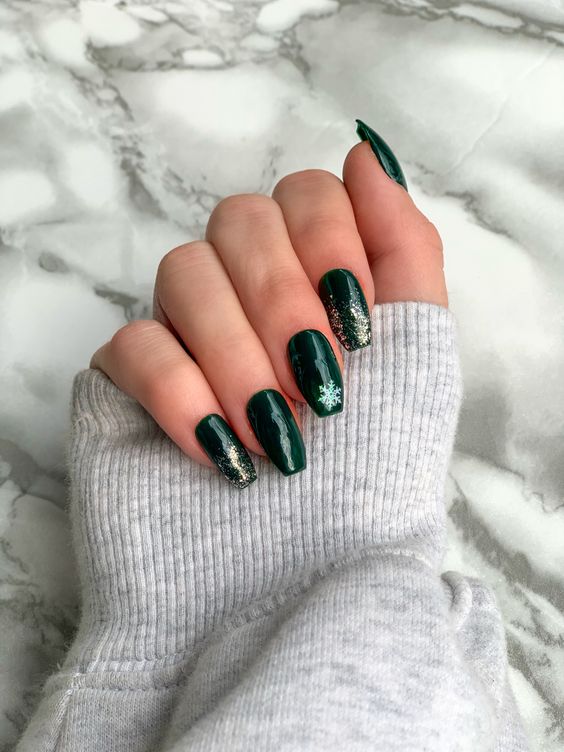 9. Matte Green with Gems
Matte green nail polish brought to life with pretty pearls and golden nail art.
10. Almond Shaped Emerald Green Nails
Almond-shaped nails in gorgeous emerald green single-tone nail polish.
11. Golden Flakes
Dust a bit of magic on your nails.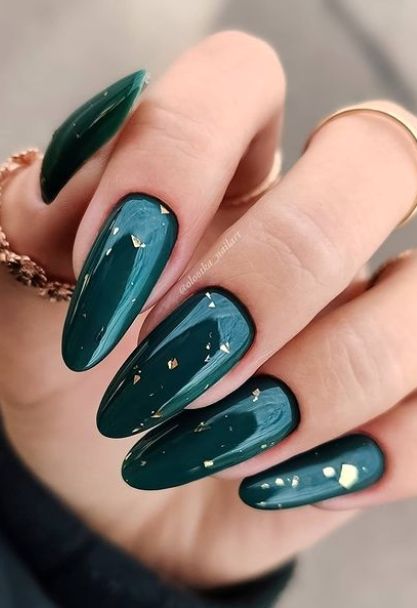 12. Constellation Nails in Green
Pretty sun and moon inspired nail art makes your nails look like a piece of art.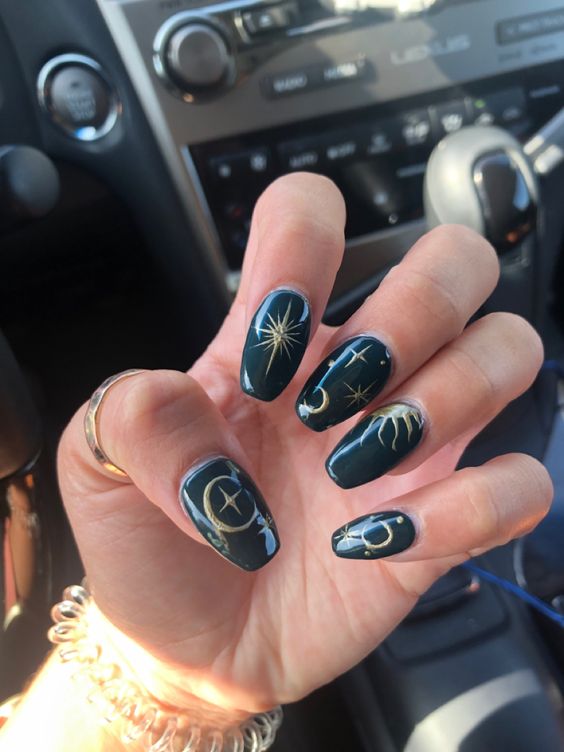 13. Green with Envy
Dark green shade of this nail polish would be the perfect choice for the holidays.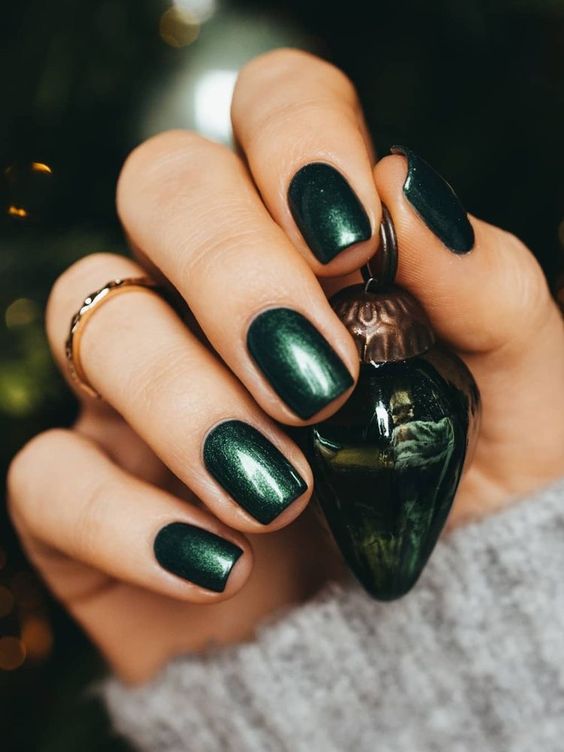 14. Emerald Green Gemstones
Sparkling white neutral coffin nails elevated to special occasion manicure with statement gemstones.
15. Emerald Green Marble Nails with French Tips
French tips in emerald green mixed with marble nail effect.
16. Nude and Green
Mix and match your manicure style as in this case, with French tips, glitter nail polish and full nail coverage.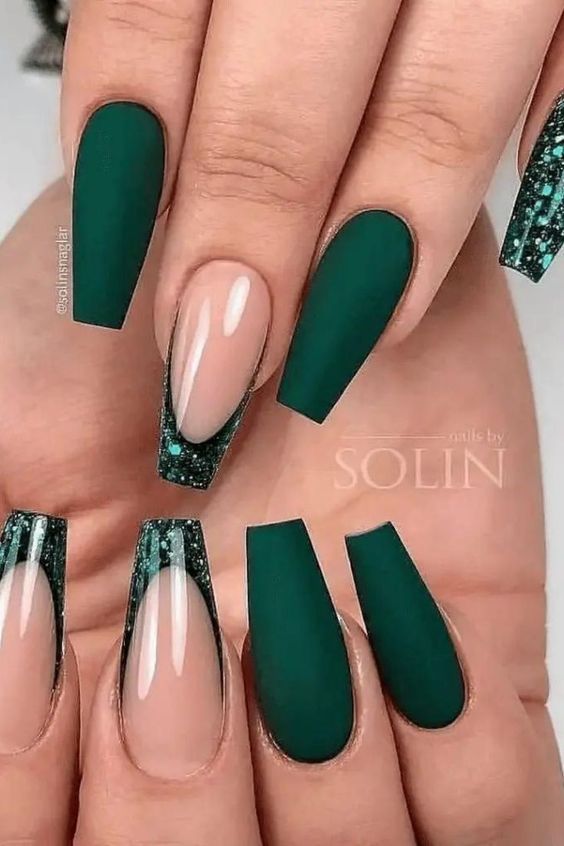 17. Golden Details
Live on your wild side by including a bit of animal print.
18. Minimalist Emerald Green French Tips
A minimalist approach to French tips which works best on almond shaped or shorter nails.
19. Sparkly Green Tips
A modern twist on classic French tips with glittering emerald green nail polish and pink base color.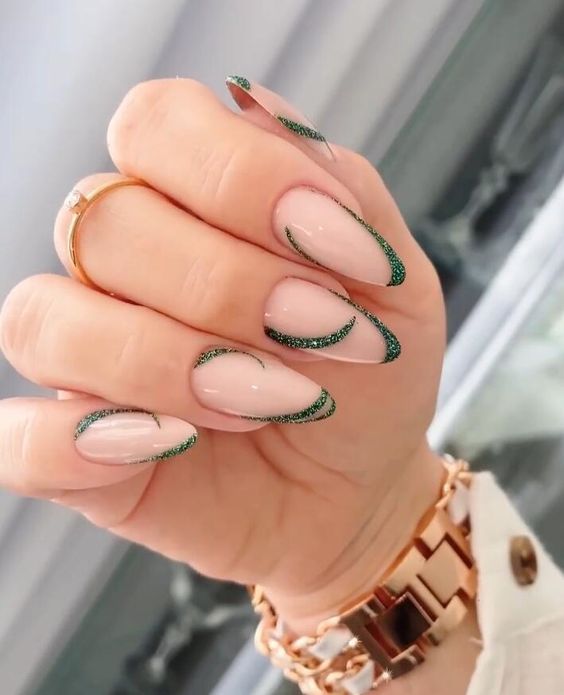 20. A Touch of Gold
Sprinkle a dust of gold on your pretty green nails.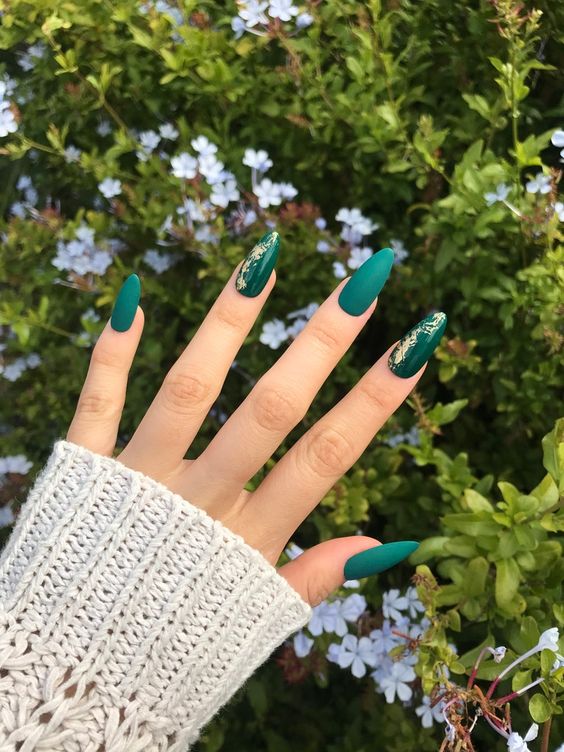 21. Emerald Green Marble Nails
Emerald green nails mixed with pretty marble and gold nails.
22. Mixed Style Emerald Green & Forest Green
A mix of styles and colors that only an experienced nail artist will be able to pull off.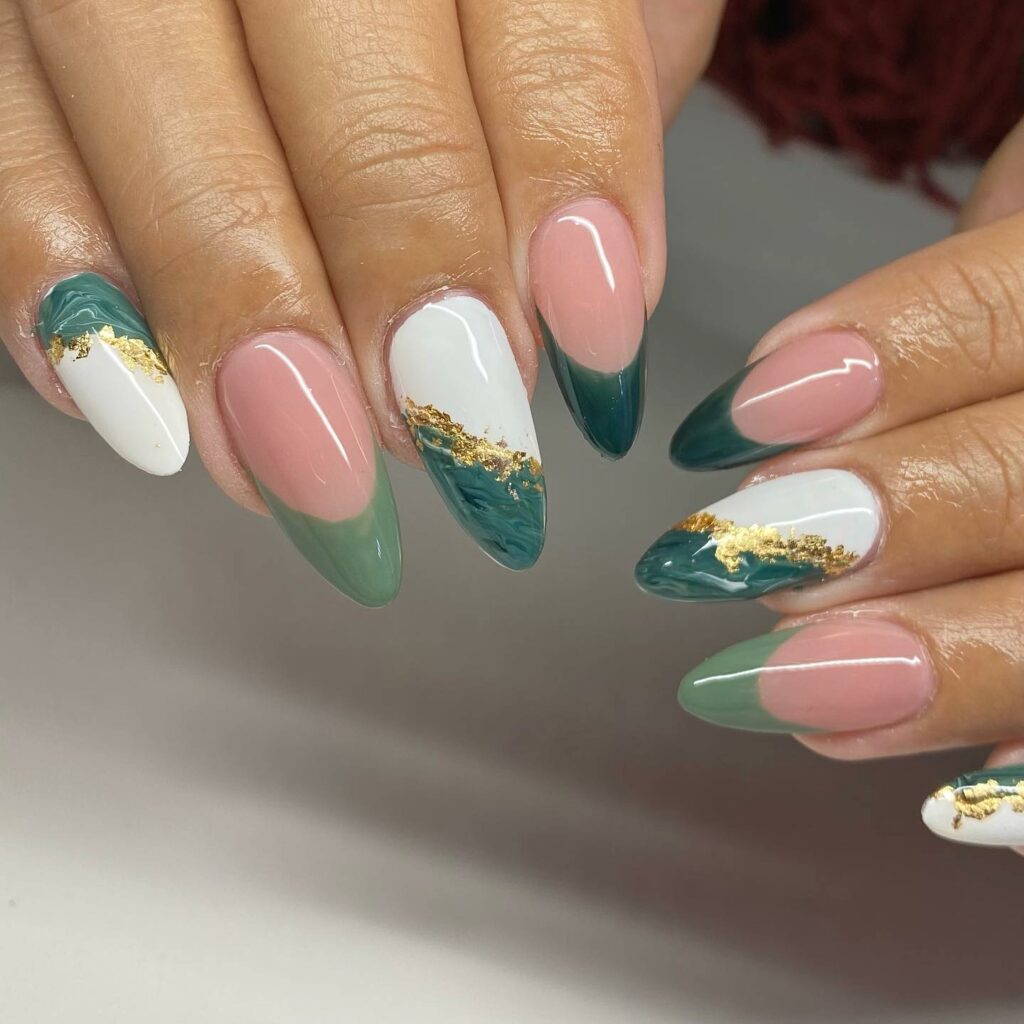 23. Coffin Nails with Emerald Green
Not sure which nail design you love the most? Use them all! Especially on coffin nails, where you have so much room to experiment.
24. Glowing Green Tips
Marble effect French tips – look super stylish.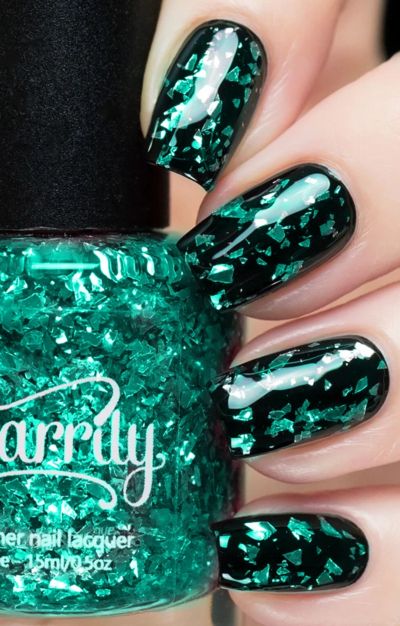 25. Coffin Nails with French Tips
Emerald green French tips, ombre nail and bridal inspired white nail design.
26. Coffin Nails with Gemstones
Another take on using green gemstones on shorter coffin nails.
27. Marble and Glitter
Marble effect on emerald green nails with an added contrast from the green glitter manicure.
28. Beautiful Matte Green Shade
Simple and beautiful.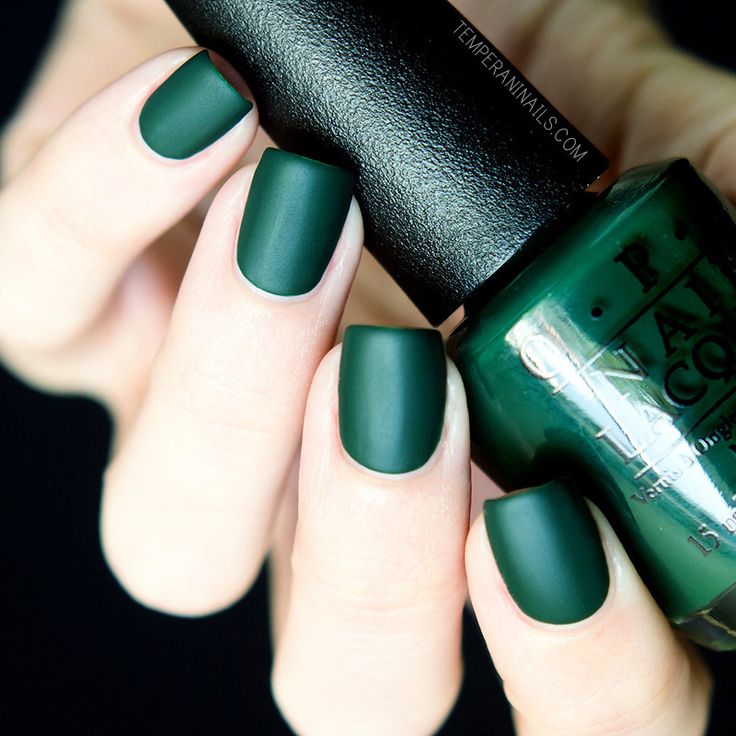 29. Sparkles with Glowing Green
High gloss nail polish with some sparkles for a special occasion manicure.
30. Jewels on the Nails
Make your nails look like they belong to a museum.
31. Short Emerald Green Nails
Got short nails? Keep it simple with single tone nail polish and elevate the design by using a statement design on one or two nails.
32. Golden Outline on Short Nails
A twist on classic French tips using misplaced highlights and gold outlines.
33. Crystals, Gradient and Glitter
All the things that make a pretty manicure combined in one.
34. Crystals, Gradient and Glitter
Super sharp mountain peak nails with pretty glitter nail polish.
35. White Coffin Nails with Emerald Green Crystals
Keep it simple and let the gemstones do all the talking.
36. Twinkle Emerald Nails
Capture the essence of the night sky on your nails.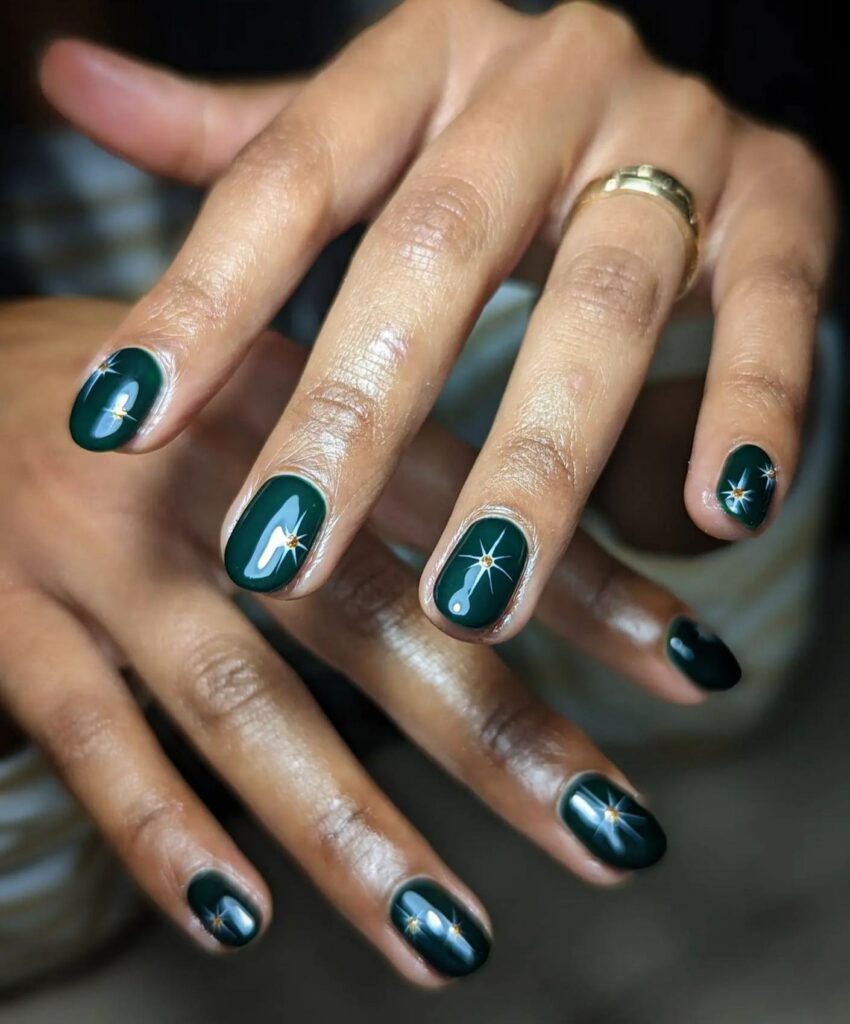 37. Marble Emerald Nail
Statement nail with emerald green marble effect.
38. Botanical Art Emerald Nails
Pretty intricate botanical nail art really makes a statement when combined with emerald green color.
39. Minimalist Short Emerald Nails
Short nails? This minimalist manicure will look fantastic!
40. French Emerald Tips
Elongated French tips manicure with gemstones and a statement nail design.
41. Emerald Flames
Get your green nails on fire with this pretty manicure.
42. Emerald & Gold
A new take on a classic ombre manicure.