Are you ready to update your nails for the next season? In that case, look no further than these 30+ ideas for red French tip acrylic nails in this curated collection.
French tips are ready for their makeover, and red is the color of the season!
With red French tips, you're always on top of the trends, and with acrylic nails, there are so many ways to go and styles to experiment with. Red nail polish is a more unique take on this classic manicure and it's certainly having its moment.
Below you will find a few tips on selecting the best nail design style for you, followed by our curated collection for your inspiration.
Whether you're heading to the nail salon or planning to do a manicure at home, we're pretty sure you will find lots of designs you will fall in love with.
How to Choose the Style for Your Red French Tip Acrylic Nails
There are a number of things you should consider when selecting your favorite nail style, here are just a few:
Practicality first – if you work in the office and need to type a lot on the computer, having extra long coffin nails will just slow you down and will make handling papers extra difficult. While they may be pretty, they're not the most practical solution for office or admin work
Your Nail Health – acrylic nails use a lot of chemicals and may not be the solution for you if your natural nails are not in the best condition. First, wait to get your nails back in shape before you apply for any nail extensions on them.
Keep it Short to Start – if this is your first time using acrylic nails, a great place to start is a short nail design that will look similar to your natural nail, but provides a much more sturdy surface and pretty shape
Do Your Research – before you venture in for your first adventures with acrylic nails, do proper due diligence and find a reliable salon that specializes in this type of nail design
30+ Best Red French Tip Acrylic Nails
Below is our curated collection of the prettiest red French tip acrylic nails – there is plenty of inspiration for any nail length or nail shape.
If you want even more ideas, you can check our Pinterest account with hundreds of trending nail designs added daily.
1. Pink and Red French Tips
A pretty and romantic update for your manicure, with short red and pink French tips.
2. Red French Tip Acrylic Nails with Hearts
Valentine's Day or date coming up? Match the occasion with these pretty nails.
3. Red French Tips on Short Nails
Even with short nails, you can pull off this look with bright red French tips.
4. Red French Tips on Log Coffin Nails
Mix and match your design, especially if you have a lot of room to play with, like with these coffin nails.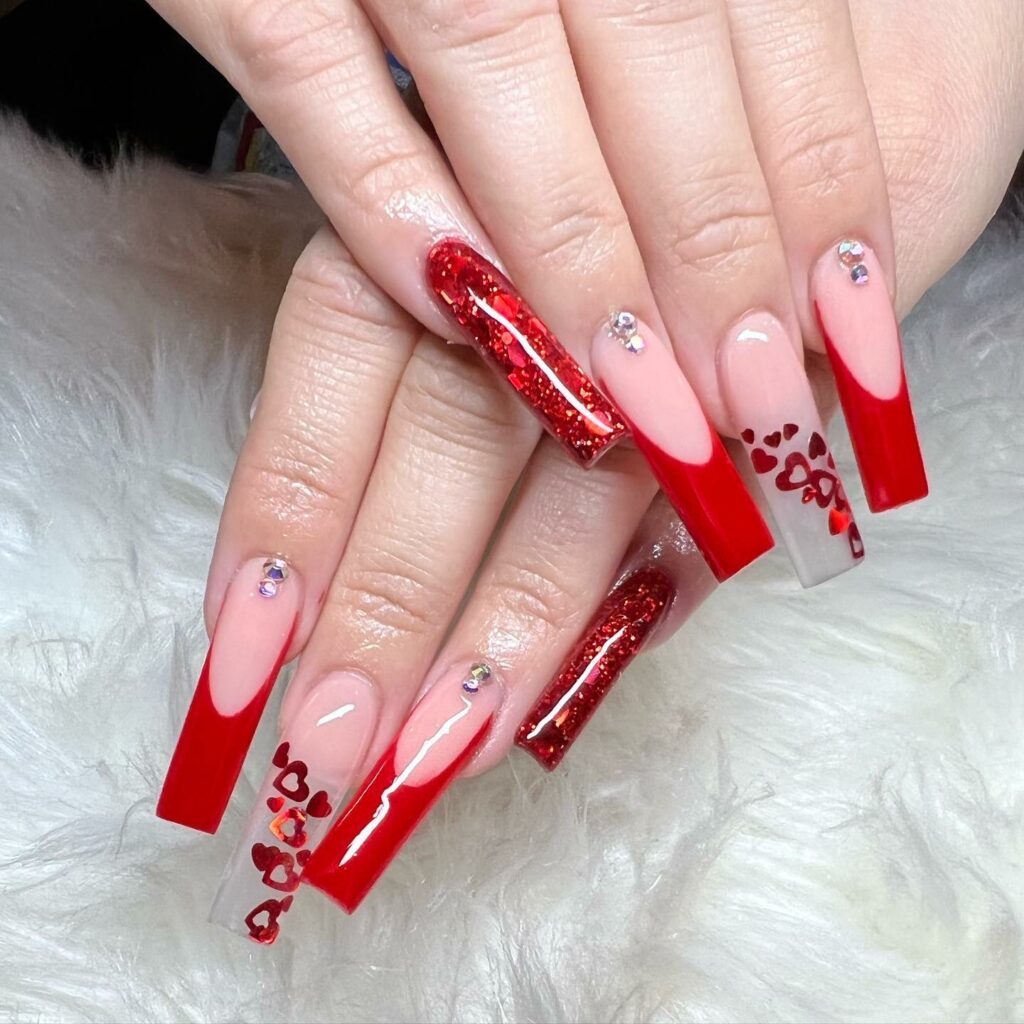 5. Short Coffin Nail French Tips
Cute and short, with pretty pearl details.
6. Matte Acrylic Red French Tips
A new take on French tips, these dark red French tips match glossy nail polish with matte nail polish perfectly.
7. Heart Details on Red French Tips
Miniature hearts as part of your French tips – absolutely adorable.
8. Almond Shaped Red French Tips
Even almond shaped nails are the perfect option to use for red French tips.
9. Super Short Nails with Red Tips
Short and sweet, with pretty beige nail polish as the base color.
10. Coffin Red Tips with Black Nail Art
If you want to make a statement, add black nail art to your long French tips.
11. Elegant Red French Tips
Beautiful wine infused red color used for Frencht tips.
12. Dark Red Glitter French Tips on Acrylic Nails
If you want nails for special occasion, try updating your nail polish to this glitter dark red for your French tips.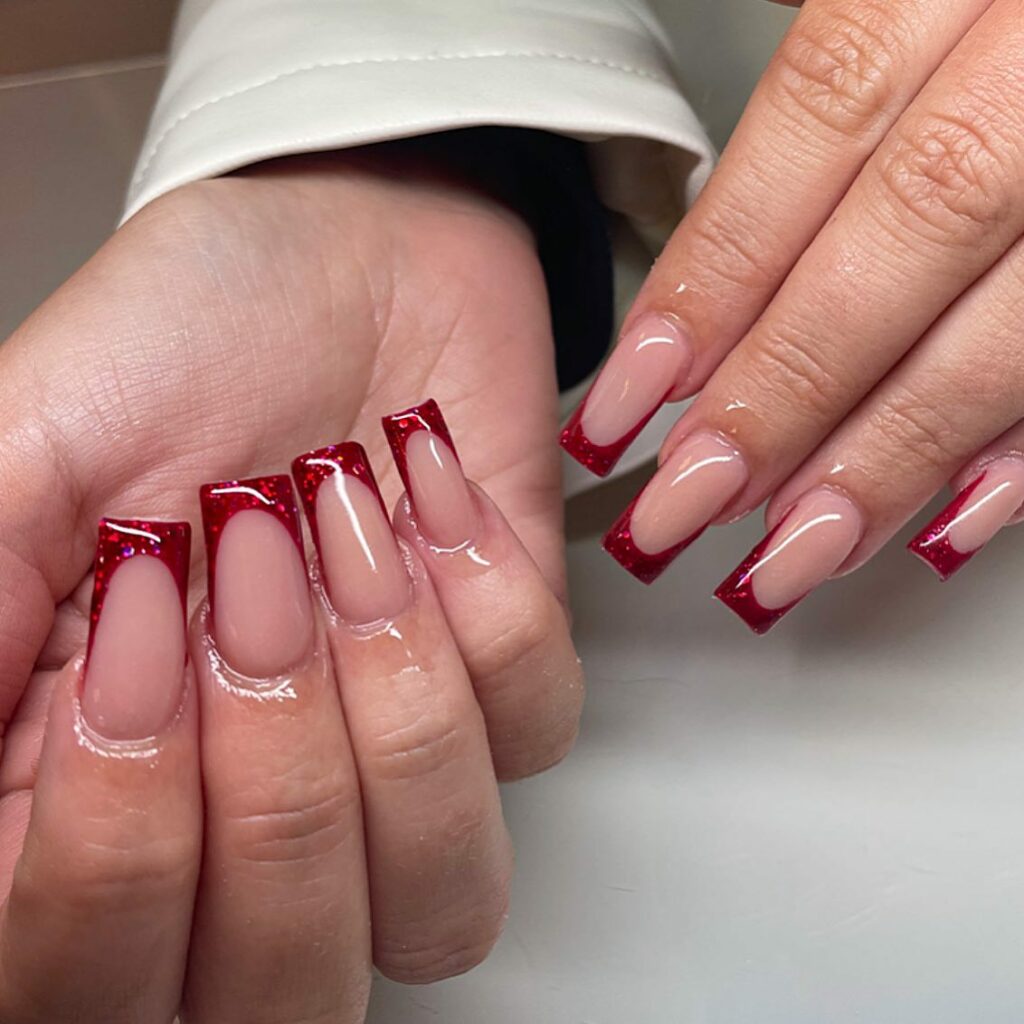 13. Long Almond Nails with Red Tips
Super long almond nails look extra sophisticated with pretty French tips.
14. Parrot Feature on French Tips
Need to make a statement? Let your nails sing like a bird!
15. Super Long Red French Tip Coffin Nails
Extra long coffin nails will give you plenty of room to showcase the color.
16. Alternating Red and Gold Tips
Need nails for the holiday season? This matching look with red tips and gold glitter tips is exactly what you need.
17. With Silver Star
Make a statement with a single silver star.
18. Simple Elegant Red Tips
Beautiful bold color combined with pretty natural pink nail polish base.
19. Glitter Acrylic Red French Tip Nails
Another gorgeous design with dark red glitter nail polish.
20. Elegant Long Acrylic Nails with Red Tips
Beautiful bold red color on elegant acrylic almond shape nails.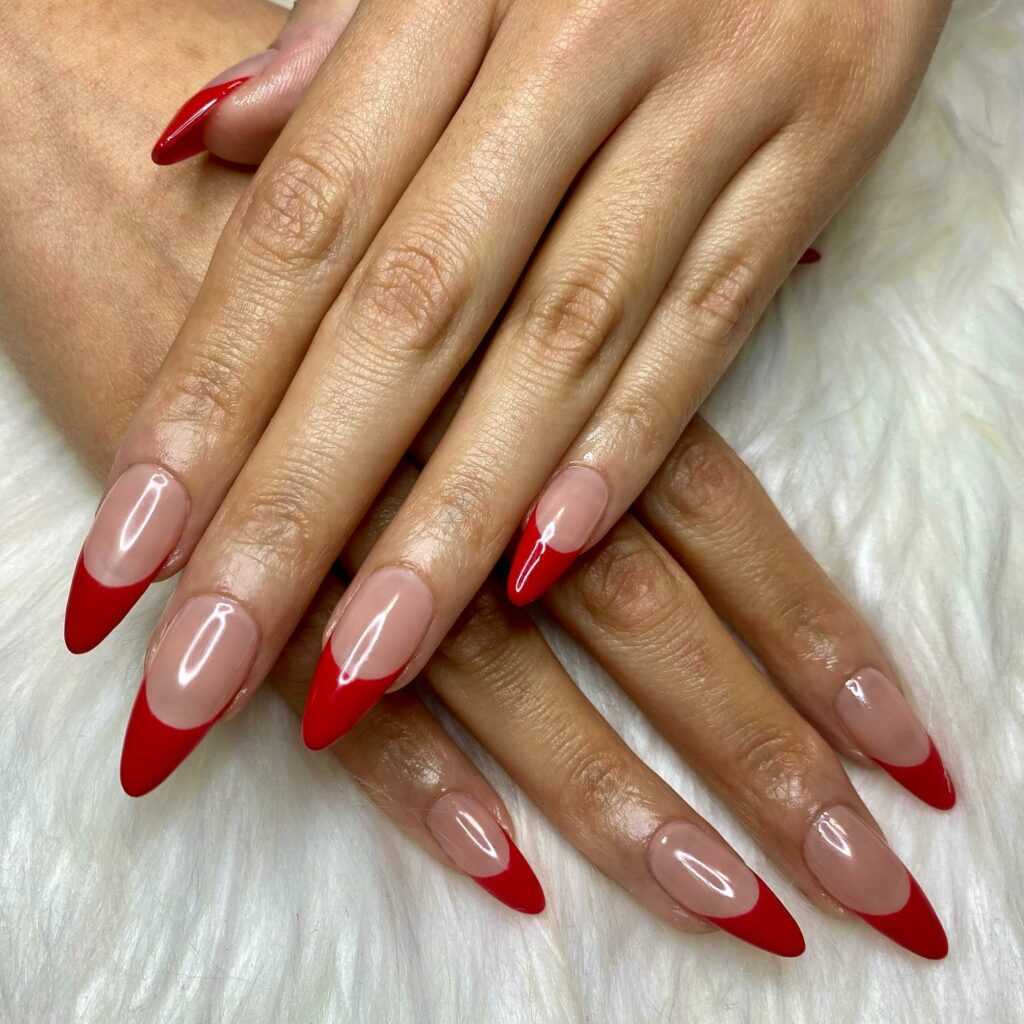 21. Metalic Red French Tips on Coffin Nails
Make a statement with a metallic nail polish.
22. Classic Acrylic French Tips in Red
Simple and elegant red French tips on shorter almond nails.
23. Black Middle Line Nails
Go big and bold with this black nail art.
24. Red Coffin Tips with Gold Nail Art
Love a bit of gold? You can make a grand statement on coffin nails.
25. Statement Gold Nail
A single feature nail design is all you need to make your manicure stand out.
26. White Fire Coffin Nails
Nails on fire!
27. Classic Coffin Red Tips
Pretty long acrylic nails with the most gorgeous shade of red.
28. Coffin Red French Tips with Gemstones
Give your nails the extra bling they need.
29. Full Coverage Acrylic Red French Tips
Extend the coverage of your red strips all the way to the half of your nail.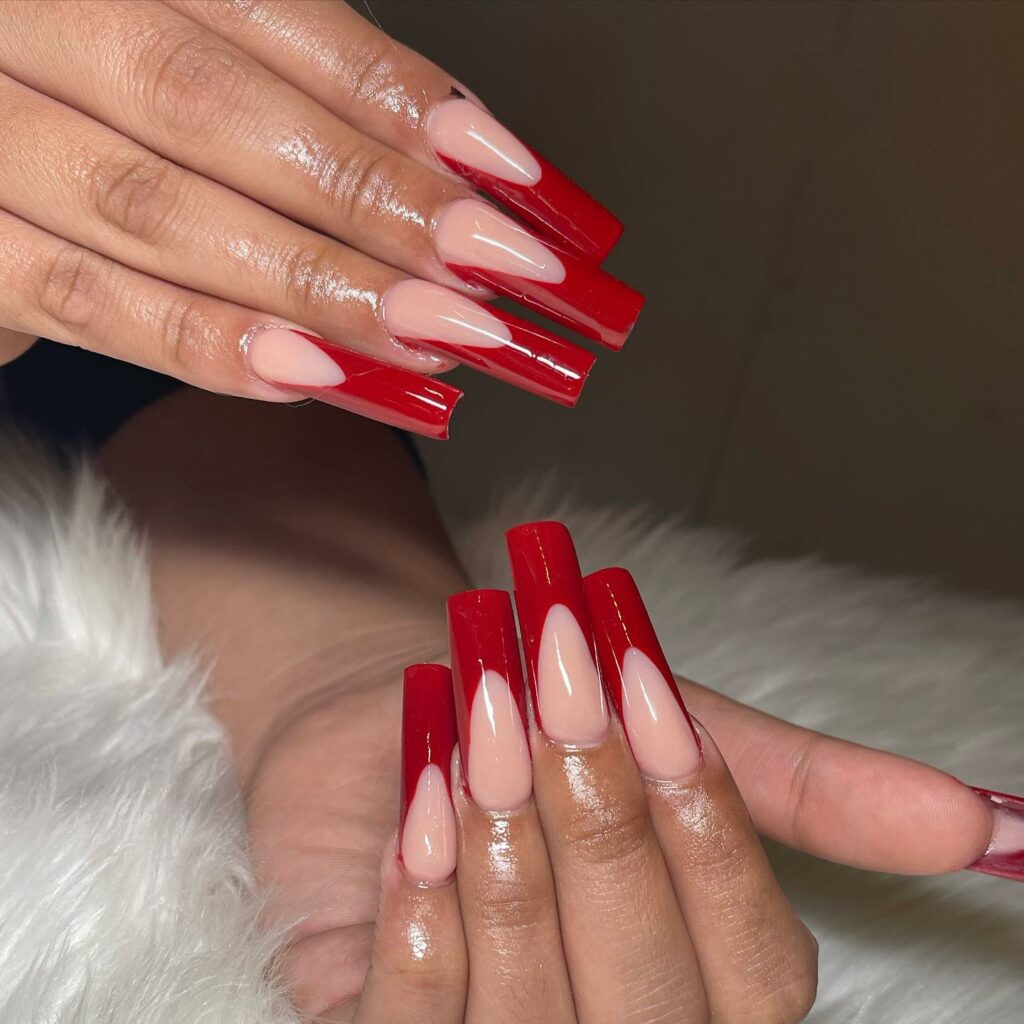 30. Extended Tips on Coffin Nails
Turn yourself into the lady with the red dragon.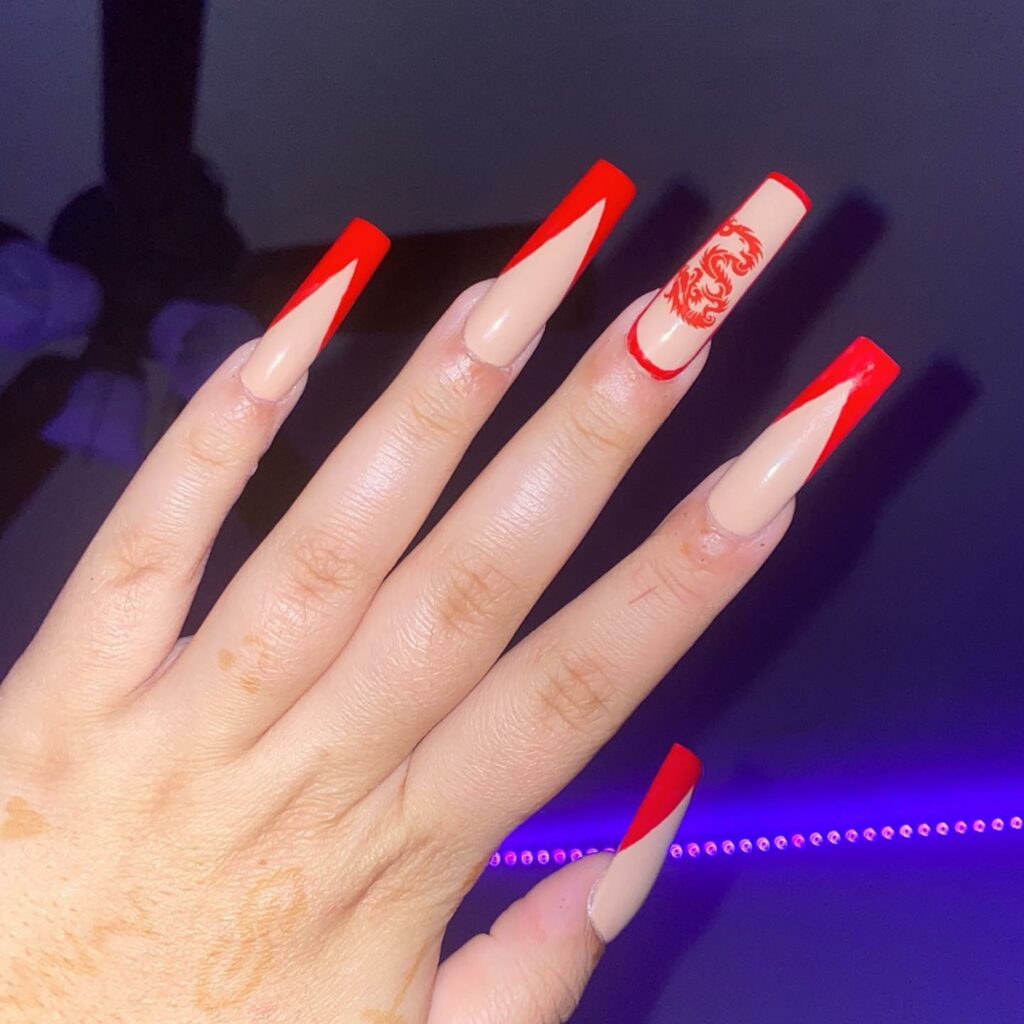 31. Acrylic Side Tips with Gemstone Nail
No words needed for this bling statement.
32. Long Acrylic Red French Tips
Elegant French tips extended all the way to the side of the nail.