Black and beige nails are one of the most timeless looks you can choose for your manicure. If you love this style, you came to the right place!
We have scouted the internet to find the best ideas for black and beige nails, which you can use as an inspiration for your next trip to the nail salon, or to recreate them at home. Whehter you're doing a bit of DIY or getting some ideas for your nail artist, this article has plenty of options for both.
Black and beige nails are one of the most versatile looks you can choose for your manicure. It's perfect for everyday wear, as manicure for the office, weekend, family gathering and more. If there is a special occasion to attend, you can still use your manicure and upgrade it by adding a bit of gold foil or outlines to amek them look more elevated.
There are so many different designs and combinations you can use for this nail design – whether you go with full on color, gradient, stripes or a minimalist look, your nails will look stylish and on-trend. As a bonus point – this neutral manicure is super easy to match with any outfit, making your every morning dressing up struggle easy breezy.
Are you ready to pick the nail design you love the most?
Below is a short video tutorial if you want to attempt one of the looks at home, followed by a brief run down of the current trends, and finally – the curated collection of the 23 most beautiful black and beige nails designs we found on Instagram.
Black and Beige Nails: Black French Tips Video Tutorial
Here is a simple tutorial for a timeles manicure with black French tips via Apres Nail Official youtube channel.
Black & Beige Nails Trends for This Year
23 Prettiest Black & Beige Nails Ideas
Here is the ultimate list of the most beautiful black and beige nails ideas! If you would like to see some more ideas from the same nail artist, simply click on their Instagram bio link under the image.
For even more ideas see our dedicated Pinterest board here and follow us on Pinterest to stay on top of all nail design trends.
1. Black French Tips
This simple and very easy black and beige design is something you can recreate at home very easily. Check the video tutorial we have shared above.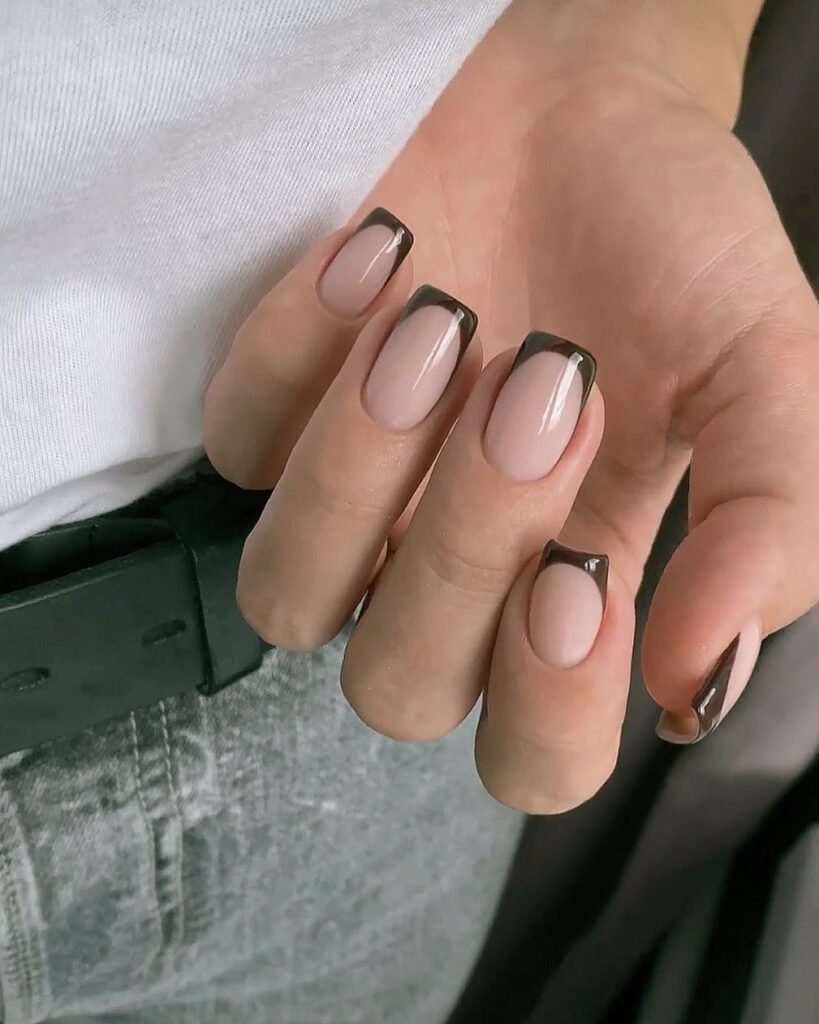 2. Black & Beige Mountain Peak Nails
Mountain peak nails don't need much drama to make them look stylish. Just a touch of color and perhaps a brush of glitte rnail polish to make them ready for the big occasion.
3. Black & Beige Ombre Nails
Black and beige ombre is one of the harder nail trends to execute, so its better to leave it to an expert nail artist.
4. Rounded Black & Beige French Tip Nails
Here is another version of French tips, this time with a rounded more interesting look that works wonderfully even for shorter nails.
5. Black & Beige Zebra Nails
Zebra stripes are in! And with black and beige nail polish they look their best.
6. Black & Beige Nails with Gold Outline
Take the basic zebra manicure and add a touch of gold – voila – nails for special occasions are ready.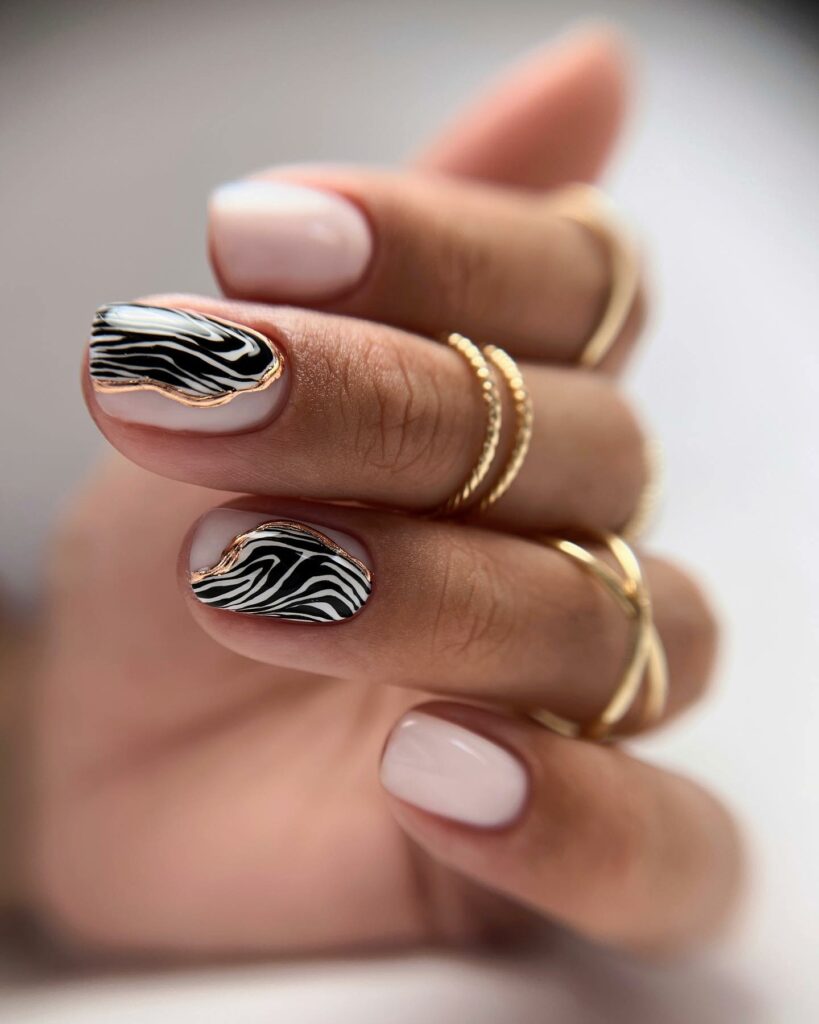 7. Black & Beige Acrylic Nails
Update your coffin nails with some geometric stripes and a touch of gemstones.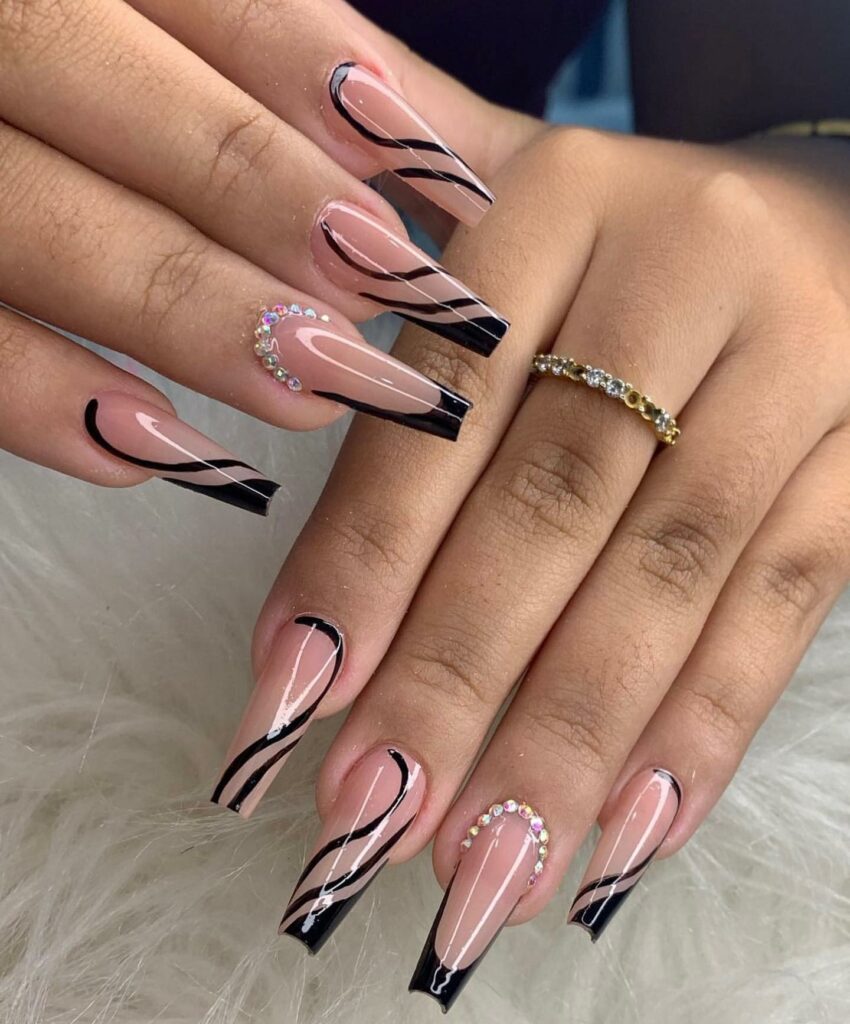 8. Black & Beige Mismatched Zebra Nails
Shorter nails with coffin cut leave plenty of room to experiment with colors and styles. This zebra manicure elevated with gemstones will look great even on shorter nails.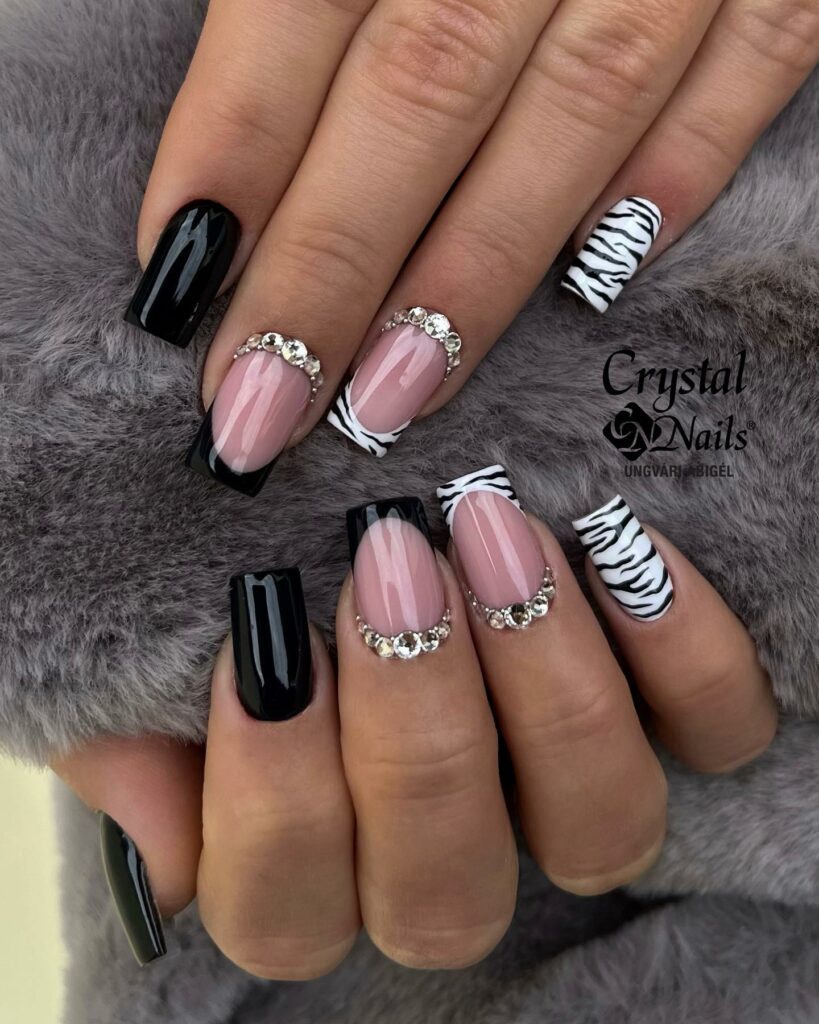 9. Dotted Black & Beige Nails
Cute and pretty – would you love to try this manicure?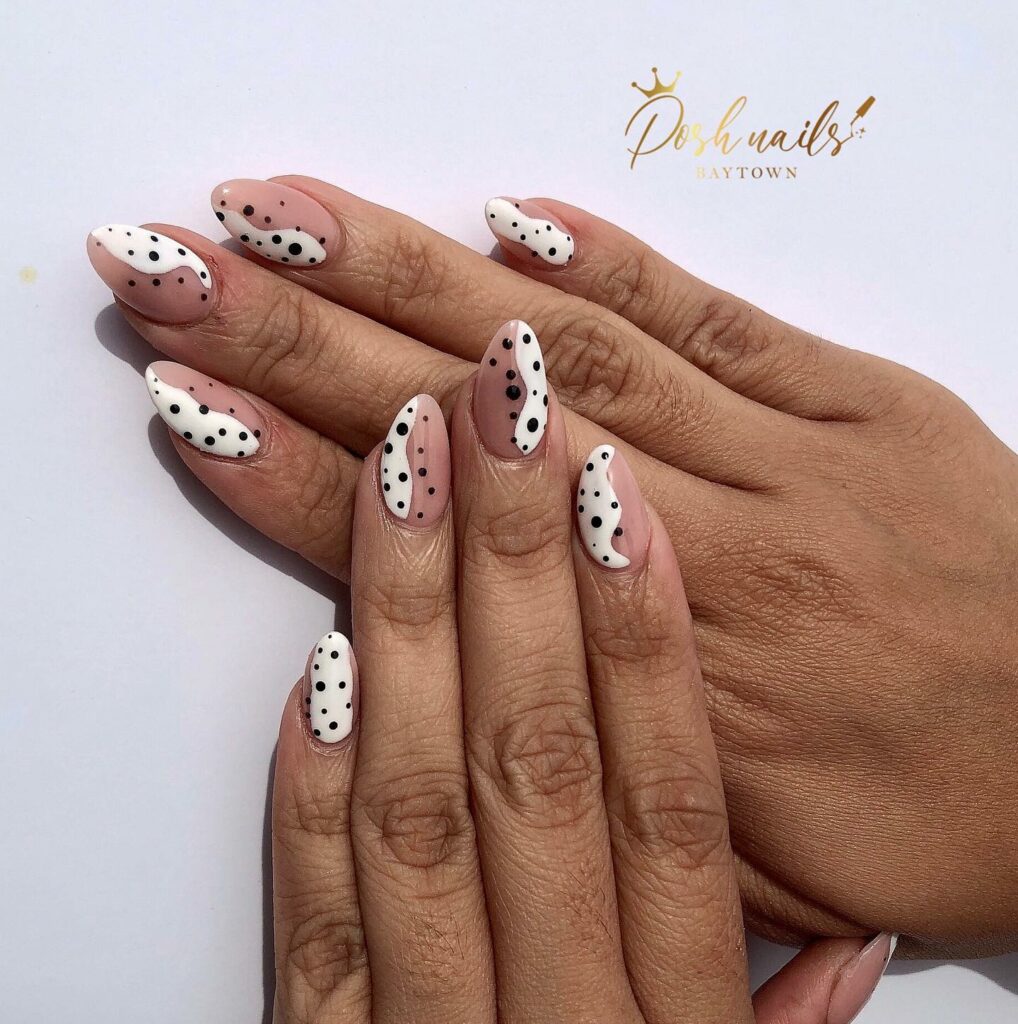 10. Black & Beige Coffin Nails
One of the most popular looks for coffin nails – using simple colors like beige and black and elevating the manicure with mismatched nail design and gemstones.
11. Black & Beige Nails with Pink Tones
If you want to drive your beige colors more towards pink, this look will be a great option to try.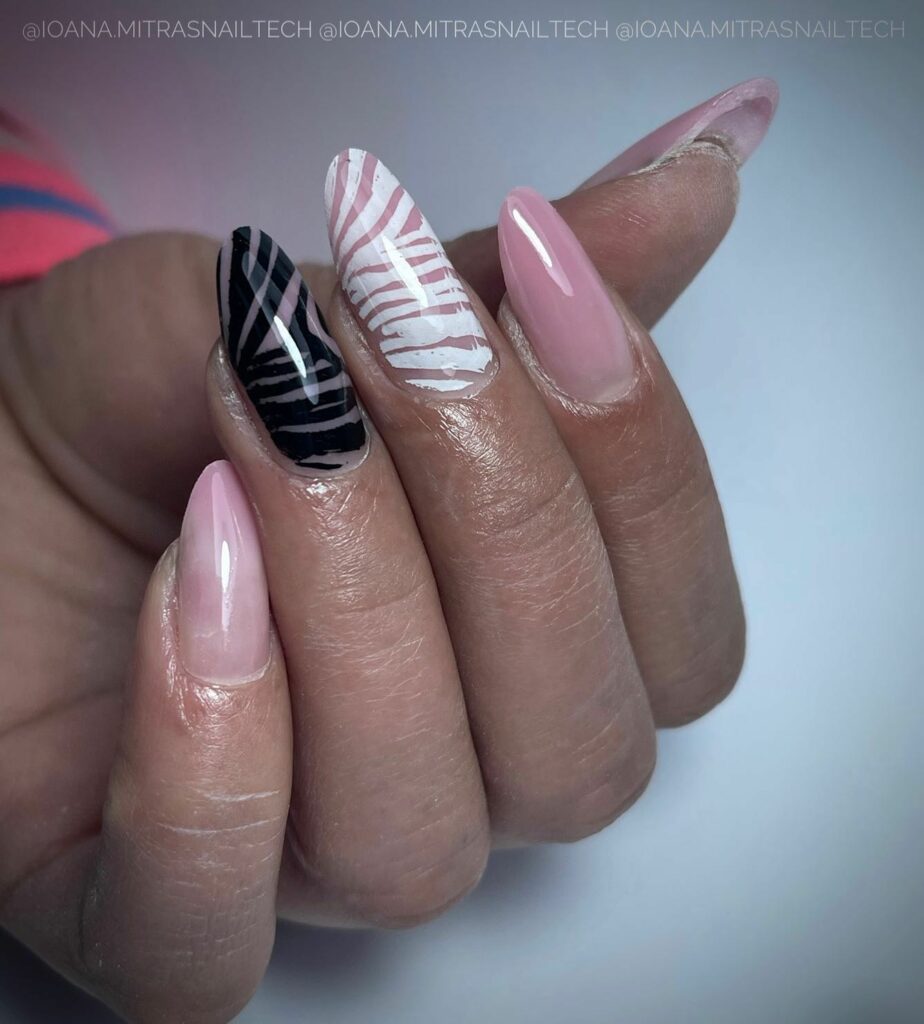 12. Black & Beige Comics Nails
Comics nails are trending on TikTok and everyone is talking about them – they just look out of this world!
13. Black & Beige French Tip & Zebra Nails
Beautiful and simple manicure that doesn't rely on overuse of a dark color.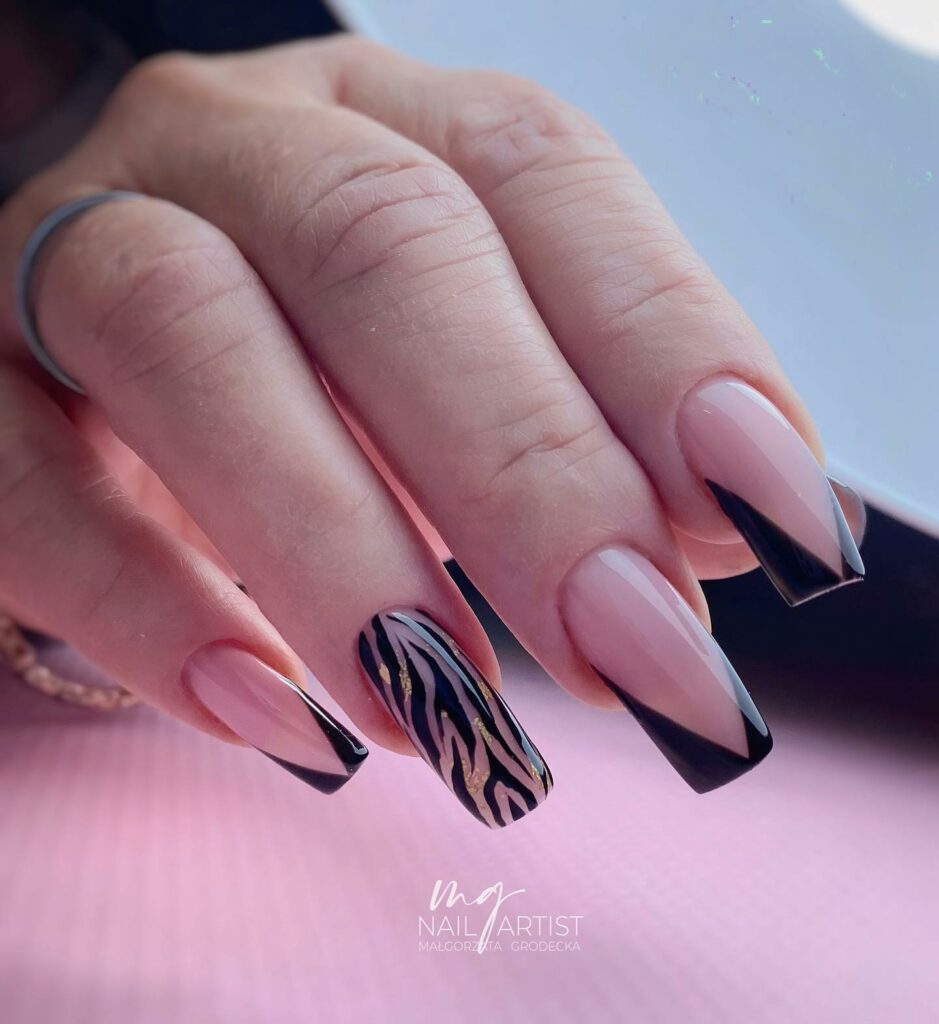 14. Moon & Stars Black & Beige Nails
Capture the essence of the night sky on your nails, without the need for too much black or blue.
15. Gemstone Nails
Matte nail polish makes the rhinestones used look ever more shiny.
16. Beige and Black Zebra Nails
Another version of the popular zebra manicure with beige and white color options.
17. Mismatched Comics Nails
Comics nails in a mismatched design with beige nail polish.
18. Botanical Black & Beige Nails
Adding pretty botanicals in black is never a bad idea.
19. Minimalist Black & Beige Nails
Love a simple manicure? You can transform simple beige nail with the addition of a simple geometric nail art in black color.
20. Oriental Black & Beige Nails
Oriental style nail art on simple black and beige nails.
21. Alternating Zebra Black & Beige Nails
Release your wild side.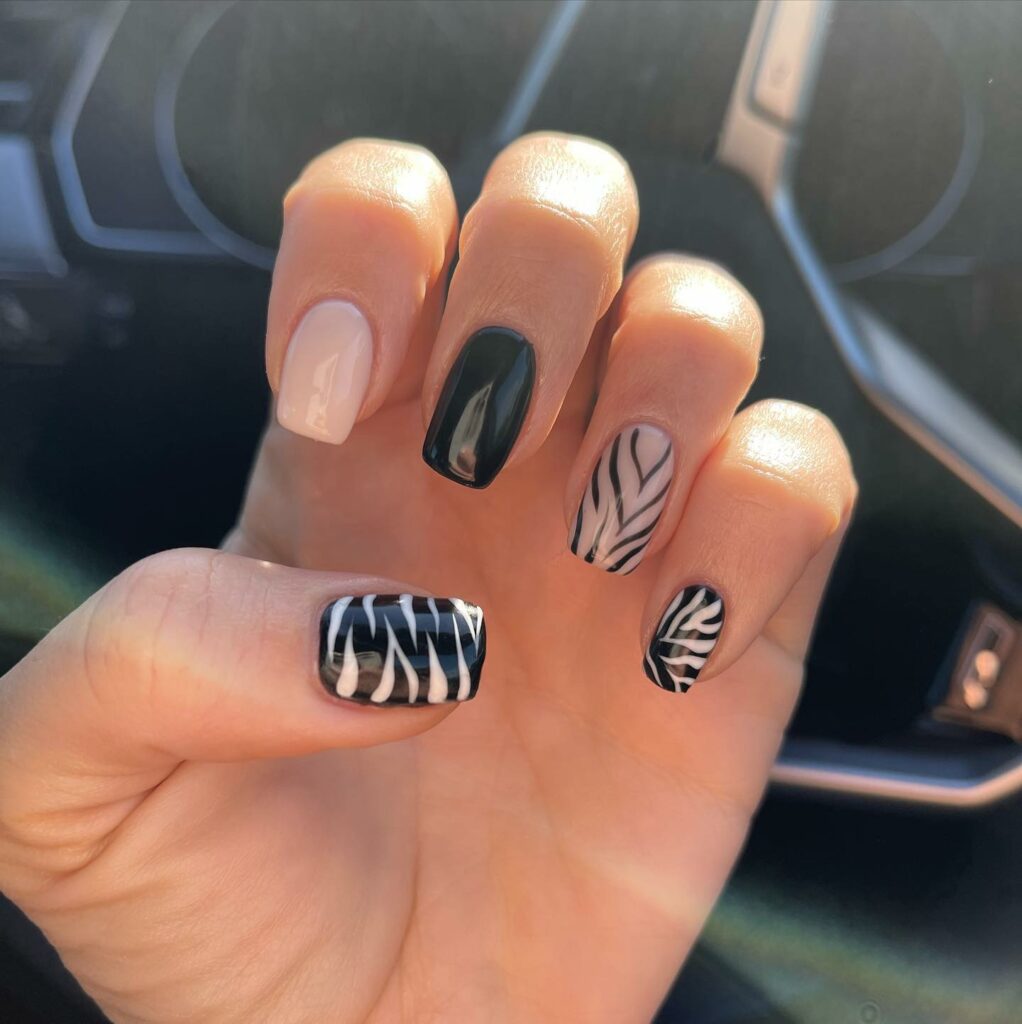 22. Pretty Floral Black & Beige Nails
Transform your nails in a pretty floral landscape.
23. Black Hearts Nails
Pretty hearts are not just for Valentine's Day!