Are you looking for the best ideas for zebra nail designs? You came to the right place! We have curated a collection of over 30 most gorgeous zebra nail designs to inspire your next trip to the nail salon.
Are you ready to find the perfect nail design?
Below is our curated collection of zebra nail designs from the best nail artists collected from Pinterest. The collection features pretty nails in different difficulty levels, so even if you're trying to create something at home, you will find some ideas that are easy to do as a DIY.
Zebra nail designs are super popular this year, especially for the summer season. They come in a variety of colors, so you don't have to stick to the classic black nails version if you don't want to. Equally, if you prefer a more subtle elegant nail design without too much contrast in colors, you can do the zebra nails in pretty neutrals and still make them look really beautiful.
This Year's Trends for Zebra Nail Designs
What's hot this year when it comes to zebra nails? Here are some trends that are very popular on social media:
the traditional monochrome look gets a new spin and we are seeing lots of variations of the classic style – these include mismatched nail design, French tips with zebra stripes, alternating designs for each nail, and even zebra stripes in neutral ombre tones. Bottom line – sticking to zebra nail design in black for all your nails will likely look a bit simple and boring, unless paired with another color
zebra stripes get the color treatment – there is no need to stick to monochrome when there are so many nail polish colors to experiment with. Go as bold as neon purple, or as neutral as pink or beige – in either case, the zebra stripes will be brought to life with the added color.
French tips go wild – you would think that such an intricate nail design is normally done only on the full nail, but we're seeing zebra stripe French tips everywhere! No just that, they also come in a variety of colors! If you prefer a more minimalist approach to your manicure, French tips are the way to go!
Zebra Nail Designs: Simple Video Tutorial
Here is a simple tutorial for zebra nails you can easily do at home, video via youtube by Simple Nail Art Designs.
30+ Best Zebra Nail Designs for Inspiration
So here they are, the most beautiful zebra nail designs – save you favourites to Pinterest, and check out the zebra nails Pinterest board where we have saved even more ideas for inspiration.
If you want to stay on top of nail design trends, don't forget to follow our Pinterest account – check it out here.
1. White Zebra Nails
Pretty and simple manicure that gives your nails plenty of color contrast – decadent zebra stripes painted in white combined with dark burgundy color for rest of the nails.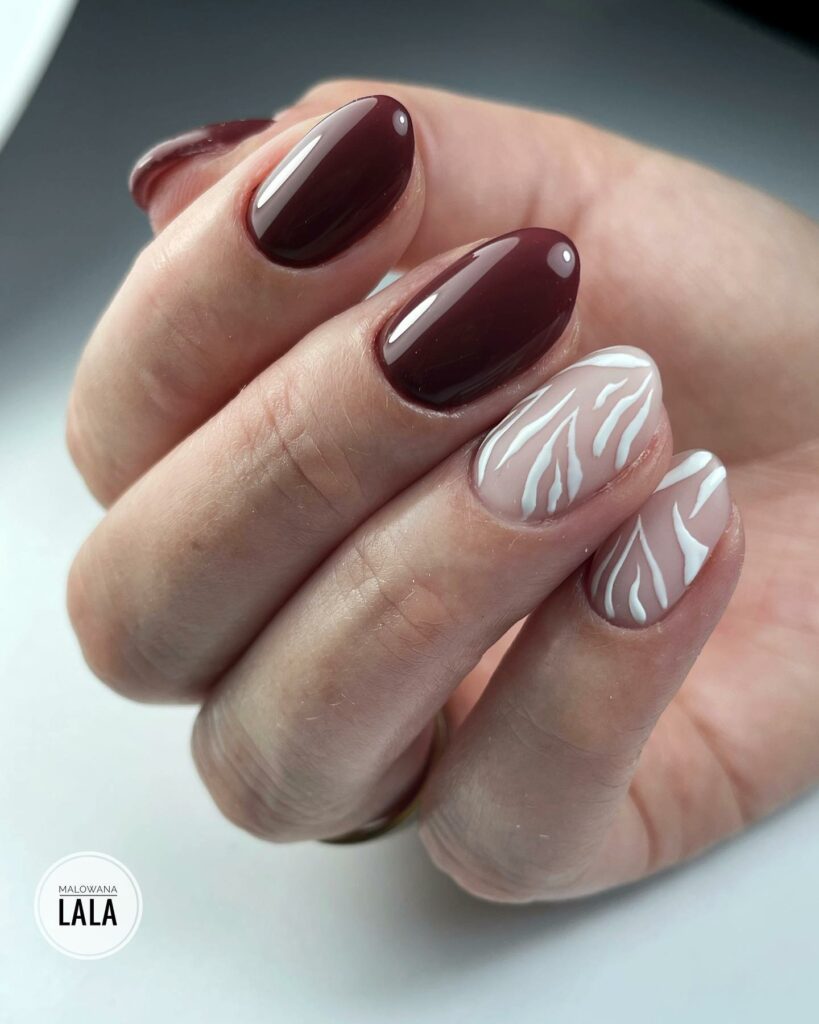 2. Pink and Black Zebra Nails
Opt for an asymmetric look with this pretty black and pink manicure which is elevated by beautiful bold zebra stripes.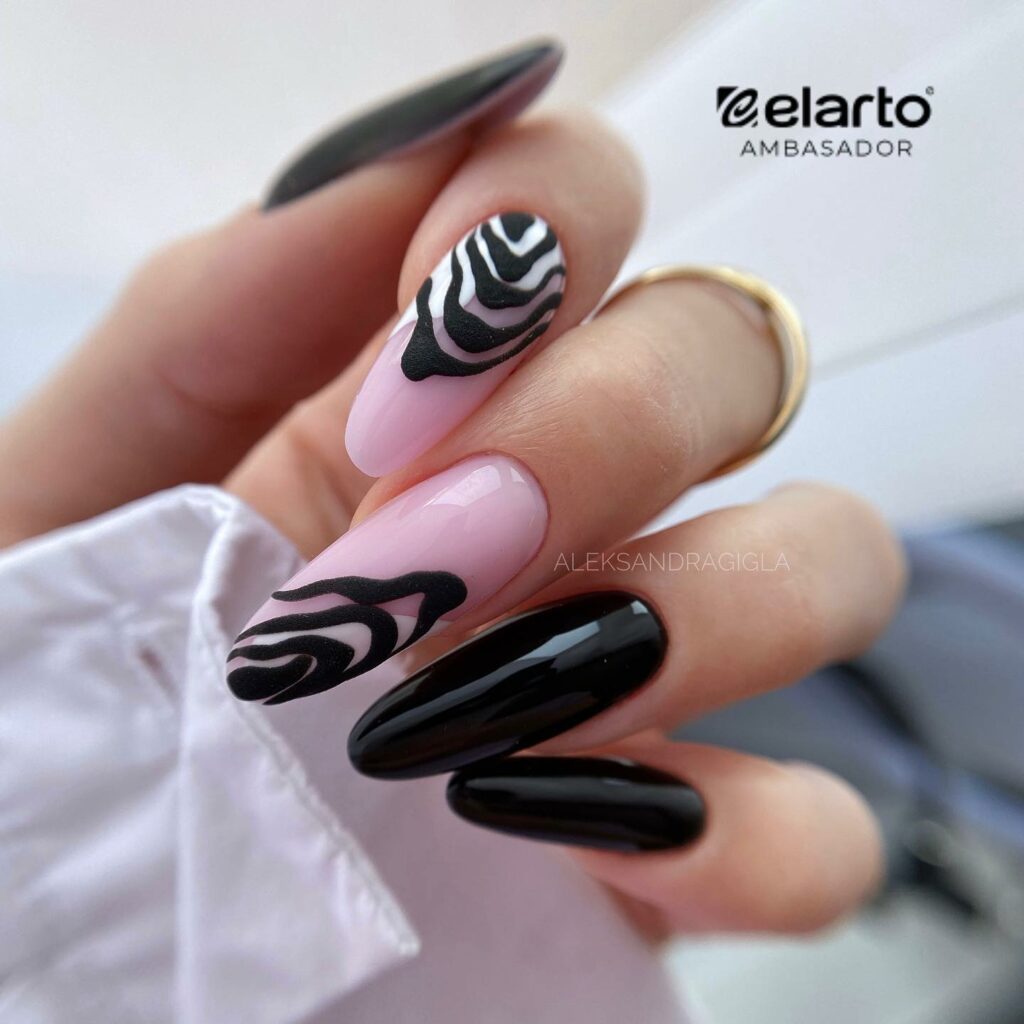 3. Burgundy and Black Zebra Nails
Fall nails? Check! This pretty burgundy manicure gets another breath of life with the addition of zebra stripes and pretty golden details.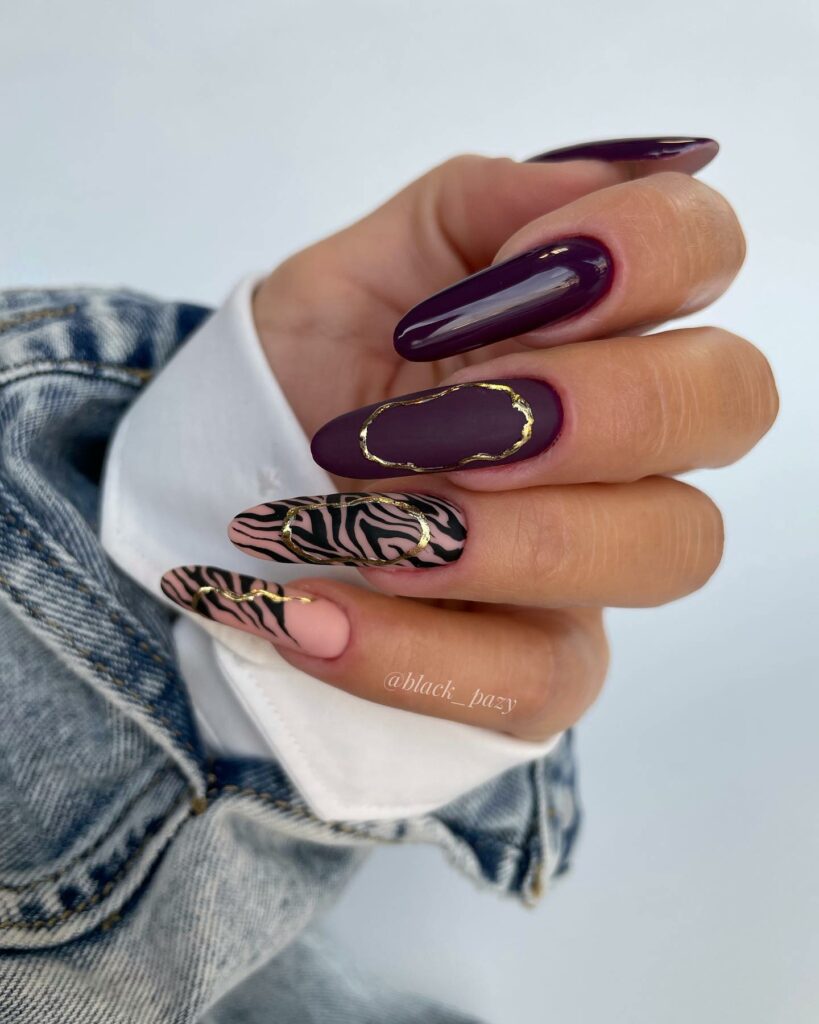 4. Gold Outline Zebra Nails
Make your nails a work of art by adding a golden or copper outline to your zebra stripes. Looks wonderful even on short nails.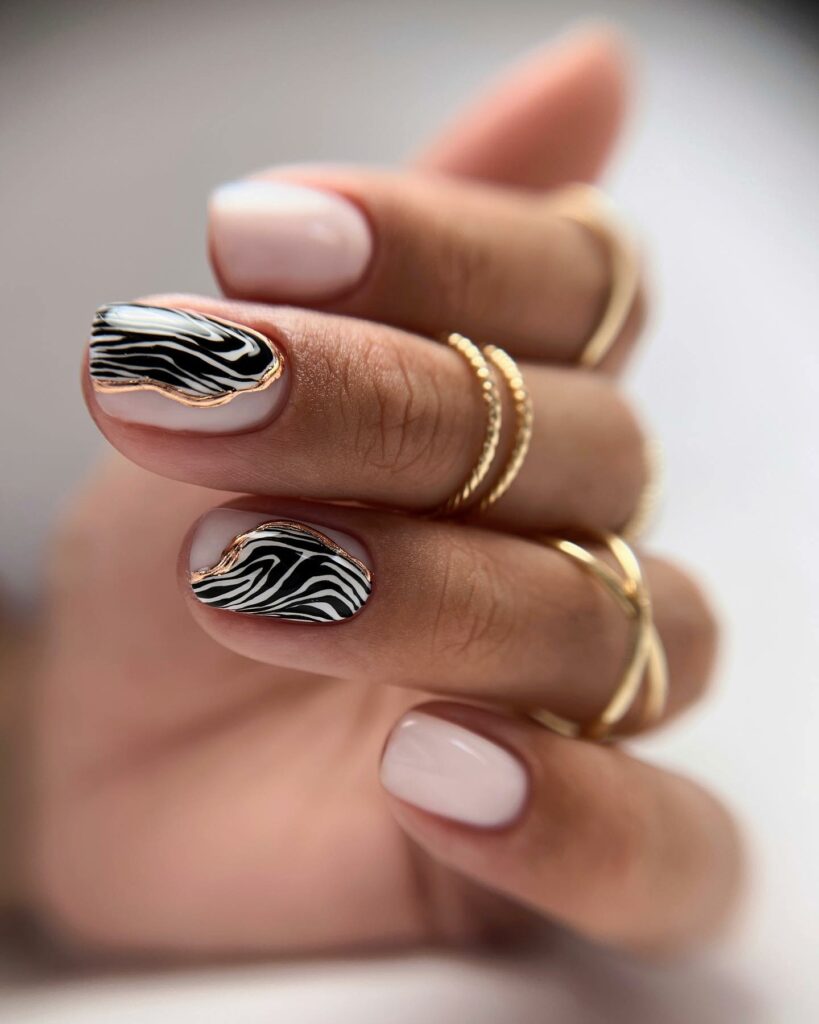 5. Fuchsia & Purple Zebra Nails
Love a bit of color? Zebra nail designs work pretty much with any nail polish color you can think of, especially these shades of fuchsia and purple.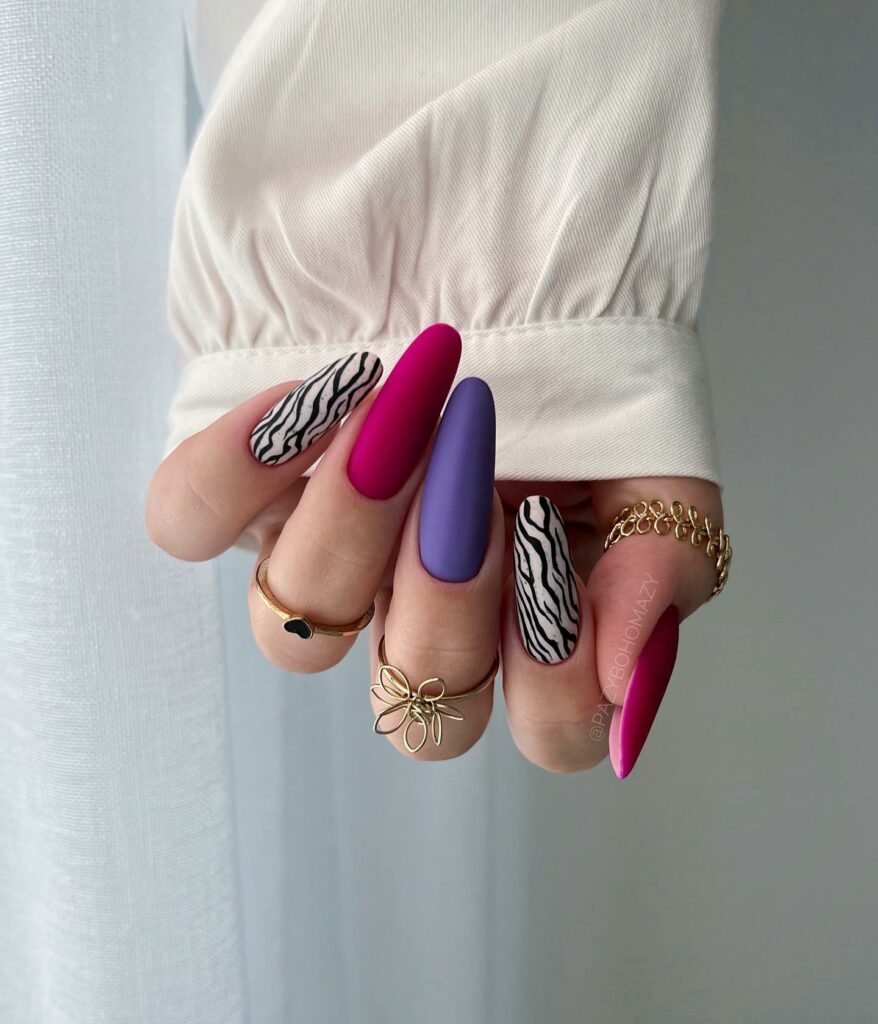 6. Pretty Pink Zebra French Nail Tips
A simple French-style manicure elevated by the addition of zebra stripes on the tips. Perfect manicure for any occasion, whether it's everyday wear or a party.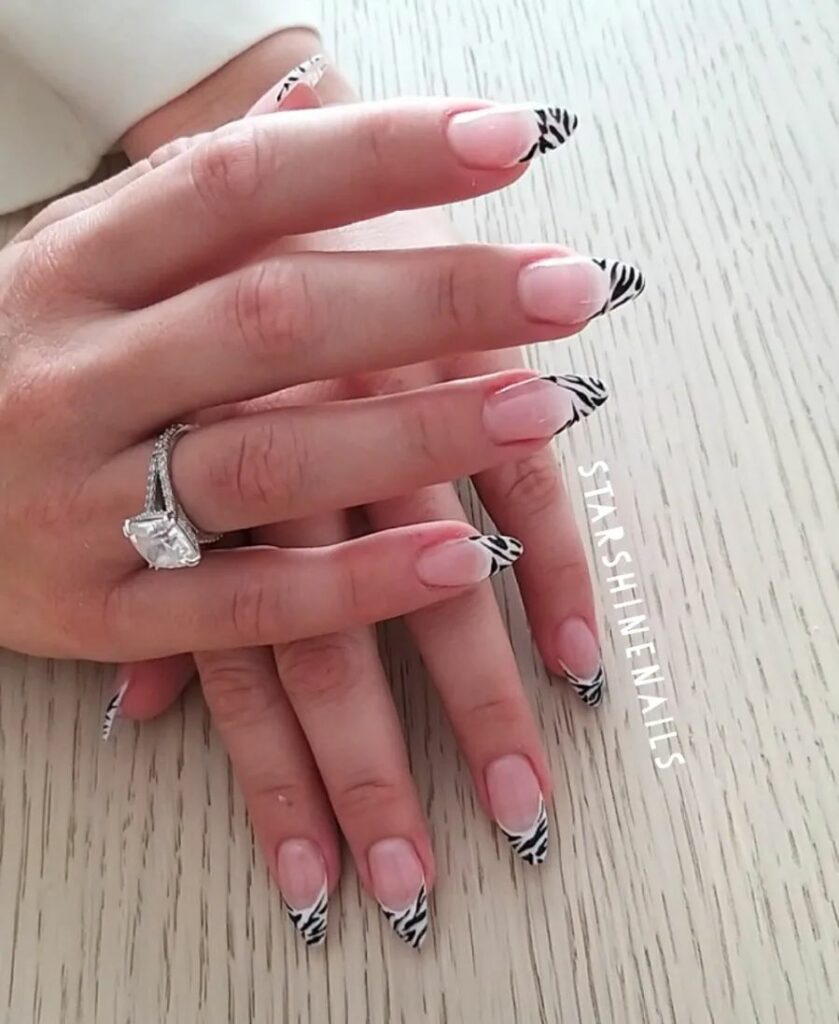 7. Mismatched Zebra French Nail Tips
Get the best of both worlds by using a different design on each nail – tie the design together by using a cohesive color palette.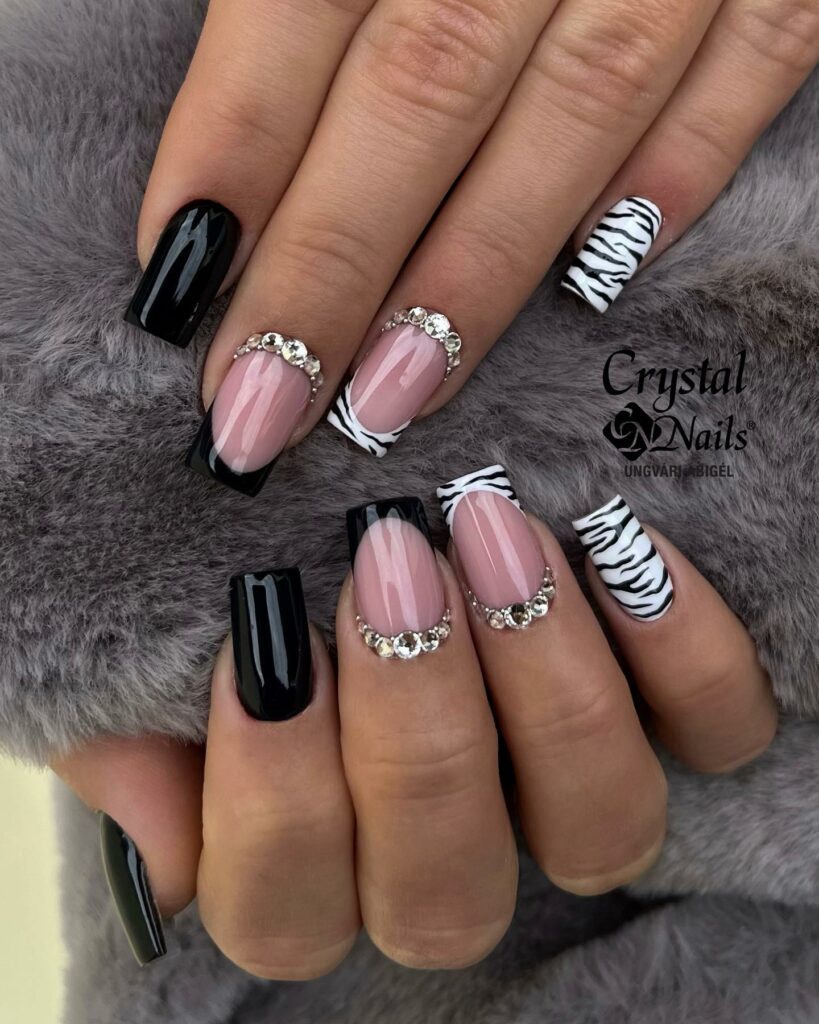 8. Mismatched Purple Zebra Nails
Who would have thought that purple zebra stripes can look this good!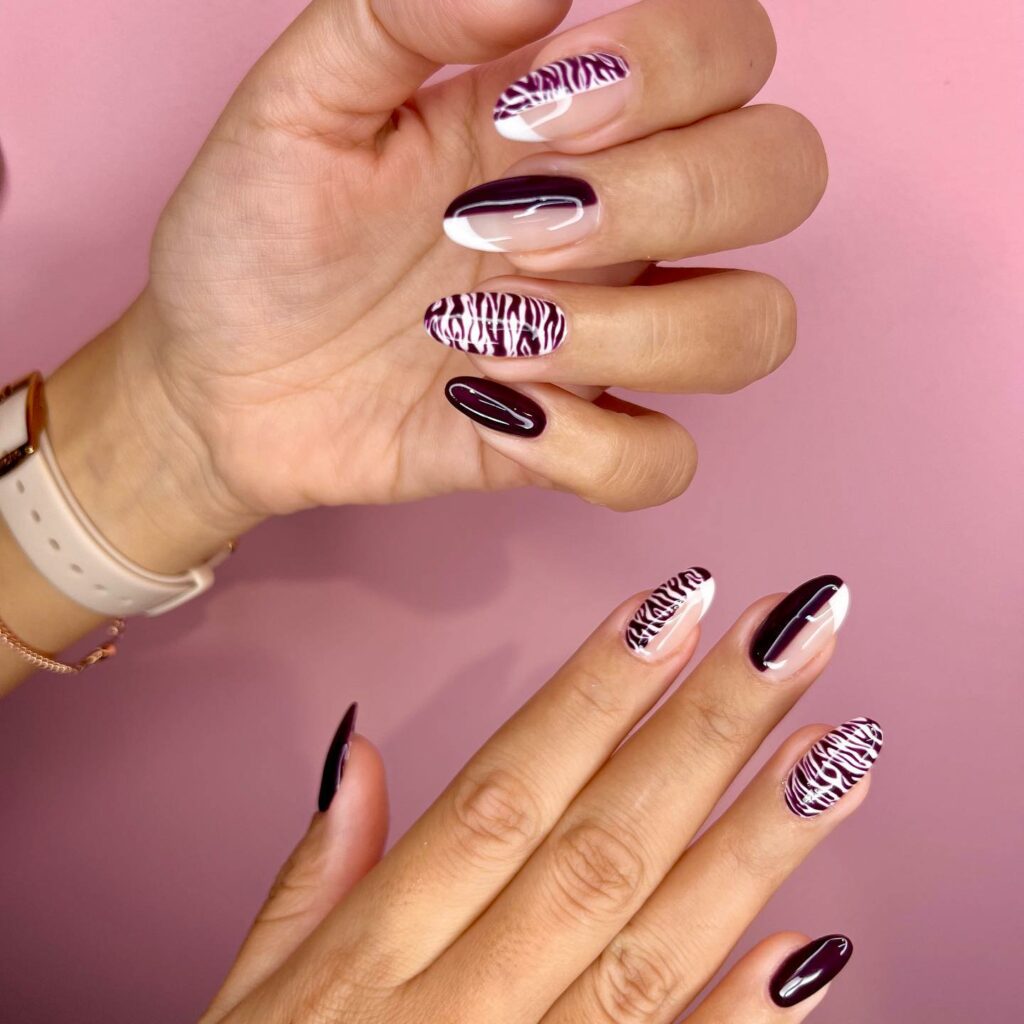 9. Mismatched Monochrome & Silver Zebra Nails
A little bit of silver glitter nail polish will take this manicure from everyday wear to special occasion nails.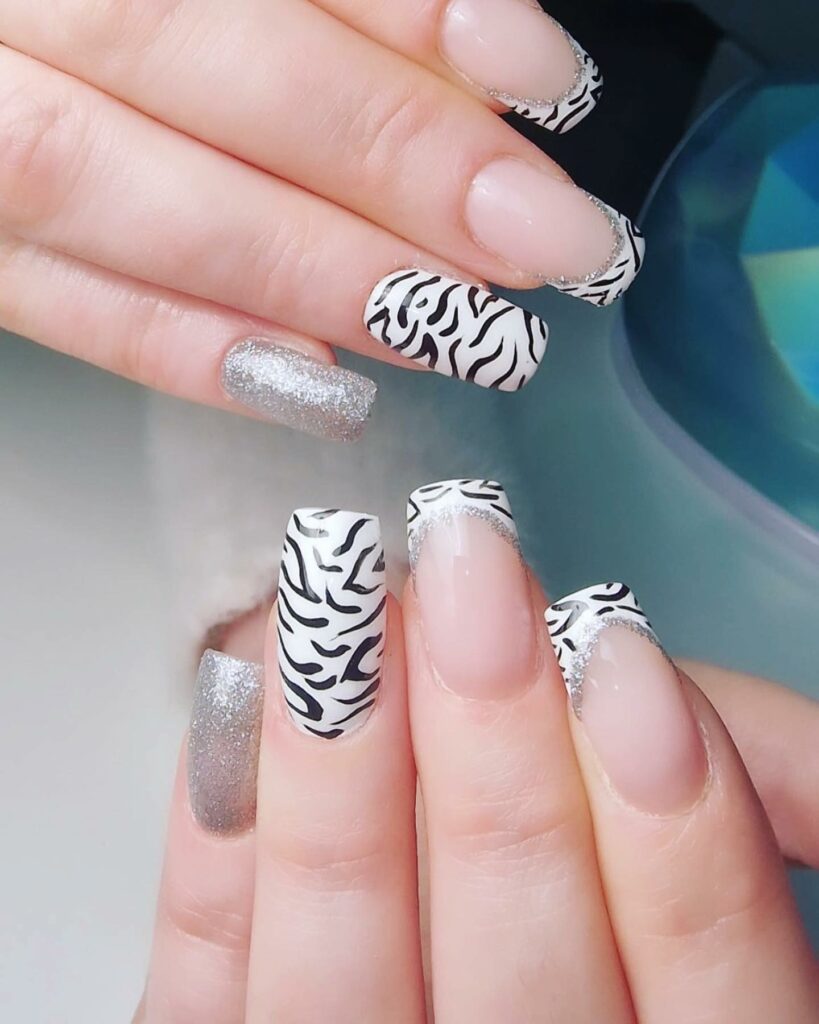 10. Simple Monochrome Zebra Nail Design
Simple and effective – add a bit more interest to the manicure by reversing the color choice on each hand.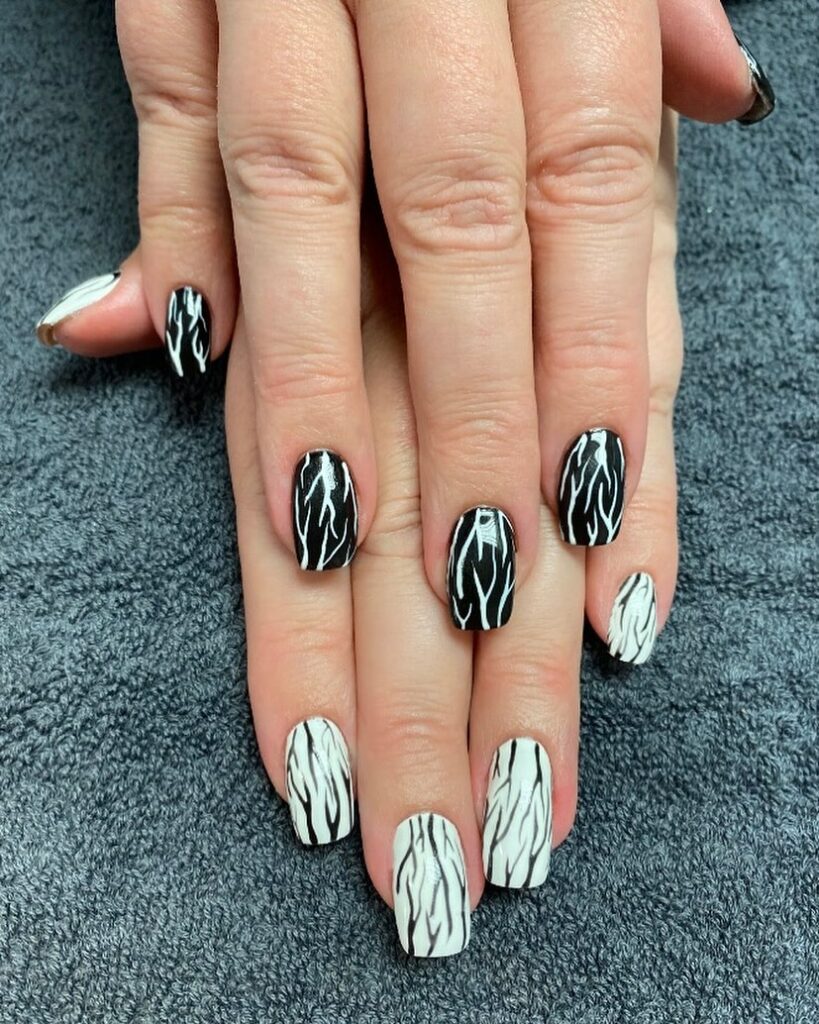 11. Monochrome & Red Zebra Nail Design
Going for bold contrast? Nothing works better than black and red!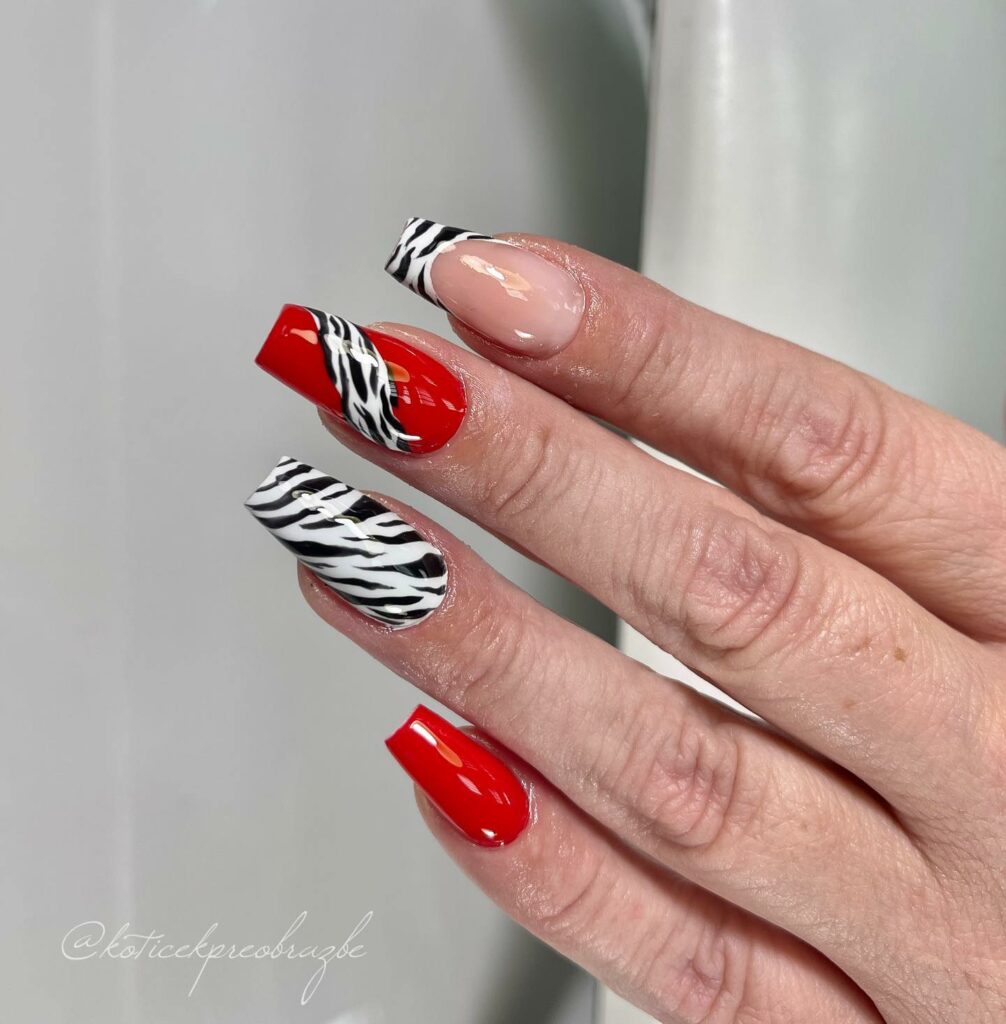 12. Duo Tone Zebra Nail Design
Even in neutral nude or pink tone colors, zebra stripes look really pretty and timeless. Add a statement black nail polish for a bit more contrast.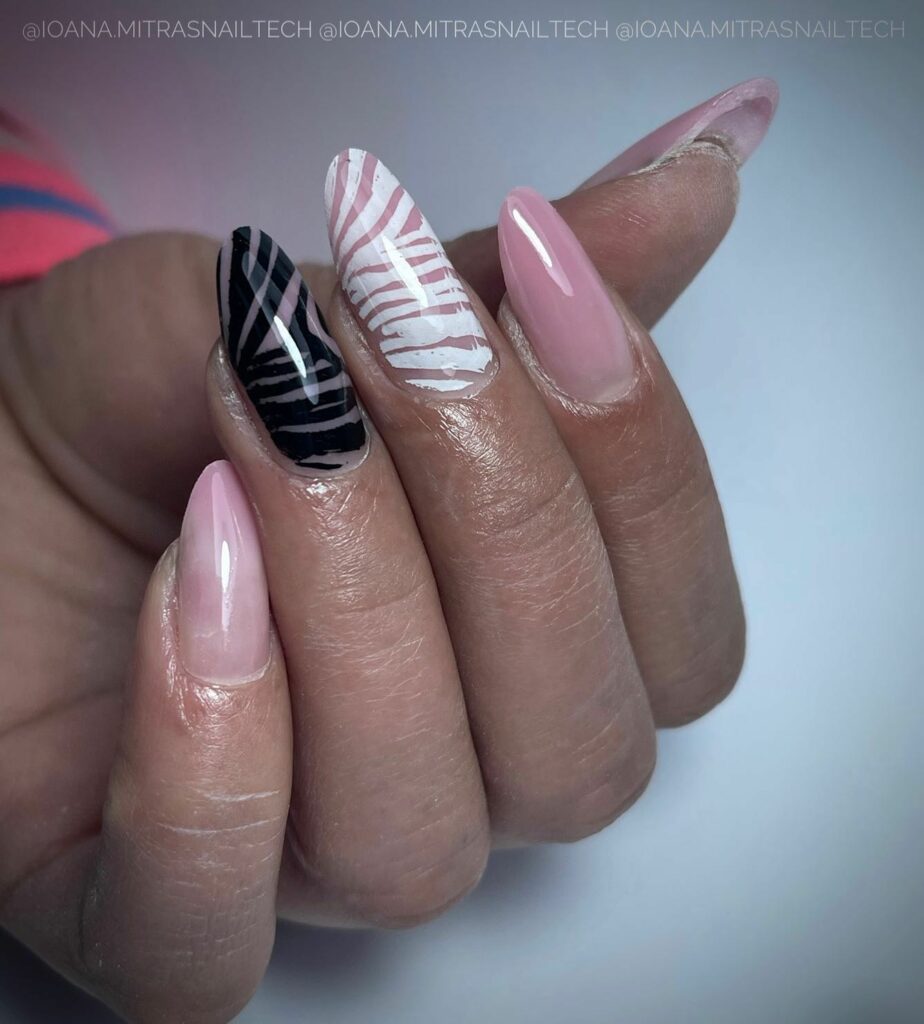 13. Elegant Black Zebra Nail Design
An absolute classic with a modern twist, traditional black manicure is elevated by the use of zebra stripes.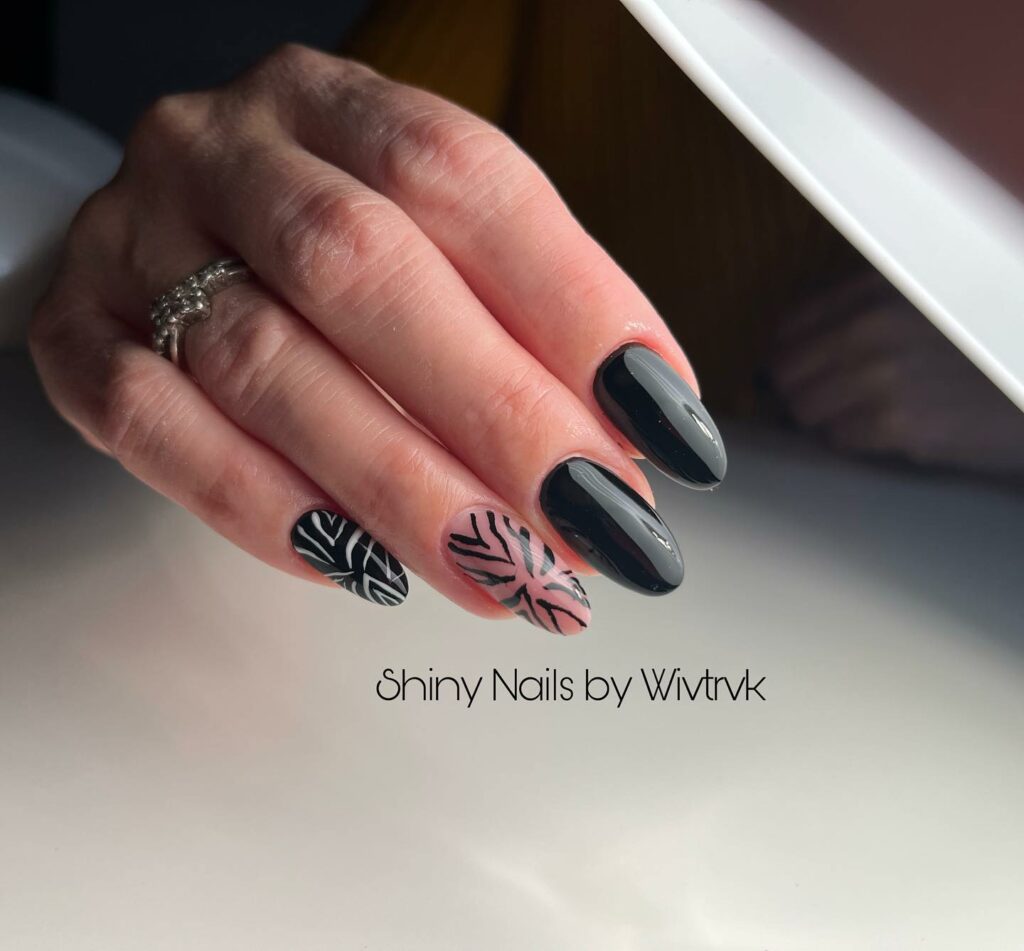 14. Golden Zebra Nail Design
Wildlife inspired color palette elevated with gold.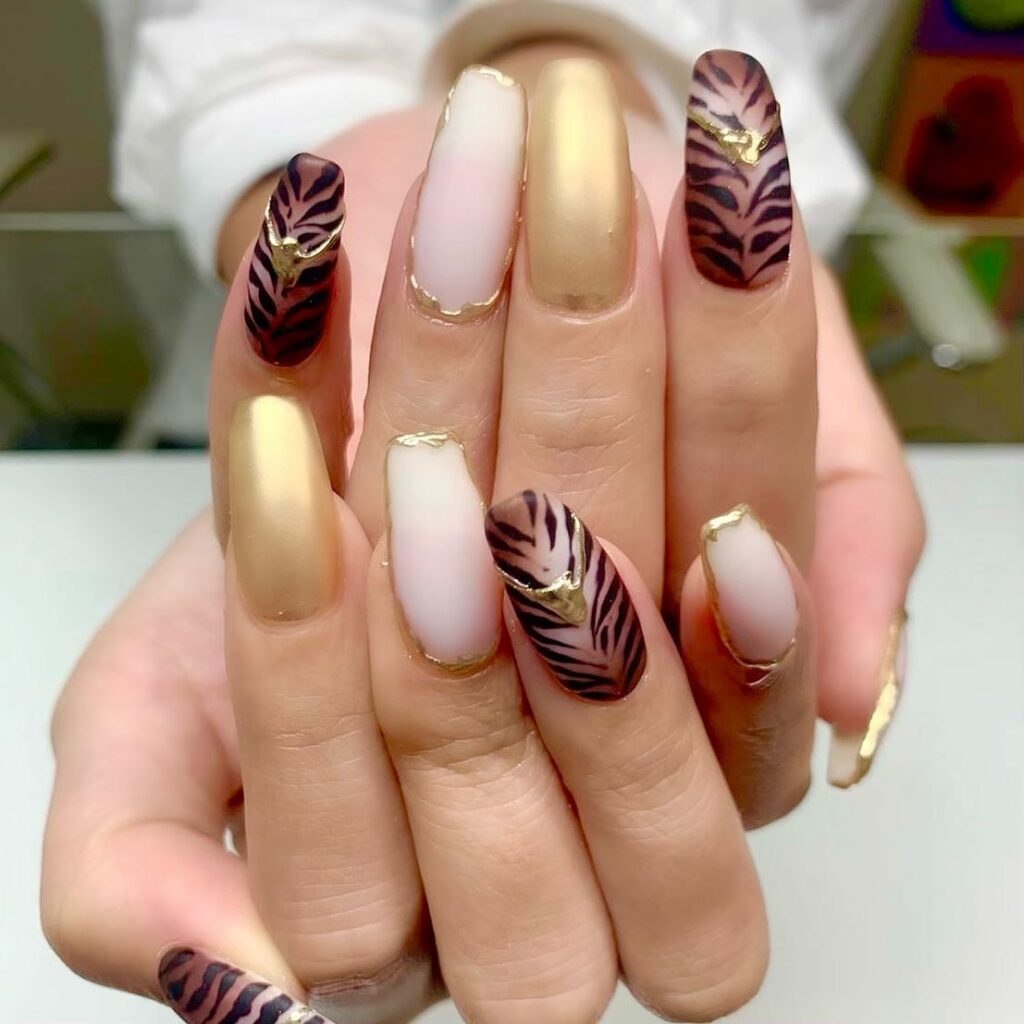 15. Pink, Black & Gold Zebra Nail Design
Pink white and black is one of the most popular nail polish combinations for zebra nail designs.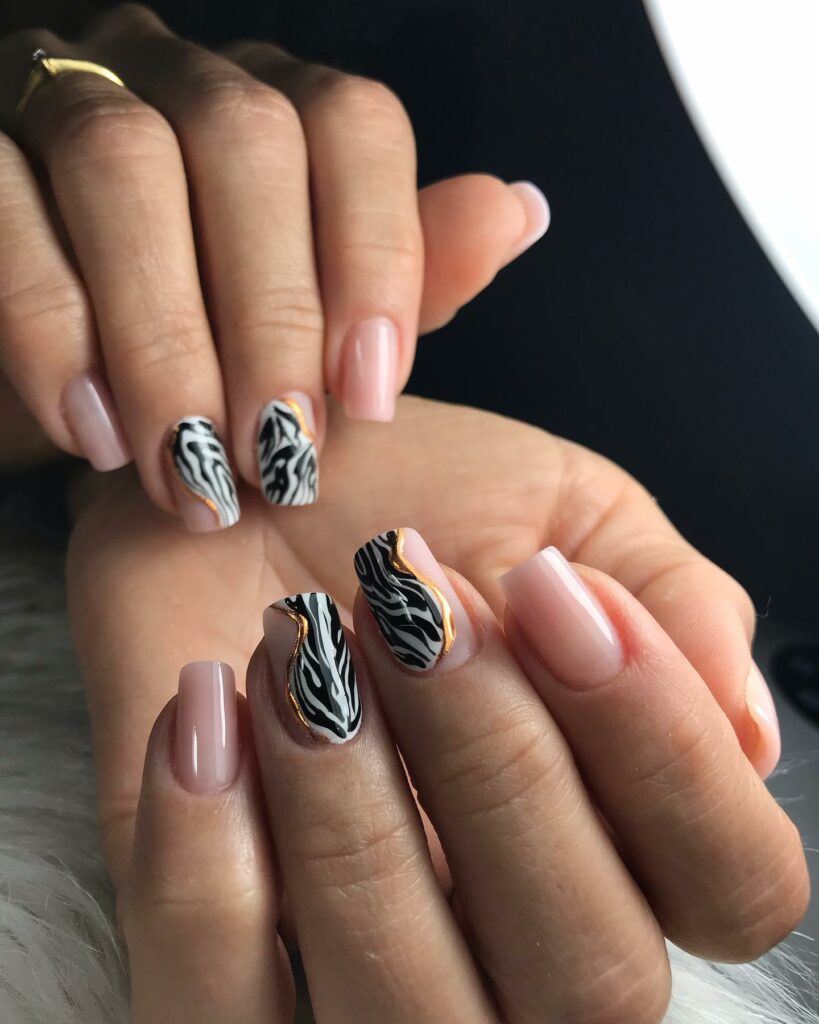 16. Statement Zebra Nail
Zebra nail design on coffin nails combined with cut off French tips – how pretty are these nails?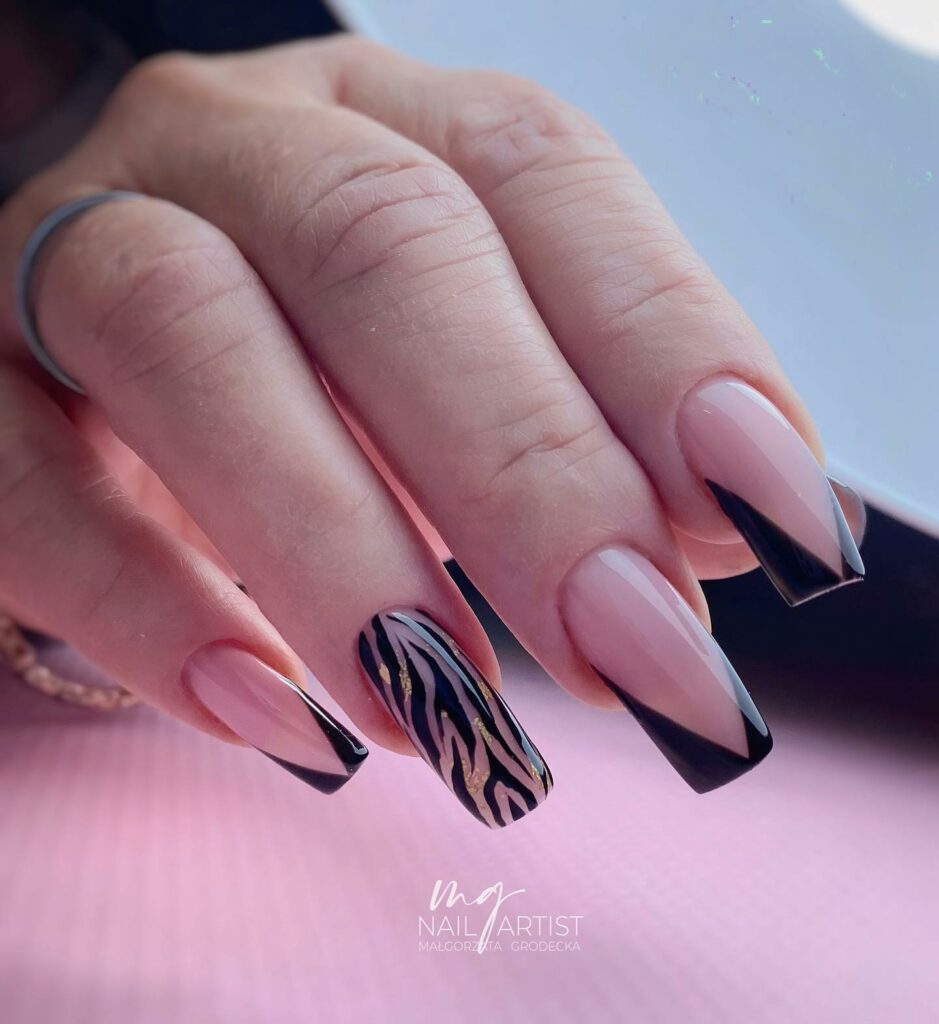 17. Zebra French Tips
Another version of Zebra French tips this time on almond shaped nails.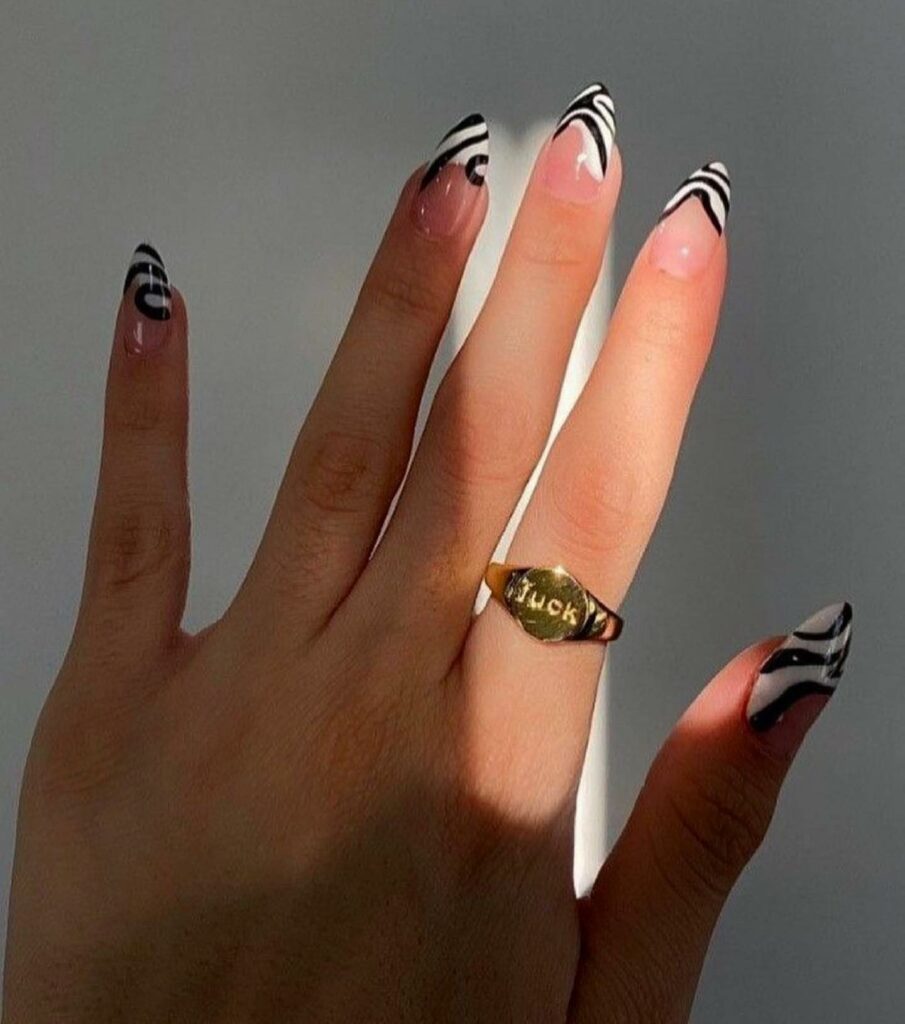 18. Zebra Nails with Red Manicure
Make a bold statement with red manicure elevated by the use of gemstones and a zebra stripe nail.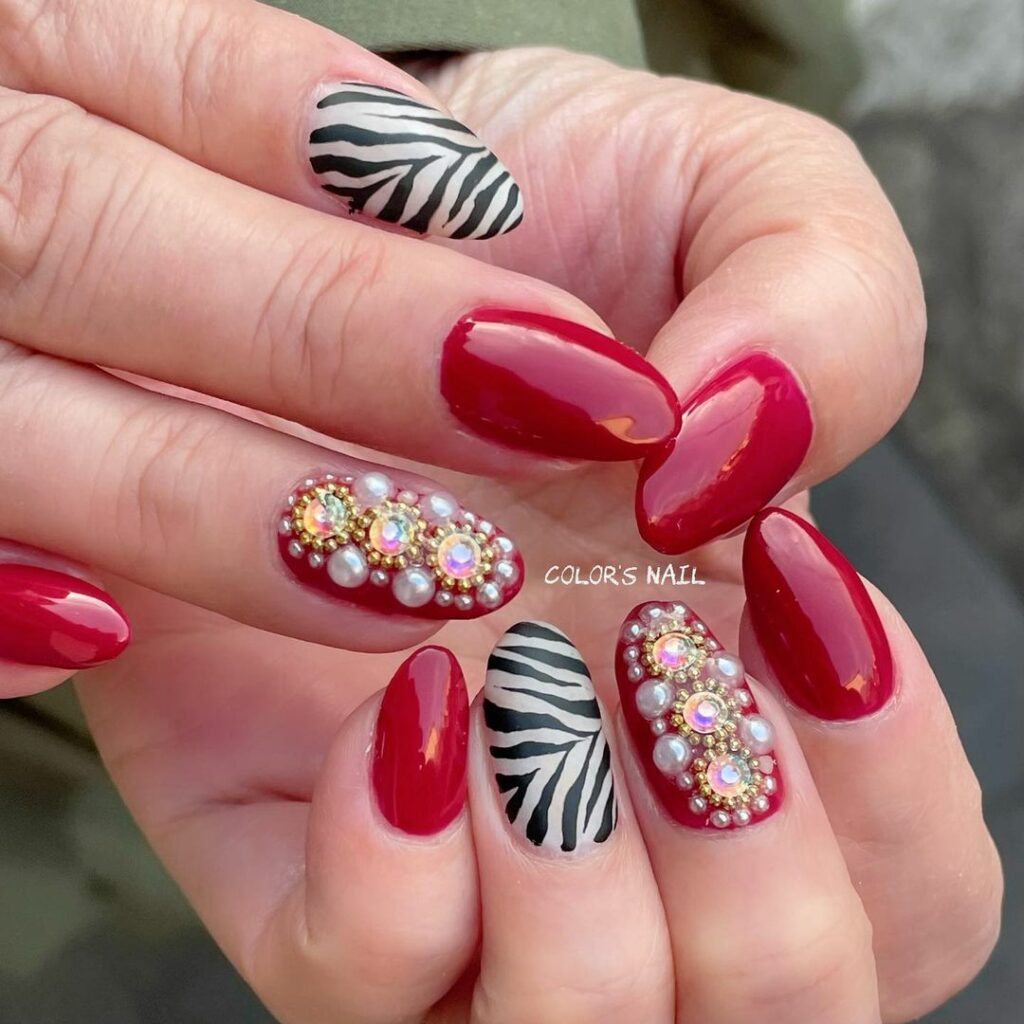 19. Elegant White Zebra Nails
White and gold manicure with colored-in zebra stripes.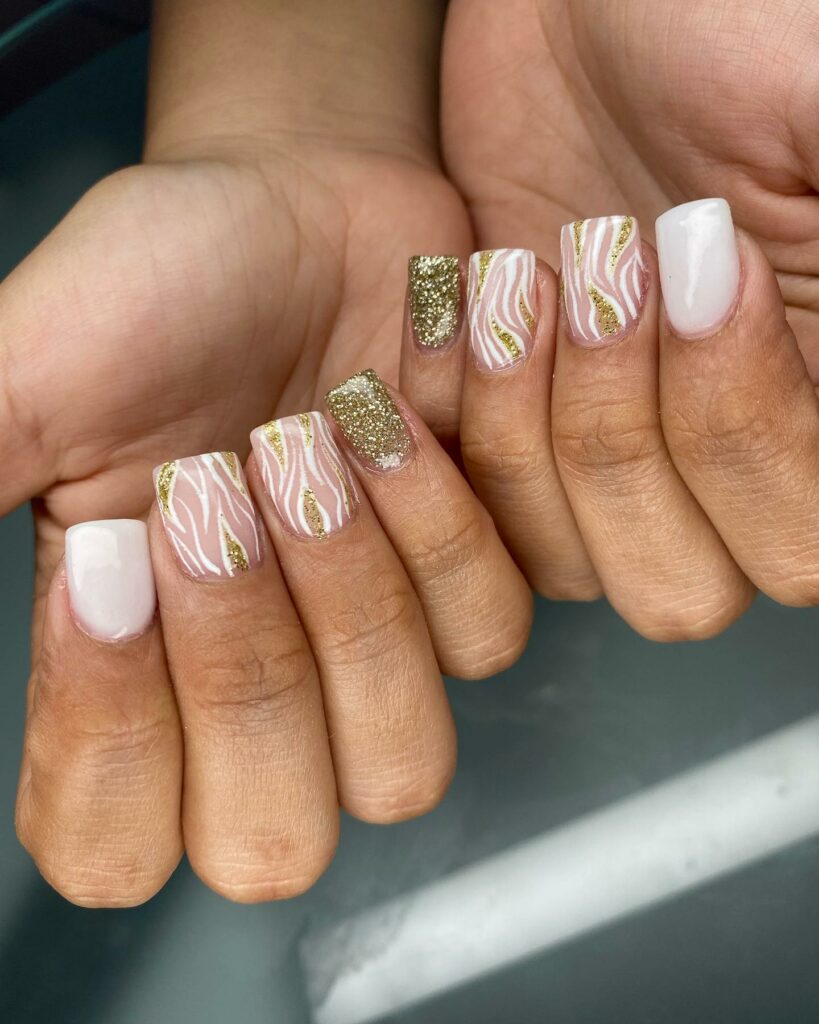 20. Purple Neon Zebra Nails
We mentioned neon nails in the introduction, and if you thought it would look weird with zebra stripes, you can't be more wrong! Check out this manicure!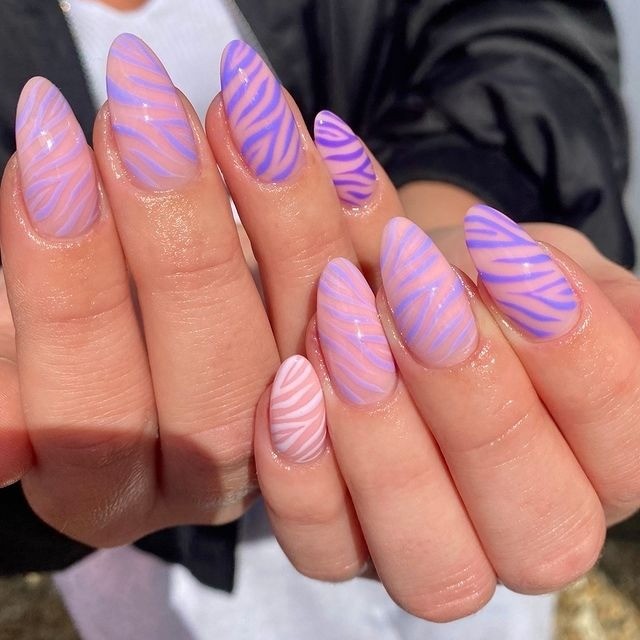 21. Mixed Black Zebra Nails
Mixed nail design featuring neutral colors with zebra stripes.
22. Pretty Wine Red Zebra Nail Design
One of the prettiest nail polish colors – wine red – got the zebra stripe treatment.
23. Sophisticated Zebra Nail Design
One of our favorite nail designs – this pretty sophisticated manicure is bride-worthy.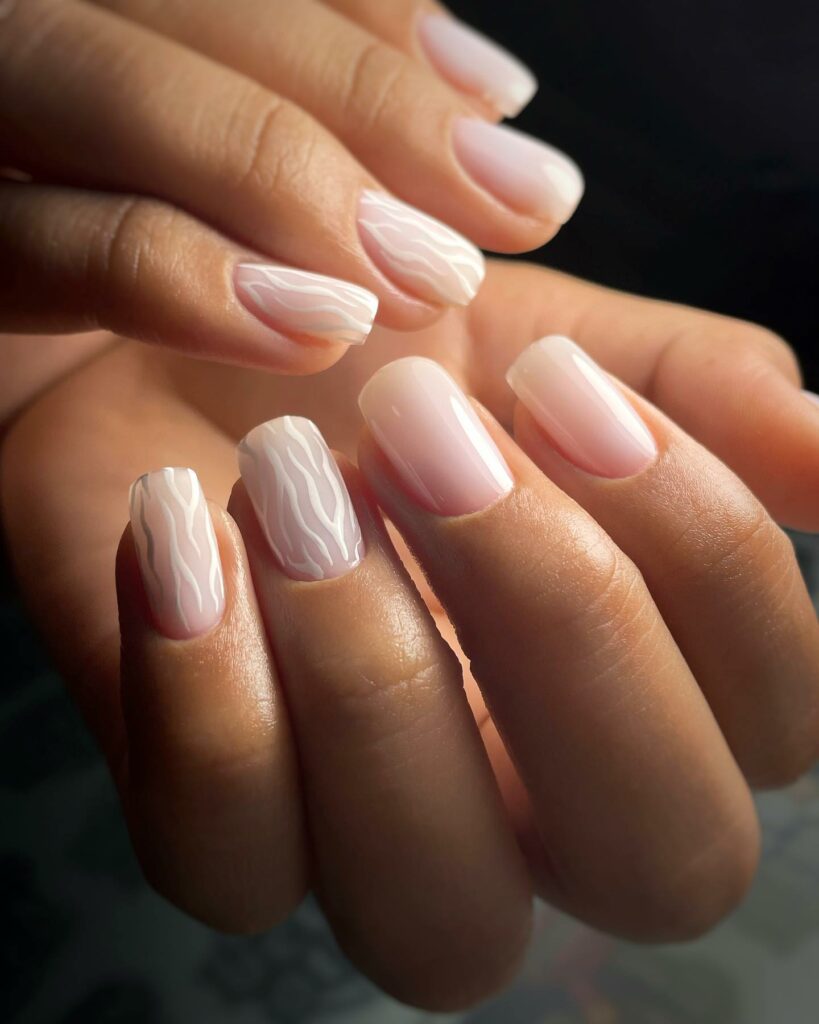 24. Mini Zebra French Tips
Show them your wild side with mini zebra French tips.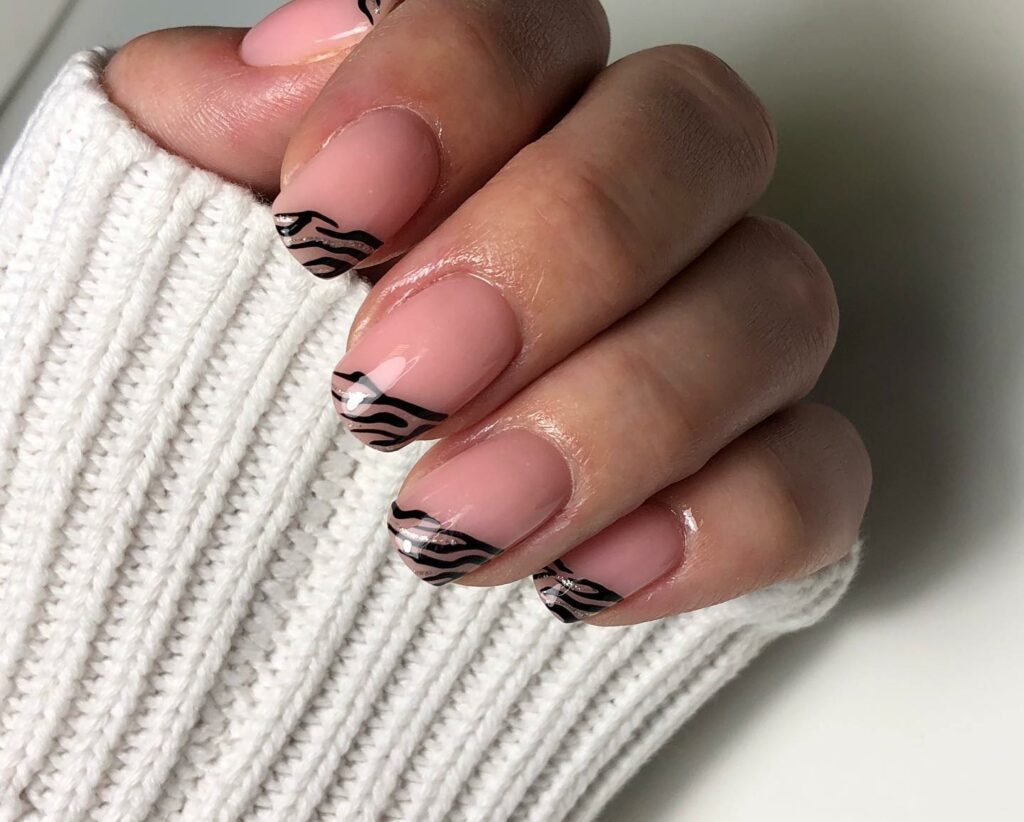 25. Structured Black Zebra Nails
A 3D effect with mate nail polish on black nails – how pretty is this?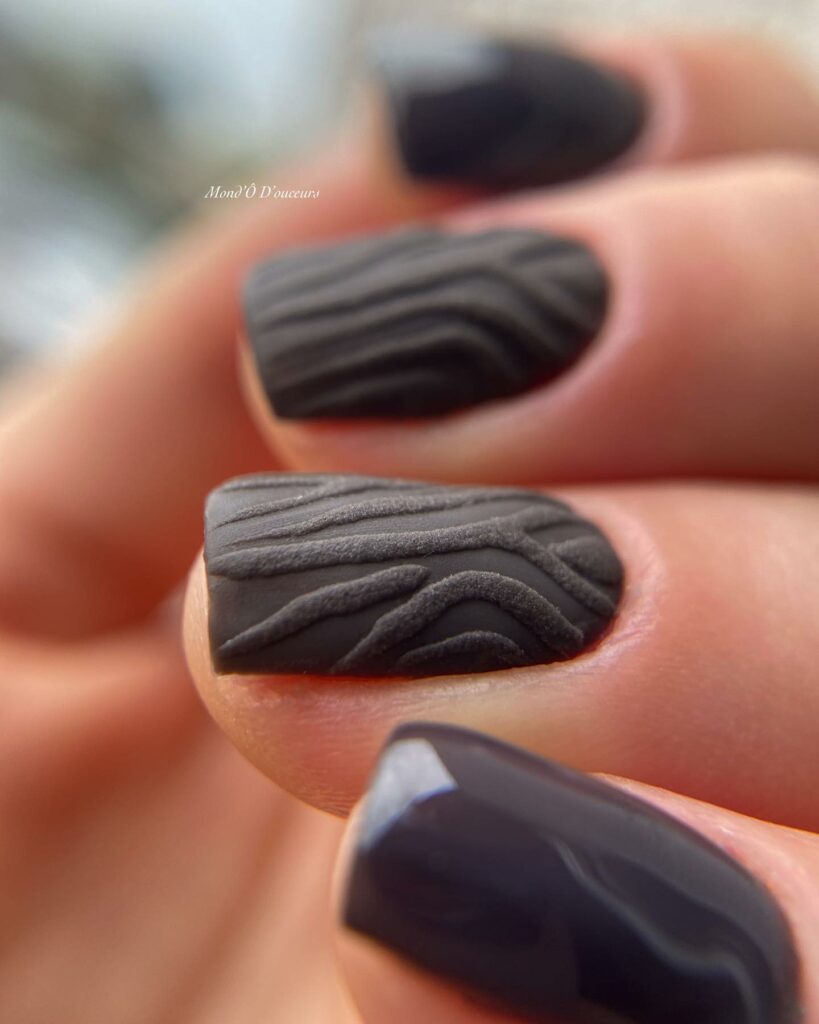 26. Mismatched Monochrome Zebra Nails
Another variation of the mismatched look with reversed color zebra stripes and neutral colors.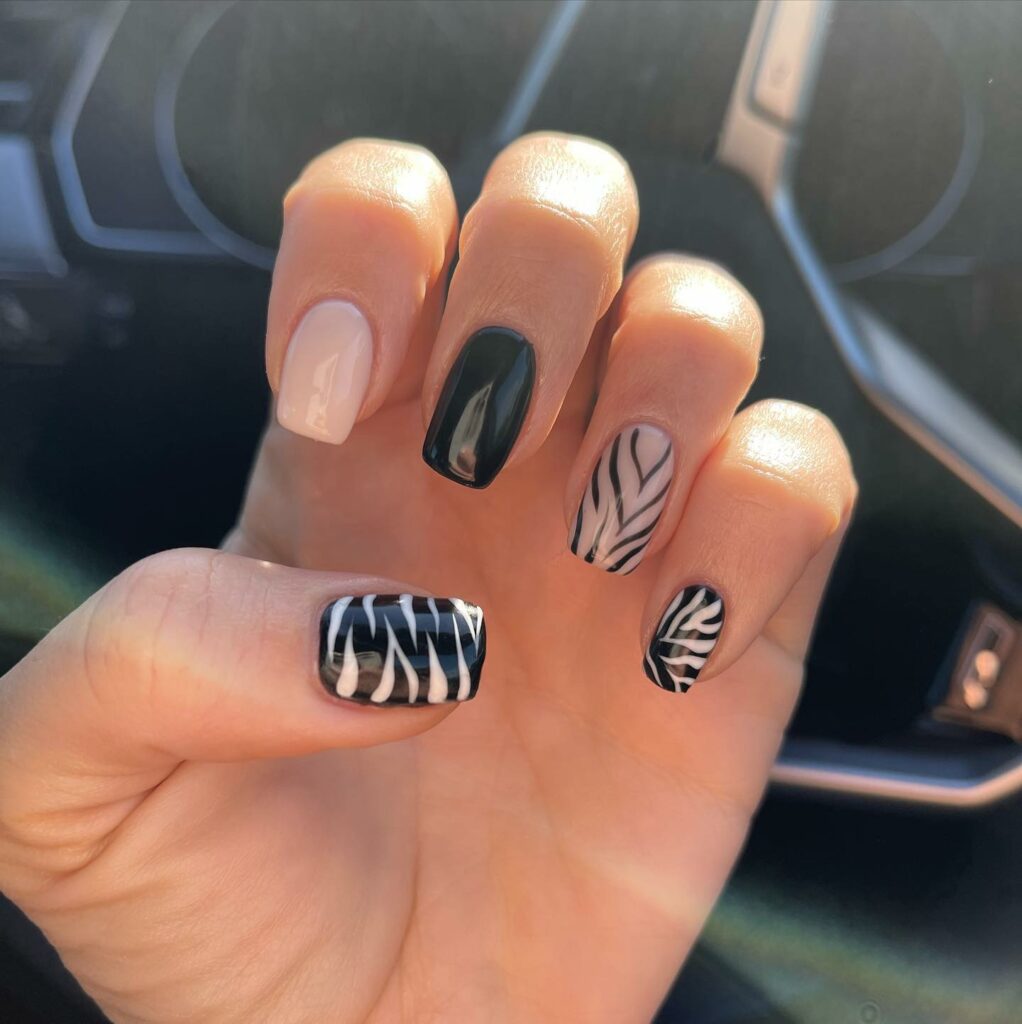 27. Half and Half Zebra Nails
This half-and-half nail design look is elevated by the use of a bit of glitter on the zebra stripes.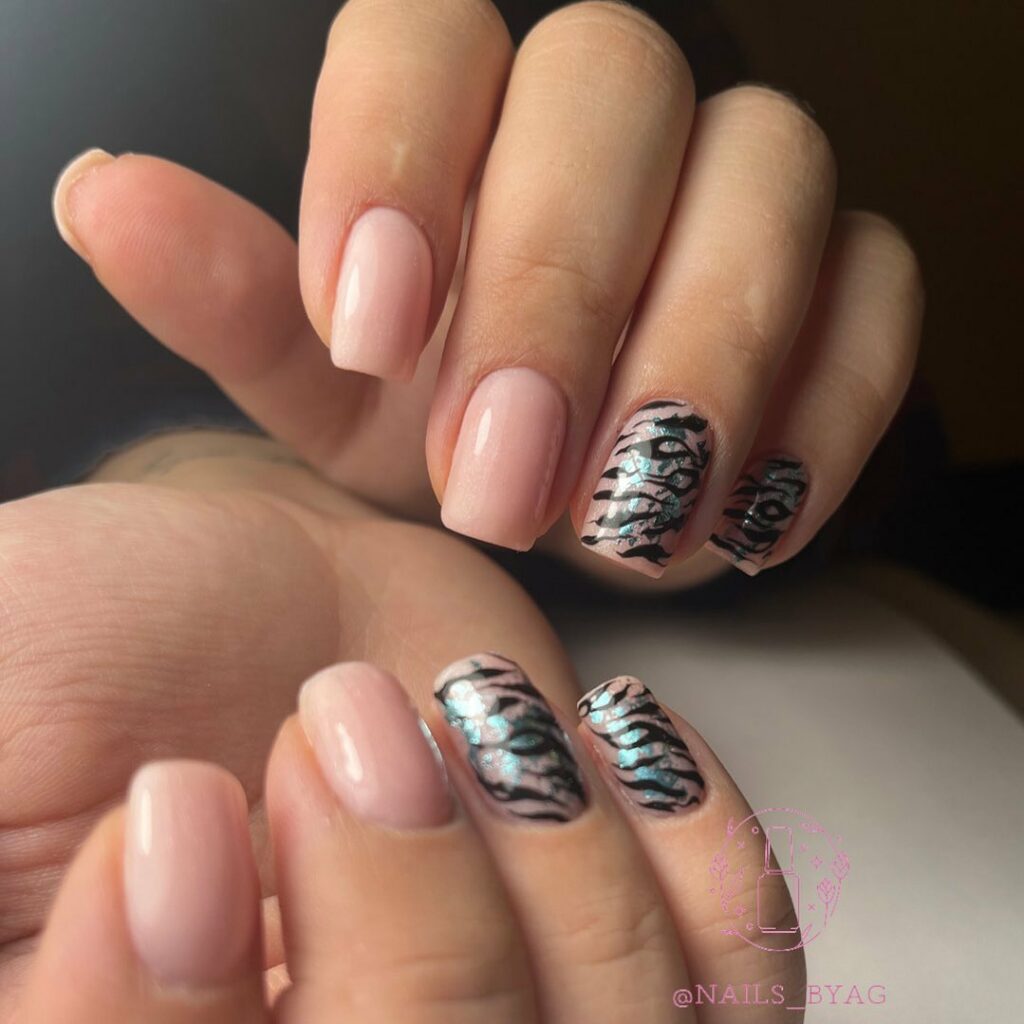 28. Simple Black & White Zebra Nails
A novel approach to zebra nails is to make the white parts wider so they are optically bigger.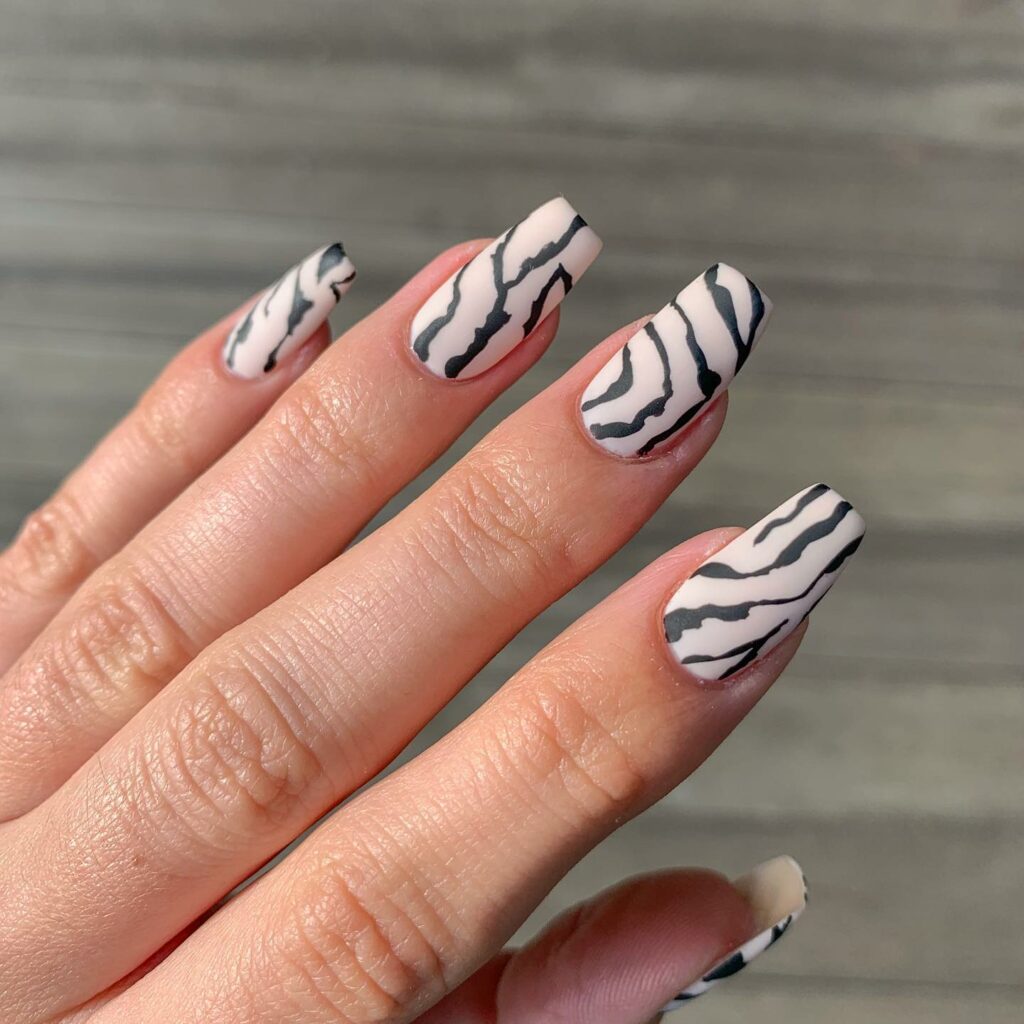 29. Gold Zebra Mountain Peak Nails
Want to think outside of the box? Opt for gold on nude nails.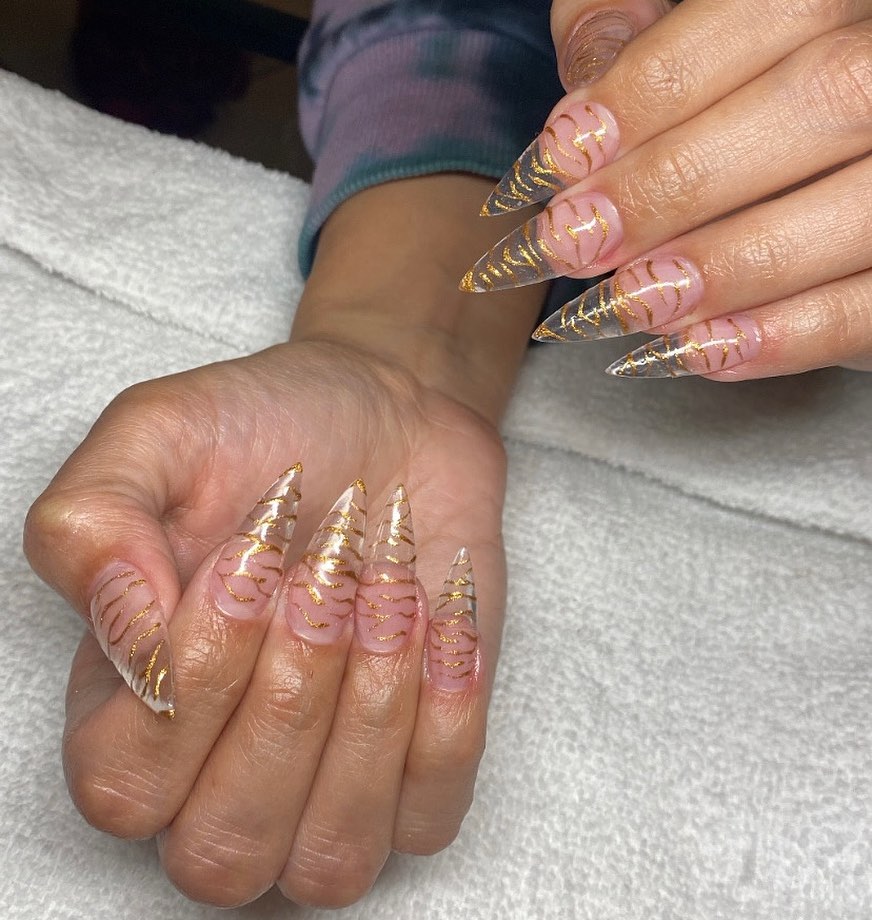 30. Zebra Nail Design on Short Nails
The stripes work for any nail length, and in this case look super pretty even on short nails.
31. Blue Zebra Nail Design on Coffin Nails
Black and blue? Why not!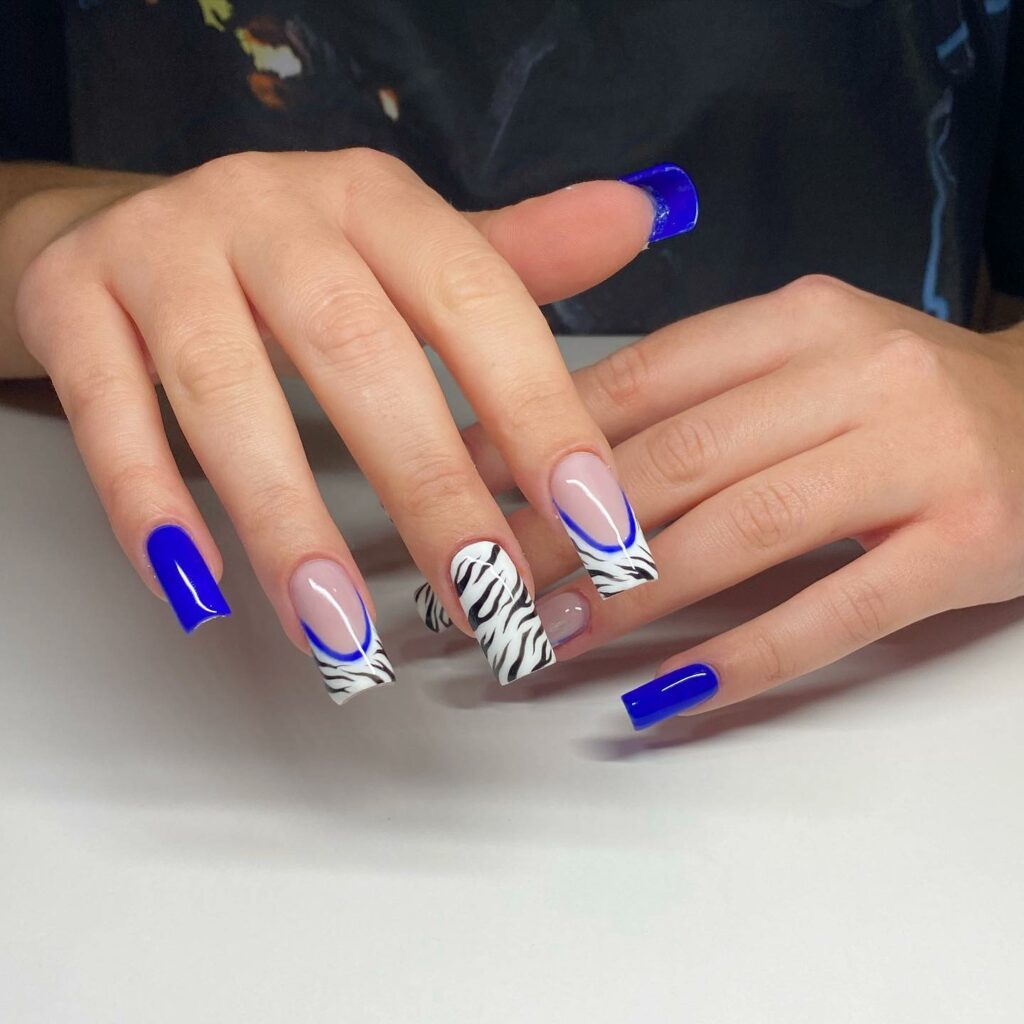 32. Mixed Color Zebra French Tips
Super long nails make your zebra French tips look extra stylish.