We are back to the '90 with these cool neon yellow nails! Check it out!
If you are looking for a daring choice for manicures, then yellow neon nails are your perfect choice. Don't forget, however, that neon nails usually require a more careful selection of outfits with which to wear them.
Of course, a yellow neon manicure can be wonderful in the role of an accent with a simpler outfit for a special occasion.
If, however, you prefer a more refined styling and usually bright colors are not to your taste, you have a solution that you will approve. Feel free to experiment and try bold yellow neon nail designs with a little trickery and moderation.
Opt for a minimalistic look with a nude polish at the base and a yellow neon finish. This will give freshness without having to be overly considerate when choosing clothes.
Neon tones can also be twisted into an accent decoration. Try adding gentle stripes and lines in the form of a rainbow or simple geometric motifs, and why not gently flow into an ombre effect?
Video Tutorial: Neon Yellow Nails
If you're looking for a simple way to apply neon yellow nail polish at home, here is a step-by-step tutorial for impressive neon nails from ImGirlYouDontKnow!
2023 Trends for Neon Yellow Nails
Even without a special art design and decorations like rhinestones and nail stickers, the neon yellow manicure will not go unnoticed, especially for hot summer outfits and looks.
Neon yellow manicures have their own particular beauty and magic. During the bright part of the day, the neon manicure is just a bright polish on the nails, and in the evening, your nails glow, which makes it extremely popular for summer vacations, when you have the opportunity to indulge in parties in clubs.
Neon manicure is perfect for parties and discos. Ideally, this manicure looks perfect on short or medium-length nails.
Neon colors are best combined with slightly matte and sun-tanned skin. For this reason, it is good to use these colors mainly for spring manicures and summer manicures. When choosing the neon palette for your manicure, you can easily experiment with more saturated makeup.
Here are just a few neon yellow nails you can try right away:
Yellow neon nails with flower patterns and decorations
Yellow neon nails with rhinestones
Neon yellow French tip nails
Nude nails with neon yellow lines and swirls
Yellow neon nails with a sparkling effect
Yellow neon nails with animal print
Yellow neon nails with art
25+ Coolest Neon Yellow Nails Ideas
Check out these pretty neon pink and yellow nail ideas and designs, collected from the most talented nail artist on Instagram. If you need even more nail design inspiration in these cool vibrant colors, check out our dedicated Pinterest board here.
1. Spring Neon Yellow Nails with Flowers
2. Botanical Neon Yellow Nails
3. Neon Yellow Nails with Flowers & Gems
4. Simple Neon Yellow Nails
5. Coffin Neon Yellow Nails
6. Cheerful Spring Neon Yellow Nails
7. Bright Coffin Neon Yellow Nails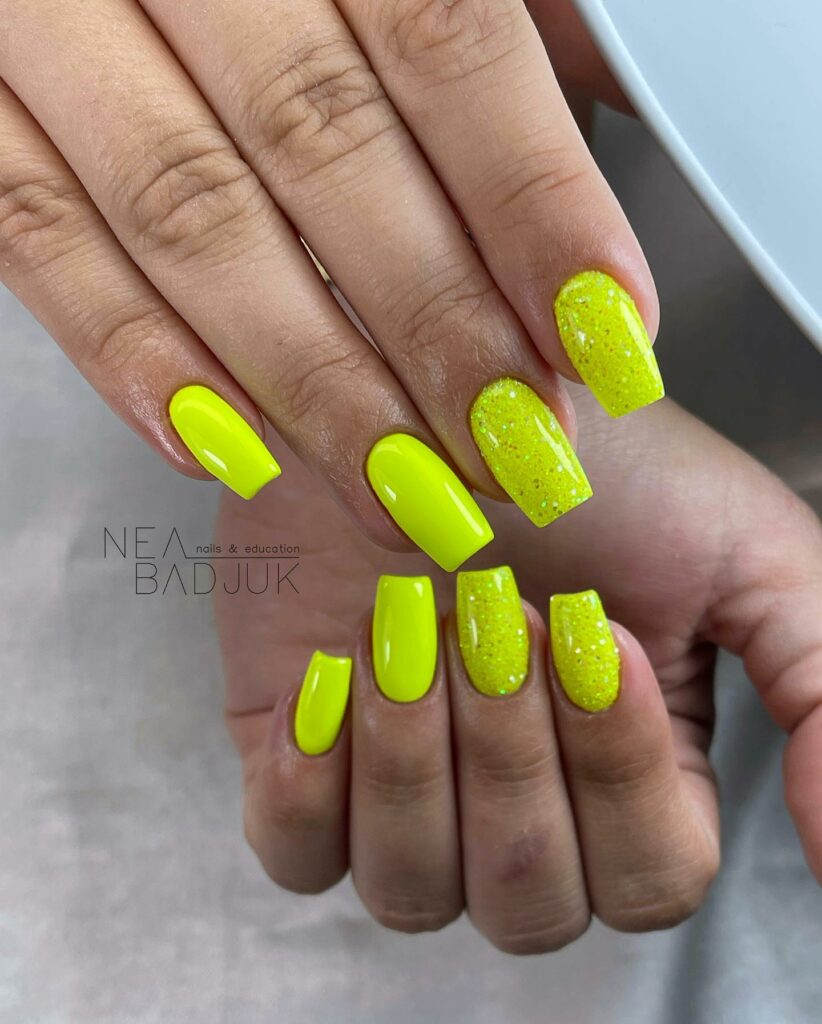 8. Extra Long Coffin Neon Yellow Nails
9. Neon Pink and Yellow Nails with Gemstones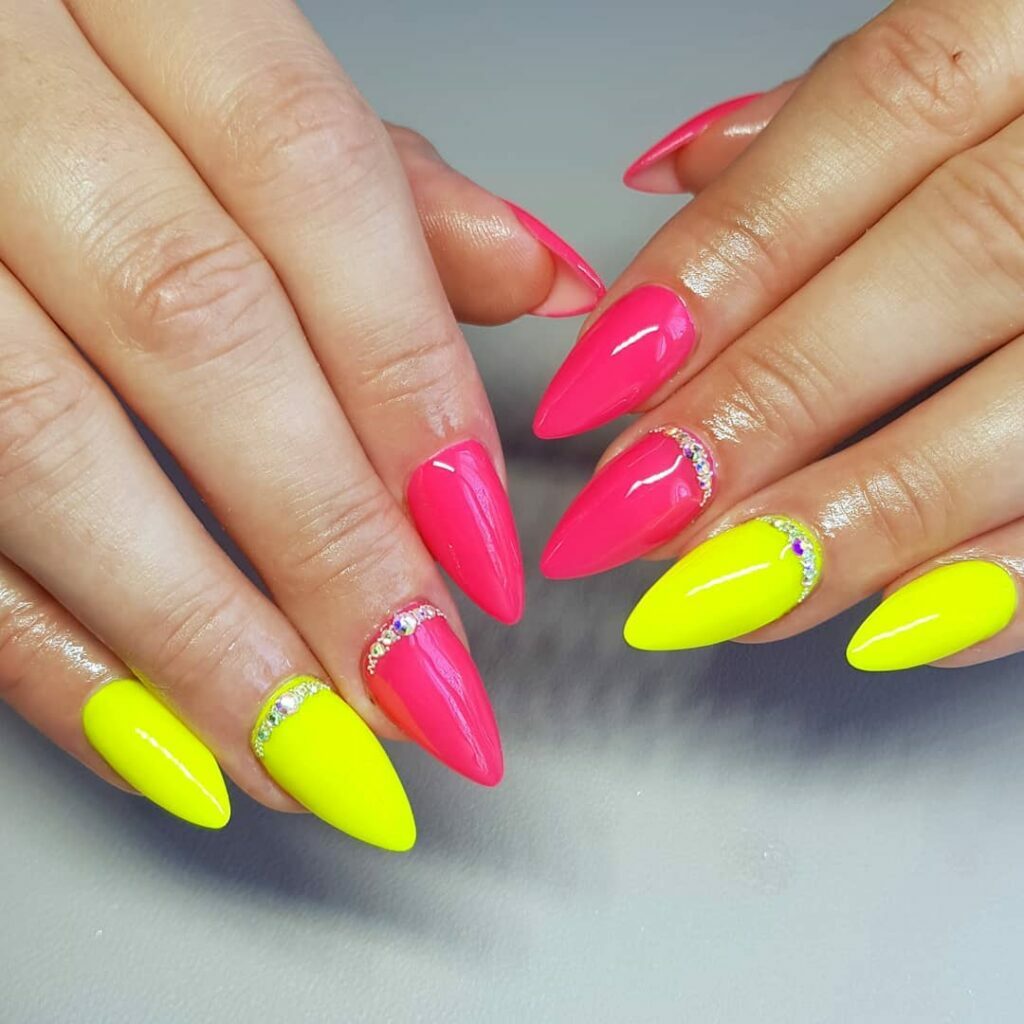 10. Multi Color Yellow Neon Nails
11. Neon Pink and Yellow Dotted Nails
12. Neon Yellow Nails with Nail Art
13. Neon Yellow Nails with Rainbow Design
14. Neon Yellow Nails with Tiger Stripes
15. Neon Yellow Nail French Tips
16. Neon Pink and Yellow Marble Nails
17. Neon Glitter Yellow Nails
18. Neon Yellow Outline Nails
19. Neon Yellow and Green Nails
20. Long Coffin Neon Yellow Nails
21. Mismatched Design on Neon Yellow Nails
22. Spring Floral Neon Yellow Nails
23. Cute Dotted Neon Yellow Nails
24. Black Stripe Nails
25. Tiger Stripe Nails
26. Glitter and Stars
27. Statement Floral Nail