Dreaming about the perfect out-of-this-world acrylic galaxy nails?
In that case, you're at the right place!
Our team of experts has carefully curated this collection of the best acrylic galaxy nail designs to give you plenty of ideas for your next manicure project. No matter what nail shape or nail size you prefer, you will find lots of beautiful designs in various styles and complexity levels.
If you're going for galaxy nails, there are so many different nail art options you can include, and you can go super intricate by including planets from the solar system, or keep it super simple and light by adding just a few stars and the moon. The options are truly limitless when it comes to this nail design.
Check out the tutorial below if you would like to try this at home, or head straight down to the roundup of the best styles we've collected from Instagram.
Video Tutorial: Galaxy Nail Art Tutorial
If you would like to create one of the galaxy nail ideas at home, take a look at this video tutorial by nail revolutions via youtube.
27 Best Designs for Acrylic Galaxy Nails
Check out the prettiest designs for acrylic galaxy nails, collected from the most talented nail artists.
If you would like to see more of their work, you will find their Instagram bio linked under each image.
Enjoy!
1. Long French Tip Acrylic Galaxy Nails
If you like to keep it classy and different, this pastel galaxy look with black color for contrast looks absolutely stunning.
2. Milky Way Acrylic Galaxy Nails
Another elegant look for those who would like to keep the lighter colors, but include plenty of detail. A simple look that can be achieved at home easily using nail stickers for the stars instead of painting them by hand.
3. Purple and Grey Acrylic Galaxy Nails
Not a fan of intricate nail art? Combine these two colors to achieve the look of the night sky.
4. Acrylic Galaxy Nails with Planet Nail Art
Something for space geeks – these nails are truly the work of art!
5. Green Acrylic Galaxy Nails
If you would like your nails to be more vibrant and exciting, choosing this shade of green combined with white highlights will really bring the design to life.
6. Acrylic Galaxy Nails With Rhinestones
A bit of a bling goes a long way!
7. Simple Glitter Acrylic Galaxy Nails
Another classic look with less is more approach, and just one statement nail design included.
8. Almond Shape Acrylic Galaxy Nails
A pretty glitter base color combined with simple nail art.
9. Vibrant Colorful Acrylic Galaxy Nails
If you love a color that stands out, this combination of purple with blue nail polish is the way to go!
10. Neutral Acrylic Galaxy Nails
Update your classic French tips with some pastel tones and black stars to achieve this minimalist galaxy look.
11. Midnight Sky Acrylic Galaxy Nails
White and blue ombre nails perfectly complemented with gold star stickers.
12. Milky Way Coffin Acrylic Galaxy Nails
Capture the essence of Milky Way on your nails – all you need is a pretty black glitter nail polish and a few shades of purple and pink to achieve this look.
13. Milky Way Galaxy Long Nails
Another version of the Milky Way nails with white and gold splatter to imitate the look of the night sky.
14. Earth and Stars Nails
Don't forget to capture your favorite planet if you decided to go for galaxy nails.
15. Natural Shape Galaxy Nails
A minimalist take on the subject, with purple galaxy theme on a natural shape nails.
16. Vibrant Blue Acrylic Galaxy Nails
If you want to go big and bold, opt for this electric shade of blue.
17. Black Acrylic Galaxy Nails
Simple and intricate at the same time, black makes the perfect base color for your galaxy nails.
18. Metalic Blue and Purple Acrylic Galaxy Nails
Even shorter nail shapes can look fabulous with a nail art like this one.
19. Royal Blue Acrylic Galaxy Nails
A color that certainly packs a punch! Royal blue pairs perfectly with white nail art.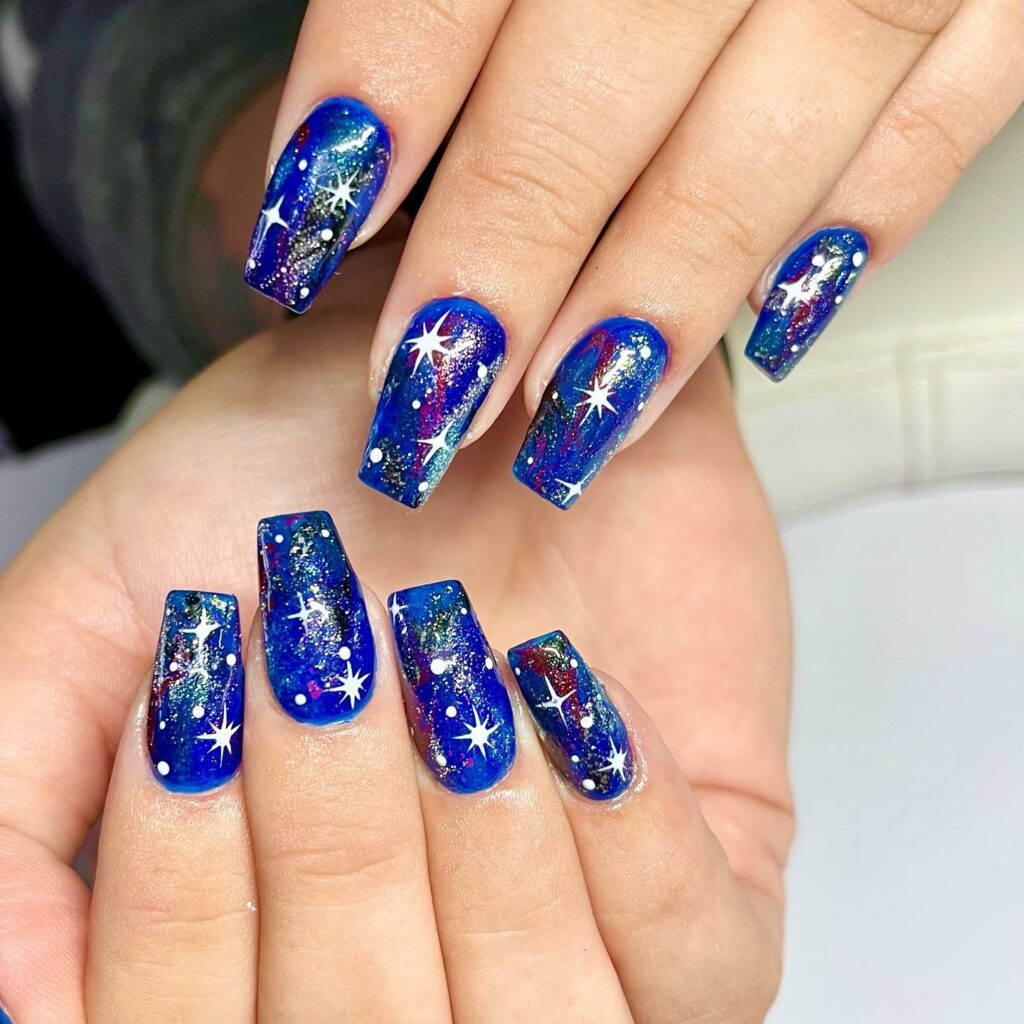 20. Extra Long Acrylic Galaxy Nails
For super long nails, the less is more approach works the best. A carefully chosen shade of glitter nail polish with a subtle hue effect to achieve the look of the night sky.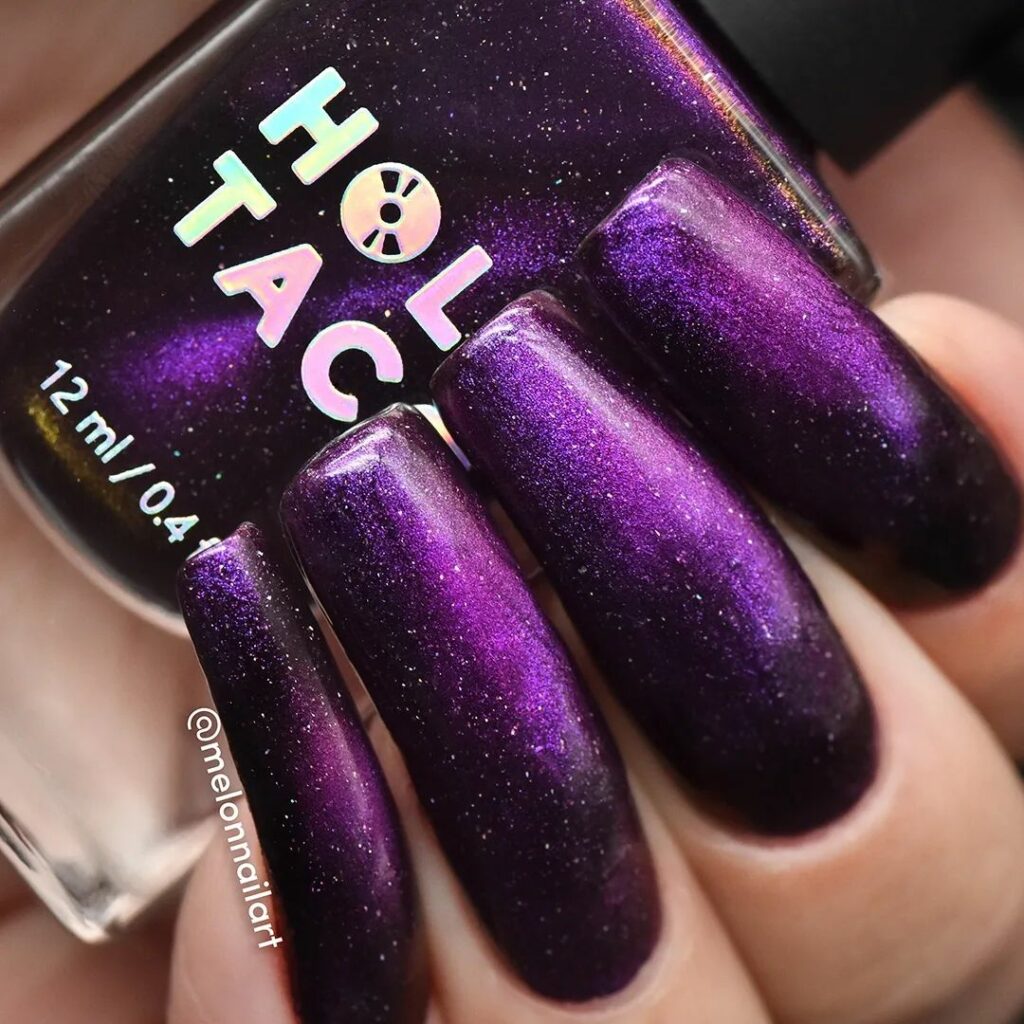 21. Midnight Blue Acrylic Galaxy Nails
A few shades of blue glitter nail polish will work wonders to achieve the look of a galaxy glittering with stars.
22. Sparkling Silver Acrylic Galaxy Nails
For those who love a neutral look, silver stars and glitter will transform your nails into a magical stardust in an instant.
23. Planets and Stars
Simple nail art for those who want to see a bit more than just star dust.
24. White and Purple Galaxy Nail Art
A neutral natural look with white stars and purple hues of Milky Way.
25. Mermaid Color Galaxy Nails
Beautiful vibrant colors that really bring your nails to life.
26. Blue and Black Galaxy Nails
A simple two color approach to the galaxy nail theme.
27. Deep Blue Galaxy Nails
Add more depth to your nails with a few shades of blue on the black base color.