Lavender tip nails- an infusion that will take you to the endless French lavender fields! The pastel shades of lavender will remind you of spring freshness and blooming gardens. In addition, the beautiful and noble lavender will emphasize the tenderness of your hands and looks great on both short and long nails.
Lavender nails are trending and fashionable in spring and summer. If you are looking for a fresh and dreamy manicure, outbreak the traditional designs with magical butterflies, flowers, and multi-layered purple hues.
These ideas will give your nails unique beauty and elegance. This is how you will bring fresher spring and summer vibes to your overall style.
This unique charm and aromatherapy of the lavender field shades have inspired us to collect pretty and trendy ideas for lavender tip nails, which will not only grab your attention but will surely awaken in you a spring and fresh mood.
Why Lavender Tip Nails?
Lavender shade is magical and soft which makes it suitable for a variety of combinations with other colors. It can be successfully combined with white, pastel green, grey, golden, sunny, and milky yellow, and with bold vibrant colors like Fuschia, hot pink, flamingo, and barbie pink hues.
The lavender color palette is very diverse and unique. In this color scheme, everyone can find for themselves the perfect shade that will suit a new bag or shoes.
For this reason, lavender and purple nail polishes are highly sought after and preferred by ladies. This color suits both young girls and older ladies.
In addition, it can be perfectly combined with any style of clothing, from jeans to a sophisticated suit.
Trending Lavender Tip Nails Styles
To create a daytime and more casual manicure, light shades of lavender are ideal. Of course, for an evening out, or a special occasion you can safely choose more extravagant options – matte finish, golden or silver outlines, sparkles, crystals, and many others.
Layered Lavender Tips- classic French tips highlighted with an extra line or an additional color to make the contrast with your base color even better
Purple and Lavender French Tips- ideal contrast between soft pastel lavender with bold dark purple French tips
Lavender Tip Nails With Flowers- your perfect summer nails in soft lavender with tender and captivating flower decorations and nail arts
Lavender Tips With Golden Outlines- when you want to make your nails glamorous and look like a real masterpiece, add golden outlines
Misplaced French Tips-  the lines that would be normally on top of the nail are moved to the sides or just one side of the nail for a more modern take on this nail design classic
Video Tutorial for Lavender Tip Nails
This tutorial was prepared by Laurat on youtube.
The Cutest Lavender Tip Nails
Pick your favorite looks from the collection below. If you like the work of the featured nail artist, you can check more of their ideas by clicking on their Instagram profile under the image.
For more inspiration on lavender manicure, check our dedicated Pinterest board here, and follow us on Pinterest to get the latest nail design trends and ideas directly in your feed.
1. Lavender Tip Nails with Flowers
2. Pink, Gold & Lavender Tip Nails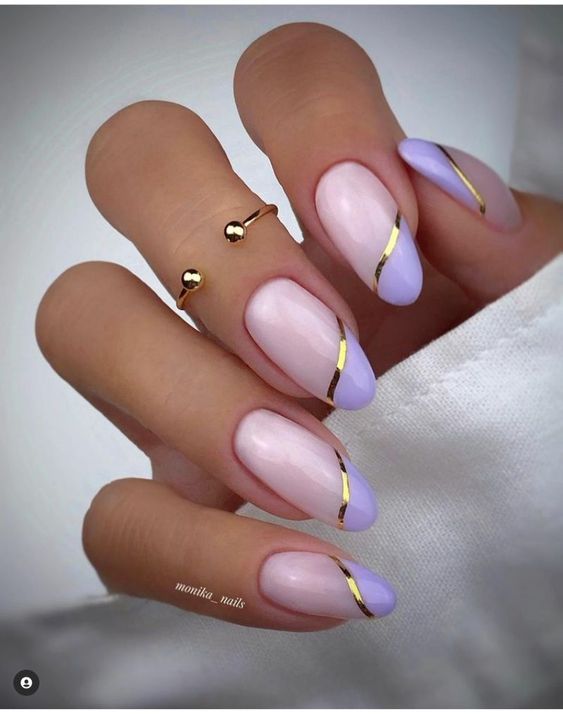 3. Silver Outline Tip Nails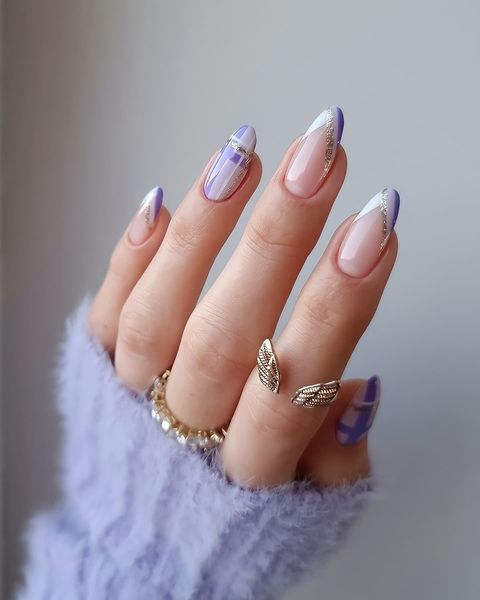 4. Misplaced Lavender Tip Nails
5. Multi-Layer Lavender Tip Nails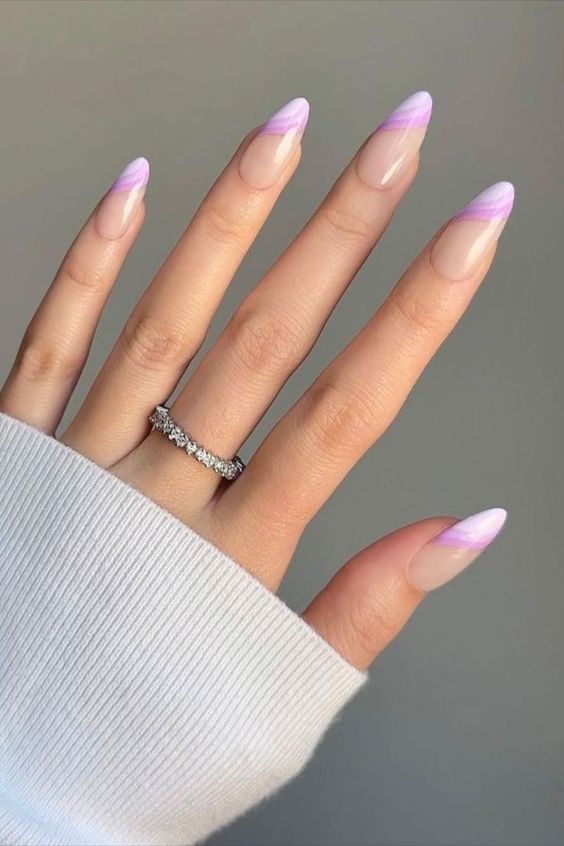 6. Lavender Tip Nails with Flower
7. Pink Star Lavender Tip Nails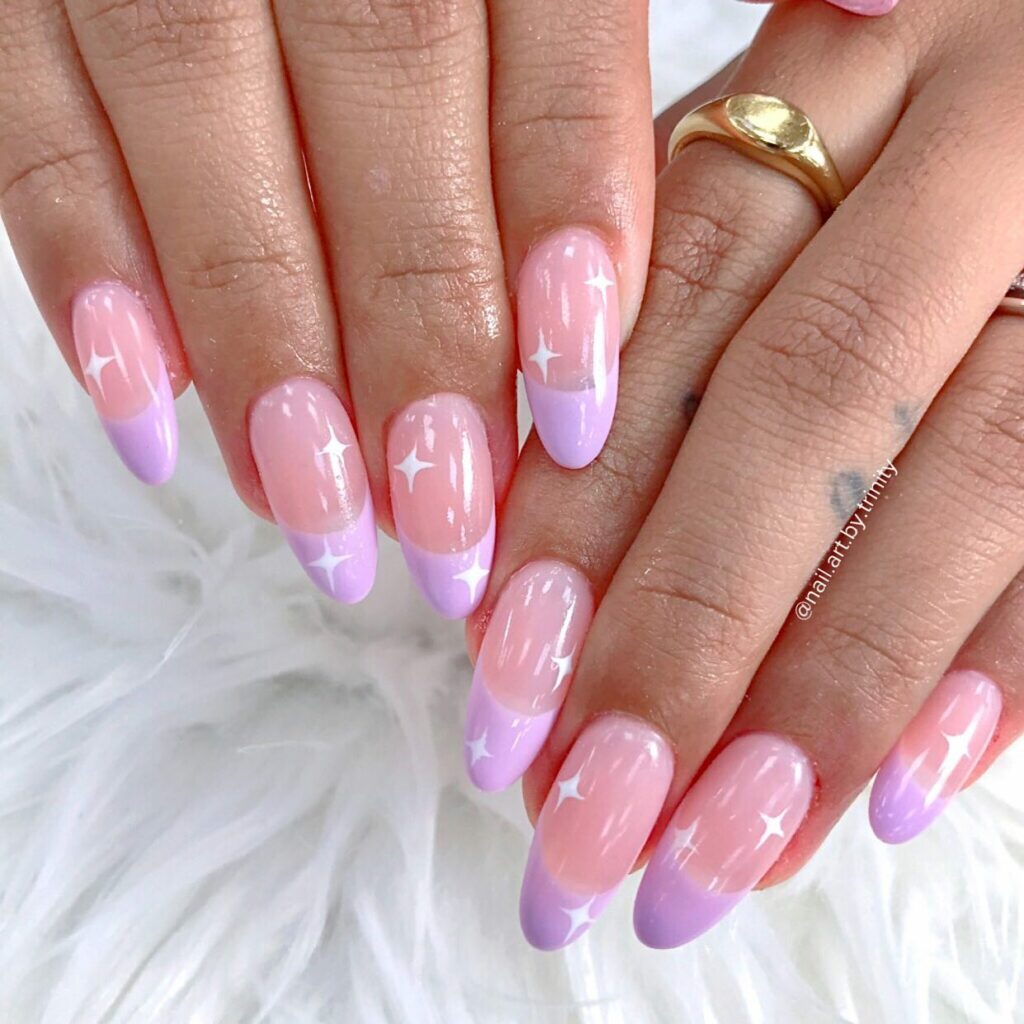 8. Mismached Tip Nails
9. Black Nail Art with Tip Nails
10. French Tip Almond Nails
11. Simple Lavender Tip Almond Nails
12. Purple and Lavender Tip Nails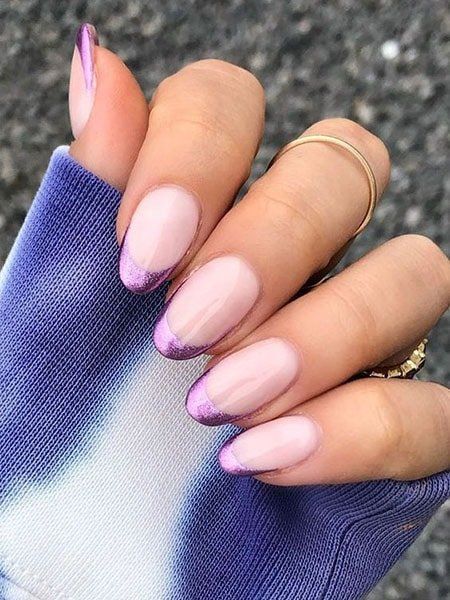 13. Lavender Tips on Short Nails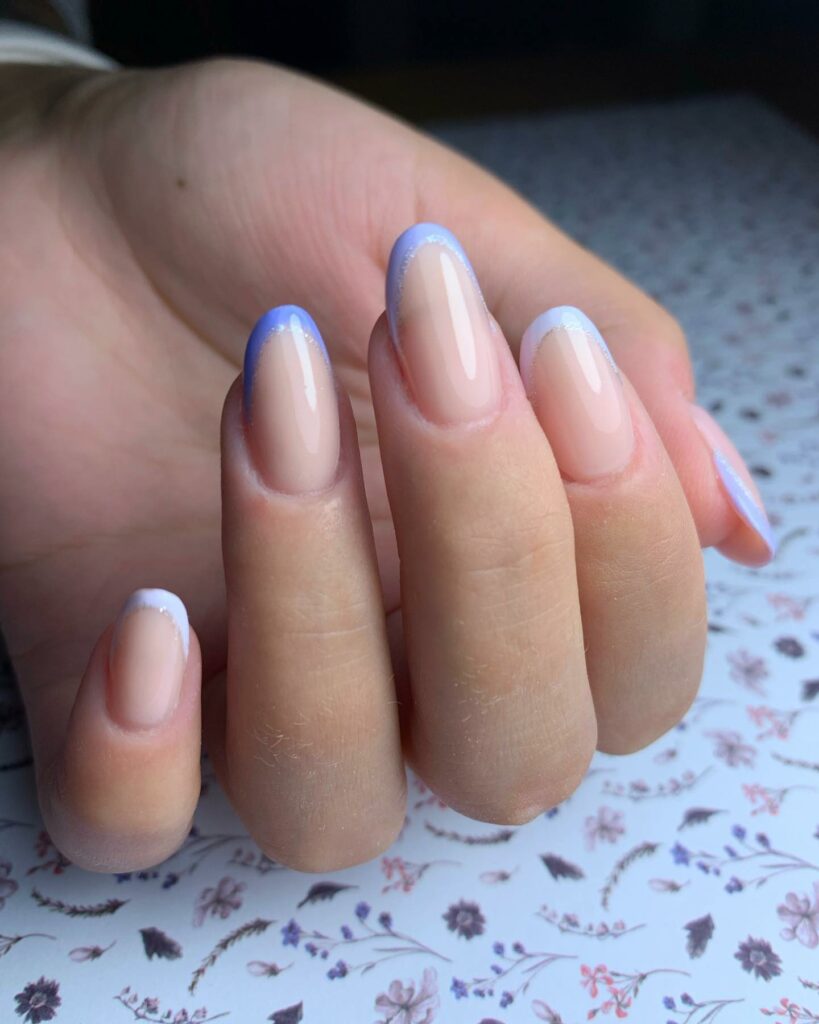 14. White and Lavender Tips
15. Mismatched Lavender Tips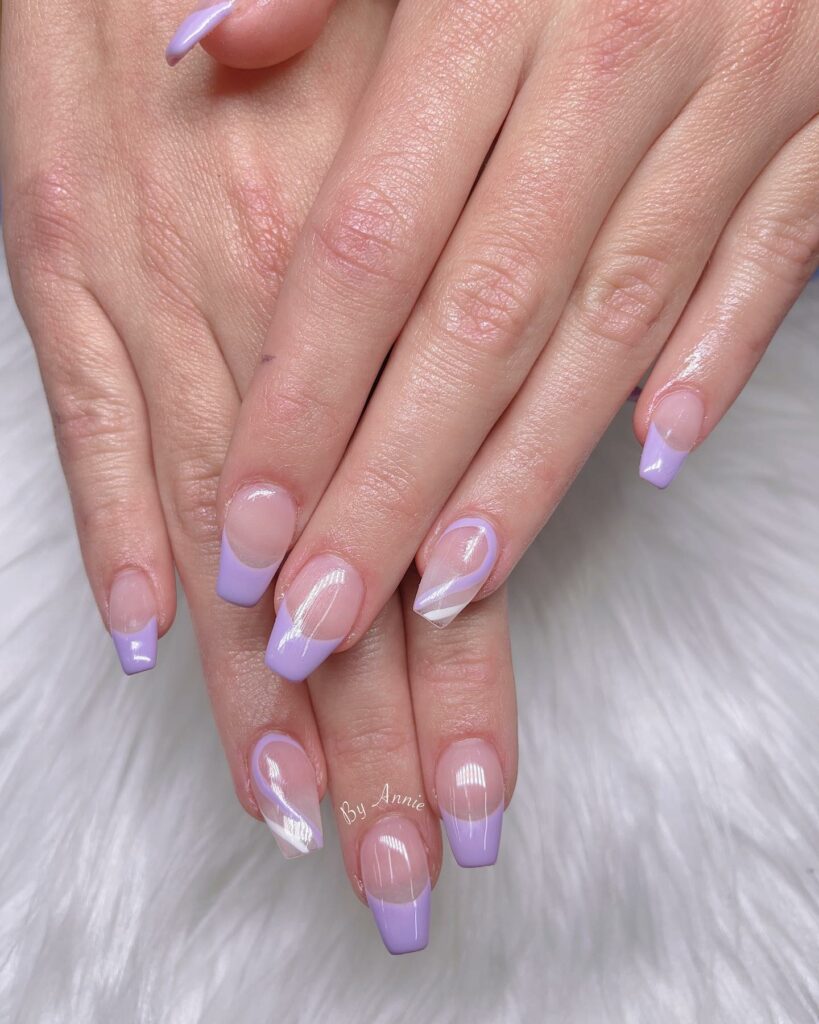 16. Teal and Lavender Tips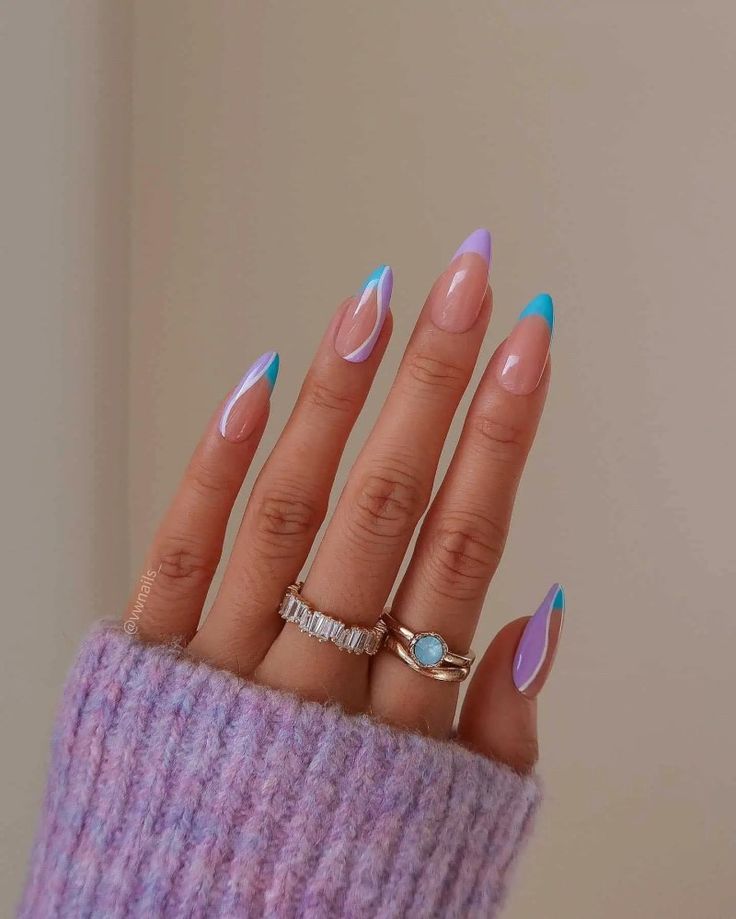 17. Layered Lavender Tips
18. Multi Color Lavender Tips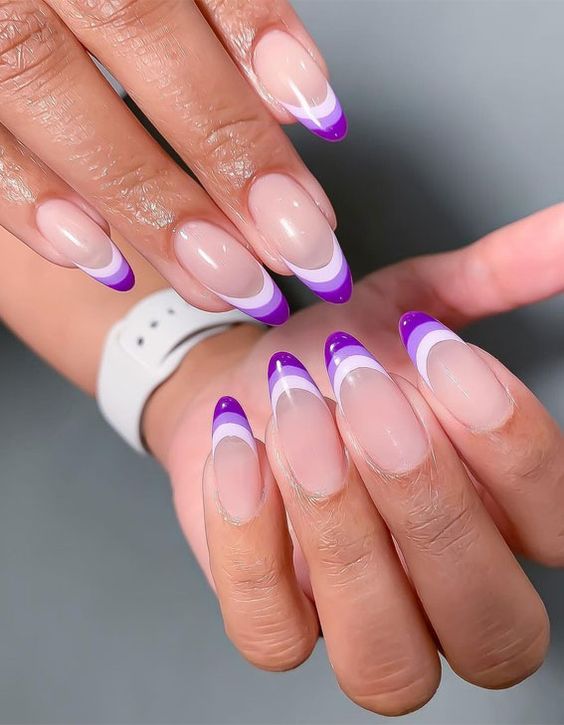 19. Lavender Tips with Gold Stars
20. Lavender Tips Coffin Nails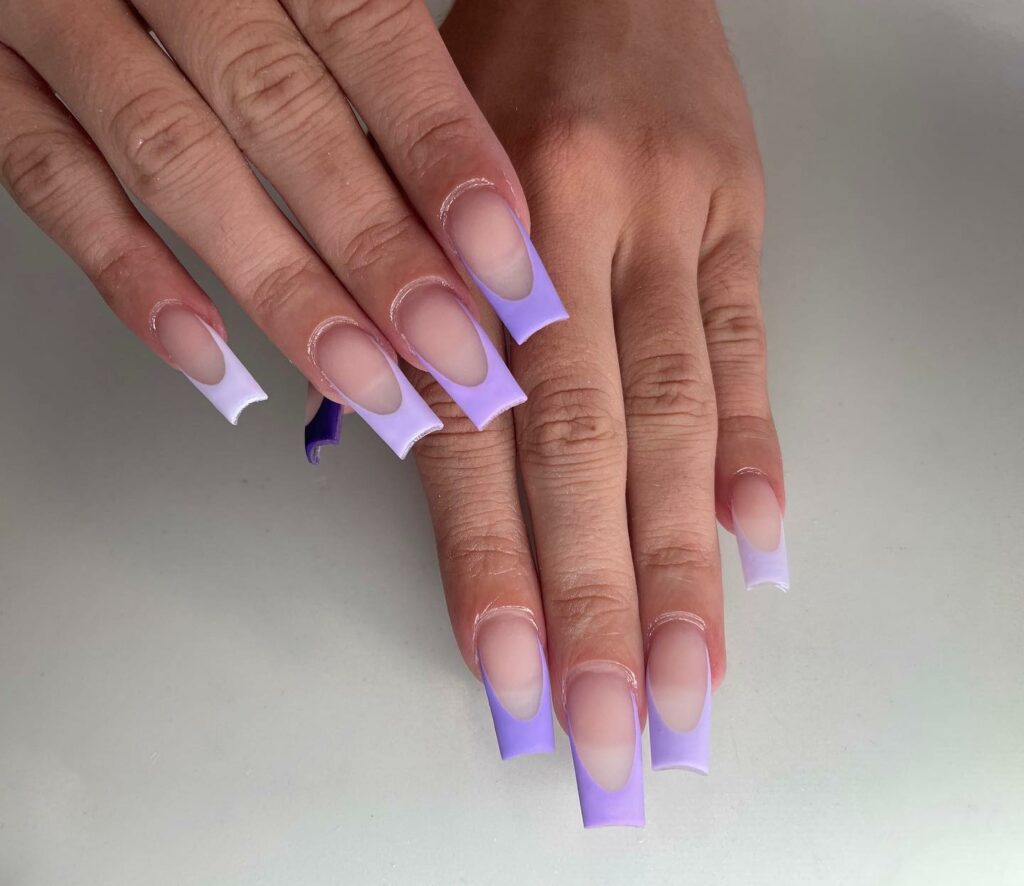 21. Lavender Tips Mountain Peak Nails
22. Light Lavender Tip Coffin Nails
23. Glitter Lavender Tip Nails
24. Glitter and Lavender Tips
25. Night Sky Lavender Tips
26. Mountain Peak Lavender Tips
27. Lavender Nail Tips with Gemstones
28. Bold Outline Lavender Tips
29. Flowers and Lavender Tips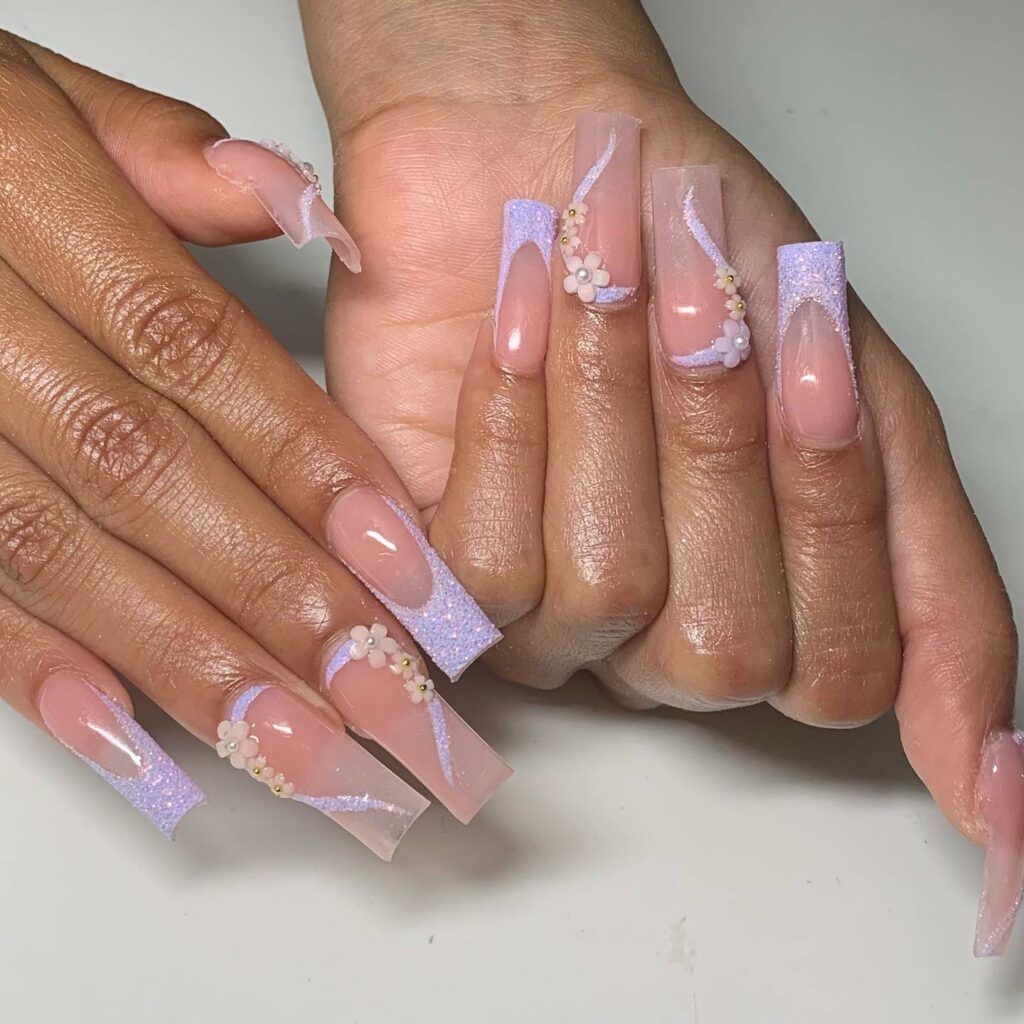 30. Misplaced Tips with Glitter
31. Lavender Hearts