Looking for some pretty black and gray nails? You came to the right place!
Our team has curated this collection of over 20 of the prettiest black and gray nail ideas, from the most talented nail artists. Whether you have short nails, coffin nails or pretty almond-shaped nails, you will find lots of different ideas that will work for any nail shape and nail length.
Black and gray are one of the most popular color palettes for the winter season. These nails can be beautifully embellished and elevated for a special occasion with the use of gemstones, rhinestones or simple glitter nail polish. You can take a simple everyday manicure in these two colors and instantly transform it into something that looks party-ready just with a few extra touches.
No matter what's your reason for choosing this color palette for your manicure, you will find lots of beautiful ideas across a full range of different nail design styles.
Video Tutorial: Simple Black and Gray Nails
Check out this simple tutorial made by Sveta Sanders via youtube!
20+ Prettiest Black and Gray Nail Designs 2023
Here is our selection of the pretties black and gray nail designs and ideas we found on Instagram. If you would like to see even more ideas, we have added plenty more into our dedicated Pinterest board.
Follow us on Pinterest to stay up to day with the latest nail design trends and hottest nail colors to try!
1. Black and Gray Nails with French Tip Outlines
These coffin nails are just out of this world! Beautifully embellished with pretty rhinestones, with just enough bling without looking overdone. The nails feature a French tip style design outlined with black glitter nail polish, to create a beautiful contrast. One-of-a-kind nails for one-of-a-kind lady.
Keep scrolling for more black and grey nail ideas!
2. Black And Gray Summer Nails
If you prefer a little more simple look, you can use the rhinestone at the base of the nail for some extra shine, especially when you're using matte nail polish. Add a nail sticker of your choice to the middle finger for some added interest.
3. Black and Gray Nails with Marble Design
This manicure combines two pretty styles – simple ombre nail design and custom nail art that will transform your nails into works of art.
4. Grey Nails With Black Design
A pretty geometric pattern that looks like stained glass is the star of the show for this pretty manicure.
Keep scrolling for more gray and black nail ideas!
5. Geometric Black and Gray Nails
Another version of the geometric nail design that anyone with zero skills can master. Grey and black nails designs like this one are so trendy!
6. Black and Gray Web Nails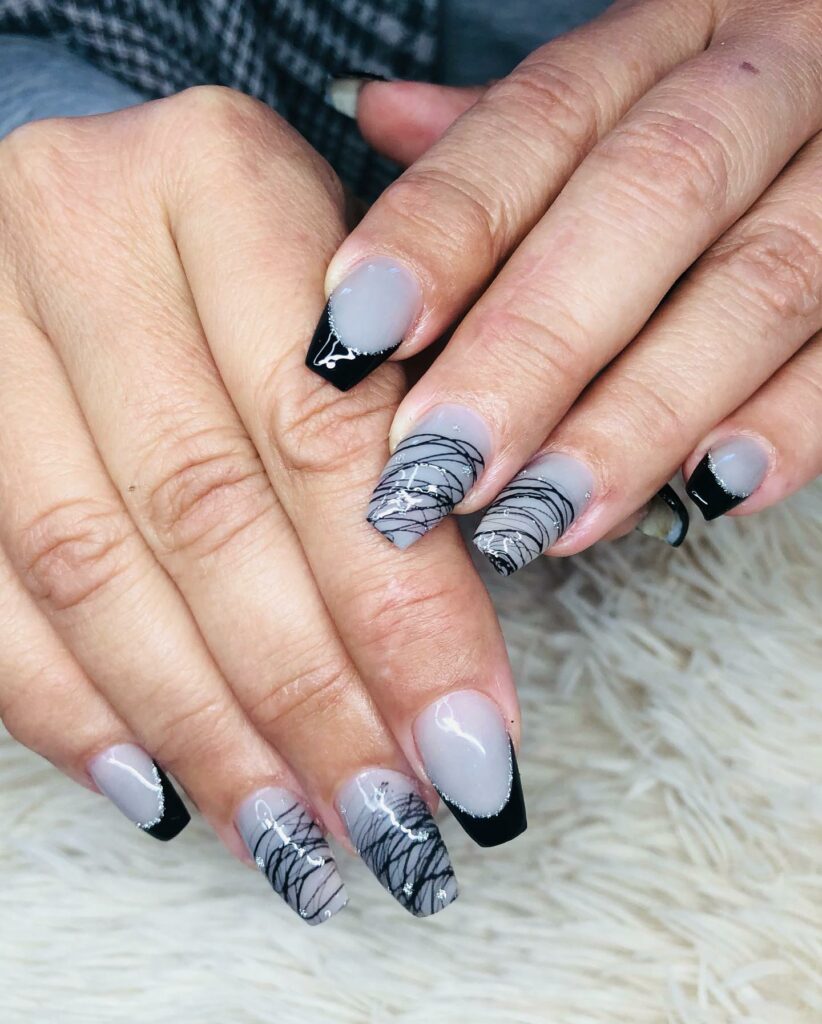 If you want something out of the box, this spider web look will certainly catch anyone's attention. As a bonus point, these nails will double up as the perfect Halloween manicure.
7. Black and Gray Nails with Cross
Sunday best? Grey and black nails? Don't forget to match your outfit with these perfectly shaped and decorated nails.
Keep scrolling for more black grey nail designs!
8. Black and Gray Botanical Nails
Add a touch of nature to your nails – a simple black branch with leaves is all you need to create a custom nail art.
9. Black and Gray Heart Nails
If you're looking for some alternatives for Valentine's Day nails, this black and grey option will certainly stand out among the pink and red nail designs.
10. Black and Gray French Tip Outline Nails
Black and grey nails are our fave! Make your mountain peak nails extra pointy by using the black color as an outline on your gray nails.
11. Gray And Black Nails
Elegant marble nails beautifully complemented with a simple silver foil line.
12. Black and Grey Ombre Nails
For ladies who love the extra bling, these nails will certainly deliver on the promise. Glitter ombre coffin nails combined with 3D rhinestones for the extra shine if the occasions asks for it. These black and gray ombre nails are to die for!
13. Black and Gray Designer Nails
Love designer stuff? Your nails can be a true testament to that.
14. Gothic Dark Grey Nails
Not just for Halloween, for those who love everything Gothic, these are the nails that capture the style perfectly. Black and grey nails designs are perfect for everyday rockin'!
15. Short Black and Gray Nails
Got only very short nails to work with? You can still make them count by using an outline on the side to make them optically longer. This grey nails design is so trendy!
16. Glitter Black and Gray Nails
A touch of glitter will instantly transform even the most simple manicure. Black grey nails always look stunning!
17. Short Geometric Black and Gray Nails
Another version of the geometric nail design this time showcasing that it works really well even on the shortest nails.
18. Black And Grey Acrylic Nails
Make your long coffin nails optically even longer by using the black color as an outline for the whole nail.
19. Ombre Black and Gray Nails
Dark gray nails? Count us in!
Pretty and very dark ombre effect for those who love to add some drama to their nails.
20. Black and Gray Nails with Swirls
A minimalist look that has plenty of contrast, with a bit of glittter.
21. Black and Gray Comics Nails
Love the current trends? Black and grey nail designs never looked more stunning! In that case comics nails probably didn't escape your attention. In the color palette of gray and black they look especially striking!
22. Black and Gray Light Marble Nails
A lighter version of marble nails that looks just like the real thing! This predominantly gray nail art is not to be skipped!
23. Black and Gray Gradient Nails
Love the ombre look and want to achieve it at home? While seamlessly blending two colors is not easy, this gradient look is something anyone can do very easily, with the right color palette choice.
Keep scrolling for more grey and black nail ideas!
24. Black and Gray Nails with White Swirls
Make your nails look like they are Ocean waves moving across the sand – how pretty is this cool manicure. These black white and grey nails are to die for!
25. Black and Gray Leopard Print Nails
Show them your wild side and include a bit of leopard print in your manicure. Extra cool when matched with a little ombre effect. Black and grey nail art never looked cooler!
26. Black and Dark Gray Leopard Nails
Grey and black nail designs are so chic! Leopard spots look very elegant when paired with this dark gray base color.
27. Black and Dark Glitter Ombre Nails
Super pretty ombre effect is achieved thanks to a simple multi color glitter nail polish. Grey nail designs exactly like this one are not to be skipped!
28. Mismatched Black and Dark Nails
Showcase a variety of shades of black gray nails in a single manicure look.
29. Cartoon Black Gray Nail Designs
For those who like something a little more playful and not as dark. Gray and black nail designs can still look just as nice!
See More on Pinterest