Christmas is around the corner and you're still not sure what manicure to go for? That's what we are here for!
We have compiled a massive collection of nearly sixty different Christmas nail ideas to help you find the perfect manicure for the holidays! Whether you love red, green, black or even pink Christmas nails, you will find plenty of inspiration in our curated selection of the most festive nails under the Christmas tree.
Christmas nail designs come in so many varieties that it can be hard to pick which one to go for. There are trends to follow, seasonal colors you can stick to and of course, it also depends on what shape of nails do you have.
Most importantly, do you do your own manicure or are you planning a special trip to the nail salon for the holidays? In either case, we have included examples of both simple and more intricate holiday manicures so you can have plenty of options for both scenarios.
Let's dive in!
Below you will find some tips for finding the perfect nail design for you, followed by a couple of video tutorials for Christmas nails ideas, and finally our list of the prettiest Christmas nails we found online. Enjoy!
Tips for Choosing from Christmas Nail Ideas
How do you choose the right Christmas nail design for you? What should you consider and keep in mind? Here are a few tips you might find helpful:
your selection of manicures will be influenced by your nail shape and size – for example, ombre nails look the best on very long or coffin nails. While you can still pull them off even with short nails, the effect won't be as impressive
if you want to make your nails more festive, but don't like any of the standard holiday colors, you can opt for a touch of color for example by using French tips only
do you need to wear this manicure to work and also for parties? Do you want it to last longer than the holiday season? In that case opt for a more generic theme for example with snowflakes which can be then spruced up by adding some festive glitter nail polish
don't forget that any manicure looks its best on healthy and well-cleaned nails
Video Tutorial: Candy Cane Nails
Video Tutorial: Christmas Nails Compilation
Christmas Nails Ideas: Snowflakes Theme
Snowflakes are one of the most versatile nail design themes, not just for Christmas but for the whole winter. If you want a universal look that will take you beyond the big day, choosing a snowflake-themed nail design is a good idea.
With snowflakes, you have plenty of color combinations available, depending on how striking you want the nails to be. For a lot of contrast, you can choose a royal blue, dark green or dark red background with white snowflakes. If you like a bit more feminine yet festive look, pink nail polish with a bit of glitter and white snowflakes look fantastic. Below are some cool examples for inspiration.
1. Pink and Gold Snowflakes
2. Silver and White Snowflakes
3. Gold and Rose Tones
4. Mismatched Snowflakes
5. White Snowflakes on Grey Nails
6. Simple Grey Snowflakes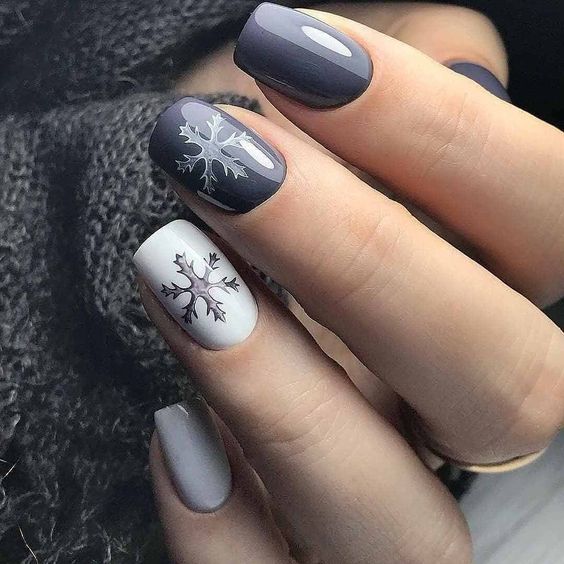 7. Festive Red and Gold Snowflakes
8. Ombre Grey Nails
9. Grey with Golden Tones
10. Statement Purple with Snowflakes
11. Pretty in Pink
12. Dark Green with Gold Touch
13. Pink with Black Snowflakes
Christmas Nail Ideas: Golden Touch Nails
Gold is the signature color of Christmas, so we can't leave it from the list of nail design ideas either. There are a few classic color combinations with gold for the holidays, especially red and dark green.
But that shouldn't stop you from experimenting. Even pink with gold look super festive when paired with the right Christmas nail art. Check out the examples below.
14. Golden Snowflakes
15. Mismatched Gold with Neutral
16. Gold Leaf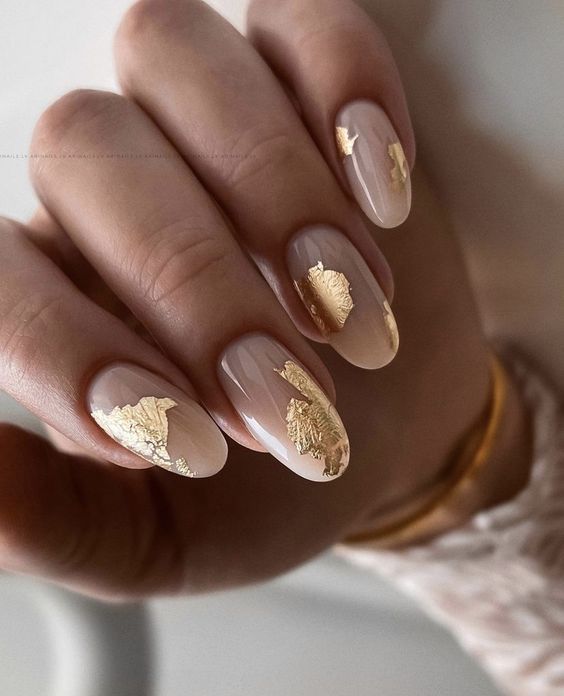 17. Gold Sparkle
18. Metalic tones
19. Full on Glitter
20. Metalic Tips
21. Snow White
Christmas Nail Ideas: Simple Green
Embrace the natural side of Christmas by featuring the color green in your manicure. You can focus on the greenery of the Christmas tree, or parts of the Christmas wreath or go bold with dark green nail polish decorated with pretty gold nail art. Check out some of the best ideas below.
22. Green Foliage
23. Christmas Green
24. Green Highlights
25. Mismatched Green Elements
26. Green with Snowflakes
27. Shiny Green
28. Green and Gold Tips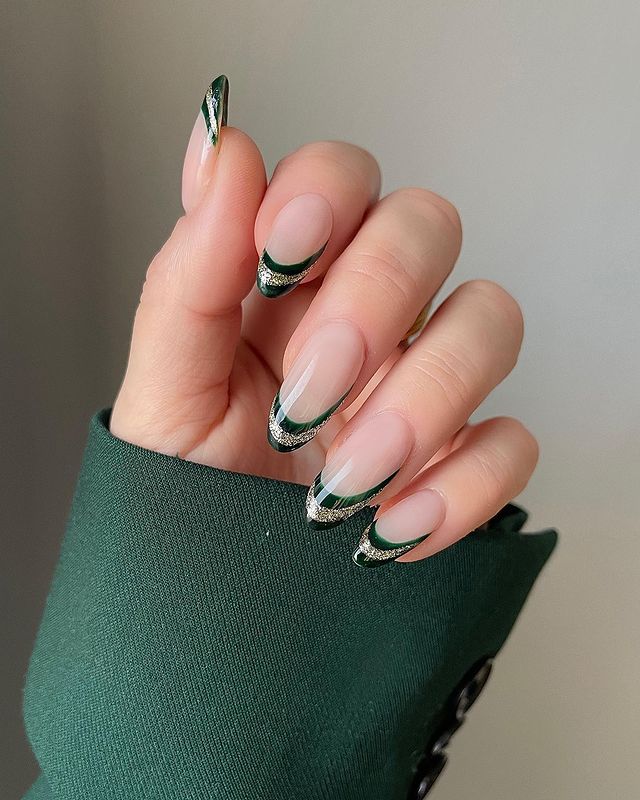 29. Elegant Green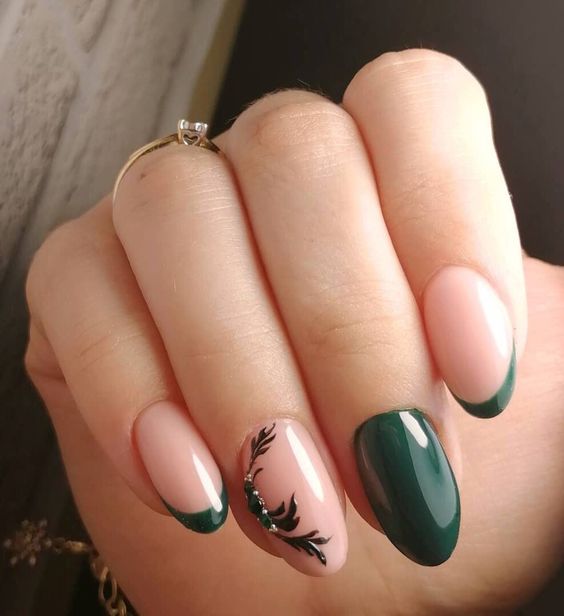 30. Candy Canes
31. Green with Golden Touch
32. Elegant Green Tips
33. Green with Pink
34. Green Stripes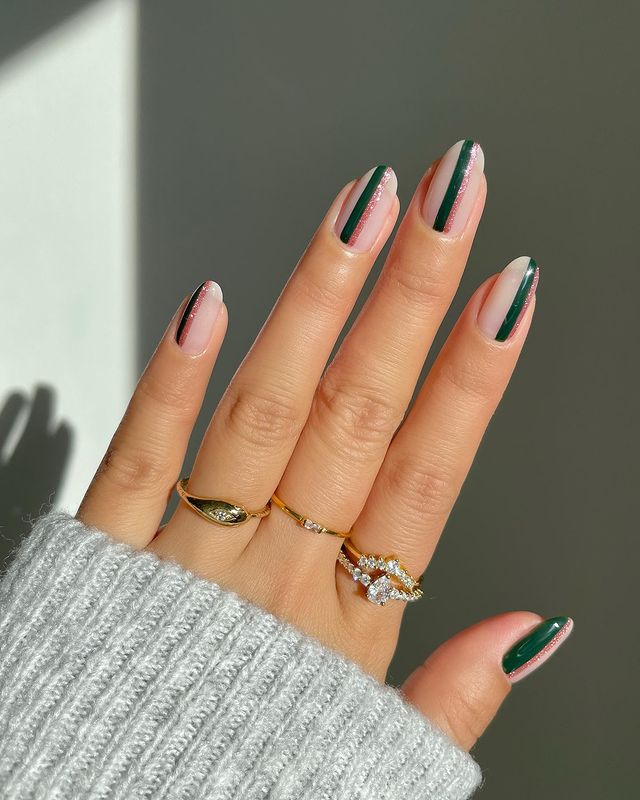 35. Minimalist Green & Gold
36. Festive Green Motive
37. Festive Pattern
38. Emerald Green
39. Mismatched Green Tones
40. Green Foliage with Pinecones
Christmas Nail Ideas: Festive Red
The classic Christmas color, red cannot be missing in our roundup. The easiest option of all is a pretty red nail polish simply used on all your nails. It looks classic, stylish and effortless.
Below are lots of other ideas on how you can take the humble red nail polish a step further.
41. Red Rudolf
42. Santa's Hat
43. Candy Canes
44. Christmas Tree
45. Red Tips
46. Green and White
47. Red and Gold
48. Dark Green with Snowflakes
49. Pink and Red with Snowflakes
50. Classic Red and White
51. Ruby Red
52. Minimalist Red
Christmas Nail Ideas: Mismatched
Mismatched manicure is popular all year round and for Christmas, it gives you a chance to feature all of your favorite things around the holidays.
Get wild with colors, nail art, glitter, and rhinestone and create a piece of art on your nails. Get inspired below.
53. Pastel Tones
54. Pink and White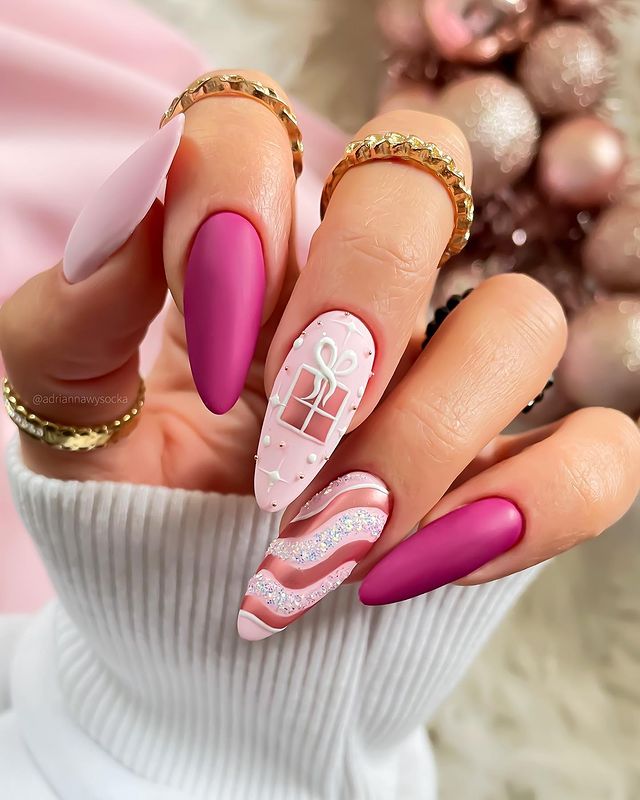 55. Christmas Motives
56. Brown Tones
57. Christmas Gift
58. Christmas Stars
59. Pink with Sparkles