Dreaming of white Christmas? Don't forget about your nails too!
Add that extra sparkle under the Christmas tree and get inspired by our curated collection of over 40 festive white Christmas nails! Whether you're planning to do a simple manicure at home, or looking for some images to take for your next nail salon appointment, you will find plenty of ideas and inspiration for both options.
Treat yourself this festive season and decorate your nails to match the occasion.
White is the color of the season, a color that looks effortless and stylish on any nail shape or nail length. Whether you're looking for a pretty trending ombre effect, some intricate nail design or just inspiration for color combinations with white, we have included plenty of options for all of them in our roundup.
Below you will find a short recap of the trending styles for white Christmas nails for 2023, followed by a couple of simple video tutorials in case you're trying to do your own manicure, and finally, our roundup of the best white Christmas nails designs.
White Christmas Nails: The Trends for 2023
So what are some of the most popular nail design trends when it comes to white Christmas nails? Here are the hottest ones trending on social media and finding their way to the feed every year:
Snowflakes – snowflakes mark the start of the winter season and the transition to fall. They are an effortless and timeless nail design as they can take you from winter nails right to your Christmas parties. All you need to do is add a bit of glitter.
Ombre nails – white color is the perfect neutral shade to experiment with lots of ombre nail designs. It pairs perfectly with red, green or even neutral colors like beige.
Individual nail design – a repeating trend not just for Christmas, nail artists are opting for identical designs for all nails apart from one statement nail. In this case, it allows you to update your manicure without having all of your nails redone each time.
French nail tips – traditional French tips get the Christmas treatment and start appearing in shades of white, with added glitter, snowflakes and other elements. Simple manicure spruced up for the holiday season.
Video Tutorial: White Christmas Nails
Here is a simple video tutorial by Kristina Kouture Nails.
The Roundup: Best White Christmas Nails Designs
Here it is – the ultimate round-up! Save your favorites in your Pinterest account.
While you're there, don't forget we had dozens more ideas for Christmas nails saved up in our dedicated Pinterest board – go check it out. You can also follow our Pinterest account to stay on top of all nail design trends.
1. Festive Neutral Look
2. Snow Kissed Nude Nails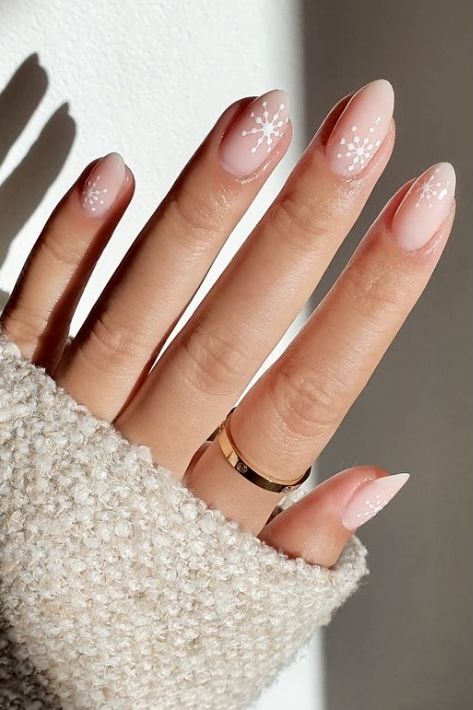 3. Milky White with Gold Detail
4. Mismatched Snowflakes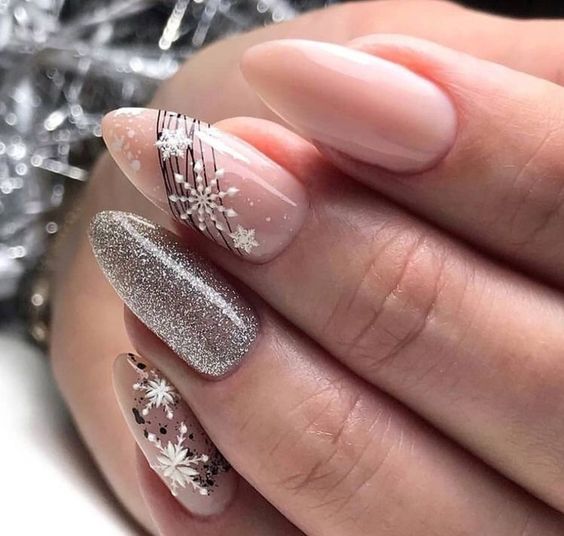 5. Nude Color Nail with White Detail
6. Snowflakes with Glitter
7. Frosty White Christmas Nails
8. Shiny Polish Nails with Snowflakes
9. Neutral Snow Covered Nails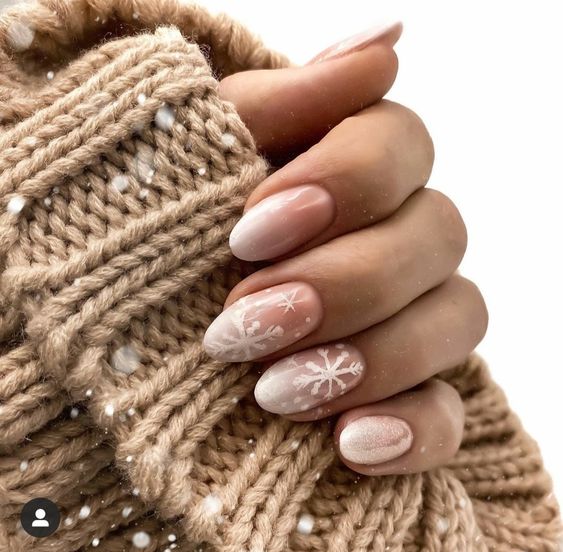 10. White and Beige Christmas Nails
11. Simple White Christmas Nails
12. Statement White Nails with Silver Glitter
13. Dusty Pink and White Christmas Nails
14. Elegant White Christmas Nails
15. Two Designs in One Nails
16. Elegant Snowflake Christmas Nails
17. Multi Pattern Ombre Christmas Nails
18. Beautiful Golden Details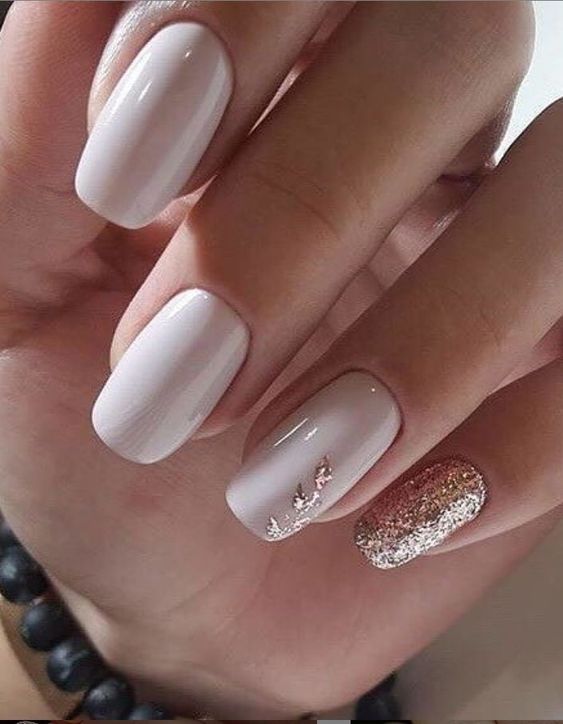 19. Silver and White Ombre Nails
20. White Nails with Golden Details
21. Snow White
22. Pretty in Reverse Ombre
23. Elegant Simple White Design
24. Gold Leaf Nails
25. Glitter and Snow Nails
26. White and Gold Christmas Nails
27. Individual Design Christmas Nails
28. Mismatched Elegant Nails
29. Glitter All Around
30. Sparkly Christmas Nails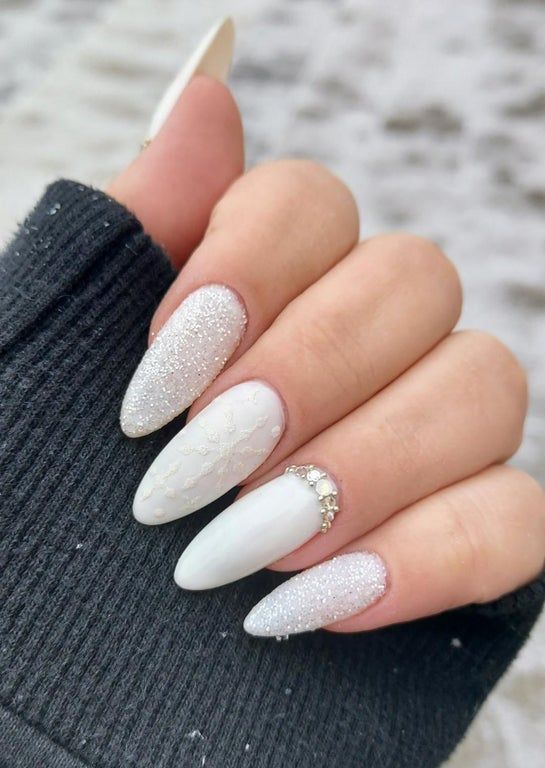 31. White Nails with Pink Undertones
32. Statement Silver Touch Nails
33. Christmas Classic Nails
34. Simple White Christmas Nails
35. Intricate Snowflake Nails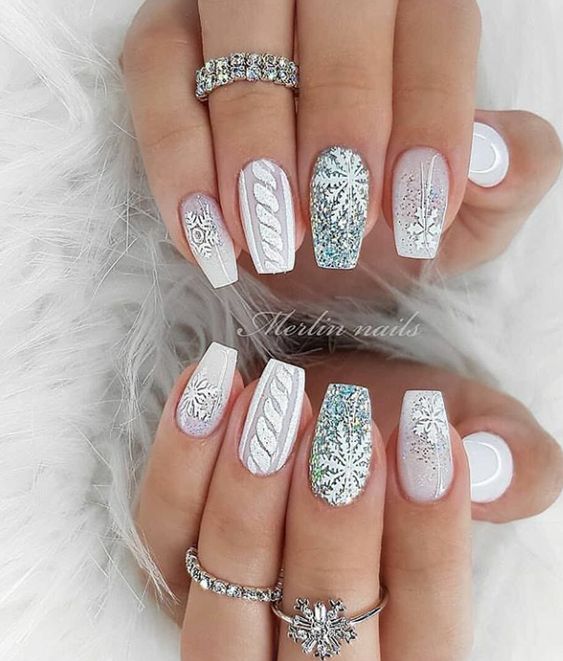 36. Pink and White Ombre Nails
37. Snow Kissed Nude Nails
38. White Christmas Acrylic Nails
39. Beige and White Statement Christmas Nails
40. Show-Stopper Christmas Nails