Treat yourself to festive magic and transform your manicure with these pretty ideas for nude Christmas nails!
If you're not a massive fan of classic holiday colors like green and red, you're in for a treat – you can achieve the same festive look, without going crazy with a range of colors.
Below is a curated selection of some of the most loved styles for nude Christmas nails from skilled nail artists on Instagram – if you want to see even more ideas from the same nail artist, simply click on their Instagram profile under the image.
20+ Stylish Nude Christmas Nails Ideas for 2022
Check out this selection of the prettiest Christmas manicures we found online. For even more inspiration and nail design ideas, go ahead and check our dedicated Pinterest board!
1. Simple Nude and White Christmas Nails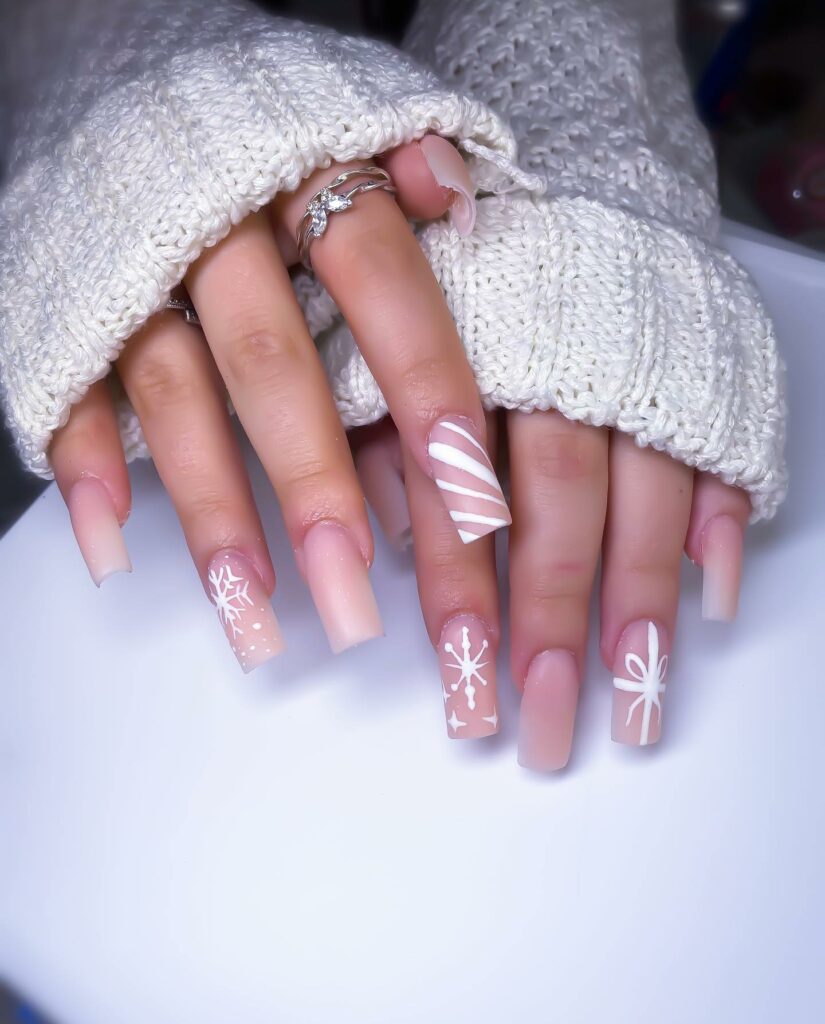 Transform your coffin nails with pretty symbol of the festive season, including snowflakes and simple geometric shapes to elevate your nails even further.
2. Mismatched Nude and White Christmas Nails
Combine a range of different nail design styles and get the best out of both worlds – in this manicure you can combine pretty festive stars, glitter nail polish and even a festive bow nail art.
3. Silver Nude Christmas Nails
Don't forget to add a bit of sparkle to your holiday manicure!
4. Almond Shape Nude Christmas Nails
Almond-shaped nails look their best with a simple manicure that highlights this pretty nail shape – a simple shade of beige nail polish elevated with minimalist white nail art and glitter is all you need.
5. Short Nude Christmas Nails
Got short nails? There are so many variations of nude manicures you can do, just like this pretty example!
6. Single Tone Nude Christmas Nails
Keep things simple and get inspired by this manicure idea you can easily do at home.
7. Nude Christmas Nails with Bow
Another mismatched look that's featuring the most popular nail art like snowflakes and festive gift bow.
8. Nude Christmas Coffin Nails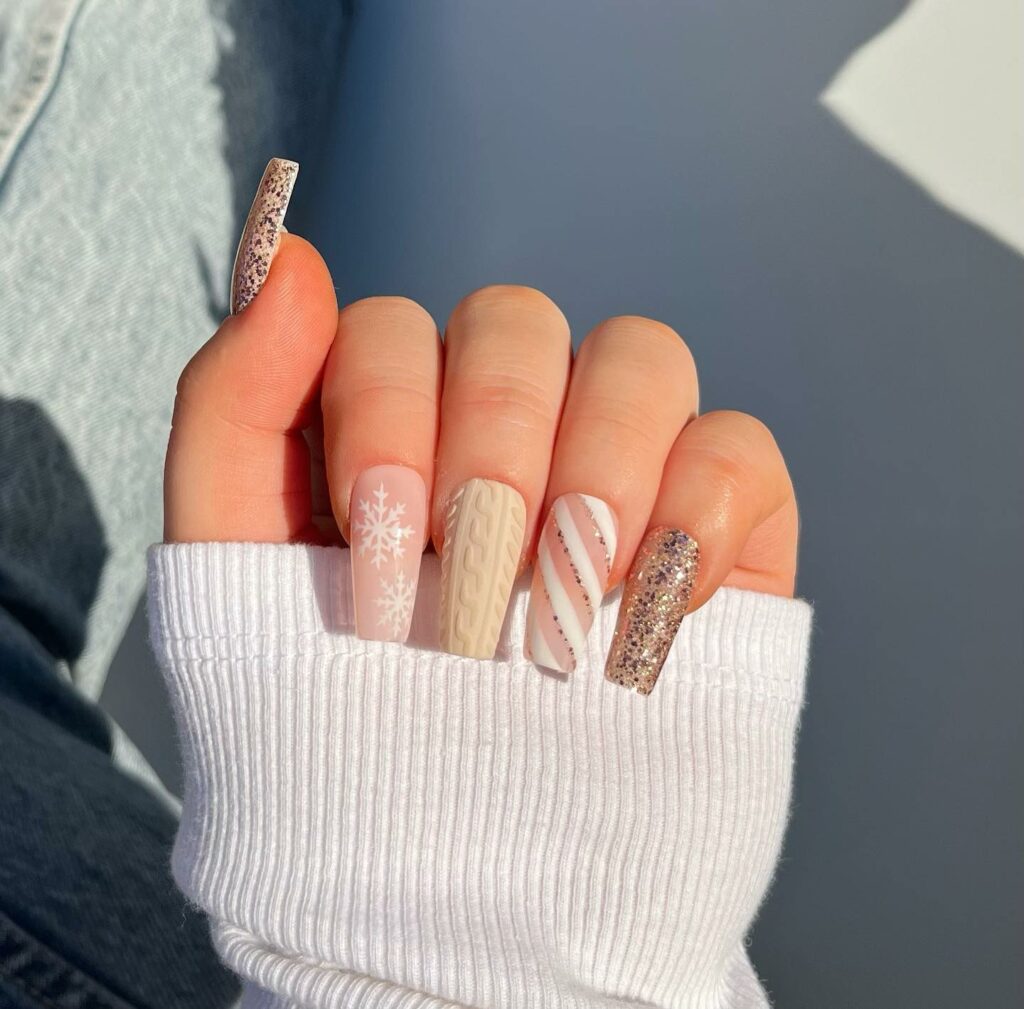 Coffin nails give you plenty of space to experiment with different styles for your holiday manicure.
9. Extra Long Nude Christmas Coffin Nails
Extra long coffin nails that feature a range of nail design techniques like French tips, marble nails and even sweater nails.
10. Beige Nude and White Coffin Nails
If you want to include more contrast in your nails, just use more white nail polish.
11. Glitter Nude Short Nails
Add that festive sparkle to even the shortest nails thanks to this pretty shade of glitter nail polish.
12. Elegant Nude Christmas Nails
Elegant elevated coffin nails with beige and white nail polish and pretty snowflakes – simple and beautiful.
13. Nude Christmas Nails with Gold Detail
Mix things up and add some gold elements for more contrast.
14. Simple Bow Nude Christmas Nails
Minimalist look for coffin nails with just a single bow reminding you of the holiday season.
15. Snowfall Nude Christmas Nails
Make your short nails look like a snowy winter landscape.
16. Frosted Nude Christmas Nails
Coffin nails that look like they have been kissed by the Ice Queen.
17. Mismatched Almond Nude Nails
Pretty almond nails in pink beige shade with are brought to life thanks to the use of gemstones.
18. Christmas Tree Nails
Another look for those who love minimalist manicure for Christmas – a simplified shape Christmas tree is all you need to transform basic nails to holiday ready.
19. Minimalist Christmas Tree Nude Nails
Another pretty minimalist manicure featuring two design elements.
20. Pretty in White Christmas Nails
Gorgeous coffin nails which use a lot of white for added contrast and to stay on theme.
21. Nude Christmas Nails with Glitter
Want to do your own nude manicure for Christmas? This is one of the easiest looks to achieve at home.
22. Nude Christmas Nails with Snowflake
Ah snowflakes! We can't get enough of them! These ones are some of the prettiest versions we've seen online!
See More on Pinterest