Are you planning to update your manicure soon? If you're looking for some inspiration for lavender almond nail, you're at the right place!
Our editorial team scouted the internet to put together this curated collection of the 30 prettiest lavender almond nails. In there, you will find plenty of inspiration for a variety of nail design styles, techniques and difficulty levels.
Whether you're planning your next nail salon appointment or looking for some simple ideas you can do yourself at home, you will find lots of pretty nail options for both scenarios.
Below are some of the best nail design techniques you can master on your own, followed by a simple video tutorial, and finally the list of 30 pretty designs.
Feel free to save your favorites in Pinterest.
Best DIY Options for Lavender Almond Nails
If you're planning to do your own nails, or get some help from a friend, here are some of the easiest styles you can master without booking a nail salon appointment:
Full color coverage – obviously, the easiest thing anyone can do. Watch out though – you want to make sure that before you use the nail polish, your nails are nice and tidy, perfectly shaped and you wiped off any dust residues from the nails, to ensure a smooth and glossy finish.
Gradient ombre nails – all you need to pull this off are a few gradient shades of lavender nail polish, and then distributing each color on the individual nail. Very simple and look super classy – examples are listed in our roundup below.
Nail stickers – yes, a little cheating is allowed! Just use your base color as lavender and add pretty nail stickers, or use beige and get your nail stickers in pretty lavender color. Flowers, butterflies and geometric shapes are among the most popular options.
French tip nails – now this may require a bit of practice and patience, but with the right tools, anyone can master this classic nail design technique.
Video Tutorial for Outline Lavender Almond Nails
Video via youtube OPI channel – check out more from their videos here.
30 Gorgeous Lavender Almond Nails Ideas
Here they are, the prettiest of them all – check the round below to see our picks from Instagram and Pinterest.
Get inspired and check even more ideas in our Pinterest board, and while you're there don't forget to follow us too!
1. Lavender & Pink With Geometric Art
Adding a bit of contrast to your lavender manicure is super easy with the additional color and geometric stripes.
2. Lavender & White Swirls
Transform bare nails into an art form thanks to simple lavender swirls.
3. Lavender Almond Nails with Face Art
Work of art on your nails.
4. Lavender Almond Nails with Hearts
Pretty nails are not just for Valentine's Day.
5. Pink Botanical Lavender Almond Nails
Let your nails bloom!
6. French Tip Lavender Almond Nails
A pretty mix of bright pink with French tips and star nail art.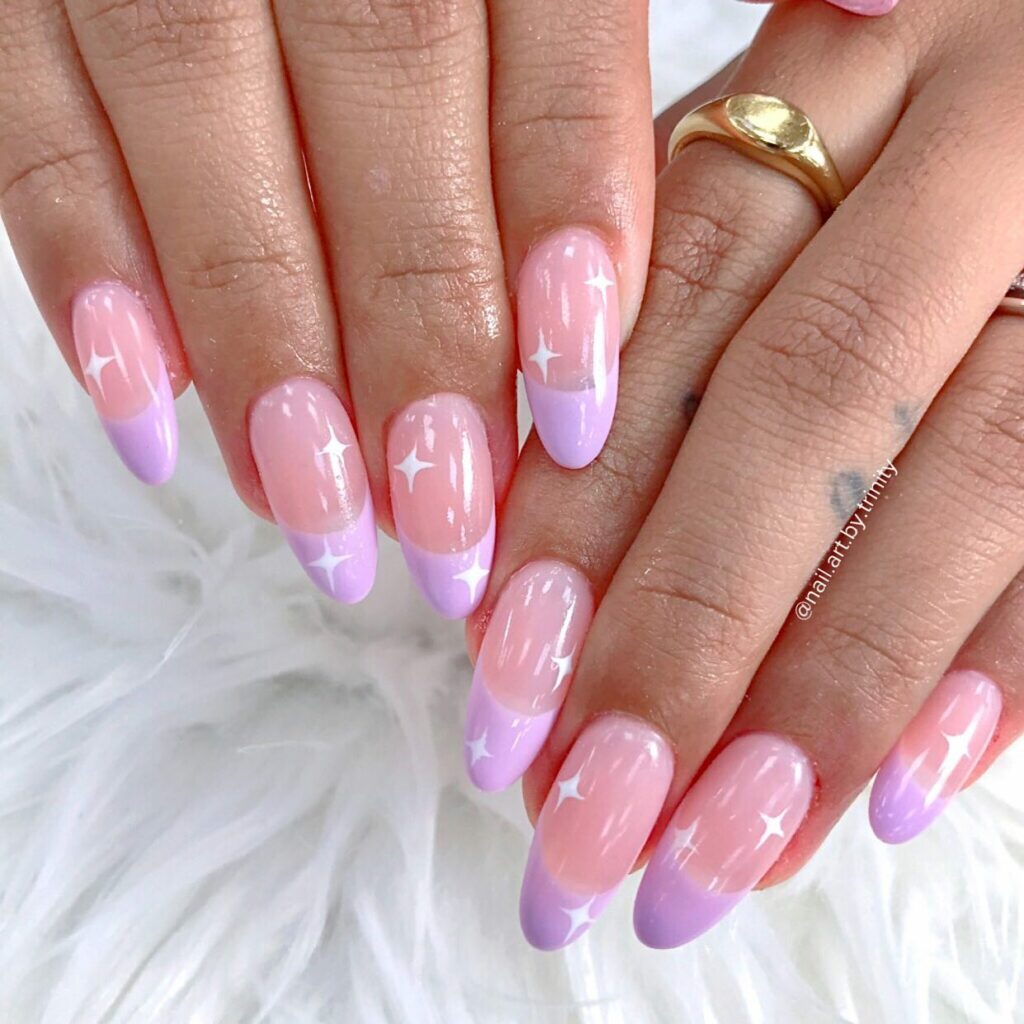 7. Floral Lavender Almond Nails
The perfect summer manicure.
8. Floral Nail Art
Cute floral art adds a lot of contrast to your lavender nails.
9. Golden Line Nails
Rose gold is the perfect match for lavender nails.
10. French Tips and Moon Nails
Elegant nail design with a hint of gold color.
11. Stylish Stripes Nails
Elegant stripes will transform even the most basic nails.
12. Elegant Lavender Almond Nails
Perfectly shaped nails? Check! The prettiest shade of lavender color? Check!
13. Dotted Almond Nails with Glitter
Need a little more variety for your manicure? Think black, dots, and glitter.
14. White Bloom Lavender Nails
Make your nails bloom with white and gold.
15. Personalized Lavender Almond Nails
Make your nails as unique as you are.
16. Gradient Lavender Almond Nails
One of the easiest DIY manicure options out there.
17. White Cracks Lavender Almond Nails
The perfect mix of understated nail design with modern twist.
17. French Tips Almond Nails
French tips in lavender color layered with extra white details.
18. Bokeh Effect Lavender Nails
This pretty bokeh effect will add more structure to your short almond nails.
19. Short Nails with Lavender French Tips
Even the shortest nails can pull of pretty and elegant French tips.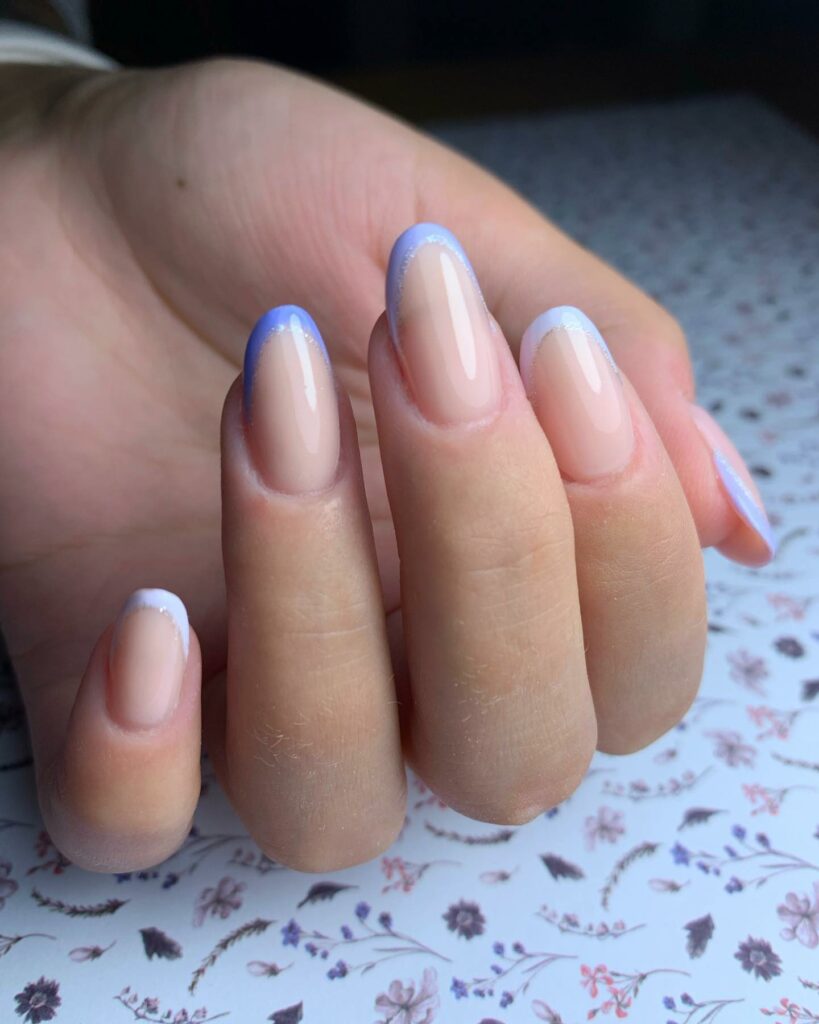 20. Multi Color French Tips
The perfect summer manicure with white and lavender French tips and delicate flowers.
21. Ombre Lavender Almond Nails
Pretty ombre effect is taken to the next level by adding some white stars and structural nail art.
22. Full Color & Glitter Lavender Almond Nails
Pretty alternating nails with full color nail polish and glitter nail polish.
23. Pretty Nail Art on Lavender Nails
Add a lot of personality to your nails with this cute nail art.
24. Modern Lavender French Tip Nails
French tip nails never looked this good!
25. Lavender Ombre with Glitter
Alternating lavender ombre nails with pretty glitter nail polish is a great way to get the best out of both worlds.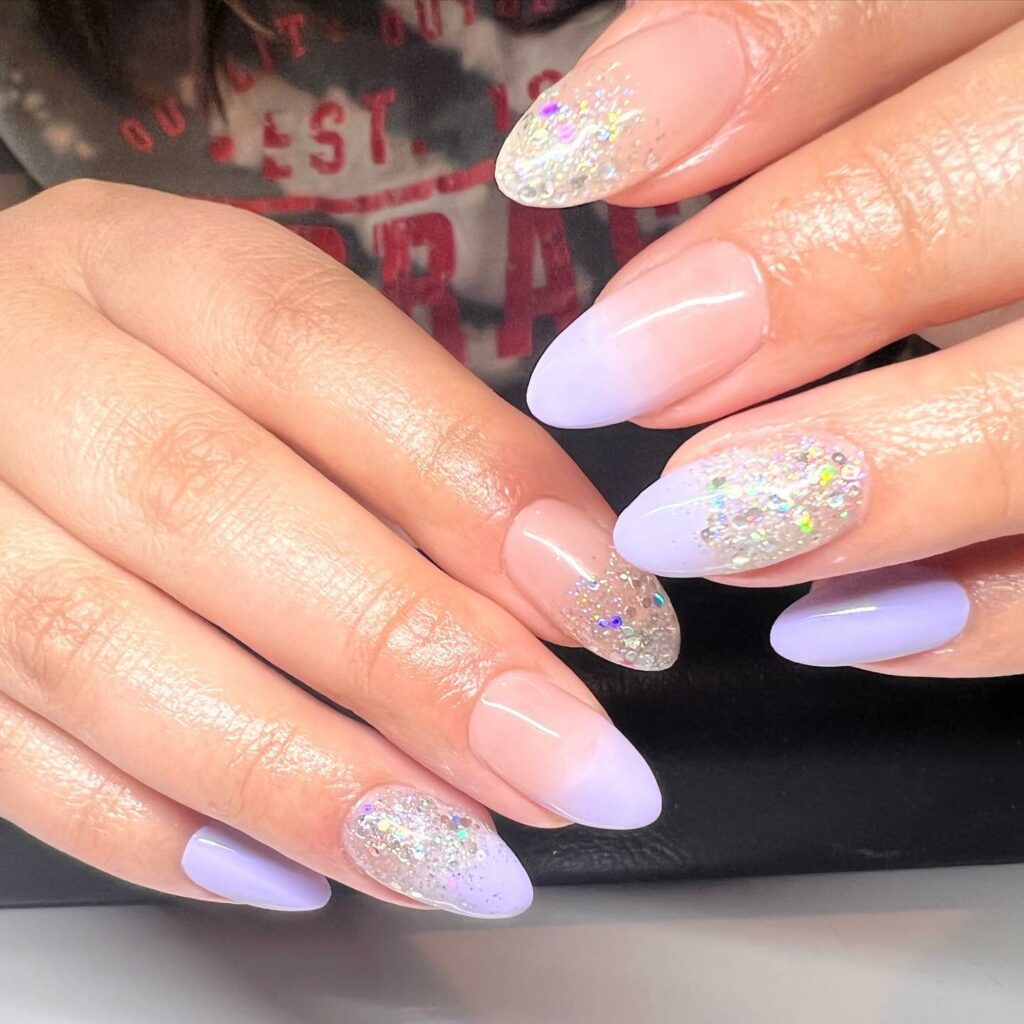 26. Lavender and Beige Nails
Gemstones, nail art and two colors – how pretty is this manicure?
27. Lavender Nails with Gemstones
Elevated simple lavender nails by adding some silver gemstones to the base of the nail.
28. Marble Lavender Almond Nails
Marble doesn't have to be white – it looks spectacular even in lavender color.
29. Work of Art Lavender Nails
Express your inner artist and let your nails speak volumes.
30. Lavender, Purple & Pink Nails
A contrasting gradient effect on French tips looks super pretty when combined with pink base color.