Do you have a special occasion coming up? Or do you need a pretty manicure for a party? No matter what the reason may be, black sparkly nails are exactly what you need for a manicure that has the extra bling!
Adding some sparkle to your nails is super easy – all you need is just the right shade of glitter nail polish and a talented nail artist to transform any nail shape or nail size into the party-ready look for any season.
Black is the ultimate timeless color that works for any season, occasion or nail length, so you cannot go wrong with choosing this shade of nail polish. It's a color that's symbolizing understated elegance and sophistication and looks equally pretty on long coffin nails as it does on short natural nails.
In this article, we have collected over thirty of the best ideas for black sparkly nail designs to give you lots of options and ideas for your next manicure project! Don't forget to also check out the outline of the nail design trends for this manicure below, followed by the roundup of our favorite styles!
2023 Trends for Black Sparkly Nail Designs
So what are some of the most popular manicure options for black sparkly nails? Here are the trends we have identified for 2023:
Black and silver glitter nails – perfect not just for the holiday season but for any other event, black glitter pairs perfectly with a bit of silver to add that extra bling to your manicure. Don't overdo it and use the silver nail polish just as a highlight to add a bit more interest to your nail design.
Midnight sky nails – also called galaxy nails, feature a full coverage nail design with speckles of silver dust that resemble the stars on the midnight sky. A beautiful and simple look for any nail size.
Red bottom sparkly nails – inspired by the famous Louboutin shoe design, this manicure works best on longer nails (like coffin nails) and features the underside part of the nails painted in red, just like the heel of the shoes.
Sparkly nails with gemstones – why not go all in and give your nails that extra bling they need to make them shine – when adding gems to your sparkly nails, focus on smaller stones that don't make your nails look too busy and overdone.
Statement single nail design – if you love a classy look but like to mix things up, you can always choose to do a more intricate design just on one nail, instead of committing to a full manicure.
Black sparkly French tips – a classic French manicure with a modern twist! The sparkly effect works best on longer nails where you can get more nail polish coverage.
37+ Ideas for Black Sparkly Nails
Are you ready to choose your favorites?
Here is our roundup of the best designs for black sparkly nails – if you need even more inspiration, head directly to our Pinterest account!
1. Black and Silver Glitter Nails
2. Classic Black Sparkly Nails
3. Black Sparkly Nails with Red Bottom
4. Midnight Nails
5. Black Sparkly Nails with Animal Print
6. Stiletto Black Sparkly Nails
7. Black Sparkly Nails with French Tips
8. Short Black Sparkly French Tips
9. Glitter and French Tips Coffin Nails
10. Glitter and Zebra Stripes
11. 3D Nail Art on Coffin Nails
12. Glitter French Tips on Coffin Nails
13. Silver Glitter on Black Nails
14. Sparkly Special Occasion Nails
15. Half Mate Half Sparkly Nails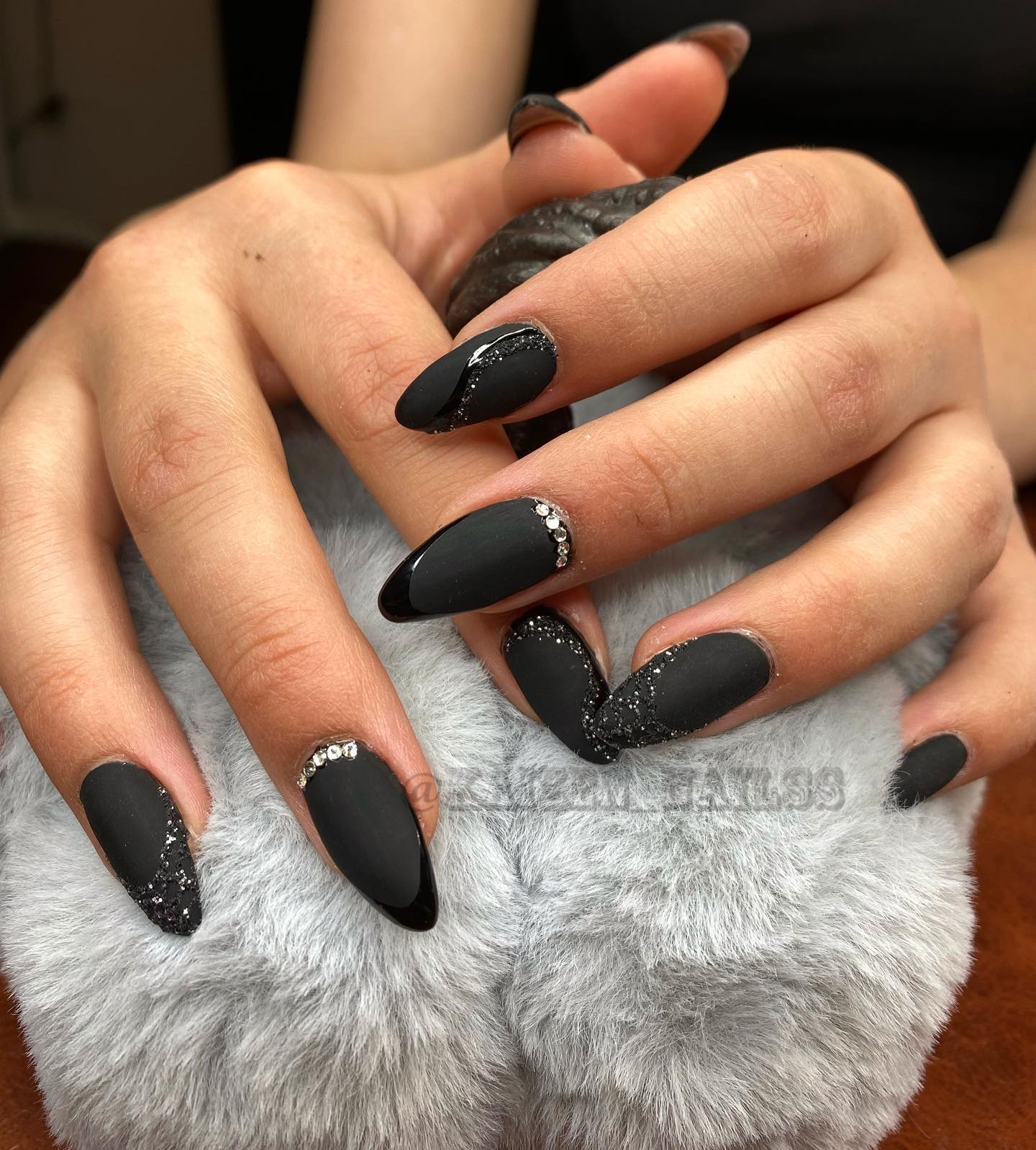 16. Ballroom Nails
17. Simple Sparkly Manicure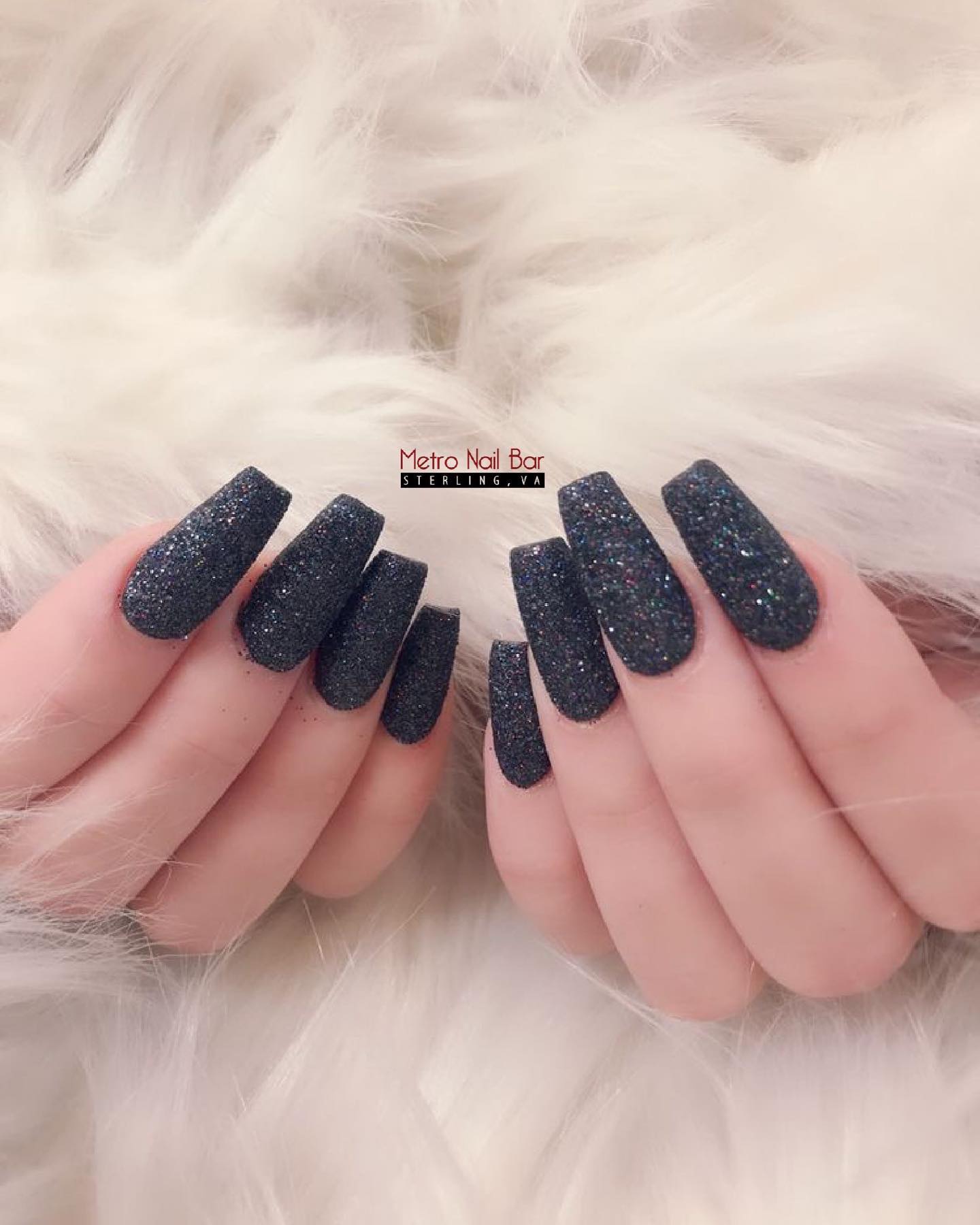 18. Black Sparkly Nails with Hearts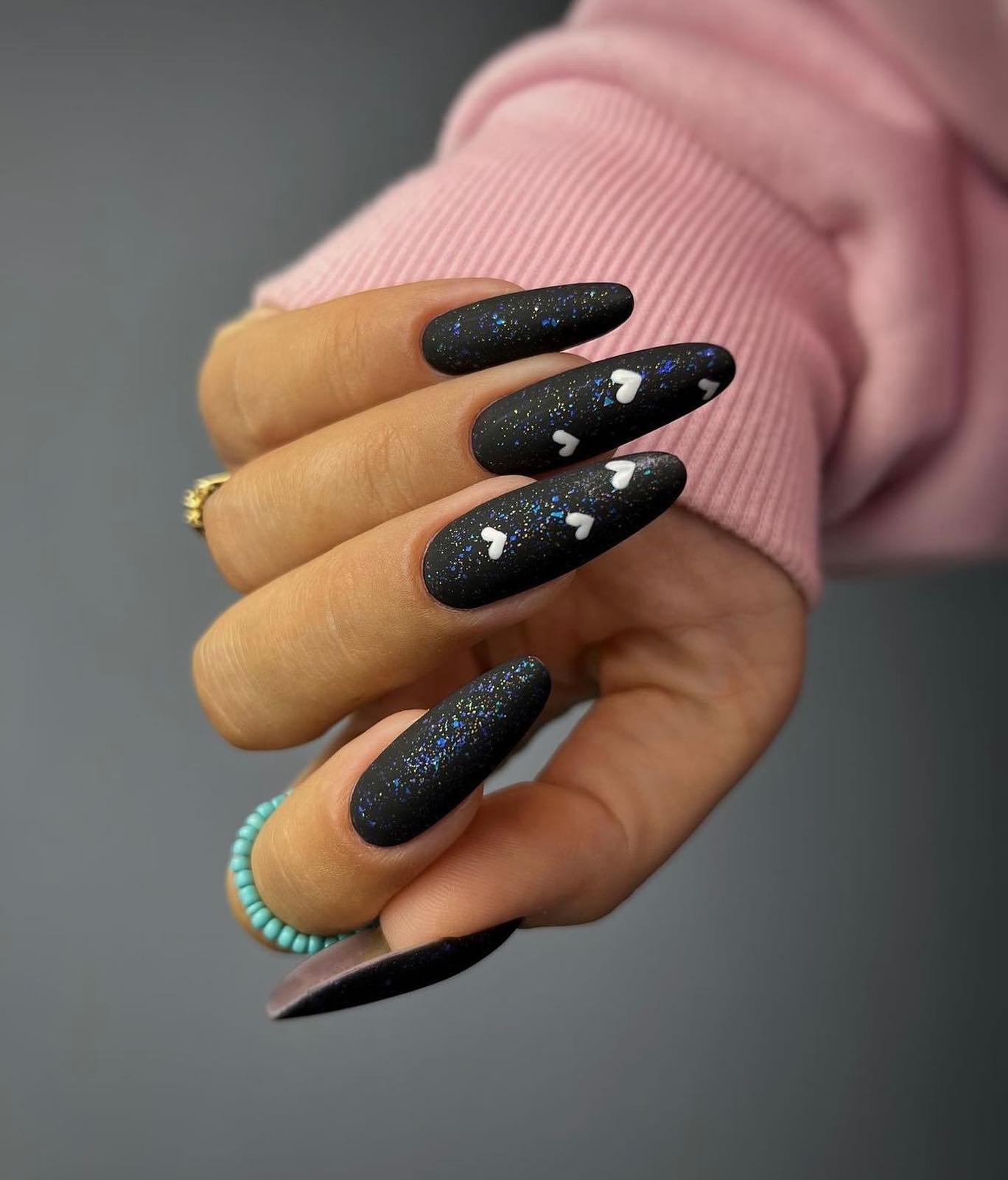 19. Black Sparkly Nails with White Nail Art
20. Black Sparkly Nails with Red Flakes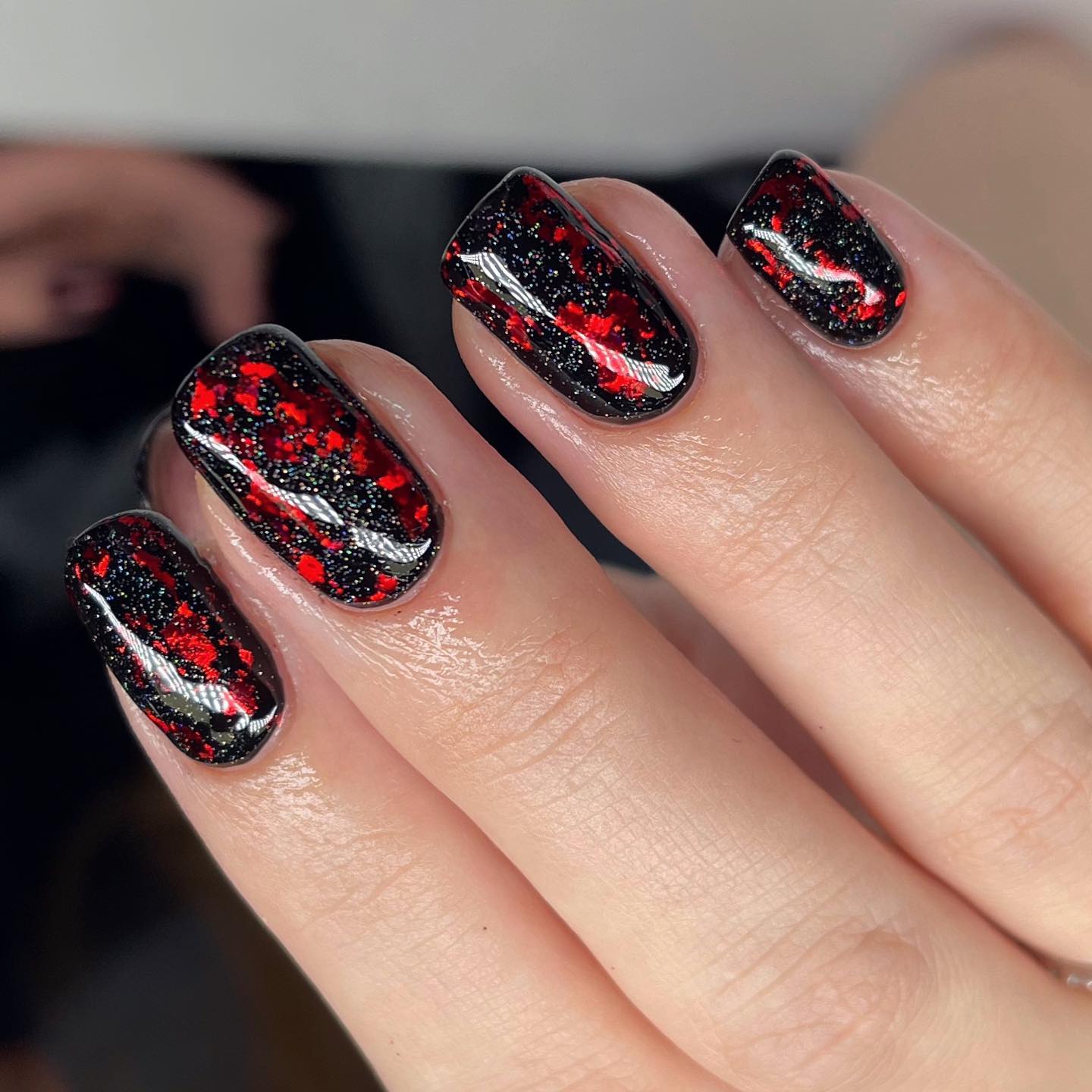 21. Coffin Black Sparkly Nails
22. Short Black Sparkly Nails
23. Gradient Black Sparkly Nails
24. Mismatched Design Black Sparkly Nails
25. Hearts and Glitter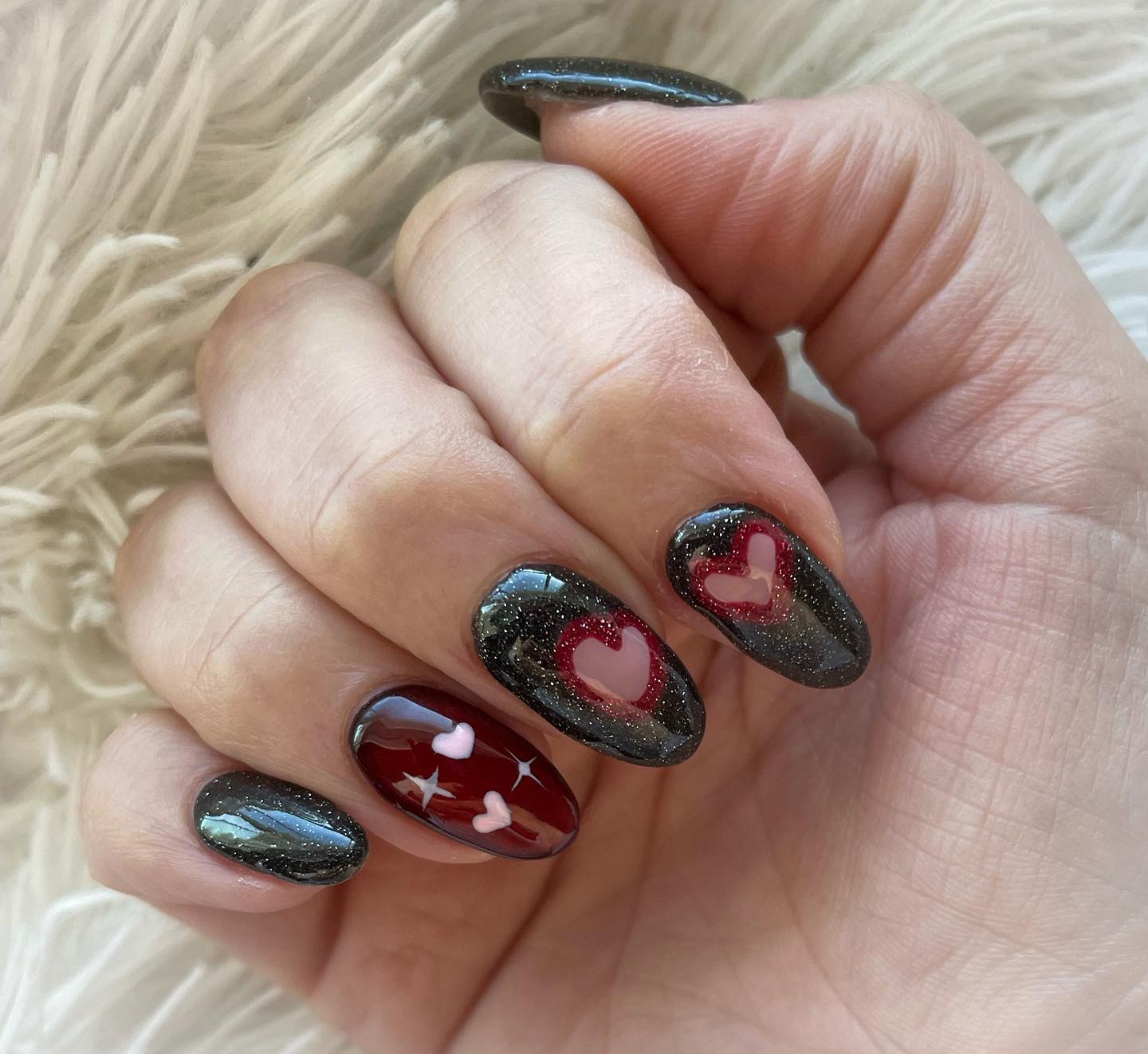 26. Galaxy Inspired Sparkly Nails
27. Valentine Black Sparkly Nails
28. Silver and Black Sparkly Nails
29. Pink and Black Sparkly Nails
30. Gold and Black Sparkly Nails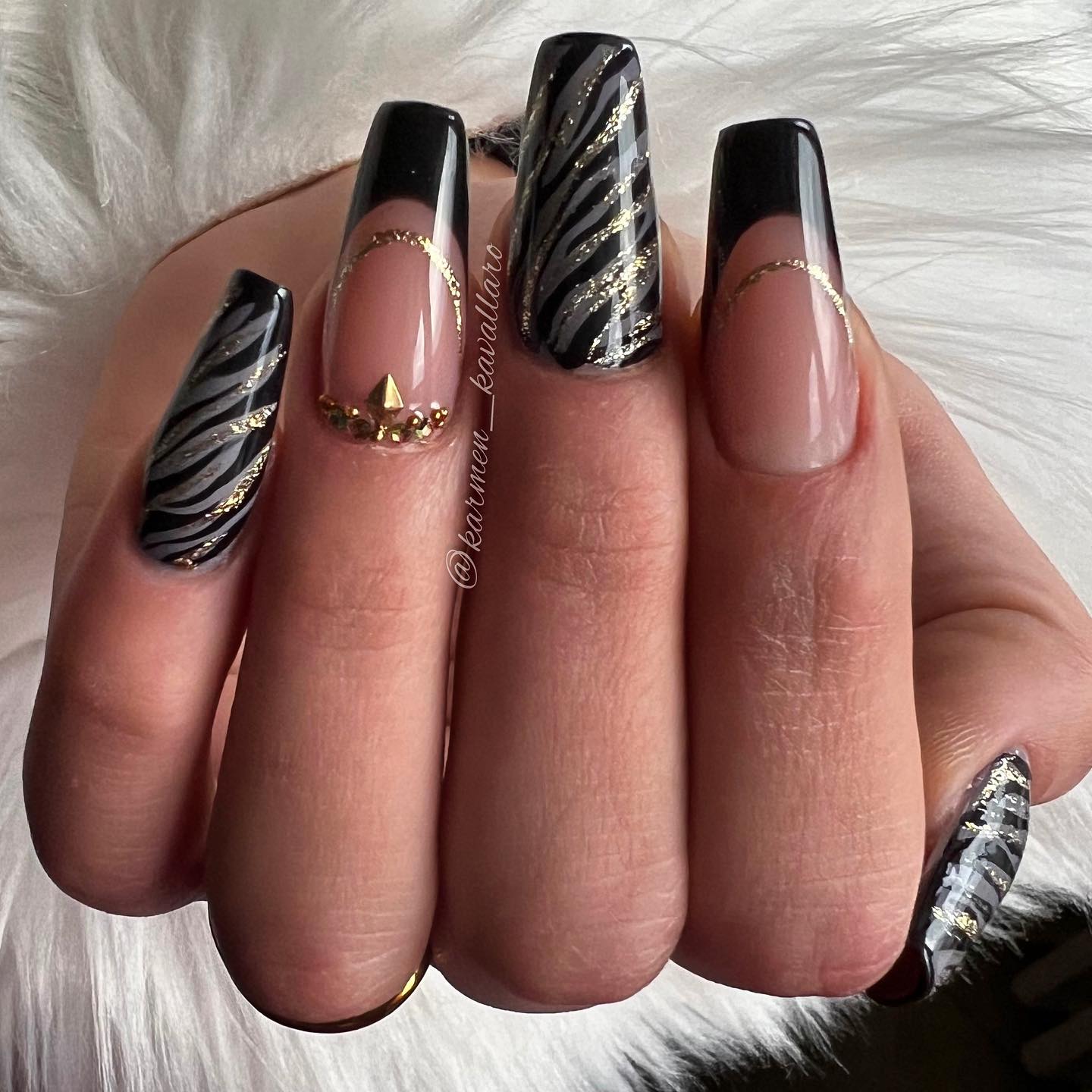 31. Grey and Black Sparkly Nails
32. Minimalist Black Sparkly Nails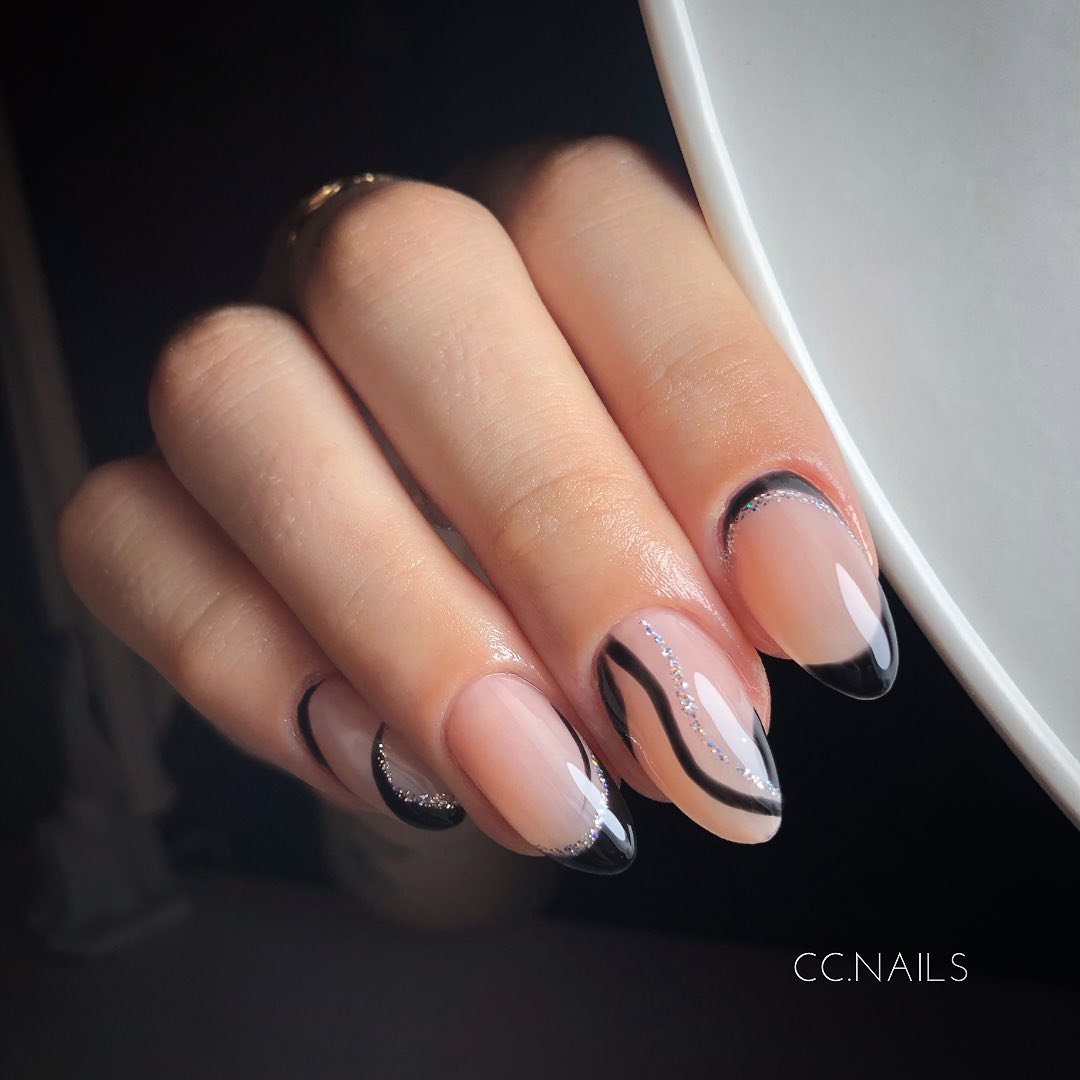 33. Statement Nail Design with Gems
34. Black Sparkle and Gems
35. High Gloss Silver adn Black Manicure
36. Half and Half Look with French Tips
37. Pink and Black Nails
38. Gold and Black Stripes