There is nothing more vibrant than a summer manicure with pink and yellow ombre nails! If you're looking for some inspiration for this fun look, you came to the right place!
Our team put together this curated list of the prettiest pink and yellow ombre nails ideas, to give you lots of design options for any nail shape or nail size.
First things first – why ombre nails? The Ombre look is one of the most popular summer manicure options as it allows you to seamlessly combine two striking colors and create a beautiful natural gradient.
There are so many ways you can choose to do the ombre design, and with pink and yellow nail polish, a beautiful result is always guaranteed!
Here are some of the most popular trending styles for this manicure:
Neon Nails – if you want nails that really turn heads, reach for the neon shades of pink and yellow which translate beautifully into an ombre effect.
Ombre Nails with Rhinestones – whether you need nails for a special occasion, or love to add a bit of bling to your nails, rhinestones or gemstones are an easy way to accessorize a simple ombre manicure.
Vertical Ombre Nails – switch things up a little bit and update your nails with the popular vertical ombre effect!
Gradient Nails – if you're looking for a manicure you can do at home, the easiest option closest to the ombre look is a simple gradient manicure, with nail polish in 5 gradient shades, with one shade applied to each nail.
Mismatched Ombre Nails – no need to stick to the theme all the way, you can mix and match ombre nails with lots of other nail design styles and make them look fabulous.
15 Pretty Pink and Yellow Ombre Nails
Below are some of the prettiest designs we found on Instagram. If you want to see even more work from the same nail artist featured, you can check their Instagram profile by clicking the link under the image.
For even more inspiration for pink and yellow nails, visit our dedicated Pinterest board here.
1. Pink and Yellow Coffin Ombre Nails
This pretty manicure features half way ombre look for super long coffin nails. It looks super elegant and makes the nails look even longer as the ombre effect has been applied vertically, making the nails look more interesting and elegant.
2. Almond Pink and Yellow Ombre Nails
These nails in pastel shades of pink and yellow are for those who love a toned-down look, but still want a manicure that makes an impact. The design is finished with full color coverage nails on the last finger, which adds a nice contrast to the subtle ombre effect.
3. Pink and Yellow Ombre Nails with Black Nail Art
Another example of vertical ombre effect application, which is elevated further by black stripes that add plenty of contrast.
4. Pink and Yellow Ombre Nails with Gemstones
This mismatched nail design features a subtle ombre effect for each individual color, and gives you plenty of bling thanks to the added rhinestones.
5. Pink and Yellow Ombre Nails with Floral Art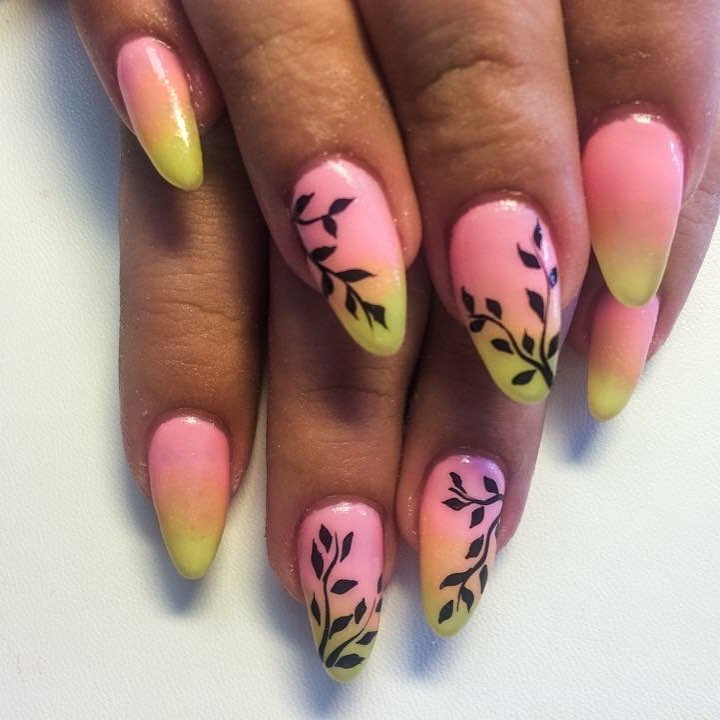 Make your nails bloom with beautiful and simple black nail art on ombre nails.
6. Pink and Yellow Short Coffin Ombre Nails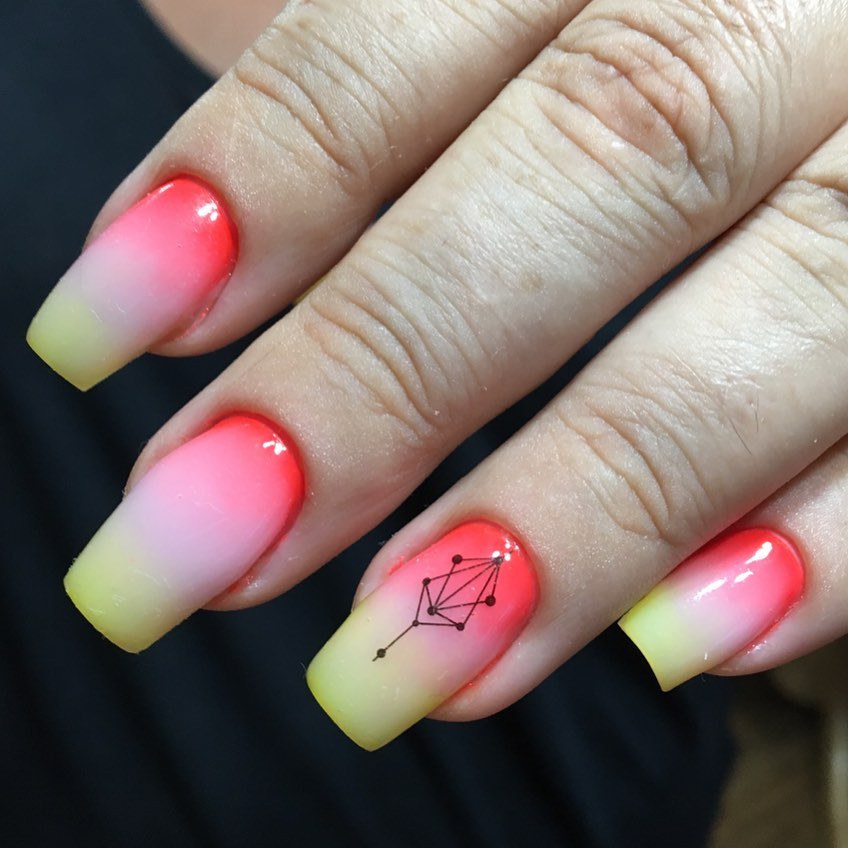 Elevate your short coffin nails with this ombre effect and geometrical nail art.
7. Mismatched Pink and Yellow Ombre Nails
If you don't want all your nails to be identical, sticking to an all-pink and ombre look is a great option.
8. Pink and Yellow Mixed Ombre Nails
If you don't necessarily like the transition between the two colors, you can choose to do an individual ombre look for each color.
9. Gradient Pink and Yellow Nails
This is a great alternative to blending the two colors seamlessly – it creates more contrast and gives you a more unique look that will certainly turn heads.
10. Neon Pink and Yellow Ombre Nails
Want nails that really stand out from the crowd? Reach for the neon shades of pink and yellow.
11. Almond Pink and Yellow Ombre Nails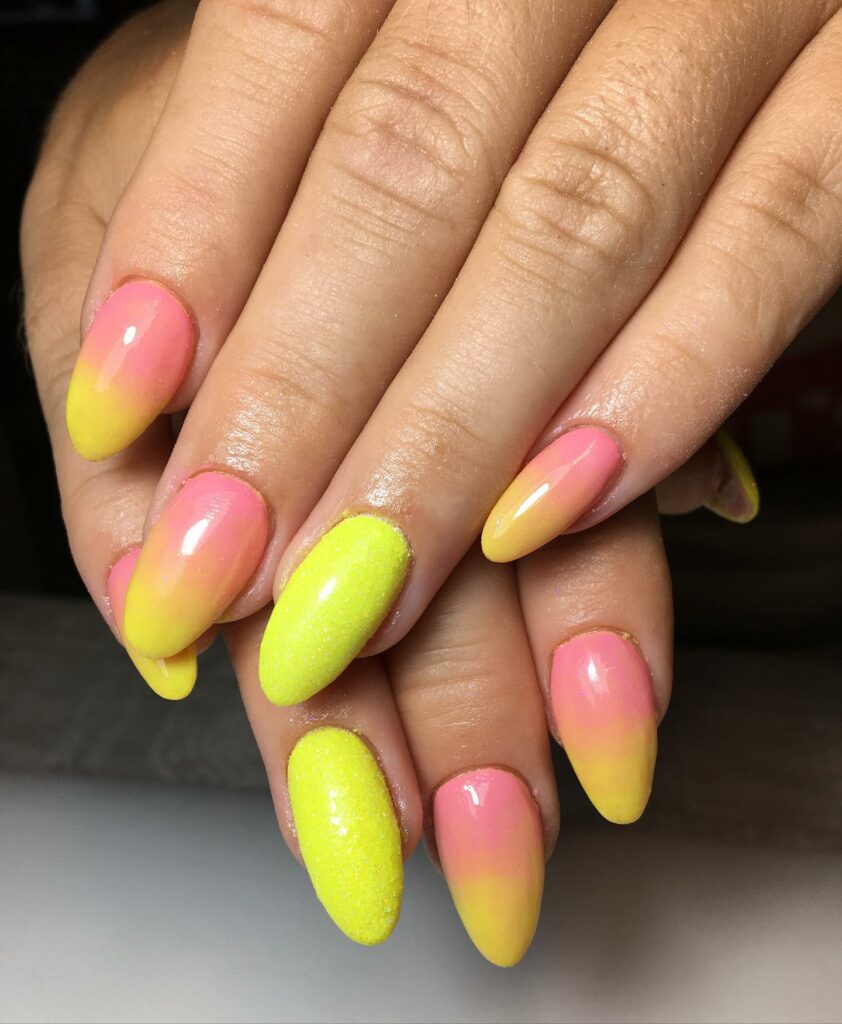 Make your nails look like a beautiful sunset – these almond shape nails come pretty close to that!
12. Mixed Shape Pink and Yellow Ombre Nails with Stickers
Summer nails? These nails fit the description perfectly. Manicure with mismatched nail shapes and simple ombre effect that blends light pink with yellow, declared by bee and butterfly stickers.
13. Pink and Yellow Ombre Nails with Rhinestones
This ombre look works especially well for darker skin tones, which really bring the colors to life.
14. Extra Long Coffin Nails with Pink and Yellow Ombre Design
Going on all in? Go big and bold with extra long coffin nails, with the focus on the yellow and subtle pink ombre effect.
15. High Contrast Pink and Yellow Ombre Design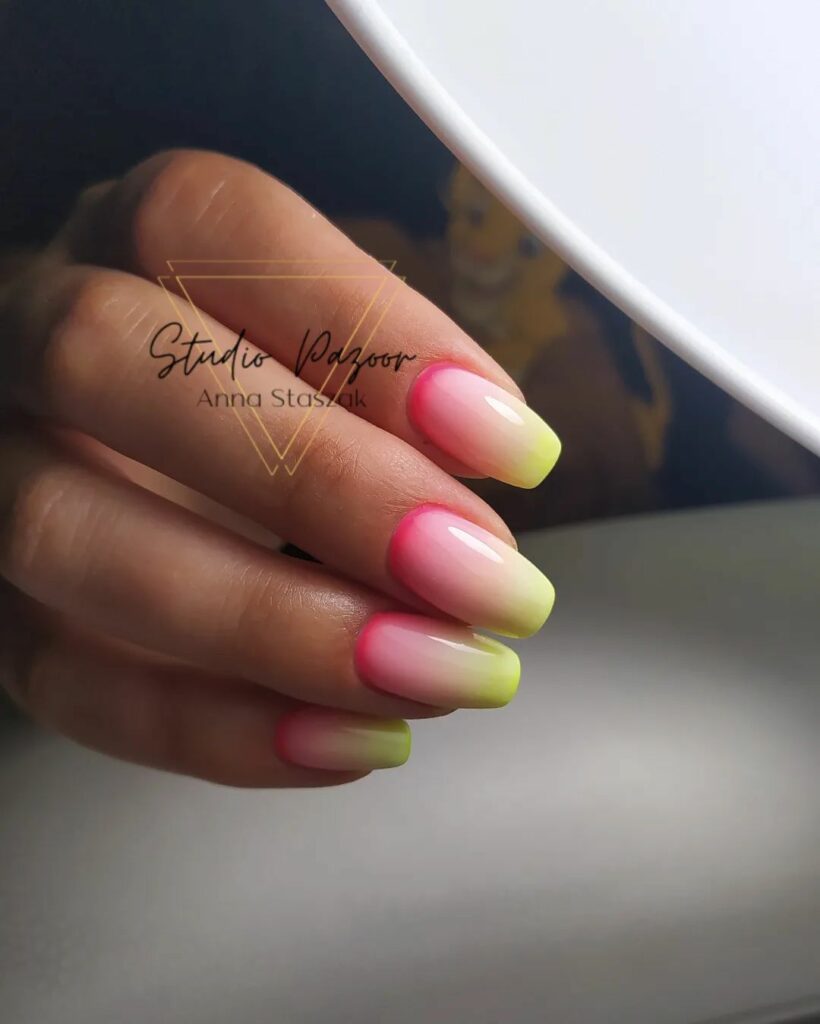 An interesting application of ombre effect with more vibrant color added to the inner and outer edge of the nail.