Do you love the look of beige coffin nails? If you're wondering what style to go for and what nail design to choose, this article has all the inspiration you need for your next trip to the nail salon!
We have prepared a curated selection of nearly twenty beautiful examples of elegant beige coffin nails, that will take you from the office to the parties. There is something to choose from for everyone – whether you like a timeless simple look with a single-tone nail polish color, or prefer a mismatched manicure with a bit of bling.
Beige nails are super popular as they make your hands look very elegant and put together, and they are super easy to do at home if you're only doing a single-tone look. All you need is the right shade of beige to match your skin color beautifully, and your timeless manicure is created in a matter of minutes.
If you want to venture out of your comfort zone, there are many ways you can elevate the simple look of beige nails, here are just a few of them:
15+ Best Ideas for Elegant Beige Coffin Nails
Below is the roundup of the best examples of beige coffin nails we found online.
There are plenty more ideas for coffin nail design in our dedicated Pinterest board here – go check them out!
1. Single Tone Variation Short Coffin Nails
Elegant beige coffin nails are elevated with a slight gradient variation for a single nail.
2. Beige Coffin Nails with Black Nail Art
Add a bit of drama to your elegant coffin nails by using black nail art.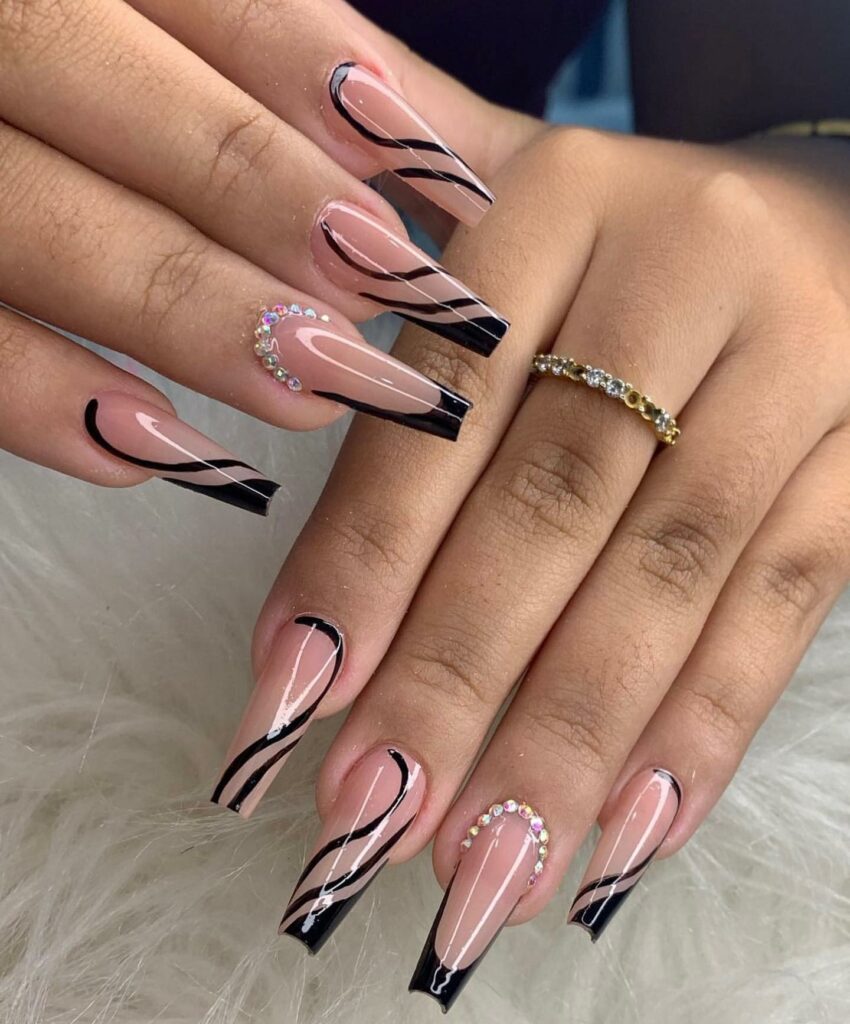 3. Elegant Beige Coffin Nails
Timeless classic that looks effortless and elegant for any occasion, especially when paired with pretty jewelry.
4. White Stripe Beige Coffin Nails
Bridal inspired look that takes your beige coffin nails to the next level.
5. Beige Coffin Nails with Glitter & Rhinestone Detail
No need to shy away from a bit of sparkle even if you love simple beige nails.
6. Stardust Beige Coffin Nails
Opt for night sky theme for your white nail art on beige nails.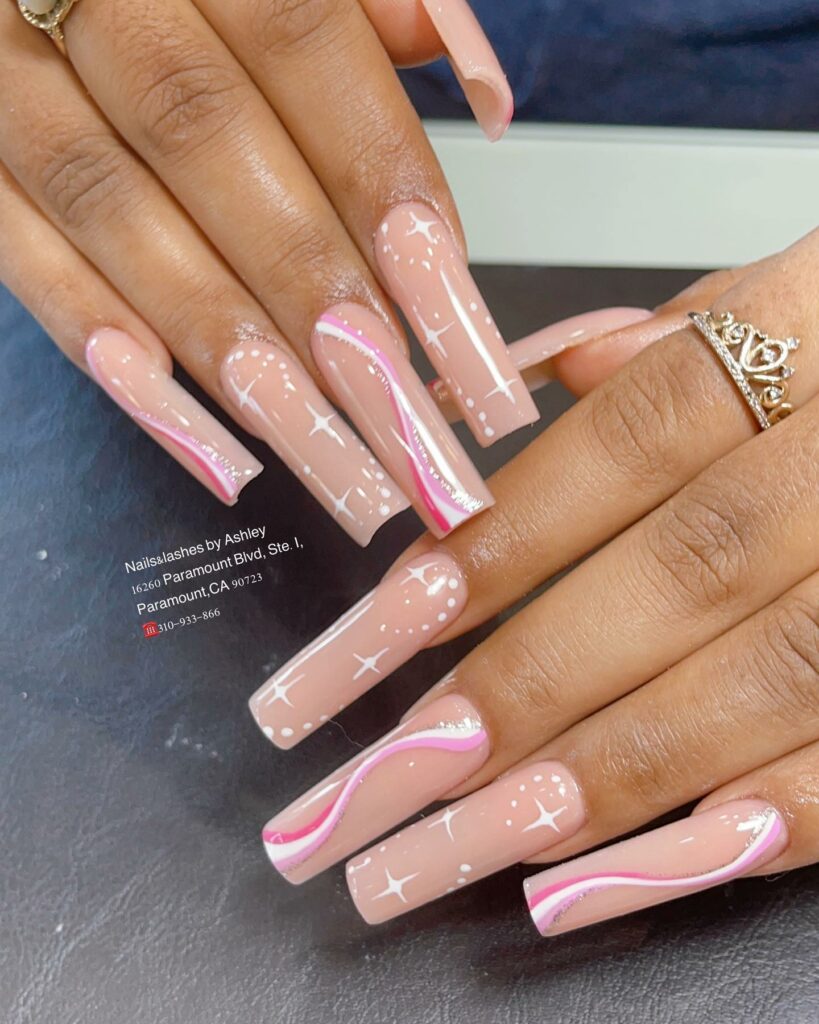 7. Comics Style Beige Coffin Nails
The trending look that comes in about any color, and looks spectacular in beige.
8. French Tips on Short Beige Coffin Nails
French tips can look super elevated if you're using beige nail polish.
9. Neutral Valentine's Day Theme Coffin Nails
Add a bit of personality for your beige coffin nails, and make them on theme as in this case.
10. Elegant Short Beige Coffin Nails
Short coffin nails look especially pretty with a single tone nail polish, but you can elevate them further by adding a complimenting color for variety.
11. Single Tone Beige Coffin Nails
This mocha coffee color looks wonderful.
12. Glitter with Beige Coffin Nails
Beige nails are a great blank canvas to add a bit of sparkle.
13. Bridal Inspired Beige Coffin Nails
Mismatched nails that any bride would be proud of, featuring gemstones, french tips and even ombre effect, all on nice beige background.
14. Star of the Show Coffin Nails
A beautiful manicure that combines beige French tips with beautiful nail art.
15. Copper Foil Beige Coffin Nails
Copper foil is not often used, but can look really pretty on beige nails.
16. Christmas Theme Coffin Nails
Need beige nails for Christmas? This is the look to copy.
17. Beige & Green Coffin Nails
Add a touch of color to your beige manicure.