Have you seen some pretty coffin olive green nails that you would like to try? Are you looking for more ideas on what you can do with this pretty color shade? In that case, you're at the right place!
Our team has prepared a little curated selection of over twenty prettiest coffin olive green nails, to give you plenty of inspiration for your next manicure or visit to the nail salon!
Why olive green nail color? Olive green is one of the most popular nail color choices, especially for the fall and winter season. It pairs beautifully with darker outfit choices and you can elevate it really easily if a special occasion requires it.
Nowadays, there are a range of nail design techniques you can apply to coffin olive green nails to take them from basic to very intricate in just one session at your nail salon. A few of them are for example 3D nail art, rhinestones, marble nails and many others.
Olive green nails come in a range of different shades and finishes – you can go for very high gloss olive green, or opt for the matte look. The color has a broad spectrum you can choose from, from very light almost beige color tone to dark moody ones perfect for the long winter months.
No matter what your preference may be, we're pretty confident you will find lots of beautiful looks you will love in our selection below.
23+ Prettiest Coffin Olive Green Nails
Below is our curated selection of the prettiest coffin olive green nails – get inspired and save your favorites in Pinterest!
1. Mismatched Coffin Olive Green Nails
A range of styles across your manicure will give it plenty of interest and variety – these mismatched nails feature marble nail art, golden flakes and full coverage nail color.
2. Bright Coffin Olive Green Nails
A modern shade of olive green that will certainly turn heads – this bright nail polish color looks especially elegant on long coffin nails, finished with a touch of gold nail polish.
3. Green Fire Coffin Nails
Go big and bold with a fiery design in olive green, with a slight gradient nail art. This intricate manicure on coffin nails features light pink base color with applied gradient transition to olive green, and vibrant neon green highlights.
4. Green and Purple Gradient Coffin Nails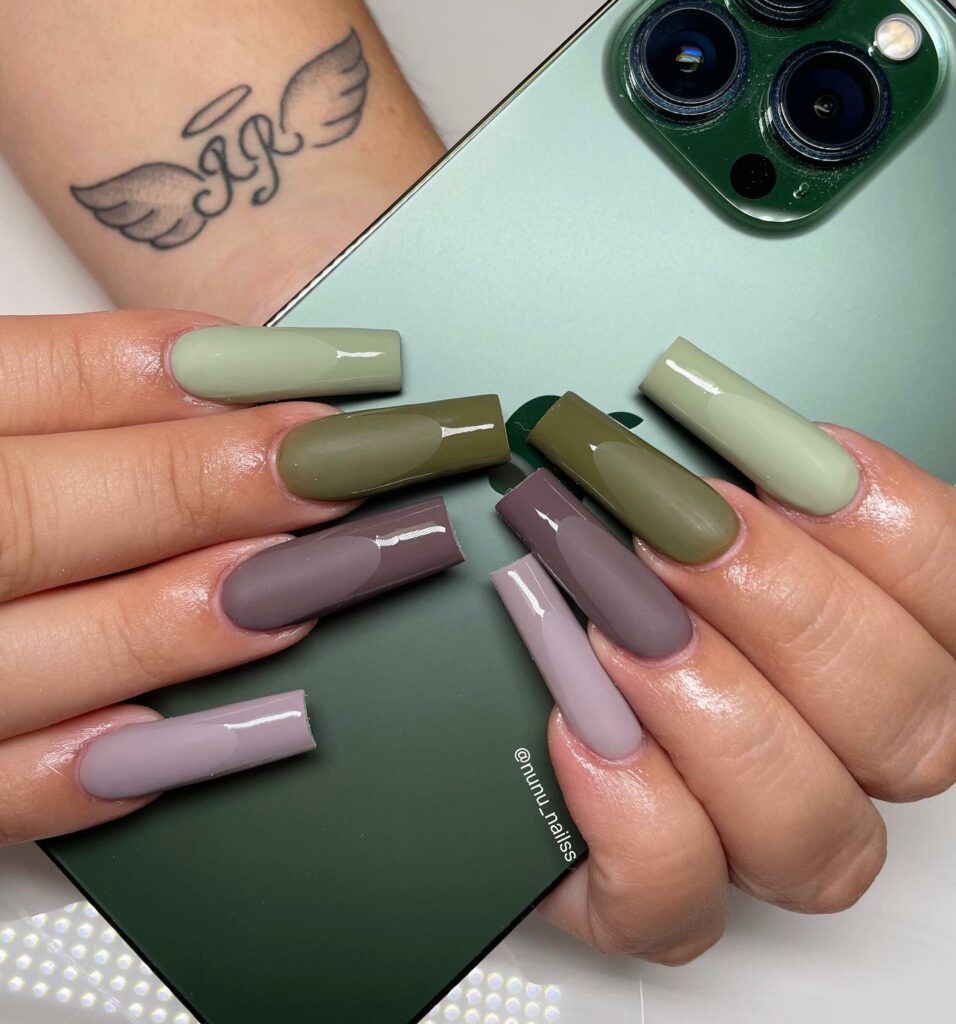 Make your manicure come to life with the addition of an extra color – this lavender and dark purple pairs beautifully with olive green. For an extra contrast, the matte nail polish is finished with French tips in glossy nail polish of the same shade.
5. Geometric Olive Green Coffin Nails
Make your nails a piece of art with geometric shapes and a color variations between beige and olive green. Best to use on just a couple of nails to add your manicure some contrast and variety, instead of using it on every nail which might look overdone.
6. Olive Green Coffin Nails with Swirls
Pretty nails which will make the perfect vacation manicure. Two olive green nails are complemented by swirl design in contrasting teal and dark blue colors on shiny white base color.
7. Botanical Green Coffin Nails
A more modern take on botanical nail art, with a variation of olive green nails and olive nails with glitter.
8. Matte Olive Green Coffin Nails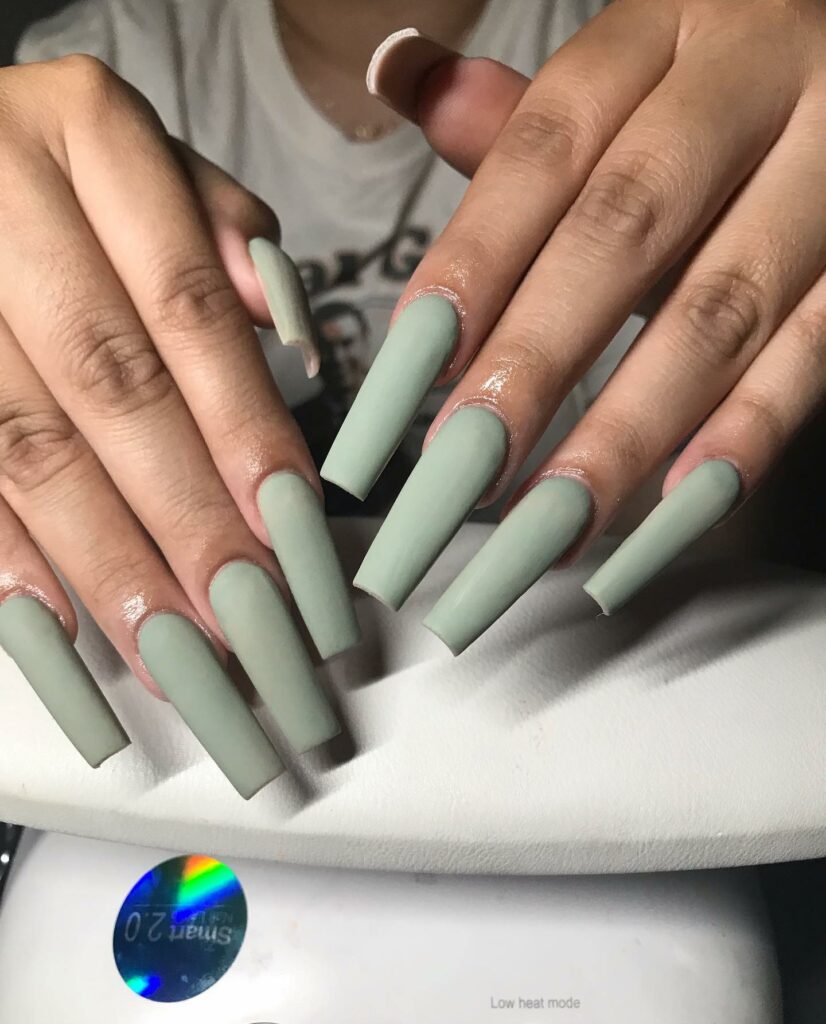 A pretty shade of matte olive green nail polish looks superb on these extra long coffin nails.
9. Super Long Olive Green Coffin Nails
When in doubt, add some rhinestones! The simple addition of rhinestones transforms this simple olive green gradient manicure to nails ready for a party.
10. Olive Green and Gold Coffin Nails
Even shorter coffin nails look fantastic with a simple shade of olive green and a touch of golden flakes.
11. Mismatched Gold & Olive Green Coffin Nails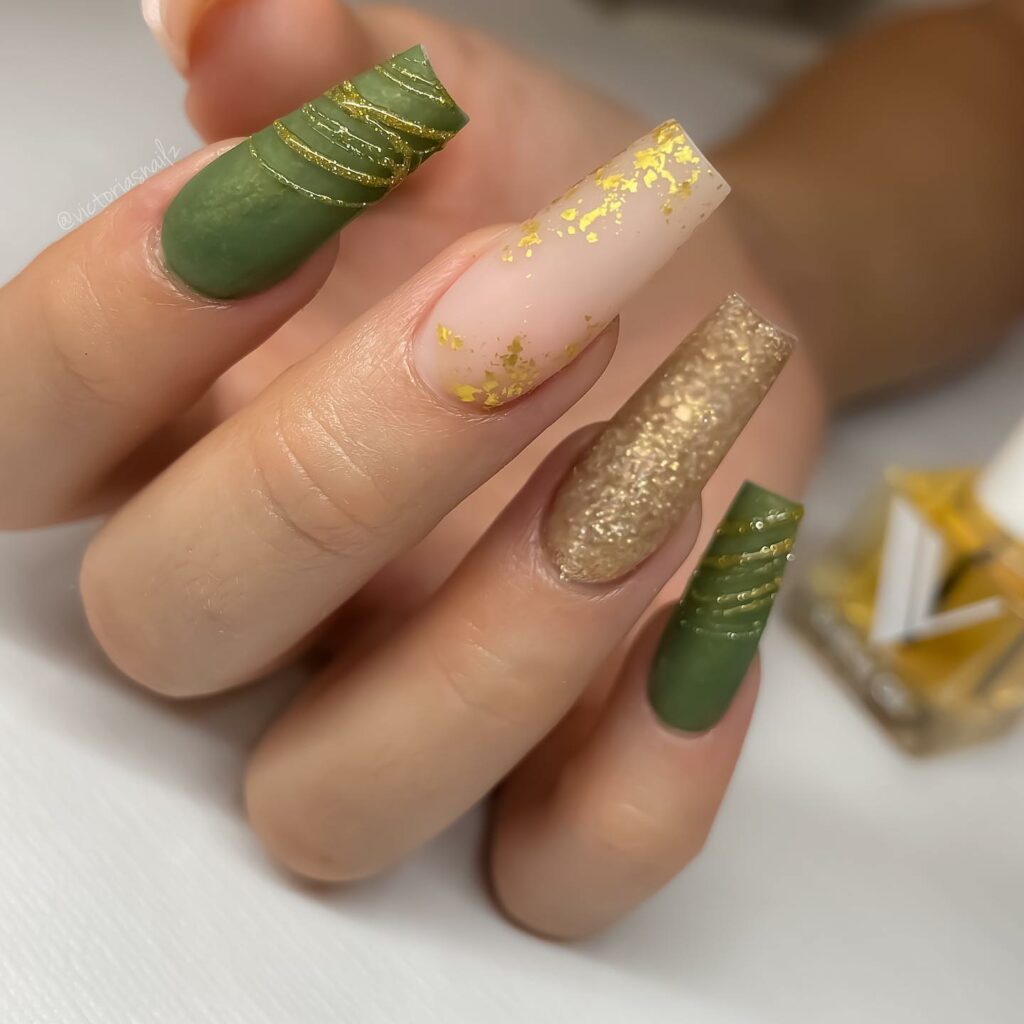 Need pretty nails for a party? Look no further than this manicure with gold glitte nail polish, neutral beige color paired perfectly with olive green nail polish.
12. Floral Bright Olive Green Coffin Nails
Make your nails bloom! This bright ombre olive green manicure is elevated by addition of the pretty white flowers.
13. Mismatched Beige & Olive Green Nails
For those who like things on the bold side, this manicure certainly speaks volumes! A combination of different nail design techniques including stretched out French tips, hand painted flower art, and geometric art, all embellished with rhinestone and just a touch of gold glitter nail polish.
14. Matte Olive Green & Gold
Simple manicure that's fit for a princess. Dark matte olive green nail polish is brought to life with the addition of shiny gold hand painted nail art with botanical motives.
15. Misplaced Olive Green French Tips
Love the look of French tips but want to do something different? This misplaced French tips look is really popular at the moment and allow you to experiment with a range of colors, including olive green!
16. Blinged Out Long Coffin Nails
Go big and bold with rhinestones, glitter nail polish, 3D flowers and much more. For those who want to stand out from the crowd.
17. Gold and Olive Green Coffin Nails
Half and half nails featuring olive green glitter nail polish, pretty shimmery white base with gold outline separting the two.
18. Olive Green French Tips with Outline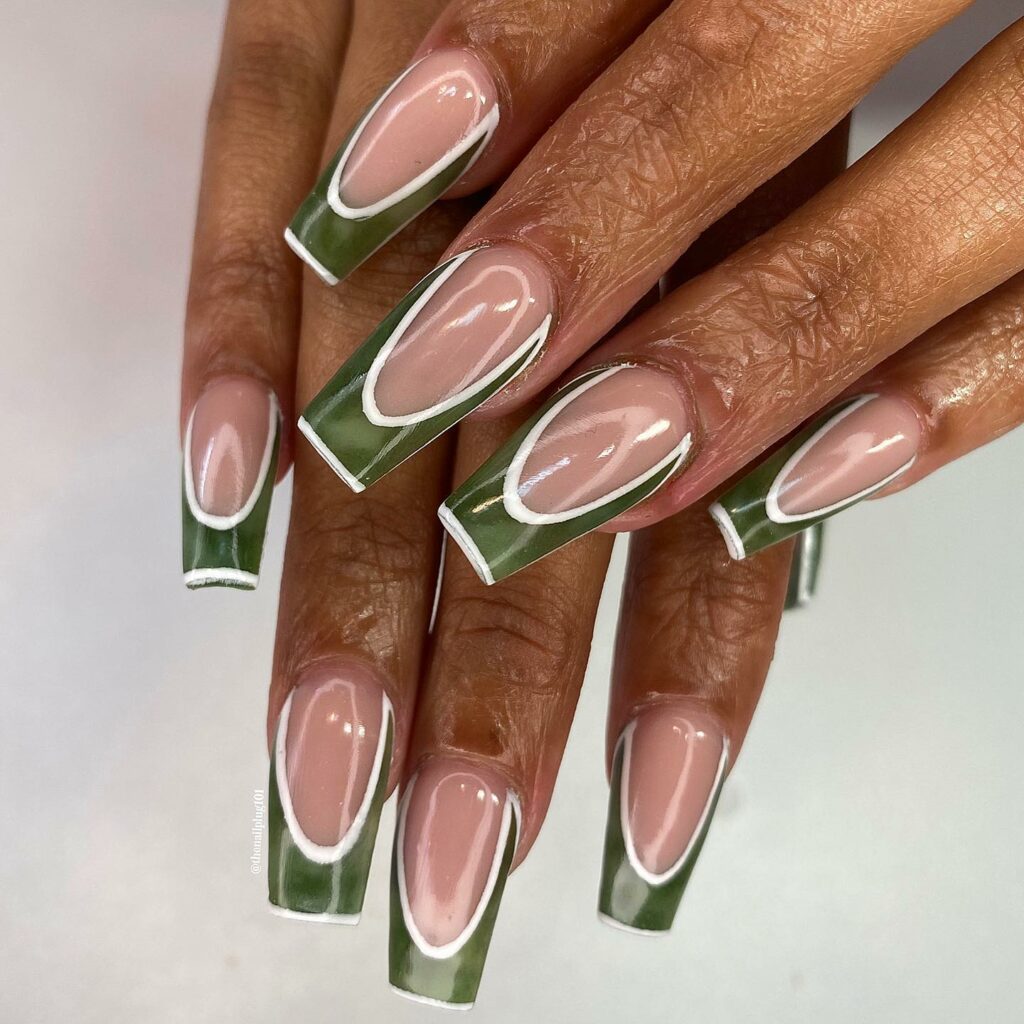 Add a white outline to your olive green French tips to instantly transform your manicure and add a lot of contrast.
19. Olive Green and Brown Floral Nail Art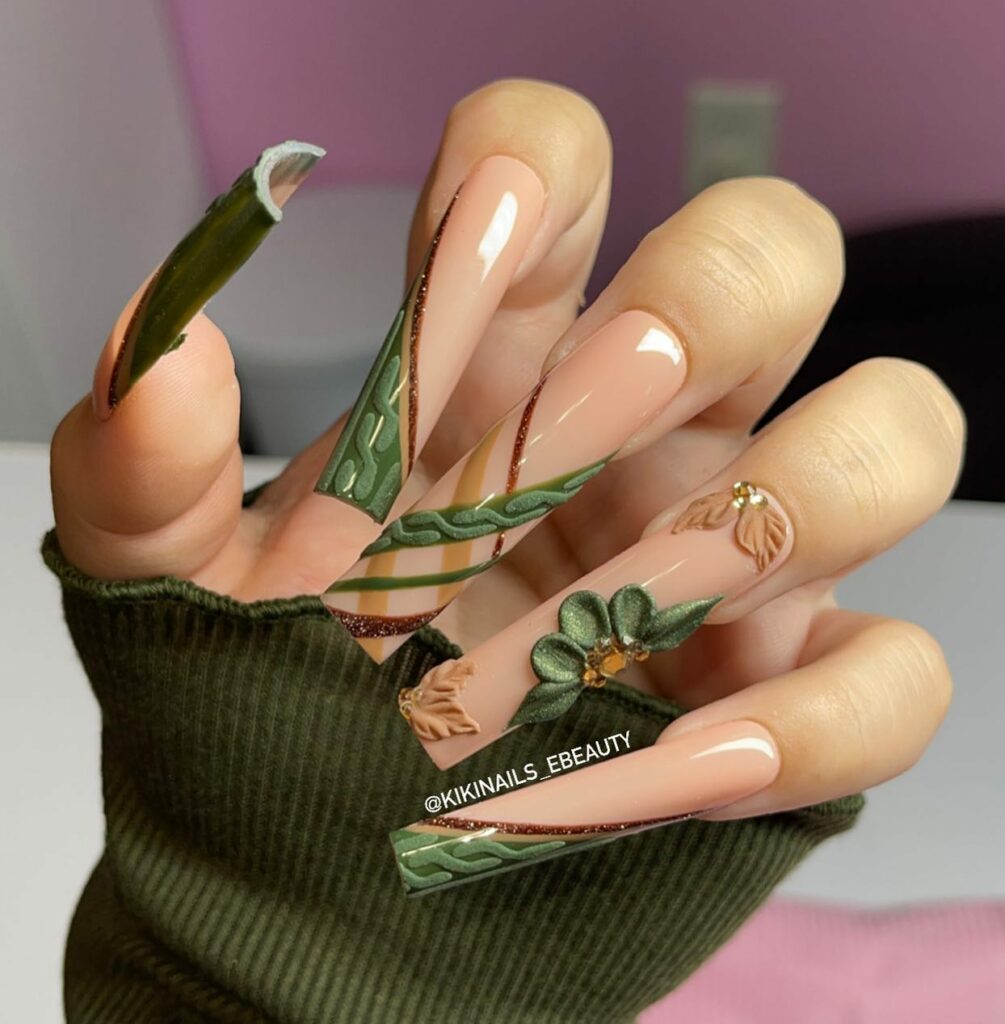 3D nail art has taken over the nail design world, and it can certainly look as sophisticated as in this case!
20. Mismatched Olive Green French Tips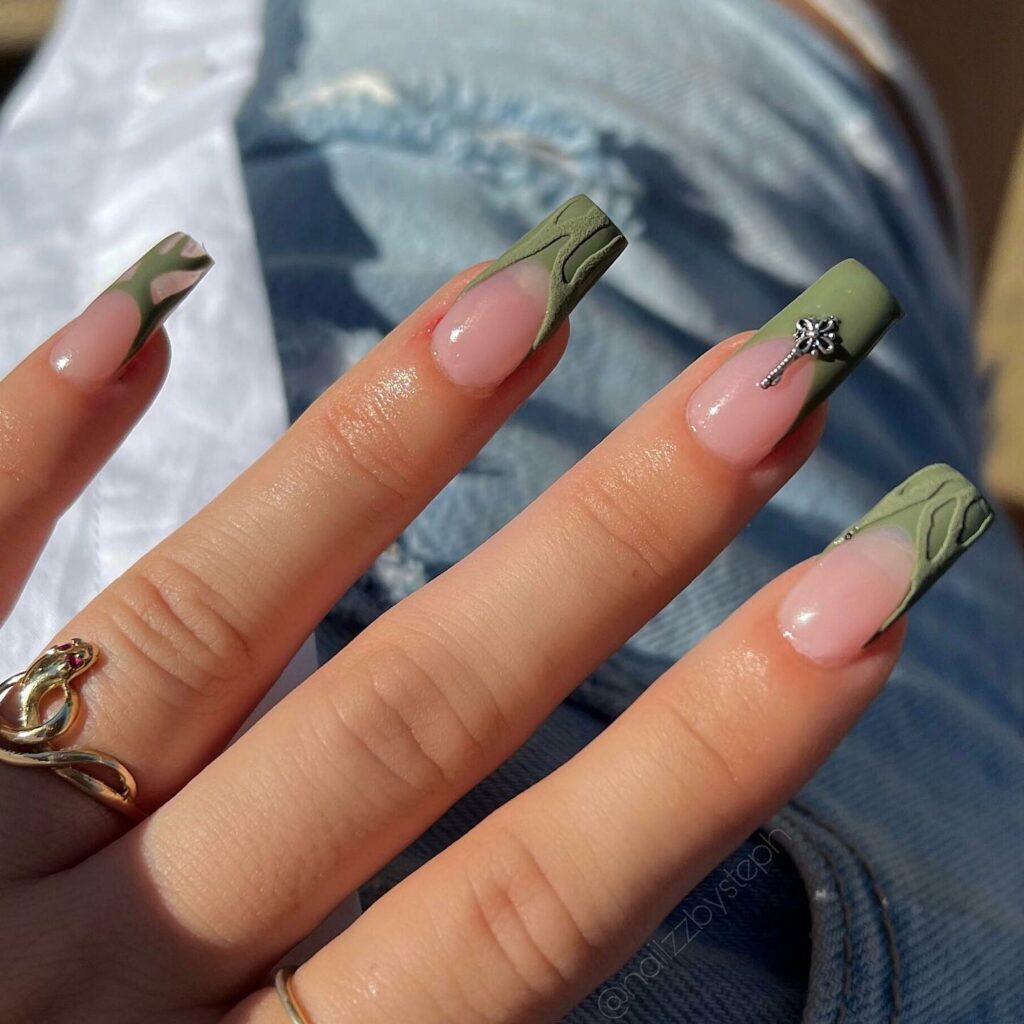 This is one of the prettiest looks we found on olive green French tips, with matte nail polish combined with pretty custom nail art.
21. Olive Green Nails with Rhinestones
When in doubt, add more rhinestones! A simple manicure that is occasion ready thanks to a pretty statement nail with colorful rhinestones.
22. Super Long Olive Green French Tips
Go the extra mile with these super long olive green French tips on coffin nails.
23. Leopard Print and White Nails
A very modern take on olive green manicure with geometric nail art elevated by the use of simple leopard print. An unusual but super pretty choice for your nail art.
24. Special Occasion Olive Nails
When the occasion calls for it, don't hesitate to add plenty of gold glitter nail polish.