Treat yourself to festive magic and transform your manicure with these pretty ideas for nude and white Christmas nails!
If you're not a massive fan of classic holiday colors like green and red, you're in for a treat – you can achieve the same festive look, without going crazy with a range of colors.
All you need is a pretty festive nail art combined with a neutral or nude nail as the base – if you don't want to go without a nail polis as your base, beige colors all the way up to the lightest shades of pink look very natural and make your nails look like you're not wearing any nail polish, and that's the look we're going for it.
Thanks to such a pretty neutral background, even the most simple Christmas nail art will look very pretty and elegant on any nail shape – whether you have short nails or coffin nails.
Below is a curated selection of some of the most loved styles from skilled nail artists on Instagram – if you want to see even more ideas from the same nail artist, simply click on their Instagram profile under the image.
8 Most Popular Nude and White Christmas Nails Designs
So what are some of the most popular looks for this unusual color choice for the holidays? The recurring themes we've seen are as follows:
Snowflakes – snowflakes are an all-round favorite for the holidays, and with a pretty beige or nude background, they look extra pretty and natural. They really come out so beautifully when you don't use any color to take attention from them, plus make your nails look like a dreamy snowy landscape.
Mismatched Nails – if you're not sure what nail art you like the most, you can choose a selection of few and use them in alternating order on all your nails. Check our list here and the ideas below to compile the nail design ideas for your final look.
Sweater Design – sweater nails are not popular just for the holidays, but all winter round. If you do them in white nail polish, they look classic and timeless and will last way beyond the holiday season.
Glitter – there are no holidays without a touch of glitter! If you're pairing glitter nail polish with nude and white nails, choose a silver shade which pairs perfectly with this style of manicure.
Festive Bow – not sure about snowflakes or other festive nail art? A simple bow will transform your nail in an instant, without looking too overdone, and you're Christmas nails are still on point.
Swirls – if you like to do your own manicure, simple swirls in a range of styles are the easiest way to achieve this look at home.
French Tips – we love French tips! For this look, you can simply pair them with a few snowflakes to make them more interesting and fitting for the holiday season.
Christmas Tree – a simplified nail art with a Christmas tree is all you need to transform simple nude manicures into holiday season-ready nails.
25+ Prettiest Nude and White Christmas Nails Ideas
Check out this selection of the pretties nude and white Christmas manicures we found online. For even more inspiration and nail design ideas, go ahead and check our dedicated Pinterest board!
1. Snowy Nude and White Christmas Nails
2. Nude and White Christmas Nails with Glitter
3. Short Nude and White Christmas Nails
4. Simple Nude and White Christmas Nails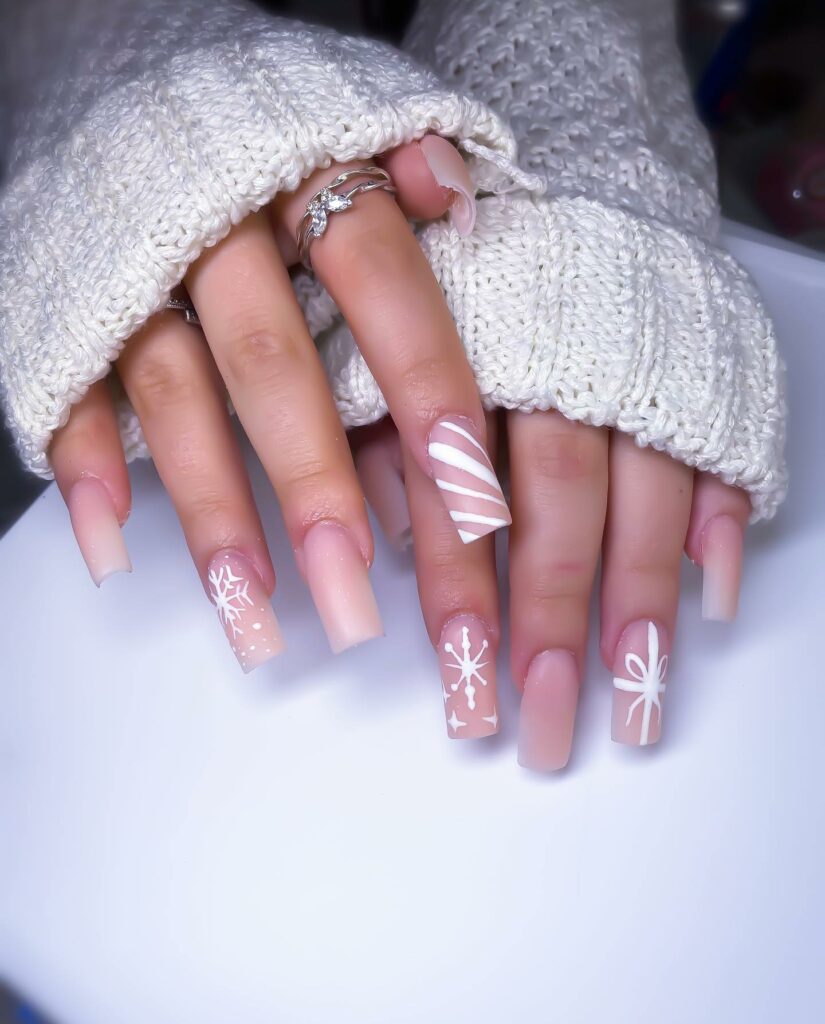 5. Frost-Kissed Nude and White Christmas Nails
6. Mismatched Nude and White Christmas Nails
7. Silver Nude and White Christmas Nails
8. Almond Shape Nude and White Christmas Nails
9. Short Nude and White Christmas Nails
10. Single Tone Nude and White Christmas Nails
11. Nude and White Christmas Nails with Bow
12. Nude and White Coffin Nails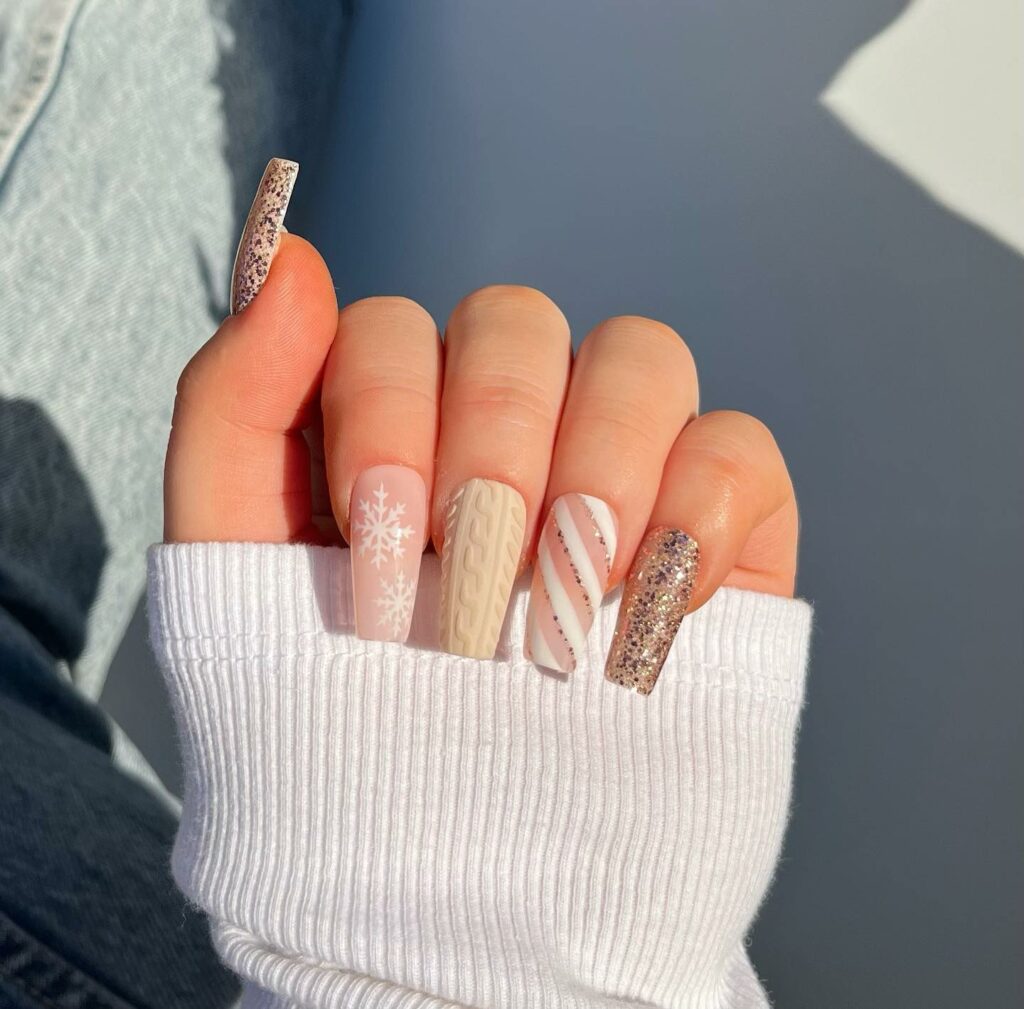 13. Extra Long Nude and White Coffin Nails
14. Beige Nude and White Coffin Nails
15. Glitter Nude and White Short Nails
16. Elegant Nude and White Christmas Nails
17. Nude and White Christmas Nails with Gold Detail
18. Simple Bow Nude and White Christmas Nails
19. Snowflake Nude and White Christmas Nails
20. Snowfall Nude and White Christmas Nails
21. Frosted Nude and White Christmas Nails
22. Mismatched Almond Nude and White Nails
23. Christmas Tree Nude and White Nails
24. Minimalist Christmas Tree Nude and White Nails
25. Pretty in White Christmas Nails
27. Nude and White Christmas Nails with Snowflakes
28. Nude and White Christmas Nails with Glitter
29. Basic Nude and White Christmas Nails with Snowflake
See More on Pinterest