Do you love the look of dark green Christmas nails? In that case you came to the right place!
In this article our team has prepared a curated selection of over twenty of the most gorgeous styles for this pretty festive nail trend, in a range of different styles and for different nail shapes.
Whether you're planning a visit to your nail salon, or looking for some manicure ideas you can do easily at home, we have added plenty of ideas for both options in this article.
Green is one of the most popular colors of the season, and that's also reflected in nail design trends every year. This year, the hottest nail design styles using green color are for example ombre nails, mismatched nail designs, festive French tips, sweater nails and many others.
Scroll down below to find plenty of inspiration for your next visit to the nail salon!
Video Tutorial: Green Ombre Nails
These gorgeous ombre nails look like so much fun and also easy to do!
25+ Best Ideas for Dark Green Christmas Nails
Color your holidays in green! Here are some of the best examples of dark green Christmas manicures – if you need even more ideas, check our dedicated Pinterest board where we have saved up dozens more.
1. Dark Green Matte Christmas Nails
Dark green matte Christmas nails perfectly paired with beige color and intricate nail art – just what you need for your holiday manicure.
2. Christmas Snowflakes with Sparkle
Dark green color makes the perfect canvas for adding some white nail art! Snowflakes are one fo the most popular ones, especially when combined with festive glitter nail polish.
3. Snow on Green Nails
Capture the essence of the falling snow on your nail, just like in the example above.
4. Neutral Green Christmas Nails
Keep things classy and simple with elegant French tips in dark green, complete with a pretty festive motive and full color nail design.
5. Candy Canes
Show them your sweet side by including some candy canes in your dark green Christmas nail design.
6. Green Nails with Gold Leaf
For Christmas manicure that needs that extra bling, golden flakes are the perfect pairing.
7. Simple Green Tips
There is nothing more pretty than timeless French tips, in this case beautifully elevated for the holiday season by the use of color and some silver outlines.
8. Green Nails with Pink Tones
Pretty in pink for the holidays! This baby pink nail polish pairs perfectly with the dark shade of green!
9. Green Stripes
Minimalist manicure, but make it cute!
10. Emerald Green
Love a deep dark look? This emerald green color is transformed to holiday manicure thanks to a touch of gold.
11. Mismatched Green Nails
Reindeers and swirls – the recipe for the perfect holiday nails.
12. Elegant Emerald with Sparkle
Add plenty of sparkle to your step for the holiday season.
13. Dark Green with Pearls
An unusual choice for festive nails – instead of rhinestone, you can add some small pearls which match perfectly with dark matte green nails.
14. Sparkly Tips
Choose the best of both worlds by combining french tips with matte green nail polish.
15. Christmas Stars
Let your nails shine like Christmas stars.
16. Sparkly Emerald Green
Simple holiday look you can pull off easily at home without the need to visit the local nail salon.
17. Green with Snowflakes
The perfect match of beige and dark green nail polish which makes a beautiful base to add some snowy landscape.
18. Green Christmas Coffin Nails
Extra long coffin nails come to life thanks to the high contrast of dark green nail polish with white nail art and gold glitter.
19. Christmas Trees & Snowflakes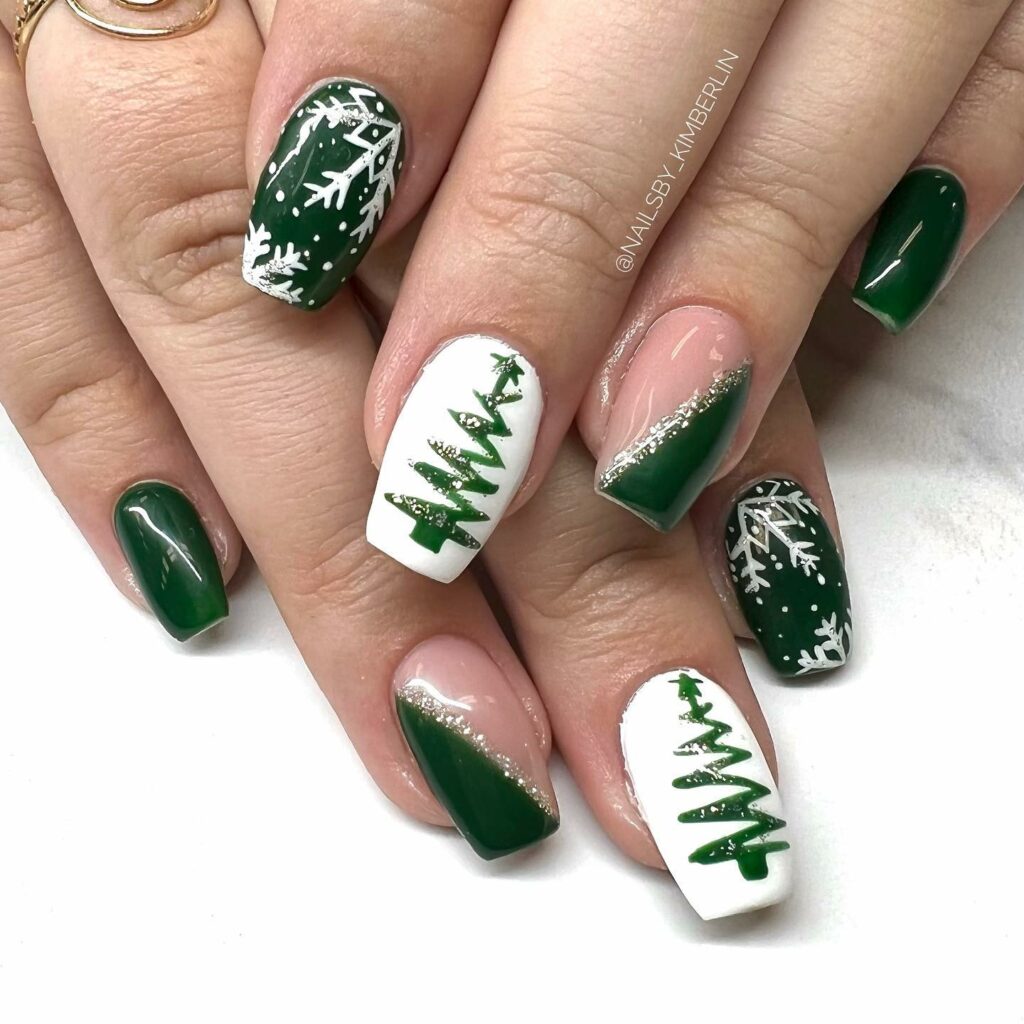 Make your nails the star of the holiday season – this pretty nail art works even on short nails as illustrated above.
20. French Tips & Sweater Nails
A beautiful mix of the best things from holidays – festive foliage, French tips and sweater nail art.
21. Green Trees
Want something a little more unusual? This nature-inspired manicure ticks the color box while offering you a more neutral look that lasts beyond the holiday season.
22. Geometric Dark Green Christmas Nails
High contrast nails with plenty of geometric details.
23. Dark Green Coffin Christmas Nails
Coffin nails look their best with almost any nail design style, so why not combine them all?
24. Dark Green Christmas Nails with Glitter
Simple and elegant festive manicure in the most gorgeous shade of matte green combined with glitter green nail polish.