Add some sparkle to your outfit this holiday season and get inspired by the prettiest green and gold Christmas nails!
Our expert team has prepared the ultimate collection of the most festive options for green and gold Christmas nails, to give you plenty of inspiration for your holiday manicure. Whether you have short or long nails, coffin or almond nails, you will find plenty of ideas that will look fabulous on any nail shape.
Green and gold are the staple colors of the holiday season, and it would be a shame not to take the chance and update your manicure in the same style. There are so many shades of green nail polish to choose from, and so many combinations of styles and nail art, that it can feel overwhelming to pick the right one for you.
Our team put together this curated selection of pretties and timeless styles which are super easy to replicate with your nail artist on your next appointment. The selection features a variety of the most popular nail art elements such as gold flakes, gold glitter, geometric art shapes, Christmas nail art and plenty more.
Browse the selection below and save your favorites on your Pinterest board!
25+ Best Ideas for Green and Gold Christmas Nails
Color your holidays in green and gold! Here are some of the best examples of green and gold Christmas nails – if you need even more ideas, check our dedicated Pinterest board where we have saved up dozens more.
While there, don't forget to follow us on Pinterest to stay on top of all nail design trends and the latest ideas.
1. Simple Christmas Stripes with Pink and Green
This is a super cute manicure that will take you way beyond the holiday season and can be worn also for New Year parties. Pink is an unusual addition to this color scheme, but it works like magic!
2. Christmas Gemstone Nails
This manicure was inspired by emerald gemstone and reflects the shiny and beauty of the stone. Light pink nail polish is used as the base color and is elevated with plenty of gold and emerald green with a marble effect.
3. Mismatched Green & Gold Christmas Nails
A simple approach to festive manicures is to choose a unique design for each nail. It can be as simple as the example below.
4. Green and Rose Gold Nails
If you want to steer away from the yellow of the standard gold tones, you can update your nails with rose gold nail polish instead.
5. Glitter with Green
All you need to take everyday nails to festive is just a hint of glitter nail polish.
6. Christmas Emerald Nail Art
These nails are truly a work of art! So many styles and nail design elements, but the final look is pretty amazing.
7. Green and Gold Tips
Update your favorite French tip nails with a Christmas twist using dark green and gold nail polish.
8. Neutral Green Christmas Nails
Add a bit of variety to the color palette by using a few shades of green.
9. Festive Swirls
A pretty neutral Christmas manicure with a more feminine nail design.
10. Green Nails with Gold Leaf
Pretty dark green nails are brought to life thanks to the gold leaves and pretty botanical nail art.
11. Christmas Star
Capture the essence of the Christmas star on your nails.
12. The Golden Hour
Make a statement with a pretty feature nail decorated with gorgeous gemstones or nail art.
13. Green Stripes
Simple and effective – this manicure can be simply done and home and will look super festive.
14. Minimalist Green Christmas Nails
Keeping this simple? Opt for nail polish in three distinct tones to capture the essence of the festive period on your nails.
15. Gold Confetti
From holiday parties to New Yea parties, these nails will fit for both occasions.
16. Christmas Patterns
Another variety of the festive swirls with simple gold and green nail art.
17. Emerald Green
Dark green looks fantastic even on shorter nails.
18. The Rudolf Christmas Nails
Feature your favorite Christmas symbol on your festive manicure.
19. Green Nails with Pinecones
A tribute to Mother Nature.
20. Christmas Tree
Can you fit a whole Christmas tree on your nail? Of course, you can!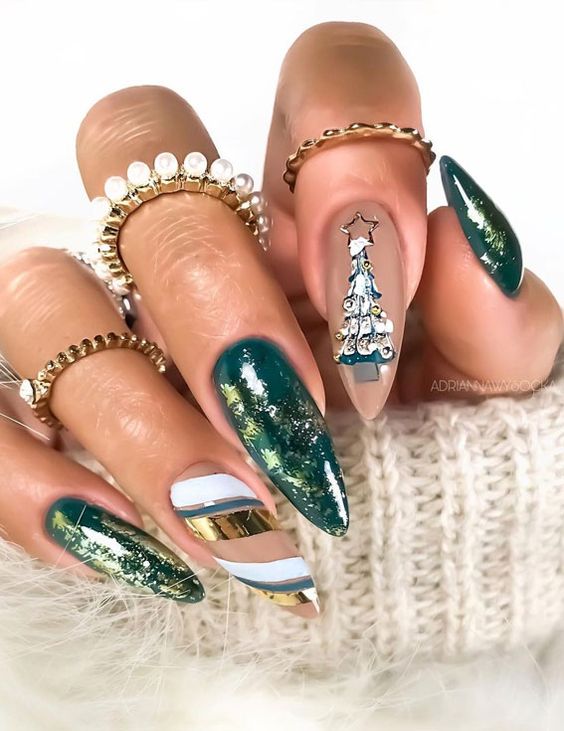 21. Snow and Glitter Nails
White snowflakes look super pretty on this dark green base color, and are beautifully complemented by the glitter of the gold nail polish.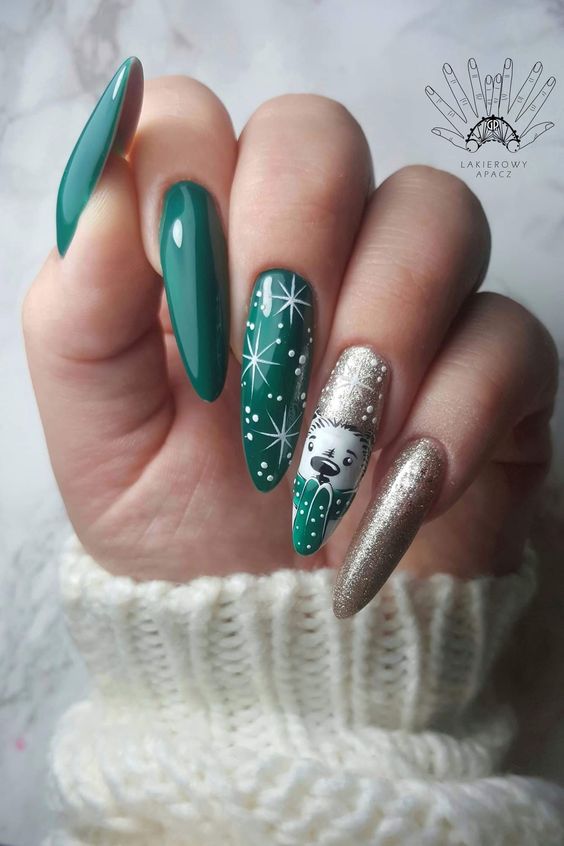 22. Christmas Baubles
Another manicure featuring one of the most popular festive motives – Christmas baubles.
23. Christmas Coffin Nails
These super long coffin nails look extra festive with simple festive nail art and a simple color scheme of gold and green.
24. Christmas Classic
A pretty and simple manicure featuring some of the traditional classic nail art options for Christmas.
25. Sparkly Emerald Green
Pretty green and gold nails with matching jewelry – a beautiful look for the festive season.