Are you looking for the perfect green manicure? In that case, you're at the right place!
Our team has curated a collection of over 25 prettiest khaki green nails we've been loving this season, to give you lots of ideas and inspiration for your next manicure project.
So what color can be described as khaki green? Khaki green can be identified as a mid-tone color which is a mix of camo yellow, grey with an olive-green undertone.
Why khaki green nails?
This color shade is perfect for just about any season, but is super popular especially in the fall and winter months, as it pairs perfectly with darker outfit choices and has a natural feel to it.
It's a color that's neutral enough to wear with almost any outfit, but pairs especially well with earthy brown tones and even black outfits.
If you're thinking of trying this shade of nail polish as your next project, here are some simple ways you can elevate green nails, followed by a list of the coolest designs we found online.
How to Elevate Khaki Green Nails
If you want to venture beyond just a single shade of green, and would like to try adding some interest and variation to your nail design, there are a few popular options you can use:
Stripes – simple stripe on a single nail in contrasting color will add the much-needed variety to your manicure and elevate it instantly
Botanical Nail Art – khaki color really comes to life with natural botanical motives
Ombre Nails – this nail trend is popular in every shade and in khaki green it looks super natural
Comics Nails – jump on the latest nail design trend with comics nails
French Tips – don't like full nail polish color? Update your French tips using khaki green color.
25+ Best Khaki Green Nails Ideas
Here are some of the most beautiful khaki green nail ideas we found on Instagram.
To check even more pretty nail design you can follow the nail artist by clicking on the Instagram link under the image, or check our Pinterest account to stay on top of all nail design trends.
1. Simple Short Khaki Green Nails
Keep things simple and stylish with a single shade of light khaki green nail polish – it looks very elegant even on short nails as seen below.
2. Khaki Green Nails with Leopard Print
Show them your wild side by combining khaki color nails with leopart print.
3. Coffin Khaki Green Nails
Coffin nails really stand out with a single tone nail polish, in this case the matte effect of the green color makes them look super sophisticated.
4. Dark Khaki Green Coffin Nails
High gloss finish on this dark green khaki color is the perfect choice that will take you from office wear to special occasion without the need to update your manicure.
5. Khaki Green Nails with Black Nail Art
Add a bit of interest and contrast to your nails by using a custom simple nail art, as in this example. It can be as simple as a black and white stripe on a single nail to add a bit more variety to your manicure.
6. Khaki Green Nails with White Nail Art
Khaki color pairs really well with salmon pink, and if you want to elevate it even further you can use this white marble effect outlined with gold nail polish.
7. Khaki Green Nails with Botanical Nail Art
Bring the nature in with a simple but super pretty nail art on light pink base color.
8. Khaki Green French Tips
Classic French tips are elevated with the use of dark khaki nail polish and complemented beautifully by light pink base color.
9. Khaki Green and Salmon Pink Nails
Another version of khaki green coffin nails with a high contrast pink and white marble manicure.
10. Khaki Green Nails with Animal Print
Love leopard print? Complement them with the natural color choice like khaki to achieve the safari look.
11. Khaki Green Nails with Gold Flakes
Need a bit of bling? Adding gold flakes or gold glitter to khaki nails is an easy way to transform them from everyday wear to party look.
12. Khaki Green Snake Print Nails
Beautiful wildlife inspired look with structured snake like print and highlights of gold on dark khaki green base.
13. Short Khaki Green Nails
Shor nails have never looked better! All you need is just the right shade of khaki green color.
14. Mismatched Khaki Green Nails
If you love the look of mismatched manicure, the nail style below is the perfect inspiration you need for your next trip to the nail salon.
15. Khaki Green Nails with Rhinestones
For that much needed bling, no matter if occasions requires it or not.
16. Khaki Green Nails with Gold Strips
Fancy doing a bit of manicure at home? If you want to perfect your nail art skills, staring with something as simple as a gold stripe is a great choice.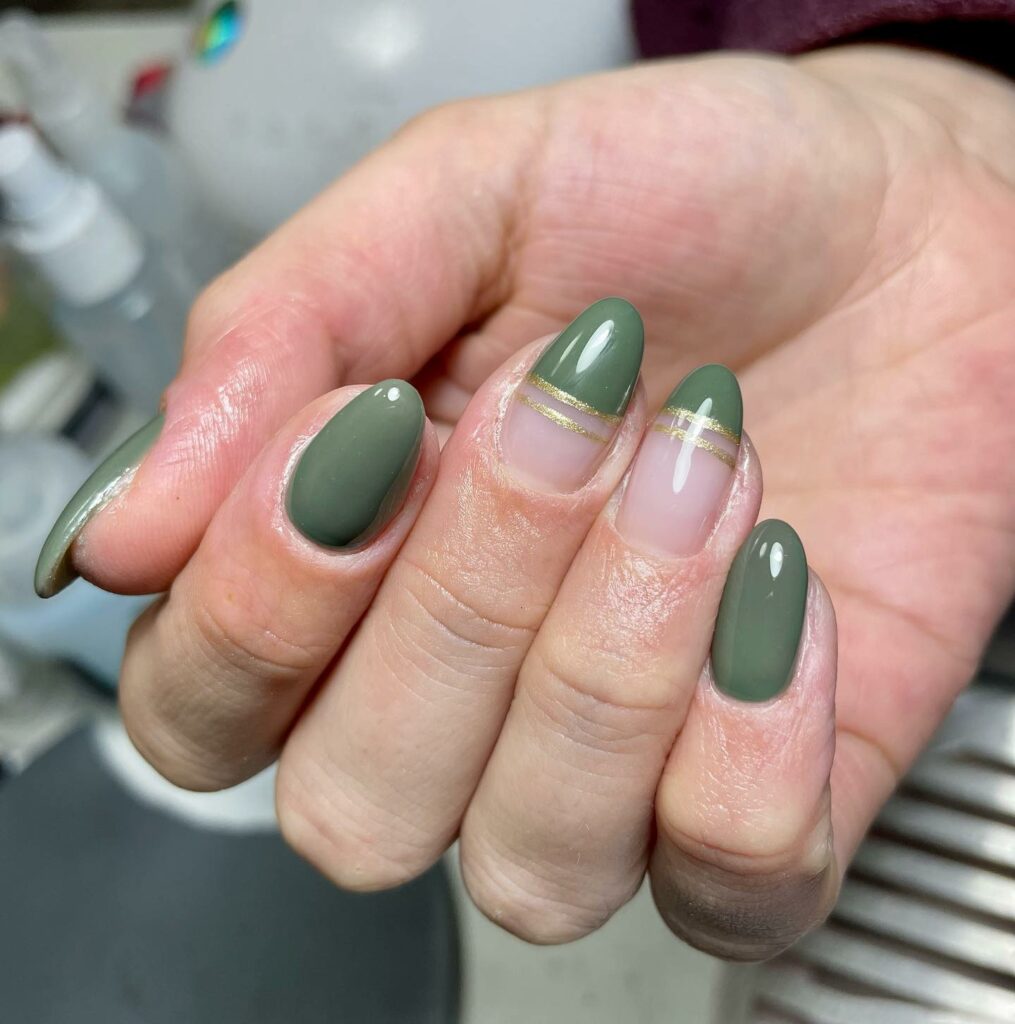 17. Coffin Mismatched Khaki Green Nails
Pretty super long coffin nails using a variety of nail design techniques and a few shades of green.
18. Almond Shaped Ombre Khaki Green Nails
Double nail polish color selection in light shades of khaki green, elevated with just a hint of gold flakes.
19. Marble Khaki Green Nails
Make a statement with marble light khaki green nails beautiful complemented by a touch of gold and white nail polish.
20. Mountain Peak Khaki Green Nails
Pretty and simple – mountain peak shape nails with a gorgeous green nail polish.
21. Light Shade Khaki Green Nails
Pour your heart out on your nails! Cute manicure with small hearts and khaki colored French tips.
22. Botanical Ombre Khaki Green Nails
Botanicals with a bit of bling, on gradient khaki green nails.
23. Comics Ombre Khaki Green Nails
Comics nails are currently everywhere, and they also come in this gorgeous ombre khaki color scheme.
24. Snake Print Khaki Green Nails
Whether you are matching your nails to your handbag or outfit, this snake effect will certainly turn heads!
25. Comics Print Khaki Green Nails
Another version of the comics nails, this time on almond shaped nails with gradient effect.
26. French Tips on Khaki Green Nails
Simple French tips on almond shaped nails.