As we're heading to the summer, we have one manicure look that is bound to turn heads – pink cow print nails!
Listen up before you dismiss this hottest summer trend – the traditional brown cow spots got their summer update, and it's even more fabulous than you can imagine!
No matter how long or short your nails may be, there are so many ways to execute this gorgeous look, in a variety of different shades. You can go as minimalist as you like, make a bold statement with neon pink nail polish, or create something truly unique with a mismatched gradient look for your nails.
No matter what your preferences may be, in this article, you will find lots of ideas that will convince you that this manicure should be on your wishlist for your next nail salon appointment. In case you prefer doing your own manicure at home, we have included a couple of easy-to-follow tutorials so you can execute this trend in the comfort of your own home.
Shall we get started?
Below are some of the most trending looks to give you an overview of what type of approach you can take, followed by the two video tutorials and finally our curated collection of 30 pretty nail designs. Enjoy!
Trending Styles for Pink Cow Print Nails
Cow print French tips – if you don't want to commit to full coverage for your nails, this is a more subtle approach to this manicure
Alternating cow print nails – similar to the above, if you don't want to go full one with one very striking anil design, alternating the look with full coverage nail polish in a similar shade of pink, or more natural tones is a great way to achieve the look without making it very overpowering and distracting
Abstract cow print nails – if you prefer a more artistic approach to this look, you can go for an abstract look for the cow print that will make it look like a futuristic painting
Acrylic cow print nails – you can get a lot of ready-made acrylic nails in a range of different designs, saving you the hassle of going to the nail salon to recreate this look.
Gradient cow print nails – featuring five different shades of pink are used for the cow spots
Neon pink and bright pink nail polish – to make a statement with your nails, reach for the brightest shades of pink!
Pink base color – the cow spots usually stand out the best with a neutral base, but if you want to make the look pop even more, you can add a lighter shade of pink as your base color and add the cow spots in darker shades of pink.
Video Tutorial: Pink Cow Print Nails (French Tips)
Here is a simple video tutorial for longer nails, where the pink cow print is only used for French tips.
Video Tutorial: Summer Pink Cow Print Nails
If you would like a brighter color and full coverage for your nails, this tutorial will show you how to do it.
30 Cute Pink Cow Print Nails
Are you ready to pick your favorite styles? Here are 30 of the most gorgeous designs we found on Instagram!
If you need even more ideas and inspiration, check out this dedicated Pinterest board where we have saved up dozens of ideas on how to execute this cute manicure.
1. Pink Cow Print on Long Almond Nails
2. French Tip Pink Cow Print on Coffin Nails
3. Mixed Black and Pink Cow Print French Tips
4. Minimalist Pink Cow Print French Tips
5. Bright Pink Cow Print Nails
6. Brown and Pink Cow Print Nails
7. White and Hot Pink Cow Print Nails
8. Black and Hot Pink Cow Print Nails
9. Pastel Shade Coffin Pink Cow Print Nails
10. Simple White and Pink Cow Print Nails
11. Long Coffin White and Pink Cow Print Tips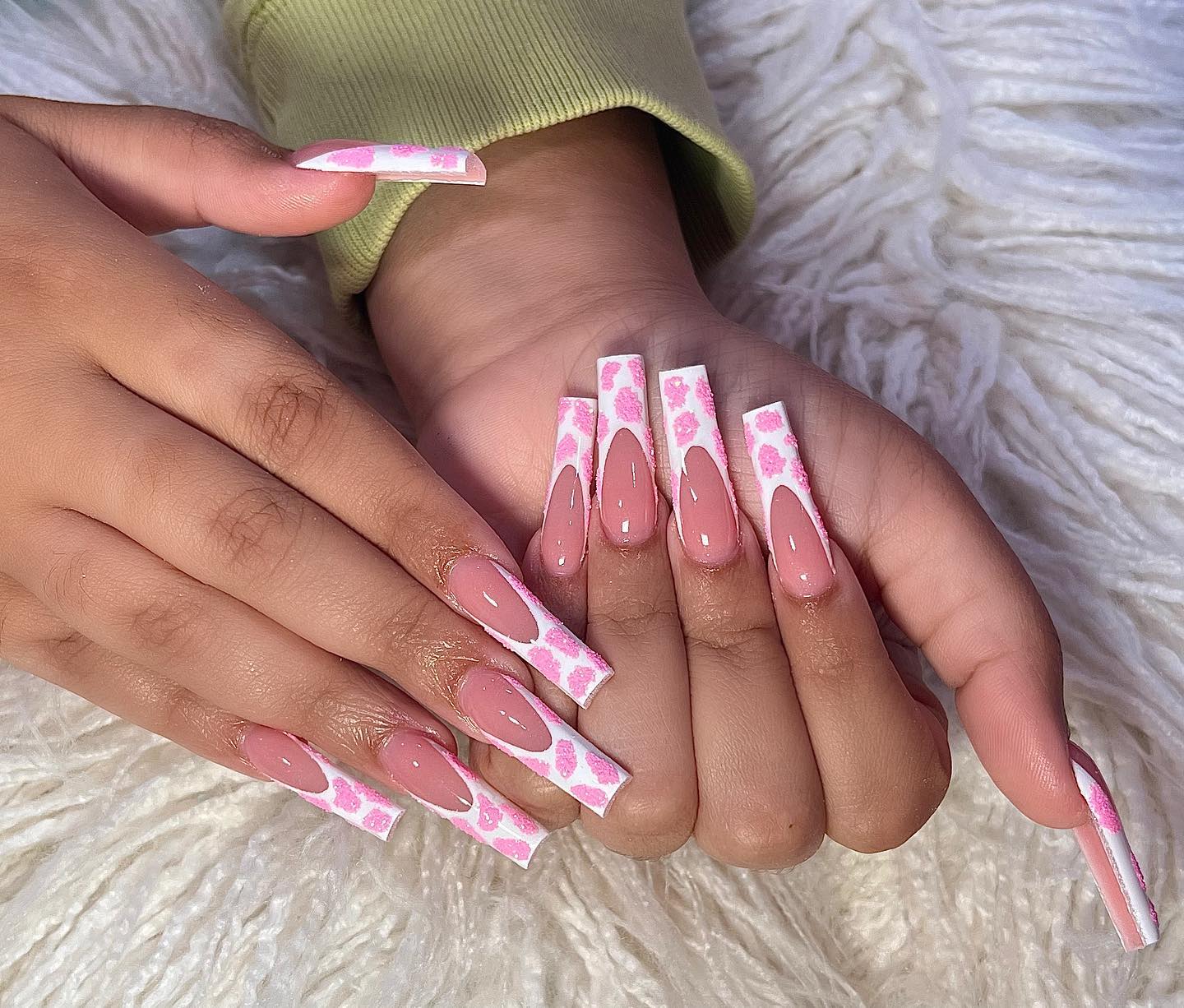 12. Structured Pink Cow Print Manicure
13. Hot Pink and White Cow Print Manicure
14. Bright Pink and White Cow Print Manicure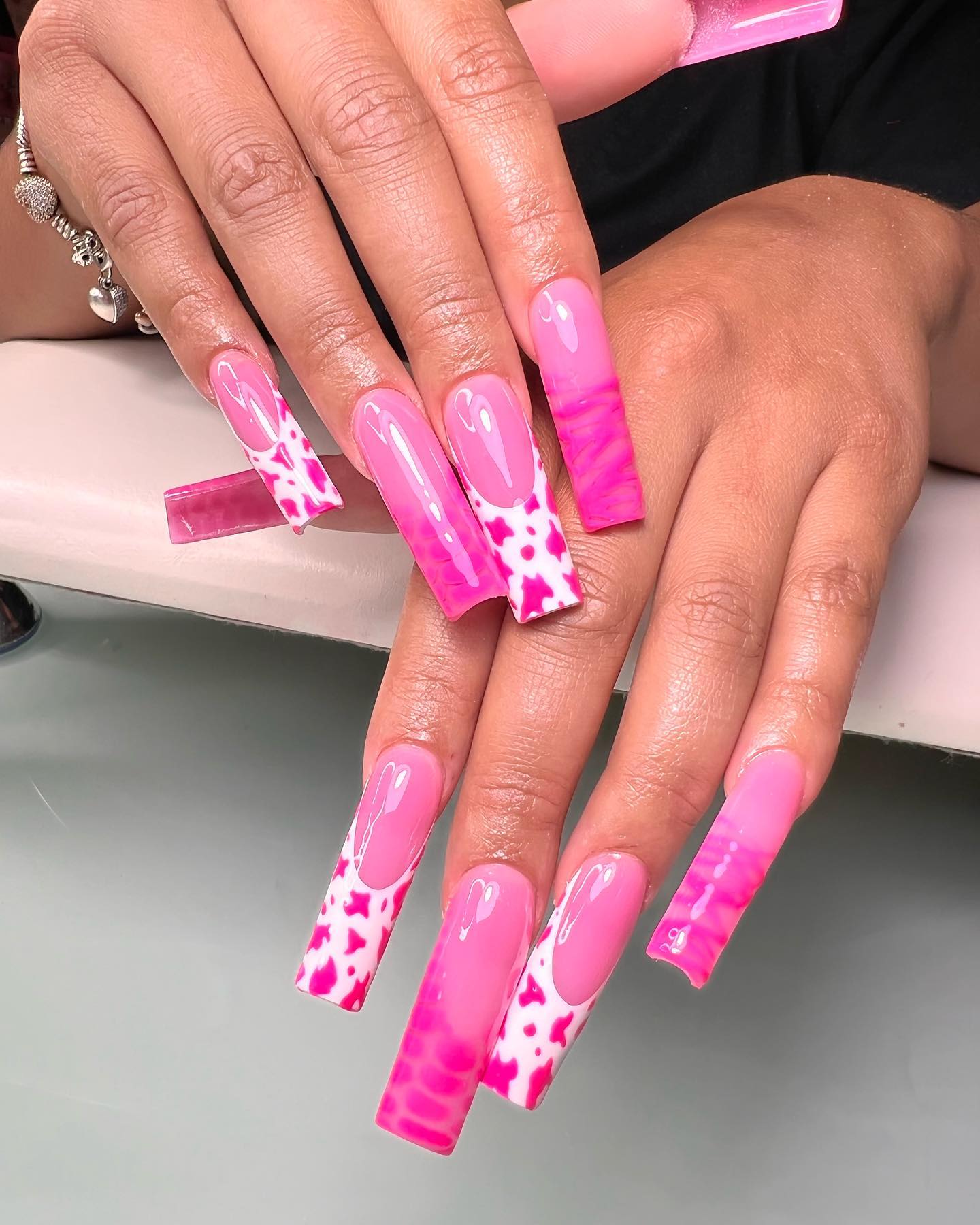 15. Pink and White Cow Print on Short Nails
16. Barbie Pink Cow Print Nails
17. Hot Pink and Black Short Cow Print Nails
18. Coffin Nails with Neon Pink Cow Print
19. Black Cow Print with Pink Outlines
20. Bold Black and Pink Cow Print Nail Art
21. Hot Pink Base Nails
22. Gradient Pink Cow Print Nails
23. Sharp French Tips with Black and Pink
24. Muted Pink Mixed Manicure
25. Pink Cow Print with Glitter
26. Three Shades of Pink Cow Print
27. Long French Tips with Pink Cow Print
28. Black Cow Print with Neon Pink Nails
29. Mixed Cow Print Manicure
30. Mini Pink Cow Print Manicure