Are you dreaming about an original manicure with red nail polish? In that case, look no further than red glitter French tip nails!
This new modern take on the classic French manicure is becoming super popular on social media, especially coming up to the holiday season. Nail artists are coming up with new and more elegant designs that allow you to really showcase this beautiful color on any nail shape and nail size. This manicure also allows you to incorporate a lot of seasonal nail art elements, like Santa's hat for Christmas, snowflakes for winter manicure and hearts for Valentine's Day.
In this article, we have compiled a curated selection of over twenty of the best styles for red glitter French tip nails, to give you plenty of inspiration for your next manicure project, no matter what length shape or size you might have.
Whether you're collecting some ideas for your next nail salon appointment, or just want to update your manicure at home, you will find lots of beautiful nail design options at different levels of execution difficulty.
We have also included a tutorial on how you can do this nail design at home – don't forget to check the end of the article for more suggestions on trending nail polish colors and nail designs.
Why We Love Red Glitter French Tip Nails
timeless color that looks amazing all year round
perfect especially with tanned hands or darker skin tones
easy option for holiday nails you can do at home
looks great on any nail length, so you can go bold even with short natural nails
looks super elegant on long coffin nails
the glitter nail polish makes this the perfect manicure for a party or special occasion
romantic look that's perfect for a date manicure
Video Tutorial: Make Your Glitter Red Tips at Home
If you want to give it a try, here is an example of how to execute this trend at home!
20+ Best Ideas for Glitter Red French Tip Nails
Below is our selection of the prettiest design ideas for red glitter French tip nails – if you want to try a new twist on this manicure classic, we are sure you will find lots of designs you will love in this collection.
If you would like to see more work from the featured nail artists, we have included a link to the Instagram bio for each of them under the image.
Don't forget that we have hundreds of beautiful nail design ideas saved up on our Pinterest account, so follow us there to stay on trend when it comes to pretty manicures for any season!
1. Coffin Nails with Heart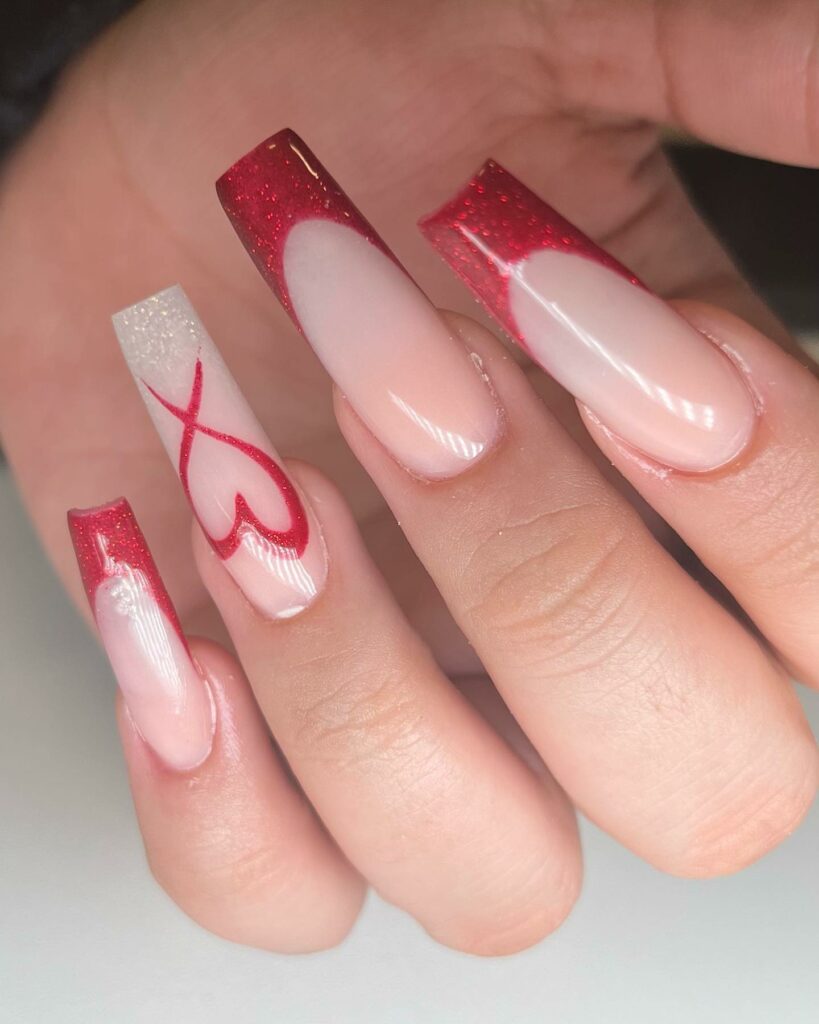 2. Red Glitter Tips on Short Nails
3. Red French Tips on Short Acrylic Nails
4. Dark Glitter Red French Tips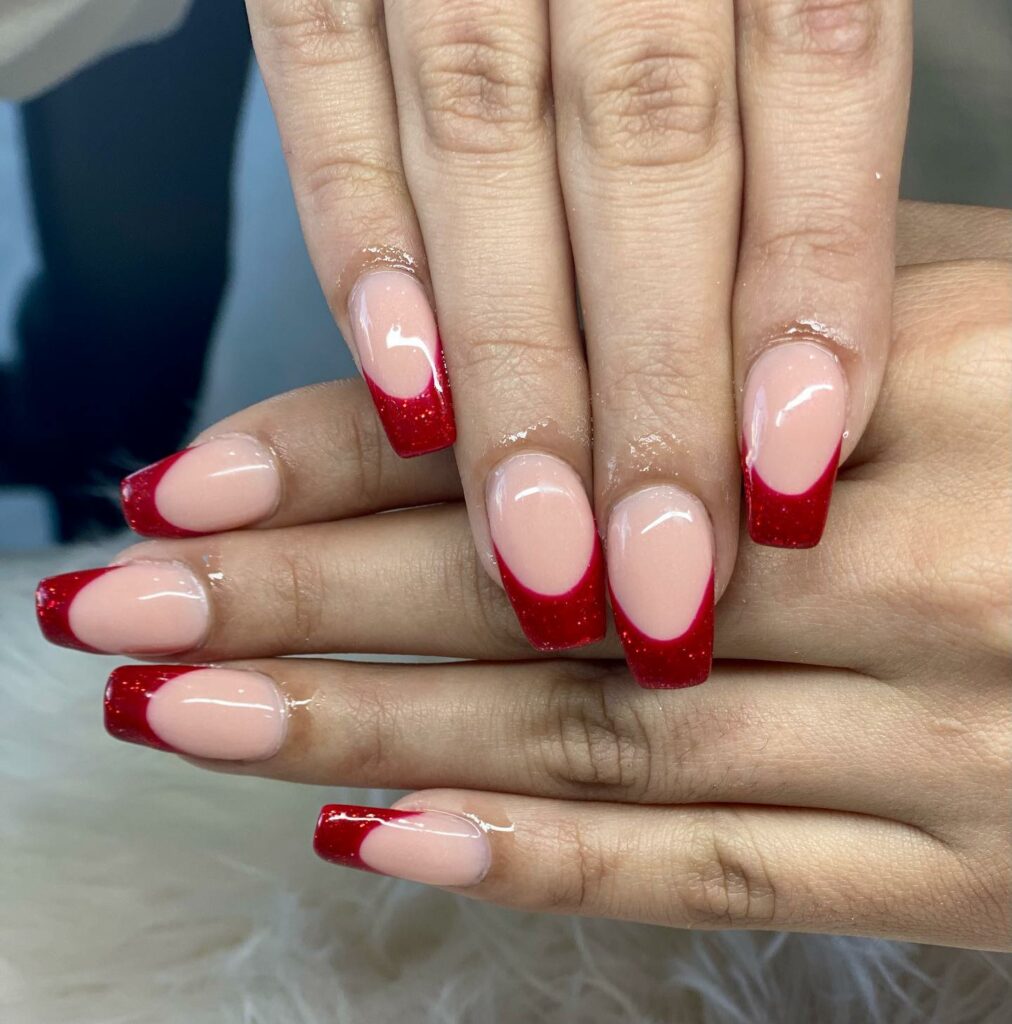 5. Bold Red Glitter French Tips
6. Winter Manicure with Red Glitter Nails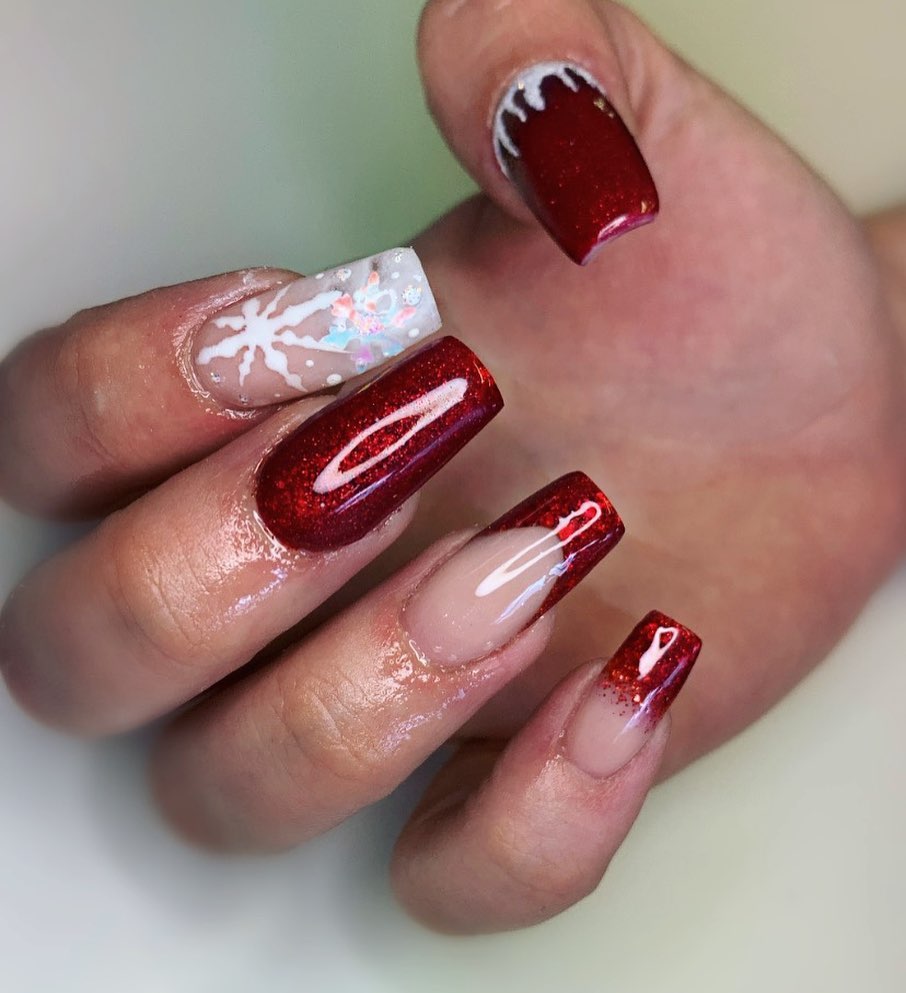 7. Red French Tips on Almond Nails
8. Super Long Coffin Nails with Red Glitter and Gemstones
9. Arrow Shaped Glitter Red French Tips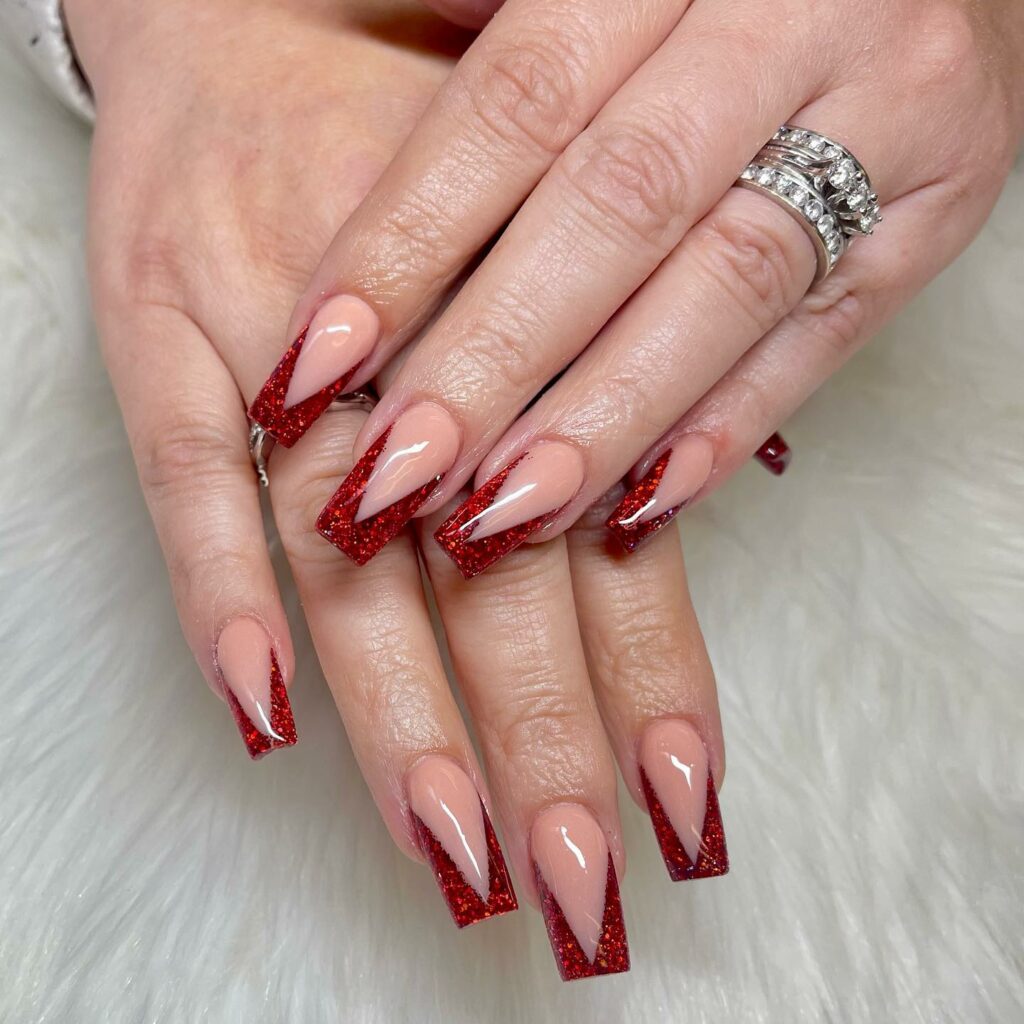 10. Holiday Inspired Mixed Red Glitter Tips
11. Natural Shape Red Glitter French Tips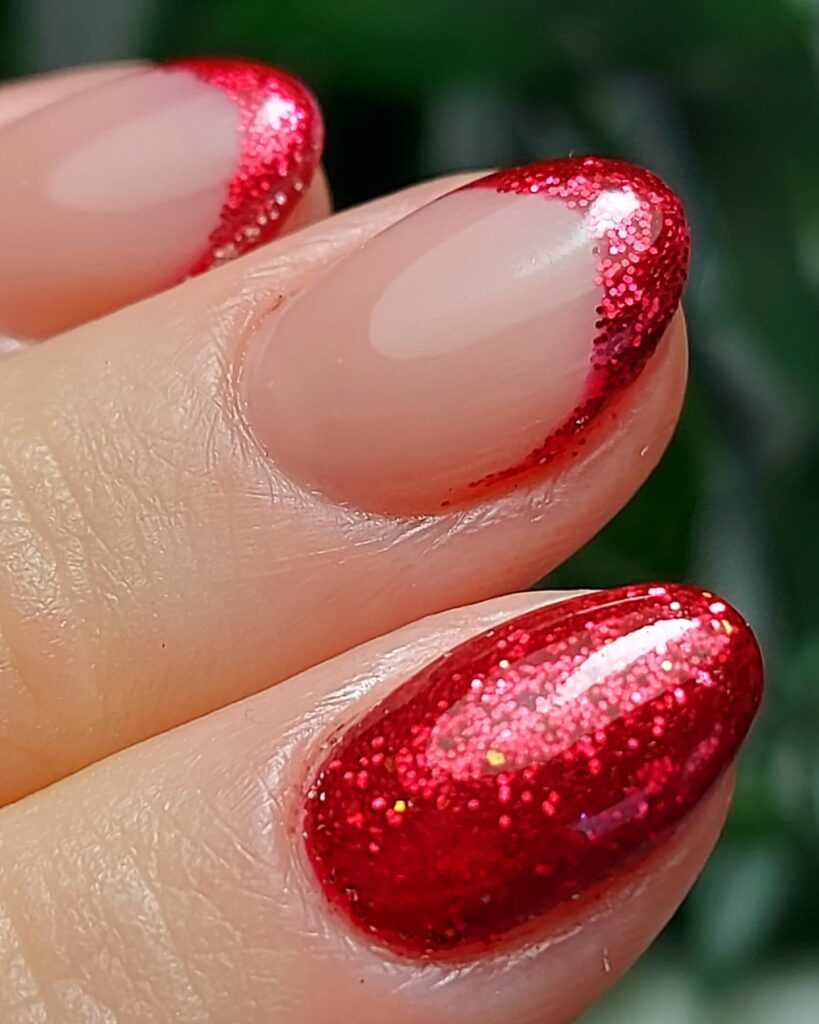 12. Dark Red Glitter French Tips on Acrylic Nails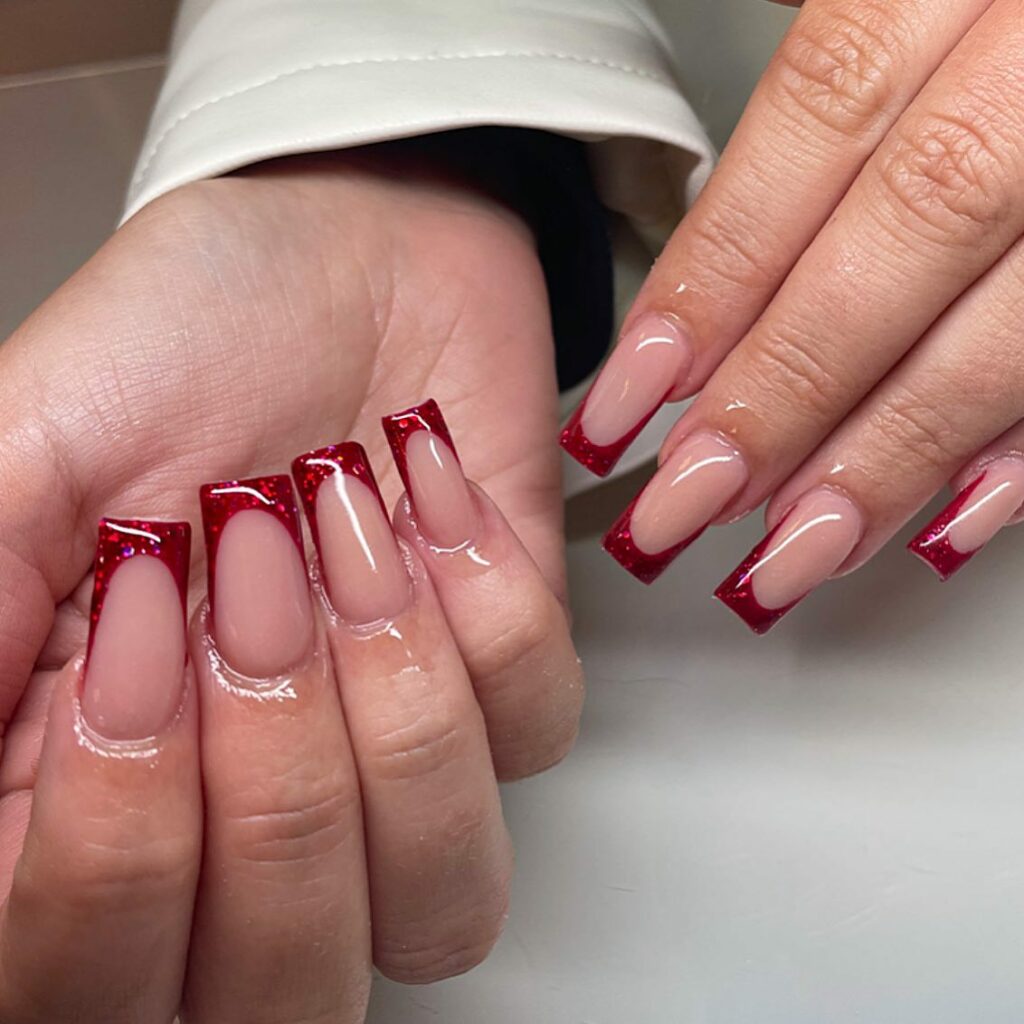 13. Devil's Tale Nails
14. Valentine's Day Inspired Nails
16. Holiday Nails in Green and Red Glitter
17. Santa's Hat Holiday Nails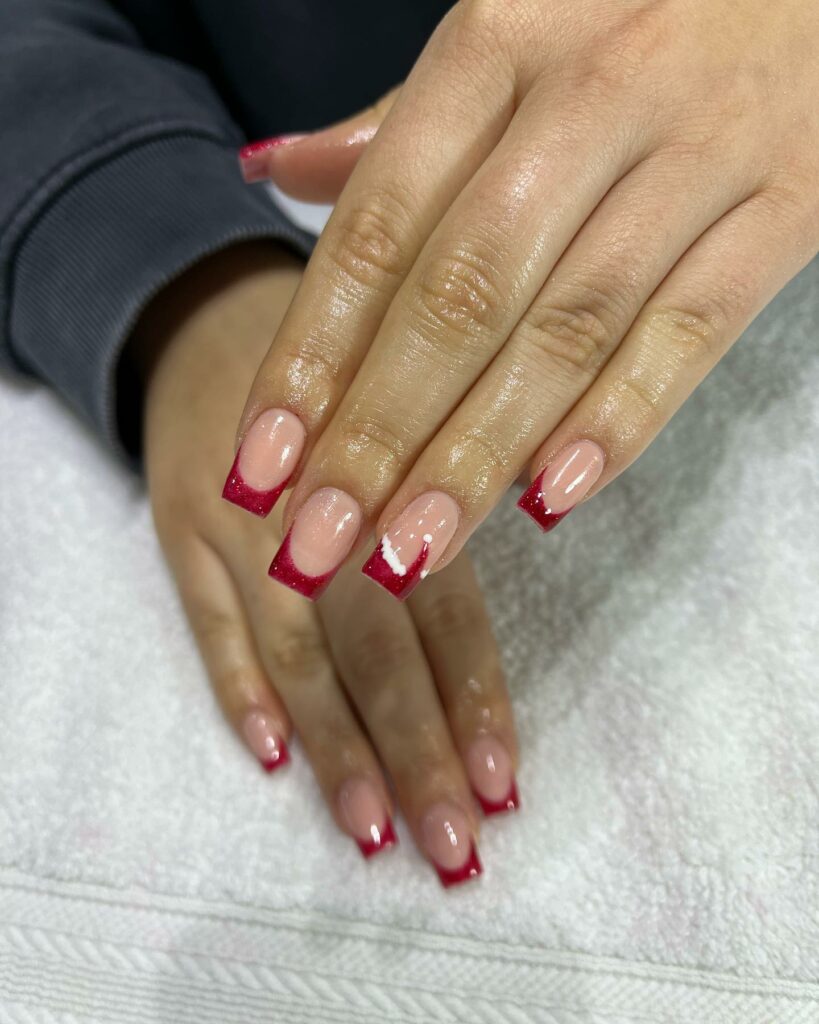 18. Red Tips with Gold Outline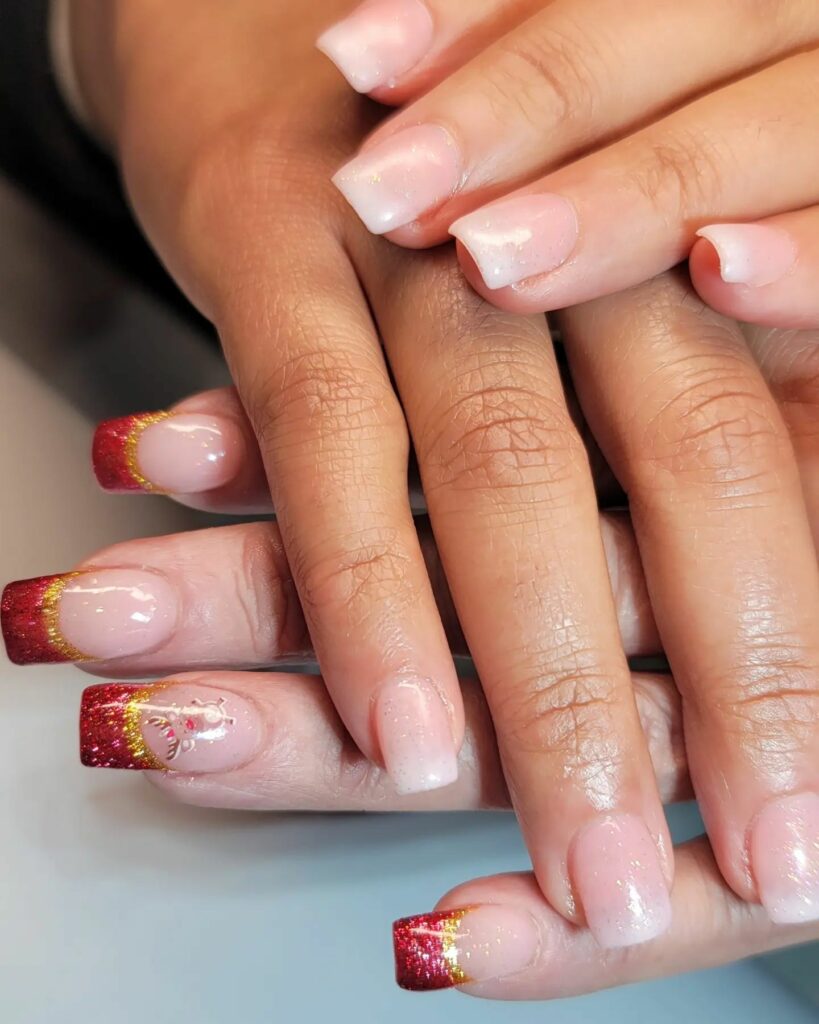 19. Framed Glitter Tips with Snowflakes
20. Elegant Long Acrylic Nails with Red Tips
21. Devil's Tale Double Outline French Tips
22. Short Holiday French Tips