With the festive season fast approaching, it's time to look at some of the prettiest pink and white Christmas nails!
Our team has prepared the ultimate roundup of the best nail artists on Instagram, to give you plenty of inspiration for your holiday manicure.
Why pink and white?
If you want to stand out from the crowd and avoid the cliche of green and red manicure for the holidays, white and pink is one of the best color palettes to choose. This feminine color combination allows you to experiment with classic festive motives like snowflakes, snowmen and other, while adding plenty of contrast with pink nail polish.
Some of the prettiest most intricate nail design examples we found were in these shades. Pink and white is the perfect base to accessories even further with rhinestones and glitter, making the transfer to party nails super easy.
Are you ready to get inspired?
Below is a simple video tutorial followed by over 33 prettiest styles for pink and white Christmas nails – enjoy!
Video Tutorial: Pink Christmas Acrylic Nails with Sweater Effect
Here is a video tutorial for mismatched Christmas nails – skip to around 12-minute mark to see the design. Prepared by Glammed Beauty via youtube.
30+ Prettiest Pink Christmas Nails Ideas
Here is our collection of over 30 of the prettiest Christmas nail ideas! If you need even more inspiration, you can check our Pinterest board where we saved up dozens more ideas for this festive look – go check them out.
Don't forget to follow us on Pinterest to get updates on the latest nail design trends and the latest styles.
1. Snowflakes & Glitter
This pretty look on extra-long coffin nails transforms your nail into super elegant pieces of art. The snowy effect is achieved by using a lot of glitter and a variety of nail design techniques, including the popular sweater nail design.
2. Short Pink and White Christmas Nails
If you don't like the bright shades of pink, you can opt for this muted tone that almost transfers into light purple. Elevated with the popular sweater nail art and plenty of glitter, this nails are certainly holiday season ready.
3. Almond Shaped Pink and White Christmas Nails
Simple pink manicure on almond shaped nails that showcases the most loved of all symbols of winter – simple white snowflakes elevated with a bit of glitter nail polish.
4. Jewels All Around
Go bold and bold with statement rhinestones on this pretty designer-inspired manicure for Christmas.
5. Snowflakes and Gingerbread Man
As cute as it gets, this pretty pink nails have one star of the show – hand painted gingerbread man nail art.
6. Pink with Rhinestones
Make your festive nails extra sparkly with the addition of big rhinestones that make your hands look like precious gems.
7. Pink Reindeer Nails
Even Rudolf makes an appearance in our roundup of festive nails! Cute little symbol of Christmas that transforms your nails from pretty to super cute in an instant.
8. Mismatched Pink and White Christmas Nails
A range of different nail design techniques are applied in the pretty color palette of pink and white, with a touch of glitter. How pretty are these nails?
9. Stars and Jewels Nails
Adding that extra bling for the holidays is super easy – just get inspired by this manicure for long coffin nails.
10. Multi Color Rhinestones
If you're not afraid to experiment with color, adding multi colored rhinestones to your pink and white Christmas nails adds that little edge that you need to stand out from the crowd.
11. Simple White Snowflakes
One of the easier holiday manicure options that's easy to replicate at home – just master the art of drawing simple snowflakes.
12. Statement Sweater Nail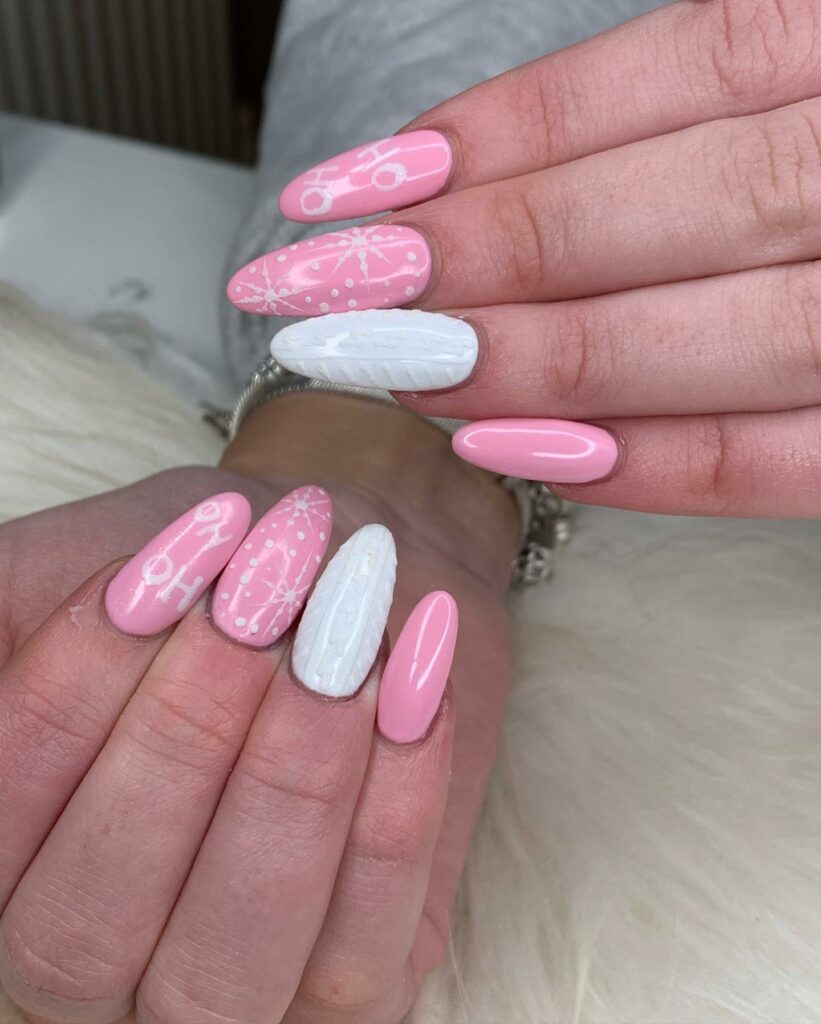 Adding some contrast to your nails? The easiest way to achieve that is adding a statement or feature nail in a contrasting color, even better if you can do it with a pretty nail art just like in this case.
13. Snowflakes and Pearls
Need a more stylish alternative to rhinestones? Think white pearls! They pair perfectly with white snowflakes and long coffin nails.
14. French Tips in Pink and White
A modern take on the classic French tips with the addition of snowflakes and a range of design styles.
15. Reindeer with Swirls
Add a punch of color to your color palette – elevate the pink. and white manicure with a bit of gold glitter nail polish and pretty reindeer nail art.
16. Christmas Elf
Even the tiny Christmas elf makes an appearance on the holiday manicure! Match your pink and white nails perfectly with this nail art by choosing a grey color palette.
17. Polar Bear Pink and White Christmas Nails
A cheeky polar bear is peaking around from the corner of your nails, and has pretty glittering stars and geometric shapes as company.
18. Pink Elf
Cuteness overload, this pink elf is much easier to create than you would think!
19. Super Long Coffin Nails in Pink and White
Keep things simple, especially if you have super long coffin nails. Simple snowflake nail art on single tone pink nail polish is as sophisticated as it gets.
20. Bright Pink Christmas Nails
Make a statement by choosing a bright pink shade of nail polish paired with white and beige.
21. Christmas Almond Nails with Glitter
One of the cutest manicure options featuring a different nail art on each nail, with even the reindeer making an appearance.
22. Snowflakes and Hearts
Nails fit for a Snow Queen with bright pink glitter nail polish, snowflake nail art, and even nails that look like a wrapped gift.
23. Golden Glitter Snowflakes
Short nails are completely transformed into a super festive manicure thanks to plenty of golden glitter and a few snowflakes. A simple yet effective way to dress your short nails for the holidays.
24. Frost Kissed Mountain Peak Nails
There is nothing more elegant than perfectly shaped mountain peak nails – even better if they come with this super stylish Christmas look!
25. Snowflake Nail Stickers
Not skilled with nail art? Just get some pretty simple snowflakes to create your own winter wonderland on your nails.
26. Hot Pink and White Christmas Nails
A look that gives your nails plenty of contrast thanks to hot pink color, and will certainly send plenty of compliments your way.
27. Gold and Diamonds
There are so many things we love about this look – the nail art, the perfectly executed gold accents and most importantly – how gorgeous are these rhinestones?
28. Pastel Pink Ombre with Snowflakes
Two shades of pink will elevate this simple manicure even further.
29. Festive Pink and White Nails
A simple look that you can easily recreate at home without the need to visit your local nail salon.
30. Short Christmas Almond Shaped Nails
Three different shades of pink perfectly paired with white and glitter nail polish.
31. Pink Sparkles
Why not feature some Christams tree baubles on your nails?
32. Pink and Rusty Gold
Beautifully shaped acrylic nails with the prettiest Christmas nail art we've seen around.
33. Pink Christmas Ombre
Need some variety for your festive nails? Look no further than ombre nails! They look especially pretty with this white and light pink gradient, with added festive elements.
34. Pearl Christmas Tree
If you need a truly unique manicure, look no further than a Christmas tree built from the tiniest pearls and rhinestones. A work of art!
35. Pink and White Christmas Nails with Swirls
Add a festive touch to your pink and white Christmas nails by using some glitter nail polish. It instantly elevates even the most simple manicure and makes it look holiday-ready.
36. Pink and White Coffin Christmas Nails
Combine simple swirls and geometric shapes with snowflakes to give your nails the variety and contrast they need, especially if you're creating a festive look for coffin nails.
37. Christmas Nails with French Tips
Don't want to part with your classic French tips? Keep them and add some simple festive nail art.
38. Pretty Holiday Art with Glitter
Make a unique statement by using a more interesting selection of holiday nail art.
39. White Reindeer Nails
Make your reindeer nail art stand out – a statement nail with contrasting nail polish color and cute design is all you need to make a grand impression.
40. Mismatched Pink and White Christmas Nails
The best of what the holiday season offers perfectly captured on your nails – glitter, snowflakes and gifts all make an appearance in this Christmas manicure.