Holly cow, we have selected more than fantastic and hot ideas for cow print French tip nails! Are you ready?
If you are looking for a wild and trendy nail design, bet on animal prints. Classic ones are giraffe, leopard, zebra, and tiger, but this season cow print french tip nails are getting hot and trendy! We need to have the right nail designs to match the cowboy boots, right?
These French tip nail designs are fresh, joyful, and most importantly not that hard to make even at home.
And since the classic black and white are easily combined with other colors, it is very easy to leave your own handwriting on your manicure in combination with different shades of blue, pink, and even red.
Why Cow Print French Tip Nails?
Cow print Frech tip nails are getting popular not only because of its classic black and white collaboration but also because of the fact that you can make it easily at home with simple nail tools, and black and white nail polish of course.
Cow print French tips – if you don't want to commit to full coverage for your nails, this is a more subtle approach to this manicure
Alternating cow print French tip nails – similar to the above, if you don't want to go full one with one very striking anil design, alternating the look with full coverage nail polish in a similar shade of white, black or brown, or more natural tones, is a great way to achieve the look without making it very overpowering and distracting
Adding 3D nail art – flowers are the perfect match for this manicure and can be easily added as 3D nail art, or even nail stickers or custom nail art
Abstract cow print French tip nails – if you prefer a more artistic approach to this look, you can go for an abstract and bold-colored look for the cow print that will make it look like a futuristic painting
Acrylic cow print French tip nails – you can get a lot of ready-made acrylic nails in a range of different designs, saving you the hassle of going to the nail salon to recreate this look.
Gradient cow print French tip nails – featuring different shades of colors used for the cow spots
Most Popular Styles of Cow Print French Tip Nails
From the pure black and white classic and chocolate milk to bold contrast and glitter accents, cow print French tip nails will be your all-time favorite design for any occasion and season.
Here are some of the coolest and wildest cow print French tips:
Video Tutorial: Cow Print Nails for Beginners
If you're new to doing your own manicure, this tutorial is suitable for beginners and features a couple of different designs to try.
Our Collection: 30 Best Cow Print French Tip Nails
Here is our curated selection of the 30 prettiest cow print French tip nail designs, in a variety of different styles and for different nail shapes and nail lengths.
If you need even more ideas and inspiration, check out this dedicated Pinterest board where we have saved up dozens of ideas on how to execute this cute manicure.
1. Cow Print French Tips on Coffin Nails
2. Teal Outline on Cow Print French Tips
3. Silver Glitter Outline on Cow Print French Tips
4. Brown Cow Print Nails with Flowers
5. Blue Outline Cow Print French Tips
6. Pink and Black Cow Print French Tips
7. Super Long Coffin Cow Print French Tips
8. Brown Cow Print with Gemstones
9. Statement Color Choice
10. Gemstones on Cow Print French Tips
11. French Tip Pink Cow Print on Coffin Nails
12. Neon Pink Outline Cow Print French Tips
13. Mixed Black and Pink Cow Print Nails
14. Minimalist Pink Cow Print French Tips
15. Black and Gold Cow Print French Tips
16. Zebra and Cow Print French Tips
17. White and Hot Pink Cow Print Nails
18. Long Coffin White and Pink Cow Print Tips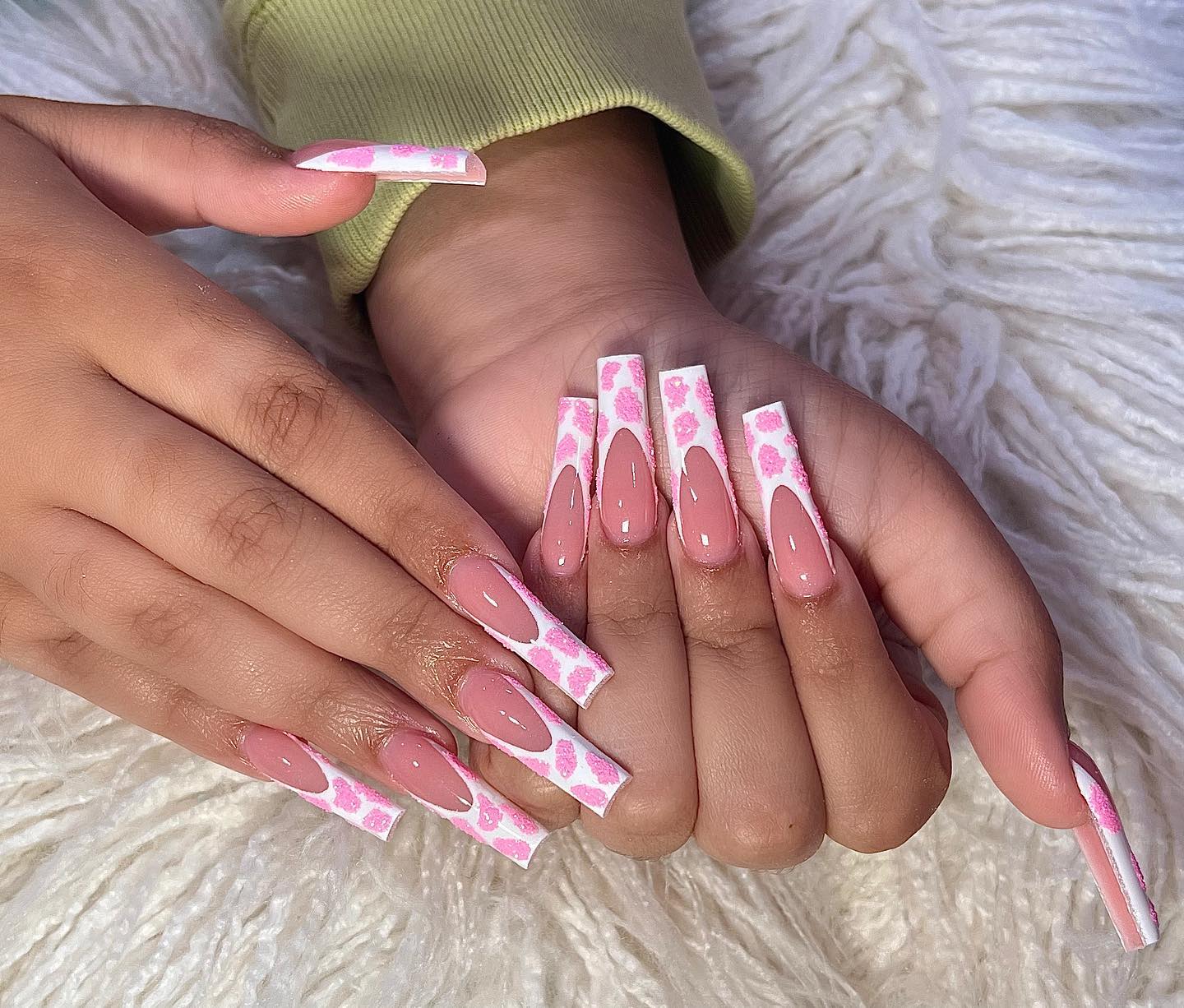 19. Mixed Design Cow Print French Tips
20. Simple Cow Print French Tips
21. Hot Pink and White Cow Print Manicure
22. Bright Pink and White Cow Print Manicure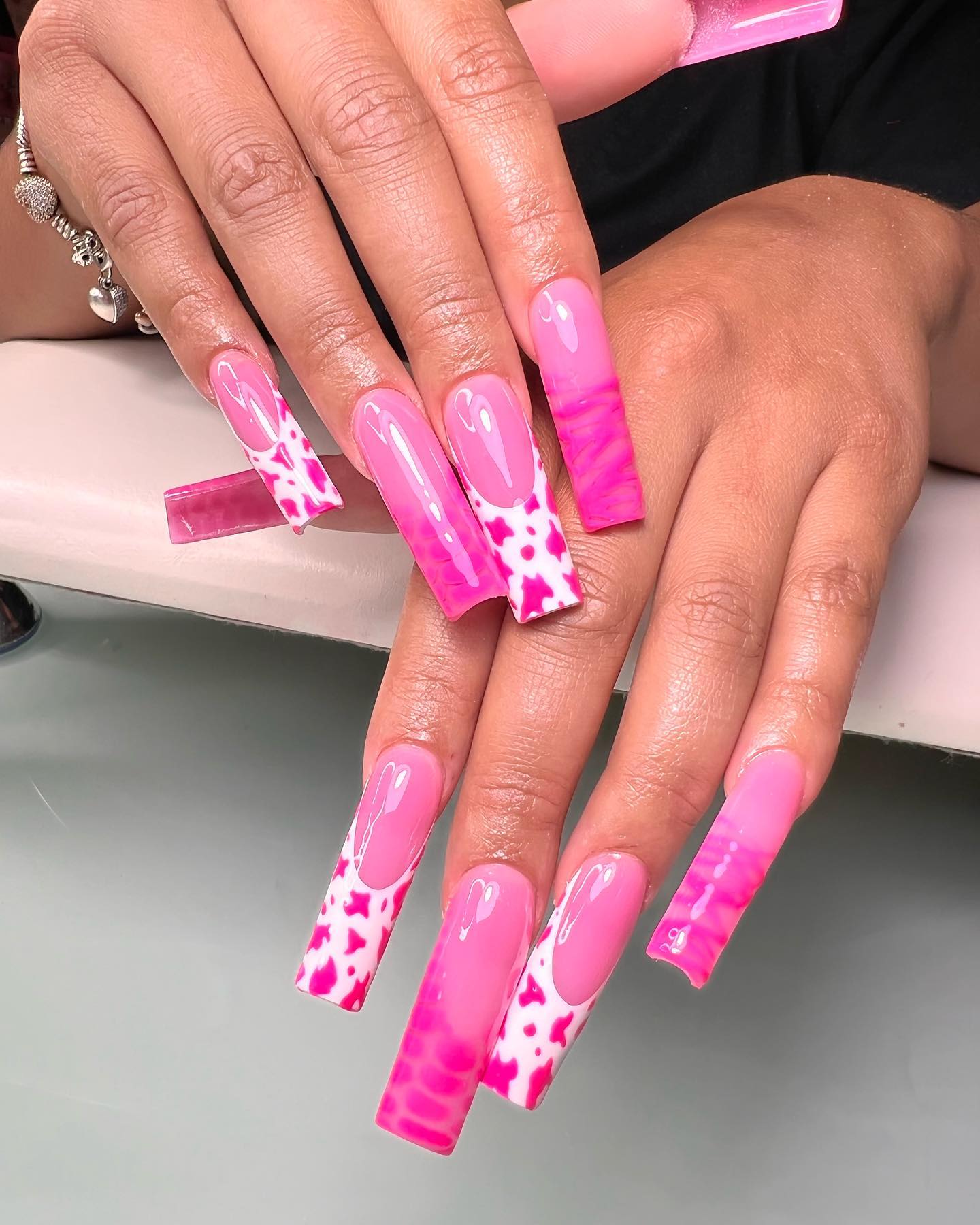 23. Pink and White Cow Print on Short Nails
24. Coffin Nails with Neon Pink Cow Print
25. Black and Blue Cow Print French Tips
26. Silver Outline Cow Print French Tips
27. Black Cow Print with Pink Outlines
28. Sharp French Tips with Black and Pink
29. Long French Tips with Pink Cow Print
30. Mini Pink Cow Print Manicure
31. Cow Print French Tips with Gemstones
32. Artistic Cow Print French Tips
33. Cow Print French Tips on Short Nails
34. Red Cow Print French Tips