Time for a little manicure update? These summer pink and yellow nails are exactly what you need to refresh your look for the upcoming summer months!
Our team has curated a collection of over twenty gorgeous styles in one of the most popular color combinations for summer manicures – pink and yellow.
Both of these colors are very vibrant, happy and striking colors which makes them the perfect choice for your summer nail update. With these two colors, there are so many ways to experiment and so many different nail techniques to use!
Whether you have short nails, stiletto nails or coffin nails, there are beautiful nail design techniques and options that will allow your nails to really shine and stand out from the crowd.
Below are some of the prettiest styles we found on Instagram – if you want to see more work from the same nail artist, simply click on their Instagram bio under the image.
So go ahead, scroll through our collection and pick a new look for your next trip to the nail salon!
Prettiest Summer Pink and Yellow Nails
Below are the cutest designs for summer pink and yellow nails in a range of different nail design techniques and various nail shapes.
If you're looking for even more inspiration for this nail style, you can check our dedicated Pinterest board.
1. Pink and Yellow French Tip
Simple, yet elevated, this look is an easy extension of classic French tips that adds the extra edge to your manicure. Perfect for ladies who love the minimalist look with a bit more interesting take on these color options.
Nail Design by tiffanyabbigailebeauty
2. Half Pink with Yellow Outline
The perfect summer nails with bold hot pink outline on the outside, perfectly framed by the yellow stripes.
3. Summer Pink and Yellow Nails with Swirls
Opt for a more abstract take on this manicure by choosing pretty swirl elements in both colors. Works wonders with neon pink and yellow nail polish.
4. French Tip Summer Pink and Yellow Nails
Classic French tips just got a very colorful update! Half and half look with fiery yellow and neon pink.
5. Reversed French Tip Summer Nails
Reverse the look of your French tips by adding yellow as your base color.
6. Mismatched Pink and Yellow Summer Nails
A pretty look for almond shaped nails with bubble gum pink nail polish and vibrant yellow hues.
7. Gradient Pink and Yellow Manicure
Love the ombre look and want to create it at home? If you haven't mastered the technique of blending two colors together, this gradient look is a really easy and equally impressive alternative.
8. Pink and Yellow Outlines
Keep your nails looking natural, but add a bit of an edge by using pink and yellow nail polish just on the outlines of the whole nail.
9. Summer Neon Nails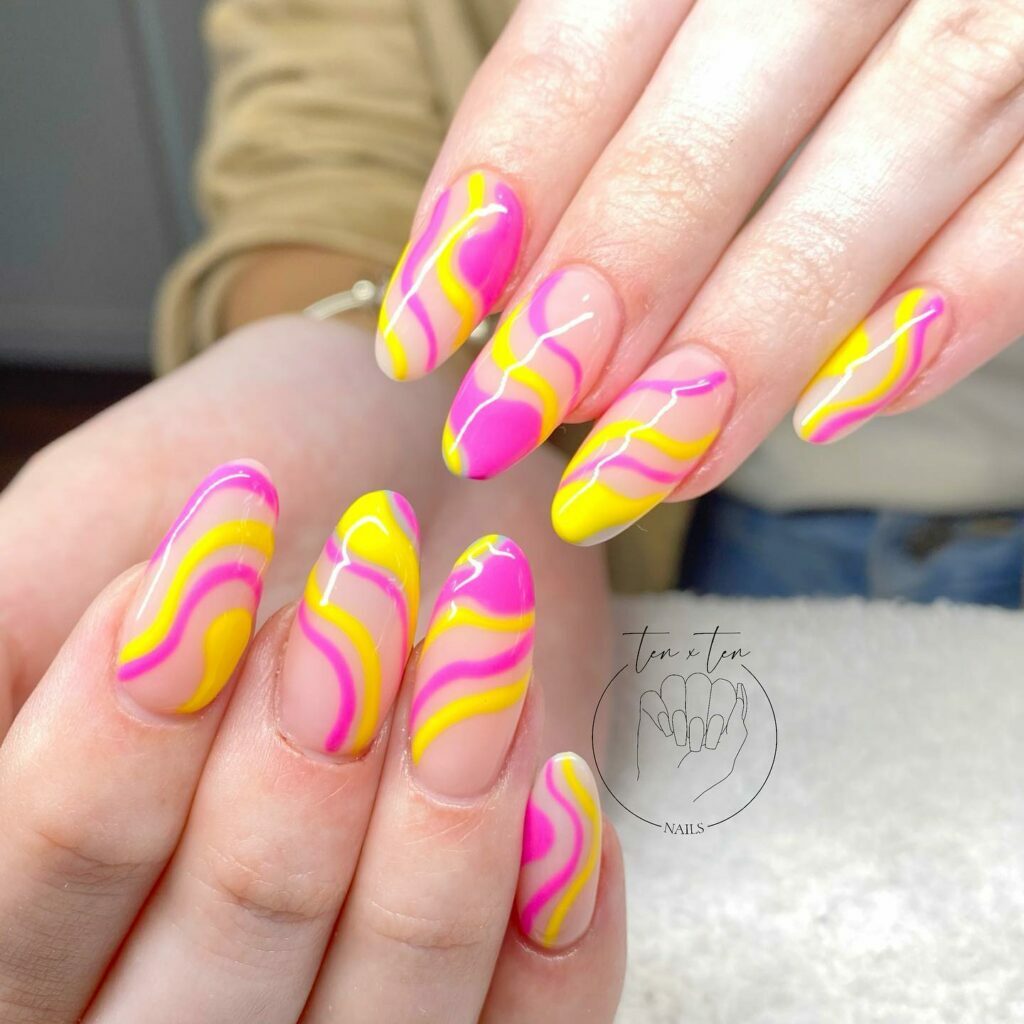 Make a bold statement by reaching for the neon pink and yellow nail polish.
10. Summer Neon Stripe Nails
Almond shaped nails that look like a piece of art, with beautiful contrast created by adding a bit of black nail polish.
11. Summer Neon Botanical Nails
Short nails with plenty of personality.
12. Summer Hot Pink and Yellow Nails
Hot pink makes a statement, even better so with the contrast added with yellow nail polish
13. Summer Ombre Nails with Glitter
Party nails? Add a subtle ombre effect and plenty of glitter!
14. Summer Pastel Nails with Lemons
Nails that capture the essence of summer with the cutest lemon nail art.
15. Summer Pastel Swirl Nails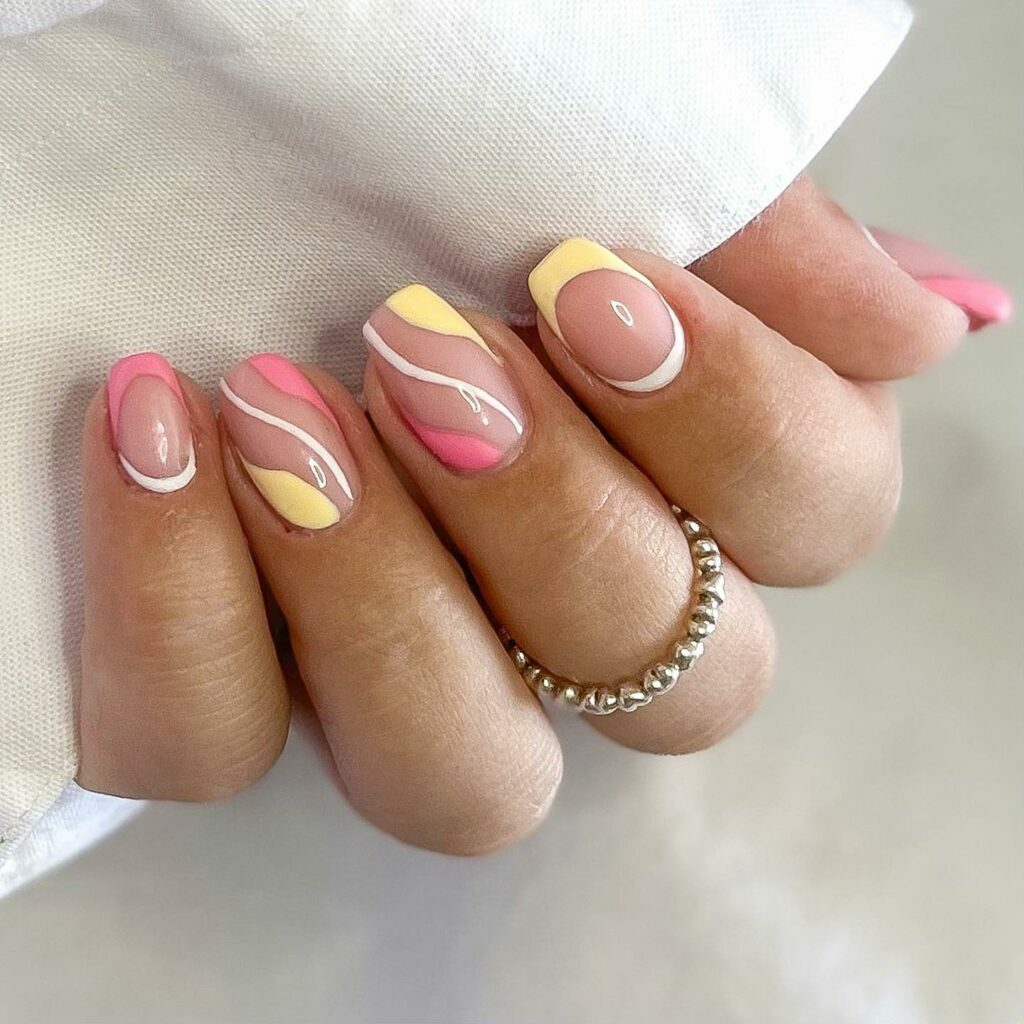 Turn your nails into individual pieces of art, each with a different but complimenting design.
16. Geometric Summer Yellow Nails
Delicate geometric outlines completely transform this simple manicure.
17. Summer Peace Yellow Nails
Wear your peace sign on your nails!
18. Adding a Bling
Whether it's a special occasion or not, an extra bling goes a long way.
19. Pink and Yellow Stripes with Glitter
Party mood? Gold glitter is mandatory!
20. Pink and Yellow Nail Art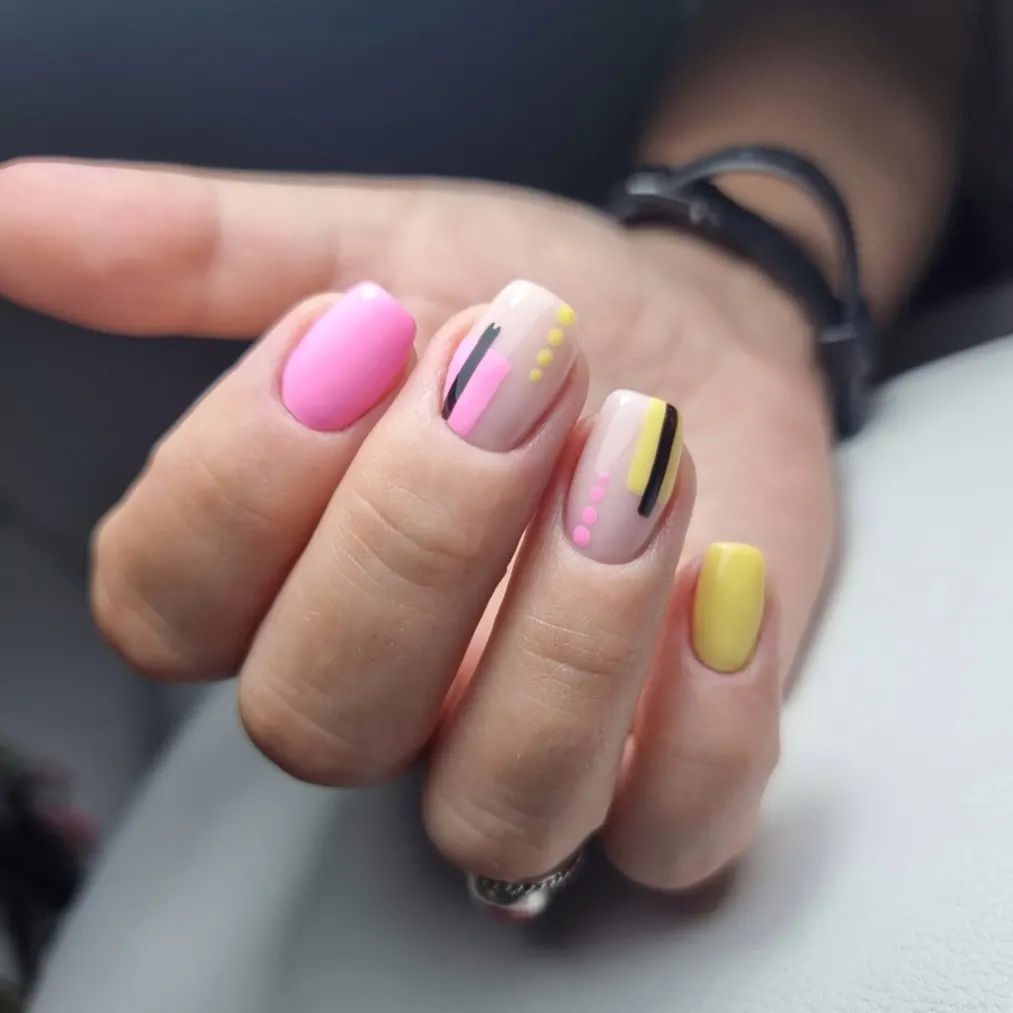 Abstract nail art that really works wonders with the yellow and pink nail polish.
21. Minimalist Summer Pink and Yellow Nails
A modern and minimalist take on French tips with abstract swirls added for more variety.
22. Almond Summer Pink and Yellow Nails
Extra long almond-shaped nails in matte shades of pink and yellow, with contrasting lime green added for more interest.
23. Golden Summer Pink and Yellow Nails
The perfect shade of baby pink makes a great base color that allows this pretty nail art to stand out.
24. Pink Edges on Yellow Nails
If you want to make your nails optically longer, this is one of the designs to do it.
25. Stiletto Summer Nails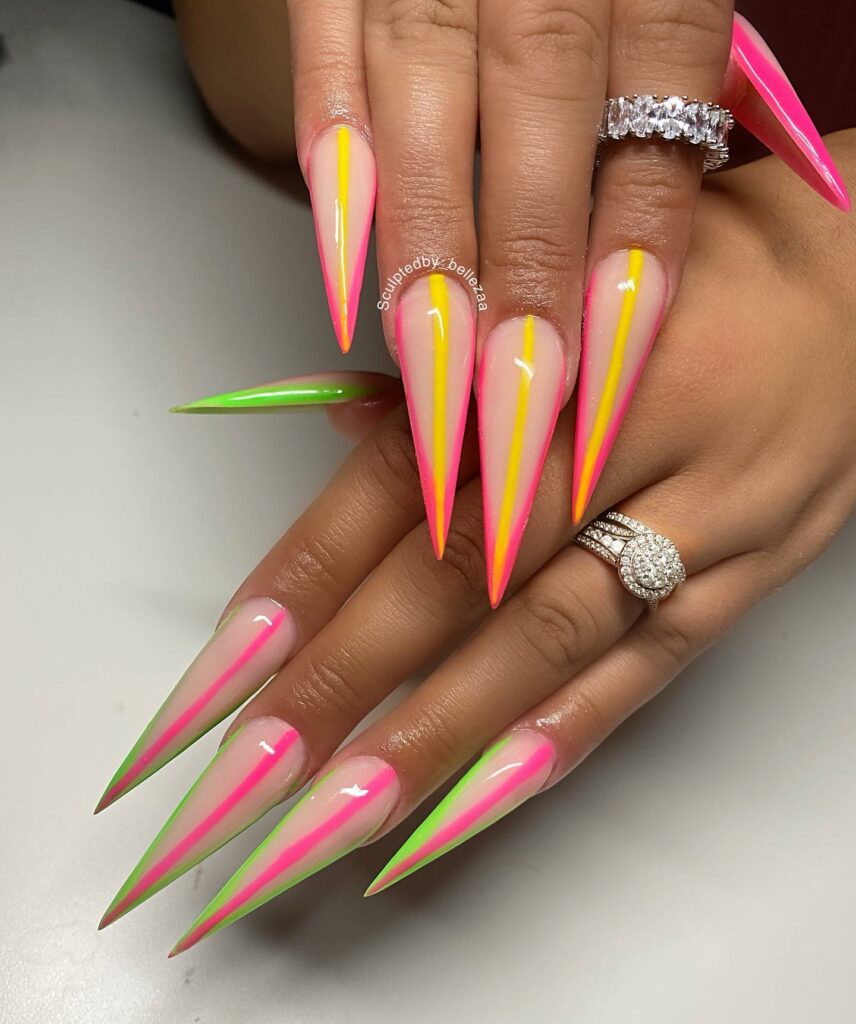 Simple yet effective manicure says 'summer fun' like no other.
26. Show them Your Heart
Add a personal message to make your nails truly unique.
27. Summer Ombre Nails with Pink and Yellow
The most gorgeous execution of ombre yellow and pink nails on short nails.
28. Add a Stripe
Fancy a bit of contrast? Choose black nail polish and a geometric pattern.
29. Botanical Inspired
Elevate your ombre pink and yellow nails with a simple botanical-inspired print.