Do you love the color teal? In that case, if you're looking for pretty manicure ideas, look no further than teal ombre nails.
Teal color symbolizes open communication, and clarity of thought and it is considered to have rejuvenating and revitalizing properties. Tibetian monks consider this color to be the symbol of the infinity of the sky and sea. It's no wonder then, it's such a popular color in fashion and also in nail design.
This go-to look of the season comes in so many different variations and styles, and looks stunning on any nail length and nail shape. If you want to give it a try, we have compiled over thirty of the most gorgeous teal ombre nails ideas to inspire your next trip to the nail salon.
Whether you want to try this look at home and do a little DIY, or you're looking for some pictures to take to your nail artist, there are plenty of ideas for both options in our roundup.
In case you're looking to create the look at home as a little DIY project, we have also included a simple tutorial you can follow.
Check the tutorial below or head down to our curated collection of the most gorgeous teal ombre nail ideas.
Teal Ombre Nails Video Tutorial
Tutorial by New Nails via youtube.
30+ Teal Ombre Nails Ideas
Here is our curated collection of team ombre nails in a variety of styles, difficulty levels and different nail shapes.
If you're looking for more inspiration for a pretty manicure, no matter what the occasion, head straight to our Pinterest board for ombre nails, or check our Pinterest account for other ideas.
1. Teal Ombre with Glitter
A very simple but beautiful look with teal color where the ombre effect is less obvious, but adds some extra drama to simple nail polish. Make a statement with a single glitter nail.
2. Teal Ombre Nails with Confetti Glitter
Teal ombre looks the best when combined with a neutral color that doesn't create too much contrast but a gradual natural transition, such as in this case. If you feel like the manicure is not interesting enough, or you need to elevate it for a special occasion, adding a bit of glitter and sparkle will instantly transform the nails.
3. Mermaid-Inspired Teal Ombre Nails
No need to stick to one color when you can use the whole color palette! In this case, teal is beautifully complimented by a mermaid-inspired color palette and elevated with the use of sparkles.
4. Almond Shape Teal Ombre Nails
Using ombre nail design on almond nails can be a little more challenging, but can look equally beautiful.
5. Yellow and Teal Ombre Nails
If you want to warm up your manicure, especially if its for the summer months, you can add a touch of yellow and gold to make it look more interesting and refreshing.
6. White to Teal Ombre Nails
This simple manicure is beautifully executed thanks to the shimmery white background and a smooth transition to the ombre color.
7. Mountain Peak Shape Teal Ombre Nails
Mountain peak nails are another difficult shape to use with ombre effect, but as you can see below it can be done and look spectacular!
8. Coffin Teal Ombre Nails
With coffin nails you have plenty of room to go wild with colors and nail art, and if you want to elevate simple teal ombre nails, the use of glittery nail polish and some gemstones will do wonders.
9. Matte Effect Teal Ombre Nails
Shiny nail polish is not for everyone. Even the matte effect ombre nails look absolutely spotless.
10. Beige and Teal Ombre Nails
With ombre nails you can go either direction when selecting how much of the color do you want to use. In this case the teal color took the center stage and the ombre effect is less prominent and more contrast is added.
11. Ombre Nails with Butterflies
A simple teal ombre manicure can be easily elevated with the use of nail stickers, like these pretty butterflies. Bonus point – you can swop them as often as you like and change your nails on a daily basis without a trip to the nail salon.
12. Glossy Ombre Nails
These almond-shaped nails show a new take on the ombre effect with dark beige color that slowly transforms into a radiant teal color. A simple small touch that gives your manicure the extra edge.
13. Diamonds and Glitter Teal Nails
Can't decide what look to go for? Use them all! This mismatched look showcases the teal color in a variety of ways, yet it still looks very cohesive and pretty.
14. Rhinestones and Flowers
If you have a special occasion to attend, adding some sparkle to your nails is all you need.
15. Ombre and Full Color Teal
An alternation between full color nail and ombre effect, with added rhinestones for extra shine – so simple and yet so pretty.
16. Mismatched Ombre with Nail Art
This is one of the pretties teal ombre nails we found as it combines clear acrylic nails with the most gorgeous teal stickers, glitter, french tips and finally teal ombre. How cute is this?
17. Statement Nail Art
Make a statement with dedicated nail art that will surely get noticed.
18. Mismatched Teal Ombre Nails
Nail polish with glitter, gemstones and ombre effect is one of the most popular recurring themes for mismatched nails.
19. Almond Teal Ombre Nails with Glitter
Another variation of almond shape ombre teal nails, this time with the addition of a single statement nail with glittery finish.
20. Silver and Teal Ombre Nails
Ombre tel and ombre silver glitter nails – very pretty even on shorter nails.
21. Silver Butterfly Nails
The ultimate summer look – silver butterflies beautifully complimented by teal ombre manicure.
22. Summer Teal Coffin Nails
Teal color looks especially bright and vibrant with tanned skin, so it's the perfect manicure for the summer months.
23. Short Teal Coffin Nails
A little ode to the sea and sky is complete in this pretty ombre look.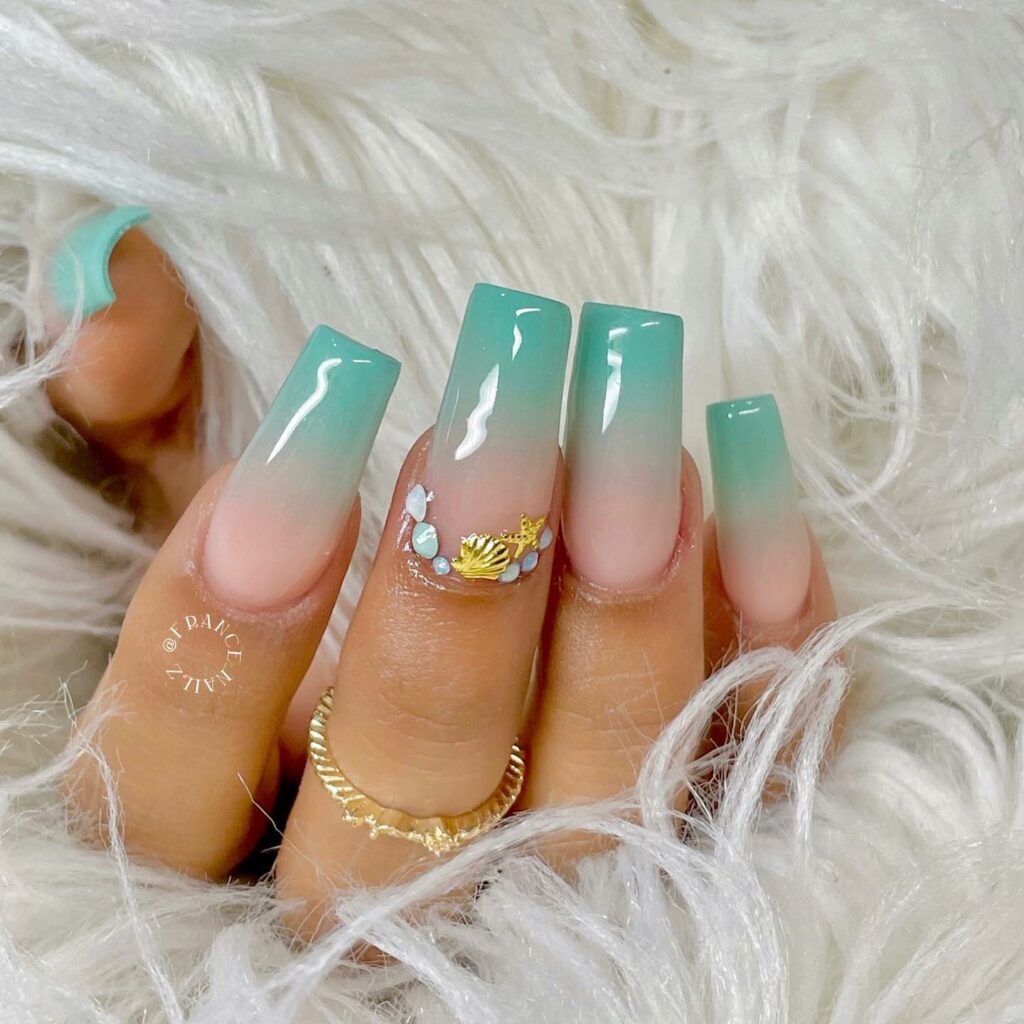 24. Pink and Teal Coffin Nails
Mermaid inspired coffin nails that are ready to create their own fairy tale.
25. Teal and Cow Print Ombre Nails
An unusual but refreshing combination of ombre nails with glitter and the popular cow print nail art, this time in teal color.
26. Flowers and Gemstones on Ombre Nails
When in doubt, add flowers and diamonds.
27. Single Ombre Teal Nail
Want to go all in? Go heavy on rhinestones with a dash of color.
28. Short Nails with Ombre Effect
Ombre manicure looks especially pretty when contrasted with darker skin tone such as in this case.
29. Silver Glitter Nails with Teal Ombre
For a festive look with a dash of color.
30. Golden Details
While silver is probably the number one choice of color combination with teal, a little bit of gold can look pretty too. Just don't overdo it and use too much.
31. Teal to Blue Ombre Nails
A pretty and natural gradient transition from teal to blue.
32. Beige to Blue Ombre Coffin Nails
A neutral beige base is a perfect backdrop for the splash of teal color.