Need a little update for your coffin nails? Lavender is the color of the season, and these are the nail design that will turn heads!
This article features a curated collection of 40 prettiest coffin lavender nails in a variety of styles, using a number of different nail design techniques. Whether you like something very simple and sophisticated, with minimum fuss, or prefer to go all in with lots of bling, glitter and custom nail art, you will find plenty of brilliant ideas for both options in this article.
Coffin nails are one of the most popular nail shapes to use as they allow the nail artist so much creative freedom and so much space to play around. It's time we gave them a little update for the season!
Why lavender?
Lavender is a pretty color that fits to almost any season, but it is super popular especially in the spring and summer. It may be a surprising choice, but it's one of the top colors for the Easter too! Lavender color is associated with purity, silence, devotion, serenity, grace and calmness.
Whatever the reason you may have for choosing this nail polish color, you're on the right track – all you need to figure out now is the right way to use it and to make your nails stand out from the crowd.
40 Prettiest Styles for Coffin Lavender Nails
Here are the prettiest styles we found on Instagram and Pinterest. Check this Pinterest board to see even more options and ideas and follow our Pinterest profile to stay on top of all nail design trends.
1. Lavender Nails with Gemstones
Refresh the look of simple lavender coffin nails by adding some gemstones.
2. High Gloss Coffin Lavender Nails
Super high gloss nail polish is just what you need to make a statement.
3. Zebra Coffin Lavender Nails
Add a bit of variety to your nails with the zebra stripes on nude nails.
4. Emoji Lavender Nails
Have a little fun with your manicure.
5. Glitter Coffin Lavender Nails
Go big and bold with your coffin nails featuring a range of different nail design options.
6. Marble Coffin Lavender Nails
Pretty marble nails with lavender and pink.
7. French Tip Coffin Lavender Nails
Elongated French tips look especially pretty on long coffin nails.
8. Gold Foil Coffin Lavender Nails
Add a bit of contrast to the lavender colour by using golf flakes.
9. Lavender and Beige Coffin Nails
Combinatino of ombre and golden outline nails – how stylish are these?
10. Ombre Coffin Nails
Ombre nails meet pretty butterflies.
11. Mismatched Lavender Pink Coffin Nails
Choose your most loved styles and create this mismatched look with lavender color.
12. Gemstones & Flowers
Go all in with glitter, gemstones and even flowers.
13. Purple Sky Nails
Night sky inspired nails with marble nail technique.
14. Monogram Nails
Wear your letter on your nails.
15. Pretty in Lavender
Simple and stylish, lavender nail polish looks stunning on its own on properly shaped and well maintained nails.
16. Lavender Stripe Coffin Nails
Not sure about using full color? These stripes will add all the color you need without looking too overwhelming.
17. Christmas Lavender Coffin Nails
No need to stick to red for Christmas when you can use this pretty lavender color.
18. Light Lavender Coffin Nails
Keep it classy with the lightest shades of lavender.
19. Matter Gradient Lavender Coffin Nails
Achieve the ombre effect by using gradient of lavender color across your nails.
20. High Gloss Nails with Gemstones
Pretty variation in the style thanks to gemstones and structure nail technique.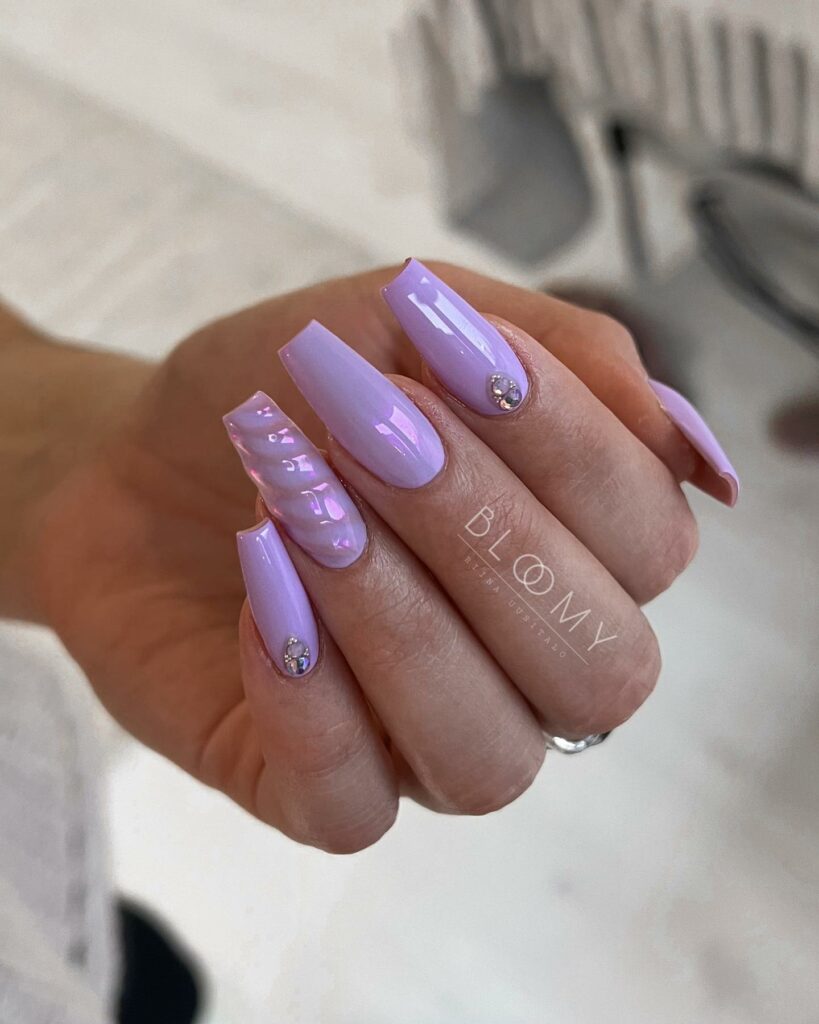 21. Butterfly Lavender Nails
Make your nails pop by adding some golden butterfly stickers.
22. Lavender and Purple Coffin Nails
High contrast nails for those who prefer to make a statement with their manicure.
23. Diamond Lavender Nails
Diamond inspired manicure with soft shade of lavender.
24. Butterflies and French Tips
Another take on butterfly nails beautifully finished with shades of lavender nail polish.
25. Purple Butterflies & Gemstones
Stay within your color scheme with these cute lavender butterfly nail stickers.
26. Lavender Stripe
A simple stripe will transform basic beige manicure into something more unique.
27. French Tips with Flowers
Make your hands bloom with joy.
28. French Tips with Silver Nail Art
Lavender glitter nail polish and silver nail art is a match made in heaven.
29. Lavender and Cow Print Nails
Who would have thought these two nail styles go so well together!
30. Glitter French Tip Coffin Nails
Coffin nail french tips beautifully blended with simple neutral nails with flowers.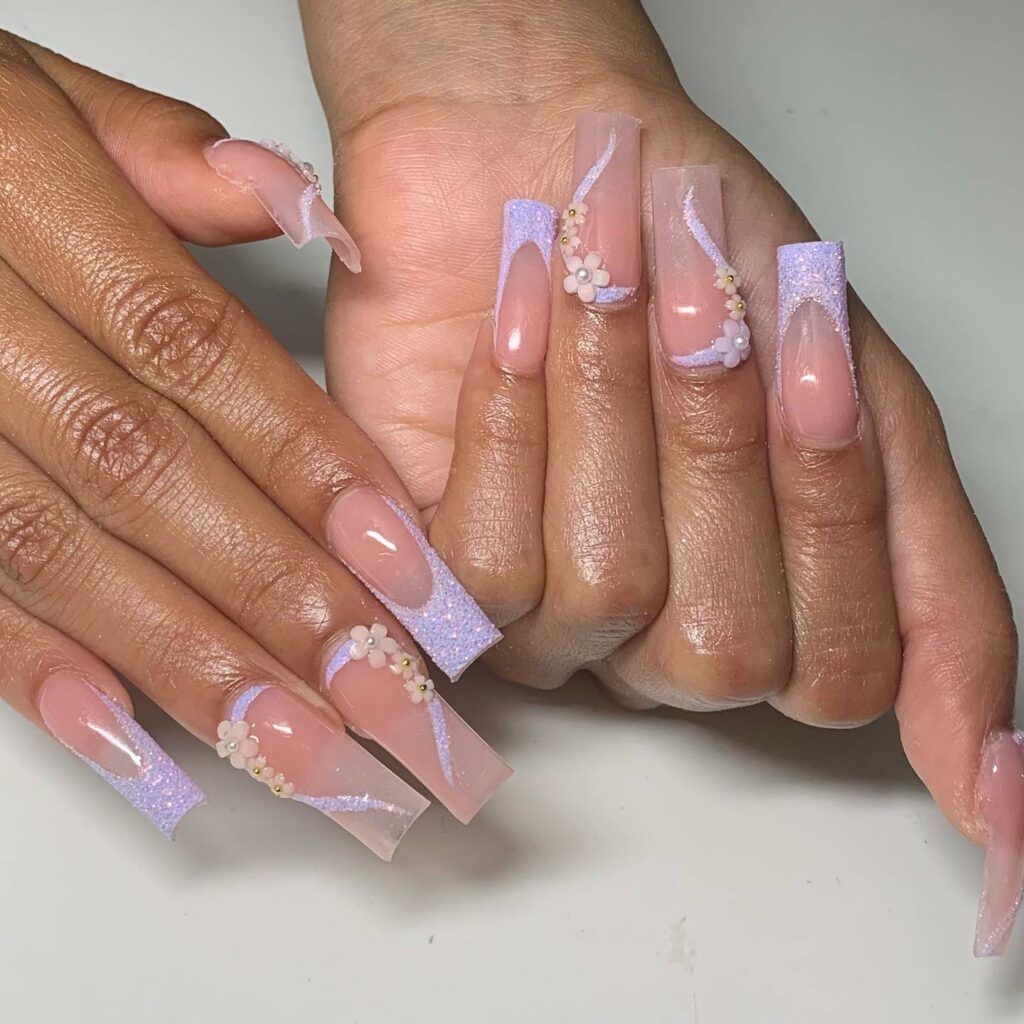 31. Light Lavender Coffin Nails
Light shade of lavender nail polish looks wonderful when contrasting with darker skin tone or tanned hands.
32. Treasure Trove Nails
Crazy about all the bling? This is the manicure for you!
33. Signature White Nail
Add contrast to the color scheme by choosing one statement nail in white color.
34. Pearls and Flowers on Lavender Nails
A feminine lavender manicure for coffin nails that's full of pretty details.
35. Lavender Swirls
Pretty and simple nail art that breathes more life into your coffin nails.
36. Glitter French Tips
Transform your simple French tips into a stylish affair thanks to glittery lavender nail polish.
37. Gold Nail Art
Make your nails as unique as you are.
38. Night Sky Lavender Nails
Inspired by the night sky, this manicure captures the essence of the moon and stars.
39. French Tip Outline Nails
Two nail shapes and styles in one manicure.
40. Blinged Out Nails
Flowers and butterflies – we're all over that.