We are utterly obsessed with aqua blue nails! This striking nail color has been making rounds on Instagram all summer, and we couldn't wait to prepare this little roundup of some of our favorite styles!
Why aqua blue nails?
Aqua blue is the color that reminds us of the ocean and careless summer days and it looks spectacular with tanned hands! Aqua blue color shade is something between neon blue, teal, turquoise and baby blue. It's the perfect shade for your summer manicure, as evidenced by its popularity all over social media.
If you're planning to try one of the aqua nails designs, you're at the right spot – our team has prepared the curated selection of over 20 most beautiful styles we found on Instagram.
Whether you have short nails, coffin nails, almond-shaped nails or want to invest in acrylic nails, you will find plenty of inspiration for each option in our article.
Dive into our selection (pun intended!) and save your favorite picks on your Pinterest board!
25+ Prettiest Eye-Catching Aqua Blue Nails
Bring the summer back with these sea-blue nails designs – check out the selection below and if you like a specific design, you can take a look at more work from the same nail artist by clicking their Instagram bio link under each image.
1. Aqua Blue French Tips
If you don't want to fully commit to the color, opting for French tips is an easy choice. Plus, this type of manicure always looks super elegant, no matter what nail polish color you use!
2. Aqua Blue Nails with Flowers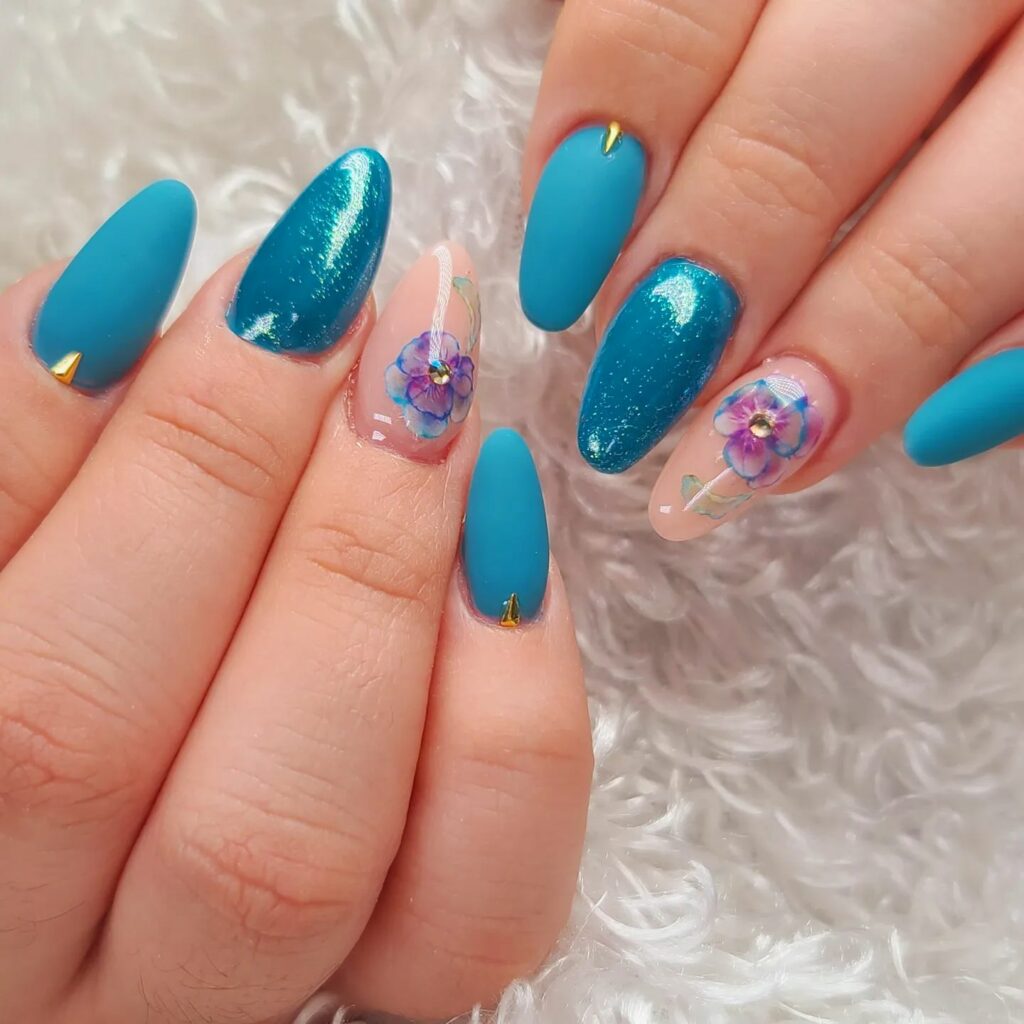 Matte nails or high gloss finish? If you can't decide, use them both! This manicure is a mix of different styles with both glitter and matte nail polish, completed by a pretty floral nail art with rhinestones.
3. Glitter of the Ocean Nails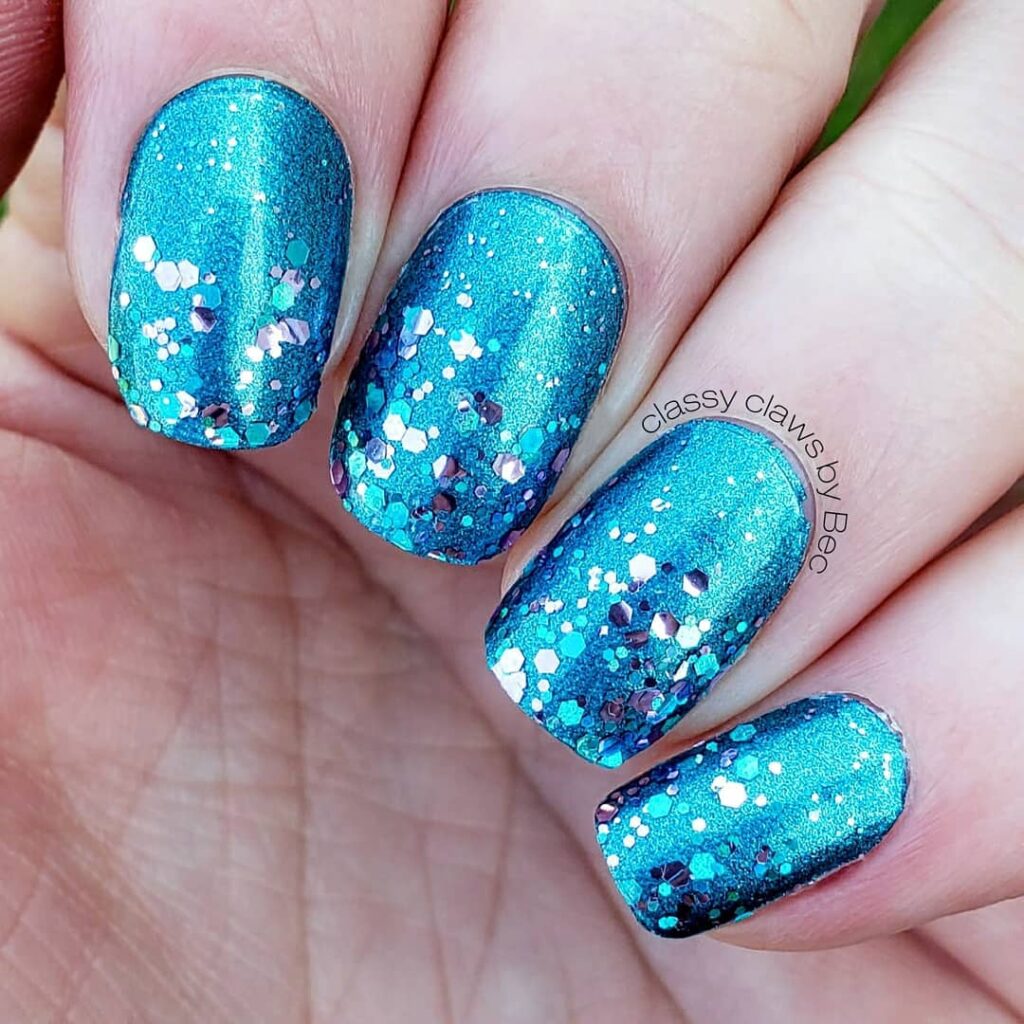 A delicate manicure option for short or long nails that reminds us of the glittering surface of the ocean, just when the sunshine hits the waves. A super simple look that only needs the right shade of aqua blue nail polish and some confetti glitter for manicure.
4. Aqua Blue Ombre Nails with Gold
Manicure that captures the essence of the sea and sand – beautiful gradient look with aqua blue completed by the shimmering glow of gold flakes, which remind us of sandy beaches being lit up by the sun.
5. Mountain Peak Aqua Blue Vacation Nails
Need pretty nails for your next vacation? It doesn't get better than this! Super long mountain peak shape nails with a single tone aqua blue nail polish, with pretty nail art featuring a coconut.
6. Blue Leopard Aqua Nails
Show them your wild side! No need to opt for the colors of the nature and shade of green, when you can make the animal print more abstract by using light shade of blue.
7. Gradient Aqua Blue Nails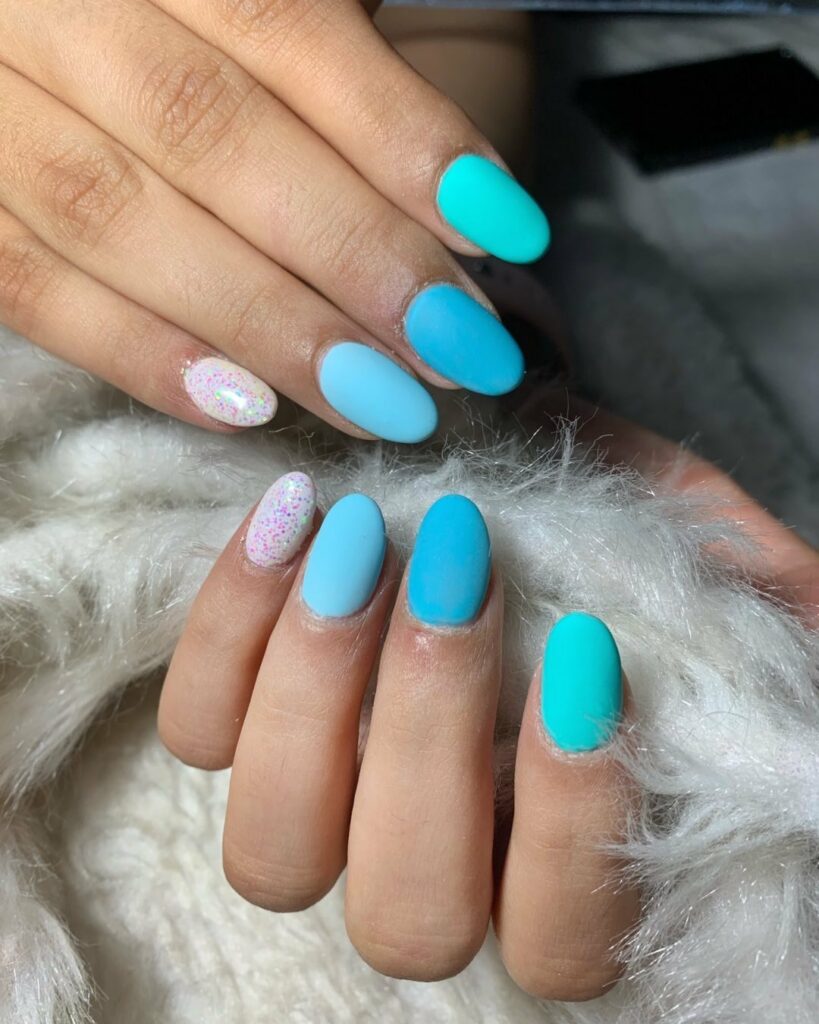 Do you love the ombre look but would like to do your own manicure? In that case, this is the perfect alternative. This manicure allows you to do ombre without the need to blend any colors – just get a selection of nail polish colours that complement each other beautifully to achieve this super pretty and easy look.
8. Vacation Glow Aqua Nails
If you have short nails, you can go big and bold with color, but that doesn't mean there isn't enough space for some pretty nail art, as clearly evidenced in this nail design.
9. Dragon Shell Aqua Nails
Whether you're the mother of the dragons or not, everyone will go wild about this super unique manicure!
10. Dotted Aqua Nails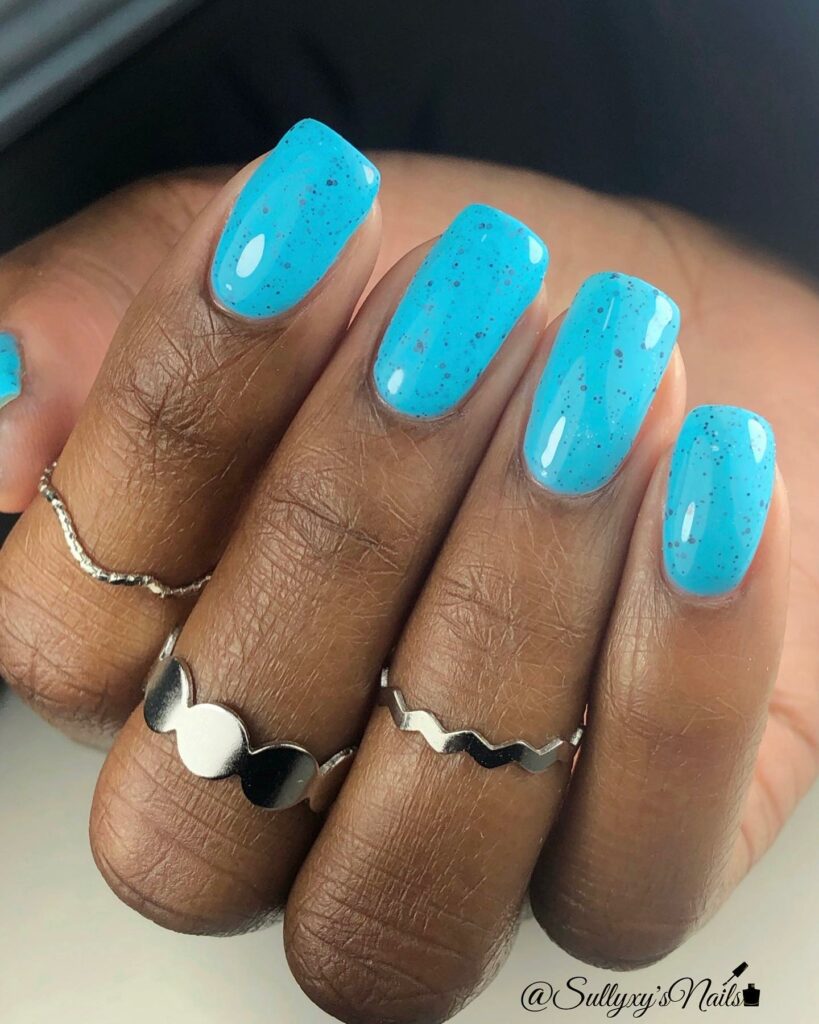 Just like speckled Easter eggs, this manicure shines brightly especially when used with darker skin color.
11. Mismatched Light Aqua Blue Nails
Super long coffin nails are the perfect blank canvas to experiment with a range of nail design styles, just like in this case.
12. Minimalist Rhinestone Aqua Nails
Simple swirls and rhinestones are an easy way to transform a basic manicure in a work of art.
13. Turquoise Flowers
Add at touch of nature to your manicure by featuring this pretty botanical nail art.
14. Half and Half Aqua Blue Nails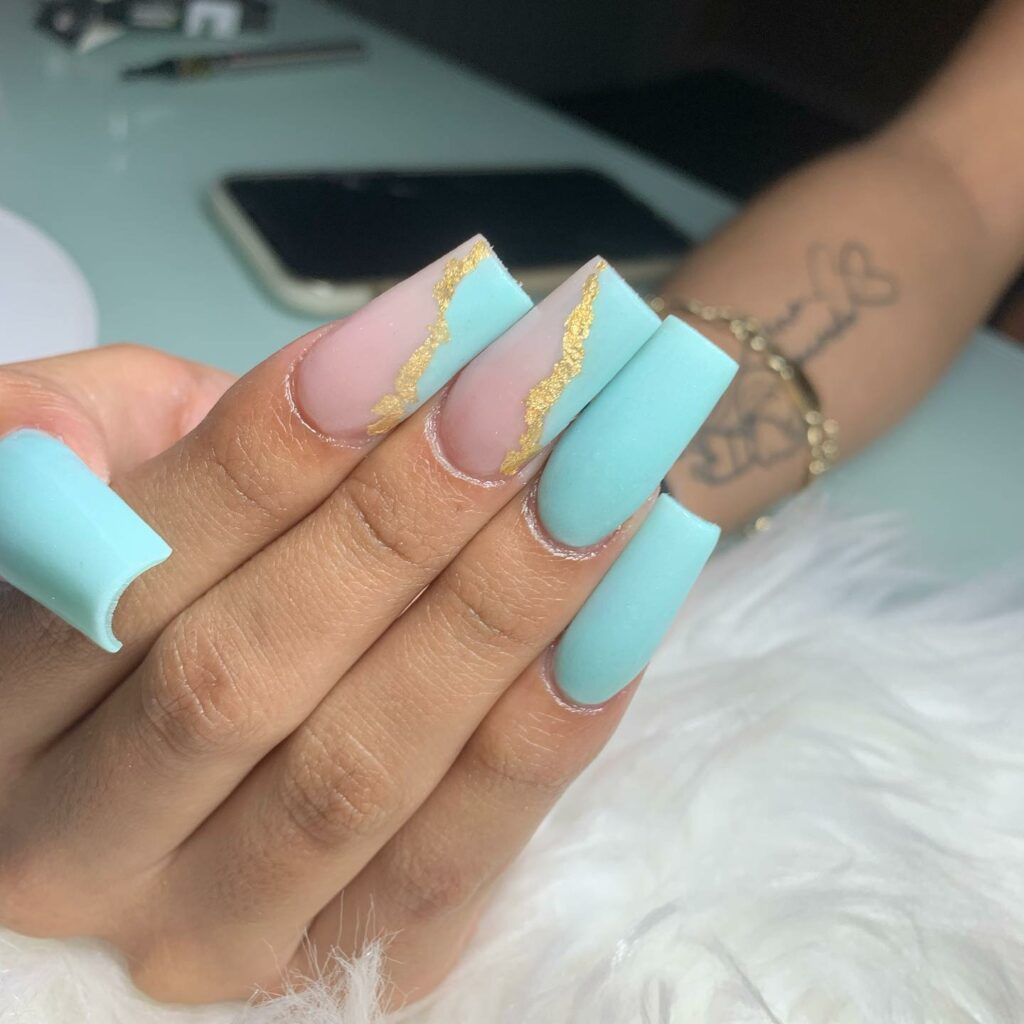 Very elegant look using aqua blue matte nail polish and gold outline to create a simple but super popular half and half look.
15. Long Coffin Aqua Nails
Mismatched look for extra long coffin nails with rhinestones, confetti glitter and half and half look.
16. Glittering Ocean Manicure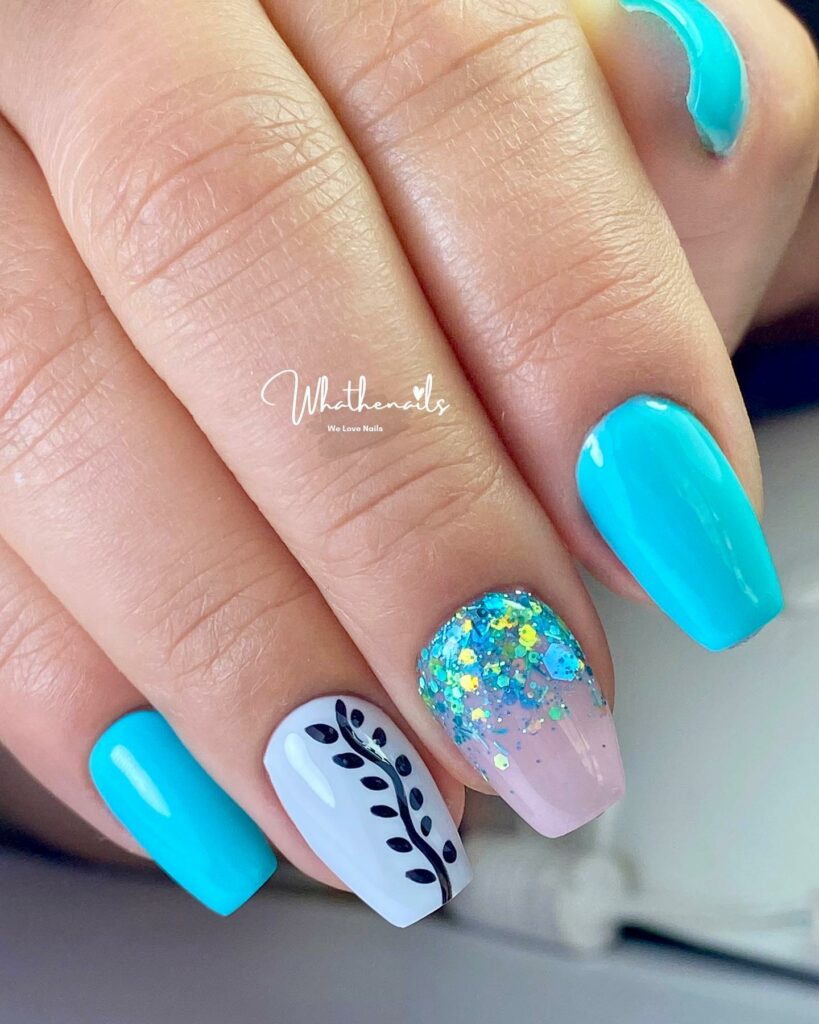 Elevate your short nails with a touch of glitter and custom nail art!
17. Simple Light Aqua Blue Nails
Want to keep things simple? The right shade of aqua blue is all you need to transform your short natural nails into super pretty manicure that will certainly turn heads.
18. Maldives Blues
The most gorgeous shade of aqua blue that pairs perfectly with the hotel pool!
19. Gradient Aqua Blue Nails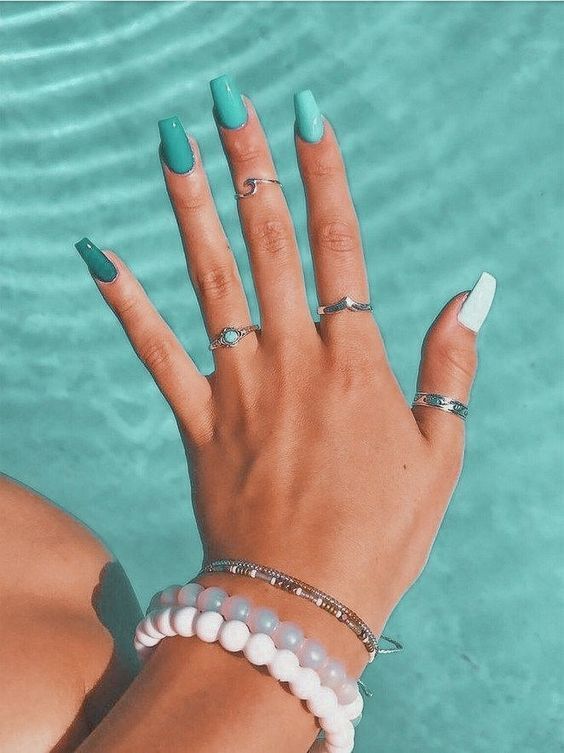 A popular variation of ombre nails, this aqua gradient looks features five different colors that complement each other beautifully and stand out on the tanned summer hands.
20. Summer Flower Aqua Nails
If you want your nails to match the season, adding some simple hand drawn flowers is all you need.
21. Simple Almond Aqua Nails
Another shade of aqua blue nail polish that we're completely obsessed about.
22. Comics Aqua Nails
Trying to keep up with trends? In that case you must have already heard about comics nails! They come in all shapes and colors, and look especially striking with the aqua blue nail polish color. They will certainly turn heads!
23. Aqua Swirl Nails
An elegant look for those who like their nails to speak volumes – this simple look can be achieved at home with the right selection of nail polish colors and technique.
24. Coffin Single Tone Aqua Nails
The prettiest shade of aqua blue that just screams 'ready for a party'.
25. Light Ombre Aqua Blue Nails
A decadent look for long coffin nails with a pretty ombre base combining a light shade of aqua blue and natural beige color, elevated by small rhinestones.
26. Aqua Blue Nails with Butterflies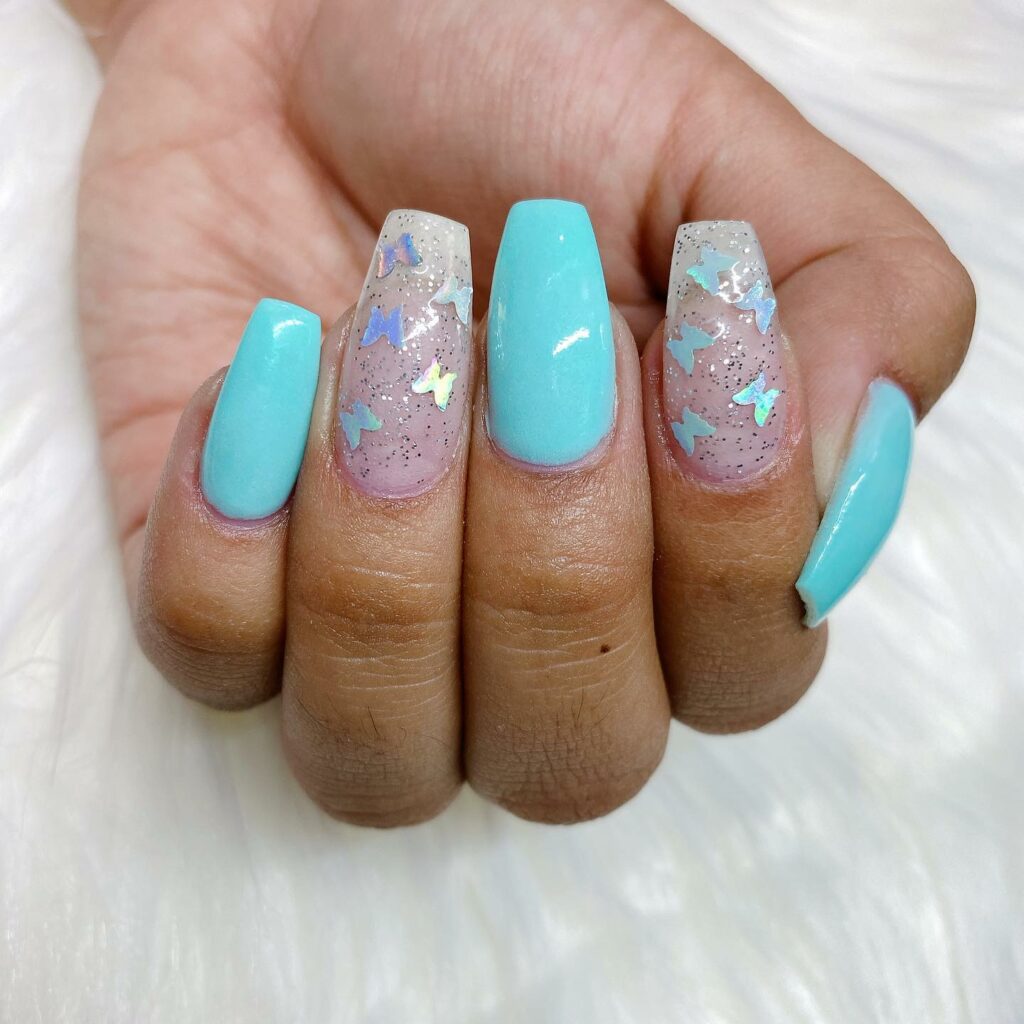 Add a touch of summer to your nails by using these pretty butterfly nail stickers!