Turn heads with these gorgeous aqua nails ideas!
Our team of experts has put together this roundup of the pretties aqua nails to inspire your next manicure, are you ready to check them out?
First things first – what are aqua nails?
This vibrant color is inspired by the color of the sea and sky, which you can get as acrylic nails, press on nails or just use your natural nails with the perfect match nail polish color. They look fabulous on just about any nail shape, whether you have coffin nails, almond-shaped nails, mountain peak nails or natural short nails.
Aqua nails are super popular, especially in the summer months or when going on a vacation. They offer the perfect contrast with the color of the ocean and the sand, and the color really pops against your tanned hands. That doesn't mean you have to wait till your next vacation to try them out!
In this article we have prepared a round-up of the best styles, featuring a variety of nail design techniques and a range of different nail shapes, to show you what's possible.
Explore our collection and save your favorites in your Pinterest account.
23 Brilliant Eye-Catching Aqua Nails Ideas
Bring the summer back with these sea-blue nails. Check our the selection below and head over to our Pinterest board for even more ideas!
1. Mermaid Tail
A beautiful green shinner on this aqua color nail polish makes it look just like a mermaid's tale! Beautiful and so simple with a single-tone nail polish.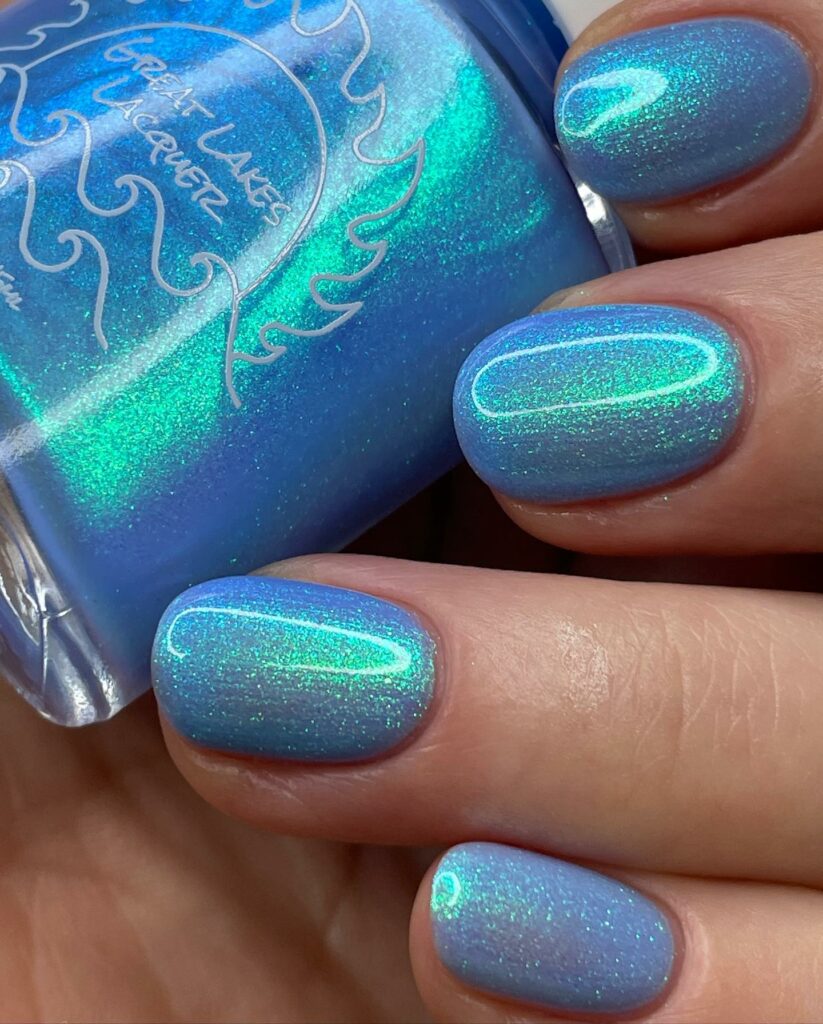 2. Ocean Waves
Inspired by the ocean waves, this variation on the classic French tip nails will give your nails the refresh their need for the summer months ahead.
3. Island Dreams
Inspired by faraway destinations, this nail polish color just screams summer and travel!
4. Gelato Gum Nail Polish
Is aqua too vibrant for you? Opt for this baby blue shade variety which looks amazing with tanned hands.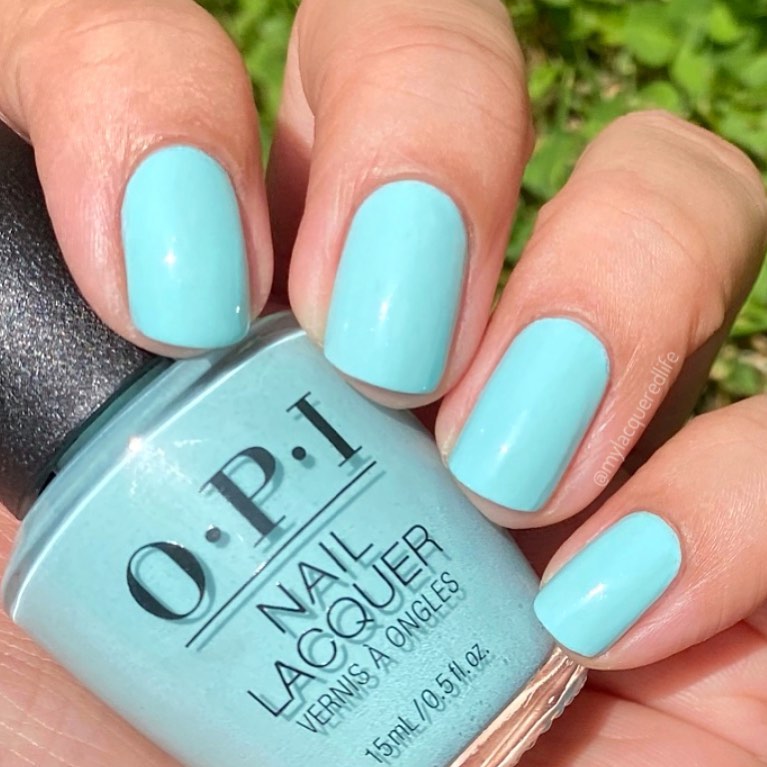 5. Almond Shaped Aqua Nails
A bit of glitter goes a long way, especially in the summer.
6. Blue Leopard Aqua Nails
Mix and match two styles to add some variety to your manicure. Aqua color will make your leopard print look more fun and refreshing.
7. Aqua Ombre Nails
A simple manicure anyone can master even at home – all you need is the right color palette for this to work.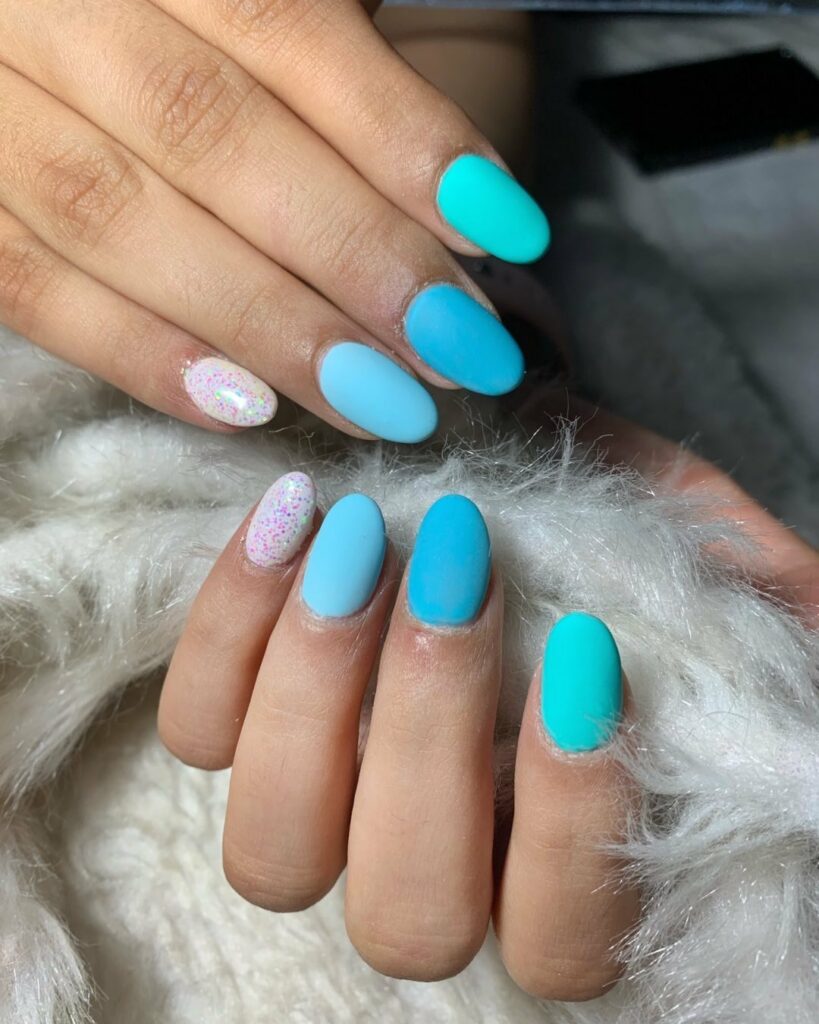 8. Golden Sands Aqua Nails
Dust your aqua nails with a bit of golden glitter to resemble the sand glittering in the summer sun.
9. Mermaid Touch Aqua Nails
Mermaid inspired summer manicure featuring a range of nail design techniques.
10. Dotted Aqua Nails
These aqua nails look just like dotted Easter eggs!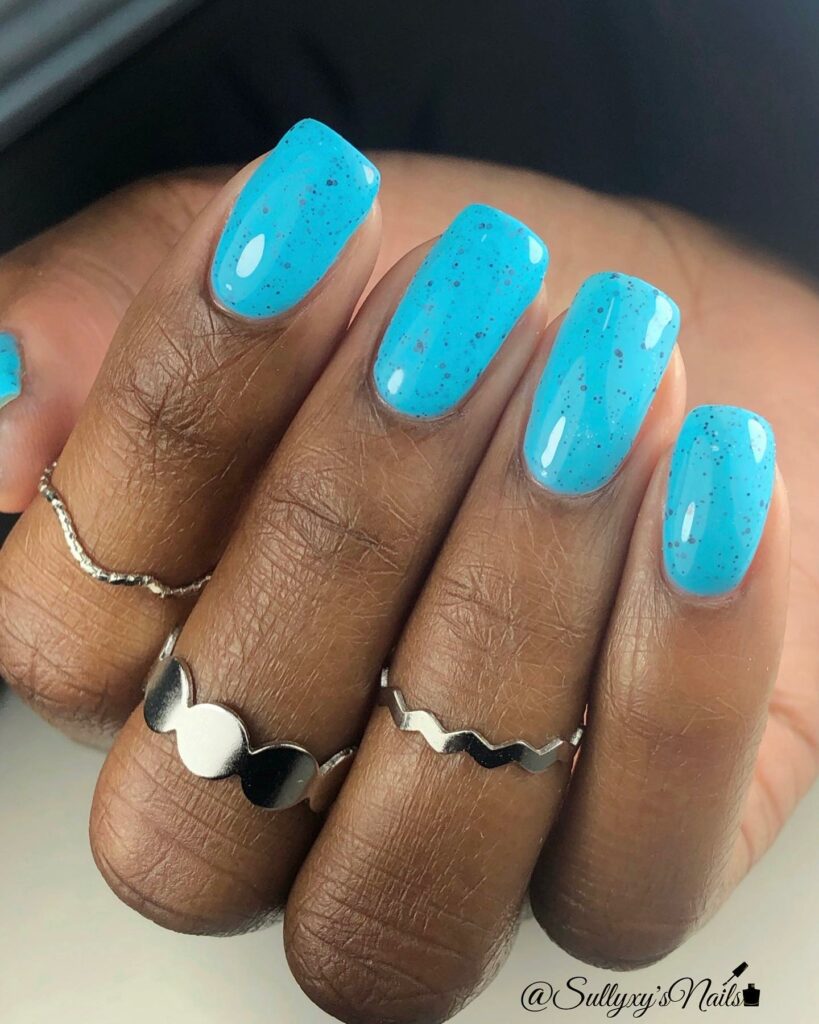 11. Ocean Nails with Gemstones
Take your aqua nails to the next level and upgrade them to a special occasion look with some glitter nail polish and gemstones.
12. Pastel Aqua Nails
If you're not fan of bright colors, you can do your aqua nails in these muted pastel tones too.
13. Turquoise Flowers
Aqua nails are beautifully complemented by a botanical print.
14. Spring Aqua Nails
Another ombre manicure look perfect for the spring season.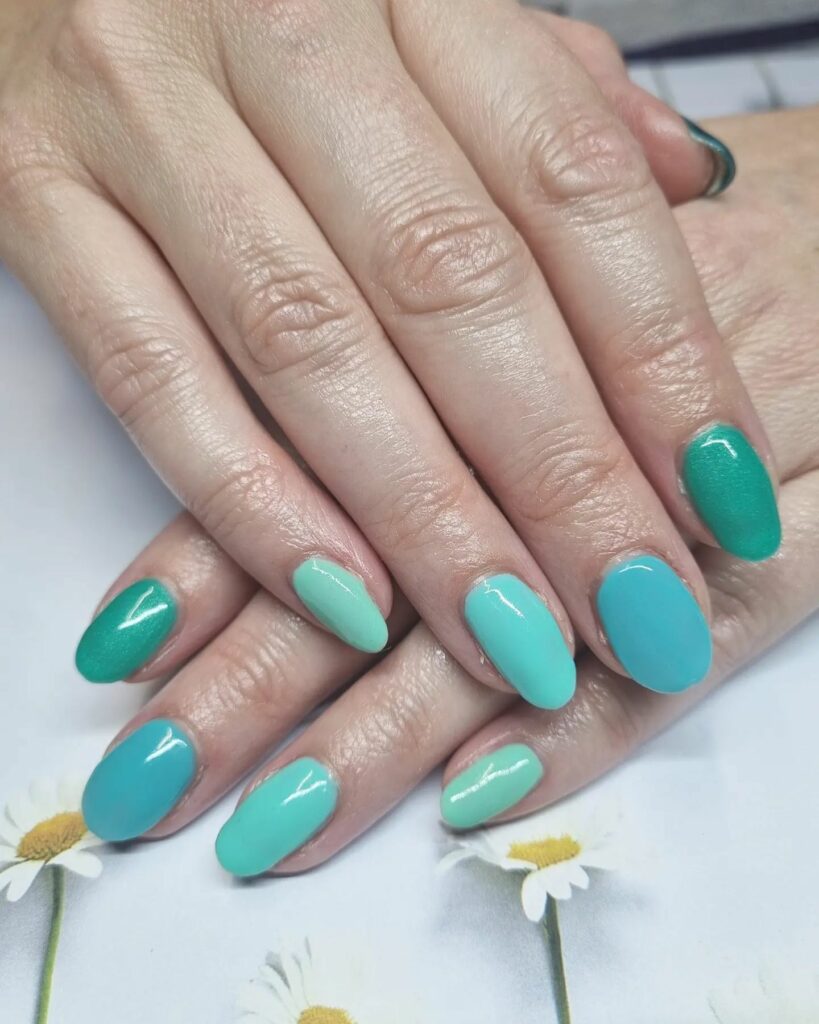 15. Green Aqua Nails
Who would have thought that bright green will look this great next to aqua color?
16. Glittering Ocean Manicure
Capture the essence of the ocean in your manicure.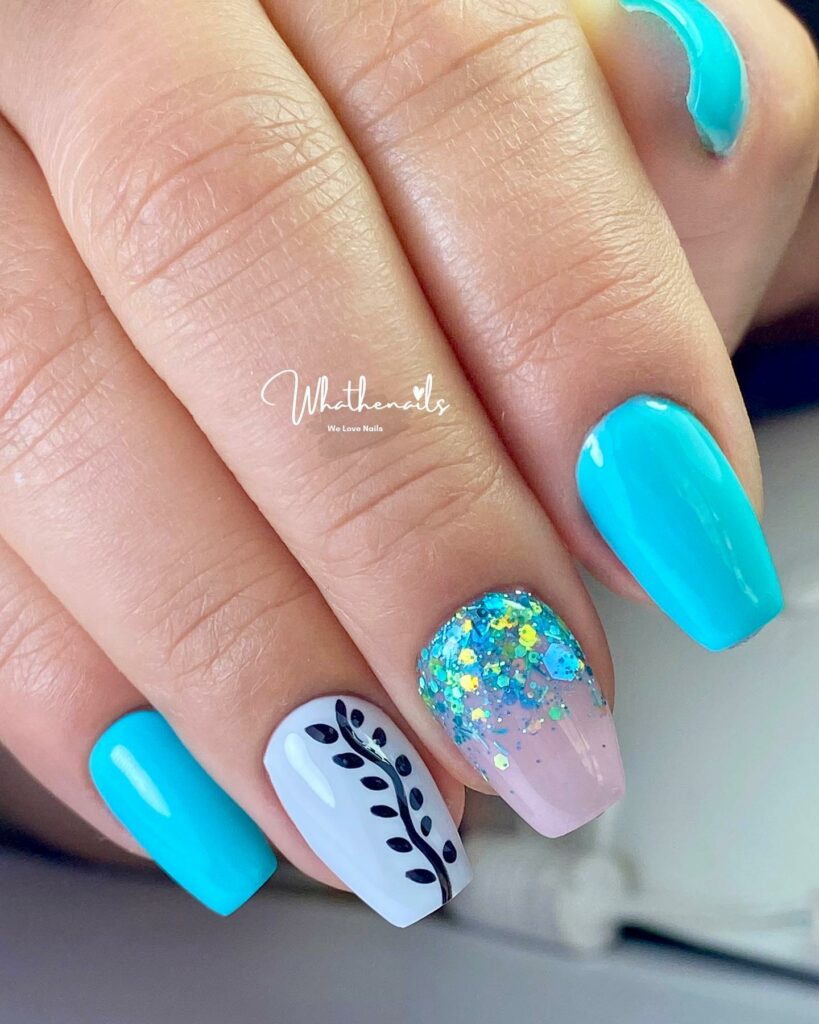 17. Pool Party
The perfect manicure for your summer pool parties.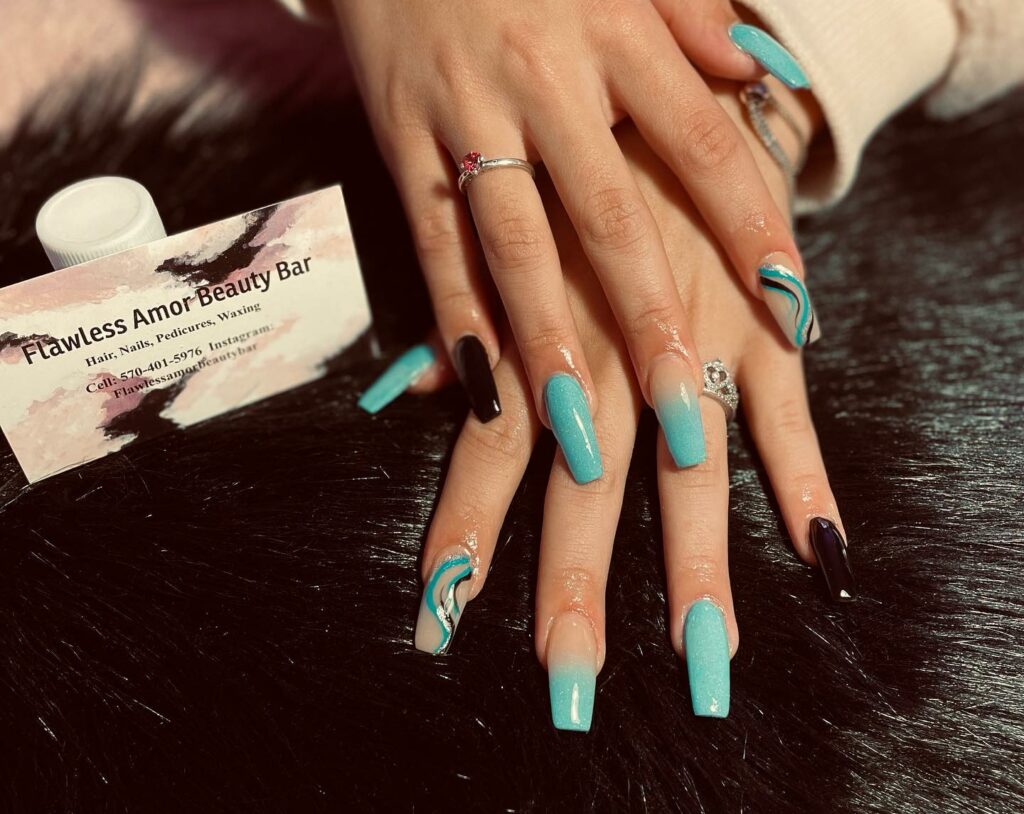 18. Maldives Manicure
How pretty is the color palette on these nails!
19. Ocean Waves Nails
A modern twist on the classic French tip nails which resemble the waves of the ocean pushing against the sand.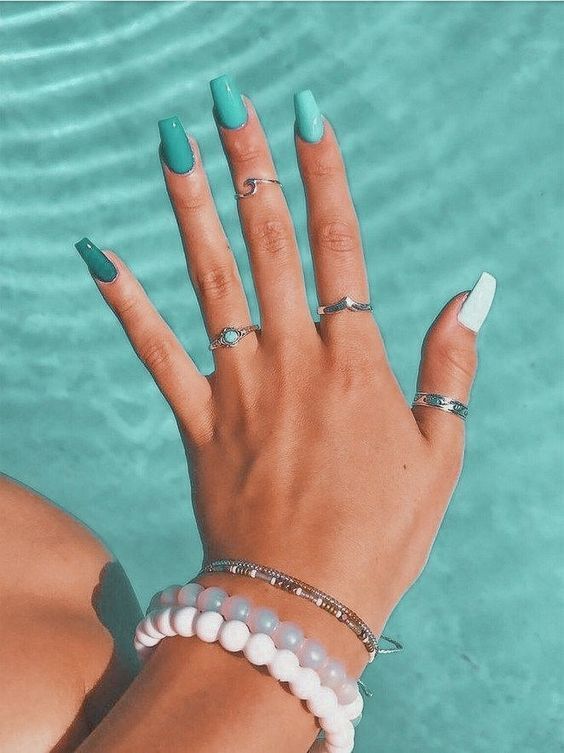 20. Aqua Coffin Nails
Sign me up for these!
21. Simple Almond Aqua Nails
There really is beauty in simplicity, all you need is the right shade of nail polish.
22. Comics Aqua Nails
Jump on the trend with these coffin nails!
23. Aqua Swirl Nails
Keep things simple and opt for a modern look that combines a number of ocean themed colors.
24. Minimalist Aqua Nails
A minimalist look that resembles a marble nail design with white and aqua color nail polish.