Red nail polish and long coffin nails are a match made in heaven – in this article, we have compiled over 30 stunning ideas for coffin red nail designs that will leave you speechless!
Red is one of the most popular colors for nail design, and if you're using it on coffin nails you have so many different designs to choose from – you can go for full coverage, a mismatched look or just an elegant modern take on the classic French tips.
No matter which style you choose, coffin nails with red nail polish will always look elegant and timeless.
So how to choose the right shade of red for your coffin nails? Here are a few ideas!
Bright red nail polish – bright colors are the perfect pick for the summer months as they highlight your darker skin tone (or naturally dark skin tones) beautifully, complimenting your look. Red is also a pretty versatile color so you don't have to worry about matching your outfits with your nails.
Dark red nail polish – dark red is commonly used in the winter months for holiday manicures, but you can start wearing it already in the fall.
Chrome red nail polish – this modern shade of nail polish works great as a base for a special occasion, it's quite a statement look so don't go overboard adding too many elaborate decorating elements.
Neon red nail polish – neon manicure is very popular in the summer months, for the same reason as the bright red nail polish options mentioned above. If you're using neon colors, keep the design fairly simple and ideally combine it with another neutral base color.
Glitter red nail polish – glitter nails are a pretty and easy choice for a special occasion, party or date night. It's always a good idea to have at least one glitter nail polish in your beauty cabinet as it allows you to transform a simple everyday manicure into a more elevated look very easily.
Ombre or Gradient nails – red nail polish is a great candidate to create a gradient manicure for your coffin nails, just make sure you select your five complimenting shades of red carefully so they work together seamlessly.
Coffin Red Nail Design: Video Tutorial
Would you like to try creating professional looking manicure at home? Follow this step-by-step tutorial for this pretty manicure look!
Coffin Red Nail Designs Trending in 2023
Some of the most popular styles to experiment with include:
3D nail art on red coffin nails
extended French tips that stretch to the side of the nail
alternating colors to create a gradient look
adding custom nail art to the tips, especially in black nail polish
adding some winter or holiday elements for a festive manicure
use glitter red nail polish to make your nails look extra festive, or ready for a party
With so many different shades of red nail polish and so many different styles to choose from, you will find it hard just to pick one design you like!
30+ Ideas for the Best Coffin Red Nail Designs
Below is our curated collection of the prettiest coffin red nail designs – there is plenty of inspiration for any type of color option and nail length.
If you want even more ideas, you can check our Pinterest account with hundreds of trending nail designs added daily. At the end of the article, you will also find recommendations for other nail design ideas – go check them out!
1. Statement Black Nail Art
2. Red Coffin Nails with Hearts
3. Red Coffin Nail Design With Gemstones
4. Red Long Coffin Nails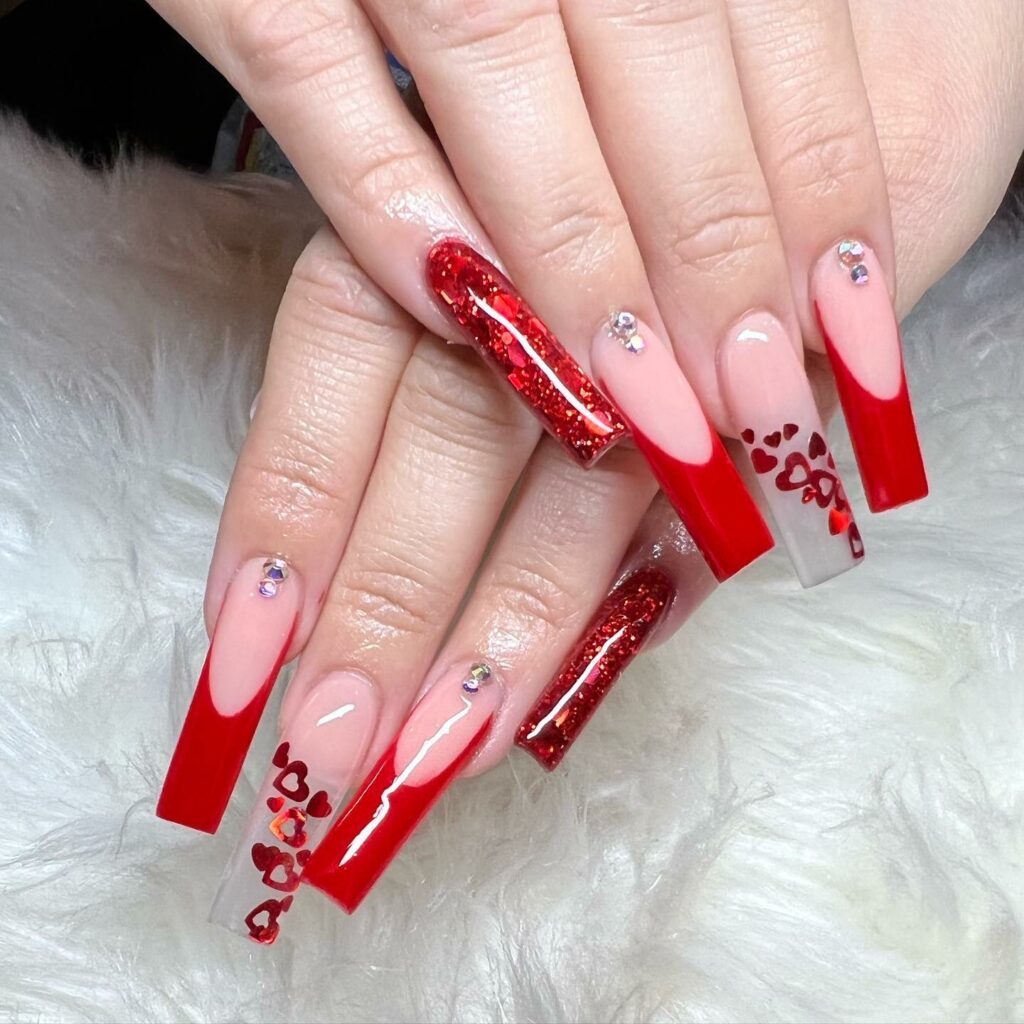 5. Snake Print Red Coffin Nails
6. Smoke Effect Red Coffin Nails
7. Stars and Hearts on Coffin Nails
8. Fire and Gemstones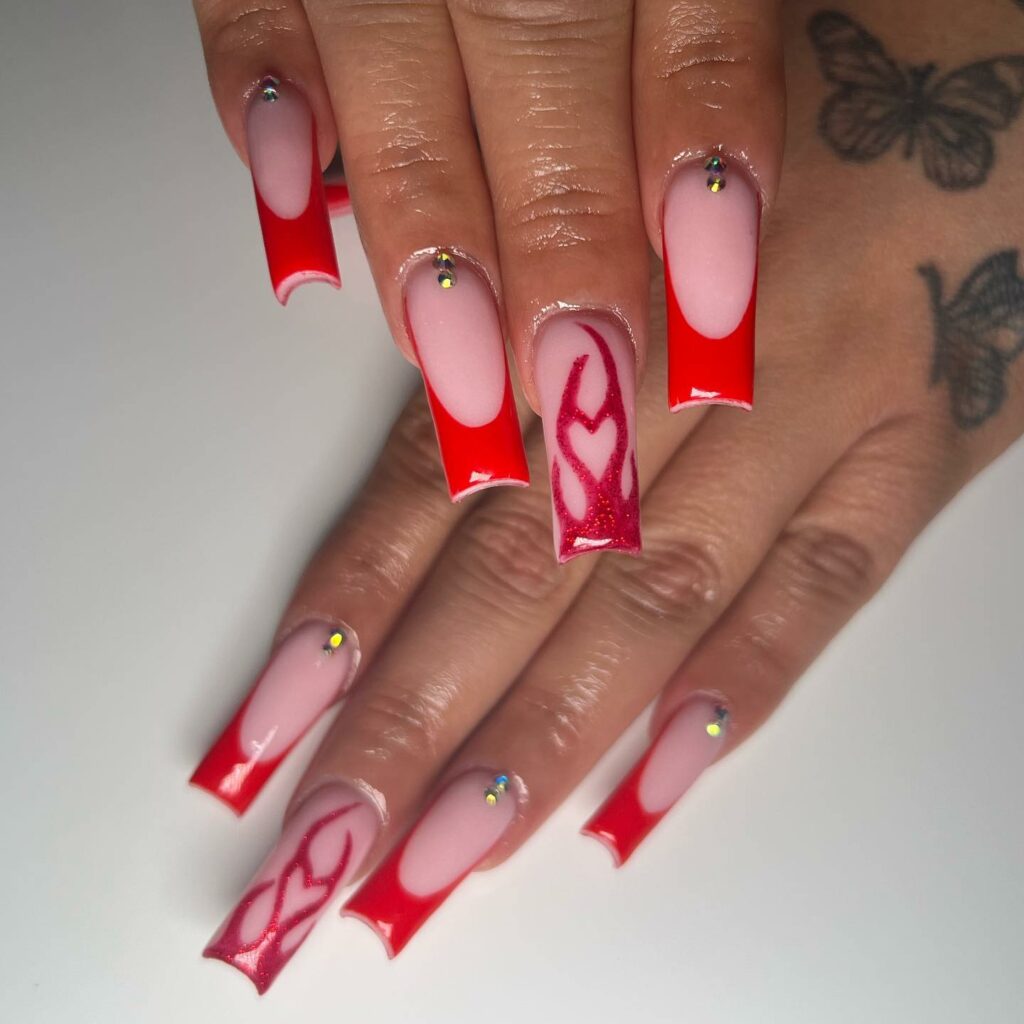 9. Snow Kissed
10. Coffin Red Tips with Black Nail Art
11. Holiday Red Coffin Nails
12. Dark Red Glitter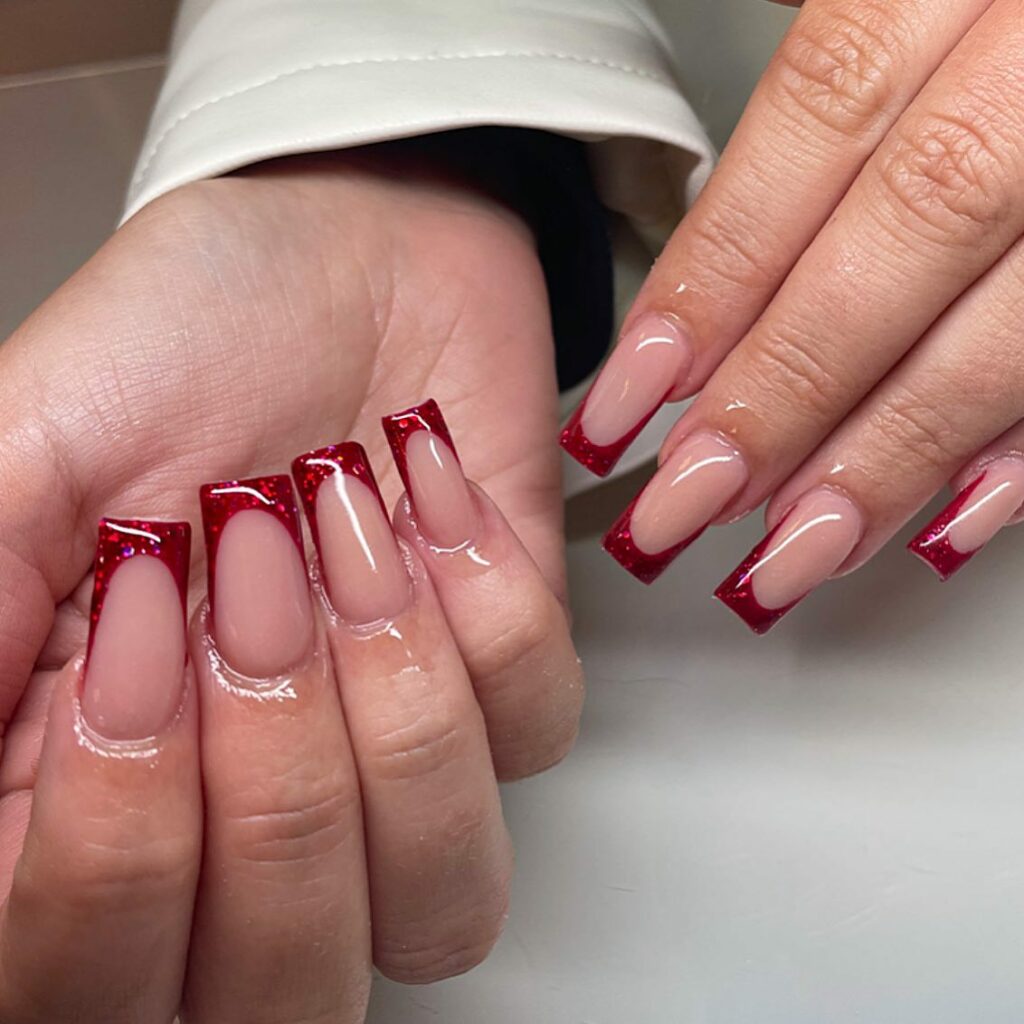 13. Coffin Nails with Flowers & Gemstones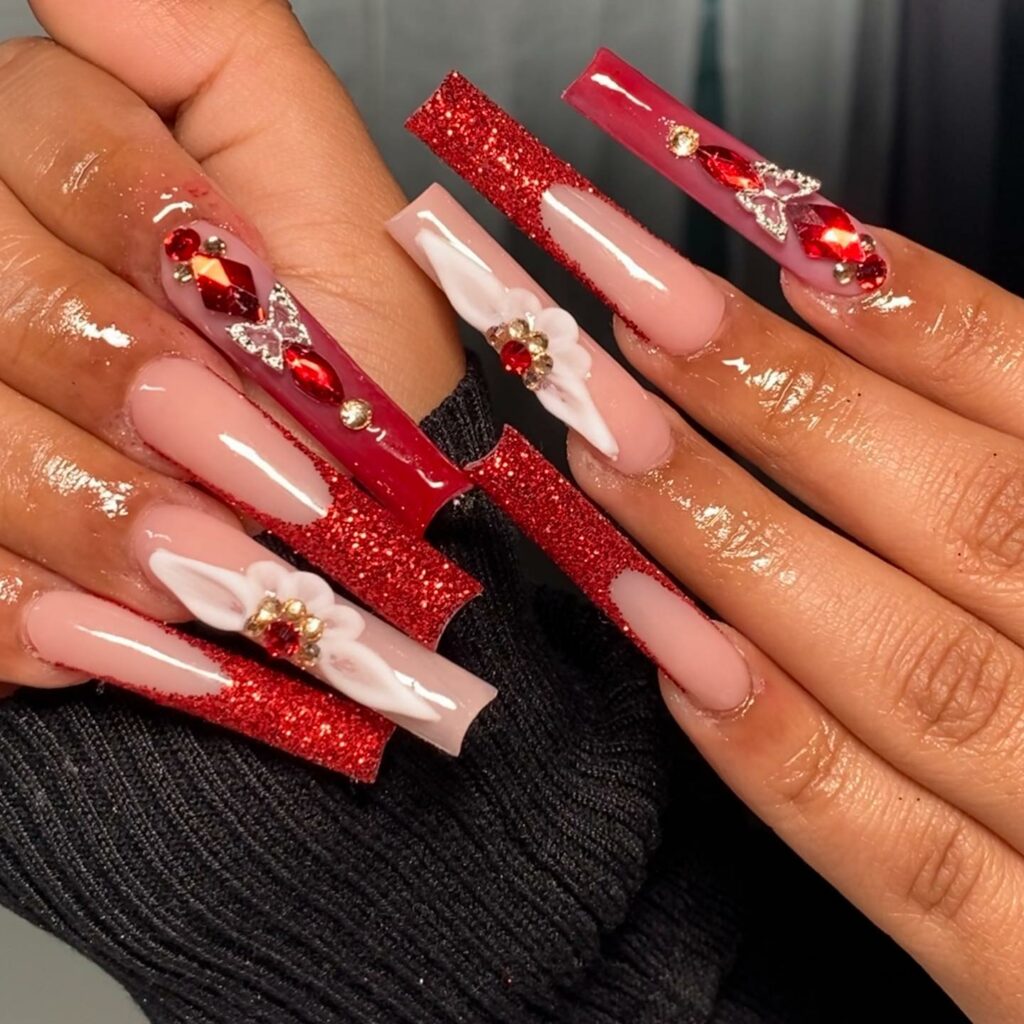 14. White Stars on Red Coffin Nails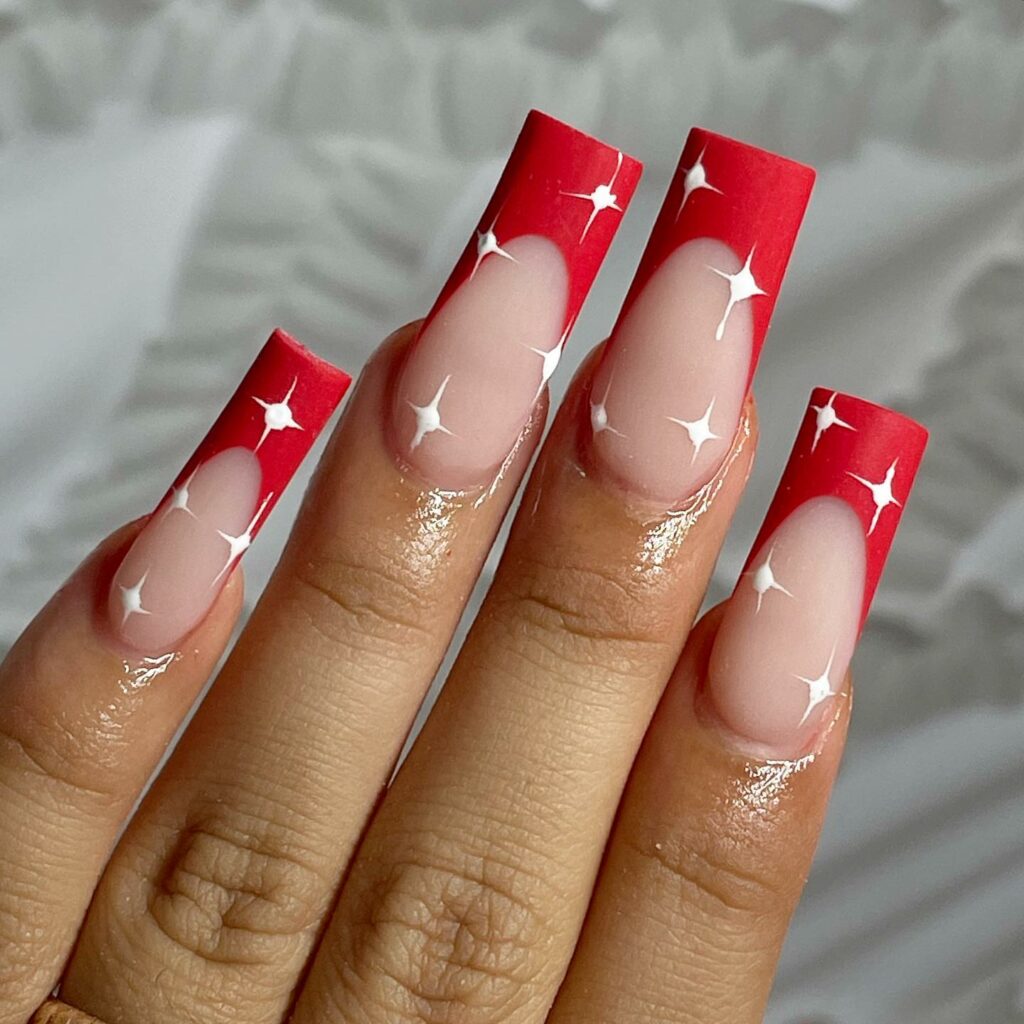 15. Super Long Red Coffin Nails
16. Mismatched Red Coffin Nails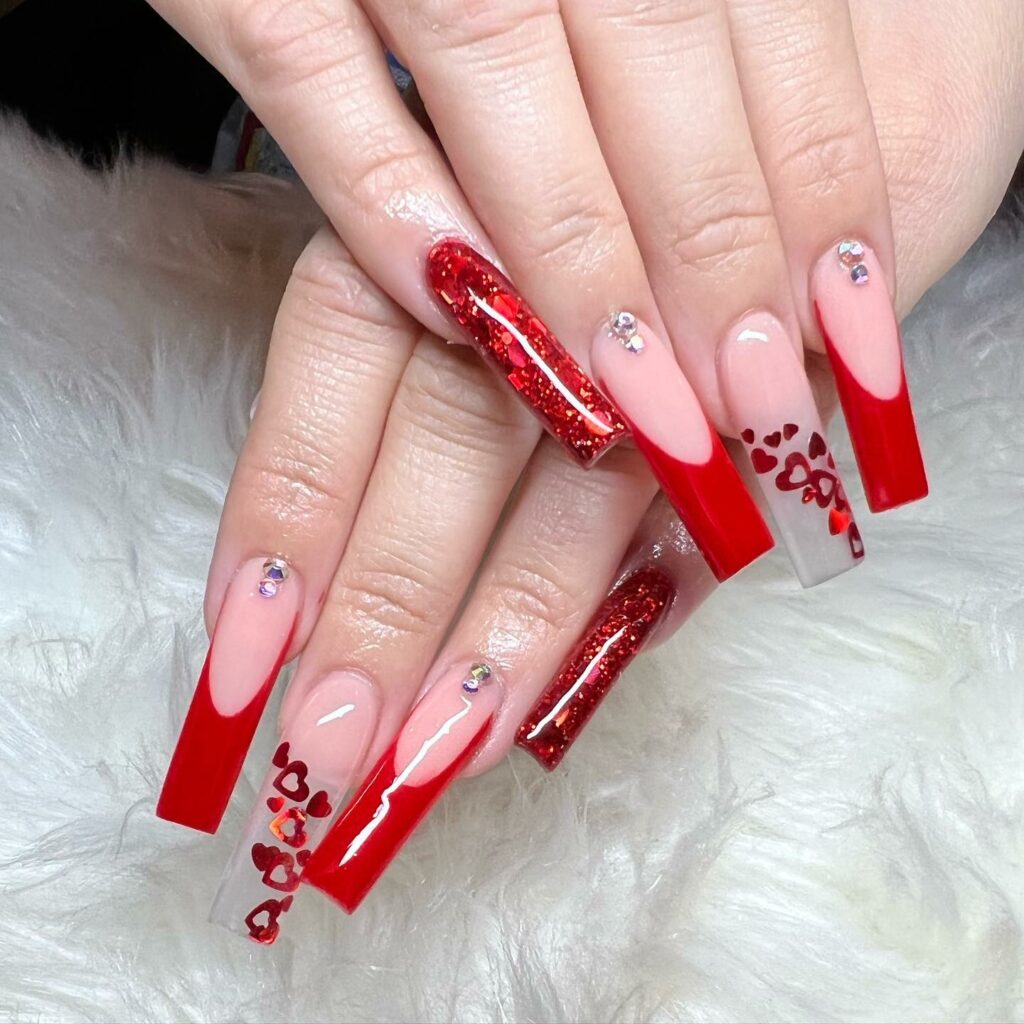 17. Valentine's Day Coffin Nails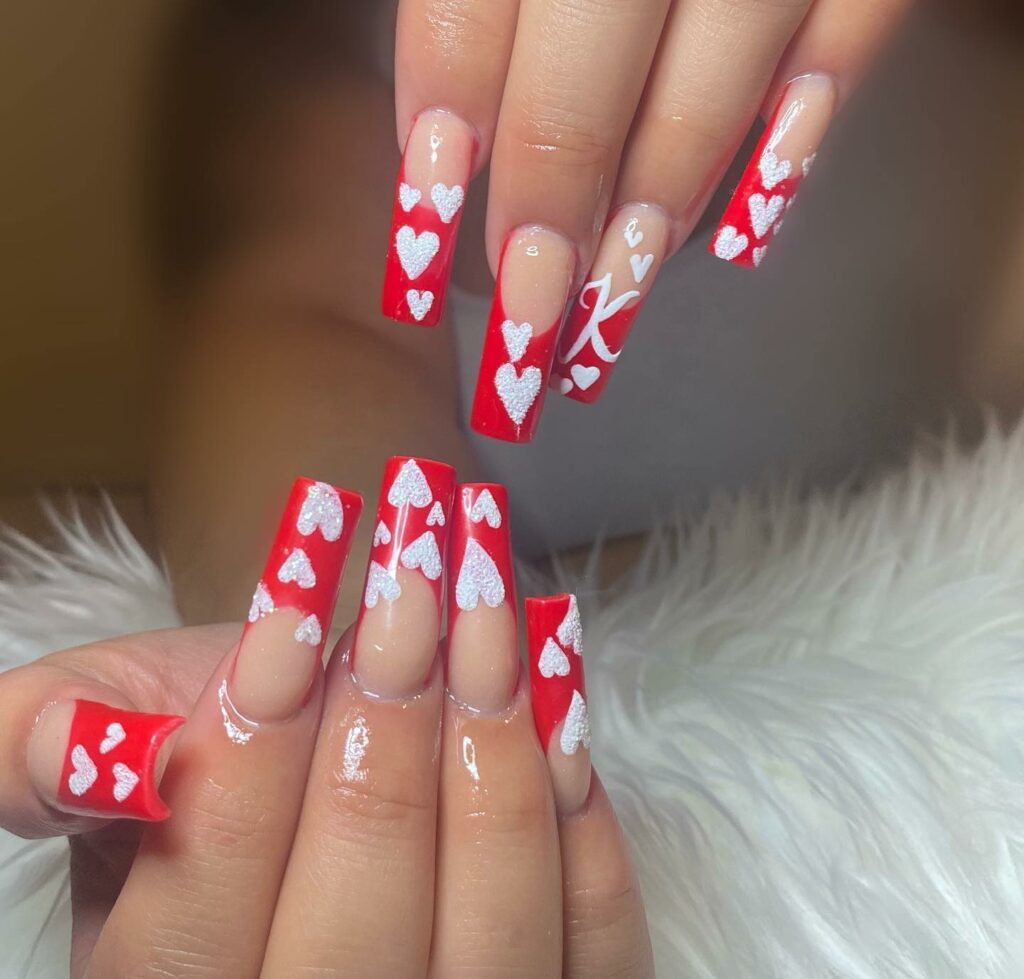 18. Red Croc French Tips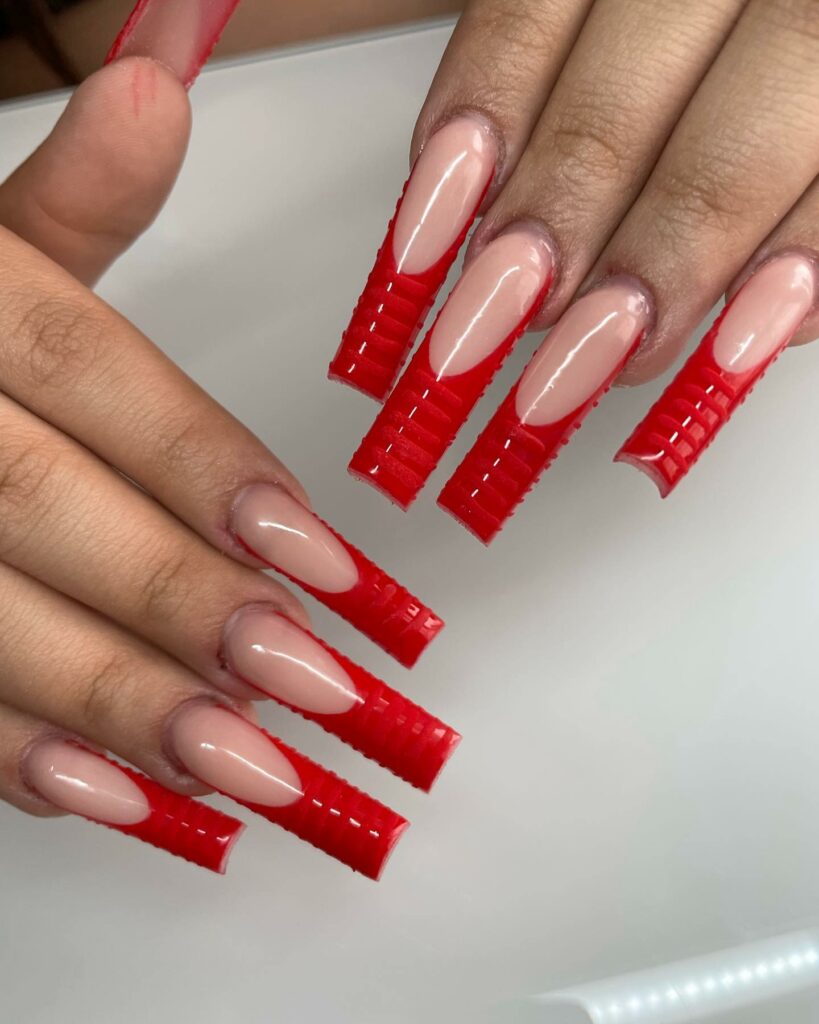 19. Glitter Acrylic Red Nails
20. Coffin Nails with Pearls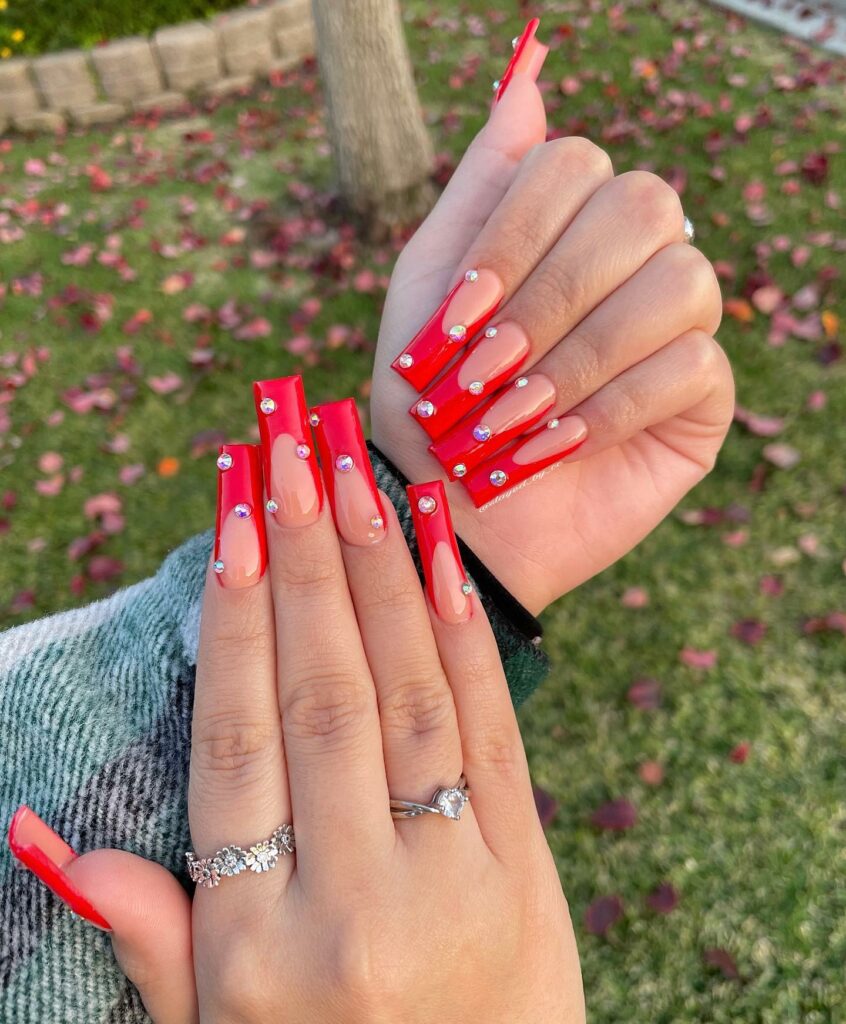 21. Metalic Red Coffin Nails
22. Red Coffin Tips with Gold Nail Art
23. Statement Gold Nail
24. White Fire Coffin Nails
25. Classic Coffin Red Tips
26. Coffin Red Nails with Gemstones
27. Full Coverage Acrylic Red French Tips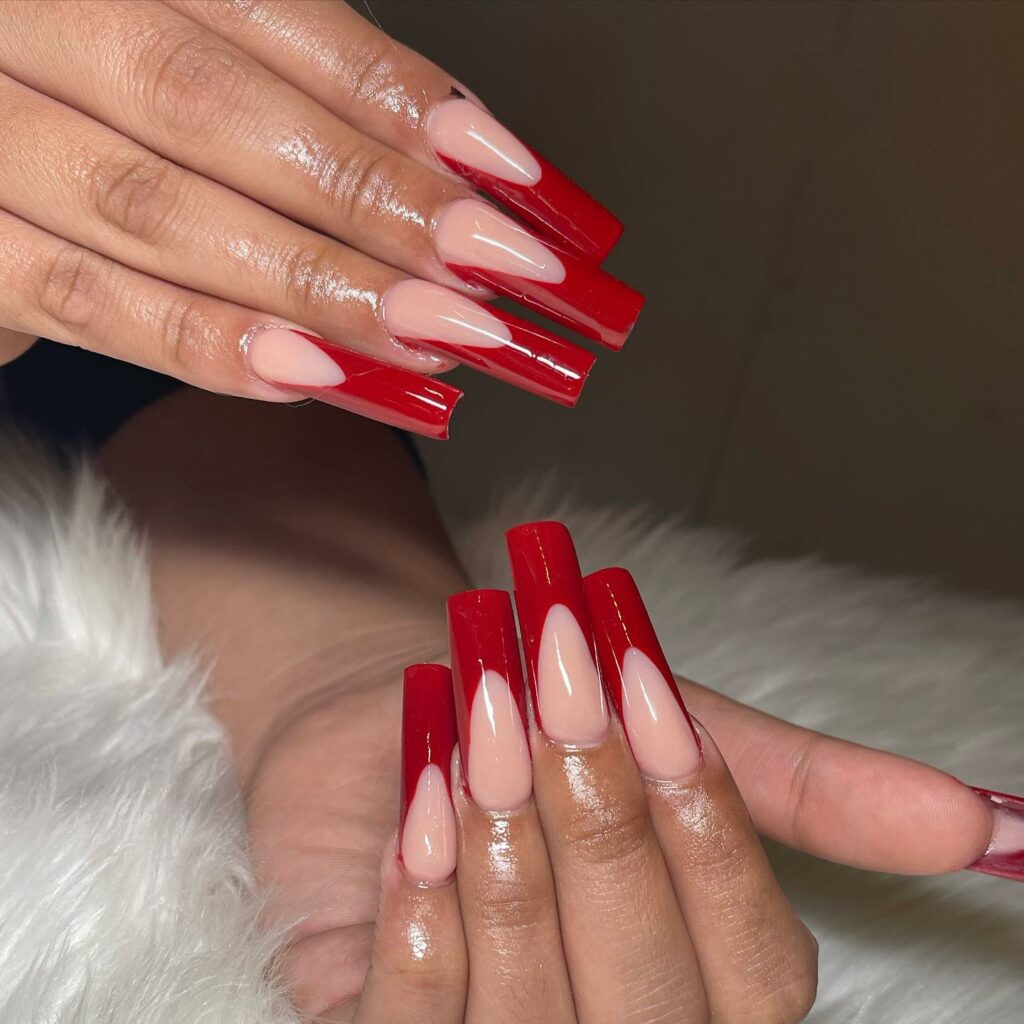 28. Oriental Style Red Coffin Nail Design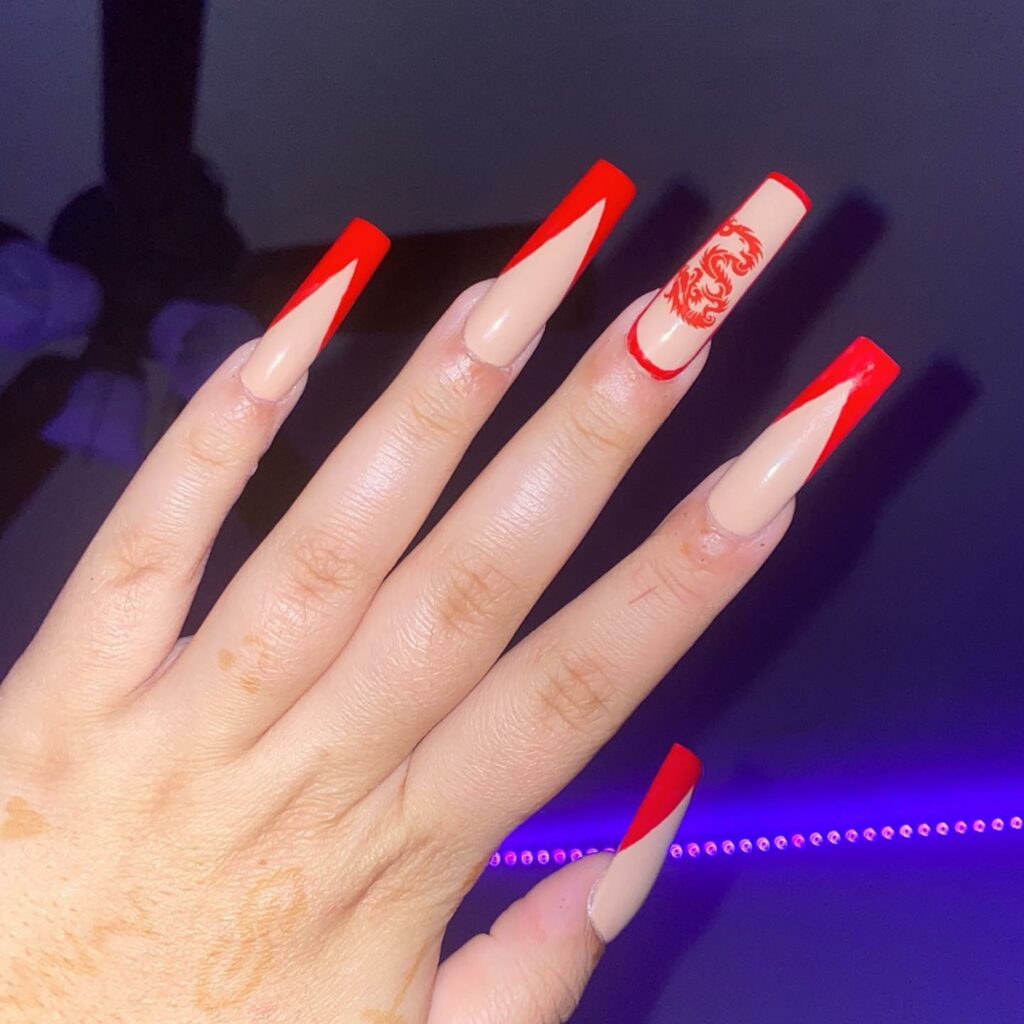 29. Red Coffin Nails with Gemstones
30. Blinged Out Red French Tips
31. Modern Valentines Day Coffin Nails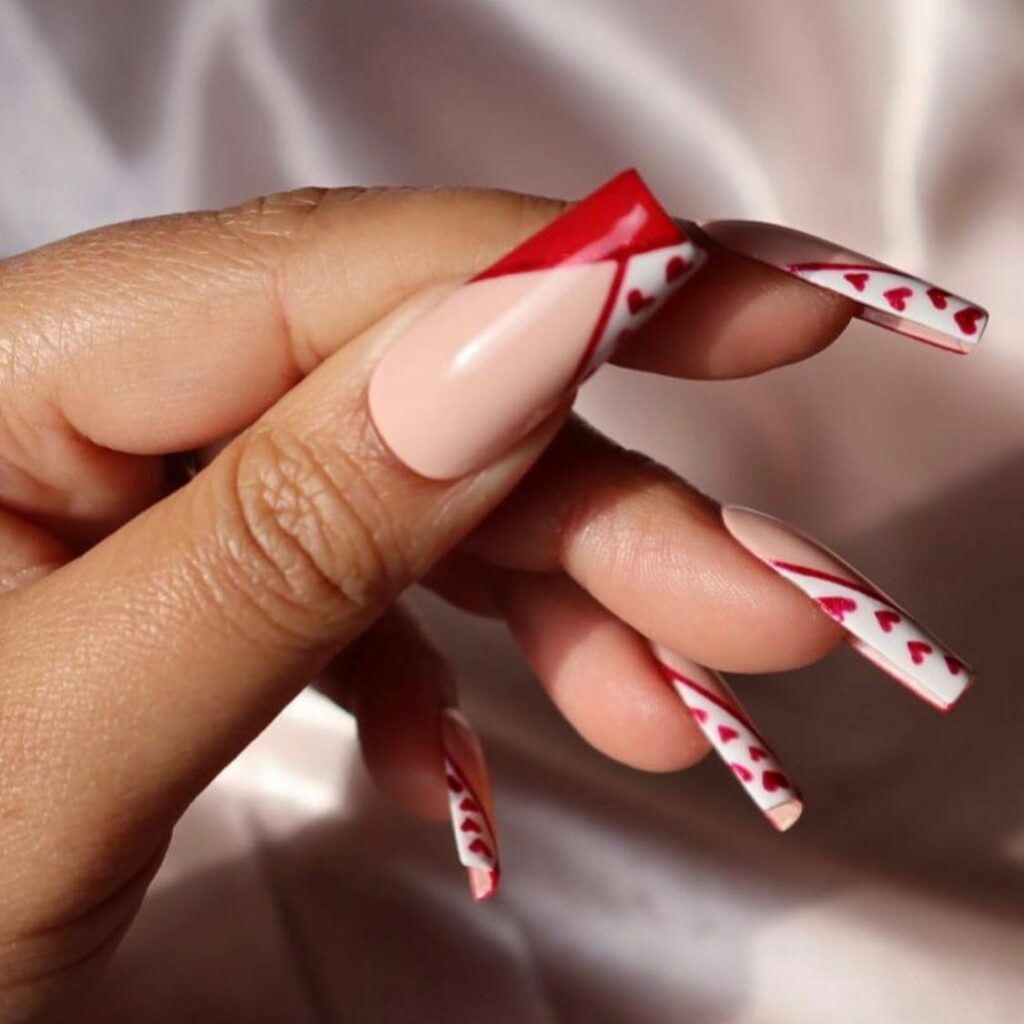 32. Holiday Glitter Coffin Nails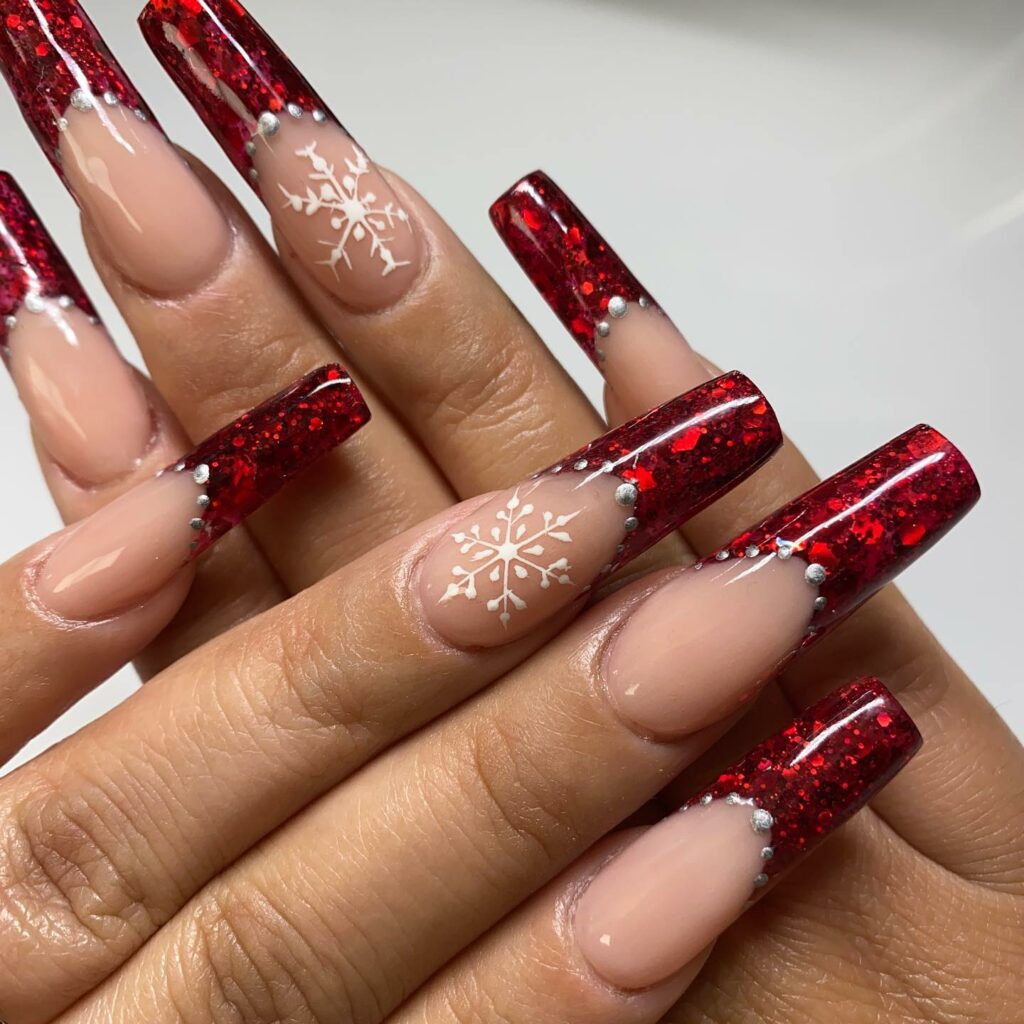 33. Elegant Red French Tip Coffin Nails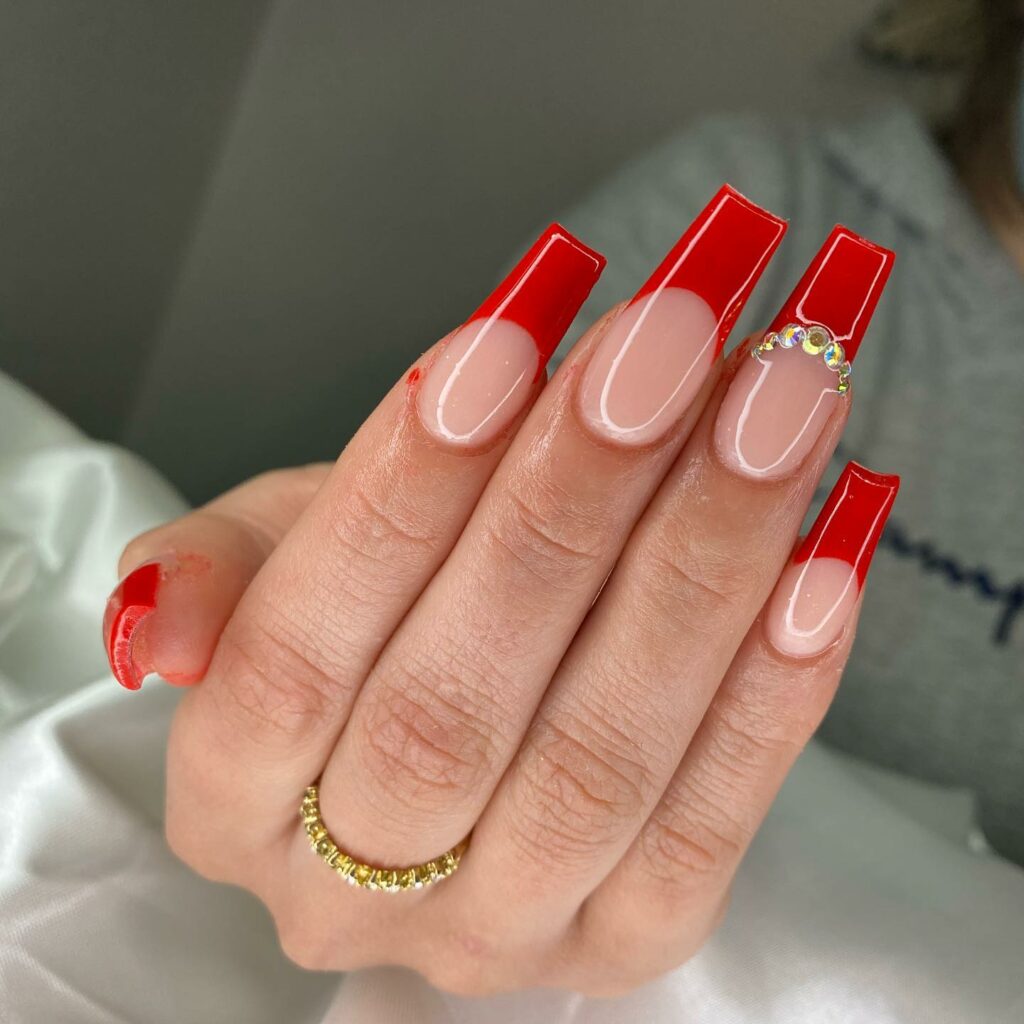 34. Simple Red French Tip Coffin Nails