Fall in love with these feminine emerald green almond nails!
Without any doubt, almond-shaped and oval nails are super trendy and sexy this year. This is the shape you need if you prefer to demonstrate elegant, sophisticated, and neat hands.
Deep emerald green, deep jade hues, stylish and elegant olive shades, and delicate mint tincture make fashionable emerald green nails so diverse. This allows you to choose an interesting and original design for your nails, which will be suitable for any occasion or season.
Modern emerald green nails give new inspiration to use this hue in nail design using your favorite nail art and manicure techniques.
Undoubtedly, French nails will be among the leading trends, the grown part of the nail can be polished in modern, soft pastel green shades.
Decorate your manicure with crystals and stones at the base and you will get a delightful and impressive evening design.
A fashionable emerald green manicure in any of its shades will look interesting and original. Geometric elements, wavy lines, and floral motifs easily complete your classic and smart emerald green nails.
Green twigs, leaves, and flowers look great on a nude or white and black base.
For ladies who are obsessed with luxury and elegant style, the best combination is emerald green nails with gold. The golden lines, or foil fragments, made on an emerald base, give incredible beauty and gives a unique expressiveness to the oval emerald nails.
Thus, women's hands acquire additional refinement and can be compared with real jewelry, which has an irresistible and delightful look.
Trending Emerald Green Almond Nails Ideas
So what are the common nail design themes trending for emerald green nails? Here are just a few to keep an eye on:
Emerald Green French Tips on Almond Nails- not keen on the full nail polish look? Opt to update your French tips instead, that hint of color really makes a difference
Dark Green Emerald Almond Nails- a new classic nail design that can replace the elegant black nails
Marble Emerald Green Almond Nails- a natural-looking color that goes well with almost any outfit, and the popular nail design style that adds some contrast to your manicure and makes it look super stylish
Emerald Gold Nails- adding a bit of contrast to emerald green nails is easy with gold flakes or glitter nail polish
Emerald and Black- The Modern Gothic Nails- both colors can be used in the design of French manicure, ombre, and geometric patterns
Mat Emerald Green Nails- when you are looking for velvet and impressive nails for a special occasion
27 Best Emerald Green Almond Nails Ideas
So here it is, our curated collection of the most beautiful emerald green nails ideas we found on Instagram.
For even more inspiration on this pretty green trend, check our dedicated Pinterest board here and follow us on Pinterest so you don't miss anything nails related.
1. Emerald Green Long Almond Nails
2. Matte Emerald Green Almond Nails
3. Emerald Green French Tips on Almond Nails
4. Sparkling Emerald Green Almond Nails
5. Mismatched Design with White & Gold
6. Single Tone with a Gemstone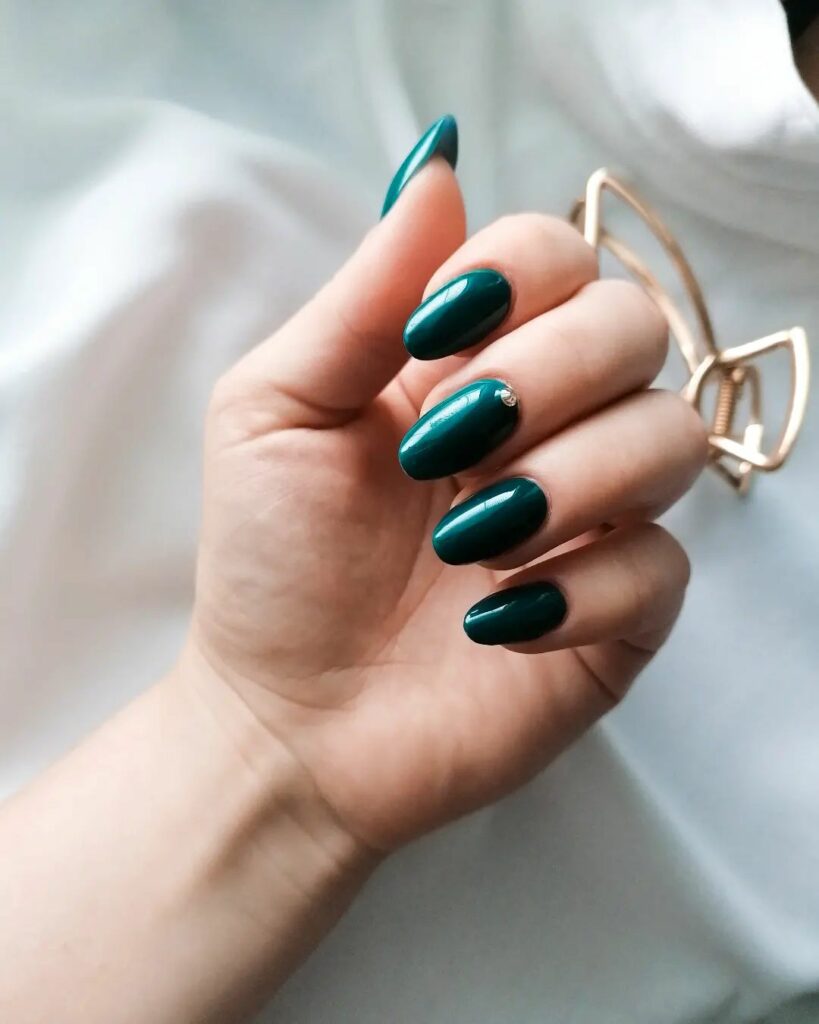 7. Half Moon Emerald Almond Nails
8. Sharp Emerald Almond Nails
9. Dark Green Emerald Almond Nails
10. Emerald Green Nails Idea for Almond Nails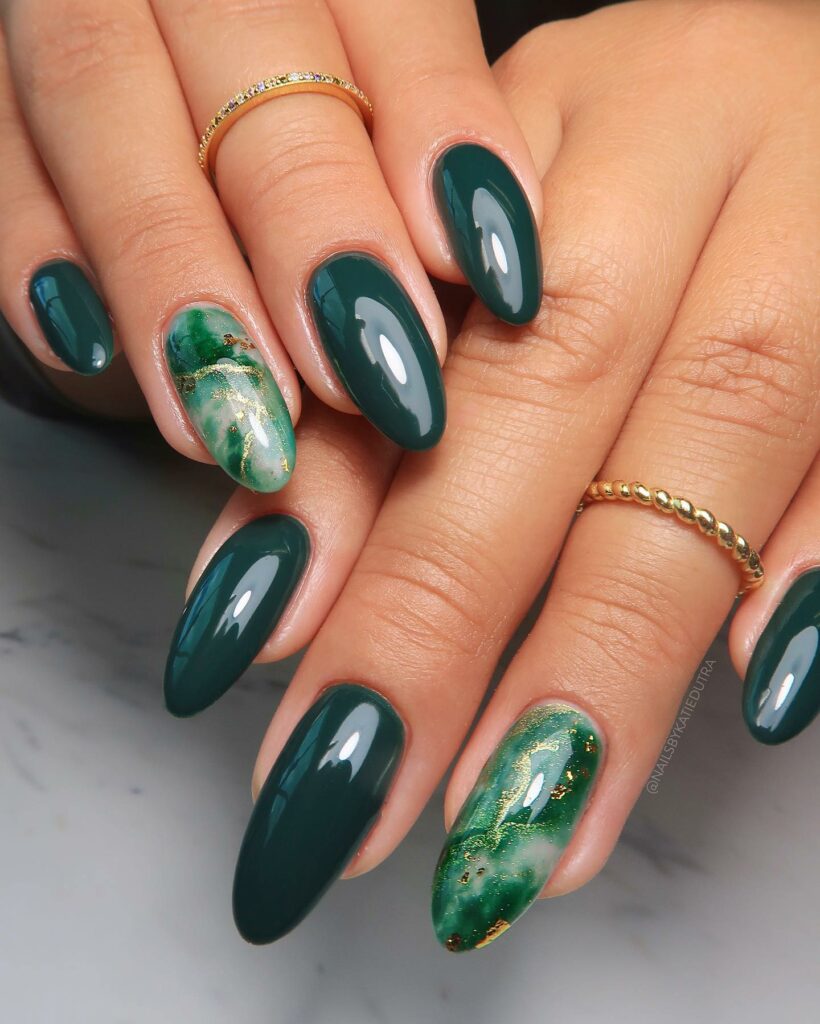 11. Marble Emerald Green Almond Nails
12. Marble Short Emerald Green Nails
13. Emerald Green Almond Nails with Glitter
14. Emerald & Pearls on Long Almond Nails
Make a statement with the prettiest pearl nail art.
15. Chrome Emerald Green Almond Nails
If you like a simple look, this chrome effect with emerald green color will certainly tick all your boxes.
16. Almond Nails with Gold Stars
This night sky inspired manicure has plenty of personality with a splash of color.
17. Emerald Green & Forest Green
Mix some light shades of green and marble nail art with emerald green nails to add a bit of contrast to your manicure.
18. Golden Flakes on Long Almond Nails
Dust a bit of magic on your nails.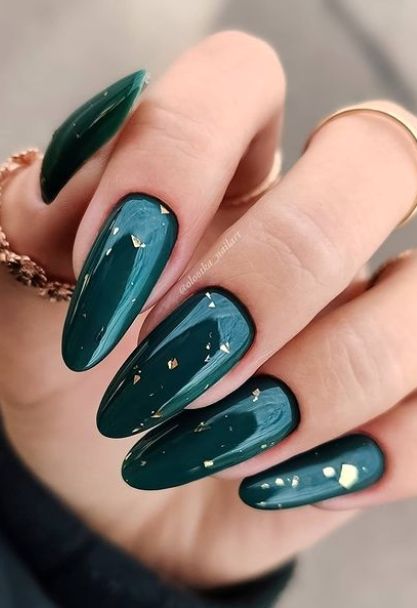 19. Golden Details with Animal Print
Live on your wild side by including a bit of animal print.
20. Minimalist Emerald Green French Tips
A minimalist approach to French tips which works best on almond shaped or shorter nails.
21. Sparkly Green Tips on Long Almond Nails
A modern twist on classic French tips with glittering emerald green nail polish and pink base color.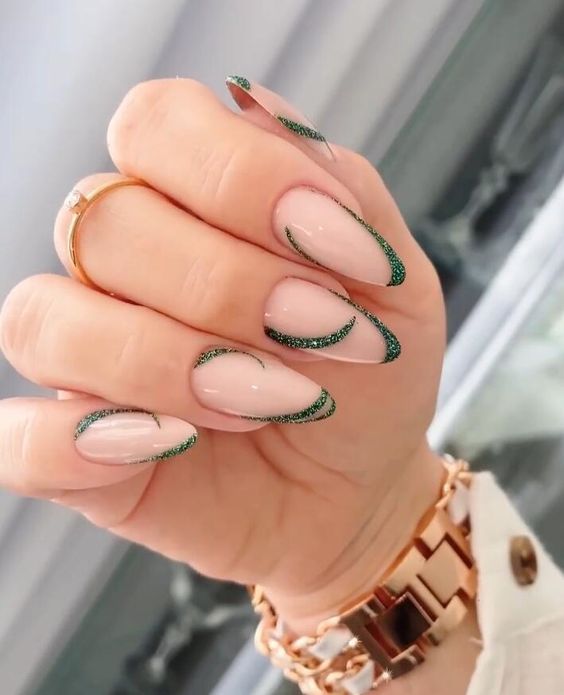 22. A Touch of Gold
Sprinkle a dust of gold on your pretty green nails.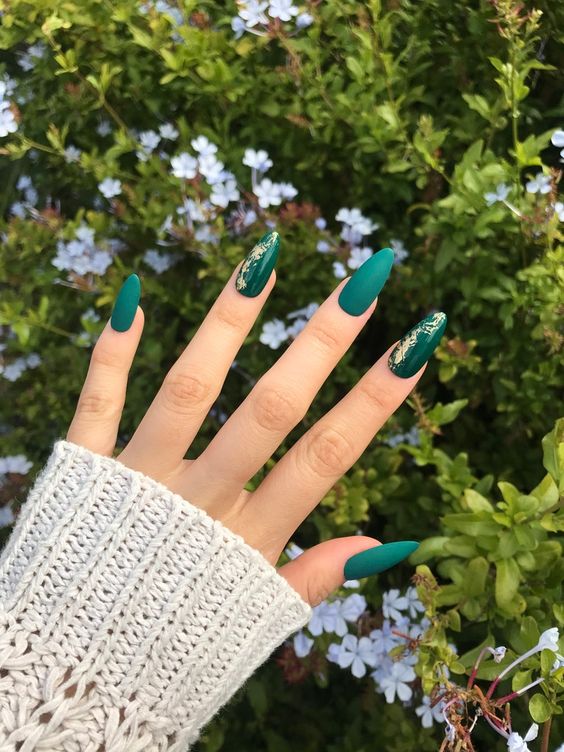 23. Mixed Style Emerald Green & Forest Green
A mix of styles and colors that only an experienced nail artist will be able to pull off.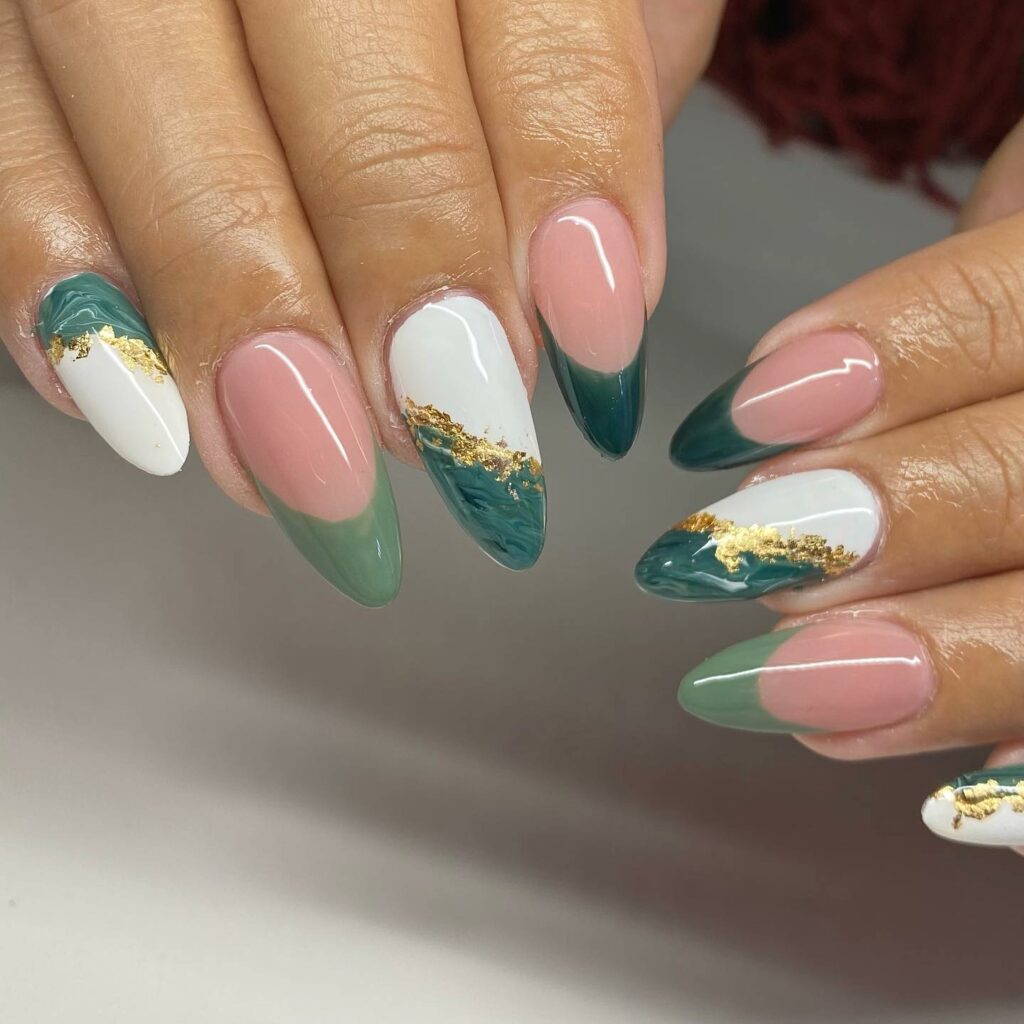 24. Crystals, Gradient and Glitter
All the things that make a pretty manicure combined in one.
25. Marble Emerald Almond Nails
Statement nail with emerald green marble effect.
26. Botanical Art Emerald Almond Nails
Pretty intricate botanical nail art really makes a statement when combined with emerald green color.
27. French Emerald Tips on Almond Nails
Elongated French tips manicure with gemstones and a statement nail design.