Modern, luxurious, and not least elegant emerald green nails with gold that will add a final touch to your sophisticated look!
These nail design ideas are suitable for all ladies who are always up to the latest fashion trends and do not make any exceptions when it comes to their elegant looks.
Emerald green hues suit any nail shape and length, but the best advantage is that these shades look harmonious no matter the occasion.
The emerald green nail polish is suitable for both red-haired and dark-haired ladies. Of course, it stands out beautifully on the golden hair. This shade is also suitable for representatives with expressive eyes and pale skin. In order to have a sophisticated and neat manicure, it is necessary to combine it with short and medium-length nails.
The deep and calm emerald color does not look good with too many decorations and accents. This is because the emerald shade itself has an expensive and luxurious appearance. Here is why emerald green nails with gold are considered as real masterpieces and jewelry artwork.
Trending Emerald Green Nails with Gold
So what are the common nail design themes trending for emerald green nails? Here are just a few to keep an eye on:
Botanical Emerald & Gold Nails
Emerald Marble & Gold Outline Nails
Minimalist Emerald Green Nails With Gold
Marble Emerald Green Nails With Gold
French Tip Emerald Green and Gold Nails
Gold Brushed Emerald Green Nails
Golden Foil Emerald Nails
Minimalist Geometric Emerald Green Nail Art
50+ Best Ideas for Emerald Green Nails with Gold
So here it is, our curated collection of the most beautiful emerald green nails ideas we found on Instagram.
For even more inspiration on this pretty green trend, check our dedicated Pinterest board here and follow us on Pinterest so you don't miss anything nails related.
1. Emerald Green Nails with Gold Print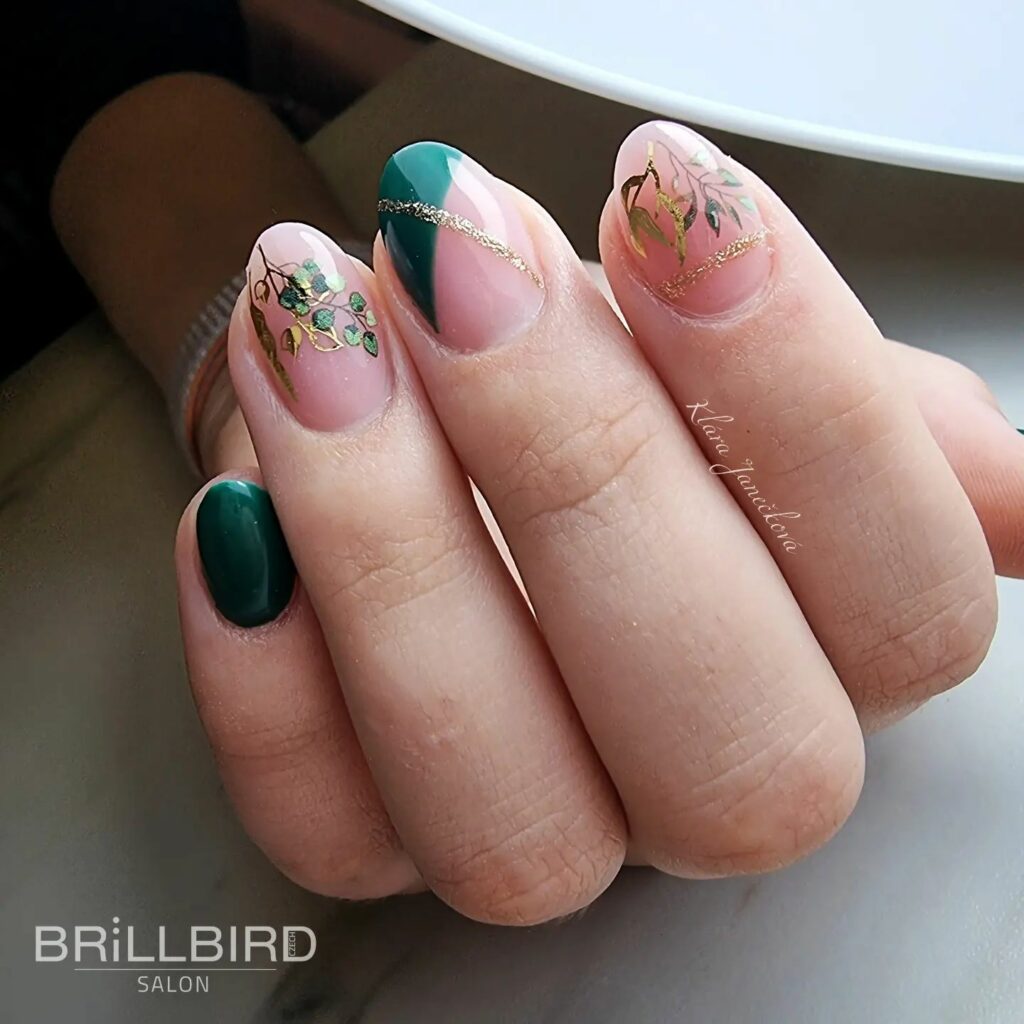 2. Emerald Green Nails Idea for Almond Nails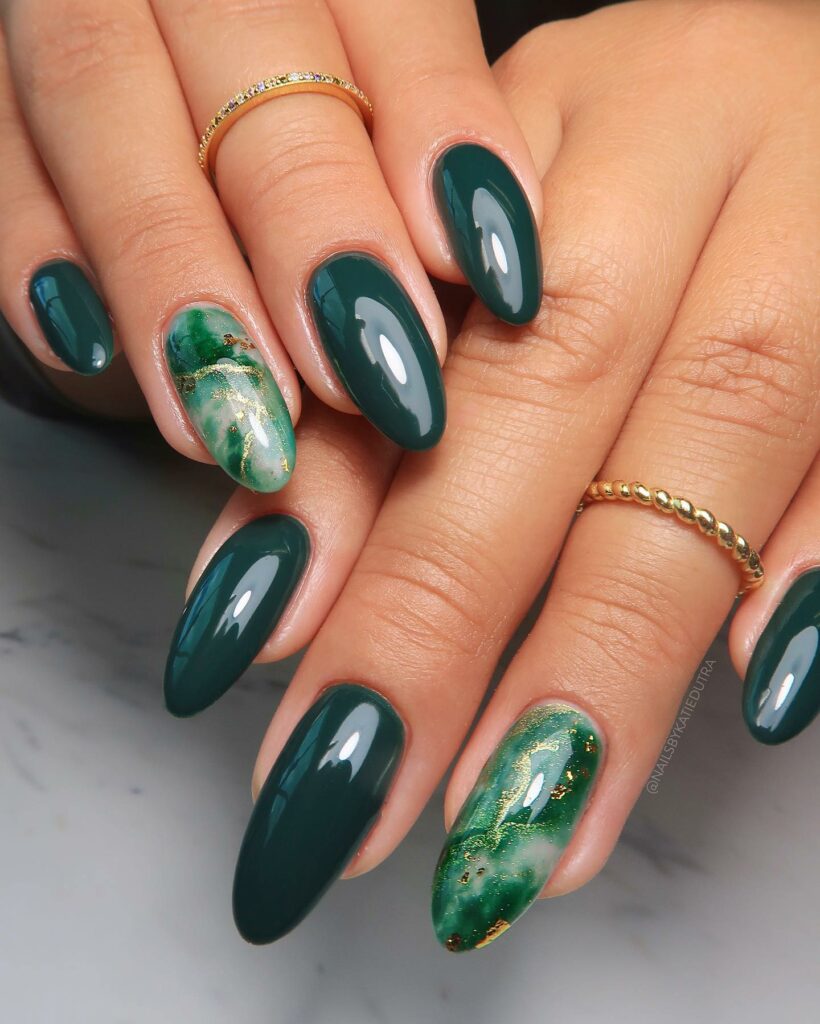 3. Duo Tone Emerald Green Nails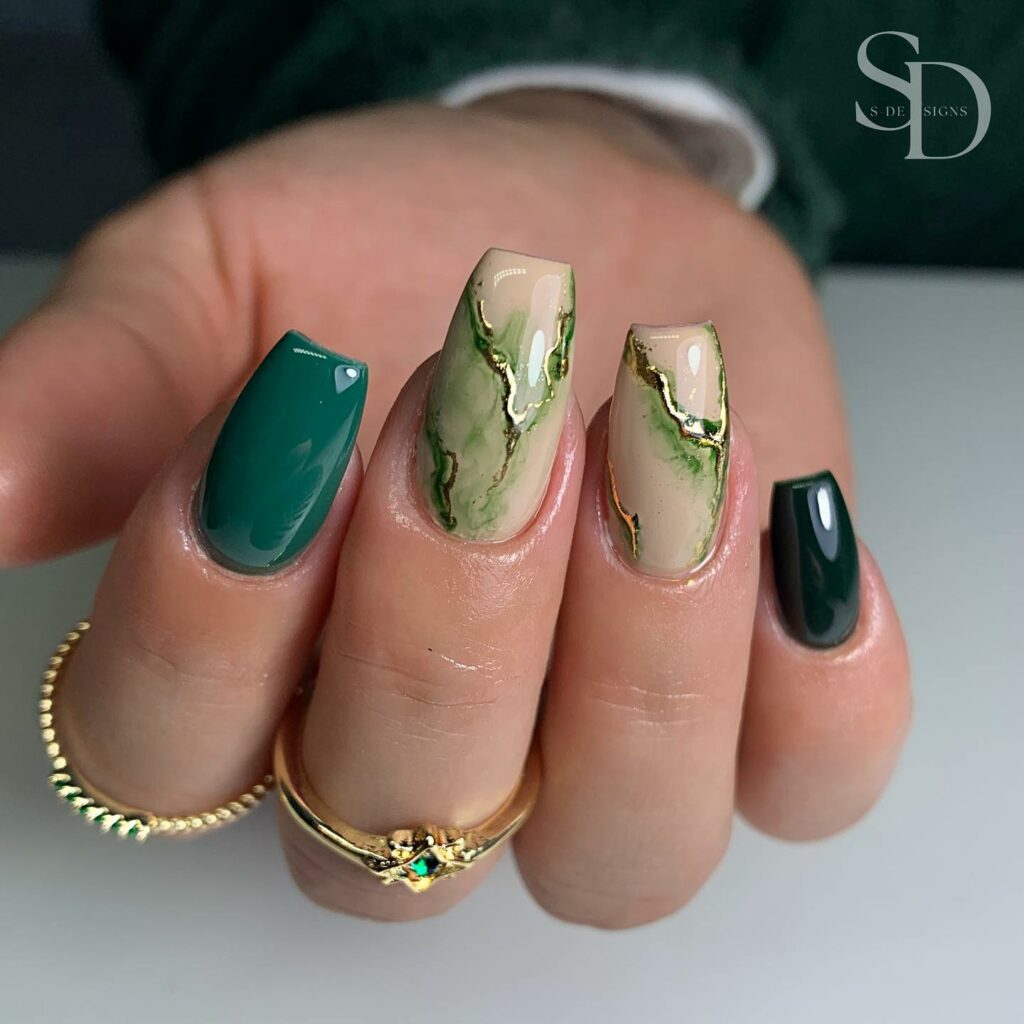 4. Emerald Green Tips & Gold Stars
This night sky inspired manicure has plenty of personality with a splash of color.
5. Mixed French Tips
Delicate and elegant manicure for almond shaped nails.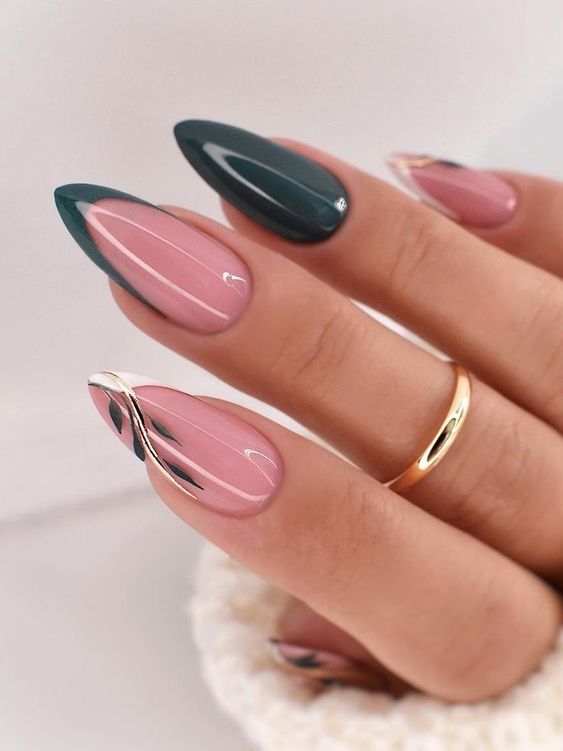 6. Emerald Green Gemstones
Gold and emerald green gemstones on classic neutral coffin nails do make a grand statement.
7. Emerald Green & Forest Green
Mix some light shades of green and marble nail art with emerald green nails to add a bit of contrast to your manicure.
8. Golden Flakes
Dust a bit of magic on your nails.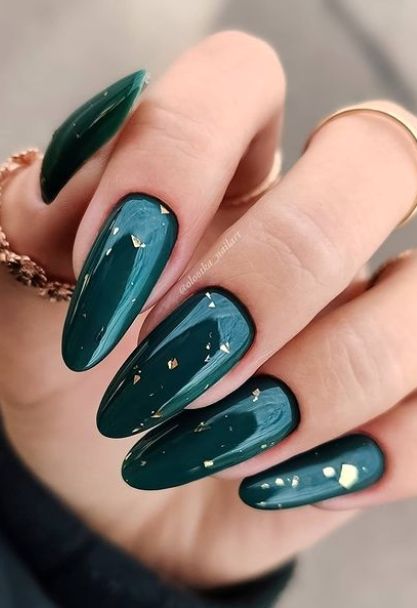 9. Golden Details
Live on your wild side by including a bit of animal print.
10. A Touch of Gold
Sprinkle a dust of gold on your pretty green nails.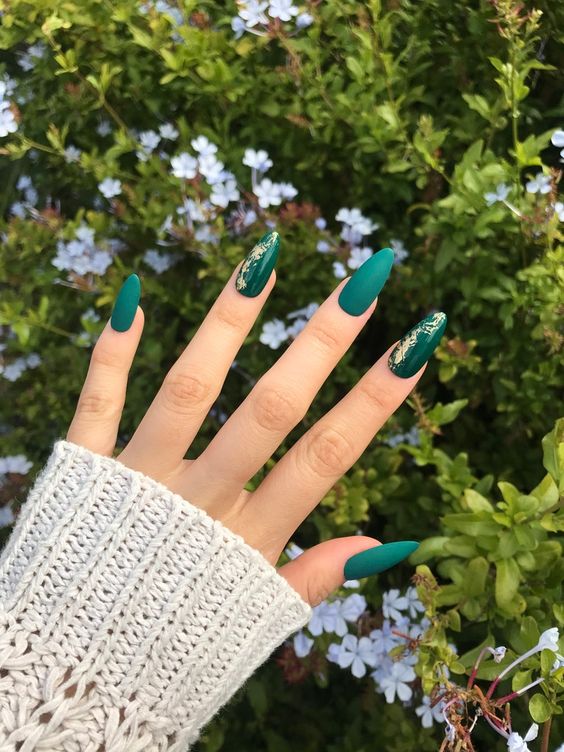 11. Emerald Green Marble Nails
Emerald green nails mixed with pretty marble and gold nails.
12. Mixed Style Emerald Green & Forest Green
A mix of styles and colors that only an experienced nail artist will be able to pull off.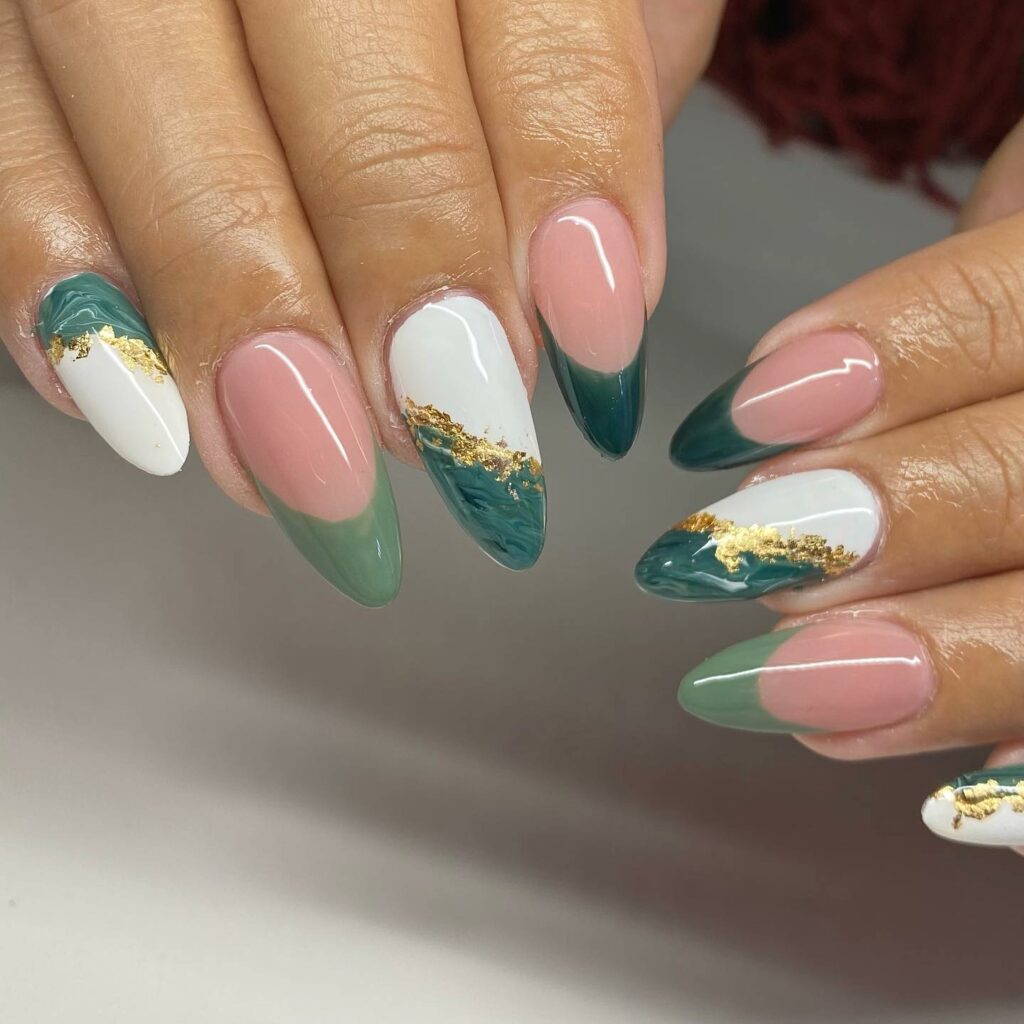 13. Short Emerald Green Nails
Got short nails? Keep it simple with single tone nail polish and elevate the design by using a statement design on one or two nails.
14. Golden Outline on Short Nails
A twist on classic French tips using misplaced highlights and gold outlines.
15. White Coffin Nails with Emerald Green Crystals
Keep it simple and let the gemstones do all the talking.
16. Twinkle Emerald Nails
Capture the essence of the night sky on your nails.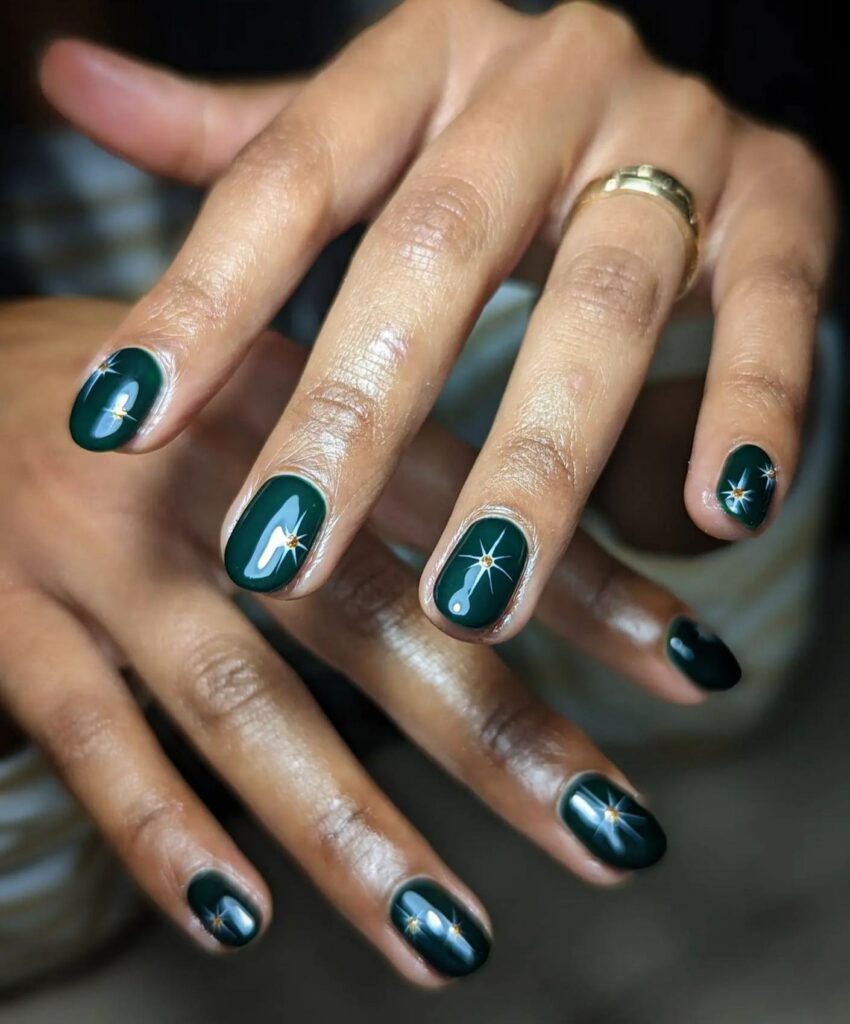 17. Botanical Art Emerald Nails
Pretty intricate botanical nail art really makes a statement when combined with emerald green color.
18. Minimalist Short Emerald Nails
Short nails? This minimalist manicure will look fantastic!
19. Emerald Green and Gold Glitter Nails
20. Emerald Nails and Drip Gold Nails
21. Emerald French Tips with Gold Hearts
22. Emerald Nails with Gold and Gemstones
23. Simple Green and Emerald Green Nails