Looking for the prettiest emerald green acrylic nails? You came to the right place!
In this article we have curated a collection of over twenty gorgeous ideas for green acrylic nails that are both beautiful but also timeless, making them a great design option for any nail length.
Emerald green nails are one of the most popular nail trends this year, and the colors is here to stay! This dark shade of green has almost a royal appeal and makes your nails look like some precious gemstones. Whether you like ombre nails, plenty of glitter or custom nail art, you can combine all of these with pretty nails in the shade of emerald green.
Below you will find a tutorial for emerald green acrylic nails, followed by our collection of the best styles we found on Instagram.
If you like a particular design, you can check more work from the same nail artist by clicking on the Instagram bio link under the image.
Video Tutorial: Emerald Green Acrylic Nails
17+ Emerald Green Acrylic Nails for 2023
For even more inspiration on this pretty green trend, check our dedicated Pinterest board here and follow us on Pinterest so you don't miss anything nails related.
1. Emerald Green French Tips
This layered look on acrylic nails is simply gorgeous – a modern twist on classic French tips, with a matte green base and added contrast with high gloss dark green nail polish. Looks perfect almost on any nail length, but especially so on these super long coffin nails.
2. Marble, French Tips and Gold Emerald Green Acrylic Nails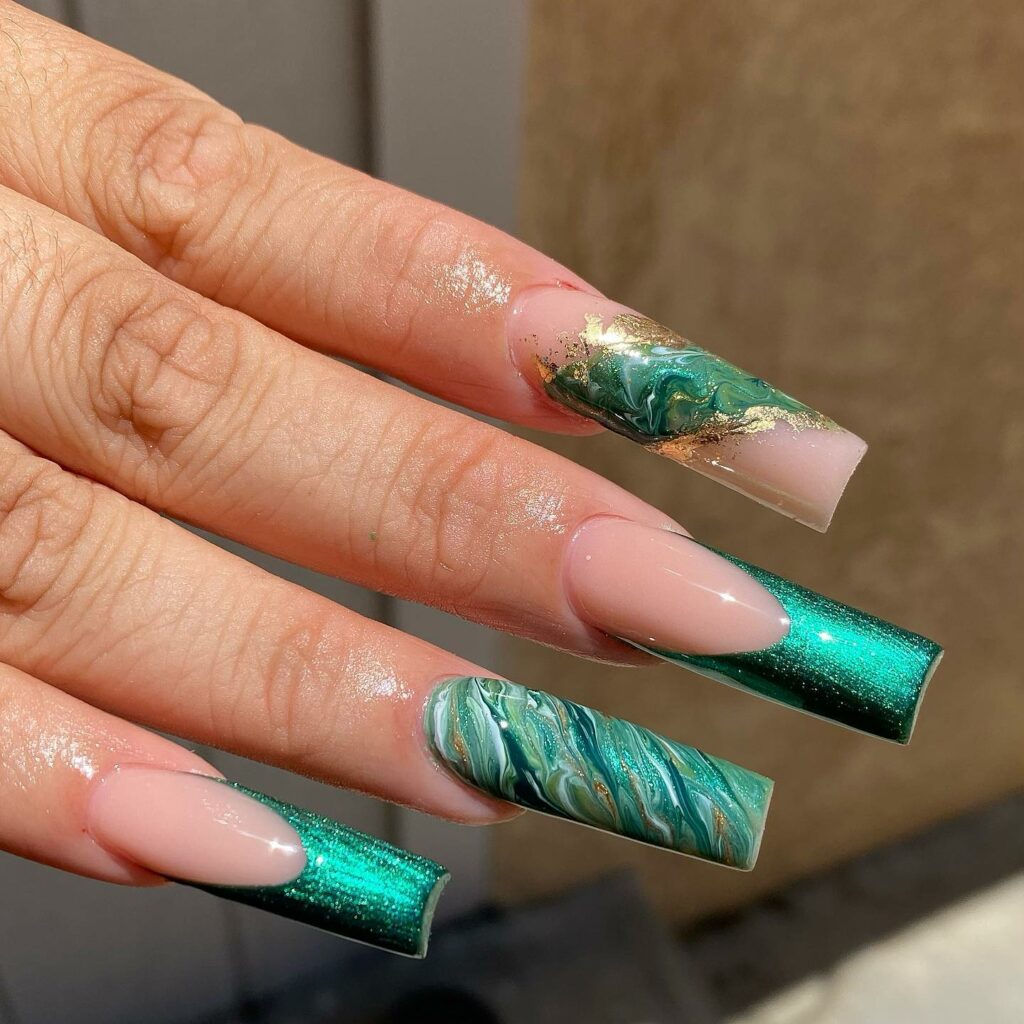 This beautiful design on long coffin nails combines some of the most loved styles for this striking color – emerald green just begs for the addition of gold flakes, and as you can see below it adds that much needed bling to the manicure. Combined with simple French tips and beautiful marble effect, these nails are simply the work of art!
3. Emerald Green French Tips and Stripes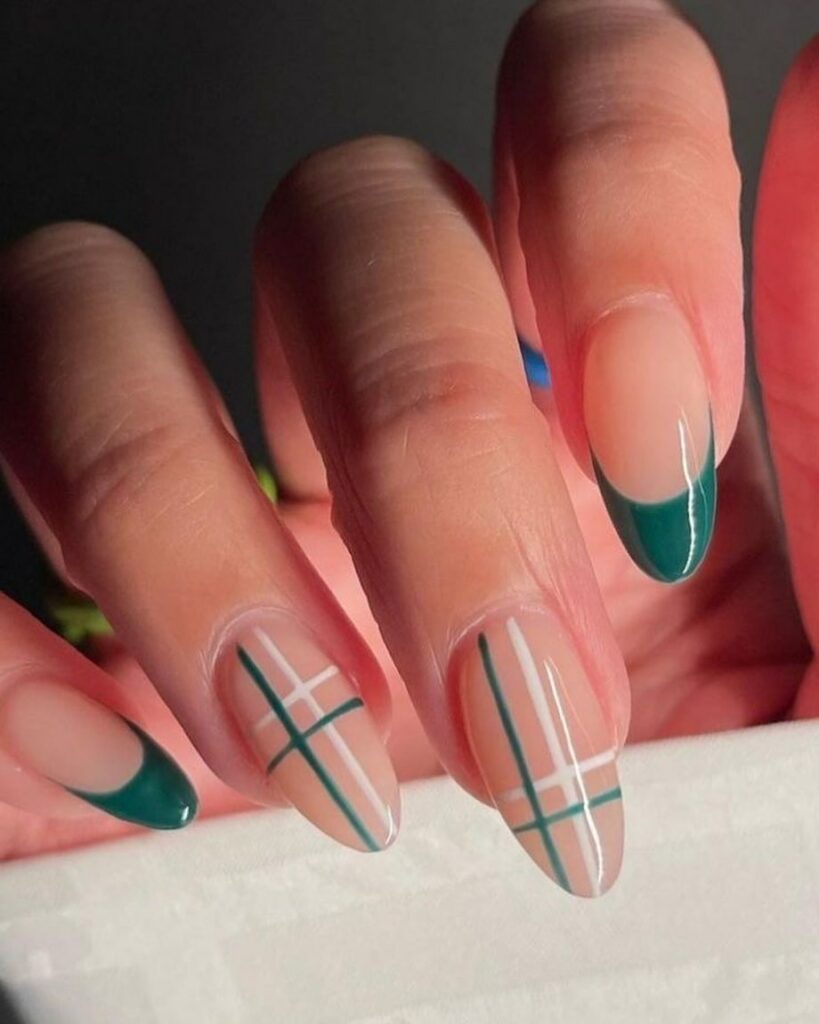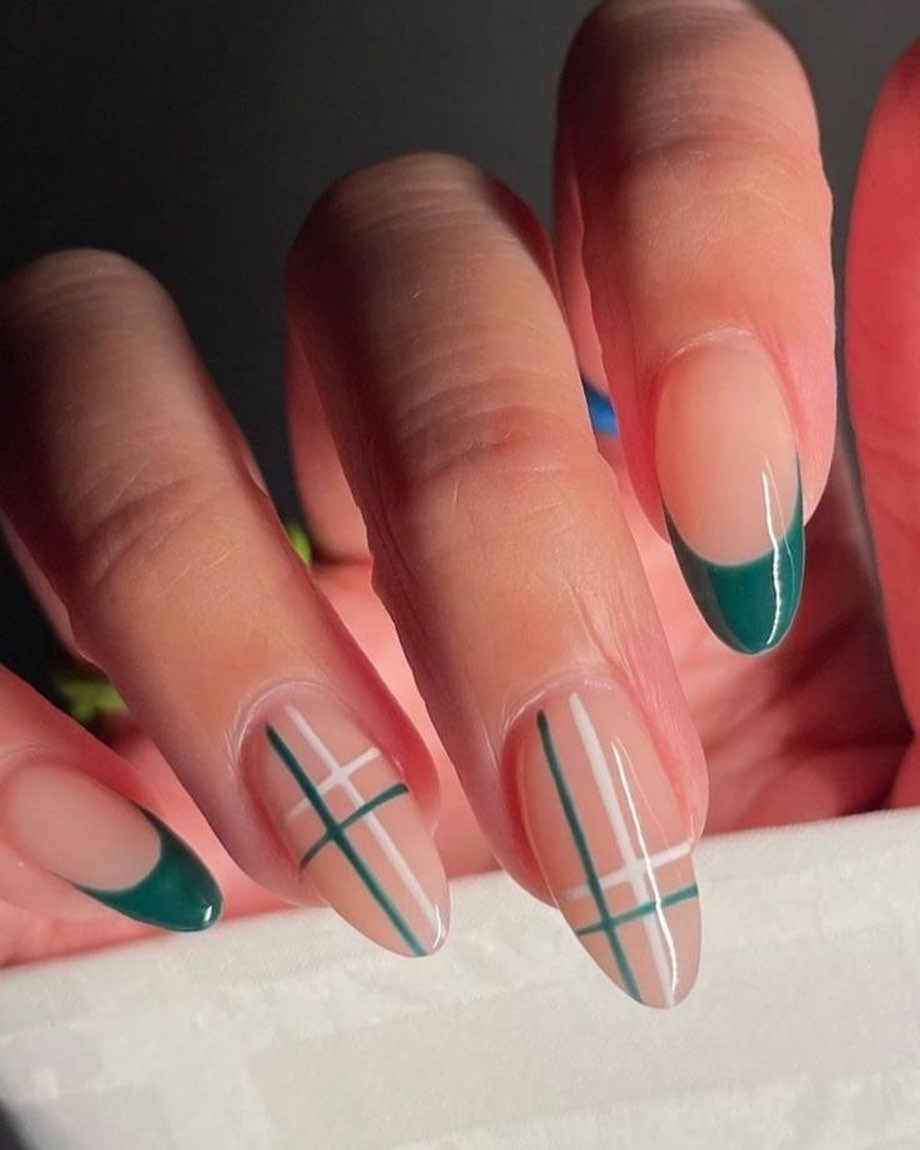 If you love a simple minimalist look, this manicure with simple French tips and stripes is the right choice. An easy design which is possible to achieve at home with a bit of practice.
4. White Flowers & Emerald Green French Tips
Take your French tips to the next level by introducing an extra color and a floral design. While this may not be your everyday look to the office, it certainly fits the bill for a special occasion nails.
5. Emerald Green & Forest Green
Mix some light shades of green and marble nail art with emerald green nails to add a bit of contrast to your manicure.
6. Almond Shaped Emerald Green Nails
Almond-shaped nails in gorgeous emerald green single-tone nail polish. With this pretty nail shape even a single tone nail polish can look outstanding without having to introduce any intricate nail design.
7. Minimalist Emerald Green French Tips
If you don't like the look of super long nails or extravagant manicure, but would like to introduce a bit of color, this French tip manicure is a great option. A very thin layer of emerald green nail polish on almond shaped acrylic nails will look elegant and timeless, no matter what the occasion may be.
8. Emerald Green Acrylic Nails with Marble Effect
These short acrylic nails come to life with two shades of emerald green nail polish, with half of them elevated by a simple yet effective marble effect and a few golden flakes.
9. Forest & Emerald Green Acrylic Nails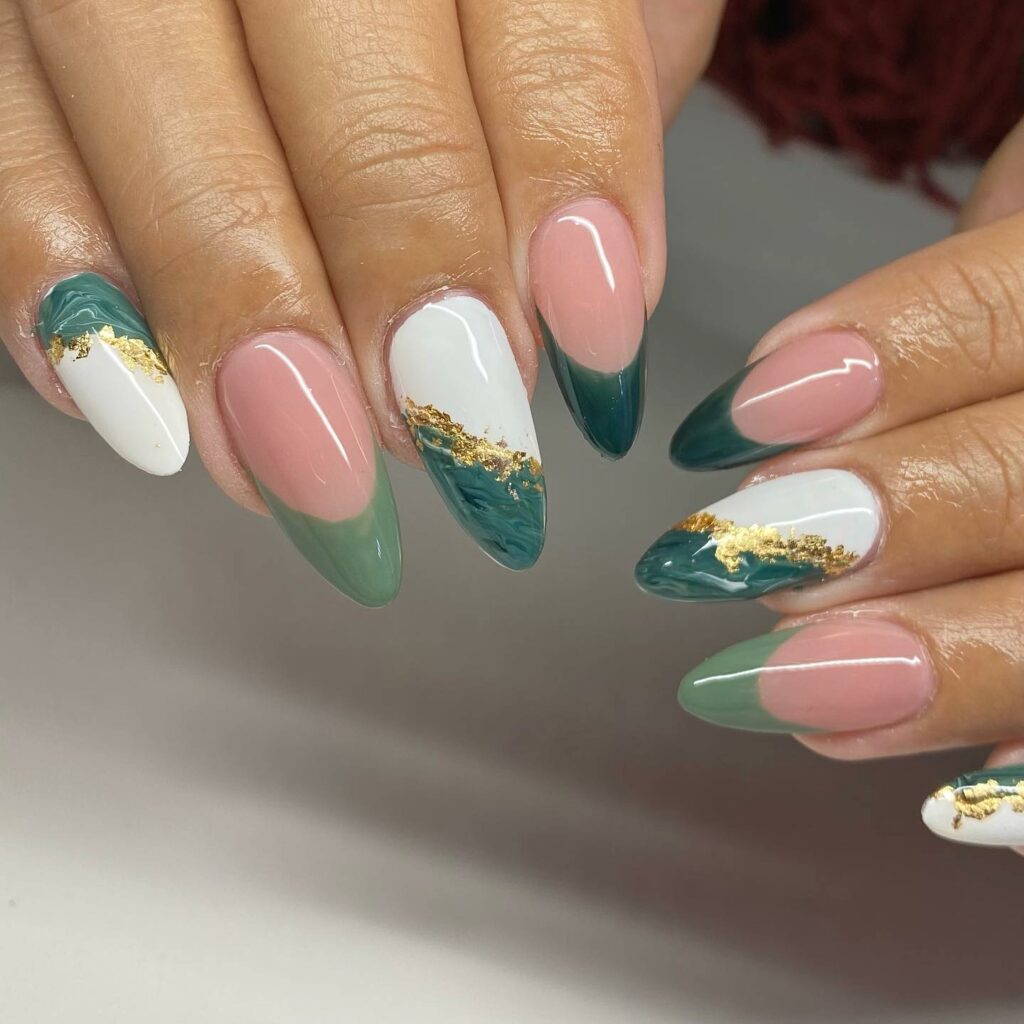 The prettiest almond shape nails with a light pink undertone and two shades of green – emerald green and forest green. This mismatched look is elevated further by adding some gold glitter nail polish which ties everything together nicely.
10. Coffin Acrylic Nails with Emerald Green
Not sure which nail design you love the most? Use them all! Especially on coffin nails, where you have so much room to experiment.
11. Emerald Green Acrylic Nails with French Tips
This manicure looks like it's been inspired by a bridal look, with a modern twist by adding the emerald green nail polish. A combination of three different styles – ombre green nails, French tips adn white glitter nail art, these nails will surely get you noticed in any crowd.
12. Coffin Acrylic Nude Nails with Emerald Gemstones
How wonderful are these gemstone covered nails? They truly fit the description for emerald green, with a variety of gemstone shapes and the prettiest shade of natural beige nail polish.
13. Emerald Green Jewel Nails
Make your nails look like they belong to a museum. This matching look for the gemstone design on super long coffin nails look like precious pieces of art.
14. Crystals, Gradient and Glitter
All the things that make a pretty manicure combined in one. Plenty of glitter, gemstone collection and even dark green night sky inspired nail design.
15. Emerald Green Acrylic Stiletto Nails
If you have a very striking nail shape, like these stiletto nails, choosing a single tone of emerald green nail polish is an easy way to transform your manicure – best of all? You can do this at home without the need to book a date at your local nail salon.
16. Acrylic Coffin Nails with Emerald Green Crystals
If you're not keen on using emerald green nail polish, you can still tick the color scheme box by using a variety of shapes and sizes of emerald green rhinestones. Best look can be achieved by using a white or near nude base which helps the color to really pop and stand out.
17. Marble Acrylic Emerald Green Nails
Statement nail with emerald green marble effect, perfectly paired with white base color.
18. Botanical Art Emerald Nails
Don't be scared to add an extra layer of color and nail design. In this case, emerald green is the perfect match for baby pink base, with black nail art for added contrast.
19. Acrylic Almond Emerald Green Nails
Elongated French tips manicure with gemstones and a statement nail design. A simple look paired perfectly with a pretty baby pink base nail polish.
20. Emerald & Gold Short Nails
A new take on a classic ombre manicure, with a half way look and a mix of beautiful shiny gold nail polish.