Whether you're looking for a manicure for the summer, or a nail design that really turns heads, neon pink and yellow nails are the option that ticks both of the boxes!
Pink and yellow nails are one of the most popular color combinations for the summer, as these happy colors remind us of sunshine and days filled with summer fun. They are vibrant and cheerful colors that brighten up even the dullest complexion and look especially striking with tanned skin.
If you want to step things up a notch, reaching for the neon shades of pink and yellow is an easy choice that will completely transform your nails. Neon pink and yellow nails are quite a striking choice, so you need to be careful to stick to a maximum of two colors for the best impact, and not pair it with too many nail design elements.
In this article, we have compiled over twenty of our favourite styles, with links to the nail artist's Instagram bio under the image in case you would like to see more of their work.
Whether you're making plans for your next trip to the nail salon, or want to do an easy at-home manicure, you will find plenty of ideas for each option in the roundup below.
Video Tutorial: Neon Pink and Yellow Nails with Dotted Nail Art
Check out this simple video tutorial for creating this pretty dotted nail art, prepared by LifeWorldWomen – DIY – EasyNailArtDesigns
27+ Prettiest Neon Pink and Yellow Nails
Check out these pretty neon pink and yellow nail ideas and designs, collected from the most talented nail artist on Instagram. If you need even more nail design inspiration in these cool vibrant colors, check out our dedicated Pinterest board here.
1. Neon Pink and Yellow Coffin Nails
Beautiful vibrant shades of pink and yellow come to life, especially on long coffin nails! This beautiful yet simple design features a gradual transition from neon pink all the way to beige color, and resembles an ombre effect but with much more contrast. The perfect summer manicure.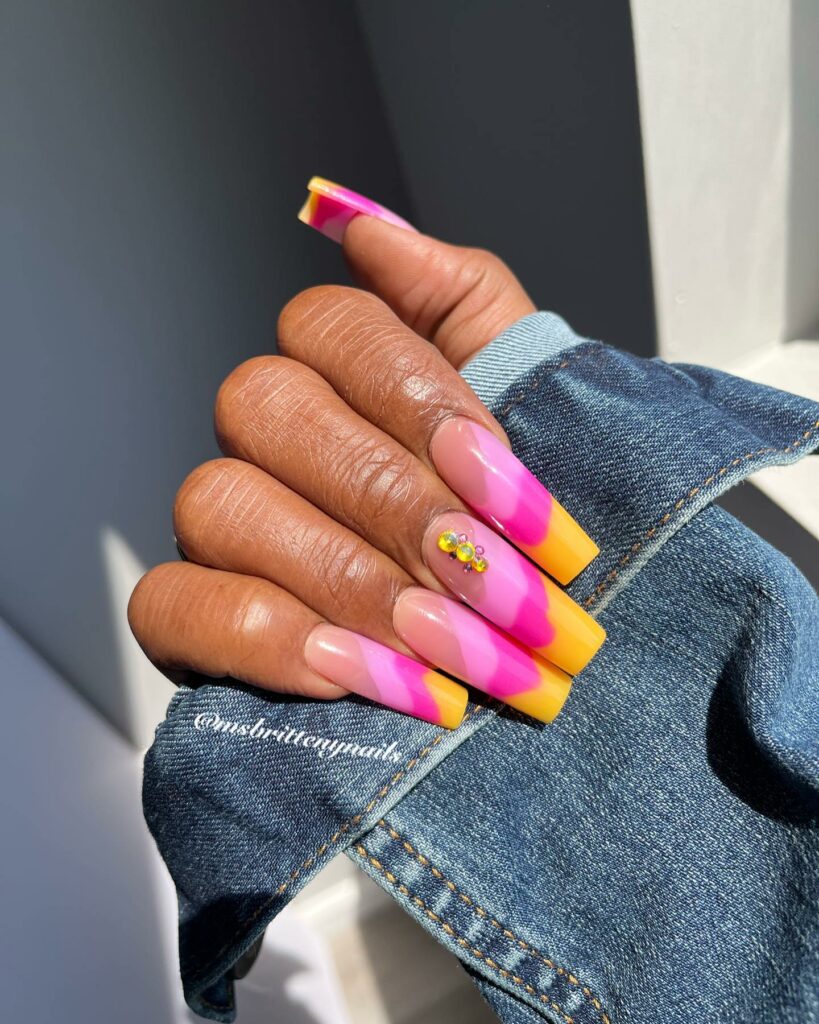 2. Neon Pink and Yellow Swirls
If you don't want to commit to a full color coverage, choosing a simple design like these elegant swirls is a great option. It creates a visual impact that's hard to miss, and you don't have to overdo it with the color either. There are so many variations of this style you can try, so you can update your manicure frequently without changing the overall look too much.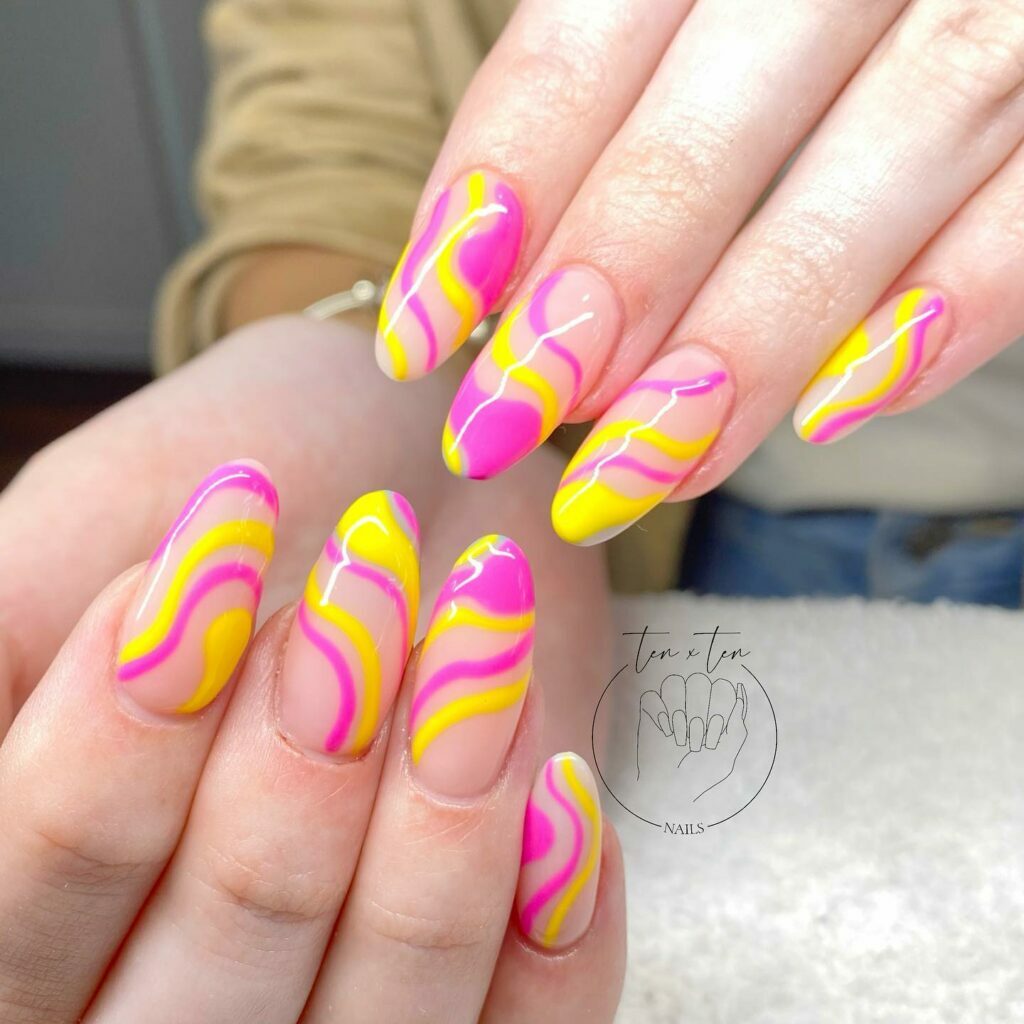 3. Neon Pink and Yellow Animal Print Nails
Show them your wild side by including an animal print, just like in the example below. The animal stripes really come to life when paired with a neon yellow-based color, and bright neon pink outlines. Frame the nail art nicely by including bold splashes of neon color on the outer nails.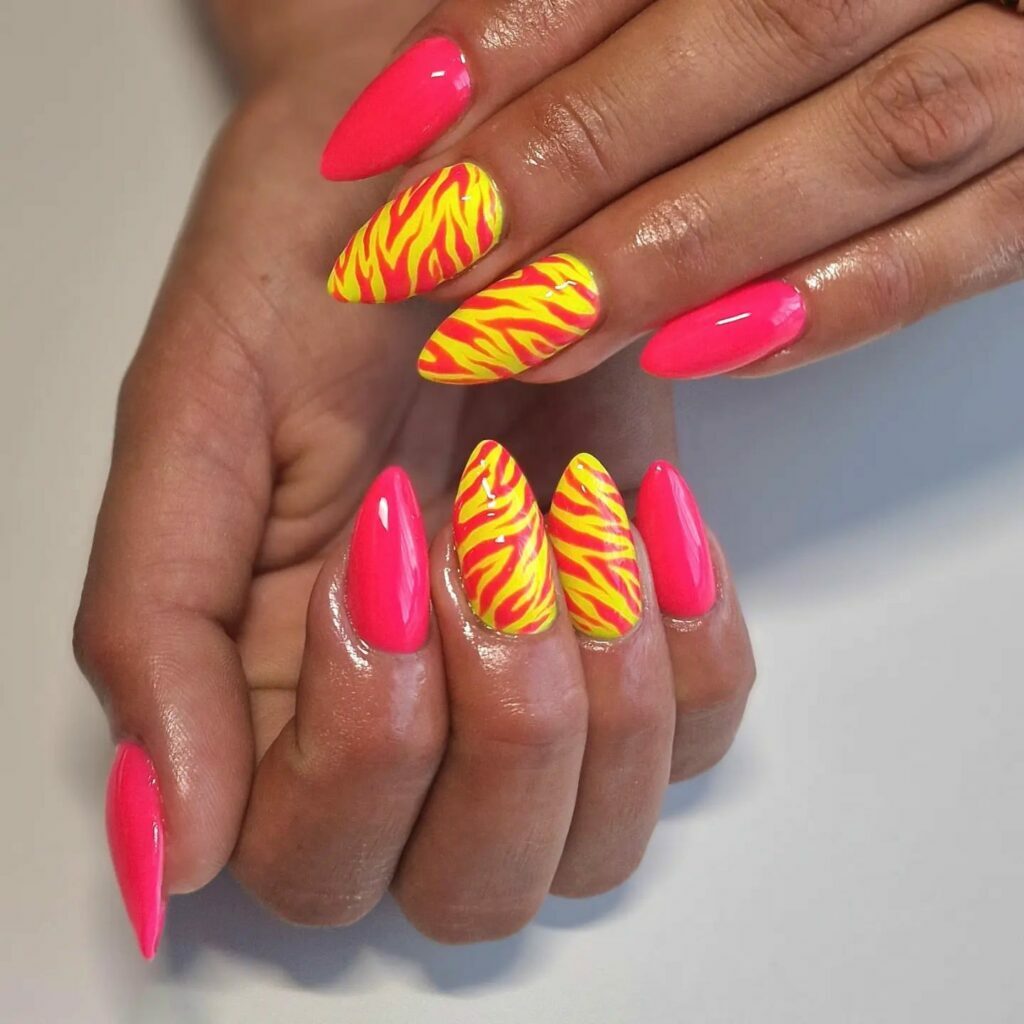 4. Neon Pink and Yellow Art Nails
Make your nails look like a piece of art – the addition of black nail polish creates a beautiful contrast and adds more vibrancy to these two base colors. Using the black in a direction outside of the nail also makes your nails look optically longer and more elegant.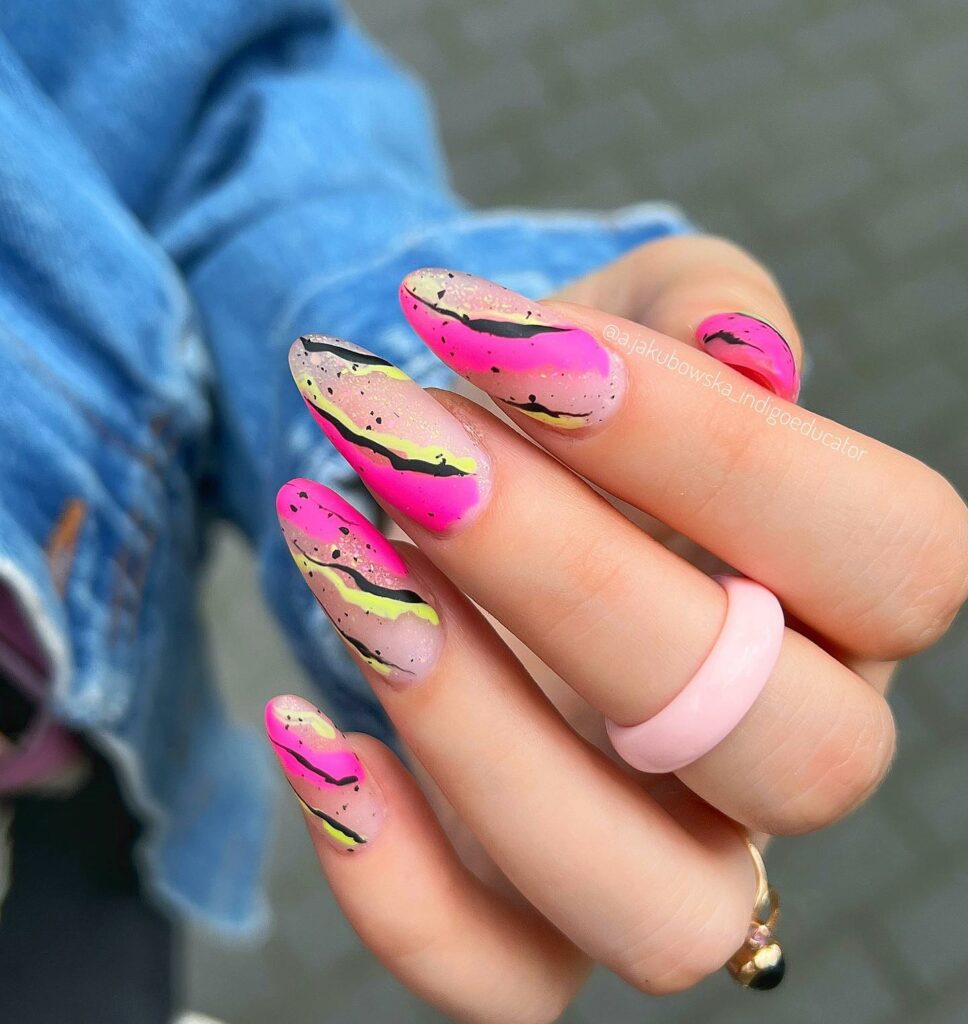 5. Neon Pink and Yellow Nail Art
If you have short nails, you might think there isn't enough space for nail art, but the opposite is true. Even on shortest nails you can add cute elements with a simple print that will transform the two base colors used, just like in this example.
6. Neon Pink and Yellow Short Nails
A pretty and simple nail art that will make your neon pink nails come to life! Simple outlines with bright yellow nail polish create an appearance of animal print, without having to go really intricated and detailed with the nail art.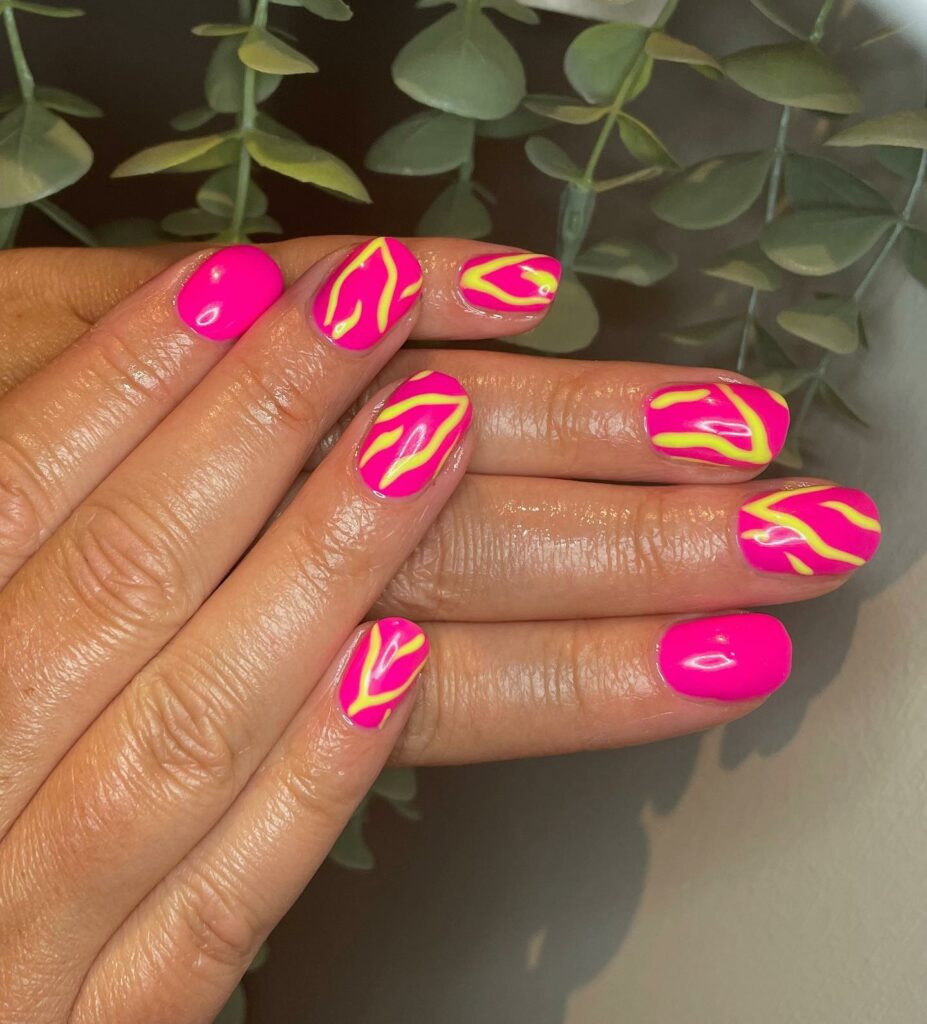 7. Neon Pink and Yellow Ombre Nails
Combine two styles to create this visually striking manicure – ombre nails in a modern take with a horizontal transition, and two glitter-covered nails when the occasion requires it. The perfect nails that will take you from the summer to party in an instant.
8. Neon Pink and Yellow Almond Nails
An elegant S shaped nail art in the mismatched look on these short nails looks sophisticated and fabulous for any occasion.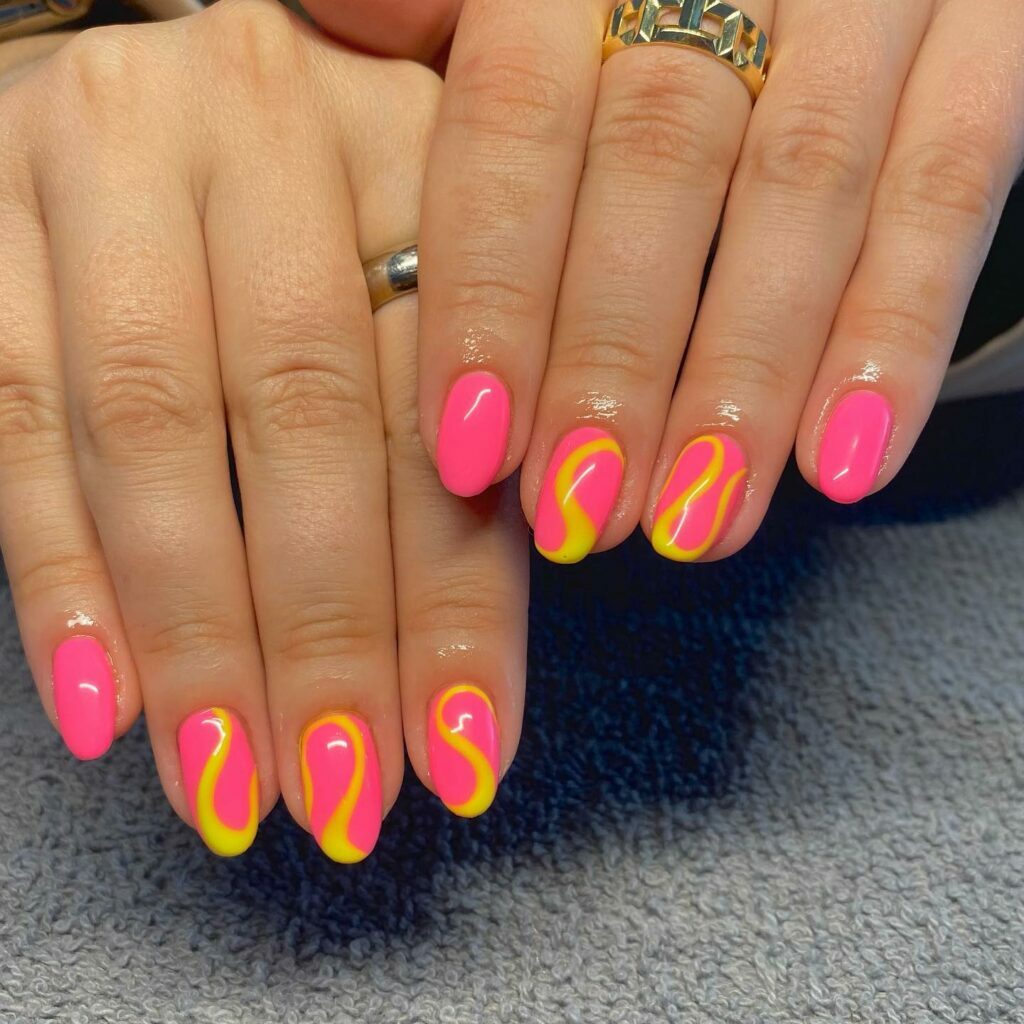 9. Neon Pink and Yellow Nails with Gemstones
Add the extra bling to your nails by embellishing some small rhinestones at the base of the nail. Don't overdo it and aim for small stones and not on all the nails.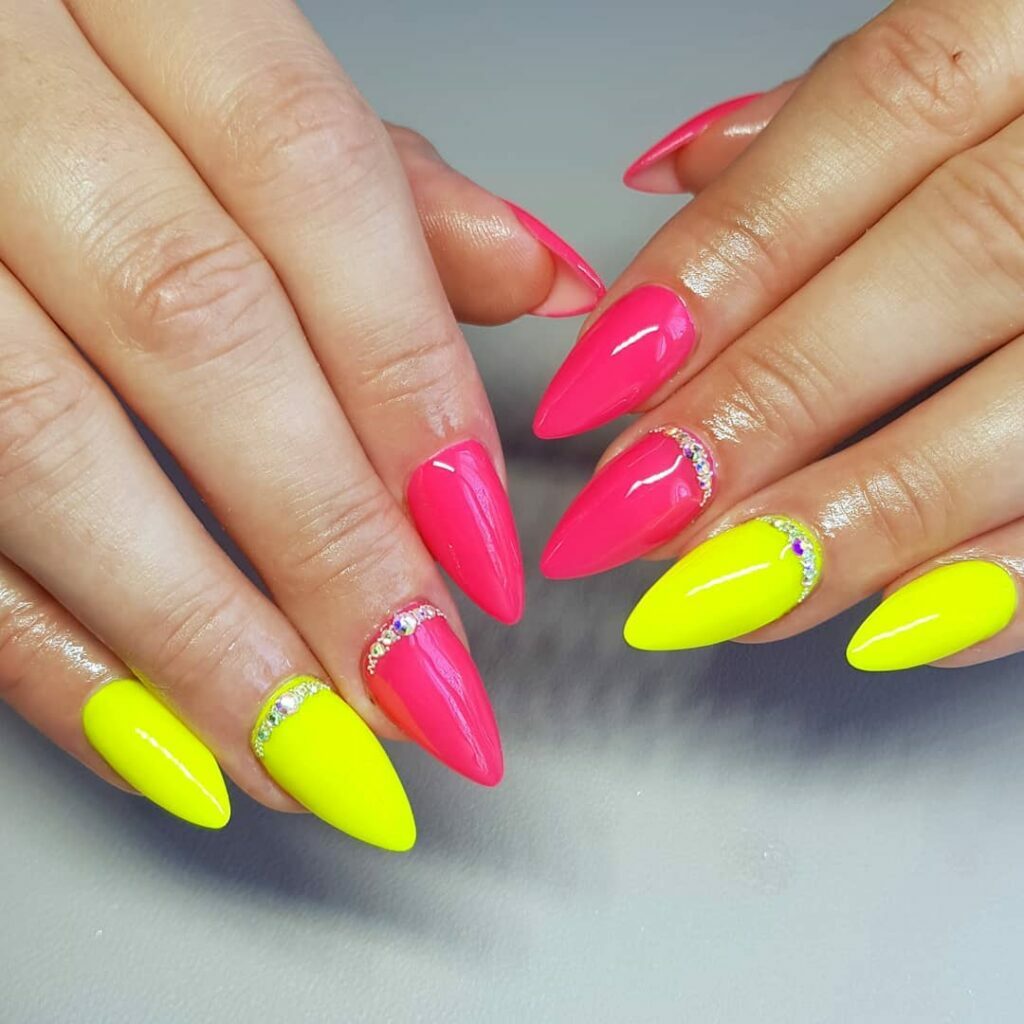 10. Neon Pink and Yellow French Tip Nails
Elegant and timeless, French tips are one of the most fabulous looks for any season. Give them a summer update by using neon pink for the tip and a bit of neon yellow for the outlines.
11. Neon Pink and Yellow Dotted Nails
Cute and playful, this dotted nail design will certainly ensure that you will stand out of the crowd this summer. For the best results, choose an alternating design such as the one below.
12. Neon Pink, White and Yellow Swirls
Elegant swirl outlines add a pretty contrast to this yellow and pink neon manicure. Beautiful especially on almond shaped nails.
13. Neon Pink and Yellow Floral Nails
Make your nails bloom with this abstract design as part of your neon pink and yellow manicure.
14. Neon Pink and Yellow Rings
Neon nail polish looks especially striking on tanned summer hands, as evidenced by the manicure below. Add some cute circles to elevate the nail design even further.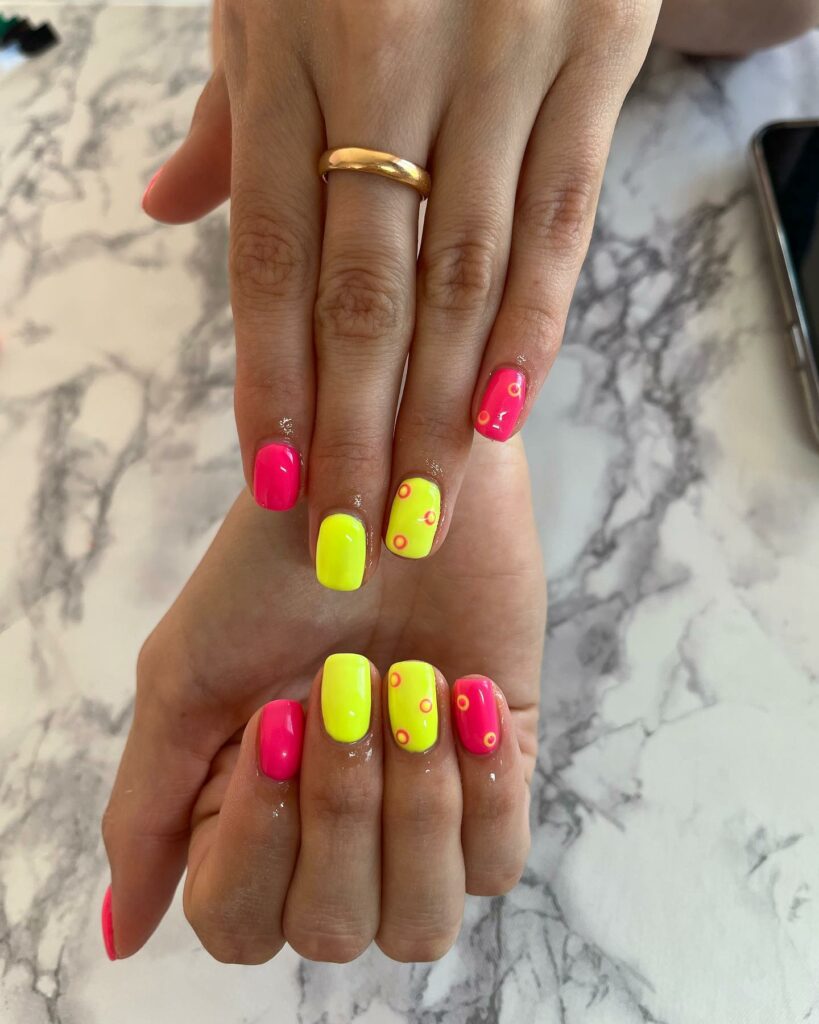 15. Half Sun Nail Design
Create a visual statement by using this half sun design on your long neon pink nails!
16. Floral Neon Pink and Yellow Coffin Nails
Another blooming lovely nail design for coffin nails, with hot pink French tips elevated by the use of white nail art with flowers and natural leaf shapes.
17. Neon Pink and Yellow Dandelion Nails
How cute is this manicure? The black dandelion outline really stands out on these short pink and yellow nails with neon nail polish.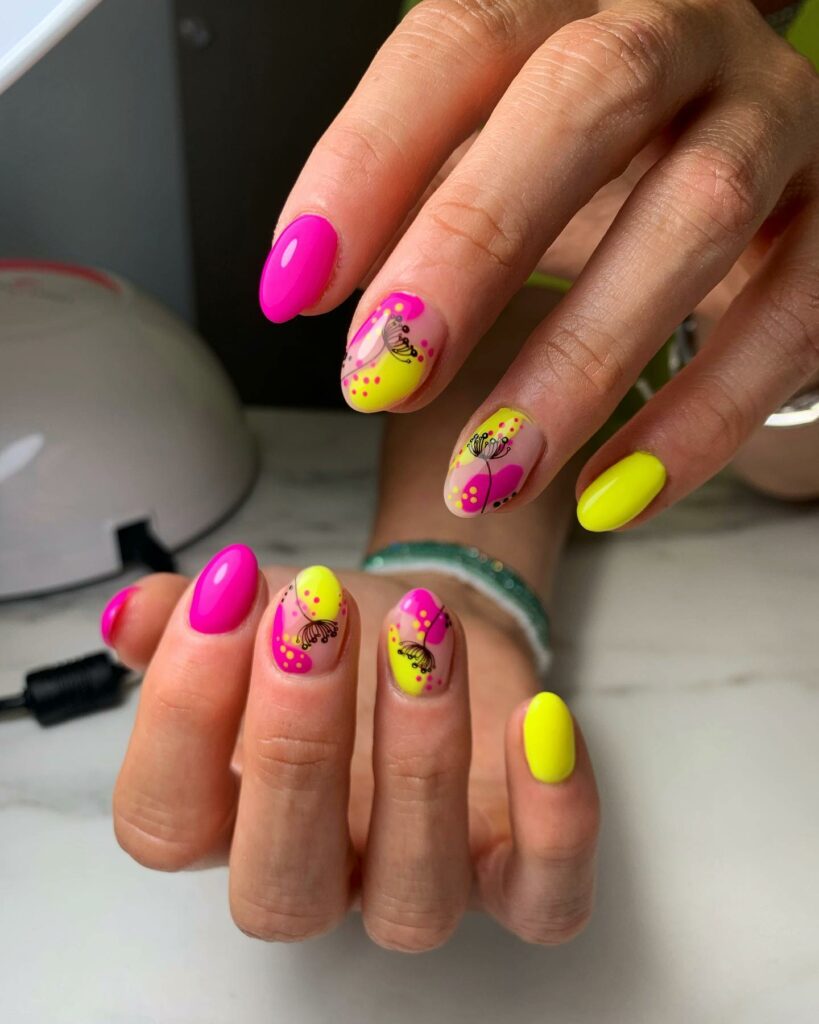 18. Sunflower Nails
Let your nails showcase the flower of the season – sunflowers look super pretty with this pink and yellow color combination.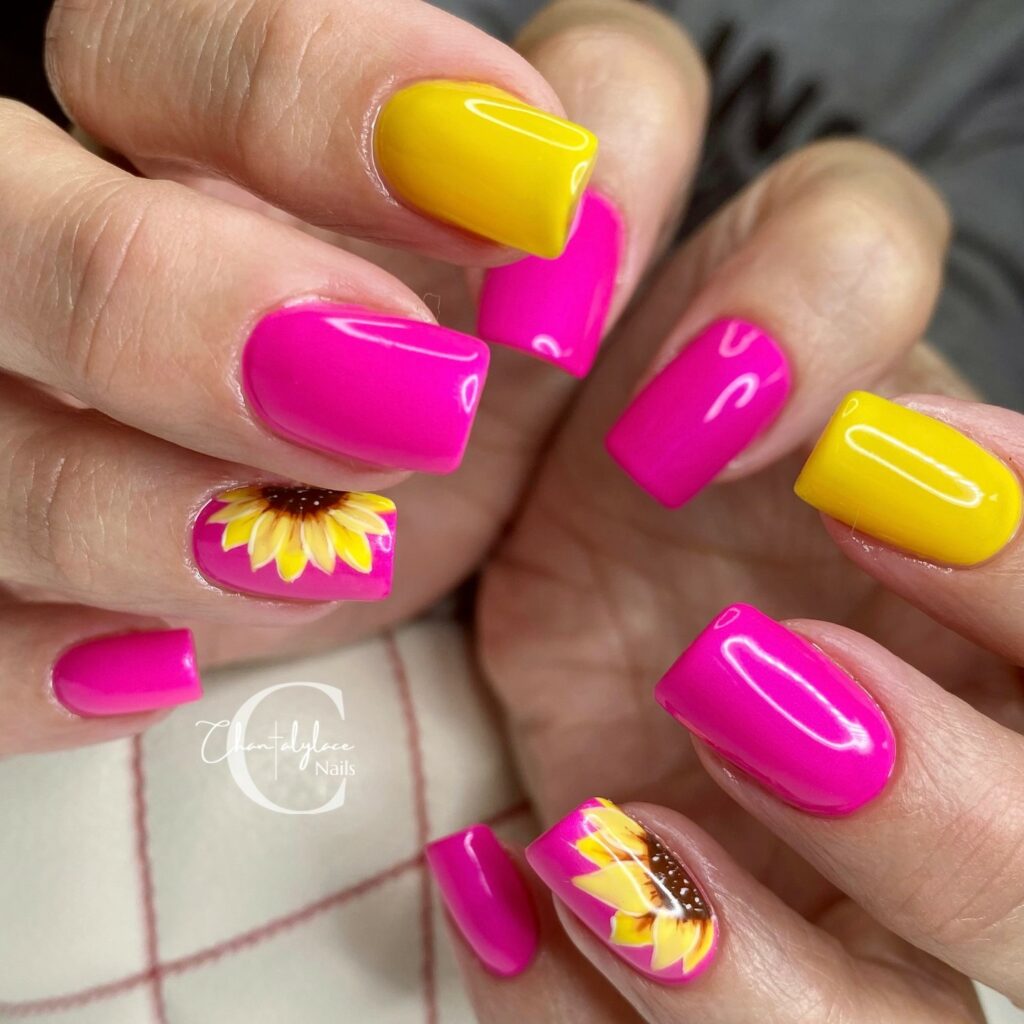 19. Mismatched French Tips
One of our favorite looks, with mismatched yellow and pink French tips with outlines and pretty minimalist flowers at the base of the nail.
20. Mismatched Stripes and French Tips
Party nails? We've got a manicure that fits the description! Simple narrow French tips combined with striking yellow and pink neon art.
21. Elevated Neon French Tips
These neon french tips are really a work of art – an ombre transition which is further highlighted by the addition of glitter like effect.
22. Rainbow Neon Nails
Create the effect of rainbow by using complementing shades of neon pink with a highlight of light yellow neon nail polish.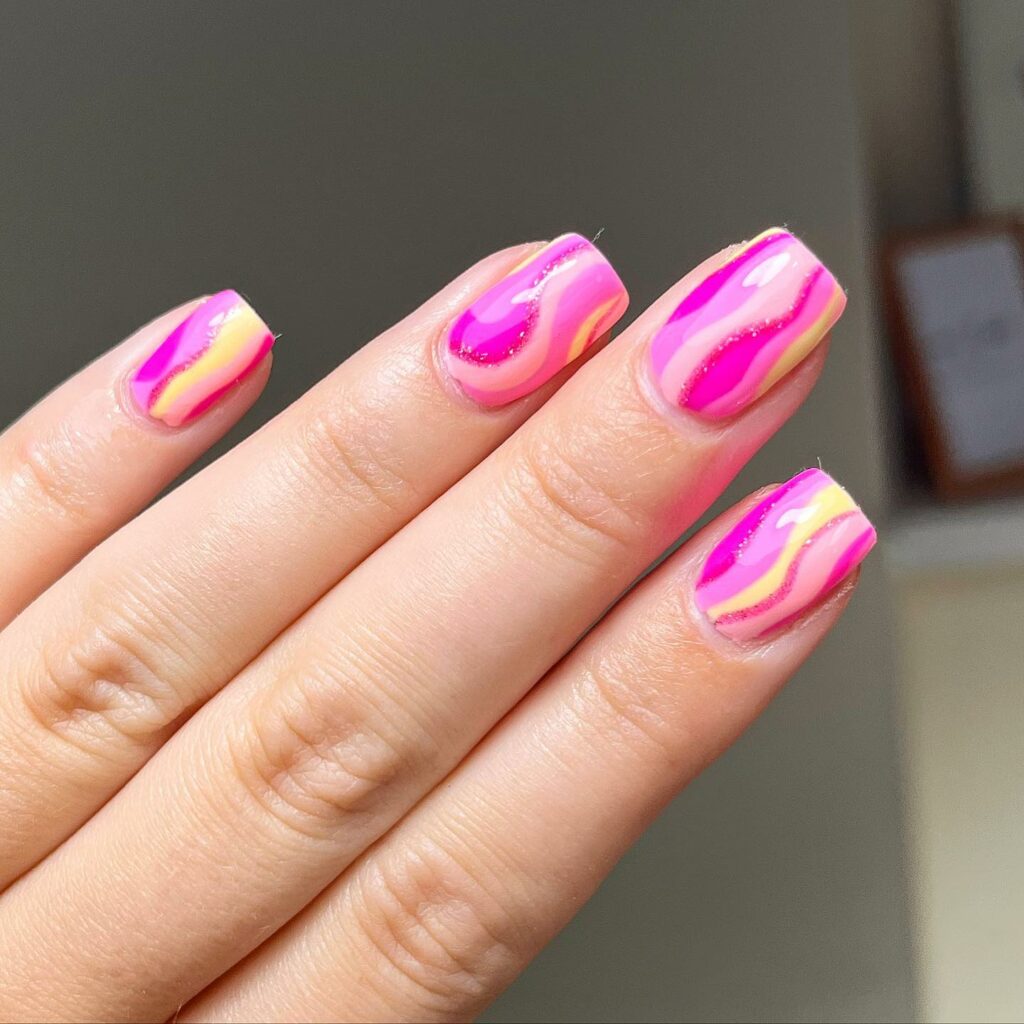 23. Vacation Neon Nails
The perfect vacation nails capture the essence of summer perfectly.
24. Black Nail Art on Neon Nails
Go big and bold by adding custom nail art with black nail polish.
25. Neon Pink and Yellow French Tips on Short Nails
Even short nails can totally rock French tips with these pretty outlines.
26. Neon Nails with Animal Print
If you want to break the pattern and include a variation of different nail techniques, the animal pattern option is one of the easiest to pair with neon manicure.
27. Coffin Nails with Neon Swirls
Beautiful and bold, just like the owner of these nails.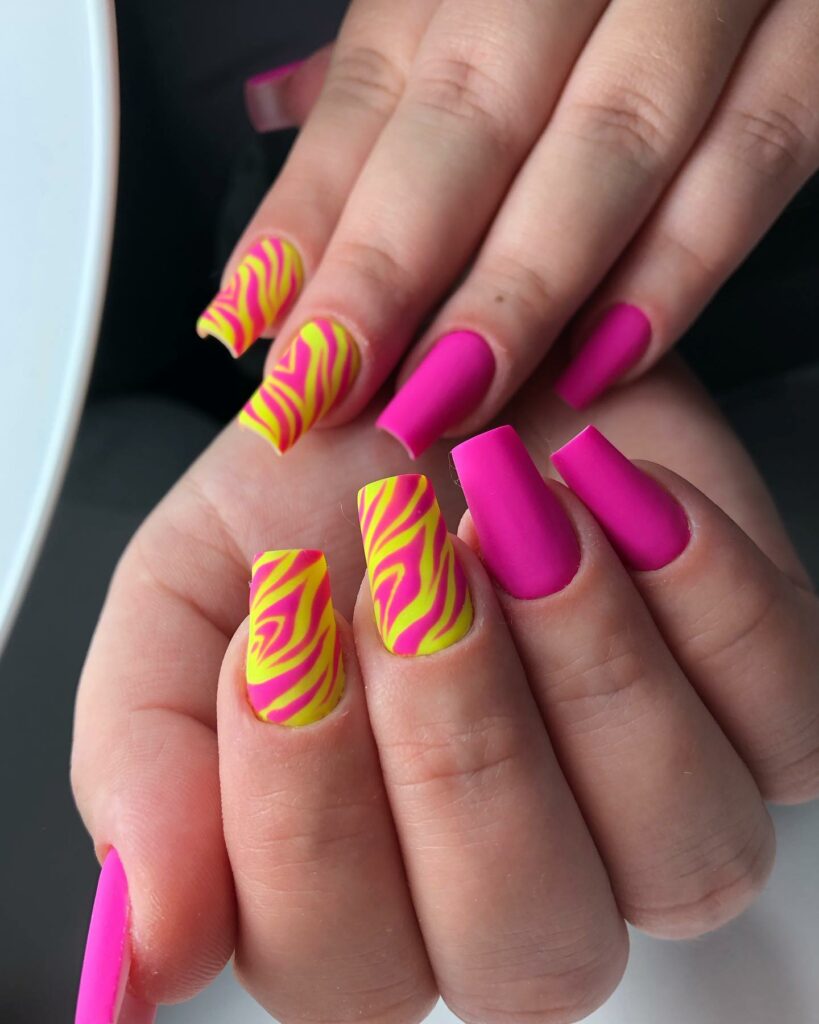 28. Neon Extended French Tips
Almond nails can be optically even longer if you use the extended French tips technique, which is the perfect choice for pink and yellow nail manicures.