Time to update your nails for the summer months ahead? Look no further than these pretty ideas for pink and yellow nails!
This color is one of the most trending nails looks for the summer, and it comes in so many different styles and varieties! Pink and yellow are two colors that are super playful, and when combined with your pretty nails, they look super elegant and sophisticated.
Pink and yellow are an ideal choice for a summer manicure as they elevate your summer tan, making the colors really pop. They work really well with any nail length or nail shape, and even if you don't want to pay a visit to the nail salon, you can find lots of ideas that you can pull off at home.
In this article, we have curated a selection of over 40 best looks for pink and yellow manicures, in a variety of nail design techniques and showing how the color can look on different nail lengths.
Whether you're looking for pretty summer coffin nails, or are struggling to decide what to do with your short natural nails, you will find lots of beautiful ideas in our collection below.
Head below to check them out, and save your favorites to your Pinterest account!
Get Inspired: 40 Pretty Pink and Yellow Nails
Below are some of the prettiest designs we found on Instagram. If you want to see even more work from the same nail artist featured, you can check their Instagram profile by clicking the link under the image.
For even more inspiration for pink and yellow nails, visit our dedicated Pinterest board here.
1. Pink and Yellow Coffin Nails
With coffin nails there is plenty of space to make a design that turns head – get creative with it and try this vertical ombre look!
2. Almond Pink and Yellow Nails
Translate these two colors into a beautiful ombre effect, just like on these nails.
3. Pink and Yellow Nails with Black Nail Art
Need something with a bit more contrast? Adding black nail polish with these simple geometric stripes will get the job done.
4. Pink and Yellow Nails with Gemstones
Give your nails that extra sparkle for the summer months – gemstones are easy to add to your nails and they last for weeks!
5. Pink and Yellow Nails with Floral Art
Turn your nails into a pretty blooming garden with a simple floral inspired nail art on ombre yellow and pink nails.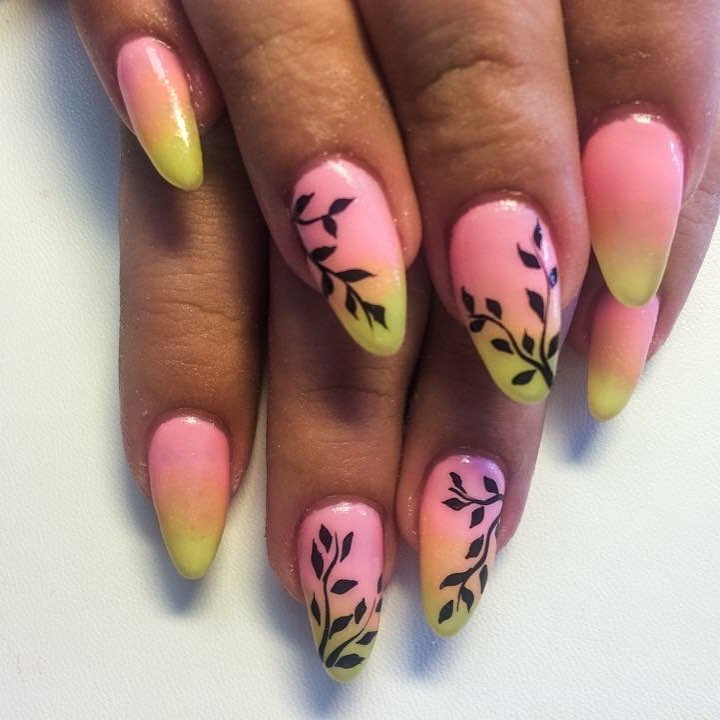 6. Pink and Yellow Short Coffin Nails
Short coffin nails? Make the most out of them with this high contrast ombre effect.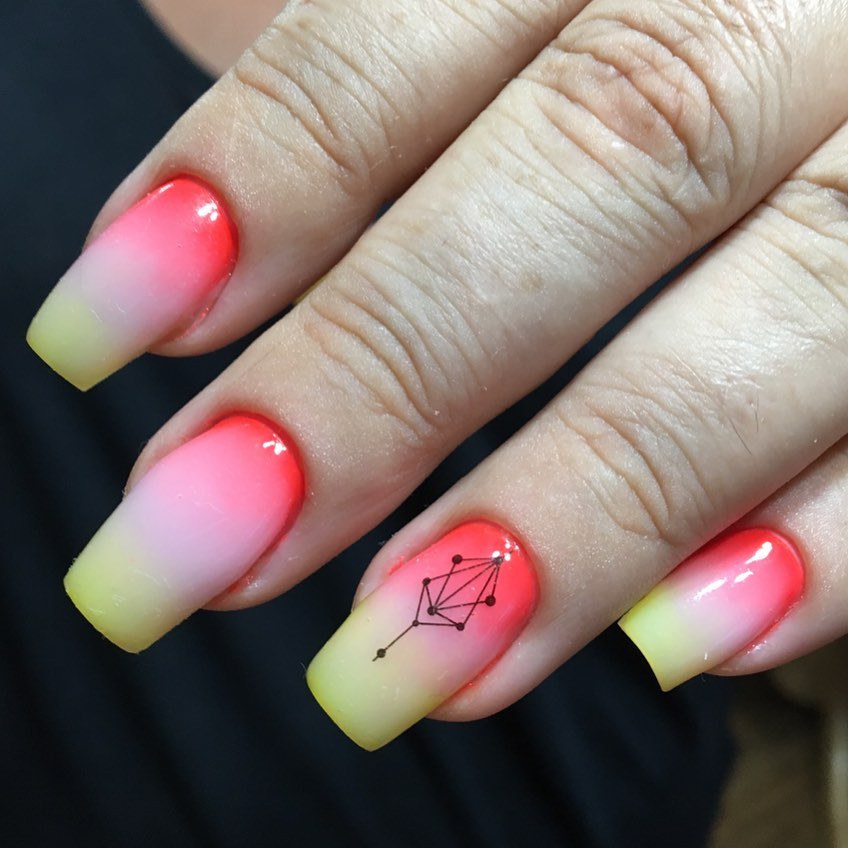 7. Mismatched Pink and Yellow Nails
If you want an extra shine, neon high gloss nail polish shades are the perfect choice for your summer manicure.
8. Pink and Yellow Mixed Nails
If you love to split the colors, you can try this alternating ombre look on individual nails.
9. Gradient Pink and Yellow Nails
Nails that certainly stand out from the crowd – this gradient ombre look will turn anyone's head.
10. Neon Pink and Yellow Nails
Call that a striking look! Neon shades are the go-to look for those who are looking for a bold manicure.
11. Almond Pink and Yellow Nails
Capture the essence of a summer sunset in your manicure, just like in this case!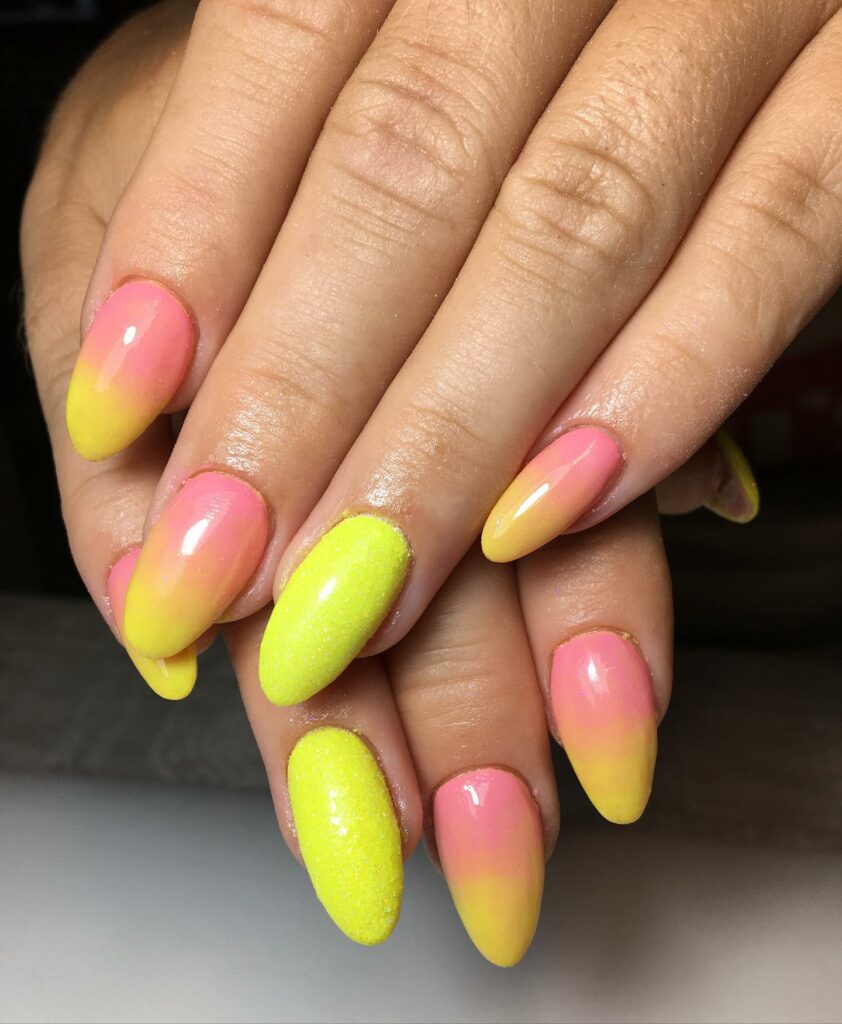 12. Mixed Pink and Yellow Nails with Stickers
Bring in some fun summer elements with butterfly and bee stickers.
13. Pink and Yellow Nails with Rhinestones
Add a bit of swing to your step with some pretty sparkling rhinestones on your nails.
14. Extra Long Coffin Nails
Plenty of personality and space – if you're wearing long coffin nails, this summer ombre look with pink and yellow will look fantastic.
15. High Contrast Pink and Yellow Design
Neon outline of this ombre look provide the perfect contrast to make your nails really stand out.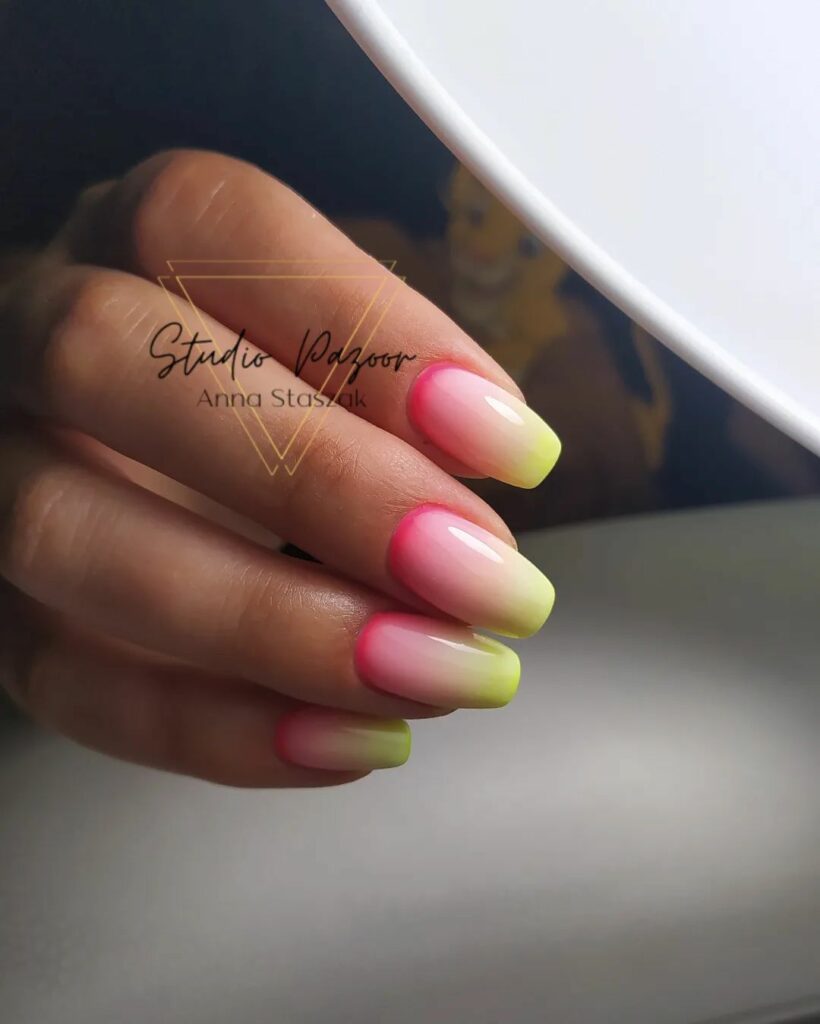 17. Pink and Yellow Swirls
Add a playful touch to your manicure with these yellow and pink swirl nail art.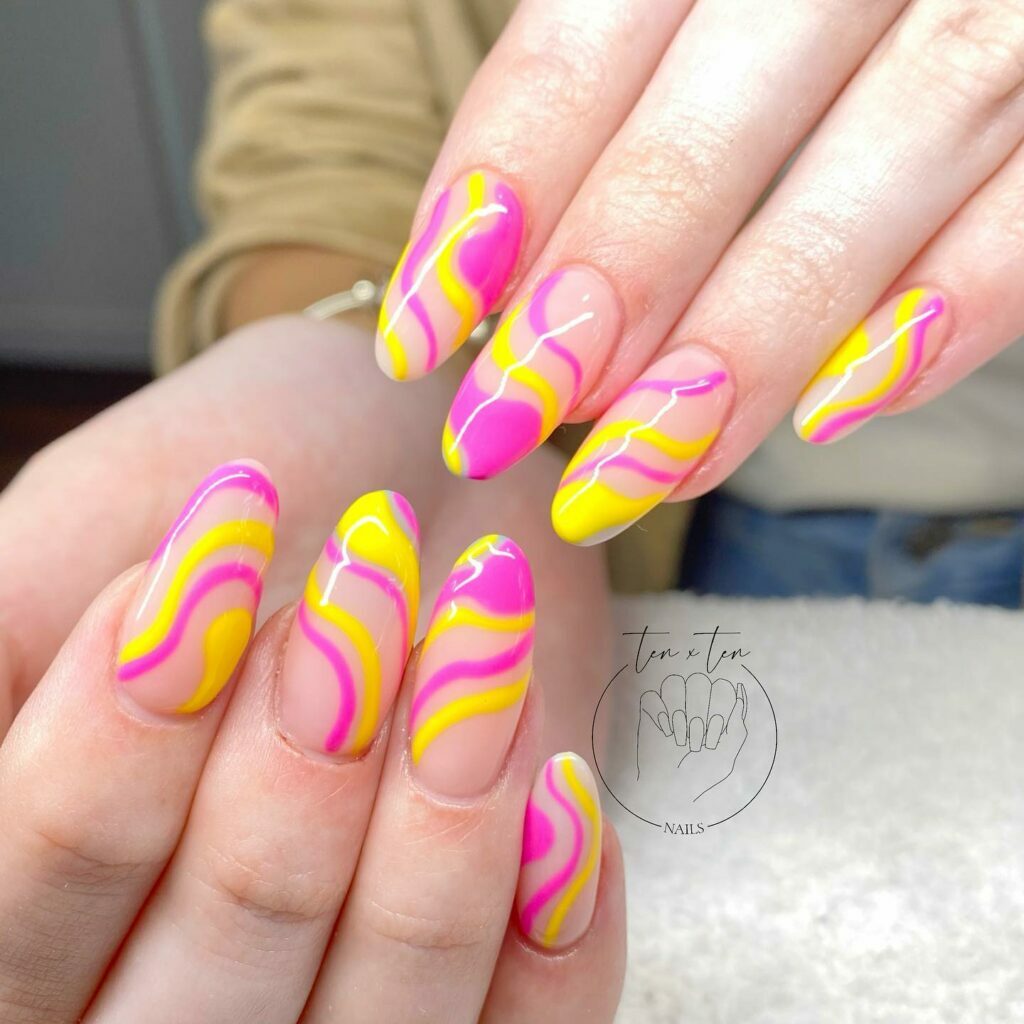 18. Hot Pink and Yellow Animal Print Nails
Show them your wild side with animal print on yellow nail polish base.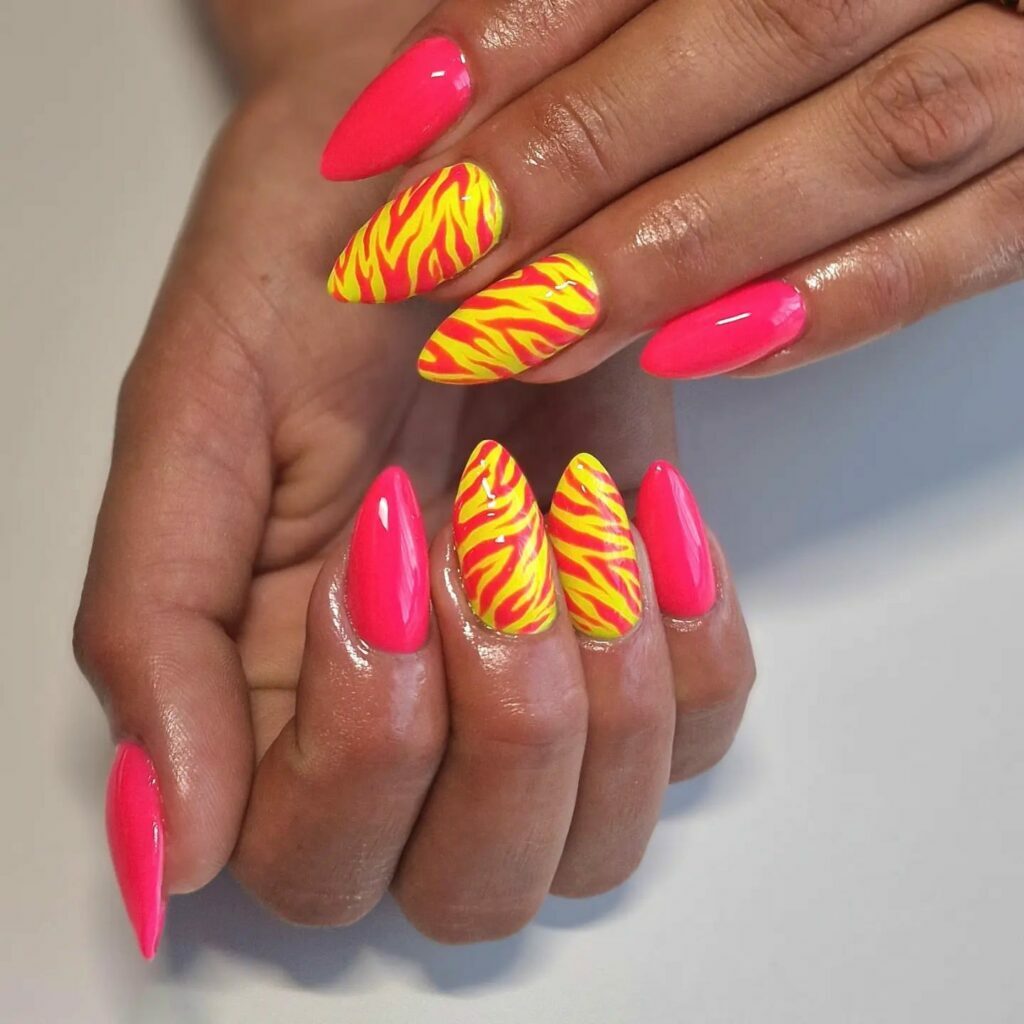 19. Pink and Yellow Nails with Black Spattered Nail Art
These nails certainly belong to an art gallery!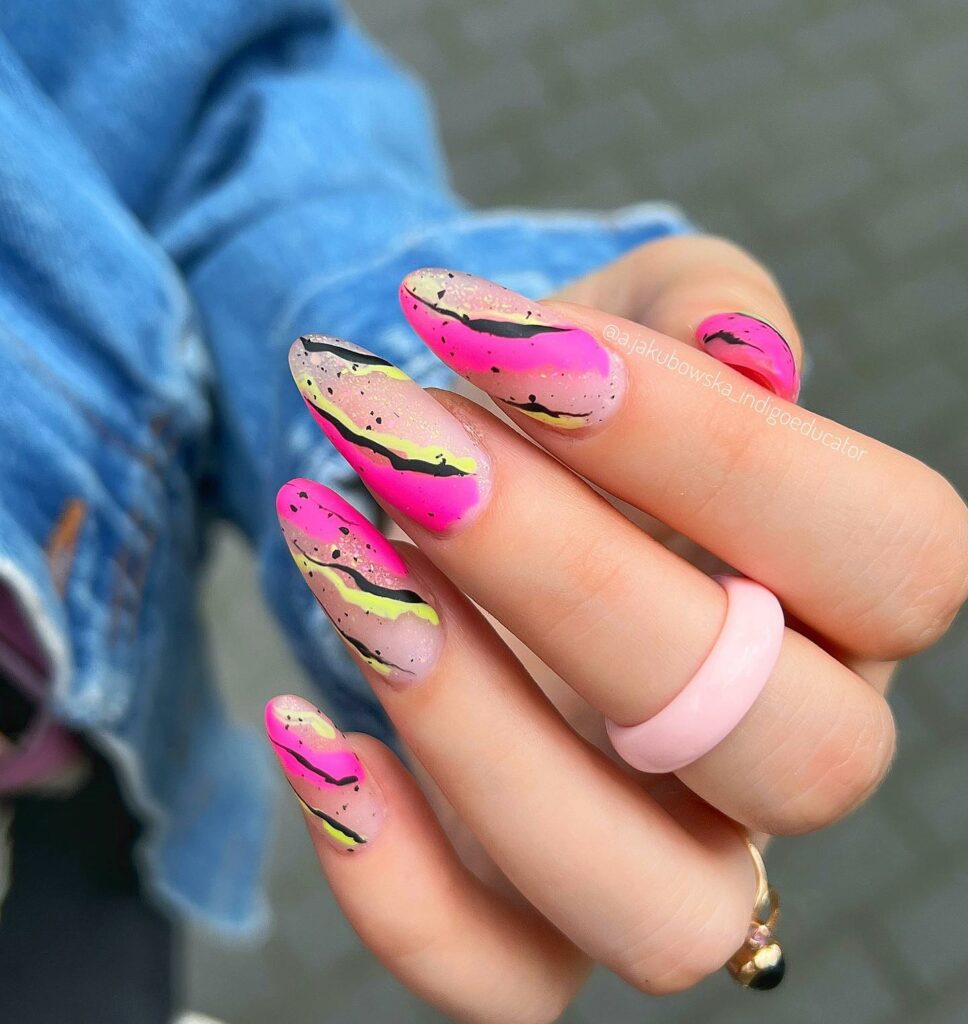 20. Pink and Yellow Nail Art on Short Nails
This broken marble look with a gradient nail design is elevated further by the contrasting black nail polish nail art.
21. Bright Pink and Yellow Short Stripe Nails
Neon pink nails look their best when the striking color is combined with another nail design.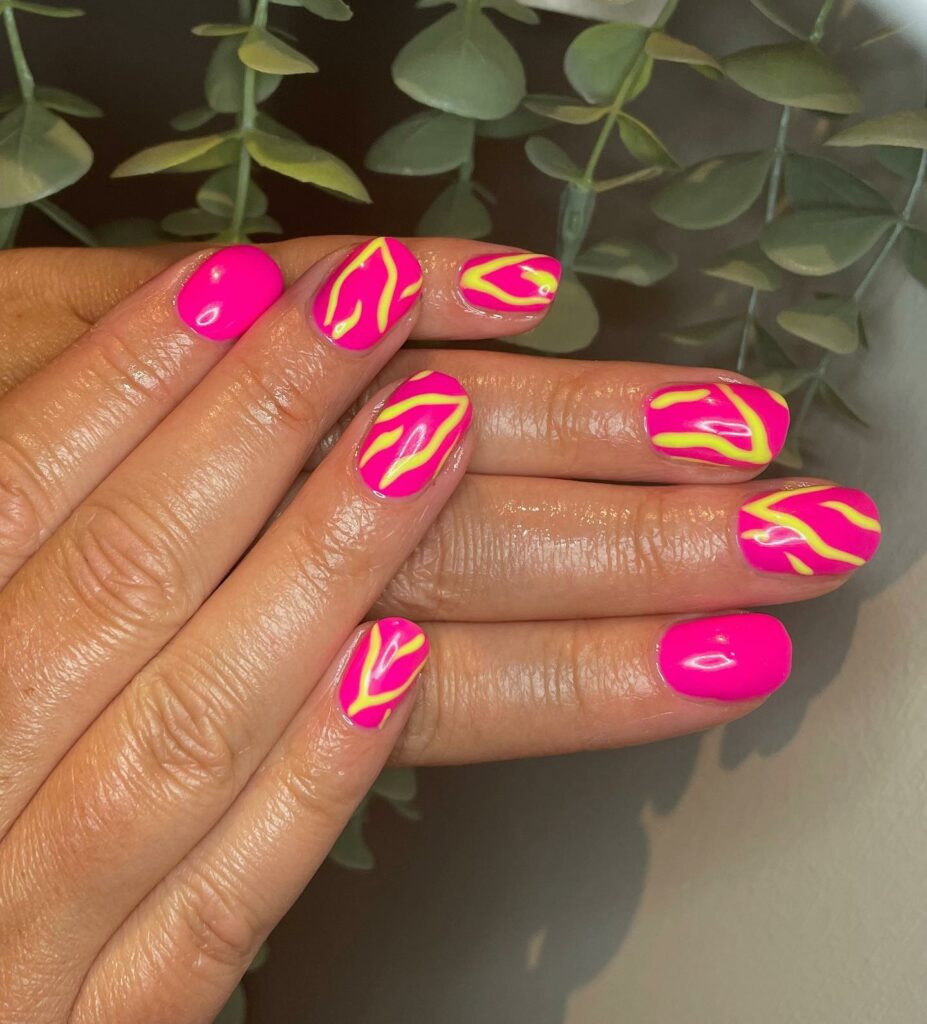 22. Baby Pink and Yellow Nails with Glitter
Another take on the popular vertical ombre look, this time combined with playful glitter nails.
23. Pink and Yellow Almond Nails with Swirls
A simple S shape will transform simple pink nails into vibrant beautiful manicures for any occasion.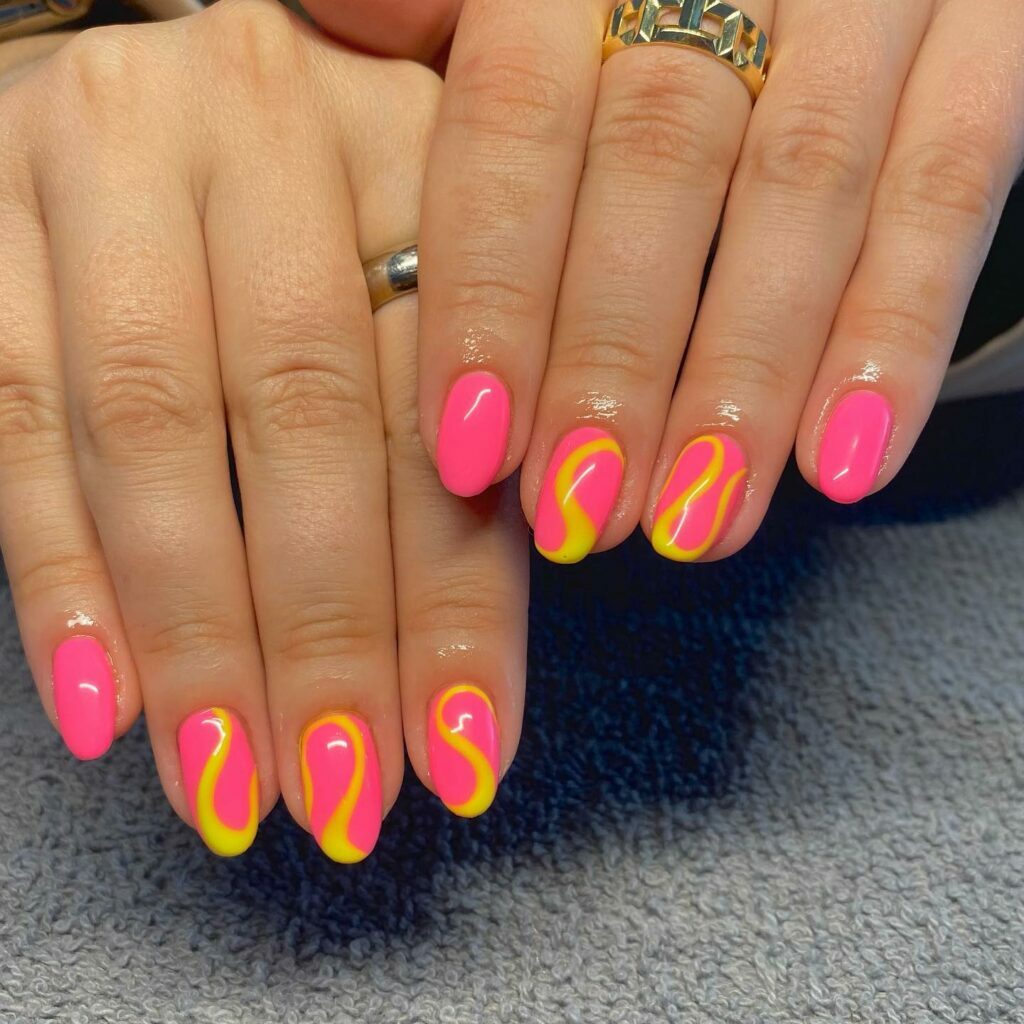 24. Pink and Yellow Nails with Gemstones
For a different take on gemstone nails, add a few small ones to the base of the nails.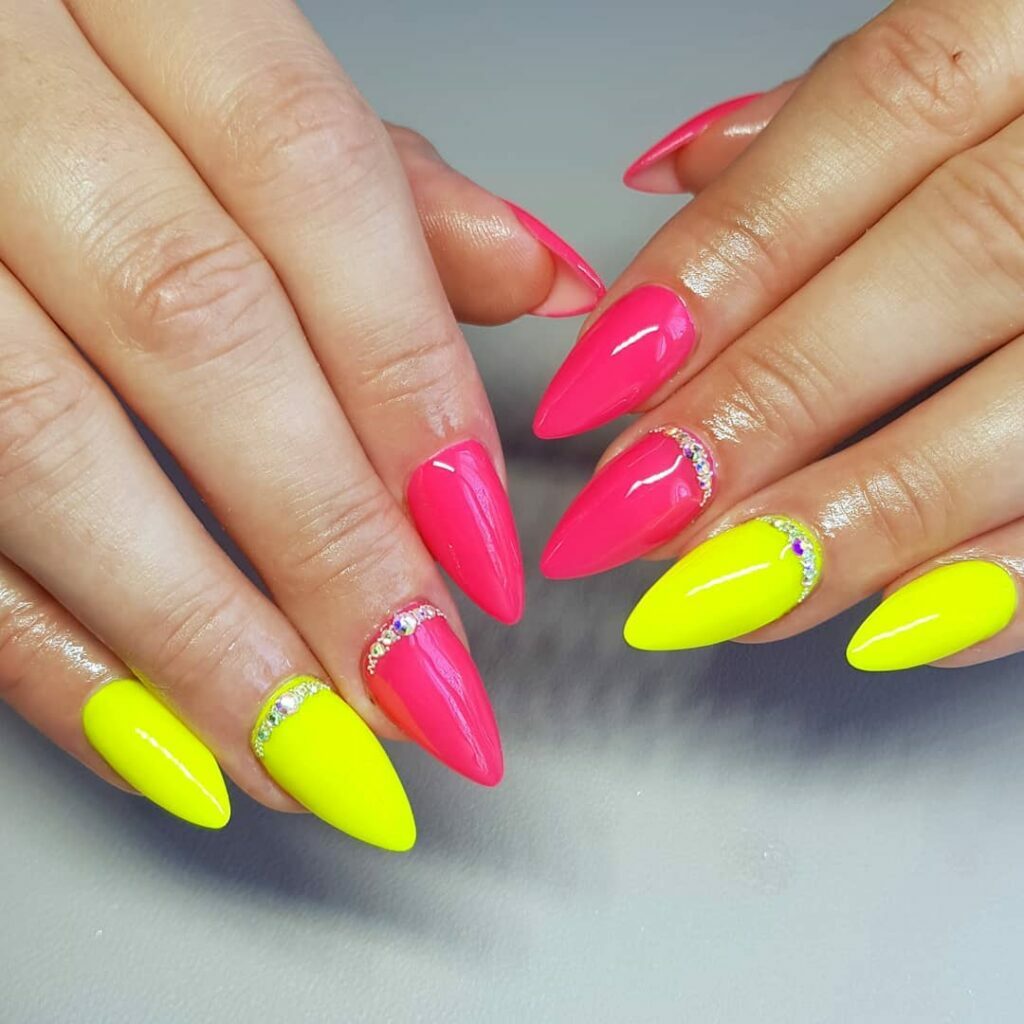 25. Pink and Yellow French Tip Nails
Update your French tips with the look for the summer – this vibrant pink color is elevated by adding a bright yellow outline.
26. Bright Playful Pink and Yellow Dotted Nails
Make your nails look more fun – all it takes is adding just a few dots in alternating designs.
27. Pink, White and Yellow Swirls
Another version of the popular look with swirls, this time complemented with white nail polish color.
28. Pink and Yellow Floral Nails
Abstract florals are the look for the summer!
29. Pink and Yellow Circle Nails
Instead of dots, you can choose to do these nail art with circles – how cute are these nails?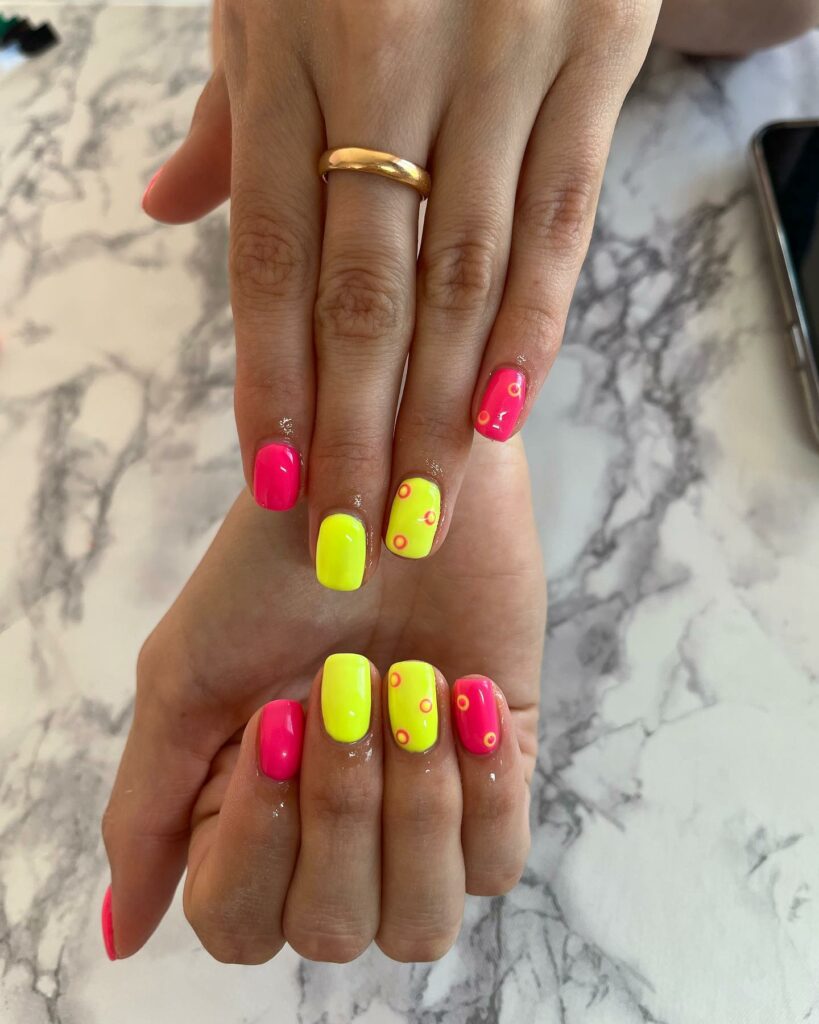 30. Half Sun Nail Design
Capture the essence of the rising sun on your nails – this design is the perfect example.
31. Floral Pink and Yellow Coffin Nails
Elevate your coffin nails with bright pink french tips with this pretty floral nail art.
32. Pink and Yellow Dandelion Nails
If you don't like traditional flowers, dandelions are a more original option for elevating your manicure.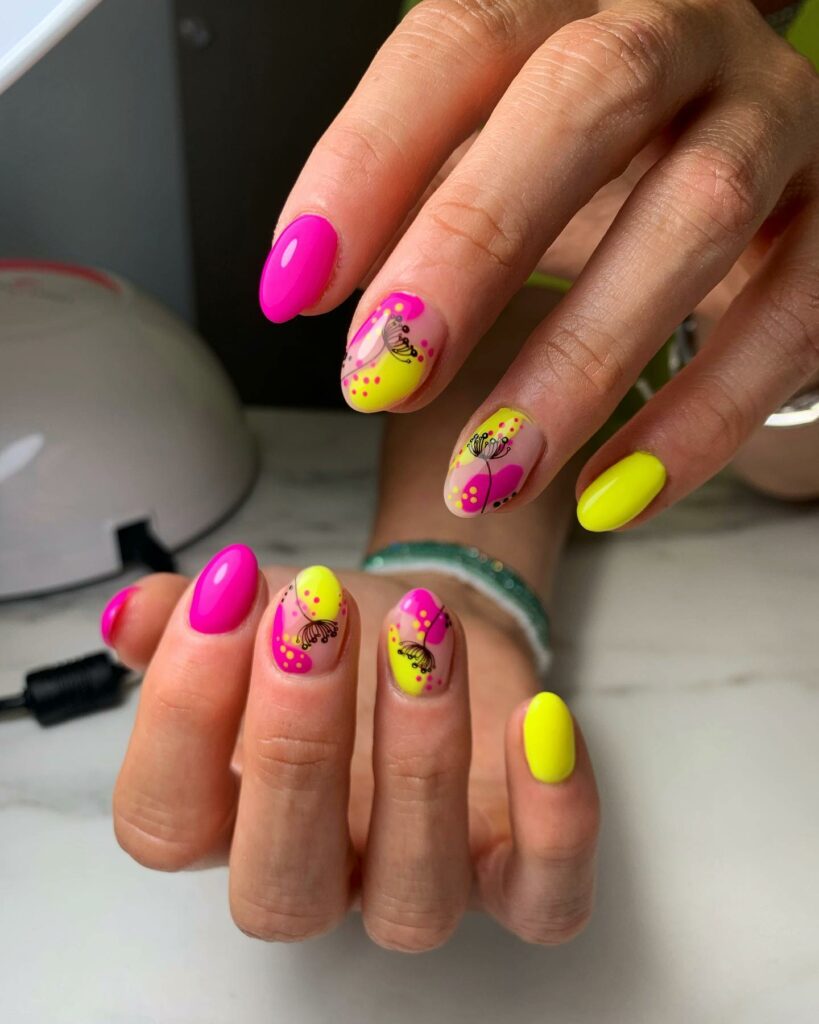 33. Sunflower Summer Nails
Got short nails? You can still fit in some cool nail art, just like in this case!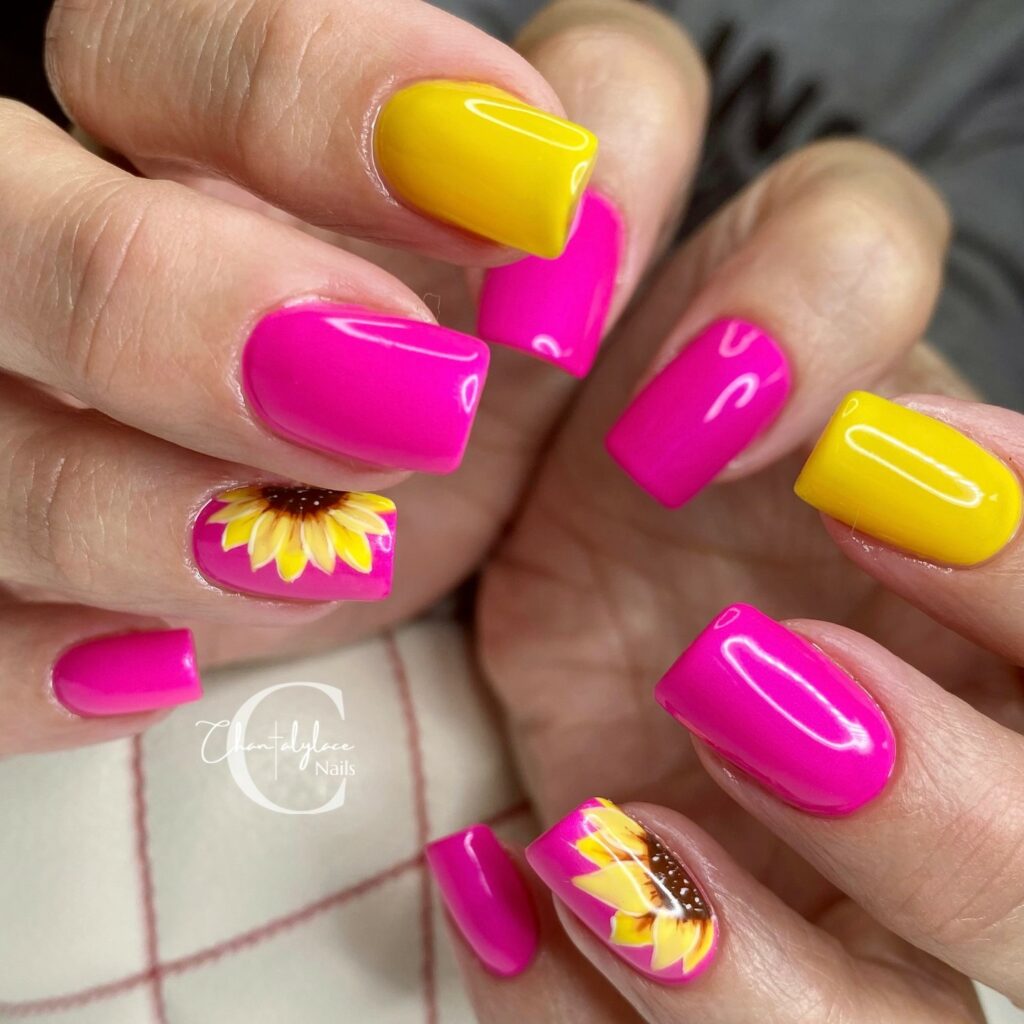 34. French Tips with Pink and Yellow
One of the most elegant looks we found online – pretty alternating French tips elevated by simple flower nail art.
35. Mismatched Stripes and French Tips
Show them your wild side with these neon summer nails.
36. Elevated Hot Pink and Yellow French Tips
For a more complex take on French tips, check out this design idea.
37. Rainbow Yellow and Pink Nails
Capture the essence of a pink rainbow and add some swirls to achieve this pretty look for your nails.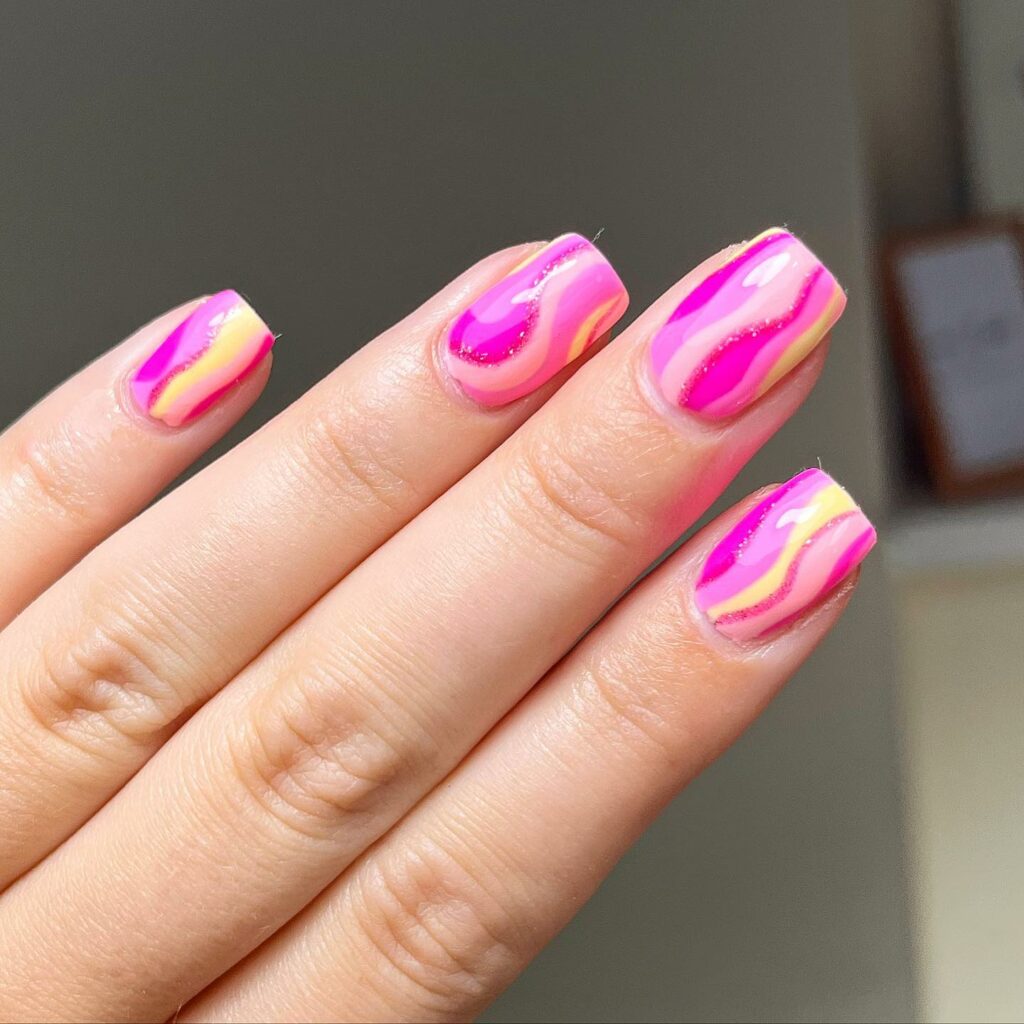 38. French Tips on Short Nails
A minimalist look but make it bright? This manicure ticks both of the boxes.
39. Neon Nails with Animal Print
Plenty of personality with lots of color – this manicure fits both descriptions.
40. Pink Coffin Nails with Yellow Swirls
Coffin nails in matte hot pink and yellow nail polish with animal inspired nail art.