Do you love the look of natural-looking beige nails? If you want to mix things up a little, we have prepared this curated collection of over twenty beige nails with designs to inspire your next manicure makeover.
Whether you're planning your next nail salon appointment or looking for simple nail art to do at home, you will find plenty of ideas in various difficulty levels and for different nail shapes.
Beige nails are the perfect white canvas that will make any nail art really stand out, and it's super easy to experiment with other colors if you're using beige nail polish as your base.
In this article, we have rounded up the most popular trends for beige details with design and included simple 'do it yourself' manicure ideas for beige nails. Finally, further down you will find a selection of over twenty beautiful ideas to get inspired – save your favorites!
2023 Trends for Beige Nails with Designs
So what's popular in terms of nail art for beige nails? Here are some of the common themes that pop up on social media:
Geometric Nail Art – simple geometric shapes look really elevated on a beige manicure and offer plenty of room to experiment and try different designs. If you love the look of a minimalist manicure, a simple geometric shape on a few of your nails will be enough to make them look effortless yet stylish.
Swirls – another popular shape for nail art on beige nails are
Gold Flakes – whether there is a special occasion, or you just need a bit of bling, gold flakes or glitter gold nail polish in small amounts will add the perfect shine to your nails.
Minimalist Nail Art – if you love a simple manicure in natural colors, but would like to add some nail art, this minimalist look will be the one for you. It could be as simple as adding some dots, small swirl or even a tiny gemstone on a few of your nails.
White Nail Art – white is one of the most frequent colors used for adding nail art on beige nails, it doesn't create too much contrast that it would be too distracting. At the same time it blends really nicely with the beige background and adds just enough interest to your nails.
Glitter Nail Polish – beige nails with glitter are associated not just with the holiday season, but they can be a simple way to add more personality to your manicure and make it look a little more festive.
Video Tutorial: Beige Nails with Dotted Nail Art
Check out this simple yet beautiful nail art prepared by LifeWorldWomen – DIY – EasyNailArtDesigns on youtube.
Beige Nails with Design: 20+ Ideas for the Perfect Manicure
Below is our selection of the prettiest beige nails with design – if you need even more inspiration, check our dedicated Pinterest board and follow our Pinterest profile for the latest nail trends.
1. Beige Nails with White Nail Art
2. Geometric Prints on Beige Nails
3. Simple Beige Nails with White Manicure
4. Simple Geometric Details on Beige Almond Nails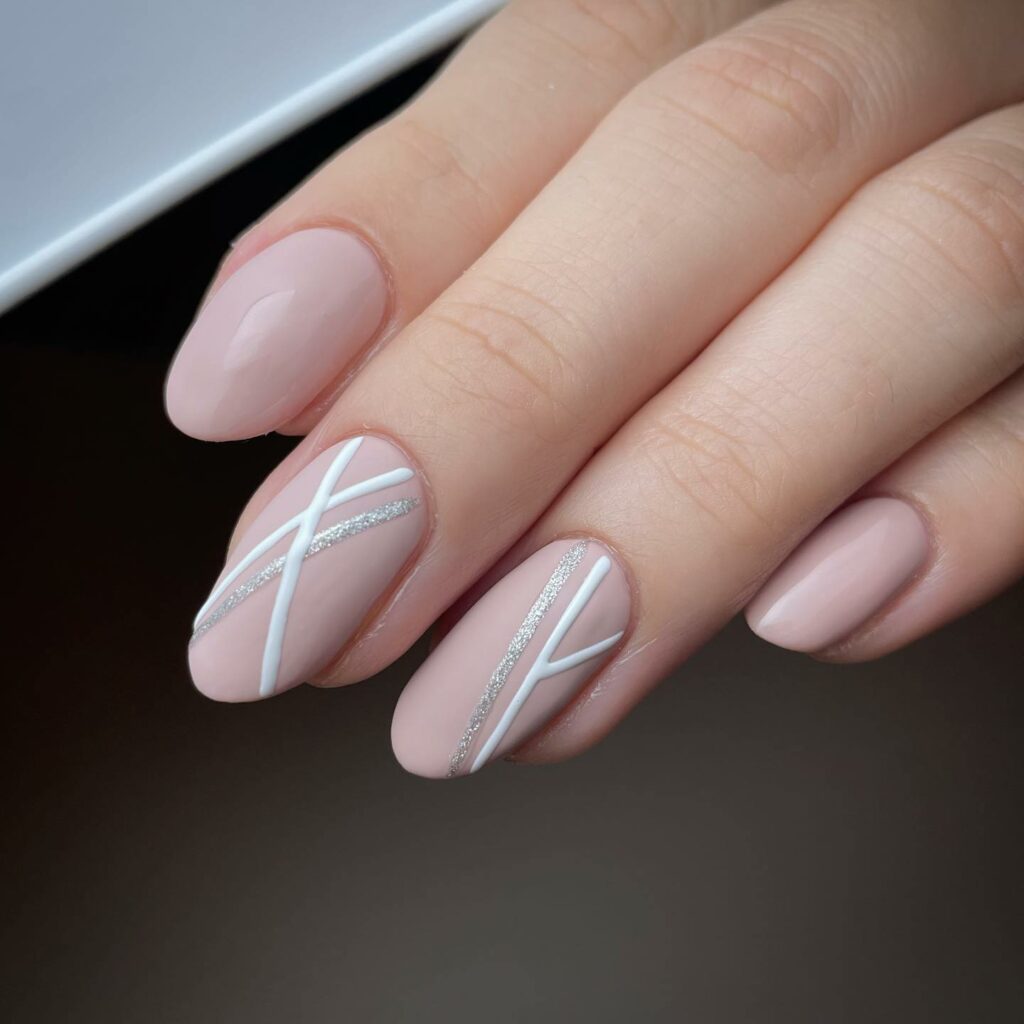 5. Winter Beige Nails with Snowflakes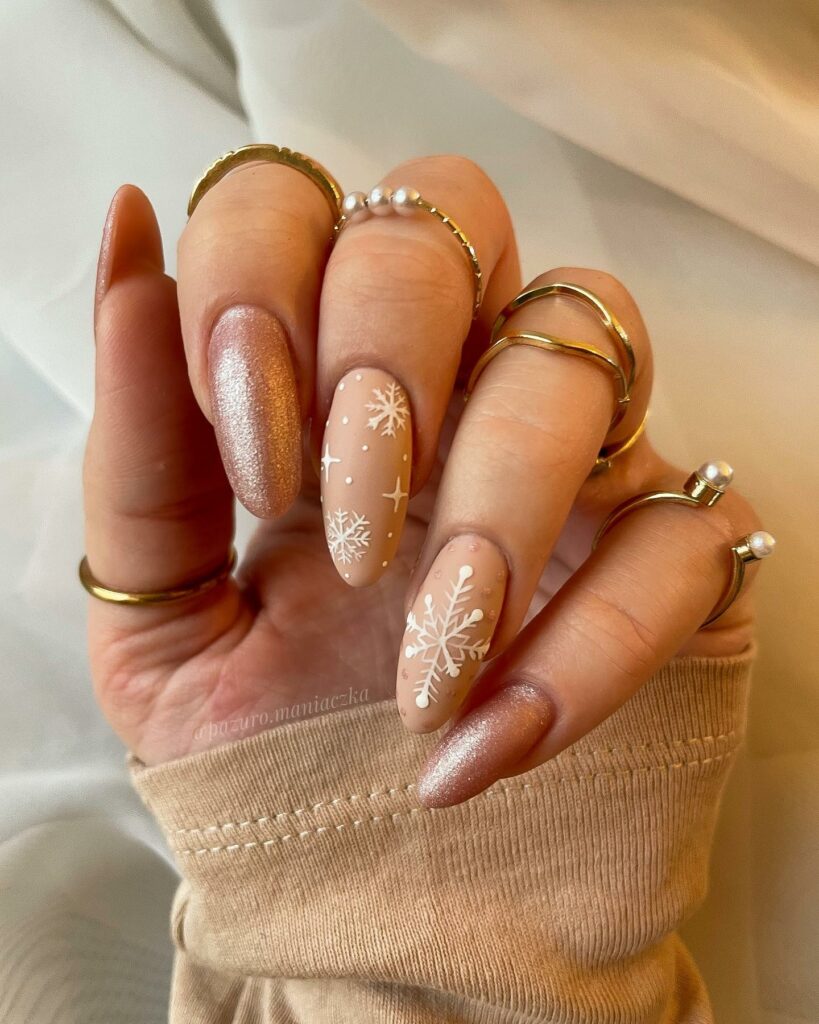 6. Trending Comics Beige Nails
7. Black Botanical Beige Nail Design
8. Minimalist Beige Nails
9. Pretty Gemstones on Beige Nails
10. French Tips in Beige Almond Nails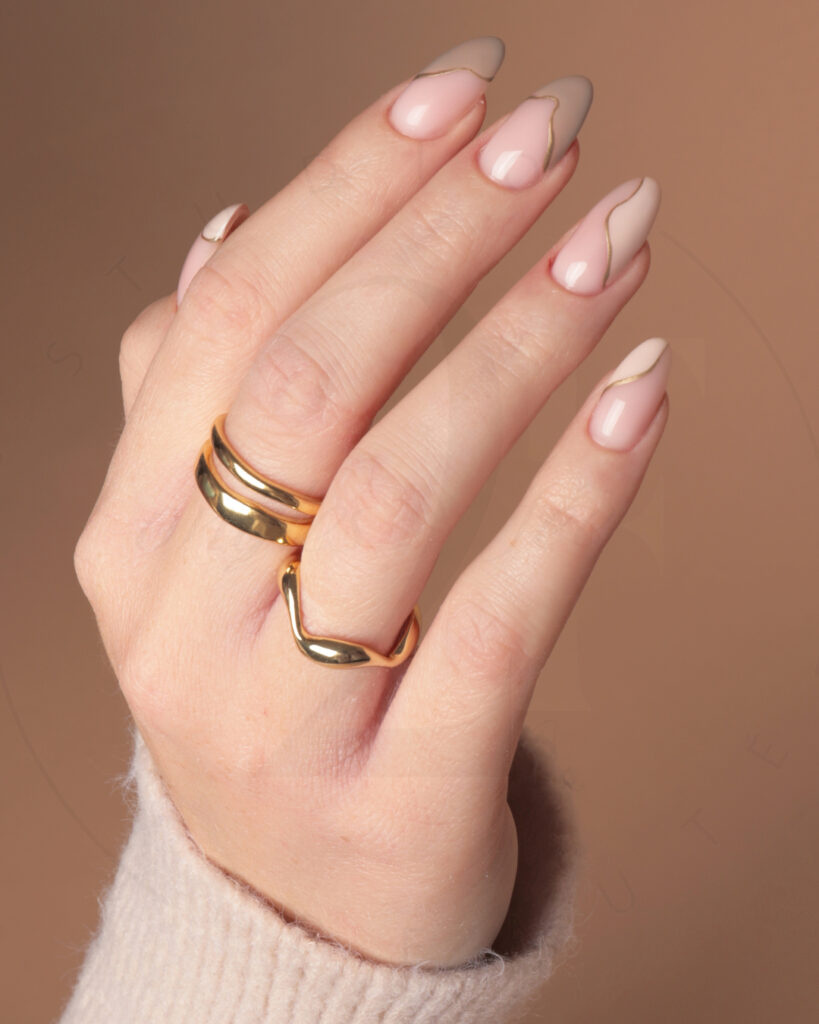 11. Beige Nails with Silver & Grey
12. Festive Look Nails
13. Bridal-Inspired Beige Nails with Glitter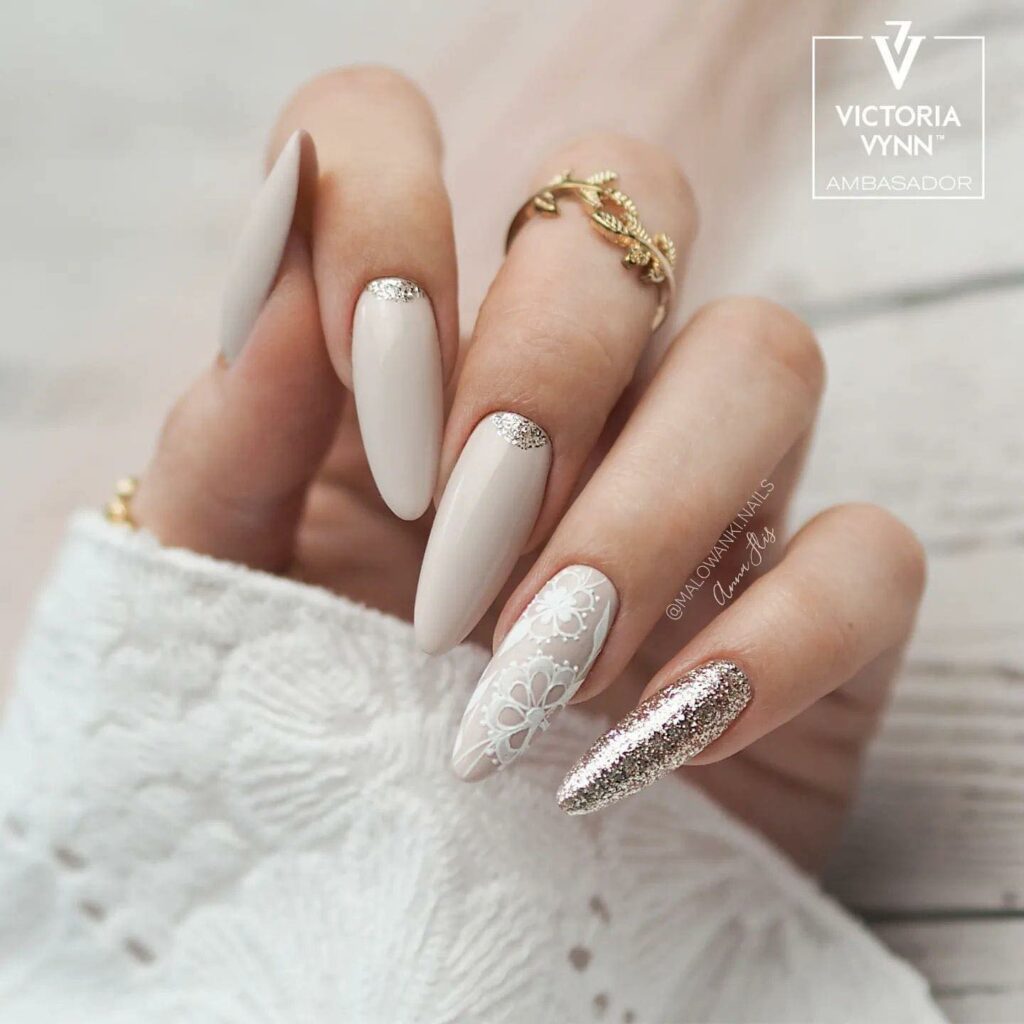 14. Beige Nails with Black French Tips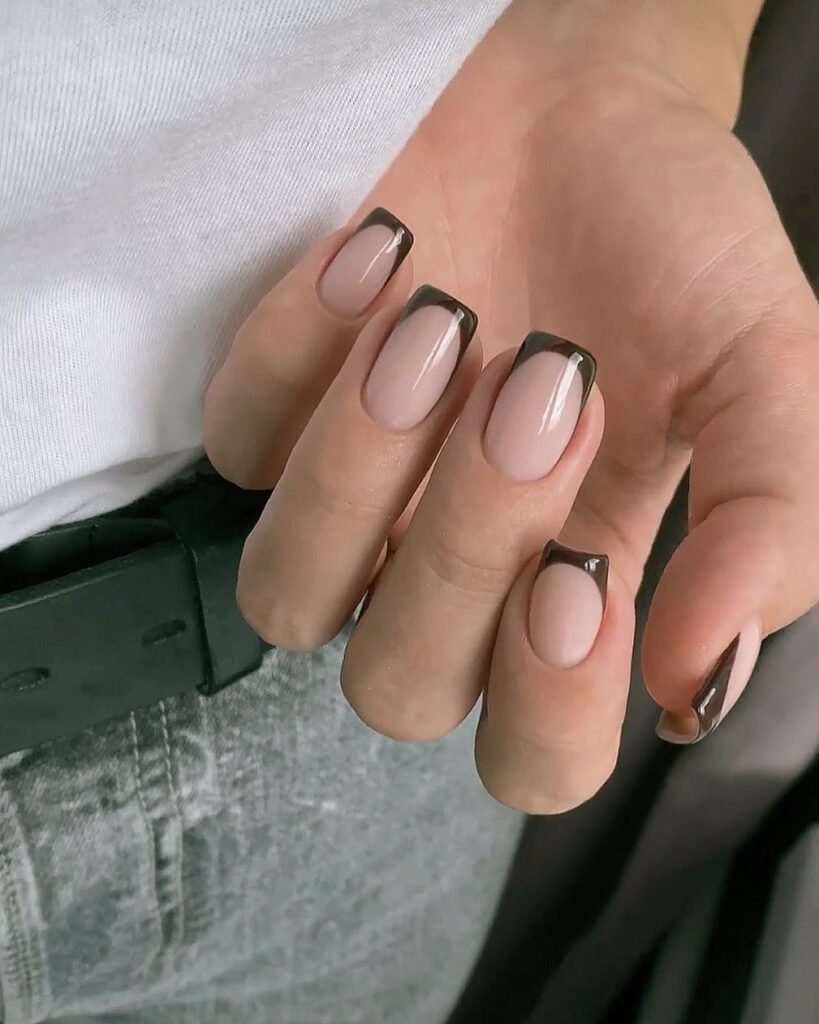 15. Black and Beige Dotted Design Nails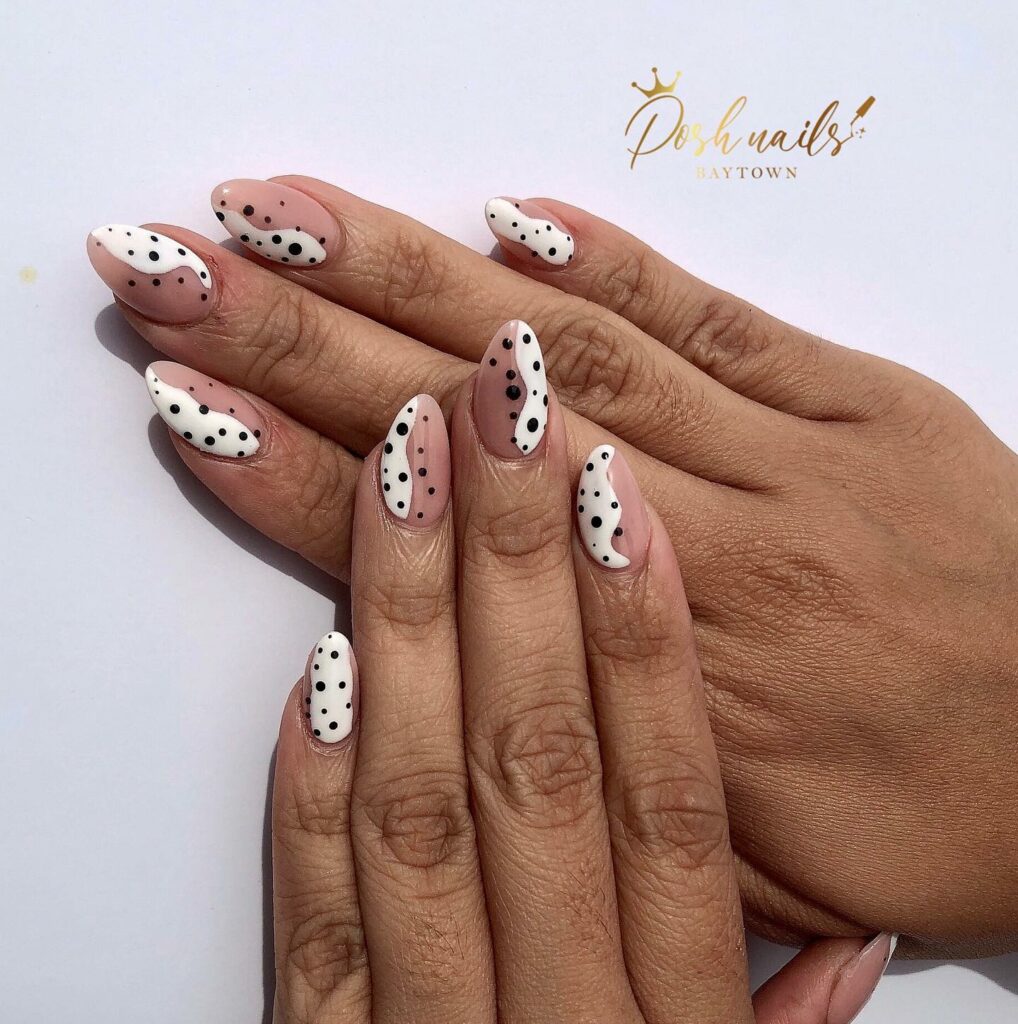 16. Black Sky Nail Art on Beige Nails
17. Art Stripes with Dark Beige Nails
18. Animal Inspired Print on Beige Nails
19. Rusty Gold with Beige
20. Minimalist Beige Nails with Black Detail
21. Leopard Print Beige Nails
22. Animal Print Beige Nails