Are you looking for the perfect neutral beige nail designs to test this month? In that case, you came to the right place!
Our team has curated a selection of over twenty gorgeous neutral beige nails designs that will get you excited about your next nail salon appointment! In case you're looking for something you can do easily at home, there will be plenty of options included for home manicure too.
Neutral beige nails are one of the most timeless classic nail styles that's trending all year round. As it provides you with a neutral base, you can use this type of manicure to accessorize it further for a special occasion or season. Adding a bit of glitter to beige nails will transform them to party look, with the sweater nail art you will have nails that are Christmas ready, and if you love a minimalist look, just update your French tips!
There are so many ways and styles you can use to pull of this look, you will have trouble selecting just one look. Enjoy our selection below and don't forget to pay us a visit on our Pinterest account where you can find many more ideas to choose from.
Beautiful Neutral Beige Nails
Below is our selection of the prettiest beige nail designs – if you need even more inspiration, check our dedicated Pinterest board.
From soft neutrals to intricate designs, these beige manicure ideas are anything but boring—perfect for elevating your everyday look! Enjoy our beige nail designs 2023 selection:
1. Beige Nails With White Tips
We love this simple yet intricate artistic touch in beautiful almond-shaped nails and beige nail color.
With their understated elegance, these beige nail polish designs are redefining chic in the best way possible.
2. Touch of Gold Foil
Gold flakes transform basic beige nails into a special occasion manicure. Neutral nail designs are our fave!
These beige white nails are the epitome of understated elegance, adding a touch of class to any outfit.
3. Timeless Neutral Beige Classic
Beauty is in simplicity, and this beige manicure is a true manifestation of that.
4. Beige Nails With Glitter
How simple and how pretty is this nail design?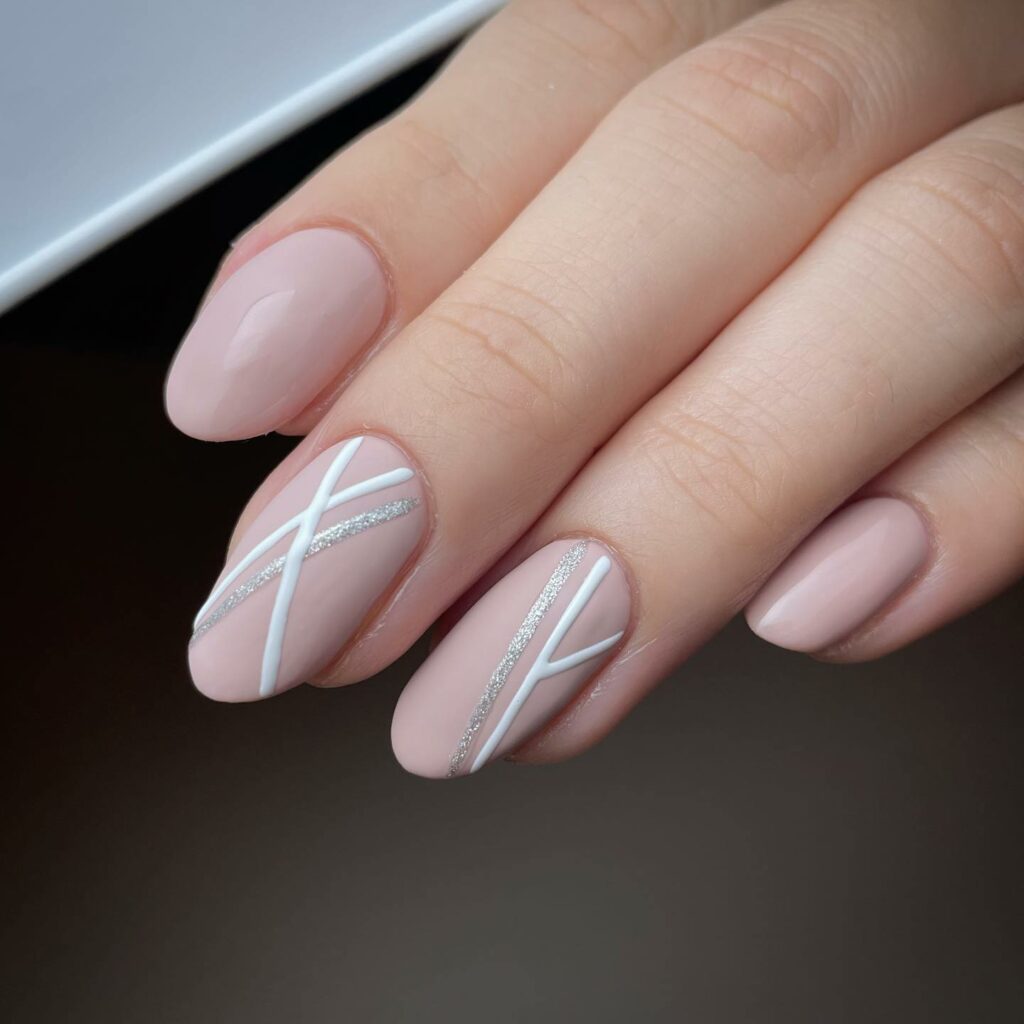 5. Gold Dusted Beige Nails
Even short nails can look super glam with a bit of golden foil on a glossy beige background. From classic French tips to modern geometric patterns, these nude color nail designs are the epitome of understated elegance.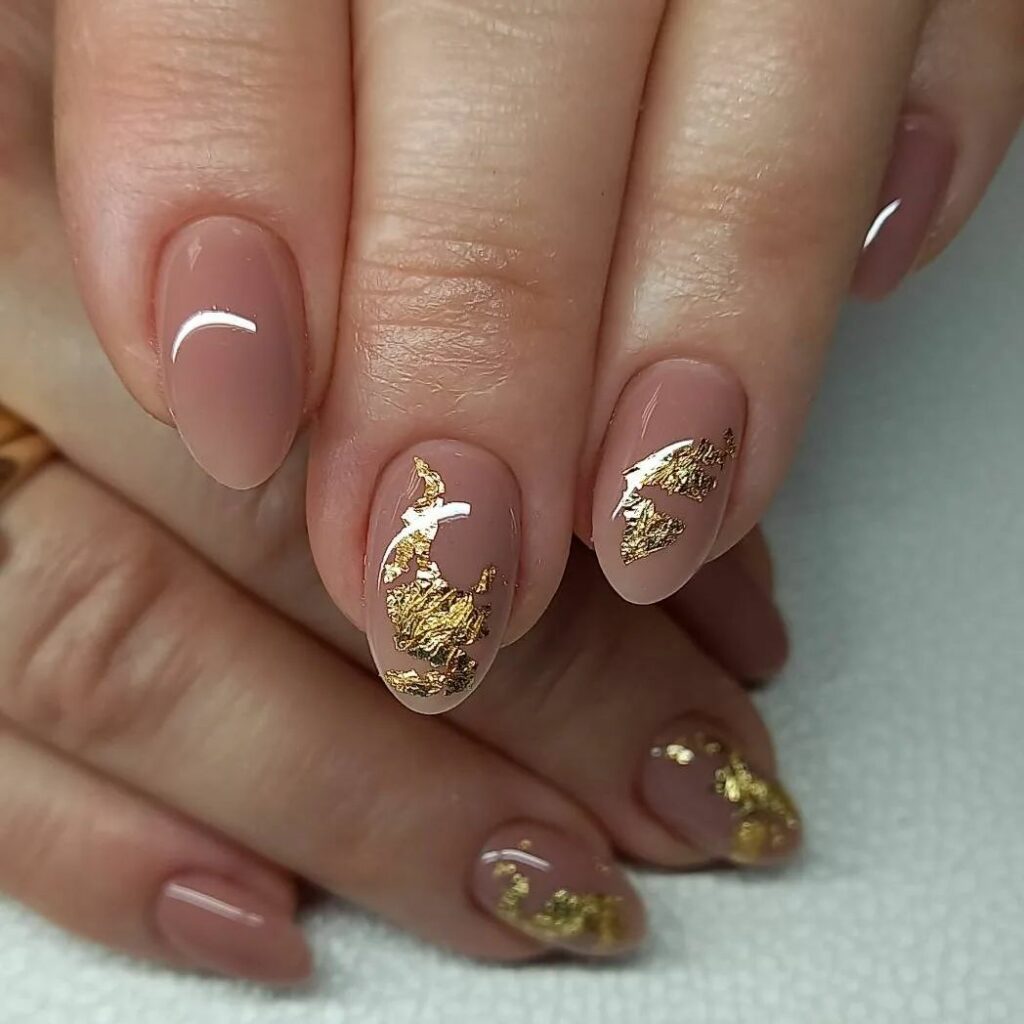 6. Light Beige Nails
One of our favorite looks – we love the light beige tone and the minimalist art that transforms the nails into really pretty manicures.
7. Pretty Gemstones with Neutral Beige Nails
If you're using gemstones, they don't have to take the center stage. They can be used in a more subtle and sophisticated way, as in this example. Keep scrolling for more beige nail ideas!
8. Sweater Effect Nails Beige Color
Sweater nails are super popular for winter months and Christmas, and they look really pretty in this coffee beige color.
9. French Tips in Beige
A slight modification of a classic French tips manicure with a beige color scheme, elevated with a bit of rusty gold color. Keep scrolling for more neutral nail design ideas!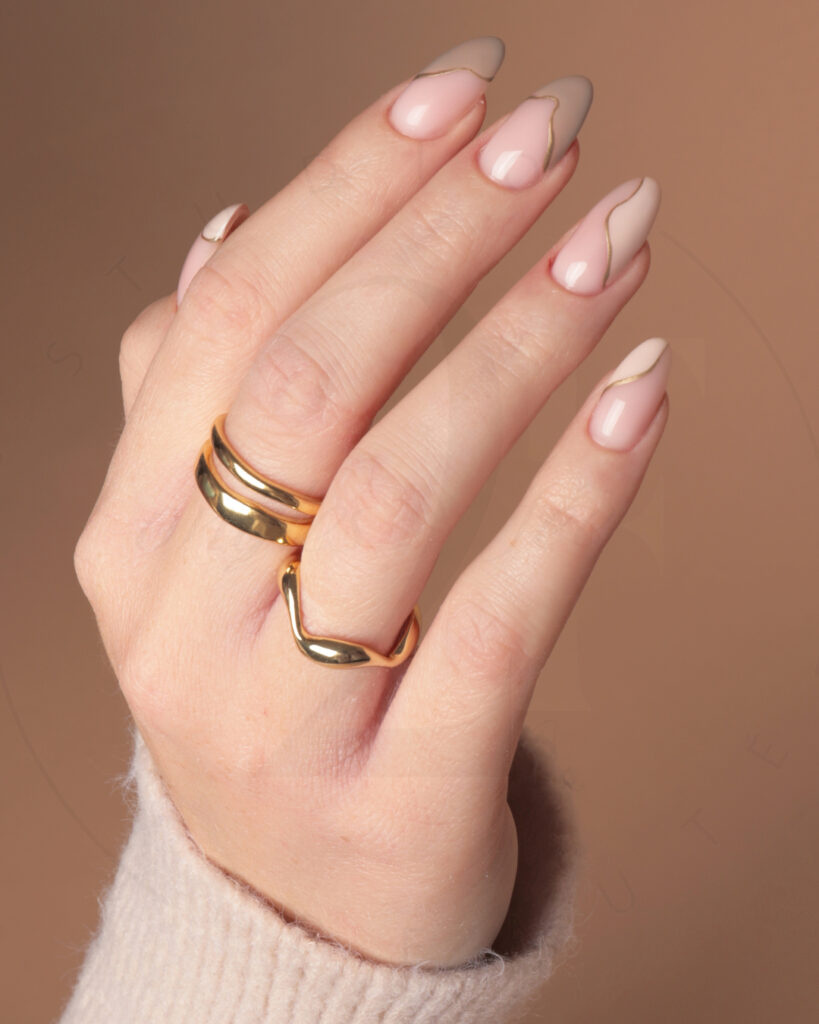 Rocking these classy beige tip nails, it's clear that understated glamour is the vibe this season.
10. Beige Nude Nails
The ombre effect was reversed and applied to individual nails. Anyone can do this at home! And rocking beige colour nails is the perfect way to make a chic yet understated style statement this season!
11. Neutral Nails With Design
A very pretty color scheme and nail design for the winter months. Neutral nails are so cool!
12. Neutral Nail Art
Embrace the fall with this pretty beige manicure.
13. Beige & Gold Nails
Instead of gold flakes, you can experiment with gold foil which makes your nail shine like you're wearing diamonds.
14. Neutral Summer Nails
Another pretty version of a beige manicure using the golden strip nail art. Keep scrolling for more neutral nail ideas!
15. Beige Color Nails
Beautiful almond shape nails in the most angelic bridal manicure. Keep scrolling for more beige nail color ideas!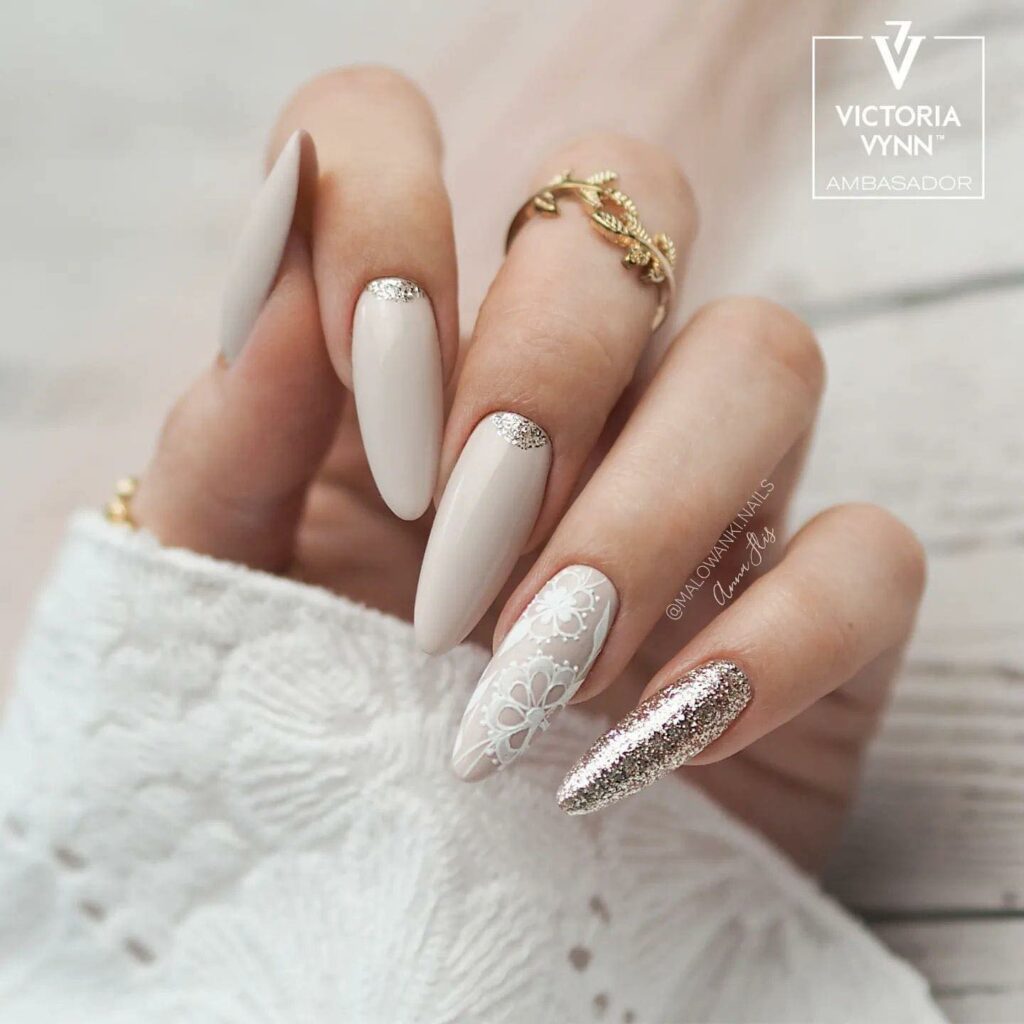 16. Beige French Manicure
Another one of the most trending nail designs with beige nail polish and black French tips for added contrast.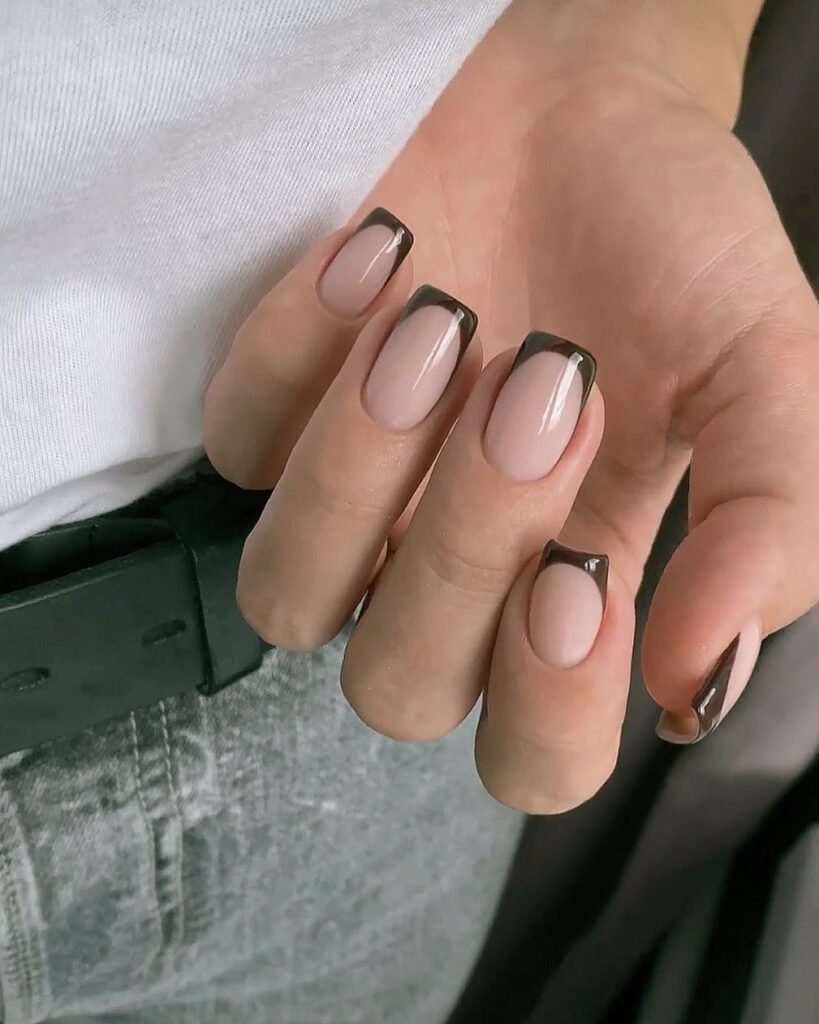 17. Simple Beige Nail Design
The warm beige color combined with a bit of gold glitter is perfect for the office, or weekend parties.
18. Beige Nail Art
Dark beige contrasts beautifully with the added special touch of golden nail polish. Keep scrolling for more neutral color nail designs!
19. Minimalist Beige Nails with Black Detail
This one looks so simple yet so sophisticated! Like a piece of art painted on a nail. Rocking a minimalist vibe, this beige nails design proves that sometimes less really is more.
20. Short Neutral Beige Nails
Short nails? They look super pretty with a single tone of beige nail polish and a bit of golden glitter for added attention. Keep scrolling for more neutral nails designs!
21. Minimalist Neutral Beige Nails
A simple foil outline will transform these simple beige nails into works of art. Keep scrolling for more beige nails ideas!
22. Beige Nails With Design
These dark beige nails are the epitome of understated elegance, making them a perfect choice for any occasion.
Let your nails bloom! Pretty botanical print on a darker shade of beige nail polish. Beige color nail designs are classy and trendy!
23. Beige French Tip Nails
Rocking some understated elegance with these beige French nails—perfect for any occasion!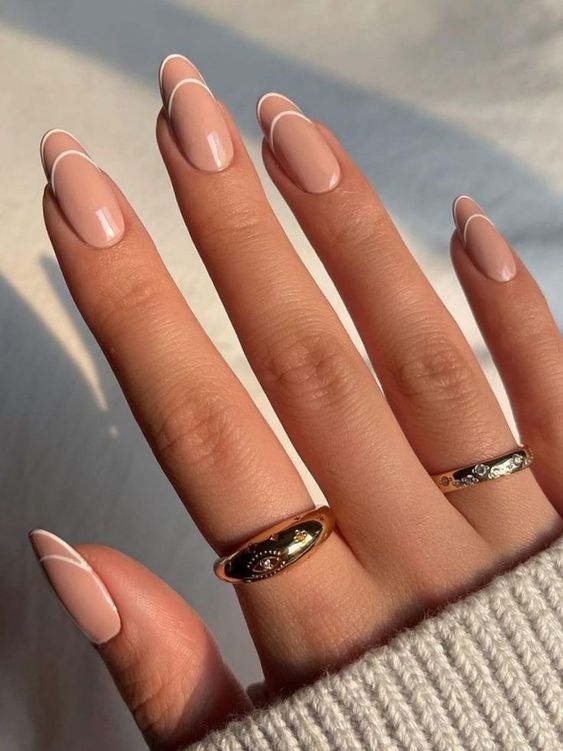 This is one of the prettiest beige French tip nails examples we've seen online – a gorgeous thin white outline on the perfect shade of neutral beige nail polish. These beige and white nails are the epitome of understated elegance, perfect for any occasion.
24. Heart it Nails
From minimalist vibes to intricate patterns, these beige acrylic nails designs are the perfect blend of elegance and style:
25. Short Beige Nails
These short neutral color nail designs are perfect for a chic, understated look that goes with any outfit.
Show them where you wear your heart. These beige nail art designs offer a chic and understated elegance, perfect for any occasion.
See More on Pinterest