Do you love the look of a simple timeless manicure? In that case, you need to try these beige nails with glitter for your next visit to the nail salon!
Our team has curated a collection of over 15 different looks to give you some ideas on how you can experiment with beige nails with glitter and what different techniques you can use and match with this style.
Beige nails are one of the trends that's in all year round, and the addition of glitter nail polish allows you to quickly transform your everyday manicure to nails that are ready for that special occasion. The best thing? Applying glitter nail polish to your beige nails is one of the easiest things you can do, so this manicure trend works really well for those who like to do their own nails at home.
There are a number of ways you can elevate a simple beige manicure with glitter nail polish, which include:
adding glitter to French tips
adding glitter to the base of the nail
selecting one statement nail and painting it all in glitter nail polish
alternating beige and glitter look
glitter highlights and glitter nail art on beige base color
15 Beautiful Beige Nails with Glitter
Below is our selection of the prettiest beige nails with glitter – if you need even more inspiration, check our dedicated Pinterest board and follow our Pinterest profile for the latest nail trends.
1. Beige Nails With Silver Glitter
Surprisingly enough, silver mixes really well with some shades of beige. In this case, just a touch of glitter on a few nails will take your everyday manicure to a special occasion version.
2. Simple Beige & Brown Manicure
Pretty mismatched manicure with cohesive color scheme and a pretty golden strip for a bit of variety.
3. Simple Geometric Details
How simple and how pretty is this nail design?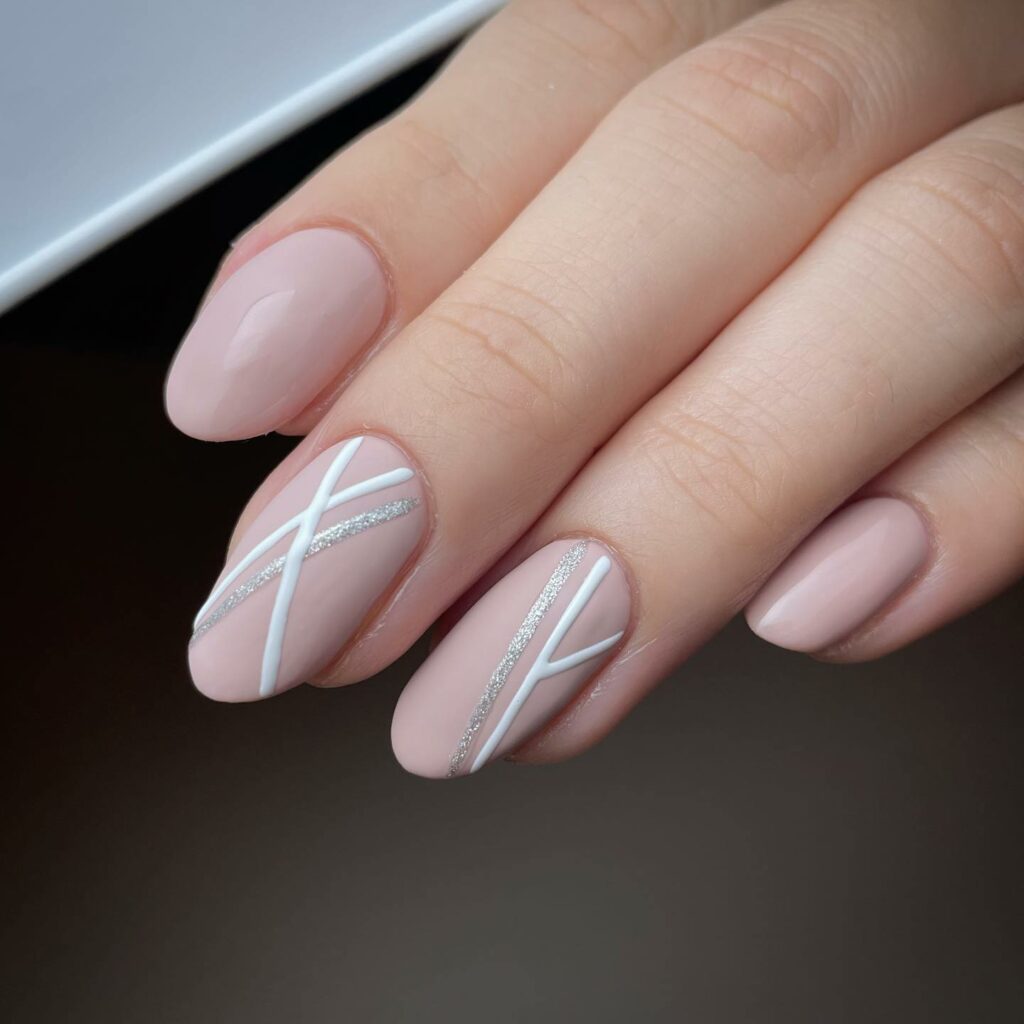 4. Individual Ombre Beige Nails
Not sure what color to choose? Use them all.
5. Winter Beige Nails
Snowflake inspired beige nail with pretty wintery nail art.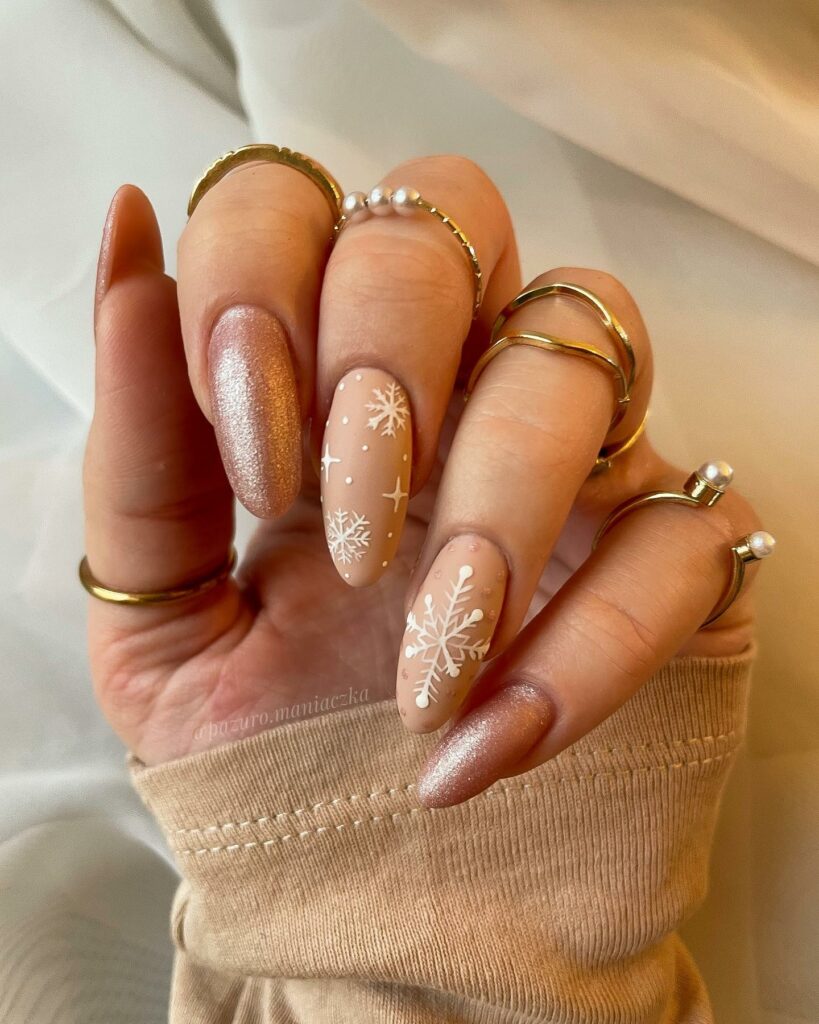 6. Sweater Effect Nails
Sweater nails are super popular for winter months and Christmas, and they look really pretty in this coffee beige color.
7. Beige with Silver & Grey
A very pretty color scheme and nail design for the winter months.
8. Fall Beige Nails with Glitter
Embrace the fall with this pretty beige manicure.
9. Beige & Gold Glitter Nails
Instead of gold flakes, you can experiment with gold foil which makes your nail shine like you're wearing diamonds.
10. Golden Line Beige Nails
Another pretty version of a beige manicure using the golden strip nail art.
11. Festive Look Nails
Fall inspired manicure that will take you to Christmas table or even to the New Year parties.
12. Bridal Inspired Beige Glitter Nails
Beautiful almond shape nails in the most angelic bridal manicure.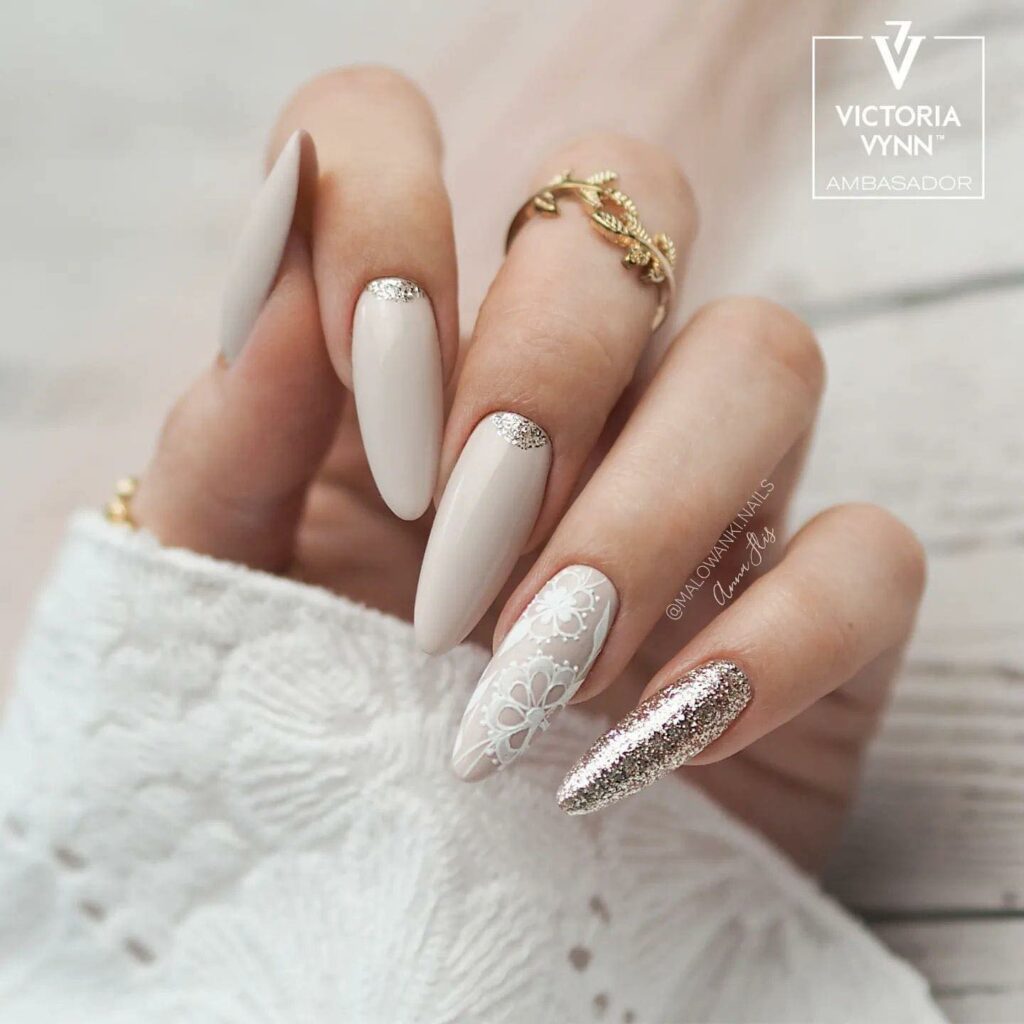 13. Simple Beige Nail Design
Warm beige color combined with a bit of golden glitter is perfect for the office, or weekend parties.
14. Rusty Gold with Beige
Dark beige contrasts beautifully with the added special touch of golden nail polish.
15. Short Beige Nails
Short nails? They look super pretty with a single tone of beige nail polish and a bit of golden glitter for added attention.
17. Beige Glitter French Tips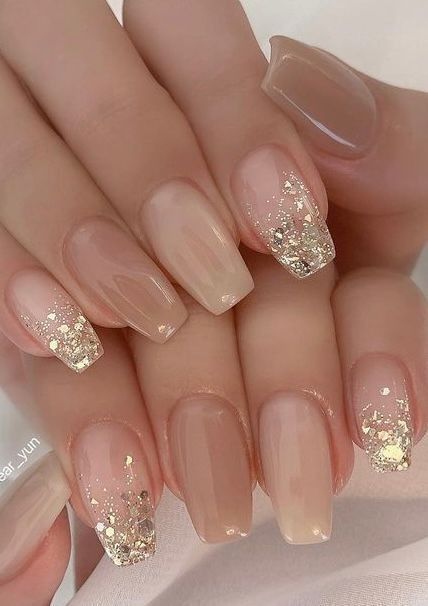 One of the prettiest and easiest styles for a special occasion.
18. Golden Glitter Nails
For the golden girls.